'RHOA' RECAP: Drew Sidora's Husband Accused of Being Gay!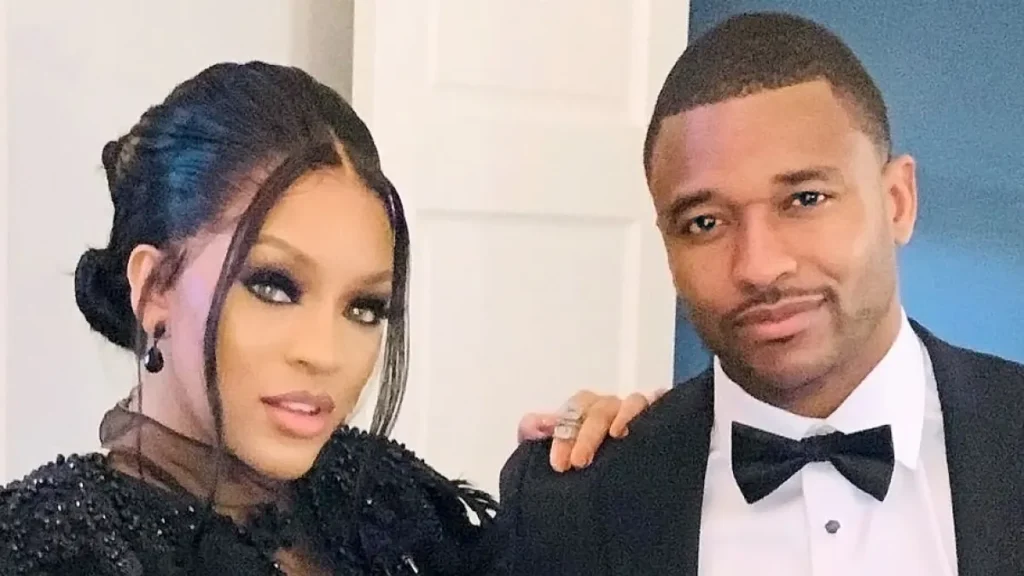 This week on a brand-new episode of The Real Housewives of Atlanta, we see Kandi Burruss and Todd Tucker dancing with their kids as Drew Sidora struggles to get her kids on the school bus. Sanya Richards-Ross is spending quality time at home with her family as Kenya Moore meets with her party planner downtown. Kenya is preparing for her daughter Brooklyn's third birthday and sis is sparing no expense for her baby girl! The party planner reveals the cost for this tea party will be somewhere between $10k and $15k. Kenya doesn't bat an eye but does reveal that she's not sure if her soon-to-be ex-husband will help with the expenses.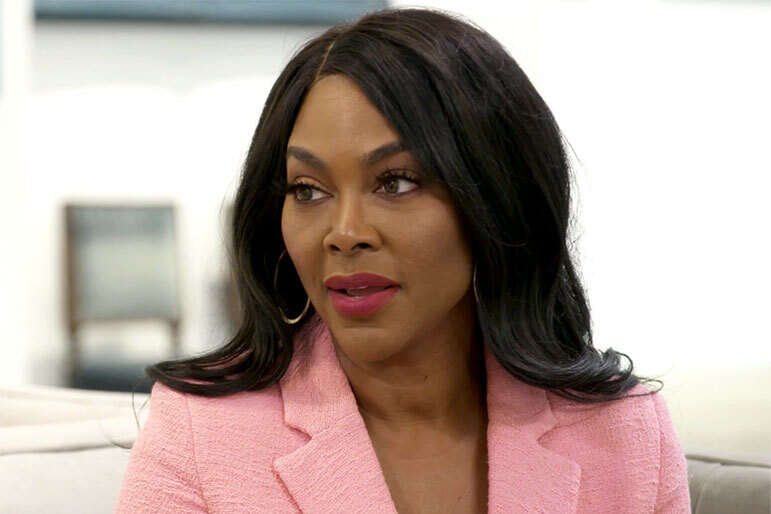 In Kenya's confessional, she admits to being ready to finalize the divorce but doesn't understand the hold-up on Marc's end.
Meanwhile, Sheree Whitfield's getting her workout on and awaits Marlo Hampton to join her. Marlo arrives while Sheree's doing squats and Marlo makes it clear she only came to look cute and that's it! Marlo works out for a few seconds before taking a break and the trainer allows the ladies to talk as he excuses himself. Marlo checks in on Sheree while simultaneously bringing up the shade from her Le'Archive event. Sheree thinks the group gave Marlo constructive criticism, but Marlo ain't hearing none of that. Marlo chats with Sheree about the direction of Le'Archive and admits to wanting to work in the industry with Tyler Perry.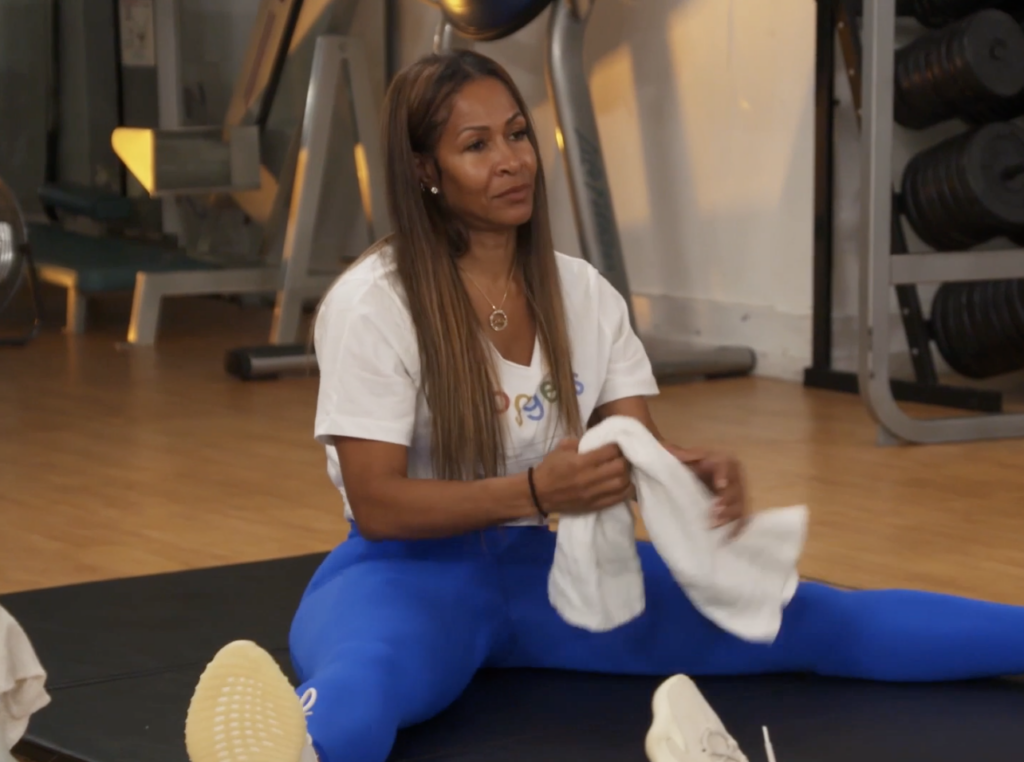 Sheree tells Marlo that her son Kairo works for Tyler Perry and how much he enjoys his new gig. Speaking of Kairo inspires Marlo to ask Sheree for parenting advice, and Sheree compliments Marlo on her ability to raise her nephews right. One of Marlo's nephews is interested in acting and Sheree questions Marlo on whether he's attending acting classes. Marlo confirms Michael is and that she is going to be attending acting classes alongside him. Oh goodness, here comes Marlo "Le'Actress," SMH. However, in Marlo's confessional, she has a VERY hard time pronouncing IMDB, LOL.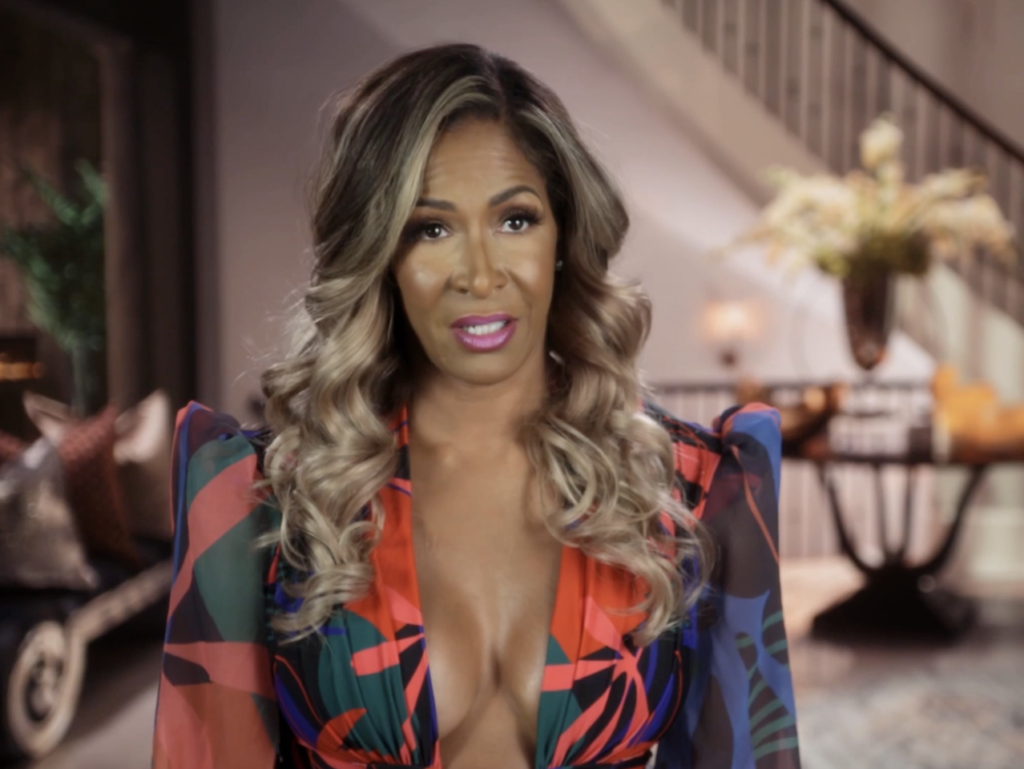 Marlo soon tells Sheree about meeting up with Kandi Burruss and finding out about the messy assistant situation. Sheree informs Marlo that Kenya already gave her the heads up, but Sheree is agitated at Kandi for spreading her business instead of calling her first. Sheree also admits to never paying Anthony (the messy assistant) because he never did anything! Sheree continues going off and states that Anthony spilled some tea about what goes on in Drew's household. Oh goodness! Marlo asks about Kenya's visit to Sheree's and Sheree tells Marlo every shady thing Kenya said! Marlo, in return, insults Kenya's invitation to Brooklyn's tea party and Sheree admits to sharing Marlo's shade towards Kenya. At least Sheree's owning up to her messiness this time.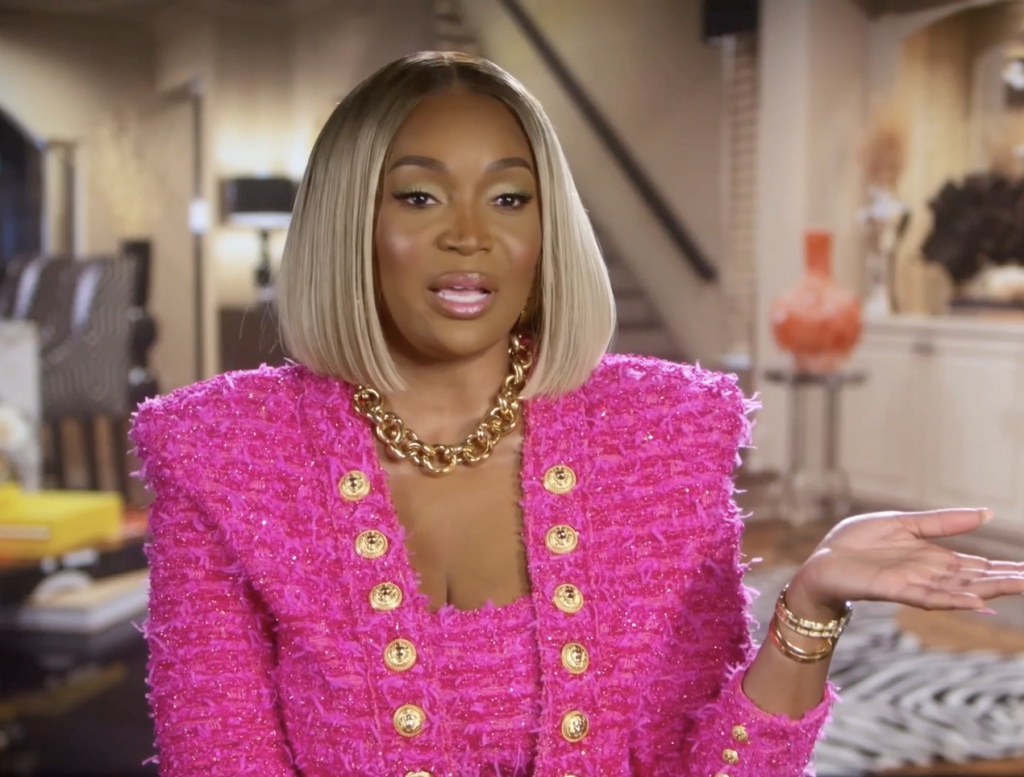 At Kandi's house, she's discussing her ticket sales with her agent for 'Thoughts of a Colored Man,' and Kandi's excited due to the impending success of her new project. Kandi discusses sending different influencers gift boxes for the show and she informs her agent about inviting the ladies to the show. Kandi's trying to grow as an actress and is preparing to star in a new film called 'A la Carte.' Kandi's dream is to get an EGOT but Kandi's beginning to get stressed by her hectic schedule. Todd walks in and joins the conversation as Kandi's agent checks in with Todd about Kandi's upcoming sex scenes. Todd has no issue with it since it won't be a man, and a flashback shows Todd not always being so understanding. 
Todd supports Kandi in all her ventures, but he admits that her absence makes it hard on him and the kids. Todd takes a seat and admits to beginning to feel left out of Kandi's projects. Kandi and Todd aren't on the same page professionally and it seems that Todd wants to create a name for himself in the business. Kandi thinks Todd is beginning to resent her and doesn't know what to do to fix it. The conversation is cut short by the agent and the couple put a pin in their conversation as Kandi continues handling her business.
Downtown, Drew and her assistant, Anthony, are shopping for a gift for Brooklyn; And before long, more tea begins to spill. Drew tells Anthony about being in a good space with Kenya before diving into the shade from Sheree at the Le'Archive event. Anthony states he loves Sheree, but she doesn't like to pay. Drew thought he didn't get paid enough but come to find out Sheree didn't pay Anthony a dime! Anthony claims that one of his vendor friends wouldn't do an event for Sheree unless she paid him $25,000! Anthony and Drew continue gossiping and soon Sanya calls Drew distraught! Sanya just got into an accident with an 18-wheeler and was dragged down the street!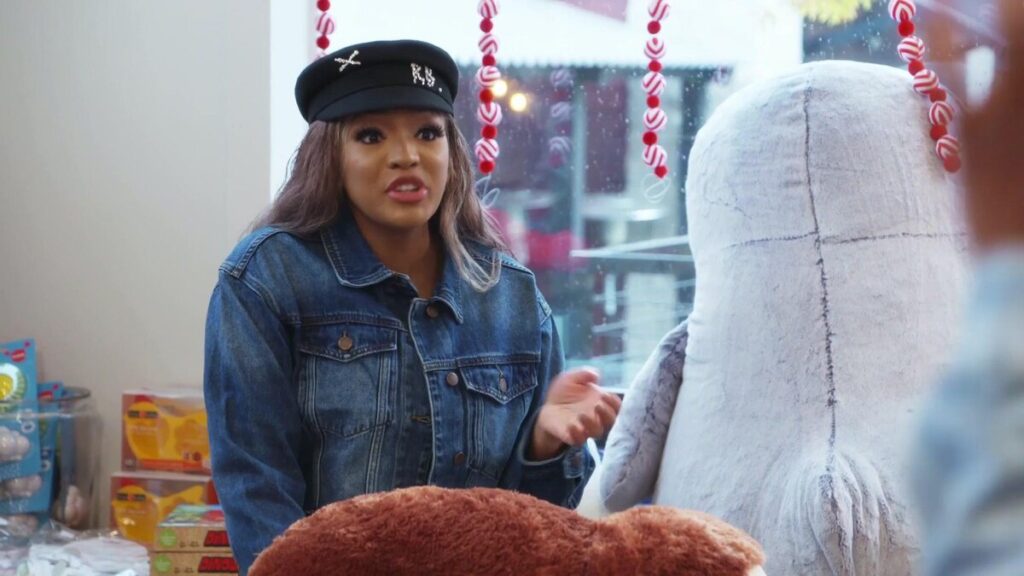 Drew quickly pays for Brooklyn's gifts and leaves to help Sanya in her time of need. Thankfully Sanya's alright but she's shaken up by the experience. The next day is Brooklyn's party and Kenya looks so happy as she preps for her daughter's big day. Sheree's chatting with her boyfriend, Tyrone, as she's disgusted by her dog's drool. Marlo invites her nephews to the tea party, but they quickly decline. Sanya's at home with Aaron and their son, Deuce, as she prepares for Brooklyn's party. Sanya checks in on how Aaron's trip to Austin went, and it's revealed that Sanya and Aaron have a Chauffeur company. Sanya chats with Aaron briefly about the accident and Sanya's glad to have her husband back.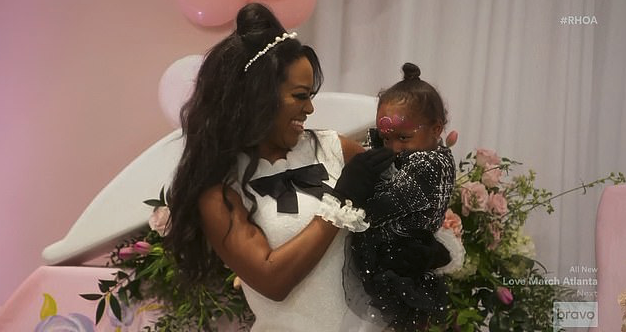 Kenya's at the venue double-checking everything is to her liking as she soon gets irritated by her guests' late arrival. Soon, guests begin to arrive and Kenya's waiting for more guests to arrive before Brooklyn makes her grand entrance. Sheree arrives first and compliments Kenya on the beautiful outcome. Sheree's looking forward to seeing the ladies and especially Drew. Sheree's not happy, but Kenya warns Sheree not to mention it until after the ladies get some refreshments. 
Sheree agrees to be on her best behavior but admits that she will finish whatever Drew starts. Sanya and Deuce arrive with gifts in hand and soon we're introduced to singer Neyo's ex, Monyetta. Drew and her daughter arrive, and we notice that Drew's wearing a dress that Kenya previously wore. Drew and Sheree greet each other but no sparks fly since the kids are around. As Kenya greets her guests, Drew and Sanya chat as Drew talks about her troubles at home. Producers show us Drew and Ralph haven't slept in the same room and Ralph's moving funny. Sanya compliments Drew on holding it together and Kenya begins to rally the crowd for Brooklyn's entrance.  
Instead, Kandi arrives with Ace and Blaze, quickly scurrying out of the way to let Brooklyn shine. After Brooklyn's grand entrance, Kenya shades Kandi on her lateness and doesn't care for her excuses. Kenya sets up a shady tea game and everyone's skeptical except Kenya. Sanya's struggling with her son as Marlo teaches Brooklyn how to sip her tea. Soon, the guests take their seats, and the games begin! The first game is Brooklyn trivia and the next is 'Shady Tea.' Kenya thinks the ladies are going to spill fun tea, but something tells me there's no such thing as "fun tea." Monyetta begins first and things quickly go left when Kandi reads her card. 
Someone heard that Kandi apparently sucked d**k in a locker room somewhere and the entire table is appalled! Kandi's pissed and denied such a thing happened, but no one takes accountability for the rumor. Kenya moves on and reads that someone can't order from Le'Archive, and Marlo gets offended. Kenya then addresses Marlo on her comments about Kenya supposedly driving LisaRaye's Range Rover and the two begin exchanging words. Kenya shades Marlo for buying a used Rolls Royce and Marlo shades Kenya for having on "inspired" Chanel.
Kenya calls Marlo a b*** and moves on to the next card that claims someone doesn't pay their assistants. Drew admits that's what she heard and soon Sheree's feisty side comes out. Drew asks Sheree to not shoot the messenger, but I think that ships sailed. Sheree asks Drew why she didn't call her instead of spreading it to Kandi and the gang, LOL. Kandi tried to give Drew a chance to tell Sheree herself and now Kandi's in trouble. Drew and Sheree continue to argue, and soon, new tea is spilled from the end of the table! Sheree's friend, Fatum, apparently knows Anthony and reveals he told Sheree that Ralph was gay. Sheree tries to shush her friend, but the damage is done, and Drew goes off! 
Drew yells at Fatum to stop talking and a disgruntled white woman grabs her kid to leave before making a minor scene. Back at the table, Marlo shades the lady as Kenya sees her friend out. Sheree tells Drew she liked her at first but now thinks she's a ditzy b*tch.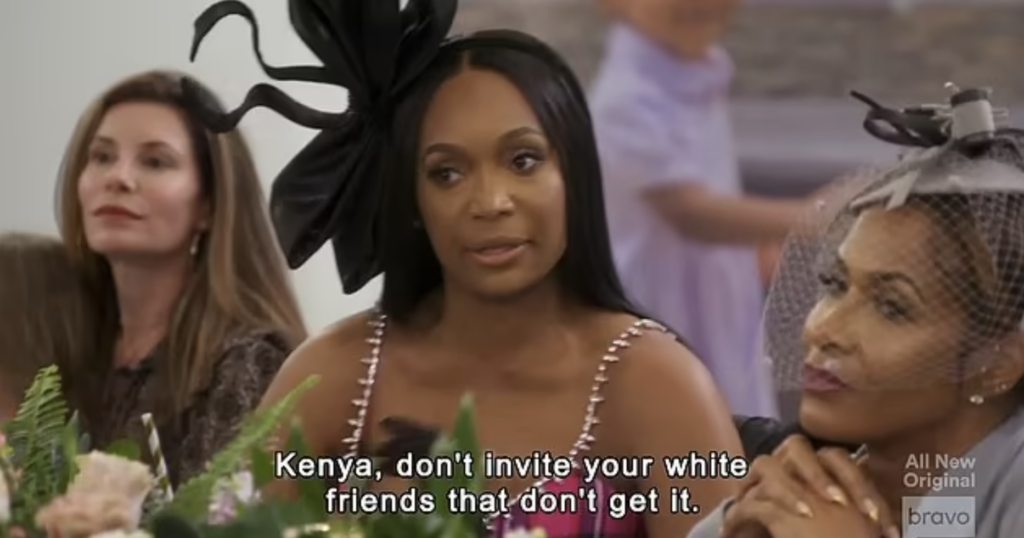 Drew's shocked and calls Sheree a b*tch back and Kenya tries to calm things down. Kenya asks Drew to apologize to Fatum and states that Anthony will be on probation. The table erupts as the ladies question Drew's sanity and Drew continues playing dumb to save her marriage. Drew claims she didn't hear Fatum's full statement and puts the blame back on Sheree. Kenya has the girls table the conversation as they sing "Happy Birthday" to Brooklyn.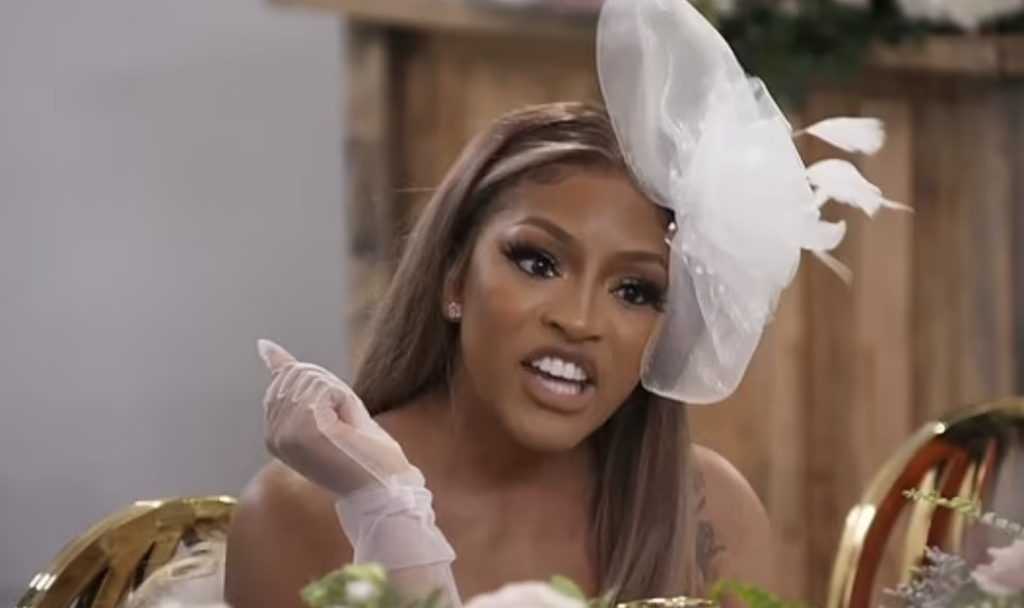 After the candles are blown out, Kenya thanks everyone for coming out before taking last-minute pictures with Brooklyn and the ladies. Before everyone departs, Marlo brings up the shade from her event in hopes the ladies can laugh about this one day. The ladies try to make light of the situation and Sheree lets Kandi know that the two of them need to have a conversation.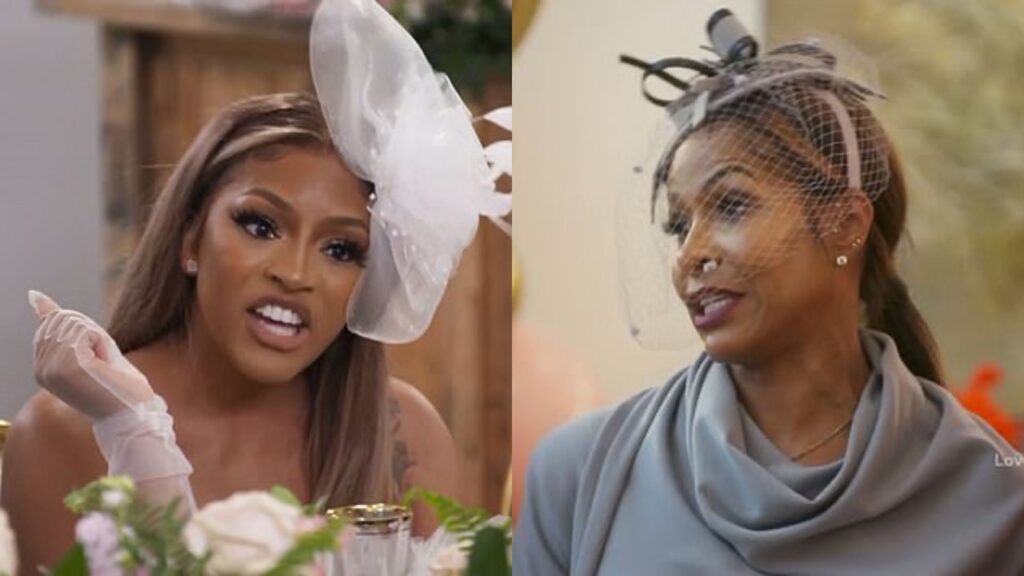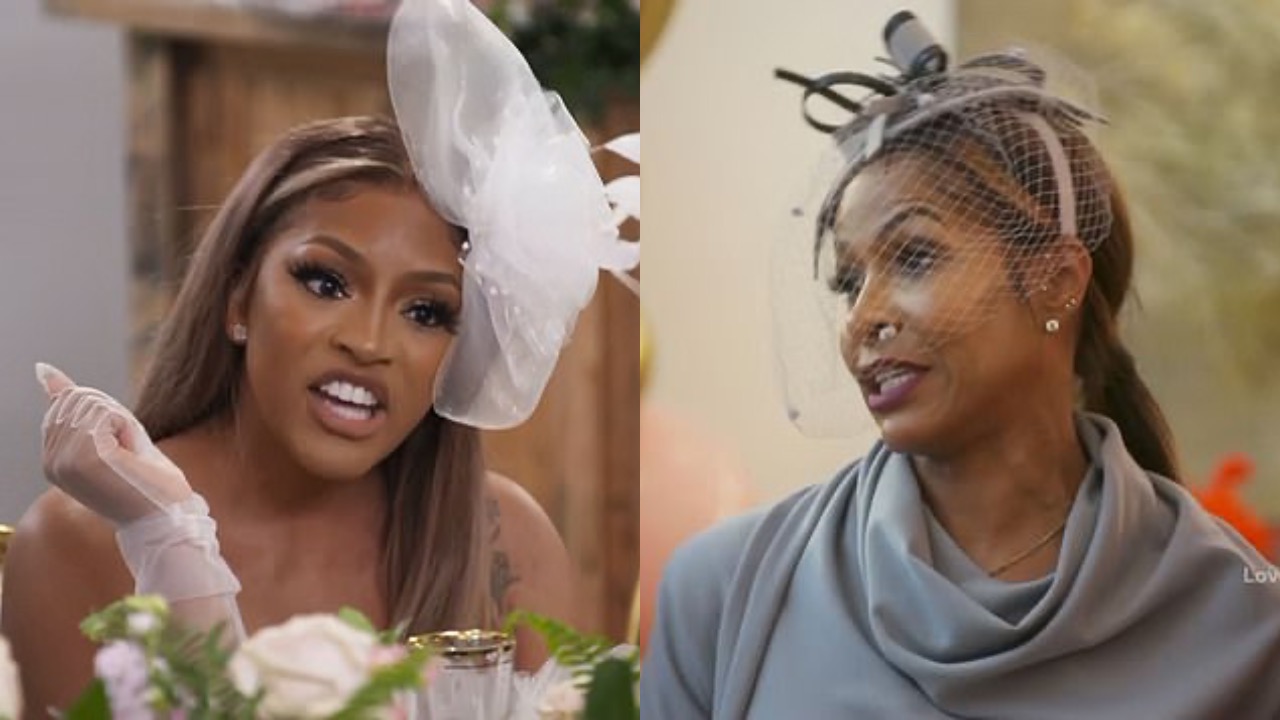 Sheree continues shading Drew and Drew begins putting her hands in Sheree's face! The ladies break up the shenanigans and it seems like Drew is ready to fight! Kandi warns Drew of Sheree's right hook and Kenya cautions Drew about talking with her hands. I thought this season was about sisterhood? Let's see if these ladies can turn it around next week, on a brand-new episode of The Real Housewives of Atlanta! 
Stay Connected With All About The Tea: Twitter Ι Instagram Ι YouTube Ι Facebook Ι Send Us Tips
LeAndra Williams is a content contributor at All About The Tea. She's a social worker and (super) mom by day, and a reality T.V. junkie by night.