'RHOA' RECAP: LaToya Ali Turns On Kenya Moore Over Bachelorette Party Sex Noise Investigation!
We're still in the Isle of Palms this week's episode on the Real Housewives of Atlanta.
The ladies just sat down for dinner by the pool, and Porsha Williams is in no mood to pray over the food. Kenya Moore has been trying to out her for smashing Bolo, the male stripper.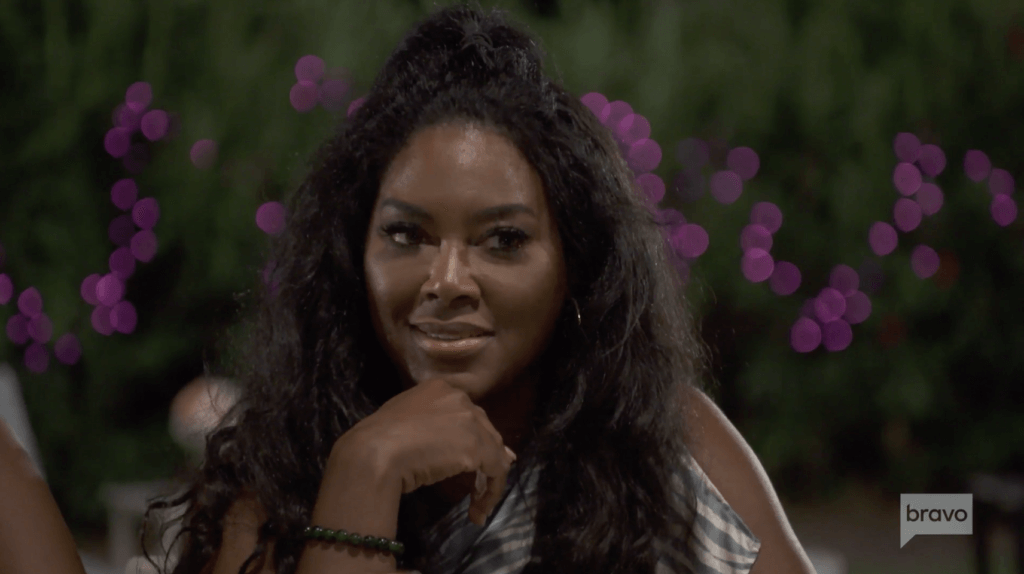 Cynthia Bailey has decided that after seeing the other women getting freaky with Bolo, she's a voyeur. She likes watching a little girl on girl action. She was also amazed at the size of Bolo's dork.
Drew Sidora thinks Bolo gave them a great show, but LaToya Ali wonders why a married woman would be so interested in Bolo's penis. That shuts down conversation, and Drew asks why Toya is calling her out. Furthermore, Toya was having girl on girl on girl good times. Hypocrite much?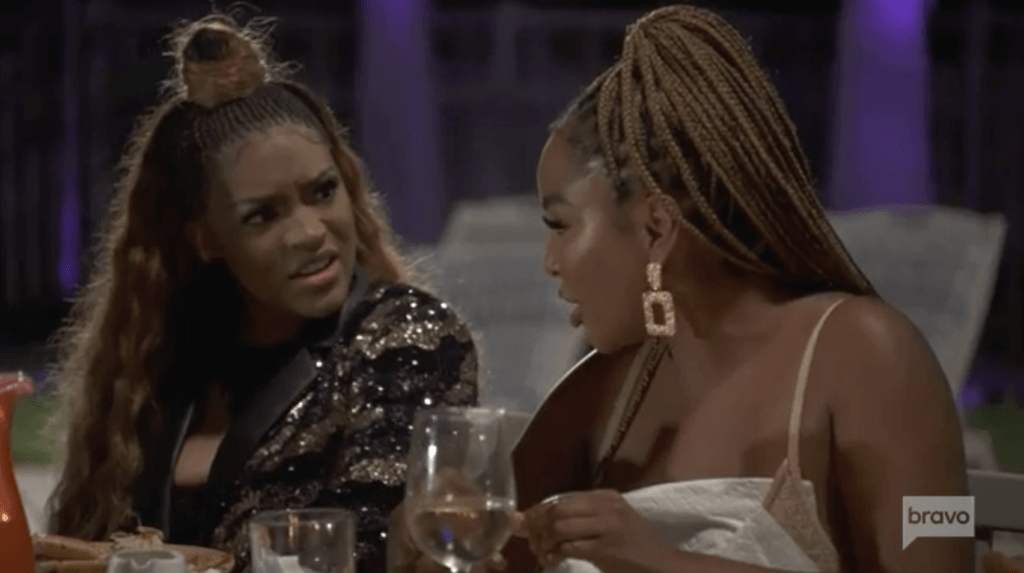 Kandi Burruss looks on with disapproval. These women turned off the cameras for a reason, and now, they're outing each other. As Toya continues to grill Drew, asking if she enjoyed Bolo, she then asks if Drew was the one moaning at six a.m. in the spare bedroom. Kenya pipes up and wonders if the sex noises she heard were coming from Drew.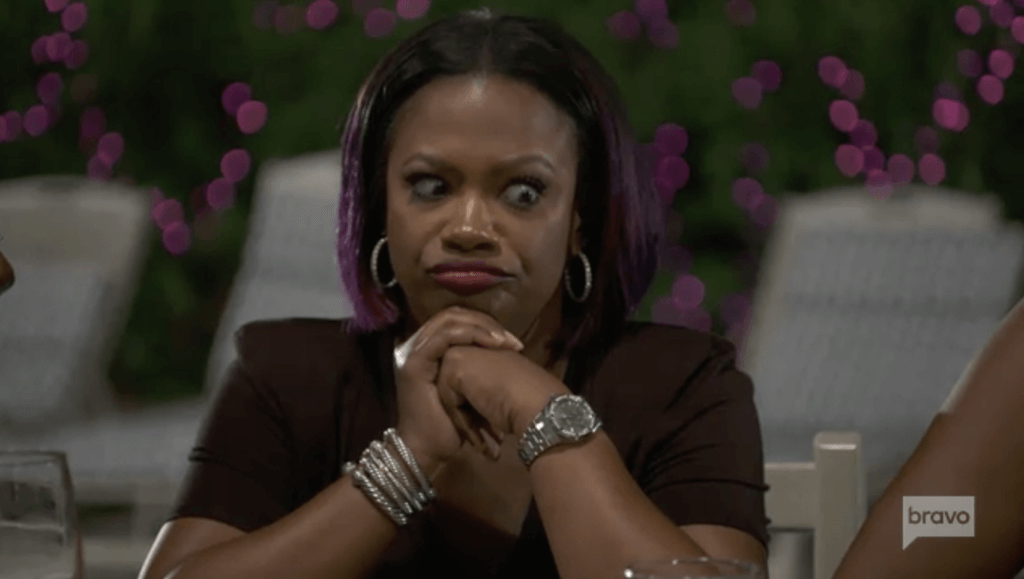 Drew objects while the other women remain silent. She wonders if Kenya has something to feel guilty about, since she's been trying to figure out who had sex with Bolo. After all, Kenya was rolling on the floor with her legs spread apart like a Thanksgiving wishbone. Maybe she's embarrassed by her own actions.
Kenya Moore thinks it's obvious who f*cked Bolo. Toya now turns on Kenya, wondering why she's been playing Sex Detective all afternoon. Shamea thinks Kenya's little court case was all in good fun…for a while. Then it got annoying. Marlo heard a sex party going on all night. But Kenya wonders if it was just a party when she distinctly heard moans and groans coming from that spare bedroom. Marlo asks Porsha if someone could have been watching porn perhaps.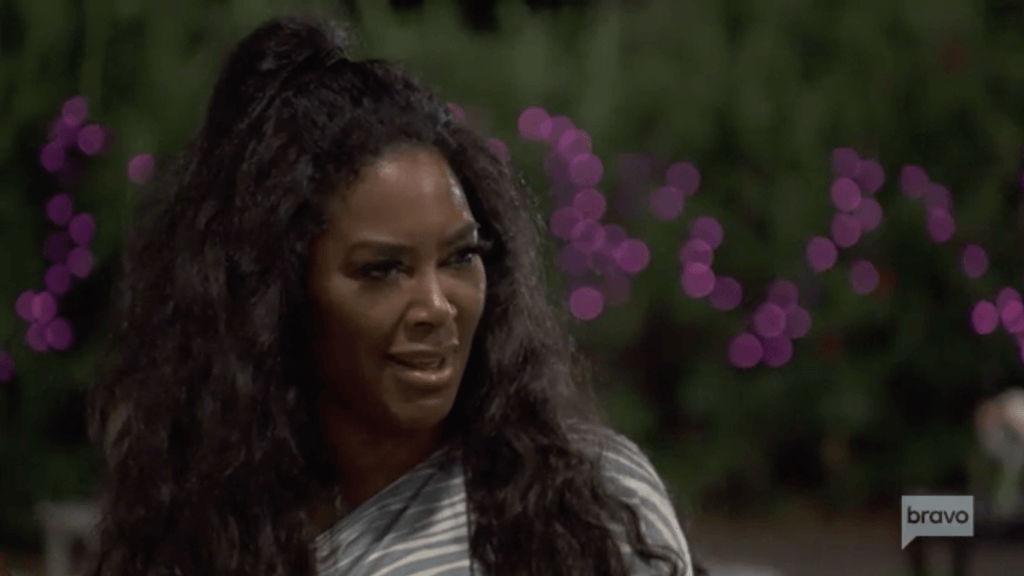 Kenya goes on to say there were multiple people in the room with Bolo. Tanya thinks Kenya hasn't had sex in quite a while, and maybe that's why she's obsessed with finding out who got some.
Kenya Moore mentions the room in question was next to Porsha's room. Porsha very calmly asks if Kenya is pointing a finger at her. Kenya refuses to mention names. Tanya tells Kenya she's frustrating, and swears she spent the night in Porsha's room. So, did that put Tanya at the scene of the crime?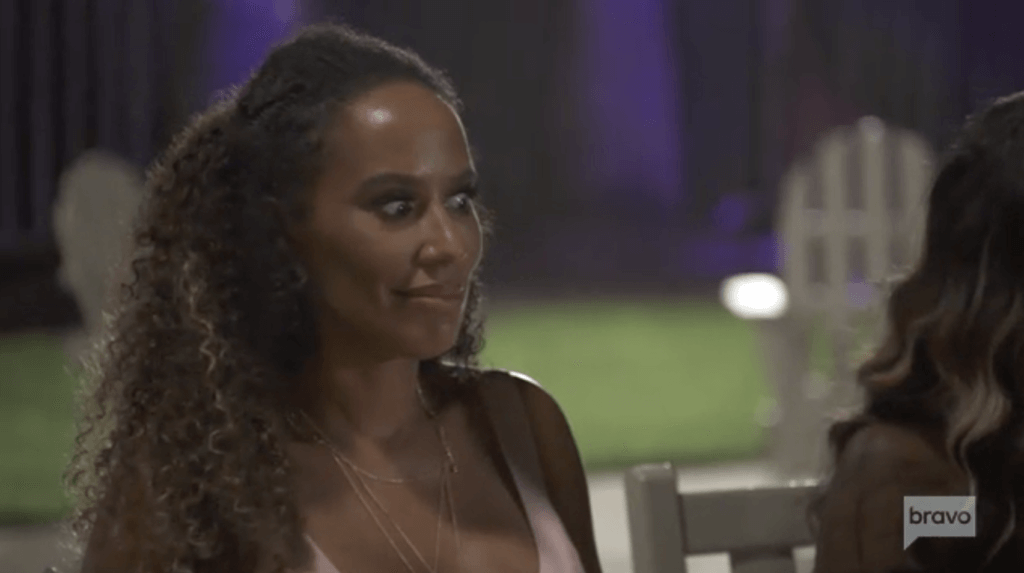 Porsha tries to shut Kenya down, saying it's not an issue unless Kenya names who was in the room with Bolo. Then Toya wonders why this is even an issue for Kenya. So what if people were moaning and groaning? Kenya says that it concerns her because it is a home they're all sharing, not a private space. Kenya is disgusted and thinks the women shouldn't have done it on a girls' trip, especially when she has her daughter in tow.
Porsha, again in a calm voice, says she's over the dinner. The weekend was fun. The bachelorette party was fun, but now she's ready for bed.
Toya says that Kenya ruined "it" meaning either the weekend or the dinner. In fact, she kind of ruined both for all the women.
In her voice over, Porsha thinks Kenya is trying to shame her in an aggressive manner and it's not working. I have to note here that Porsha has done a lot of growing. In the past, she would may have gotten violent or screamed in frustration, but this time, she kept her cool. Kudos, Porsha!
Kandi Burruss butts in here and says whoever did something with Bolo, it's their own business. As Marlo points out, they're all adults. But Kenya insists that in a shared house, having sex is disrespectful. Kandi points out if Kenya were up in her room asleep, she wouldn't have been bothered. (Instead, Kenya kept creeping down to see what everyone was doing throughout the night.) Kandi reiterates, this was supposed to be a judgement-free zone. And Kenya wanted this dungeon party for Cynthia's bachelorette party, so what's the problem?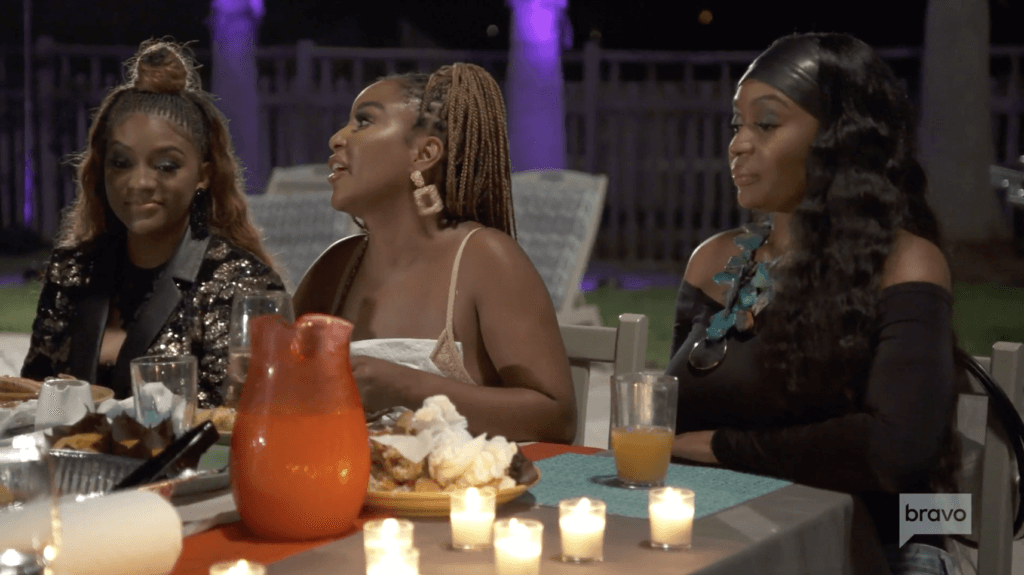 The women finally get off the topic of Bolo and toast Cynthia.
Finally, the women are back in Atlanta. Drew's husband, Ralph, has moved the family into their new home. Drew's trying to convince her two-year-old to start using the potty, then her mom, Pastor Jeanette takes the baby.
Ralph is curious about the girl's trip. Drew will tell him all the tea on Bolo, because she's honest. She explains the dungeon situation. She saw what Bolo was working with firsthand. She admits that Bolo flipped her over on a table, and she made her booty clap. Then Bolo gave her a little love tap on her ass.
Ralph wants to know all the details. Drew promises she's told him everything. Besides, she still doesn't have any details about his trip to Tampa. You remember what happened: he left after a fight and didn't contact her for days. She had no idea where he was or how long he'd be gone.
Ralph says he stayed in a hotel. What hotel, Drew asks. Ralph thinks she's "stupid" for asking. She wonders who he went with, but Ralph claims he went solo.
Drew isn't sure Ralph cheated, but she definitely questions it. Furthermore, she's been honest about her night with Bolo in the house. Why can't Ralph be as honest? If he's still not coming clean about the details, she suspects he was misbehaving. But as she's confronting him, she smiles the entire time.
Kandi catches up with Don Juan at an outdoor café. He's the one who put the dungeon night together, which involved getting Bolo tested for Covid, having the box moved to the backyard, etc. He complains to Kandi about the work load, but she says it was worth the effort. Kandi describes Bolo in the glass box, his big penis waving at the women, his smooth skin slick with oil. Don Juan looks a little scandalized. Kandi doesn't put anyone on blast, but explains that the ladies got freaky.
Kandi Burruss then describes Kenya's behavior the next day. Kenya heard noises coming from the hallway. Kandi heard the sex noises, too.
Meanwhile, Cynthia tells Mike what happened. Bolo's dick is the real thing, because he swung it like a windshield. Mike reenacts Bolo's lap dance and uses a water bottle to represent Bolo's dong. Then Cynthia tells him what Kenya heard: alleged sex.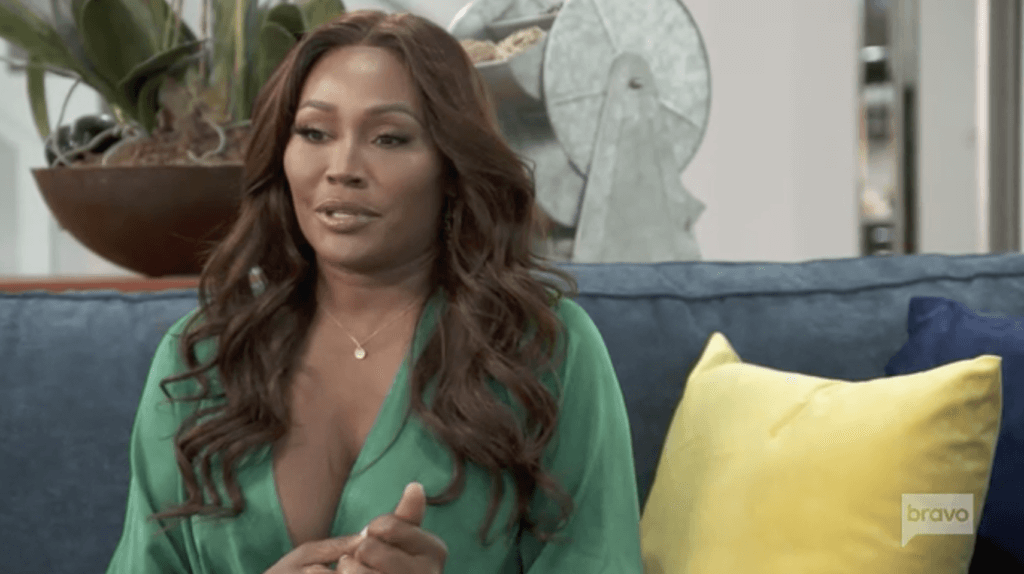 Now, it's time for Kenya's magazine cover shoot. She's dressed in a leather bodysuit, because she's representing women's empowerment. All righty. Toya shows up with a cake to celebrate.
Kenya has distanced herself from Toya after the trip. She'd like to smash the cake in Toya's face. Kenya felt that LaToya attacked her at their last dinner.
The night of the bachelorette party, the women went after Kenya for bringing her daughter on the trip. They would have liked to bring their babies, too. Why didn't LaToya stand up for Kenya that night? And when Kenya saw LaToya and Porsha making out, it hurt her feelings. She has a crush on LaToya.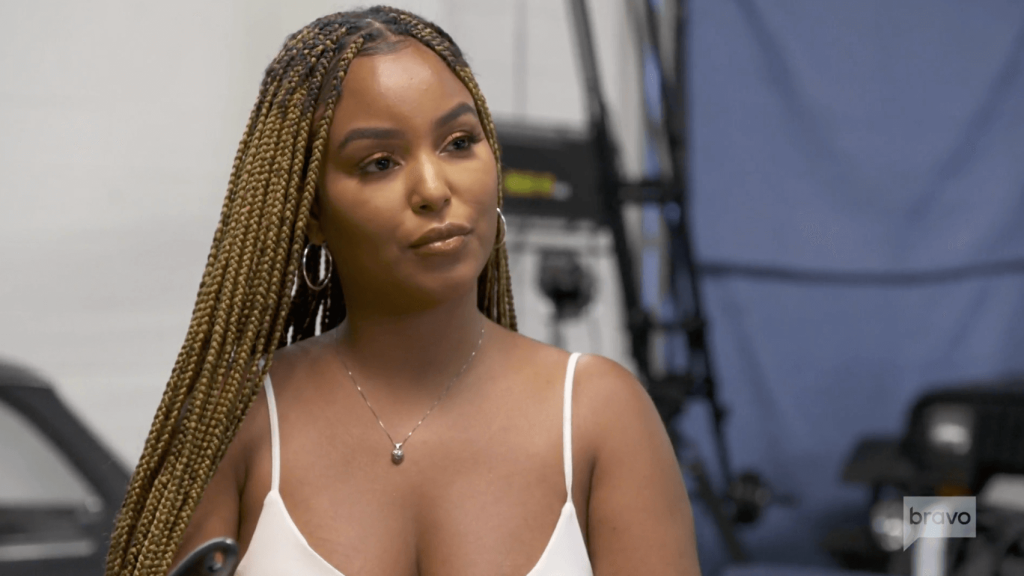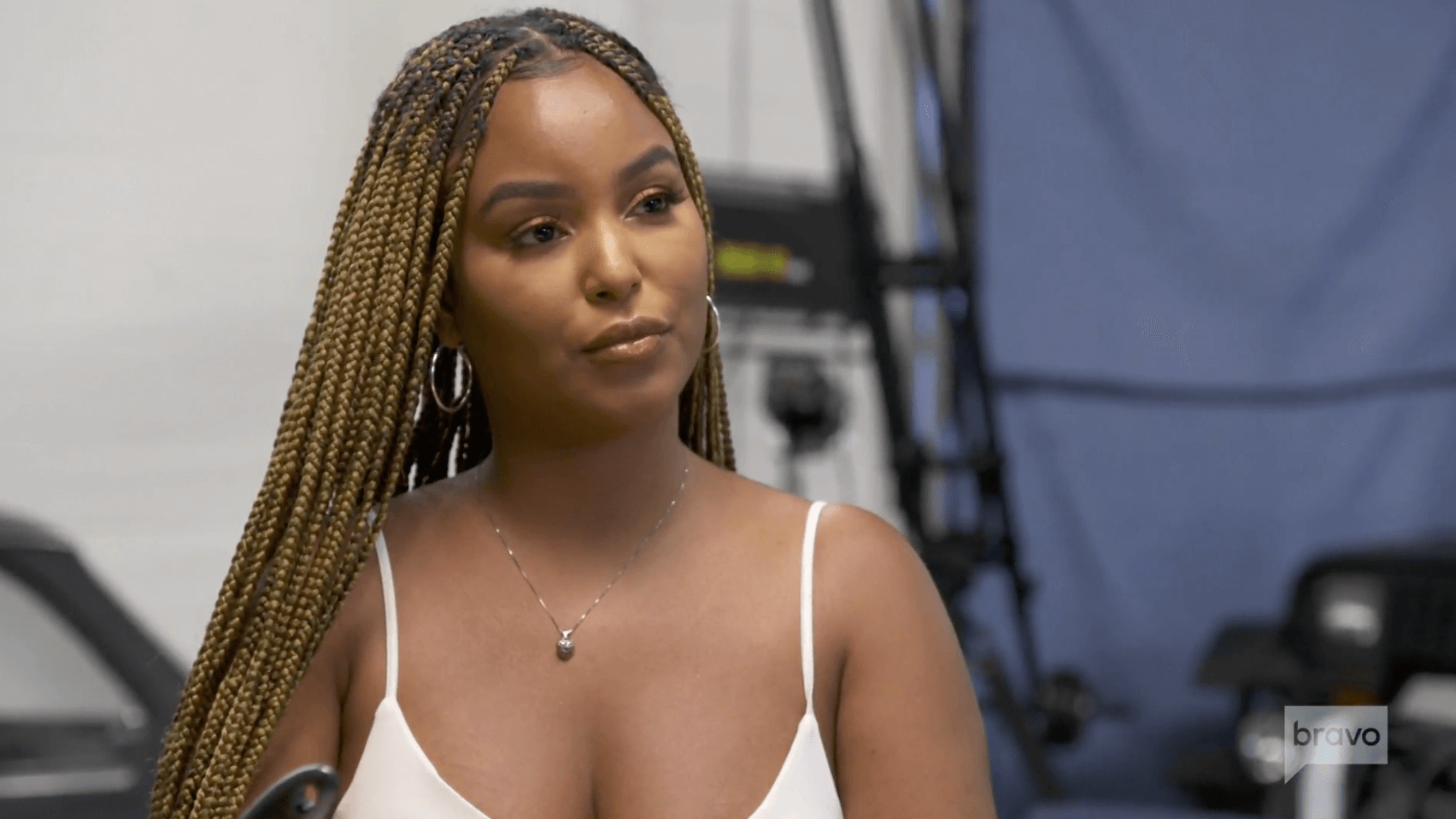 LaToya is shocked that Kenya is attracted to her. But the bigger matter is that Kenya felt sidelined. Toya admits that even though she had fun with Porsha that night, she should have had Kenya's back. She apologizes.
Kenya Moore believes Toya, Porsha, and Tanya had a three way. Toya insists she did not kiss Tanya, nor did she go down town on Porsha. They ground against each other, then Toya threw up and went to bed. Gross.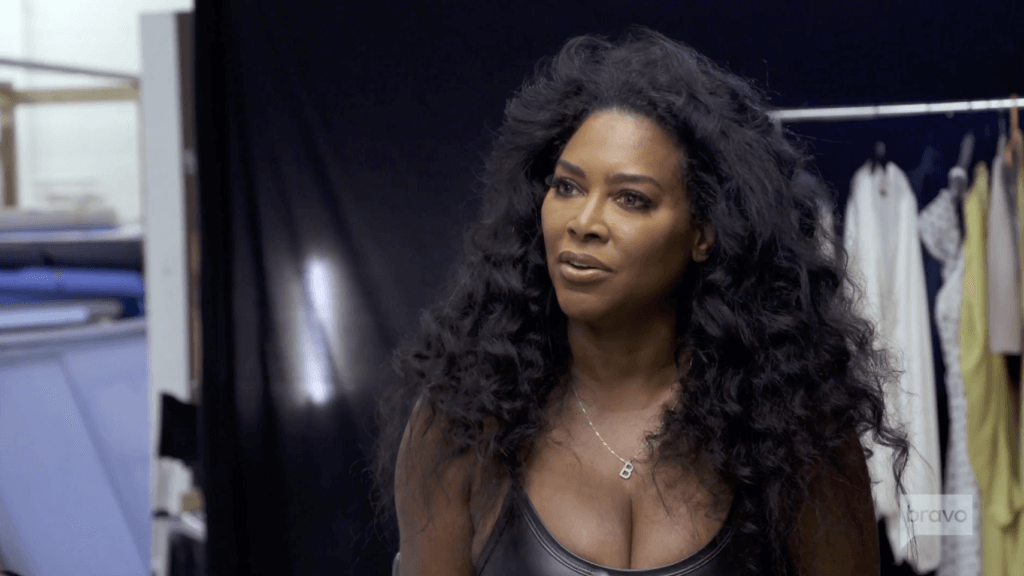 Later, Drew stops by Porsha's house. They're now neighbors. Porsha offers Drew a muffin. Porsha likes that Drew checks everyone's bullshit. She's glad they now live only eight minutes away from each other.
They immediately delve into the girls' trip. They had a great time, but were disgusted at Kenya's behavior. Drew thought Kenya trying to throw Porsha under the bus was a move most uncool.
Porsha would have respected Kenya more if she'd been direct. If she wants to call out Porsha, then call her out already. Porsha labels Kenya a "punk ass bitch."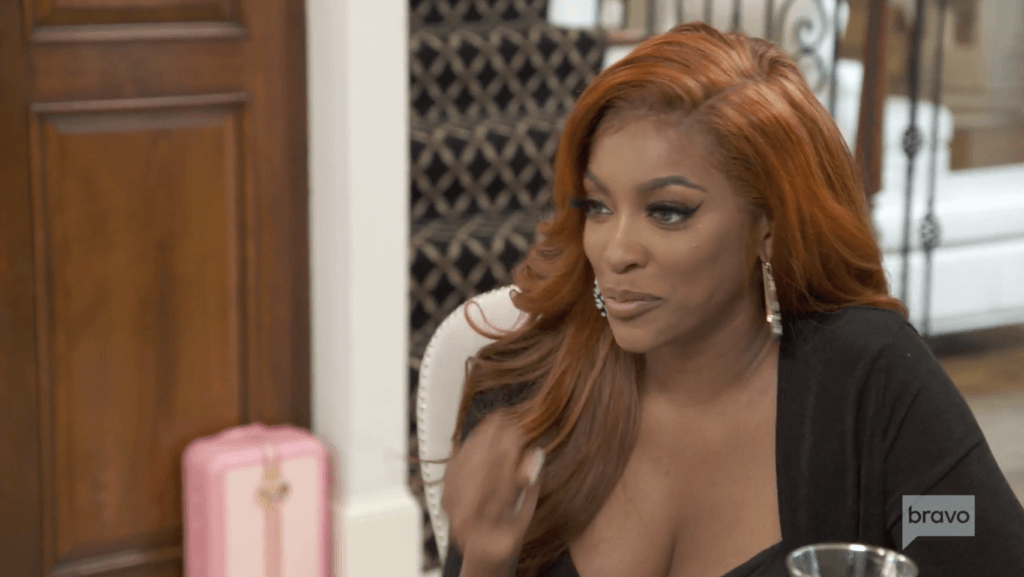 The two women agree that Kenya should have shut her mouth. Why break girl code? Well, Porsha believes Kenya is in an all out war to destroy her, but Porsha won't let that happen.
Drew gets a call from Ralph asking if she's still at the store. She doesn't admit she's at Porsha's house. Ralph doesn't need to know she's indulging in mimosas and muffins.
Drew brings up Ralph's mysterious trip to Tampa. Porsha asks Drew point blank if she believes Ralph cheated. Again with the weird, inappropriate smile, Drew claims she isn't sure. She doesn't want to believe he's cheating.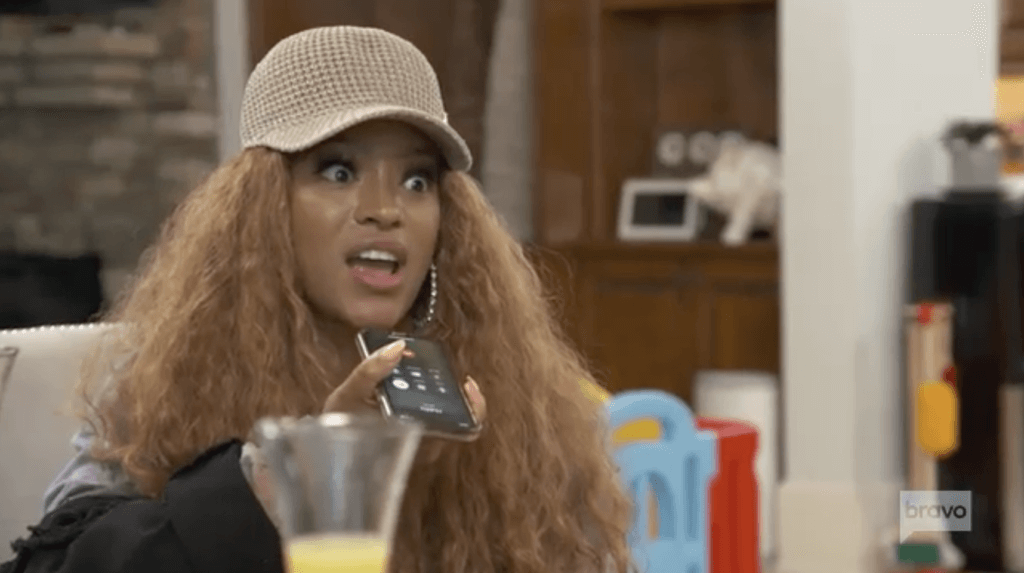 Porsha understands what Drew is going through. She says neither of them is insecure, but wondering if you're man is cheating makes you feel that insecurity creep up.
Porsha wants to use this most recent break from Dennis to reflect on her own part in their relationship problems. She still loves Dennis, but her feelings have changed. She views him as family instead of a partner.
We get a montage next. At Kandi's house, she's playing games with Ace while holding baby Blaze. Porsha is helping Pilar brush her little baby teeth. And Cynthia is talking wedding plans with her sister, Mal, her mom, and Noelle.
Meanwhile, Kenya has another meeting with her lawyer. She's has been talking to Marc about having a custody petition served. Instead of divorcing, she wants to settle their custody dispute. She has no idea where they're relationship is going, after all. (Here's a hint, Kenya — he lives in another state and doesn't want to see you. What's that tell you?)
Kenya says Marc has been sending her love songs about wanting back a lost lover. He wants them to work, to be part of a power couple, and all the songs are about getting her back. Kenya wonders why Marc can't show his love for her.
Her lawyer has another take on Marc's behavior. He thinks Marc has pulled a stunt on Kenya. He filed for divorce in New York and wants alimony. Ouch!
Kenya needs a minute to pull herself together. Marc told the world that he wants nothing from her, and now he wants maintenance! She sees this move as retribution for serving him with custody papers. Sounds like something Kenya would do.
The lawyer says when they tried to serve Marc the papers at home, the process server was told that Marc didn't live at that address, but it was a lie. Also, Marc filed in New York. Kenya never lived in NY. If Marc wants to file, he must do so in Atlanta.
Kenya Moore's lawyer encourages her to file and serve him again. She tried to do it civilly, at his home so that he wouldn't be embarrassed at work, but that's now off the table.
What really pisses Kenya off is Marc asking for money, but makes no mention of Brooklyn. He wants the court to decide custody. The lawyer is expecting things to get ugly from this point on.
And that's our episode. So, do you think Porsha handled Kenya in the right way? Are you surprised that Marc wants Kenya's money? And was Ralph cheating on Drew in Tampa?
Stay Connected With All About The Tea: Twitter Ι Instagram Ι YouTube Ι Facebook Ι Send Us Tips
I'm a fiction writer by day and a reality TV addict by night.