'RHOA' RECAP: Kenya Moore Says 'Someone Screwed the Stripper' at Cynthia's Bachelorette Party!
This is the third week in the Isle of Palms for the The Real Housewives of Atlanta.
Kandi Burruss has a surprise for Cynthia Bailey: a male stripper stuck in a glass box in the backyard. Cynthia's getting married, so she needs a hot, naked man to help her celebrate.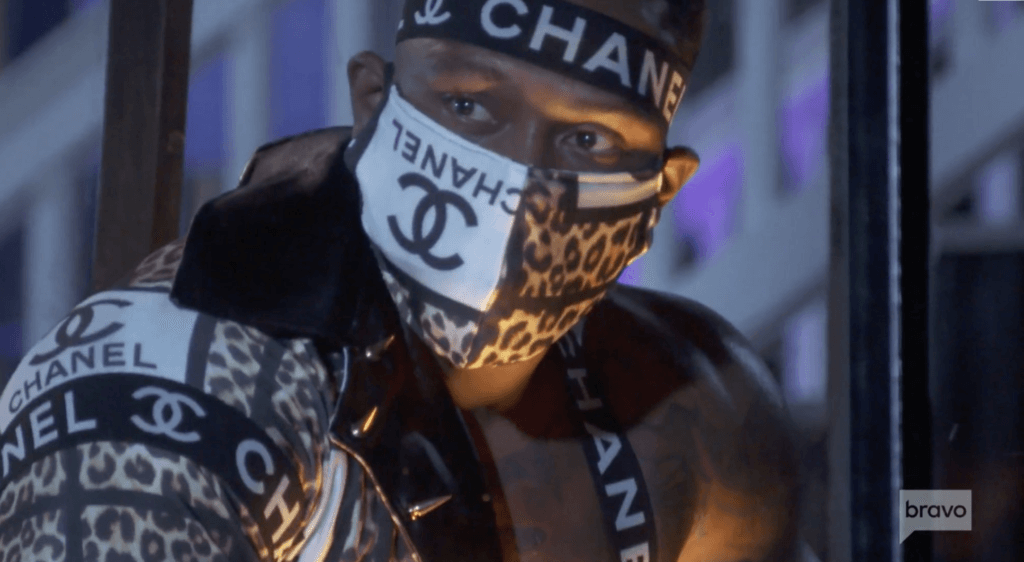 Kenya Moore is dressed like Sharon Stone in Basic Instinct as she shared the tea of what went on that night. She tells us a freak hoe is someone who will be a hoe for anyone, and that's there's not enough holy water or sage to erase what went down at the bachelorette party.
The ladies are all dressed up in the sexy costumes Kandi kindly provided. The only mask Porsha Williams wears is a glittered cat mask over her eyes.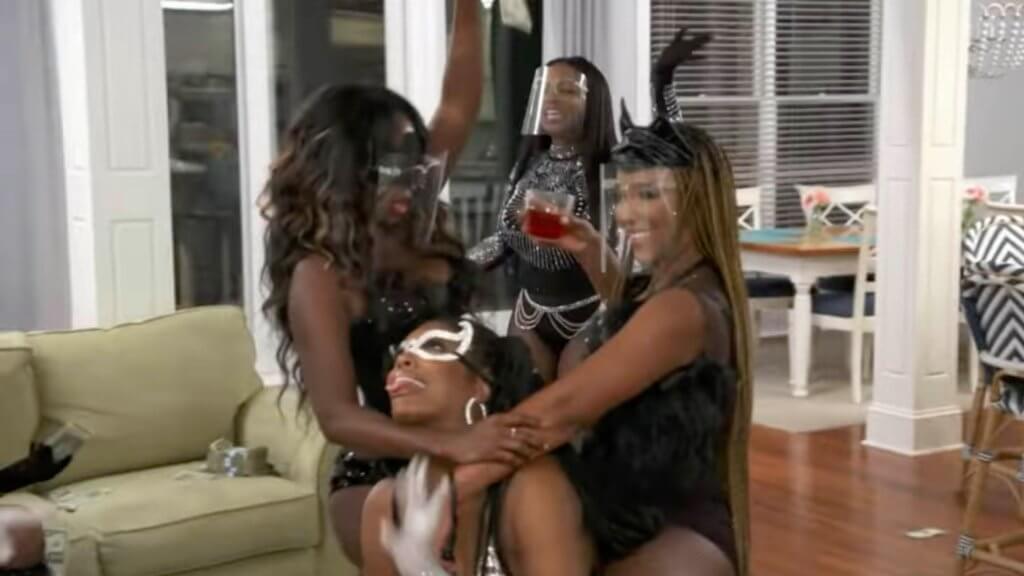 Everyone is dressed in black except for Kenya, who is sporting bright red. But everyone's ass is hanging out, so they have that in common.
Kandi tells the ladies that she's the mistress of the evening, and when Cynthia shows up, she'll know it, too. The stripper has been tested for Covid, so he's safe. I wonder if they tested him for other things. Just curious!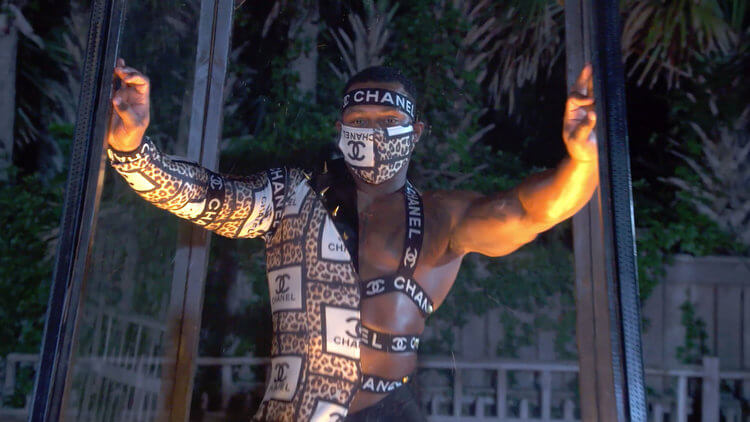 The women hide in the hallway as Kandi slaps a whip and calls for Cynthia to sit in the living room. Then she calls for the women to enter. Thirsty LaToya Ali crawls across the floor. Meanwhile, Kenya is sprawled on on her back, her legs spread wide as she gropes herself. Drew Sidora thinks if Kenya had acted like this when she was married to Marc, they'd still be together. Ouch!
Kandi tells us the dungeon is a judge free zone. Not from where I'm sitting, sis. I'm here to judge all day!
The women all have alter egos, and they introduce themselves to a wary Cynthia. Kandi tells Cynthia to stop acting like an auntie. She hands Cynthia her costume.
Kandi tells the women to have a cocktail and loosen up. Marlo heads upstairs to help Cynthia get dressed.
Downstairs, Kandi shows off her toys, including a small vibrator that has to go in the slit inside Cynthia's panties. This is not Cynthia's thing, but she gamely goes along. Then she dons the blingy white outfit, what there is of it. When the vibrator goes off, Cynthia almost leaps out of her thigh high boots.
The women tromp out to the back yard where Bolo the stripper is gyrating in his glass box. He's wearing a half coat made by Chanel. Marlo tells us it's fake Chanel, but those muscles are all real. And the ladies inform us his dork is genuine, too.
Porsha Williams and Shamea fight over who will help Bolo out of the box. Then everyone heads back inside, where Kandi hands out stacks of one dollar bills to each lady.
Bolo saunters in and starts thrusting his hips. In return, Cynthia awkwardly places five dollars on the coffee table in front of Bolo. Girl, don't you know you're supposed to shove that down his pants?! Like Kenya did.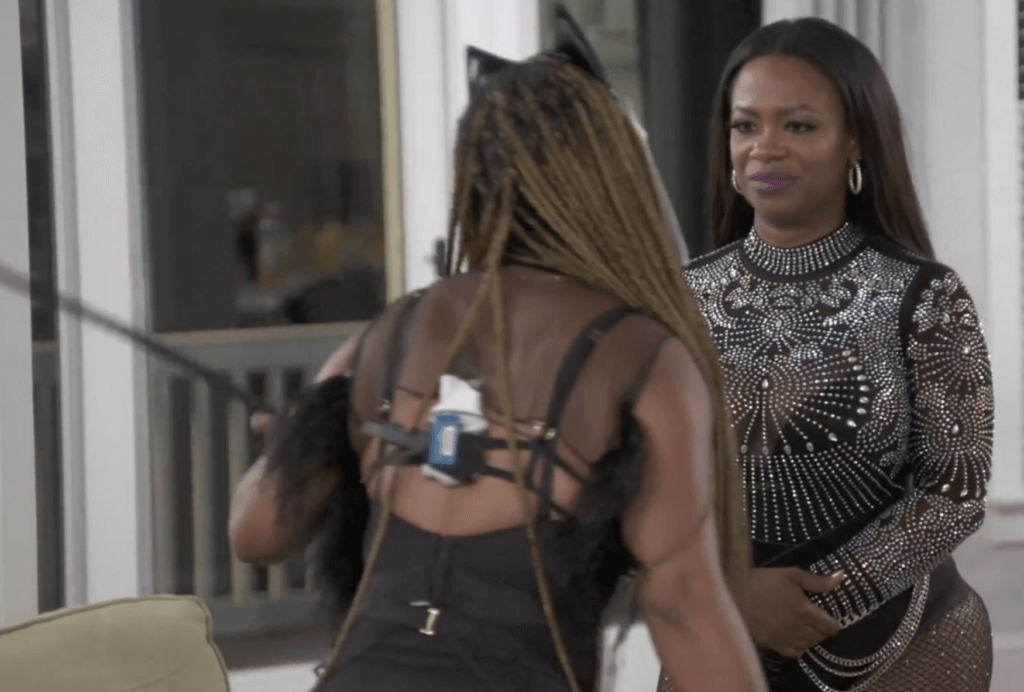 Bolo sticks his hand down his pants. The women go nuts. Pun absolutely intended.
Porsha stands and works her way around Bolo, tossing bills toward him. Then she rubs up against his little Bolo, still encased in his tight pants. When she falls, he helps her up.
Bolo takes a break in one of the bedrooms. Then Kandi gathers the ladies and shows Cynthia how to use a sex swing. It looks damned uncomfortable. Meanwhile, Kenya writhes on the floor.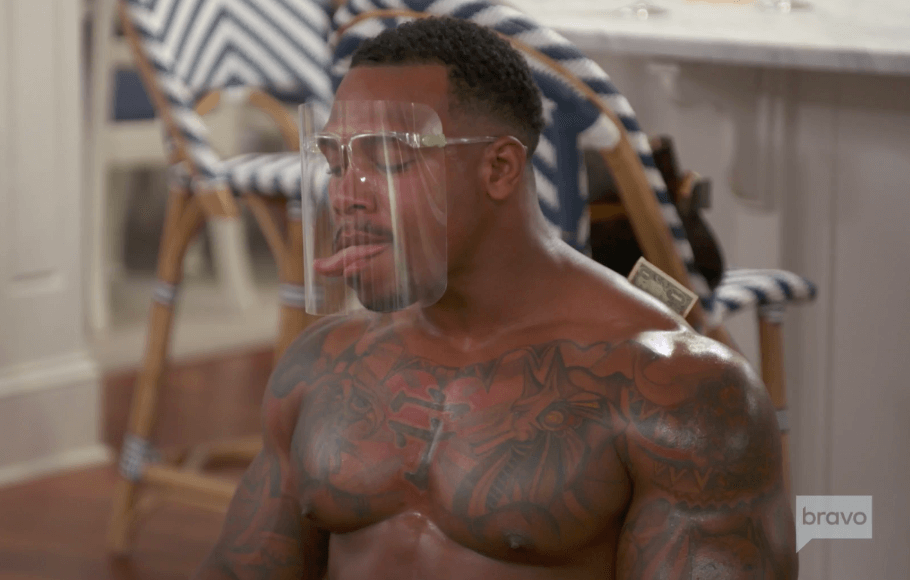 While LaToya Ali  grabs Porsha's ass, Shamea throws bills at Cynthia, who's still in the swing. Tanya turns on the vibrator, and Kenya yells for Bolo to come back.
Porsha goes to get Bolo and asks him to come out. He wants to know if the cameras are still filming, and she says no. Kandi then asks the producers to stop filming, and the cameras cut out. The women cover the other cameras stationed around the house, so they'll have some privacy. But we still have audio!
Porsha calls for Toya to come down and bleep. Shamea asks if she's a bisexual bitch. Porsha reckons so, at least for tonight, and declares one of the women will go downtown on her. Wow.
In her talking head, Drew has no idea where Bolo slept.
Apparently all the cameras weren't completely covered, because we see Kenya head upstairs in the wee hours to check on Brooklyn. She comes back down wearing a man's shirt and hears sexy music. We also see through the window that Bolo is showing Cynthia his prize possession. She claims it's really big.
Kenya sits next to Cynthia and sees LaToya and Porsha grinding on each other. We get a little peek from one of the ceiling cameras. At this point, Tanya points the camera toward the wall.
Kenya says she goes back upstairs and hears lots of noises. Shamea is yelling Bolo's name. Then he has his head in Drew's lap. Tanya hasn't been with Bolo, and Porsha encourages her to give him a try. We see silhouettes through the blinds, and Bolo tells someone that as long as he has a face, they'll have somewhere to sit. Ooookay.
At nearly five a.m., we hear Bolo moan. Kandi says she watched it all. The ladies enjoyed their time with Bolo, and she's happy about that.
At six, Kenya wakes up and goes downstairs. No one is in the living room, but she hears moans and voices coming from the hallway. Who screwed Bolo? Still not sure!
Cynthia is awakened in her room by Drew. Cynthia tells Drew she saw everyone getting "busted wide open." Drew admits she came back to the living room at some point. She says there were booties shaking, faces in the booties, Porsha was wide open. Toya was on top of Porsha. Kenya was on top of Toya, and Shamea was waiting for her turn. Then Bolo flipped Drew on top of the table.
Drew wants to know if Cynthia is going to tell Mike everything. Yep. She's an honest woman. But she's going to tell him in person.
Drew, Porsha, Kandi, and Marlo are heading out on a boat. Marlo thoughtfully puts all their favorite liquor into flasks so they can get their drink on later.
Kenya tiptoes into the kitchen and complains about the sex smell. Kenya says Drew was the one who did the most with Bolo. Drew claims she was under the influence and at a bachelorette party. That's her excuse, and she's sticking to it.
Porsha comes into the kitchen. She's dressed for a yacht and has to change once she finds out they're going crabbing. (Although they may have gone crabbing with Bolo the night before. Ba dum bump.)
Before going back upstairs, Kenya throws out that someone was in bed with Bolo. Kandi tells her what happens in the dungeon stays in the dungeon. Stop ratting people out, Kenya! Marlo thinks they should all sign NDAs for the next bachelorette party.
Later, Cynthia grabs a bottle of rose. Kenya joins her out by the pool. Cynthia admits she got turned on watching the girl on girl action the night before. Kenya says she watched for a while — bare breasts and a lot of Bolo. His head would disappear occasionally.
Kenya was most shocked by Drew. There was some humping involved. Then LaToya comes out to the pool with a whip in her hands. When Toya tries to kiss Kenya's cheek, Kenya turns away. Those lips have been all over Porsha, and therefore are unsanitary. Toya denies it.
Kenya plays detective and questions Toya. Bolo made his walk of shame at seven a.m. So, who was in bed with the man?
In the bus, Porsha and Marlo talk about being shocked by Kenya's behavior. She was contorting herself, shaking her ass in the air, and fondling her assets. Who knew Kenya had that in her?
Kandi says Marlo left first. Then Kenya went upstairs, and Cynthia followed close behind. Kandi says she heard someone in the kitchen. Marlo snuck into the kitchen, but no one was around by that point.
Back at the house, Kenya continues to quiz Toya. Toya declares she couldn't have been with Bolo because she did an Insta post at six.
The foursome makes it to the dock. Marlo has to take off her six-inch heels and don a life jacket. This isn't the luxury boat she expected, but a fishing boat.
When Shamea and Tanya join the other women poolside, Kenya continues her questions. Shamea claims she was in bed by four-thirty. Tanya can't give a timeline about Bolo's whereabouts because she was too drunk.
By now, even Cynthia thinks Kenya needs to shut this down. She calls it SUV Poolside addition. Nice one, 50Cynth.
When the producers ask Kandi how crazy things got, she says from a scale of one to ten, it got to a hundred. But she won't tell where Bolo spent the night.
When the boat captain spies a shark, the women freak out. Marlo hooks it and reels it in! The captain cuts the line and lets the shark go, but Marlo gets the trophy for best catch of the day.
When the fisherwomen get back, Kandi wonders where the food is. She's not interested in Kenya's Bolo investigation. She just wants some lunch.
That night, Drew facetimes Ralph. He's in the new house. He says the move has been stressful. Probably because he tried to move an entire house in one day — without Drew. But, it's ready.
There's a low country boil in the kitchen. Toya is trying to season the pots, but she's making a mess. Fortunately, Marlo knows what she's doing and takes over.
Kenya is still on the trail. She quizzes Kandi, asking what she might have heard. Kenya says she heard sex noises at six that morning. Kandi thinks Kenya should let it go. It's personal business. But Kenya wants someone to confess. She waited outside the guest bedroom door, listening for forty-five minutes.
Kenya also heard more than one woman in the bedroom. She swears one of the voices belonged to Porsha.
When Kenya saunters back upstairs, Kandi vents her disgust. There's such thing as a girl code. Don't snitch on your friends, Kenya. Keep that shit to yourself. Besides, it's all speculation.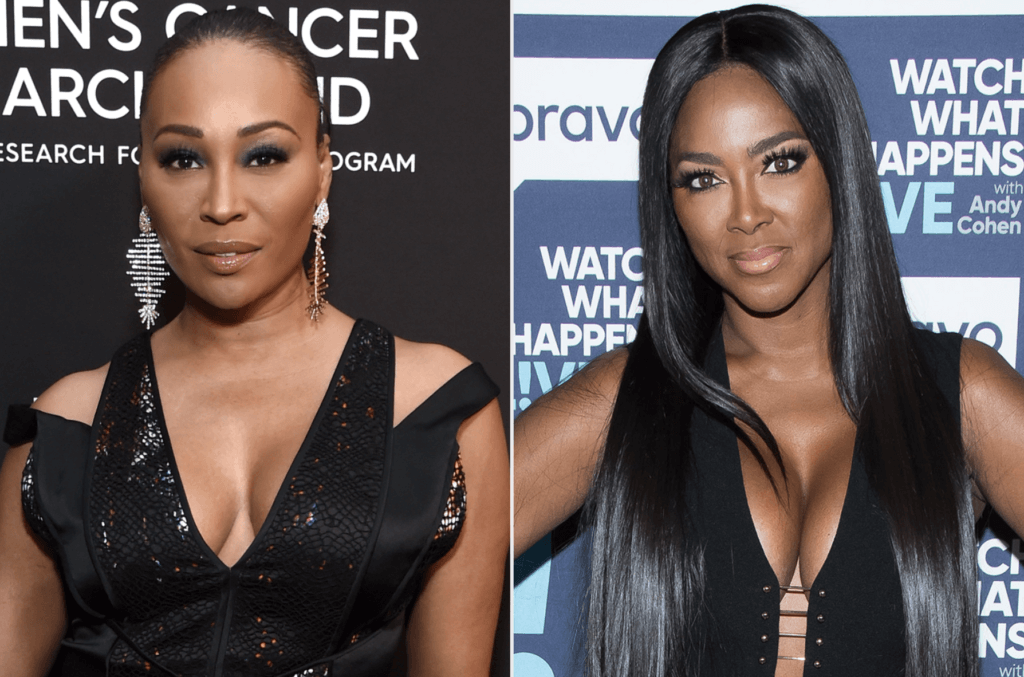 Cynthia calls Marlo, asking her to come upstairs and help her pick out accessories. But that's just a ruse. Cynthia wants Marlo and Kenya to settle their feud once and for all. Marlo just wants some peace. She's tired of fighting and is willing to talk.
Cynthia leads Marlo to Kenya's room. Kenya is tired of the ugliness, too. She's over the petty stuff, but Marlo has attacked Kenya about her mom. That cut deep. Marlo wanted to hurt Kenya because they weren't friends. But now, she apologies. Kenya is sorry for putting Marlo in the worst room. They want to put down their weapons and move forward.
Cynthia leaves Marlo and Kenya alone. Marlo hugs Kenya, as Cynthia goes to the kitchen to check on dinner.
At this point, Porsha refuses to be questioned by producers. She pleads the fifth.
Tanya and Shamea go to Porsha's room. She smudges them with a sage stick as Tanya says Kenya has been wondering who screwed Bolo. Kenya has been telling everyone she heard Bolo having sex with someone. And they did it in the empty room next to Porsha's. So, Porsha asks, what exactly is Kenya implying? Shamea thinks Kenya wants to put Porsha, Tanya, and Bolo in the room together. Tanya and Porsha aren't happy to hear this.
Porsha and Tanya are over Kenya. Porsha thinks Kenya wants her to pop off, but she won't give Kenya the satisfaction.
In Kenya's room, she and Marlo talk about the noises they heard early that morning. Marlo says maybe someone was having a dream. They leave the room and hug once again.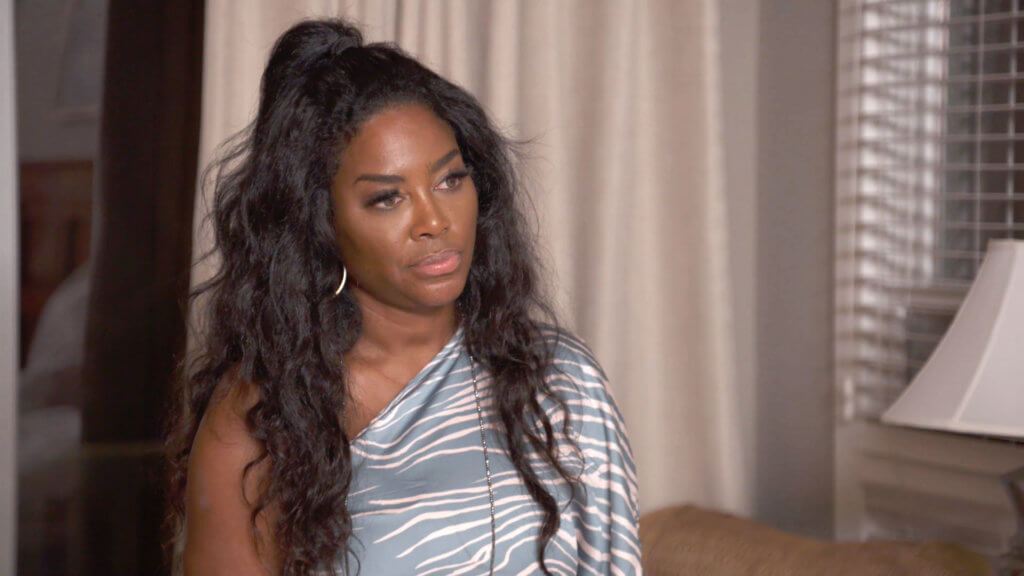 In the kitchen, Porsha, Tanya, and Shamea join Kandi, Toya and Cynthia. Porsha is now disgusted at Kenya's nosy ways. And Toya finally understands why the women warned her about Kenya. Kenya takes a fun night and turns it into a situation.
The ladies convene outside by the pool. Porsha has a stink face on, saying she's not hungry. Everyone is stunned when Marlo and Kenya walk out together.
And that's our episode. So, was Kenya out of line for throwing the women under the bus? Is it weird these ladies hooked up when they're all friends? And do you care who hooked up with Bolo?
Stay Connected With All About The Tea: Twitter Ι Instagram Ι YouTube Ι Facebook Ι Send Us Tips
I'm a fiction writer by day and a reality TV addict by night.