Basketball Wives
'Basketball Wives' Cast Accuse OG of 'Fake Colorist' Storyline & Refuse To Film With Her!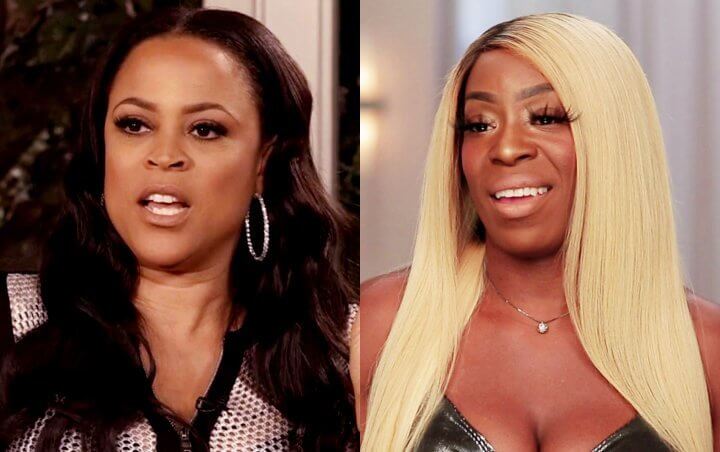 The cast of Basketball Wives walked off set while filming Season 9, pausing production, allegedly due to behavior exhibited by their co-star, Ogom "OG" Chijindu.
The show reportedly kicked off filming season in November, with Evelyn Lozada, Shaunie O'Neal, Jackie Christie, Kristen Scott, Malaysia Pargo, and Jennifer Williams all coming back to film in Los Angeles.
Production decided to bring back OG despite a chaotic Season 8. OG clashed with the other veteran cast members, but producers were reportedly hoping  for a reconciliation between OG and the other women.
OG is also currently being sued by Evelyn Lozada for defamation.
The Blast is reporting that producers separated the cast into two separate homes due to the COVID-19, and that the women expressed concern about filming with OG, because of her past behavior.
An insider claims that specific cast members were "concerned about filming with OG and being around her due to the volatile nature of cast dynamics. Out of fear of any action of dissent or dislike being pegged as acts of colorism or racism, some felt it in their best interest to avoid her altogether."
The ladies were reassured by producers that the focus of the show would revolve around their personal lives and their individual lockdown challenges. Producers reportedly wanted to address the chatter around OG and the subject of colorism, and promised the cast that they would deal with the topic in a respectful and informative manner.  Sources told the outlet that some of the women became "uncomfortable" with interacting with OG after she kept shifting her story on the subject. 
Sources reported that many felt that OG "further exposed her hypocrisy" during an exchange with Kristen. Kristen apparently sat down with OG in an attempt to find common ground, after listening to OG's experiences. Kristen pointed out that they shared a similar skin tone, in an attempt to advance the larger cast conversation on the topic.
The ladies reportedly believe that OG disparaged Kristen's blackness, "telling her because of her Eurocentric features, colorism doesn't apply to her." Sources reported that the ladies were tiring of OG's attitude, because they believed that she was not interested in open dialogue, but wanted to "isolate her own perspective in a way that is weaponizing and further divisive."
Producers supposedly thought that OG was using "colorism" as a made-for-TV storyline, due to her shifting opinions. One source alleged that it appeared that she had concocted a "fake colorism" storyline for Season 9.
Multiple cast members reportedly walked off set, after OG started to become "confrontational" with two newbies, Nia and Noria Dorsey. The outlet reports that production shut down for a few days, because the cast wanted producers to rein in OG and get her "spiral in control." The cast eventually returned to finish out the show.
The VH1 reality show premiered this week, and fans did not respond well to OG. Fans sounded off on social media — blasting the reality star.
One viewer wrote that OG, "has no problem dragging another black woman down either, sooooo. OG did some nasty trifling things on bbw and now she's using colorism as a way to get at @evelynlozada like she used @mrskristenscott husbands paternity as a way to hurt her. Og, hurt people hurt people. You're no victim. Get off of this soapbox because you're making a mockery out of actual colorism victims."
Basketball Wives airs Tuesday nights at 8 pm on VH1.
Stay Connected With All About The Tea: Twitter Ι Instagram Ι YouTube Ι Facebook Ι Send Us Tips