'RHOA' RECAP: Kenya Moore Called Out for 'Double Standards' After She Ditches Costars!
The Real Housewives of Atlanta picks up where we left off, on the Isle of Palms girls' trip. Marlo has tried to make peace with Kenya Moore to no avail.
Upset, Marlo leaves the dinner table as Kandi Burruss calls her back. But Marlo isn't running away, she's just getting some ice. Psych!
Kenya Moore stuck Marlo in the shittiest room of the house because she says Marlo attacks her at every turn. Marlo points out that Kenya gives as good as she gets. This petty punishment is nonsense. Cynthia Bailey urges the two women to get to a place of respect. Marlo promises she won't read Kenya anymore.
Porsha Williams thinks a game will put all the bad blood behind them, so Kenya tells the girls the game is "go to bed." Whoops, she forgot about planning a game. But Porsha played "never have I ever" in jail, and it was good fun!
The women break from the dinner table to get their jammies on. Cynthia put the leftovers away, packing up pork to take back home to Mike. Porsha wants a piece of skin so badly she can taste it. But she doesn't succumb to eating meat.
The ladies all reconvene in the living room — everyone except Kenya. She's retired to her room with her baby. When Kandi confronts Kenya for being an MIA hostess, Kenya is done for the night. Kandi tells her that really not cool to leave the rest of the women alone.
The women are feeling that Kenya has a nanny on this trip, so why didn't she join them for an hour or two? And Porsha's still pissed that she couldn't bring her own baby on the trip. Kandi has a baby, too. She would love to be with little Blaze. Kandi starts tearing up, because the baby cries every time Kandi facetimes.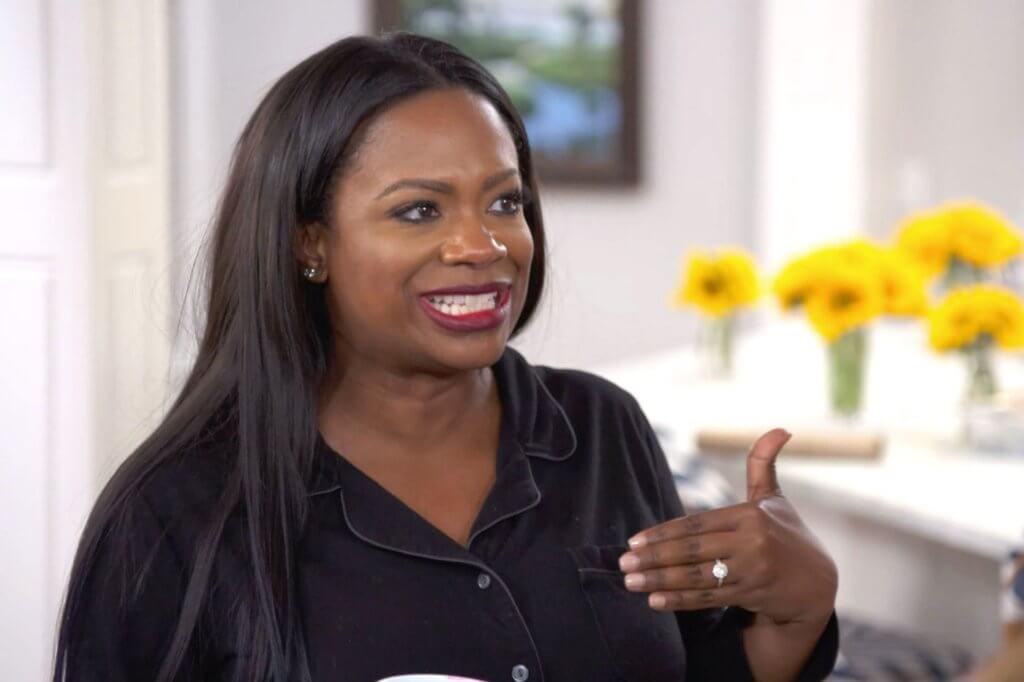 The women disperse. They're angry and missing their kids. How dare Kenya absent herself and take care of her daughter when she didn't offer that option to the rest of the women?
The next morning, Kenya Moore is up early, making breakfast for Brooklyn. Kandi facetimes Ace, but Blaze is still asleep. And Drew Sidora calls her husband, Ralph, from her room.
Ralph called a moving company to pack up, even though they're not supposed to close on the new house until the end of the month. But Ralph plans to move while she's gone. Drew is upset that he didn't tell her.
In the kitchen, Tanya and Porsha are waiting to hear news on the Breonna Taylor case. Meanwhile, Cynthia is outside on the beach, showing off the waves to her fiancé, Mike.
Inside, Kandi gathers the other women together and tells them she's planning a bachelorette party for Cynthia. She brought costumes for everyone. She also brought four thousand dollars' worth of ones for the male stripper. Kandi swears them all to secrecy, then they look at their barely-there costumes.
When Kenya asks what the plan is for the upcoming evening, Kandi tells her to make sure the nanny stays with Brooklyn all night long. Nope. That's not going to happen, because you can't work a person 24/7. Kandi has had enough of Kenya and tells her that on their next trip she should bring two nannies. Kenya protests. She can't think of everything, and she doesn't have sixteen assistants like Kandi. Kandi says that's just a lame excuse.
The two women sit outside to hash it out. Kandi tells Kenya she's annoying. First, there was the private jet. Then, Kenya ordered lunch for herself, telling the rest of the women to get something out of the fridge. Kenya had made no plans and as the host, she should have been making sure everyone had what they needed —  which includes food! And sticking Marlo in the crappiest room was a bad move, too.
Kenya thinks Kandi should go after Marlo. She's so quick to point out Kenya's faults. Marlo's just as bad. But Kandi has always had Kenya's back. And it was straight up rude to abandon the women the night before. If anyone else had acted this way, Kenya would have lost her shit!
Kenya whines that she doesn't have anyone in her corner. Where's her village? Well, when you marry a loser who lives several states away, then have a baby with said loser, this is what happens.
Kenya starts crying. Marc's been laying down the law from NY, and Kenya's tired of it. Kandi tells her to file and take control of the situation. Kenya then asks for help in hostessing duties. Kandi's still annoyed, but she is willing to suck it up. For now.
Kenya gathers everyone in the kitchen. She acknowledges their complaints and explains that she had to take care of Brooklyn. She apologizes for getting herself food and not asking if anyone else wanted lunch the day before.
Kenya gives the duties to LaToya Ali for the rest of the day. Toya plans to lead them in a workout.
Drew can't figure these women out. Are they all friends or enemies? She can't keep track because they ladies are fighting one minute, hugging the next.
One by one, the ladies back out of exercise and grab shots instead. Then they all jog off, leaving Drew and Porsha back at the house. Drew's leg is swollen and in pain after her Achilles' heel surgeries.
Drew unloads on Porsha, telling her she's tired of all the negativity, particularly from Kenya. Kenya was bitchy the day before, but after passing off her hostess responsibilities, she's much more chipper, leaving Drew confused. Who is the real Kenya? Drew can't take the fake. Porsha says Kenya isn't her friend. She can't tell Kenya anything, because it won't be received.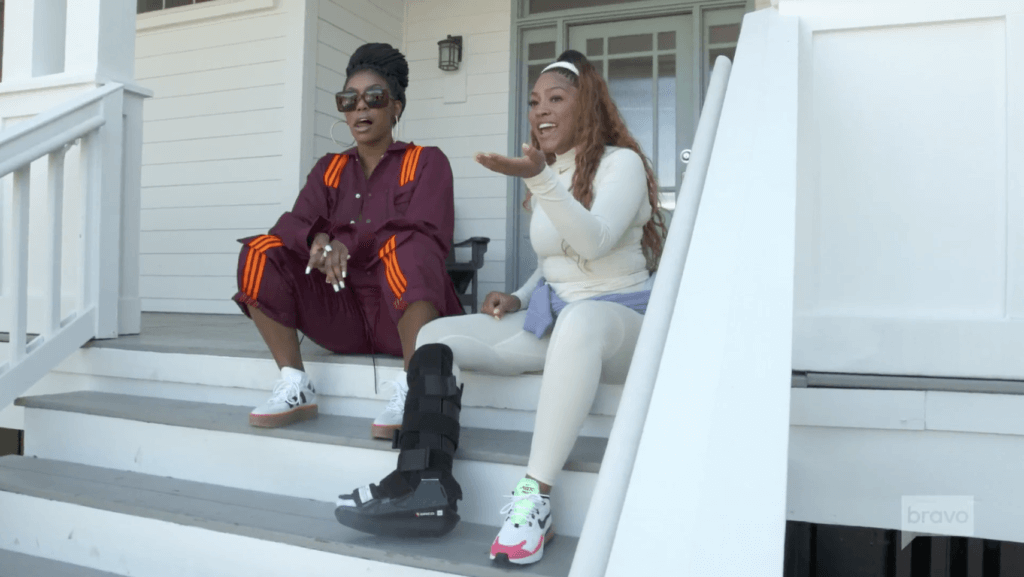 Porsha leads everyone inside to watch the Breonna Taylor announcement. The police officer was charged with wanton endangerment, but not manslaughter. The women are upset, and Porsha wipes tears from her eyes.
Porsha feels disregarded. The rest of the women nod in agreement. She just wants the world to see her. Porsha is determined to keep going forward and continue her protesting.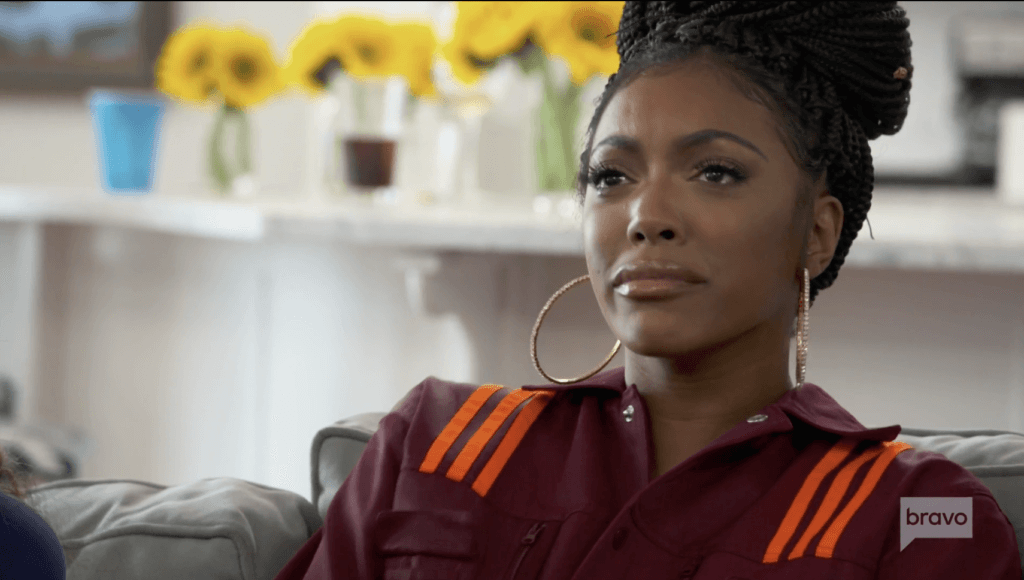 That night, the women get ready to go out to dinner. Tanya and Drew get to know each other a little more. Tanya isn't married, but she says Paul is her life partner. And she wants kids, but she doesn't want to plan a wedding.
Once at the restaurant, they sit around a table on the deck, and Drew wants to play a game. The "Realist or the Fakest" and then she tells everyone how confused she is by the back and forth behavior.
Drew wonders why Kenya has her daughter (and the rest of them weren't afforded that luxury) and why she disappeared the night before. Kenya says Drew's attacking her. Kenya feels she's been nice to Drew, so why is the other woman coming for her?
Kenya made the best decision for her child. Anyone who is judging her is shameful. But Drew wanted to hear that explanation last night. Why is Kenya so closed mouthed instead of just telling everyone what's going on?
Tanya is starving. While Kenya and Drew are talking, Tanya's ordering apps for the table. Then Kenya goes after Tanya, telling her she's being rude.
Tanya sets Kenya straight. Telling everyone that Brooklyn was in Kenya's room last night was not an apology. Kenya claimed she apologized earlier (which she actually did).
The women try to explain their frustration about Kenya's double standards and rude behavior. Kandi butts in and says Kenya is trying to downplay her own role in this mess. Even Kandi has had enough of Kenya's bullshit.
When Marlo and Porsha glance at their phones, Kenya stops talking, telling them she'll wait until they're off the phone. She needs everyone's attention. Kenya tells Porsha to get off the phone, but Porsha says she can hear just fine. Carry on without her. Finish your sob story, Kenya.
Kenya thinks Porsha's being disrespectful. How dare these women judge her as a mother. (No one was judging her on that.) Then she tells them all to step up and be her village. Kandi gives Kenya a salty side eye.
Cynthia says Kenya should have allowed the other women to have the option to bring their own babies. Kenya disagrees. The other ladies didn't need that option. I guess since they're not single mothers, they don't count?
Drew tells Kenya to stop being defensive. If she had communicated better, the women wouldn't be so upset with her.
Chicken wings come and the women chow down. Finally, Kenya apologizes to the women for not being upfront about what she planned to do.
Kandi calls for an end to the drama and change up the mood. Shamea makes everyone laugh so they'll lighten up, then they clamber back on the bus.
Kandi gives them instructions that upon getting back to the house. They need to get into their pjs and come back down to the living room. She's got a secret stripper in a glass box waiting in the back yard.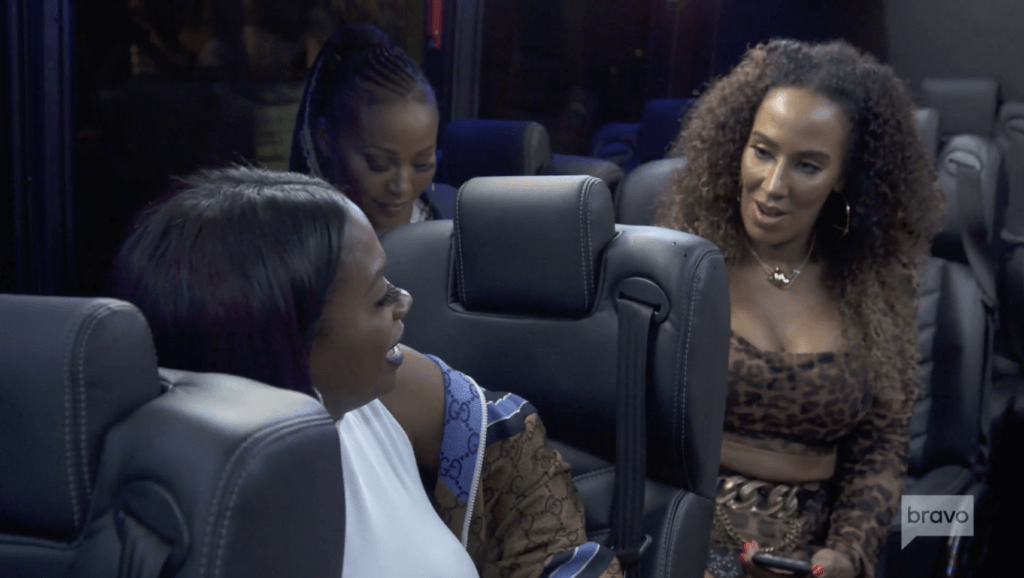 And that's our episode. So, do you think Kenya got it? Does she understand that she's been a terrible hostess? Will Drew get a second season or is she too drama shy?
Stay Connected With All About The Tea: Twitter Ι Instagram Ι YouTube Ι Facebook Ι Send Us Tips
I'm a fiction writer by day and a reality TV addict by night.