Reality TV Shows
'My Big Fat Fabulous Life' Whitney Way Thore Dragged For Exposing Her 'Gross' Naked Body!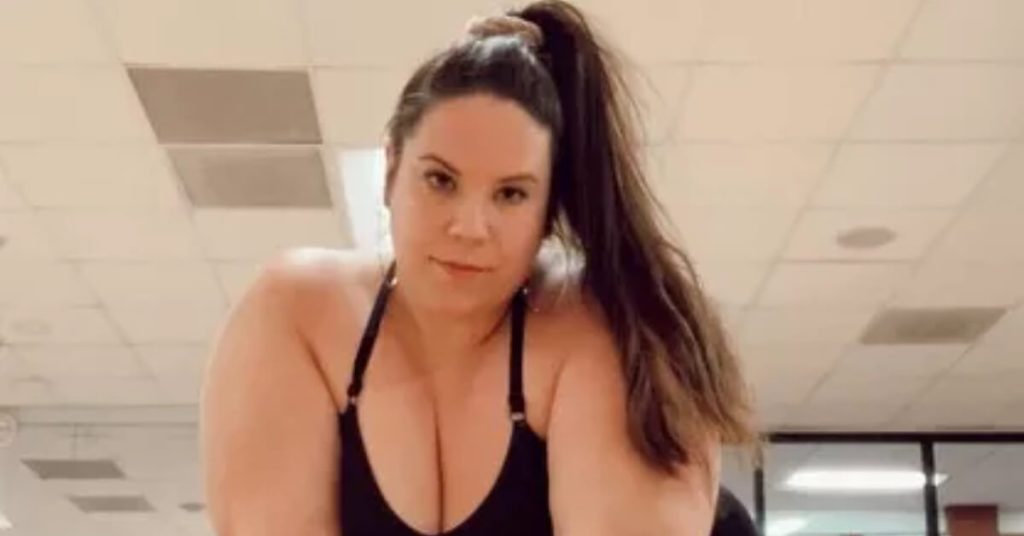 Viewers are becoming impatient with Whitney Way Thore, in the wake of the most recent episode of the TLC reality show, My Big Fat Fabulous Life.
Fans of the North Carolina based series know that Whitney is best pals with her co-star, Buddy Bell, and that the pair's pattern is to support each other during sporadic bouts of depression. Viewers watched Buddy stay by Whitney's side during a harsh breakup from her ex-fiance, Chase Severino, which unfolded during the Covid-19 shutdown.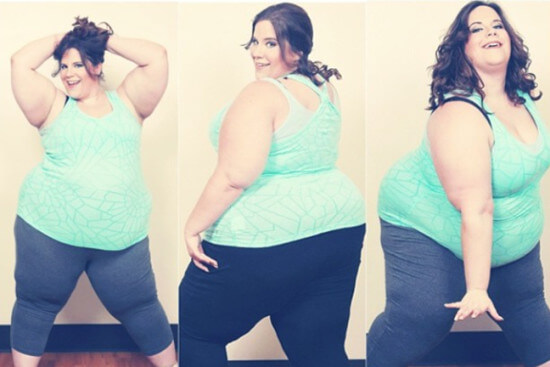 Buddy revealed that he was going emotionally downhill during Tuesday's episode, and while Whitney assured him that she would be there for him, her attitude shifted during a televised tiff, the next day. She refused to hash out a tense exchange with Buddy on camera, furiously ripping off her top to shed her mic, in order to talk to Buddy — apparently topless — in another room.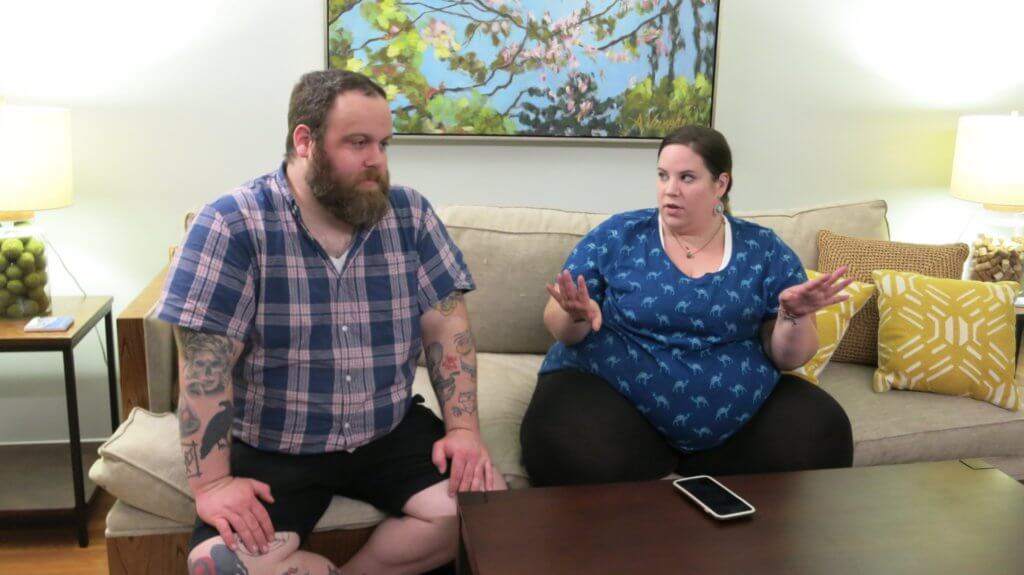 The spectacle did not sit well with viewers, who sounded off on social media about Whitney's petulant behavior. Some fans believe that the episode only further exposed Whitney's over-the-top self-centered attitude. 
Fans took to Twitter as the episode played out, thrashing Whitney for throwing a topless tantrum and mistreating her friend.   
"Here's a thought, buddy and Whitney shouldn't be anywhere near each other. And then she gets naked like she is gross. I've tried but this show is sad and just semi pathetic." another said.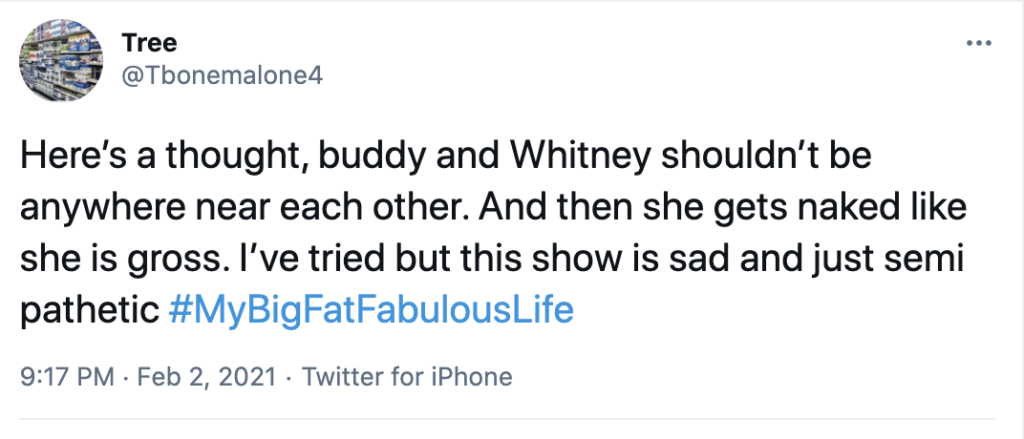 "Maybe it's his depression  Whitney and NOT everything is about you!! You are a selfish friend! Yes I agree Buddy she used you!" a fan wrote.

"Whitney, seriously? Not everyone enjoys being touched and cuddled and hugged all the time. How dare you tell Buddy to "get over it" when he is feeling down. You are down all the time and expect everyone to cater to you!" a viewer tweeted.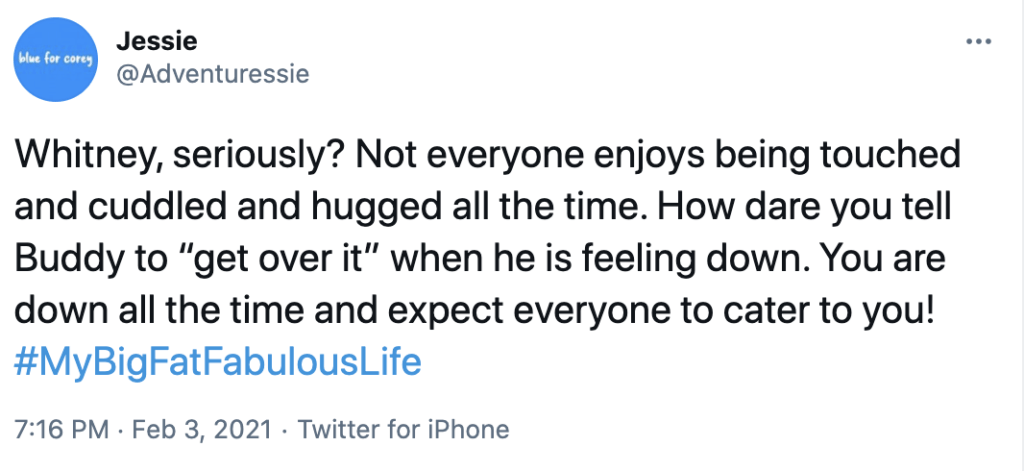 "Why is Buddy the one to apologize to Whitney? He has been her rock through her breakup, Covid, anxiety and depression for 6+ months and signed up for 7 more months; and she can't support him for 2 days?" a fan asked.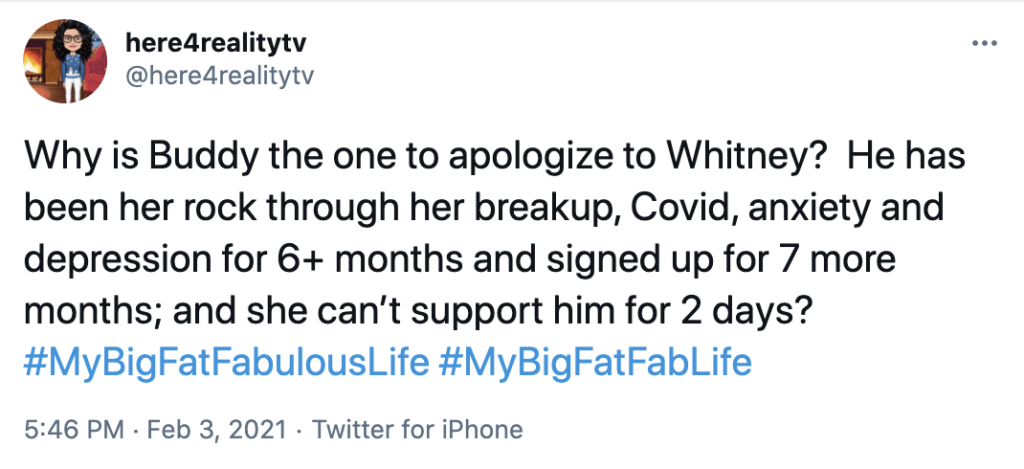 "I think this is the bottom line with Whitney & Buddy. Whitney is selfish. She needs him when she is having a hard time, but when he's struggling, she has no interest in helping him," another noted.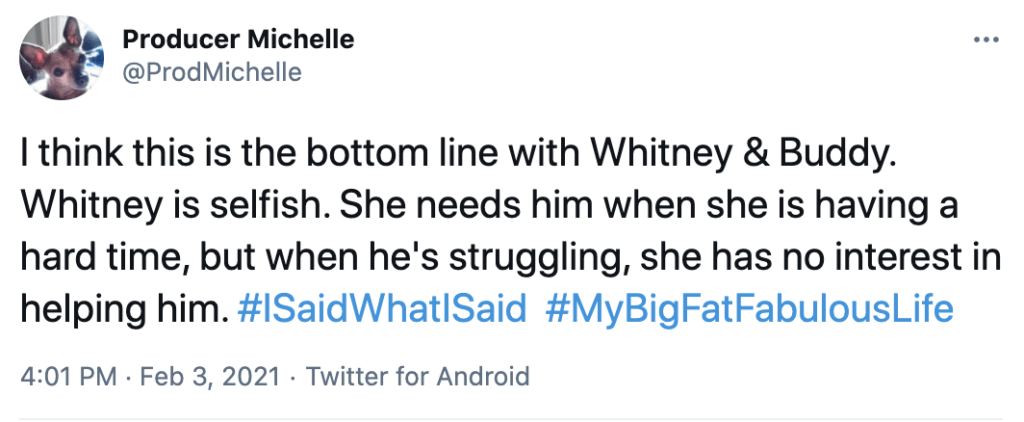 "It's called Depression Whitney!!! Stop being such a bitch! Everyone puts up with all of your shit but god forbid they're not sunshine and rainbows and kissing your ass every minute. What a selfish bitch!" an annoyed fan fired.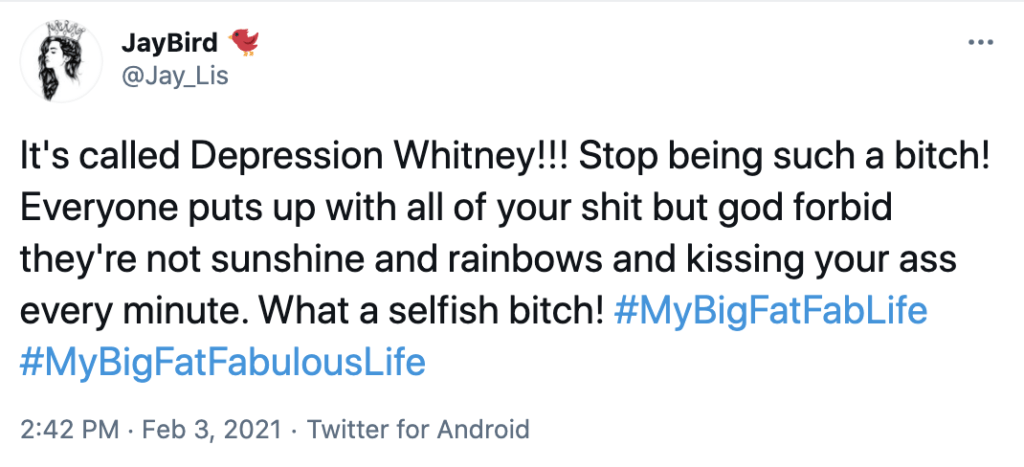 "Whitney is HORRIBLE! Why did she take off her bra and expose her breasts to everyone? She needs a serious intervention. That is so beyond inappropriate," another wrote.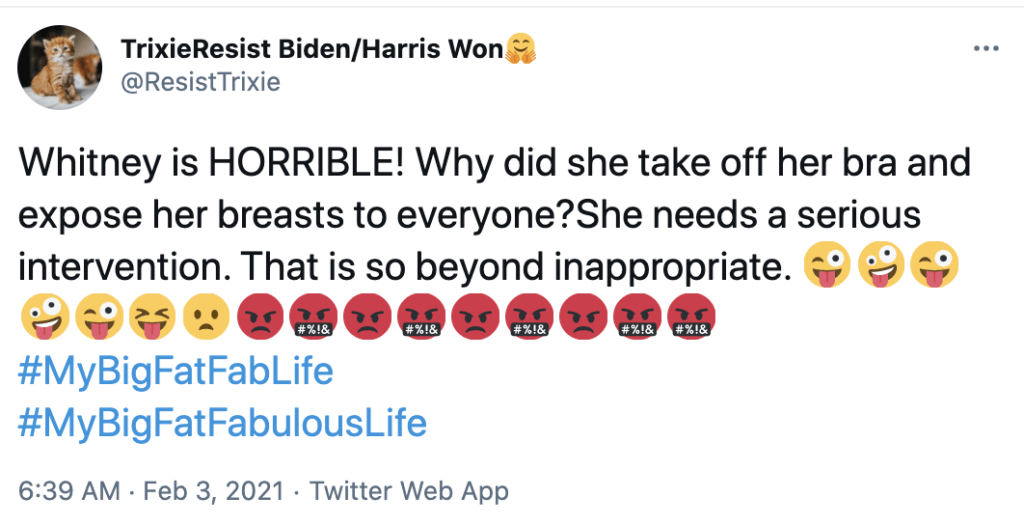 "Whitney taking her top off and all is just NASTY, my mom cannot watch this show bc she thinks Whitney is just full of herself," one viewer tweeted.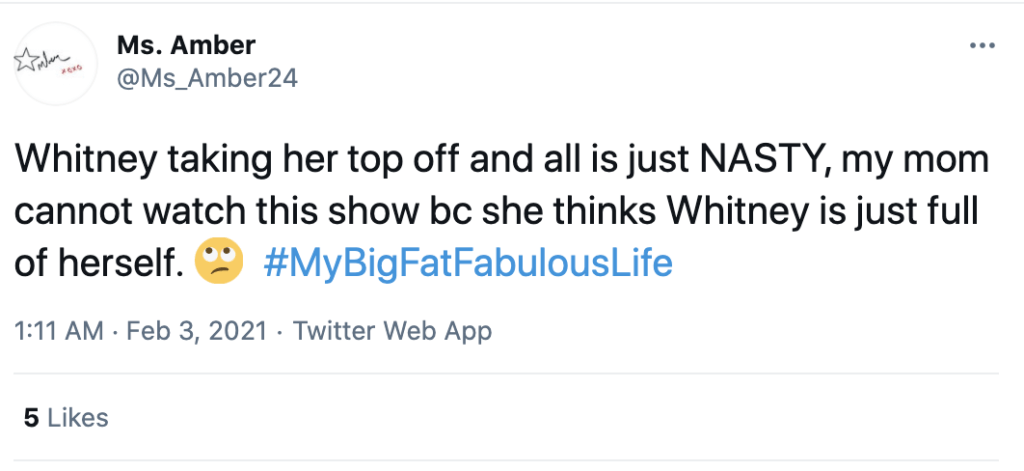 "Whitney can't handle Buddy's mood?? He's been babysitting her for months!" another pointed out.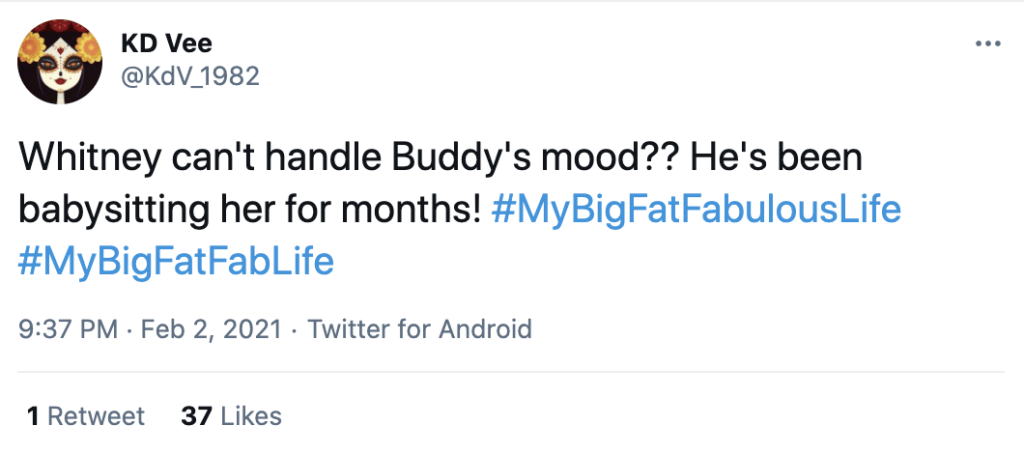 "Buddys bad vibes huh. GIRLLLLL you are toxic. I don't know how these people can stand to be around her. Me me me me me me me. All about Whitney," another viewer pointed out. 
My Big Fat Fabulous Life airs on Tuesdays at 9 pm, ET, on TLC.   
Stay Connected With All About The Tea: Twitter Ι Instagram Ι YouTube Ι Facebook Ι Send Us Tips