'RHOA' RECAP: LaToya Ali 'Grabs' Drew Sidora & Shades Her 'Struggling Husband'
The Real Housewives of Atlanta are in South Carolina this week. It's time for the annual girls' trip, but this time, Kenya Moore and LaToya Ali took a private jet, forcing the other women to ride in a hot bus. And they're not happy about it.
As Kenya and LaToya settle into the house, Karen, the Dinner Detective, shows up to plan a murder mystery dinner. But when she says two cops brandishing fake guns will come in after the fake murder, Kenya tells Karen to make sure the guns aren't pointed at anyone.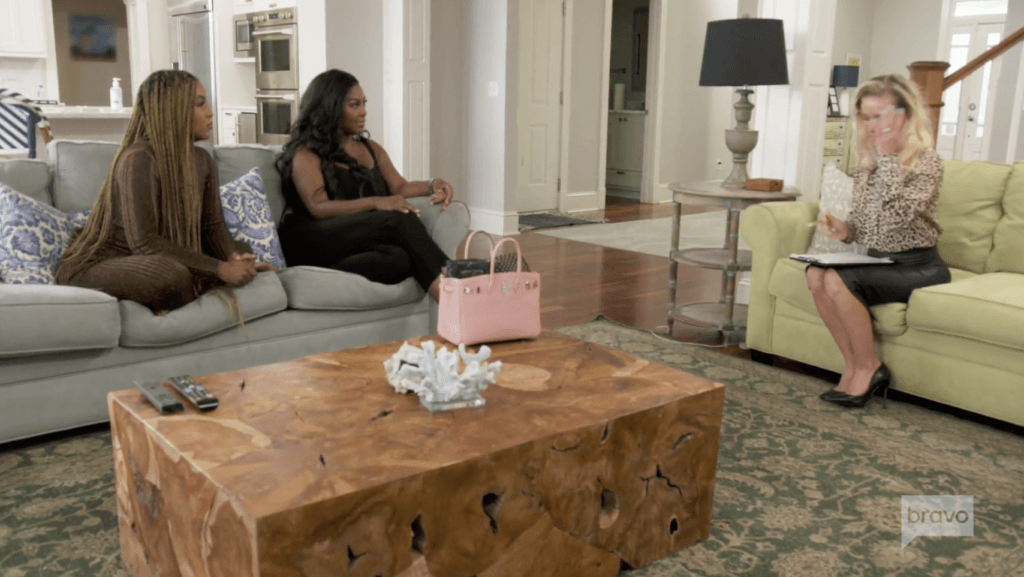 Cynthia Bailey, who left separately, arrives before the bus. She knows trouble is coming, because no one will be thrilled that Kenya took a jet.
Kenya has already assigned rooms, so she shows Cynthia up the stairs. Fortunately, Cynthia has her own balcony, bathroom, and a view of the water.
After nine hours (it should have only taken four), the rest of the women arrive in South Carolina. There are fake hugs and kisses, but real feelings of resentment.
Kenya hands out nametags, so the women can create their own names. You won't be surprised that Cynthia's is 50Cynt. Okay, Cynthia. Time to let that one go. But is it any worse than Porsha Williams' name of Peach Juice?
The drinks start flowing, except for Kandi Burruss , who sips water. The women have no idea they're in for a murder mystery event. So, when the "victim" comes stumbling through the door with a bleeding belly, they all look alarmed.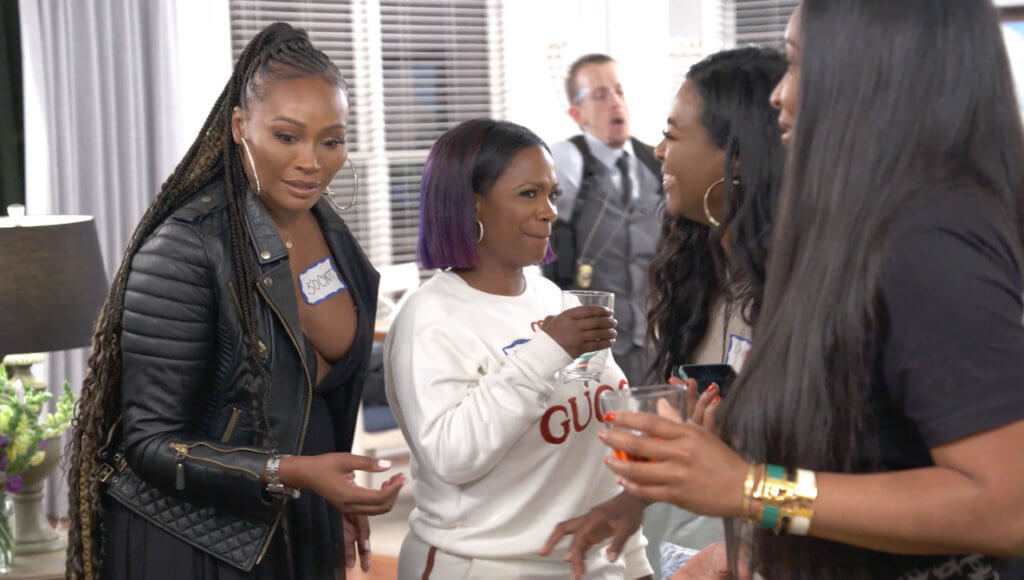 She collapses on the ground. When the "cops" come in, Porsha sees the gun and leaps over the sofa to hide. But when he starts waving his hands in the air like he just don't care, the ladies are clued in. Well, sort of. Kandi wonders if the skinny white dudes, one with a handlebar mustache, might be strippers. And if so, what the hell Kenya has been smoking?
Drew Sidora isn't impressed either. She thinks this is the lowest rent murder mystery in the history of ever.
One of the cops reads a rhyming clue, and Tanya finds a financial log under her seat. Then Kenya tells the group that the winner can upgrade their room, if they choose to. Sweet. The stakes are set!
Porsha doesn't want to solve a mystery, though. She wants to drink and dance. Kandi, Kenya, and Tanya are the only ones taking this seriously.
Shamea, Porsha, and Cynthia dance with the detectives. I'm getting horrible flashbacks from the TV show, Cop Rock. If you don't know what that is, I envy you.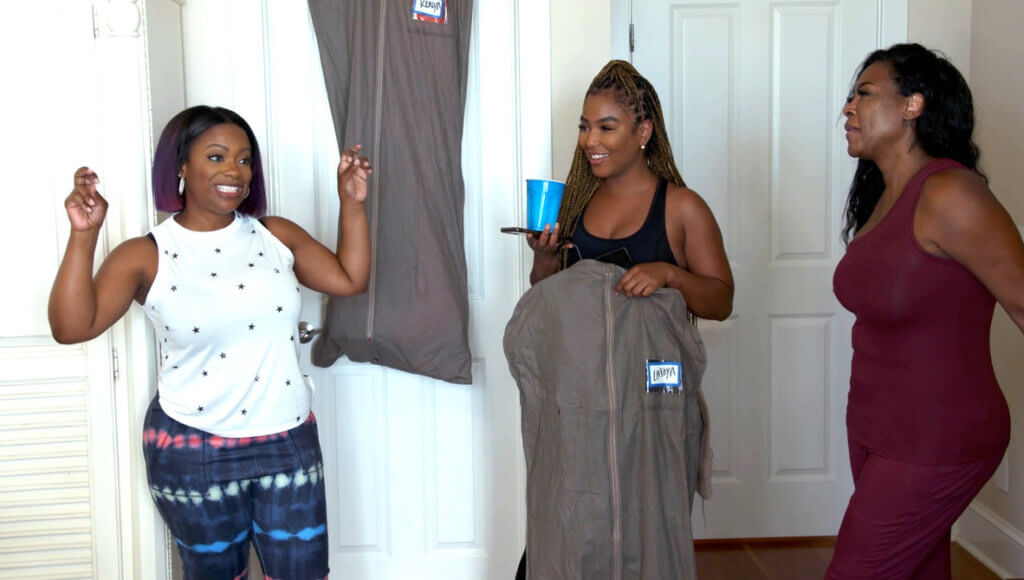 Falynn comes in. Most of the women are twerking with each other. Marlo's eating a salad. And LaToya confesses to the crime, because she's drunk and bored. Shamea is so busy dancing, her ass knocks a lamp to the floor and she spills a drink.
Kenya keeps encouraging the women to solve the mystery. Turns out LaToya's "photographer" was the culprit, and Kenya called him out. Kandi's pissed, because she wanted a chance to solve the damn thing. Kenya set up the game, then solved her own mystery. What's fair about that?
The other ladies are glad it's over. They're ready to party. But Kenya says Tanya made the best effort, so she gets a new room.
LaToya wants to know why Falynn is staying in a villa instead of the house with the other women. Because she brought her husband, that's why. LaToya busts Falynn's tits for brining a man on a girls' trip. But Drew says LaToya doesn't have a man, so she doesn't care about husbands. Oh, no. Those are fighting words.
Kenya takes the women on a tour of the house. As they crowd in to see Kandi's room, LaToya pulls on Drew's arm and asks about her struggling husband. Marlo warns LaToya not to put her hands on Drew. Kandi kicks them out of her room, but Drew is not going to put up with LaToya grabbing her. She's from Chicago, bitches!
Marlo escorts LaToya out of the room. She warns LaToya not to touch anyone. That's a no-no. LaToya is denying she touched Drew, so the camera gives us a quick flashback to prove that it happened. Even Kandi admits LaToya was being aggressive.
Kenya tells LaToya to apologize. Marlo has corralled Drew into the living room and urges her to calm down.
Drew's already feeling some kind of way, because LaToya was talking to all the other castmates about Drew's wig. She didn't take kindly to the shade and has had her guard up ever since.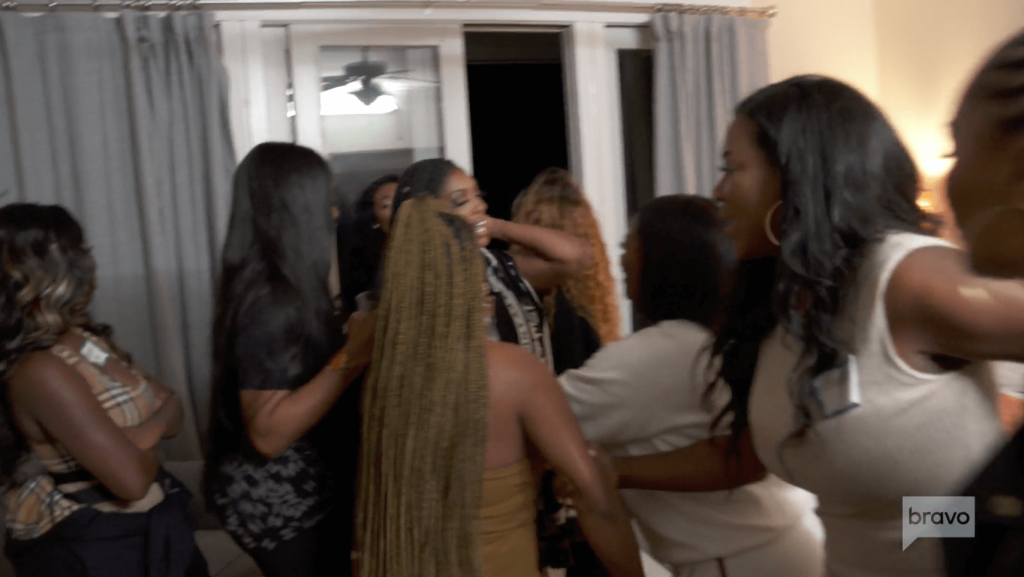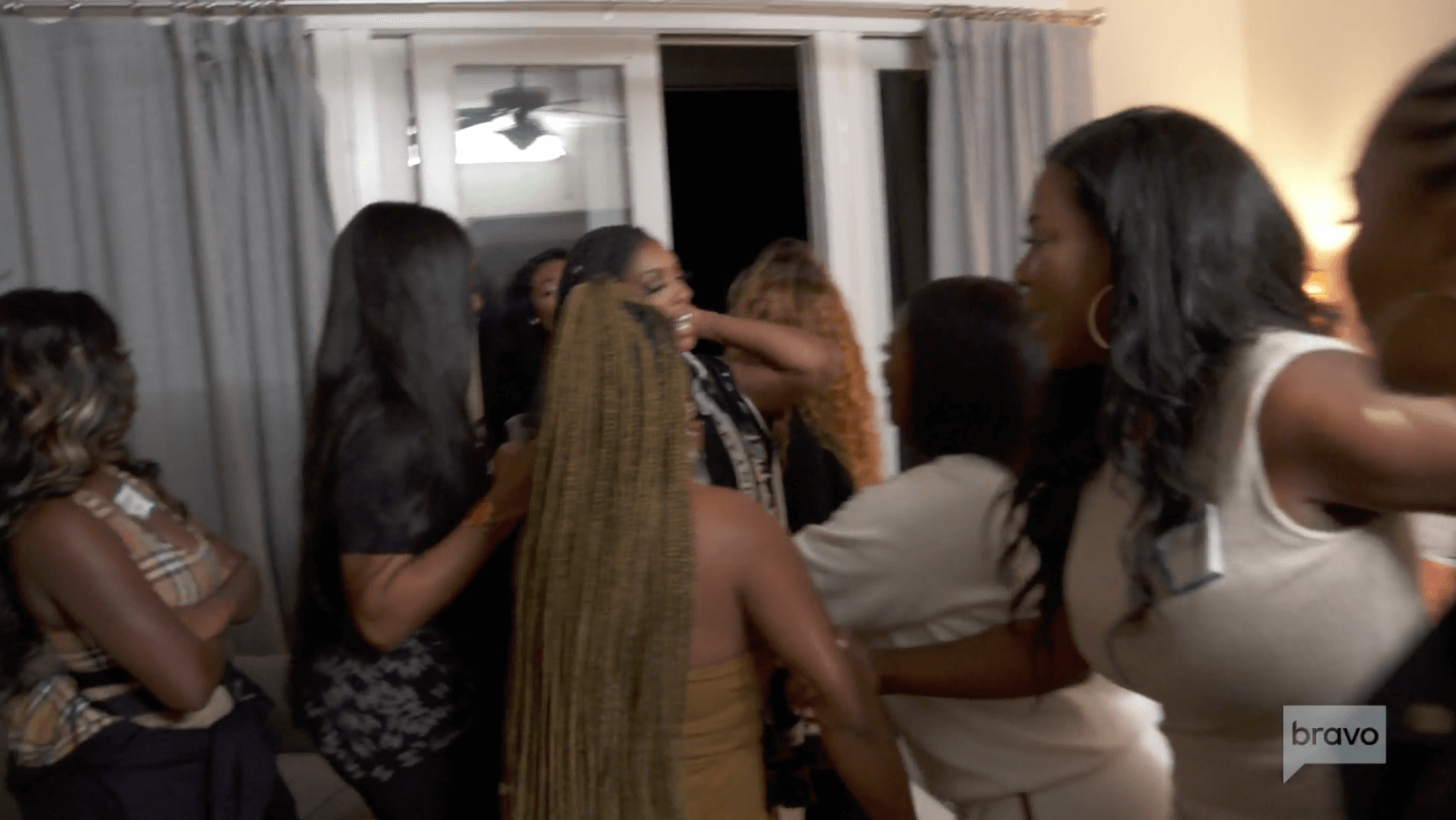 LaToya says she's sorry, then asks if she can touch Drew now. She wants to touch her hair. Drew says LaToya doesn't understand what's going on. She needs to stop.
Kenya continues the house tour. Everyone is happy, until Marlo is shown to her tiny little room. At least she has her own bathroom, but that's not enough to appease her. Kenya is clearly playing a game of payback.
Dinner is ready. Marlo and Porsha whisper about her crappy room situation. Then Shamea, Marlo, Porsha, Tanya, Falynn, and Drew settle into the bedroom. They discuss LaToya putting her hands on Drew. No one approves.
In the kitchen, Cynthia, Kenya, and Kandi try to tell LaToya to keep her hands to herself. Cynthia says Drew knows LaToya has been talking shit about Drew's wig. Now, LaToya promises to address it.
In the bedroom, Tanya says the women in here are the nieces, and the ladies in the kitchen are the aunties. There may not be that much of an age difference, but there is a younger attitude with the nieces.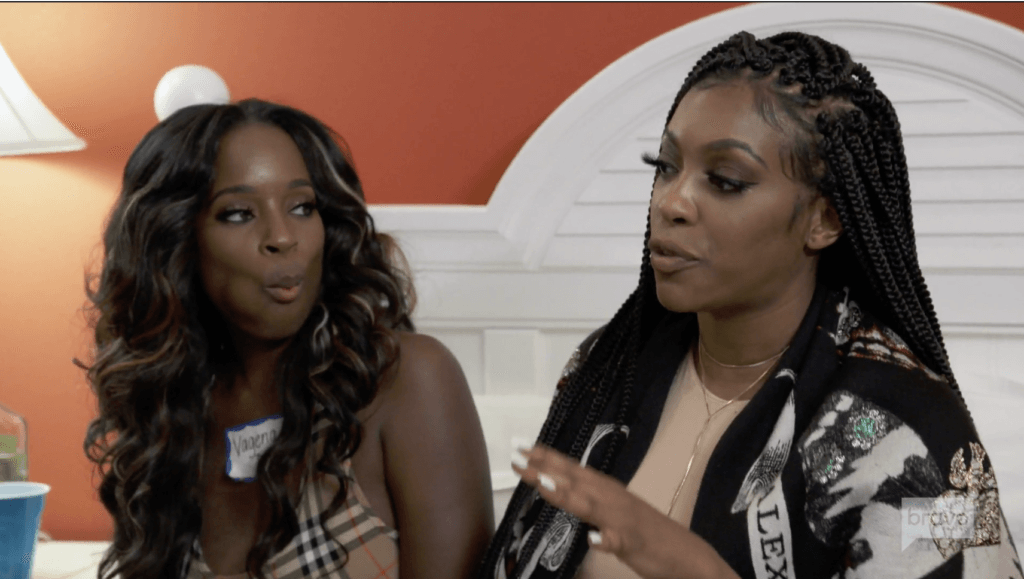 The women all meet up again in the living room. One of them brings up the fact that Marlo got stuck with the bad room. Kenya says if Marlo wouldn't talk shit about the host, she might have a nicer place to stay. Marlo lets Kenya know that she laid on her bed and farted. Take that, hostess! Way to keep it classy, ladies!
Kenya gives the itinerary for the next day: relaxation and fun. She has someone coming to barbeque. There will be drinks and lounging in the sun by the pool. Good times ahead!
As the women all trundle off to bed, Marlo turns the living room into her new bedroom. She and Falynn move the sofa to make a nice little nest.
The next morning, Kenya is chasing after Brooklyn in the kitchen. She makes scrambled eggs for her baby, and Marlo pops her head up over the sofa, startling Kenya.
Cynthia is out on the balcony and talks to Mike. She tells him there's already shade going on.
Shamea wonders if Kandi is upset that she was called an auntie from the night before. Kandi says she's not interested in fighting, like the other women. She doesn't want to put up with nonsense on this trip.
Drew calls her husband, Ralph, and facetimes her daughter. He's holding it down, and she shows him the view. She tells him to put down his daughter, so she can give him the scoop. She describes the events from the night before, and he agrees LaToya shouldn't have grabbed Drew.
Outside, Porsha talks to the barbeque guy, who's cooking a whole pig. Um, she's vegan. What is she supposed to eat?
Kenya calls her nanny, asking her to facetime Marc, telling him the baby is out of the state on a girls' trip. She can't talk to Marc and keep it civil, so she goes through a third party. Kandi steps into Marlo's room. Marlo is now calling this her dressing room. She's wearing a swimsuit, a jeweled veil, and over-the-knee, high heeled boots. It's a fashion statement, but what it's trying to say is beyond me.
Marlo wonders why she and Kenya can't move past their previous arguments. Kandi thinks they need to let it all go. Marlo decides to talk to Kenya later and try to move forward.
Porsha and Shamea hang by the pool. Dennis has texted Porsha several times. He wants to get back together, he loves her, he's ready to get married. Porsha replied, "Thank you." Shamea takes Porsha's phone and tries to text Dennis. They laughingly chase each other around the pool.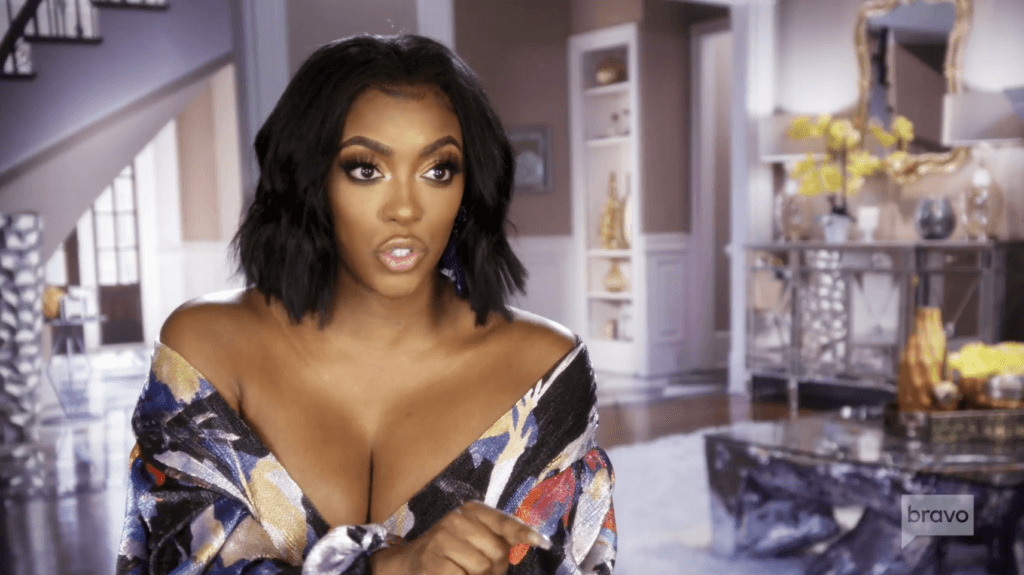 Tanya and Marlo are bored. Marlo thinks Kenya should have provided men to massage their feet. And she wants crab legs, damn it!
Kandi is now out by the pool with Kenya and Cynthia. Kandi wants to bring up her conversation with Marlo, but Kenya swans back inside the house, refusing to listen.
Drew and Porsha believe they have a dolphin sighting. But really it was a shark. I assume they won't be going in the ocean. I sure as hell wouldn't.
Kenya comes back with a couple of bags of food. But she hasn't brought for anyone but herself. She graciously gives Tanya a fry. Kenya says the fridge is full of food, or they could have ordered something for themselves.
Marlo and Tanya chase her around the kitchen. Kenya breaks out of the house and heads back outside. As she unwraps her fried goodies, Shamea tells her how rude it is to order food for herself and not ask if anyone wanted some.
Kenya reminds the women, who are hanging from the balcony and giving her the evil eye, that there's still food in the kitchen. But it's only lunch meat and food that has to be prepared.
Even Kandi thinks Kenya is disrespectful. Kandi can put up with a lot, but you do not mess with that woman and her food. How could Kenya order a crab cake for herself alone? How?! Kenya eats in front of everyone, but she does dole out a few fries.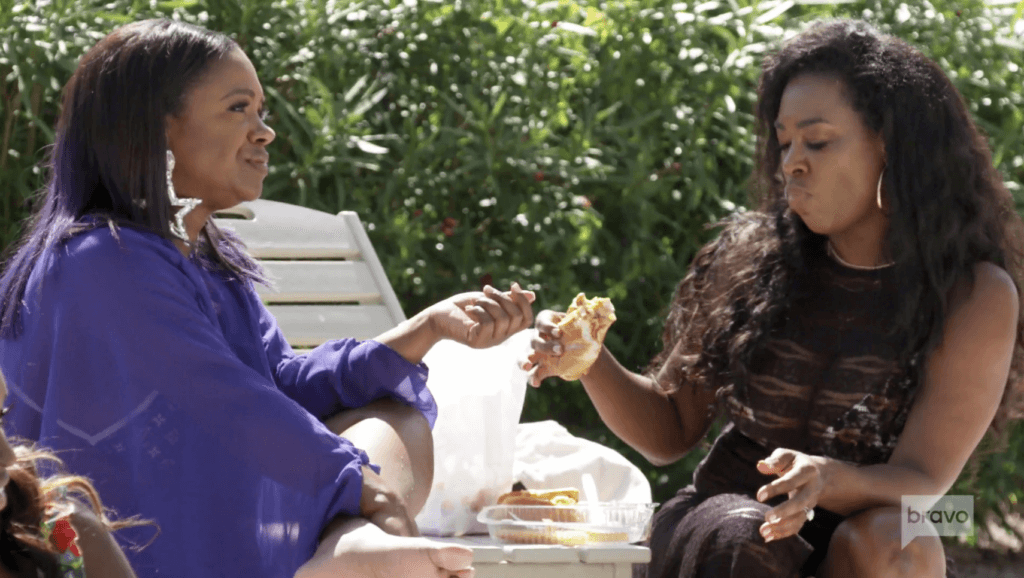 LaToya brings out bottles and Solo cups. She also has bought a custom wig for Drew. She's trying to be nice, y'all! Cynthia warns LaToya this isn't a good idea, but she won't listen.
The sun has fallen. Bartenders have show up, and the caterers are setting up for dinner.
Kandi steps out to the pool in a see-through, lace bodysuit. No one is going to call her an auntie again.
They all traipse inside. There's a massive amount of pork. After seeing the little guy with his feet chopped off, Porsha is more determined than ever to stick to her vegan diet.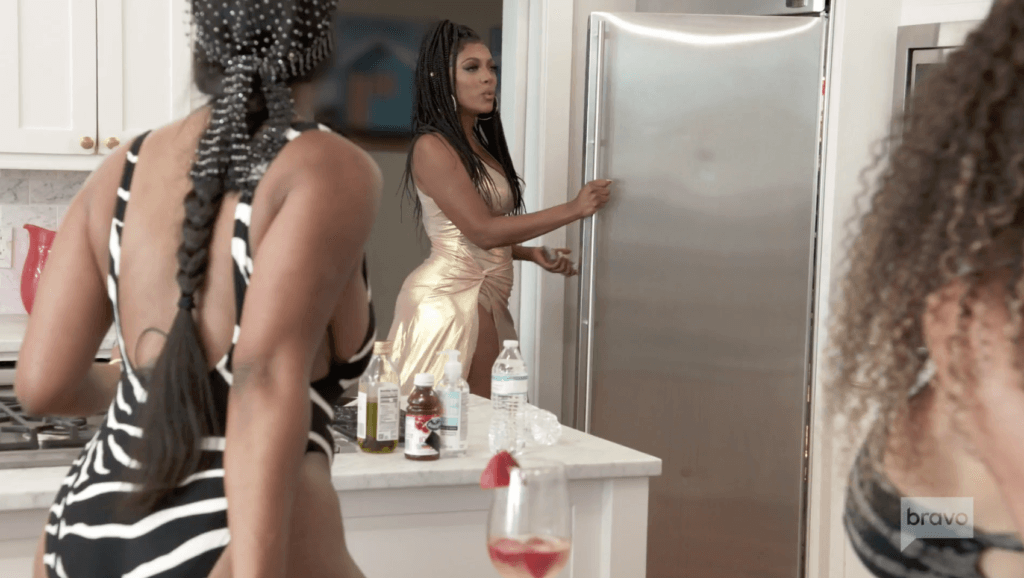 The ladies sit, and Porsha prays, thanking God for the life of the pig. Kandi declares the pig a happy one, because it's making her happy, that's for sure.
As they eat, Kenya tells Tanya she's spoiled by asking people to get food for her. The other ladies aren't letting her get by with that. Kenya shouldn't have ordered food for herself and not offered the menu to anyone who was hungry.
LaToya breaks up the banter. She says the first night she met Drew, her wig wasn't tacked down. The lace wasn't plucked. And looking back, LaToya apologizes for not saying it to her face. She wants to buy a wig and get it professionally fit for her. Drew's not interested, because she gets the top stylists from LA to do her wigs. She does, however, have a gift for LaToya.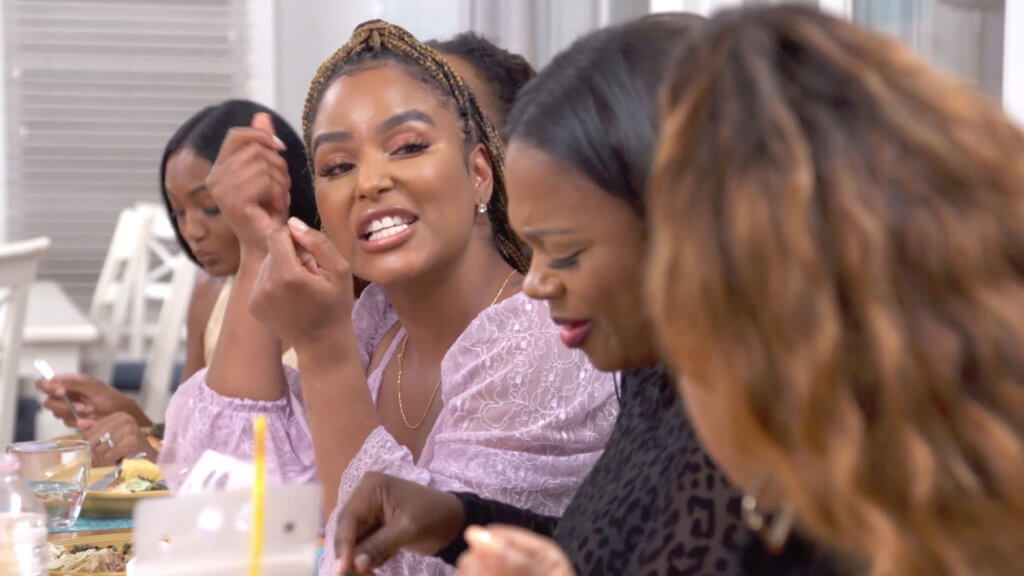 Drew leaves and room and comes back with a headshot of herself and autographs it to LaToya. She says Toya has been watching her so carefully, she must be a big fan. The ladies all laugh, and even Toya laughs. Drew says when her friends have issues with each other, they put them on the table and deal with them.
Marlo thinks that's a good idea. She was hurt to be put in that tiny room. Kenya rolls her eyes. She is tired of Marlo attacking her. Marlo asks if this is about Kenya's fake ass. Kenya denies it's fake. Marlo contends Kenya's had shots or implants or something, because it's not natural.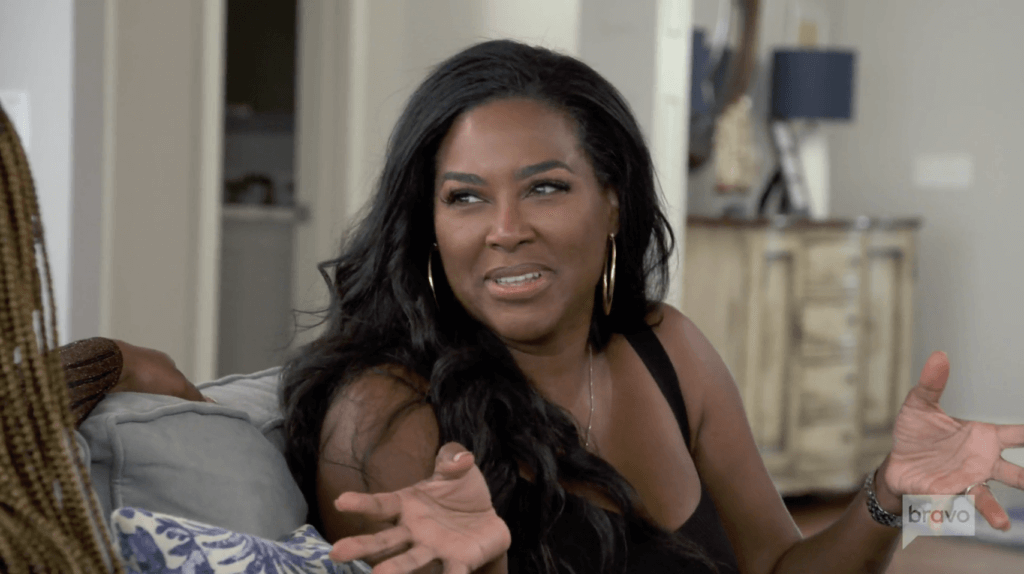 Upset, Marlo leaves the table, though Kandi urges her to come back.
And that's our episode. So, do you think Kenya is a good hostess? Did Marlo deserve the smallest room? And who's going to eat the rest of that pig?
Stay Connected With All About The Tea: Twitter Ι Instagram Ι YouTube Ι Facebook Ι Send Us Tips
I'm a fiction writer by day and a reality TV addict by night.