RECAP: Brauwnyn Windham-Burke Admits She Offered Shannon's Daughter Drugs On 'RHOC' Reunion Pt. 2!
The second episode of the Real Housewives of Orange County reunion begins where we left off, which Shannon Beador accusing Brauwnyn Windham-Burke of offering her daughter "the good stuff." 
Braunwyn now doesn't remember offering Stella anything. But she breaks down in tears and apologizes anyway. She says she'd never do something like that if she were sober. Shannon says she understands. Well, Kelly Dodd sure as hell doesn't. If Braunwyn offered anything to Jolie, Kelly would explode.
Next, it's Gina Kirschenheiter's turn. Gina's ex has been charged due to the domestic violence incident, and she plans to give a victim's statement. She also owned up to her bad hair choices, because that's so much more important than domestic violence.
Gina spent Thanksgiving with her ex and her current boyfriend. She says they co-parent really well. But she struggles to stand up for herself.
If Matt takes his plea deal, he will only receive six months but will serve half that time. And it won't be in jail, put under house arrest. Andy congratulates her on finding a good man after her bad marriage.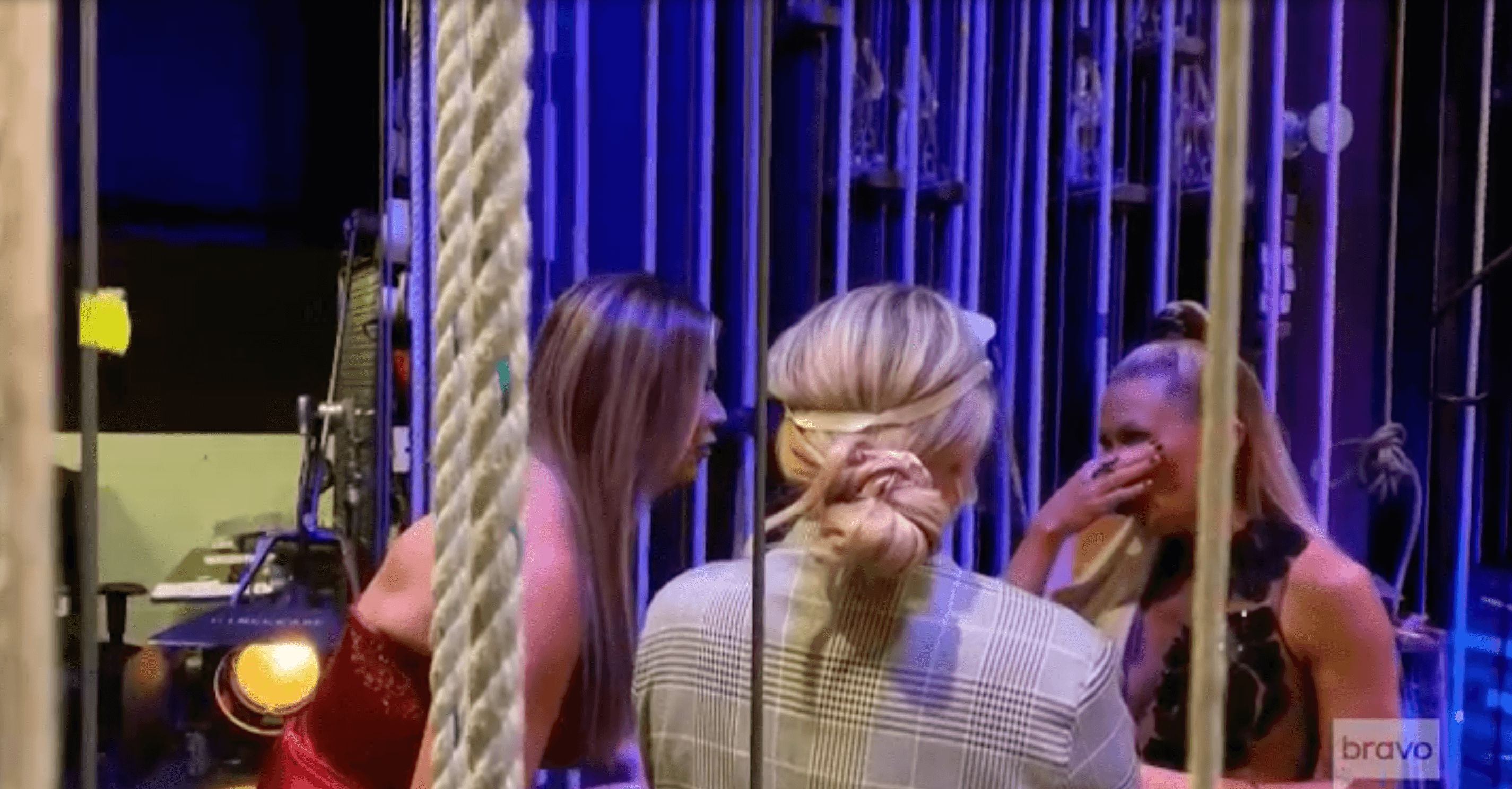 When the women take a bathroom break, Braunwyn breaks down and apologizes to Shannon once again. She says that might be the worst thing she's done. Shannon says it was a long time ago. Braunwyn slinks offstage and starts hyperventilating. Emily follows her and tells her to breathe. But Andy can't be bothered. As a makeup artist blots his brow, he's looking at his phone.
Then we see a flashback of Kelly's season. And even though Kelly says she's grown up, she's still Kelly, so don't expect too much. She can't keep her mouth shut.
Shannon and Kelly now say they're in a good place. Rick and John really like each other, and they share lots of friends.
None of the women attended Kelly's wedding to Rick Leventhal. Gina and Emily got last minute invites, but they couldn't make it.
Kelly sent out twenty-eight invitations, and every guest was tested for Covid. Andy asks if she was acting responsibly by having her wedding at the height of the pandemic. Kelly says if people can protest, she can get married. 
Kelly then breaks down her opinion on protests. She has no issue with peaceful protests, but she says that the looting and vandalism she saw in New York was out of line.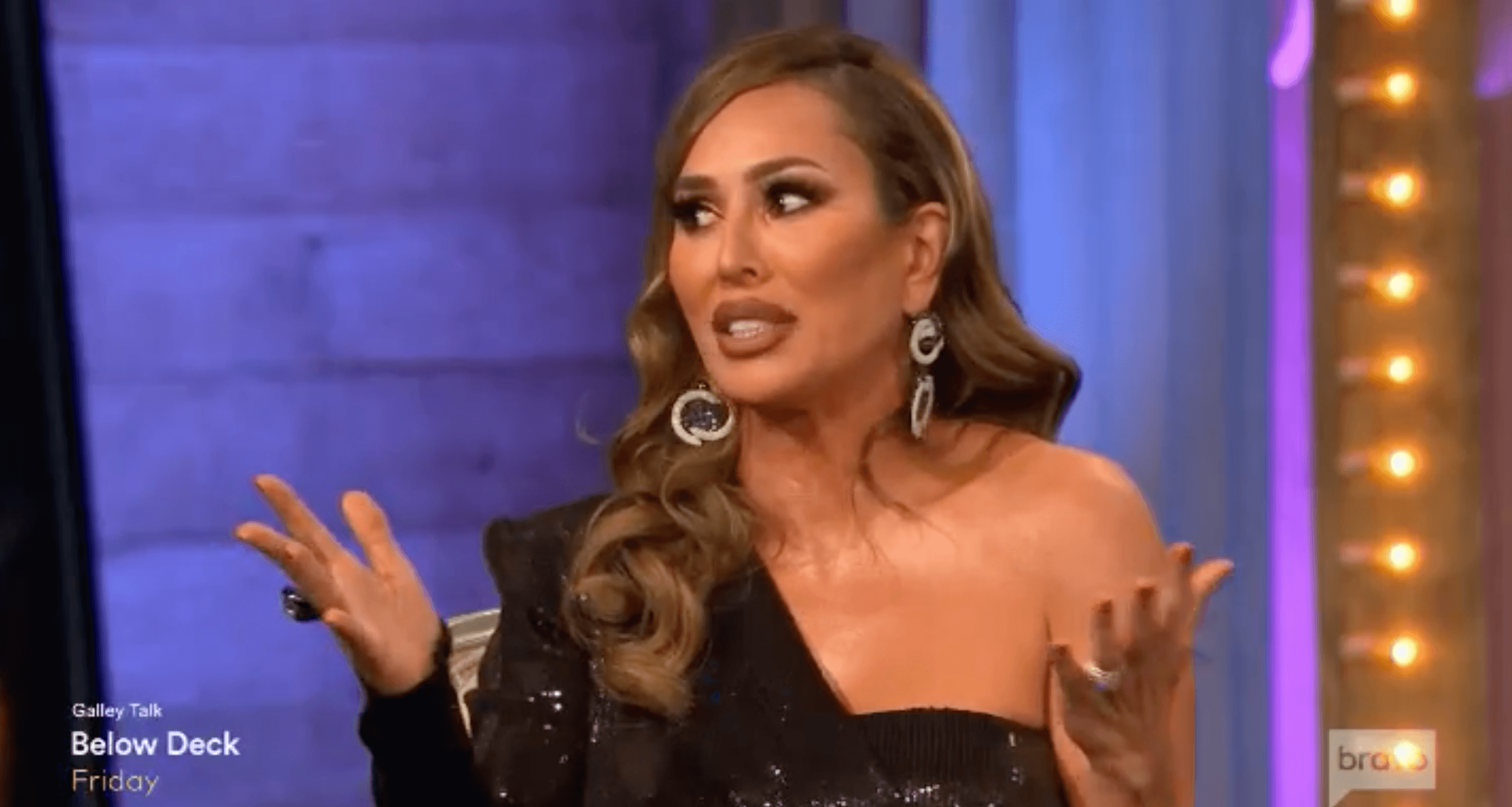 Kelly also wore a hat that said "Drunk Wives Matter." She understands how it could be offensive, but she also claims she didn't buy the hat. It was given to her, and she didn't wear it to mock the protestors. She begins to tear up when she talks about the haters and the trolls who've taken swipes at her.
As Braunwyn continues to hammer Kelly, Kelly points out that Braunwyn took along professional photographers to take pics of her during the protests. She says Braunwyn wants to be trendy and doesn't really care about social issues.
Even Emily starts yelling at Braunwyn. How dare she call out her fellow Housewives for not becoming activists? Emily basically says Braunwyn is doing it all for show.
As Emily, Kelly, and Braunwyn all scream, one accusation gets through: Braunwyn accuses Kelly of being racist. Kelly declares herself black, so how can she be racist? Everyone, including Andy, looks very confused over that statement. But her twenty-one (I think she means 23 and Me) ancestry says she's Black, Native American, and Asian. Andy is quick to point out that she doesn't identify as African American.
Kelly also says she's been supporting blacks and gays for years. And she doesn't feel the need to show off for social media. She's even seen Andy at Fire Island, people. Okay?!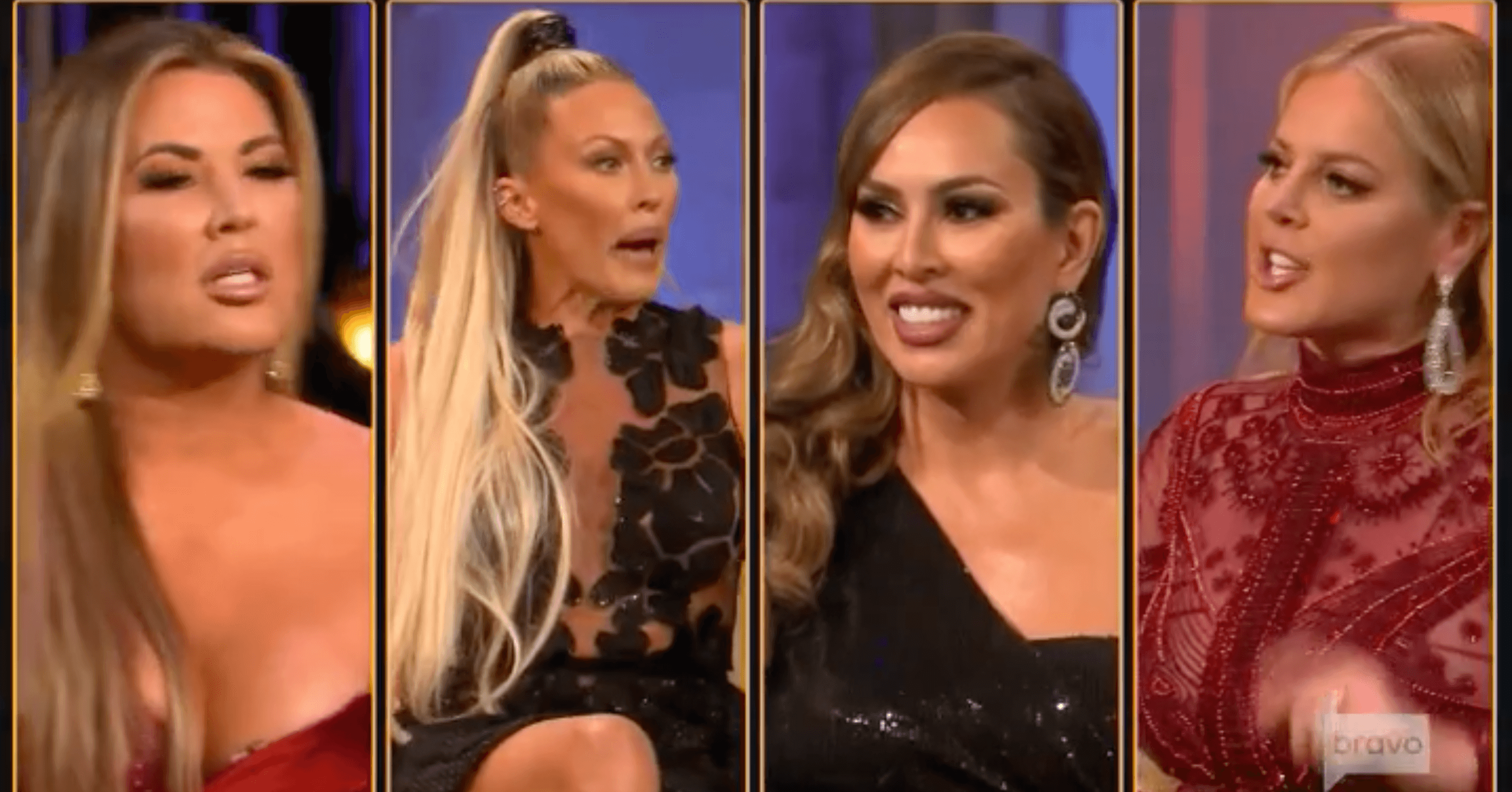 Elizabeth Lyn Vargas agrees. She says most of the women have been supporting causes for years, but never made it an issue. They did it quietly, behind the scenes.
Andy asks where Shannon stands on the protests. She refuses to answer. She's not a political person, and she won't become one now.
On Twitter, Emily accused Braunwyn of acting like a victim. She stands by that statement. Emily wants Braunwyn to take responsibility for the shit she talked about her castmates. 
Braunwyn said in an interview that the other women weren't supportive, and not only that, they maintain that she called them racists and homophobes. And Kelly says Braunwyn called her a bad mother. But we see in the clip of the interview, Braunwyn says there's no one on the cast who supports her views on BLM or LGBTQ rights.
SUBSCRIBE below to All About The Tea's YouTube channel for all the piping hot tea! 
The women all start screeching over each other. They claim she never tried talking to them about these issues. She doesn't know where they stand, because she never asked.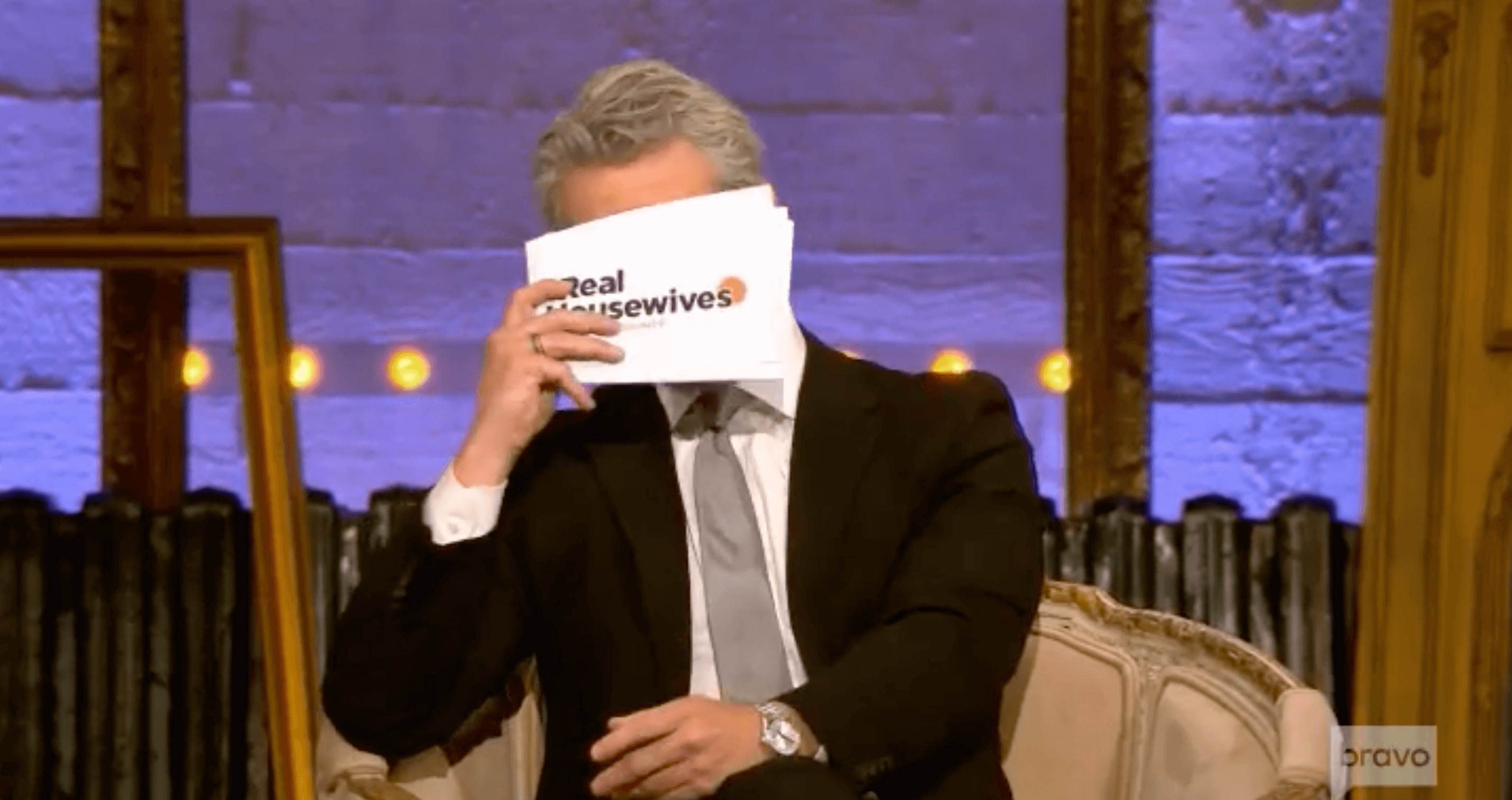 Emily went to a drag show with Braunwyn and her son. Kelly has been going to gay pride parades for twenty-five years. All her friends are gay! Andy looks bemused as the women try to outdo each other for being supportive of minorities.
Braunwyn is still pissed that Kelly compared lesbianism to eating raw tuna. But Kelly doubles downs on her assertion. And Braunwyn is also angry that Kelly said Braunwyn's sexually confused.
Gina agrees on this point. If Brauwnyn is married to a man, and now says she's a lesbian, that's confusing. 
Elizabeth declares herself a bisexual, but she's nonpracticing. And she didn't feel the need to make a big deal out of it.
Braunwyn says she tried to kiss Elizabeth, but Elizabeth wasn't interested. First of all, Braunwyn is married with seven-four children. That's not her cup of tea, thank you. And she doesn't have any interest in dating a woman right now, anyway.
Andy wonders if Brauwnyn is trying to do too much. She's getting into protests. She's trying to stay sober. And she's now come out as a lesbian. Those are a lot of life changes all at once.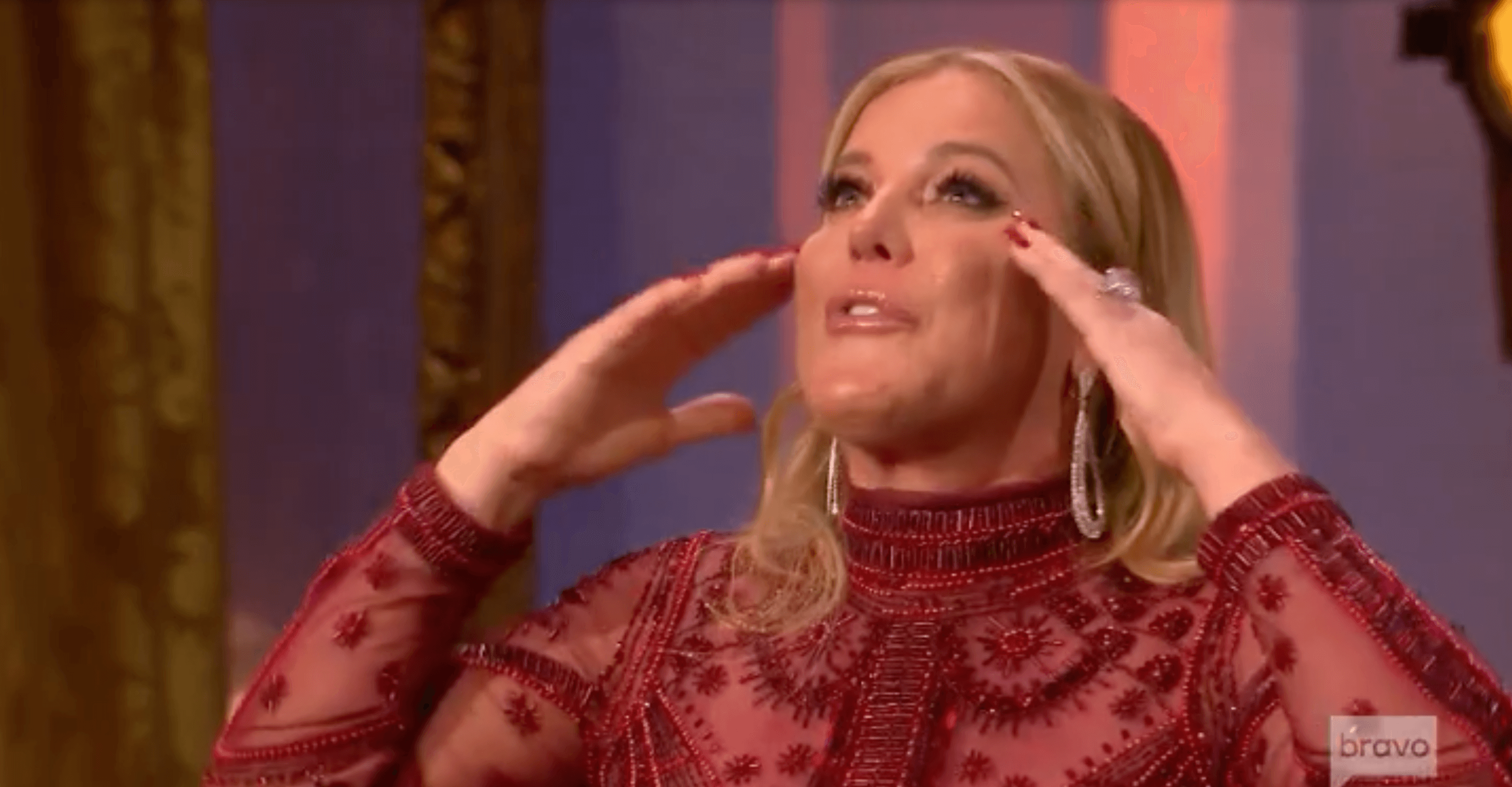 Next, we see Elizabeth's admission of her cult background. She was beaten and sexually abused by the adults in the church. Elizabeth didn't want her childhood trauma to air on the show. She says religious abuse of children is the worst kind of abuse. She still suffers from PTSD.
Elizabeth didn't realize that her life was messed up until she and her family were banished from the cult. Her grandmother ran the cult, and her father was a pastor. She went to a church school that focused on obedience above all else.
Andy wonders how her past affects her relationships now. She says her need to look perfect is because she doesn't want anyone to know what she suffered growing up. It's not only embarrassing, it brings all that pain back to the surface.
Emily says this Elizabeth, this new vulnerable Elizabeth is one she can relate to. She doesn't care about a perfect, fake life. She wants to know who Elizabeth really is.
Elizabeth is still in therapy. She's doing better now that she's gotten help. She hopes that other women who are going through trauma in their lives see that they don't have to remain stuck in the past.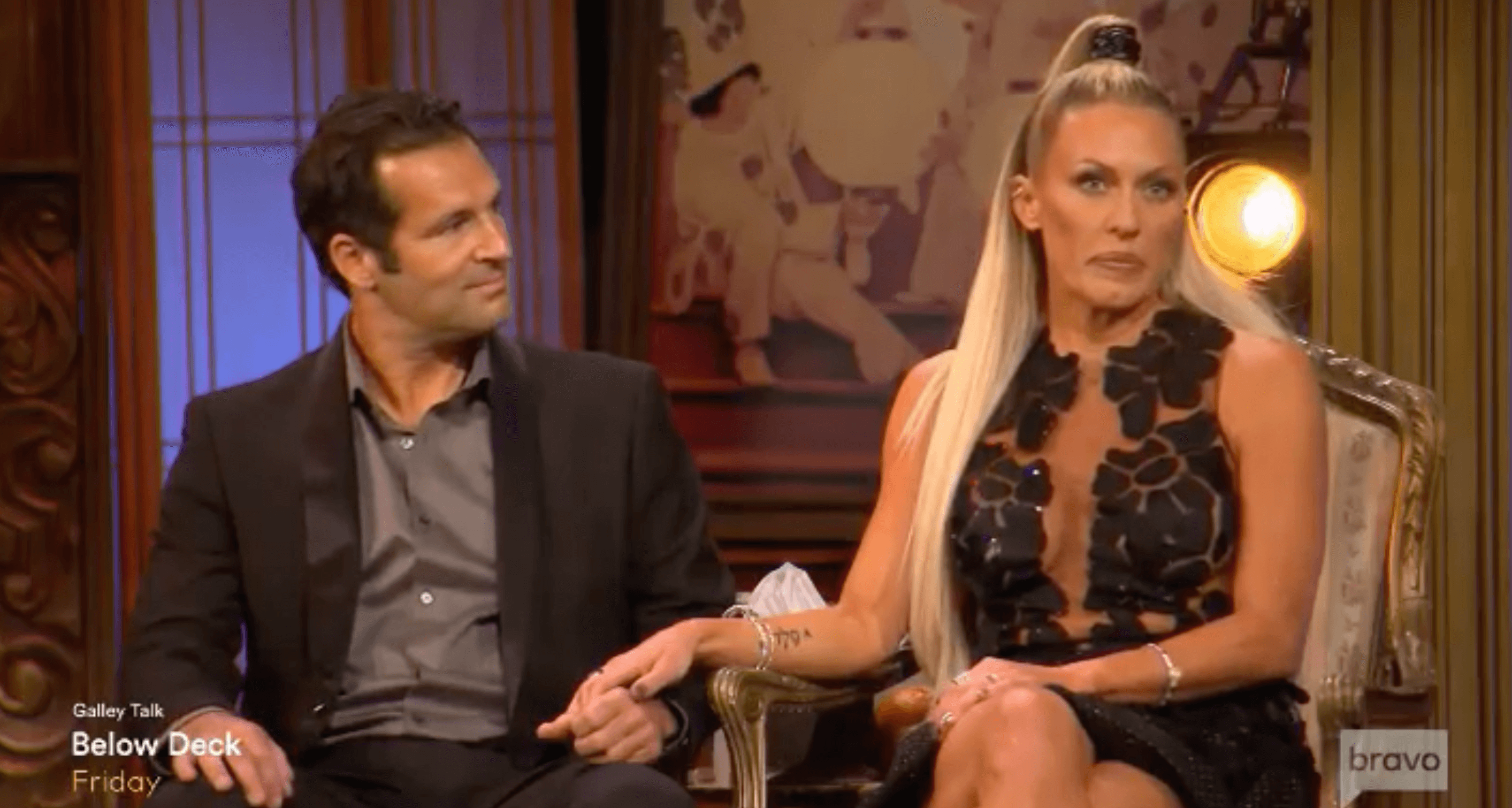 Braunwyn's husband, Sean, comes out next. He sits next to his wife and holds her hand.
We see Braunwyn casually admit she hit Sean in front of the kids. Braunwyn now says she's never been physically attracted to men. But she had a vision of her life that included a husband and kids. Sean says his heart is broken, hearing that she was never attracted to him.
Still, it was a relief when Braunwyn came out. Her sexual orientation was nothing he could fix.
Braunwyn also claims that Shari kept her sober. Shari wanted Brauwnyn to leave her husband, but Braunwyn wasn't willing to do that. Even so, as they spent more time in quarantine, Braunwyn started falling in love with Shari. They didn't have a physical relationship, but an emotional one.
Braunwyn went on vacay with Shari, but it didn't end well, because Braunwyn was committed to her marriage. Sean then flew out to join her. They had a long talk about her feelings toward women, and they agreed to an open marriage.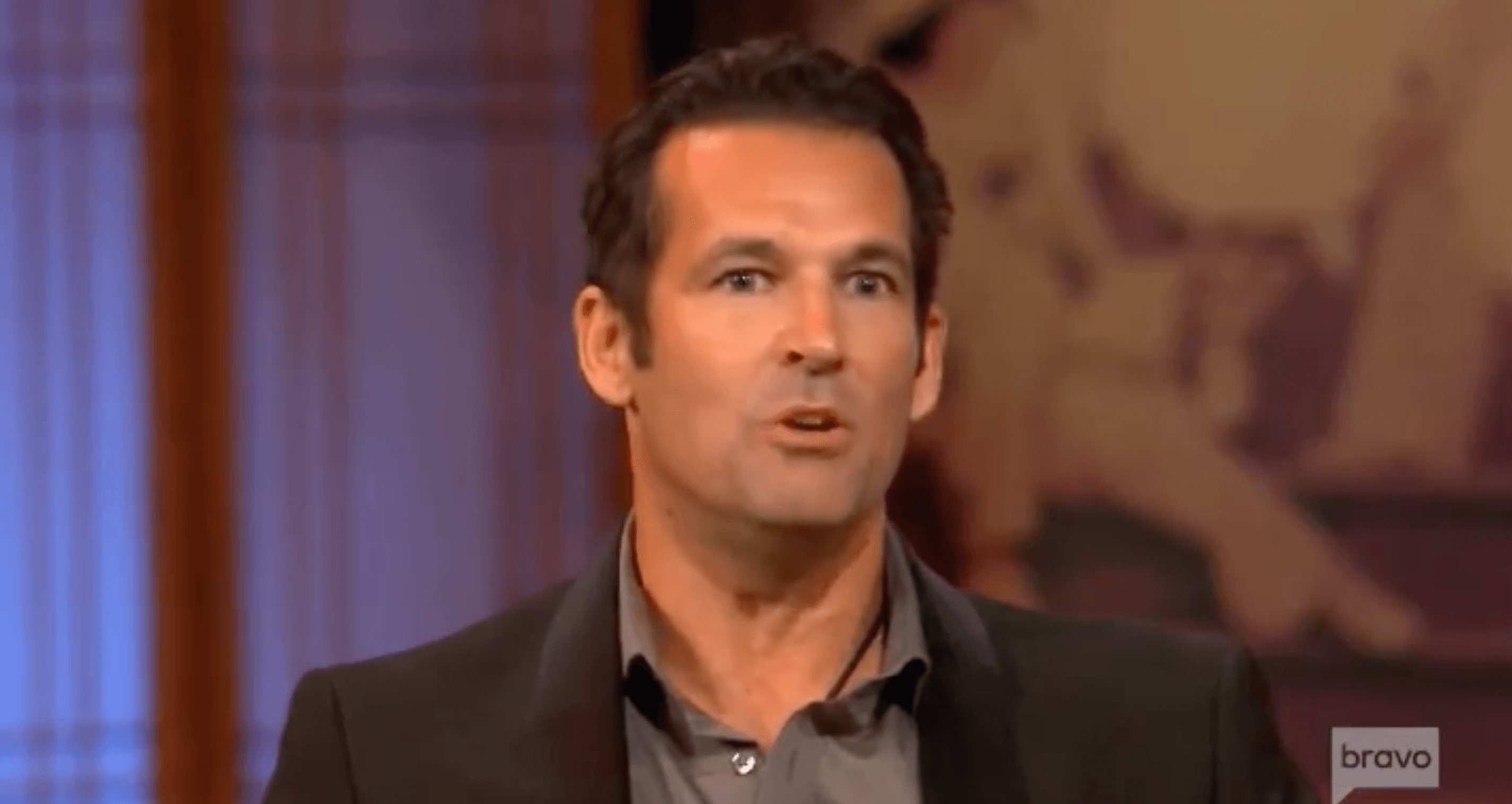 But later, Braunwyn found out that Sean had been with another woman. In their house. She got the scoop from the nanny. The other woman met baby Hazel. Braunwyn admits she didn't take it well, even though the open marriage had been her idea.
They want to live together and stay married. What are the rules? If Sean gets serious about another woman, he can bring her home.
Emily thinks finding a new woman and starting a relationship might be a bit hard with a wife and seven kids at home. And Elizabeth says she knows a good divorce attorney. But…Braunwyn doesn't want a divorce, y'all! The attorney's not for you, woman, but your sad, abused husband.
Braunwyn has a younger girlfriend, though. One who doesn't care if Braunwyn is still married. Sean, however, has mixed feelings about it. But they're not fighting, and he wants to see his wife happy, so he's going with the flow.
Gina thinks Braunwyn is in charge. She can make the rules and bend them according to her wishes. Sean is just the sap who goes along with her whims.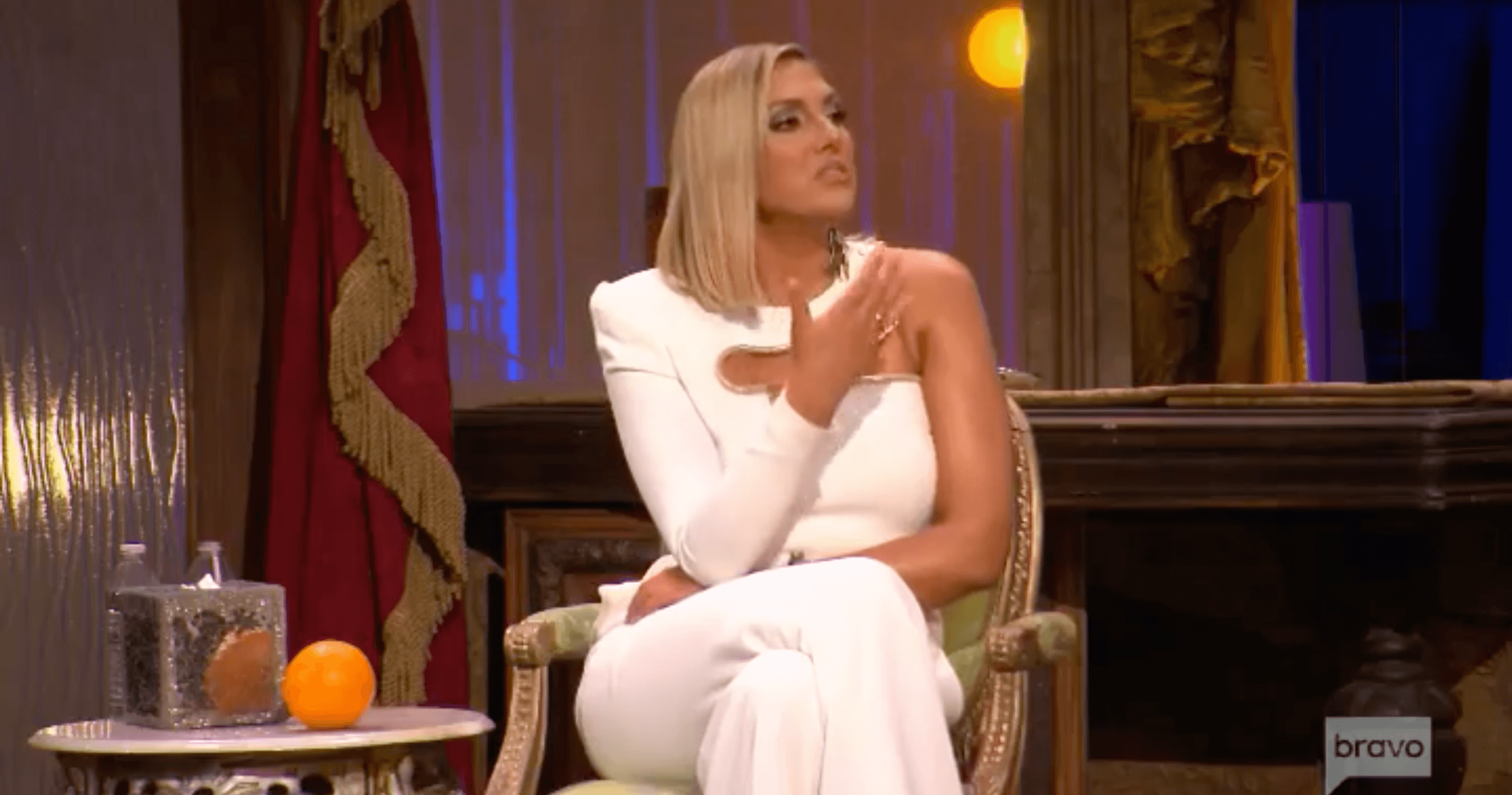 Andy agrees. He says from the outside, it looks like she uses Sean, and he just agrees with whatever Braunwyn wants to do.
Gina also has a problem with the fact that Braunwyn beat her husband. That triggers Gina, and she's not okay with it.
Braunwyn speaks more about the incident. She wanted a drink, and Sean restrained her. He agrees it's not excusable, but Gina thinks he swallows it.
Braunwyn says she can't regret the past. She's made amends to her husband, but she doesn't owe anything to the other women. 
Emily believes Sean is getting the short end of the stick in this relationship. He says his happiness comes from his family. If his kids are okay, he's okay. The women aren't buying it.
Shannon is tired of seeing Braunwyn posting pics of herself and her new friends, taking trips, and going to day spas, leaving Sean at home with the children. And how can Braunwyn say it's "me time" when she has young kids at home?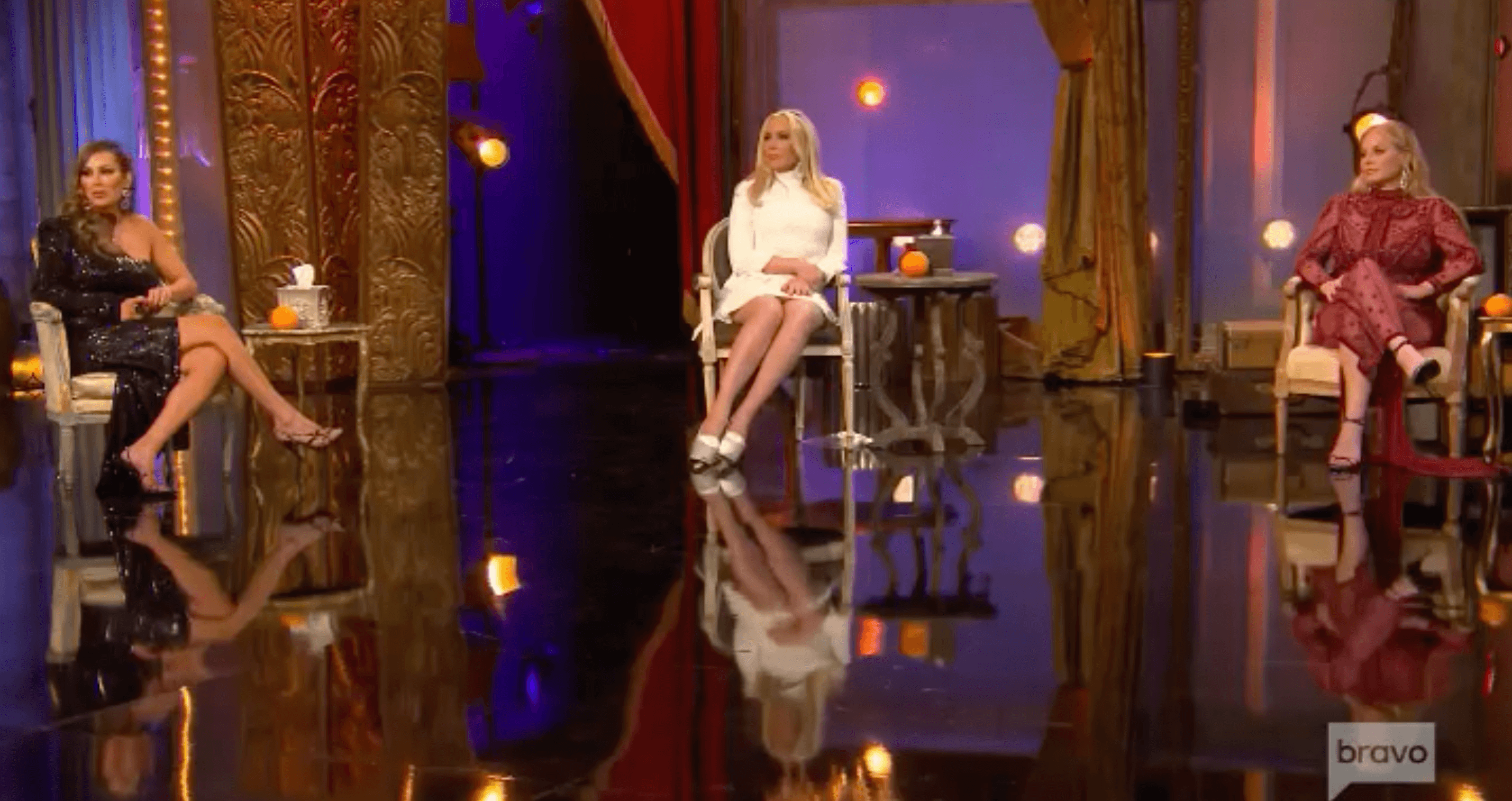 Braunwyn says she's with her baby all day long, people. Like, when one of the two nannies has to run errands or take a trip to the grocery store. See? She's a hands-on mom!
Sean butts in and says most of their time is spent with the kids. The nannies allow him and Braunwyn to spend one-on-one time with the children.
They've told the older kids what's going on, but they haven't said anything to the younger ones. Sean wants structure for their family. They're taking it one step at a time.
Finally, Andy asks the women what they've learned this year. Kelly says she wasn't in fear of Covid. Her life carried on, and not being afraid helped her. Shannon believes the little things in life are the most important: her kids and John. Emily realized how important her family and their health is. Braunwyn wants to slow down and work on herself. Elizabeth learned that material items aren't that important. And Gina gave up control and trusts in herself.
And that's our season, people. So, are you glad the Braunwyn shit show is over? Was Elizabeth a good new addition? And who got your VIP this season?
Stay Connected With All About The Tea: Twitter Ι Instagram Ι YouTube Ι Facebook Ι Send Us Tips
I'm a fiction writer by day and a reality TV addict by night.