T.I. Called Out By GLAM University's Sabrina Peterson For Putting A Gun To Her Head & His Wife Tiny Claps Back!
Rapper T.I. is in hot water after a woman claims the rapper held a gun to her head. Sabrina Peterson, the former friend of T.I.'s wife, Tameka "Tiny" Harris, took to Instagram to air out the incident.
"The sad part about being a woman & BEING A BLACK WOMAN IS THIS! The public PRAISES OUR PREDATORS!" Sabrina began before spilling all the tea. "@troubleman31 you PUT A GUN TO MY HEAD IN FRONT OF CHILDREN & I NEVER CALLED THE POLICE ON YOU! But for years you have painted me as the VILLAIN!" Sabrina continued:
"AS BLACK WOMEN! It's hard to heal from RAPE, VIOLENCE OR ANYTHING BECAUSE YOU ARE PAINTED AS THE PROBLEM OR REASON THIS HAS HAPPENED TO YOU! LETS NORMALIZE THE ALLOWING BLACK WOMEN TO HEAL! It's so hard being the VICTIM OF RAPE & BEING PAINTED AS THE REASON IT HAPPENED!"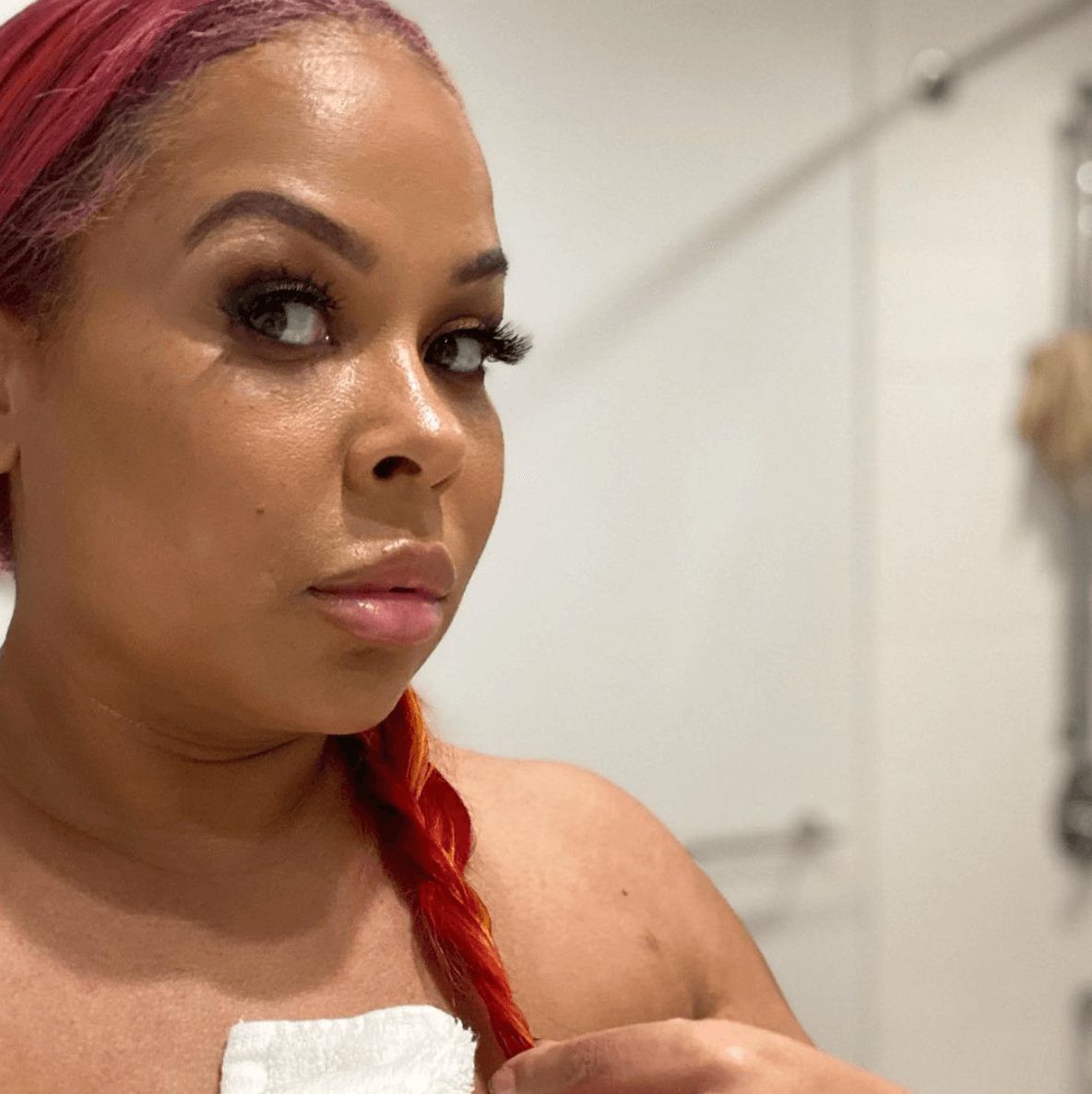 Sabrina, who is also the founder of GLAM University, then called the attention of Atlanta Mayor, Keisha Bottoms, noting that T.I., who has been very vocal about the social injustices of the black community, shouldn't be the voice of the same people he's victimized.
"LETS TALK! @keishabottoms," Sabrina exclaimed. "YOU CANT HAVE A PERSON THAT HAS VICTIMIZED WOMEN SPEAK FOR US! Lets have a real TALK!"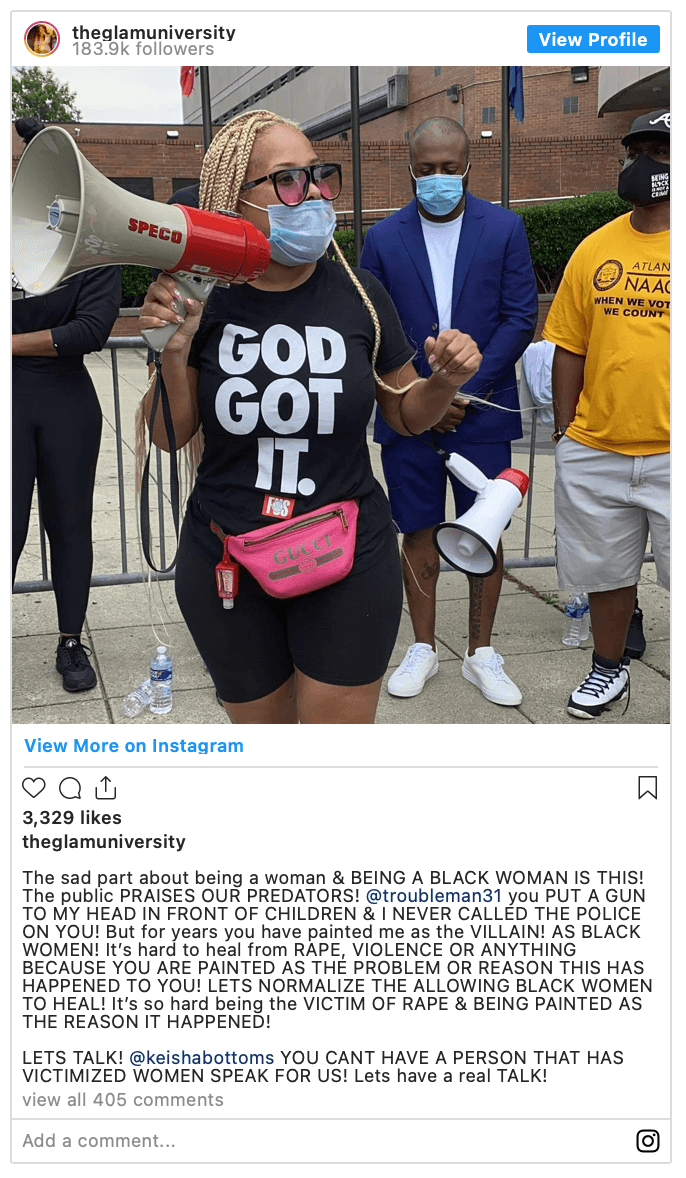 One of Sabrina's followers needed clarity on the tea she had just spilled. "TIP put a gun to your head? Wow," the follower commented. Sabrina answered, saying that she was defending Tiny when T.I. held a gun to her head. "yes because I was beating up his female assistant that was treating @majorgirl [T.I.'s wife] like a SLAVE."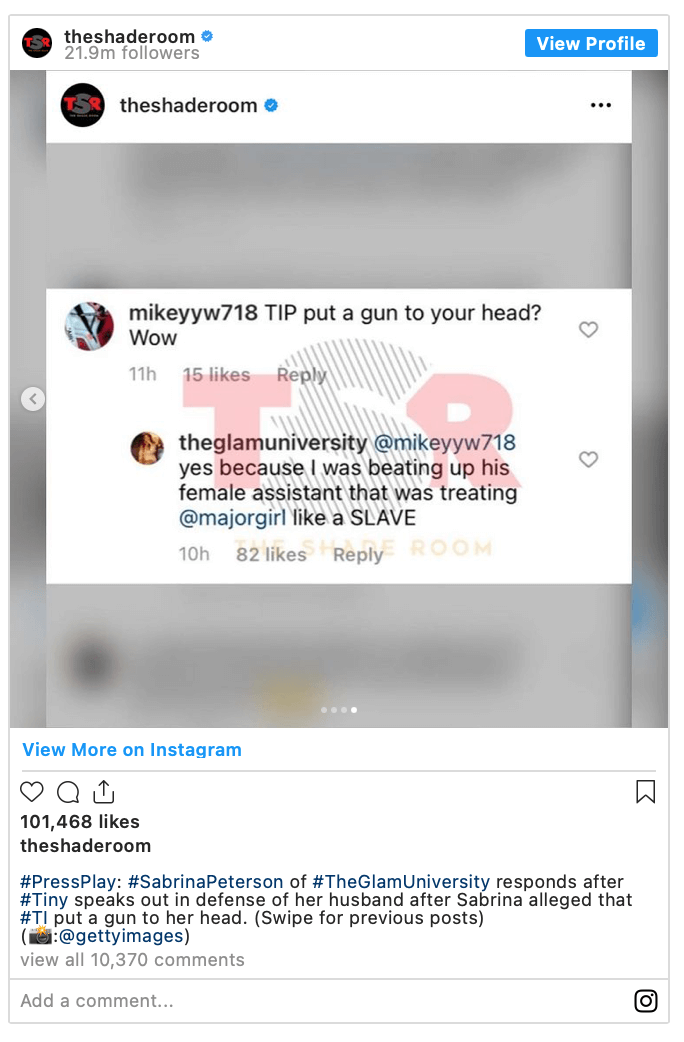 Shortly after Sabrina outed her issues, Tiny stepped in to defend her husband. 
"Hold up…So you want your abuser to train your sons?" The Xscape singer subliminally asked Sabrina. "He was just uncle 2 years ago … ?now when did you say my husband assaulted you? Did you change your mind or change it back? What's up wit you today Pooh? I'm confused ??‍♀️"
Tiny then asked Sabrina to leave her family alone. "Stop Harassing My Family. You strange. Everybody know you been special (face slicing seminar lady). Please Get help. But LEAVE US ALONE ‍‼️?"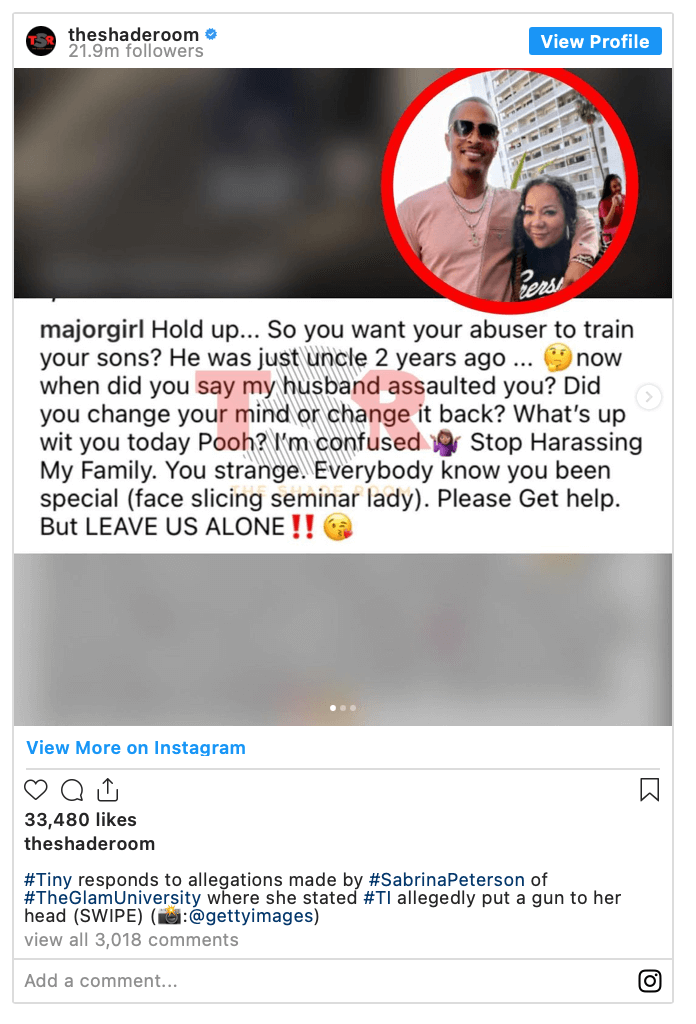 The Shaderoom reposted Tiny's comments and fans were not here for Tiny stepping in to have T.I.'s back. Fans and trolls quickly reminded Tiny that though T.I. is her husband, she's standing up for a man who has a history of cheating, being misogynistic, and embarrassing the sh*t out of her.
"Tiny act like T.I isn't her abuser ?"
"Now Tiny "Your Husband" stay lying to you. I would sit this one out beloved ?"
"This is exactly why I mind my business."
"When it comes to abuse, I can never tell another person story without facts that debunk their claims."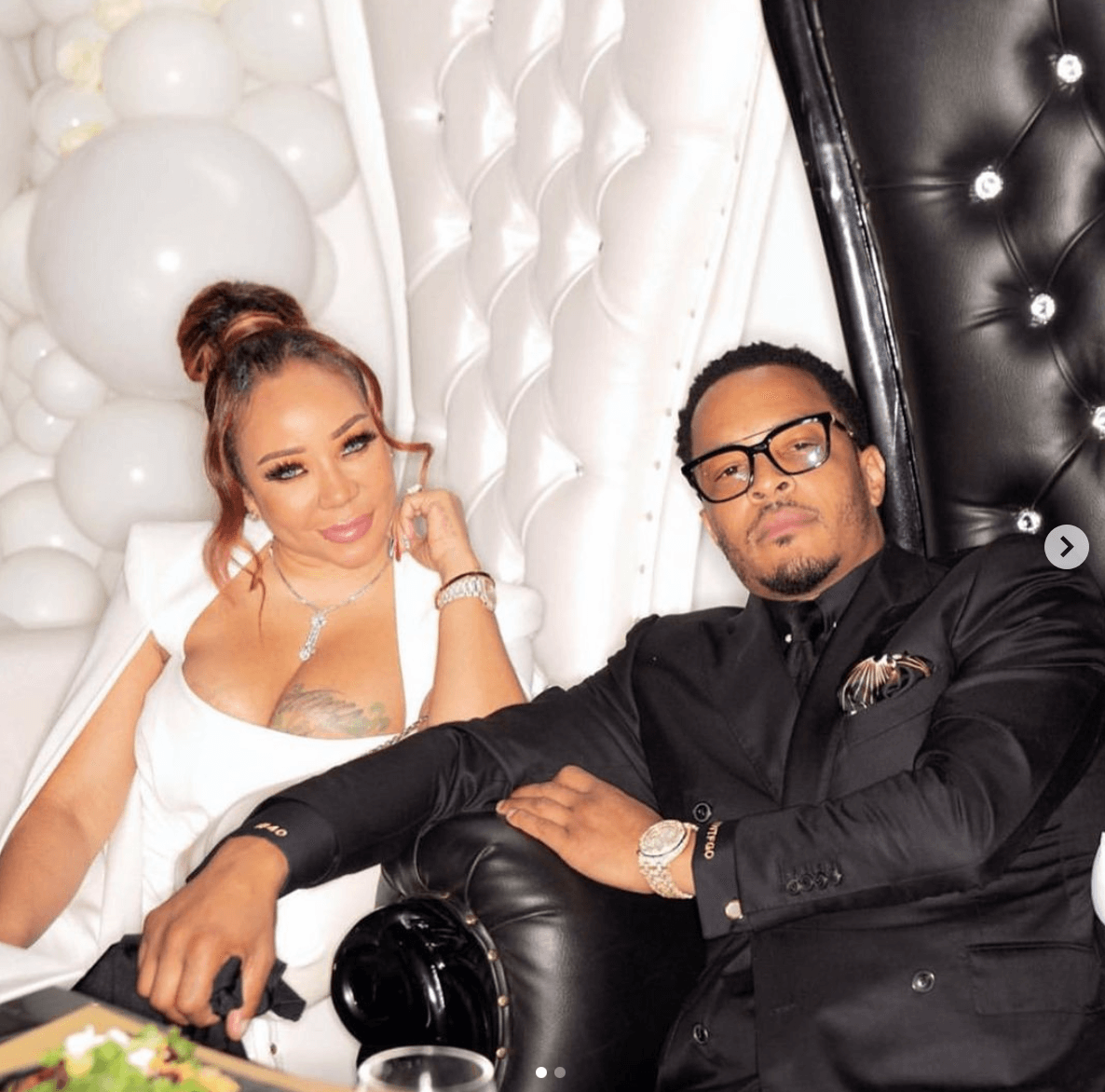 "Y'all know Tiny be lying for T.I. Lol"
"She gone defend that man right or wrong"
"That's her fault for trying save Tiny when she don't want to be saved. Let her look like the clown she is ??‍♀️."
Sabrina responded by video and called Tiny out for calling her a liar. "I know what happened; He knows what happened," she began. "What you won't do — on top of everything else — is lie on me. Clifford Harris put a gun to my head."
https://www.instagram.com/p/CKhpEAiBBRH/
So far, T.I. hasn't commented on the accusations. 
Stay Connected With All About The Tea: Twitter Ι Instagram Ι YouTube Ι Facebook Ι Send Us Tips
Ashlee Nicole is a Senior Editor at All About The Tea, who specializes in content curation. Born and formed in New Orleans, LA, Ashlee is an absolute music junkie and self-proclaimed foodie who loves all things music, entertainment, and culture.