'RHOSLC' RECAP: Jen Shah Questions Heather Gay's Loyalty
We open this episode of the Real Housewives of Salt Lake City with Mary Cosby. Robert Sr., her husband/step-grandfather, is back from checking on their home in Florida. It's too dated, and Robert doesn't want to keep it. Mary asks if, when she's old, he'll want to get rid of her, too. He looks at her like she's a loon.
Meredith Marks and her son, Brooks, go to a health food store. Meredith is serving her boobs on a platter for such a simple errand. Brooks wants snacks that are gluten-free, sugar-free, dairy-free. And he also wants chicken and salmon jerky…until he finds out it's for dogs. Hey, it's probably gluten-free! So, there's that.
Jen and Sharrieff Shah want to set up Heather Gay with Sharrieff's friend, Big Daddy. They plan a dinner to introduce the pair and are excited to see if there will be sparks.
At Whitney Rose's house, she's planning a reunion of sorts. Her half-brother, Will, and her sister, Shaylee, haven't had much of a relationship with their dad for the last decade. But now Whitney wants to bring them all together for dinner.
Steve, Whitney's dad, embraces Will and Shaylee, whom he hasn't seen in years. As they sit down to eat, he describes his new normal, which is staying at the sober living house during the week and attending process meetings. Steve says he's grateful for his addiction because now they're together again. I guess that's one way to look at it.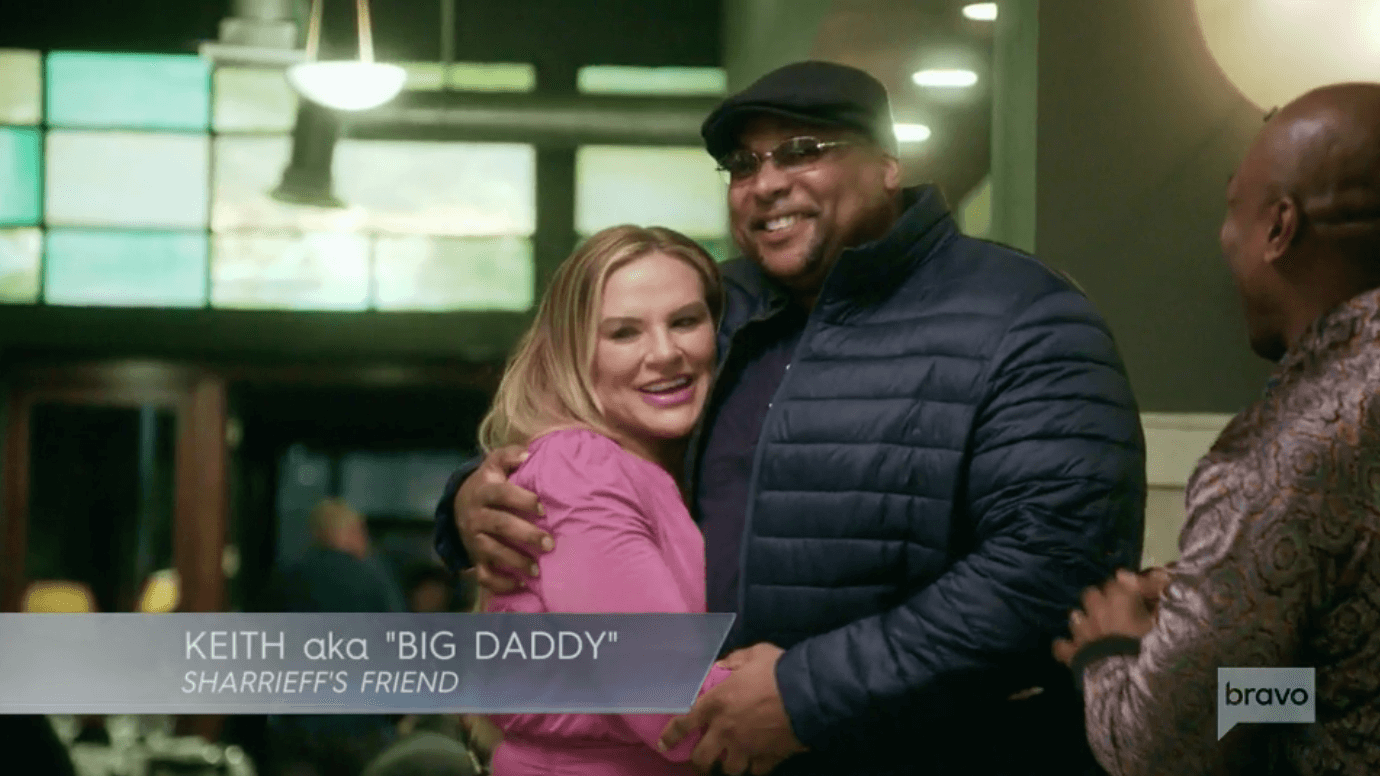 Will isn't letting Steve off the hook. He says Steve talks the talk but then fades out of their lives. He isn't consistently present. Whitney hopes things will be different this time.
The blind date dinner is here. Heather comes in dancing as Sharrieff gives her a beat. Jen has been reflecting on her friendship with Heather. So, if Big Daddy (sometimes called Big Easy, sometimes Keith) and Heather hit it off, they can spend even more time together! That would be amazing!
But the initial attraction comes to a halt when Big Daddy orders cranberry and orange juice instead of a cocktail. And as Heather is talking to him, he ponders the carrot in his glass. Then he talks about his job. A lot. He loves his job and isn't afraid to go on and on and on about it. Heather refers to it as a Ted Talk. Good one, Heather!
It's a new day, and Whitney is trying to keep her kids from eating sugary snacks. A losing battle. But on the plus side, she issues an invitation for a girls' trip to Las Vegas and plans to invite everyone.
Meredith is too cool for Vegas, but she half-heartedly agrees. Mary isn't down for a trip with crazy Jen. Lisa Barlow, who is still pissed at Whitney, isn't sure she wants to come.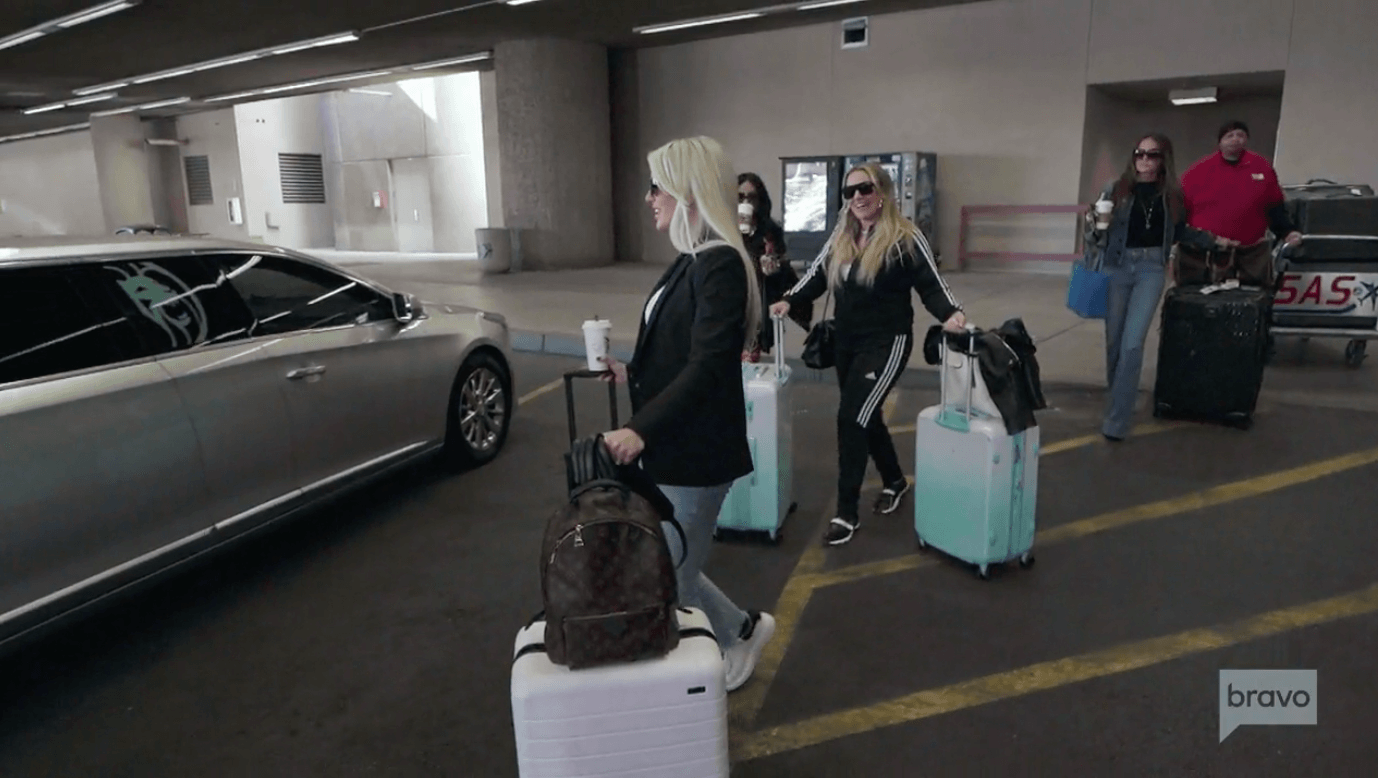 Lisa calls her bestie, Meredith, and complains that Whitney hasn't apologized. Why did Whitney start gossiping about the two women in the first place? Lisa is on the fence, but Meredith is willing to give Whitney a second chance.
We see a montage of the women packing. Heather wants to meet a man, natch. Whitney hopes the other women will talk to her. Lisa never bothered calling her back, so Whitney assumes Lisa isn't coming. Brooks helps Meredith choose her outfits, even though he thinks Vegas is full of nothing but prostitutes. And Jen tells us that she's the one who gets along with everyone. She's Vegas personified and is down for the trip.
Once the four ladies are at the airport, Meredith says Lisa is already in Vegas. This is news to Whitney. She feels this is Lisa's way of putting her in her place.
Once they arrive, they have two limos—one for the women, one for their luggage. As they make their way to the hotel, Whitney calls Lisa, who declines her call. Lisa then immediately calls Meredith, in a very passive-aggressive move, and says she's here for business reasons. She'll meet everyone at the hotel later.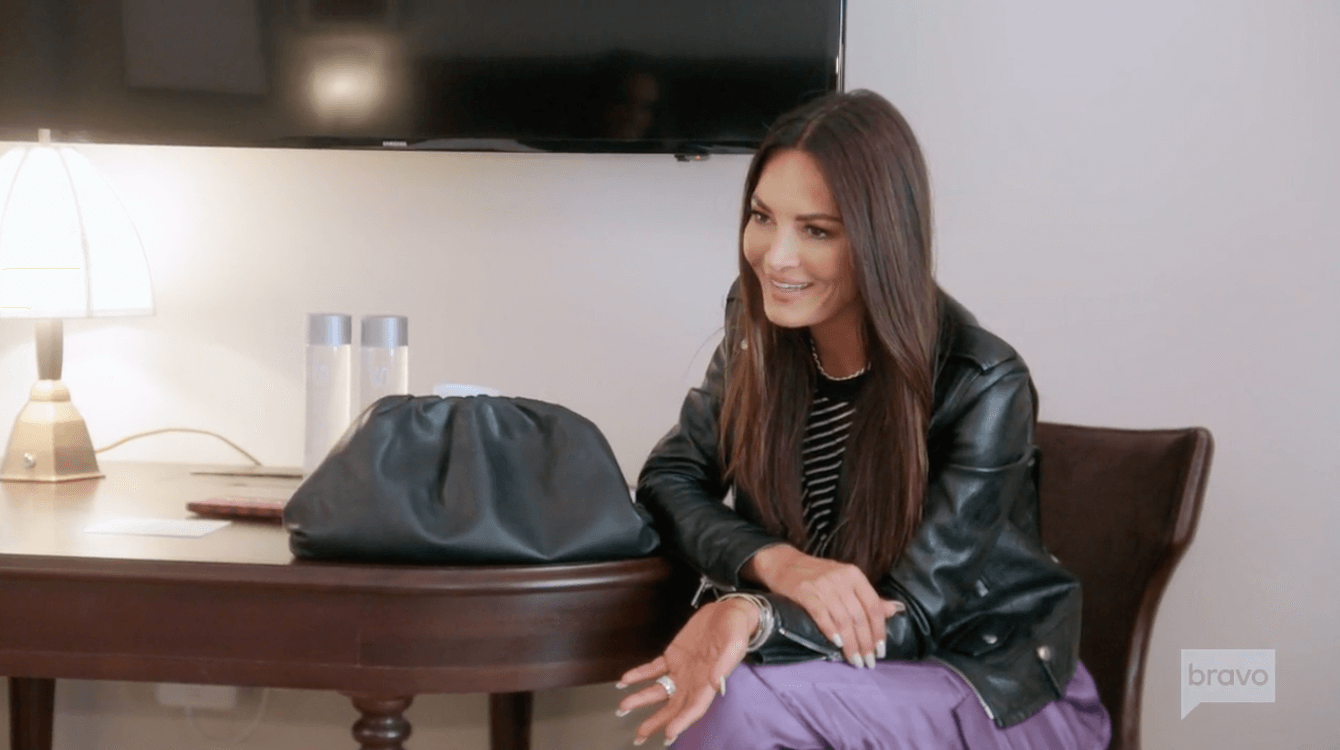 Whitney does her impersonation of Lisa, which includes pouty lips and twisting her head in a weird way. Whitney can't pull it off, though, because "I can't look like I'm taking a shit and being sexy at the same time."
Jen says Lisa is still pissed at Whitney. She's not completely okay with Whitney, either, but she's on the road to forgiveness. At least for now.
At the hotel, the women are greeted with champagne and a concierge who offers them a personalized poem. They're given roses and shown to their rooms. 
Whitney tells them to meet back down in the lobby in an hour to go exotic car racing. Jen isn't coming. She has a special surprise for Heather. This is news to Heather! And now Whitney will be stuck with Lisa and Meredith without any buffers.
Lisa stops by Meredith's room. She's not sorry she didn't tell Whitney if she was coming to Vegas or not. But when she hears about racecar driving, Lisa is pumped.
Jen takes Heather into a bar for a private shopping experience. The room is surrounded by shoes and designer dresses. The women try on strappy heels and clothes, then model for each other. Heather is excited about the experience and finds a dress for the new Beauty Lab opening.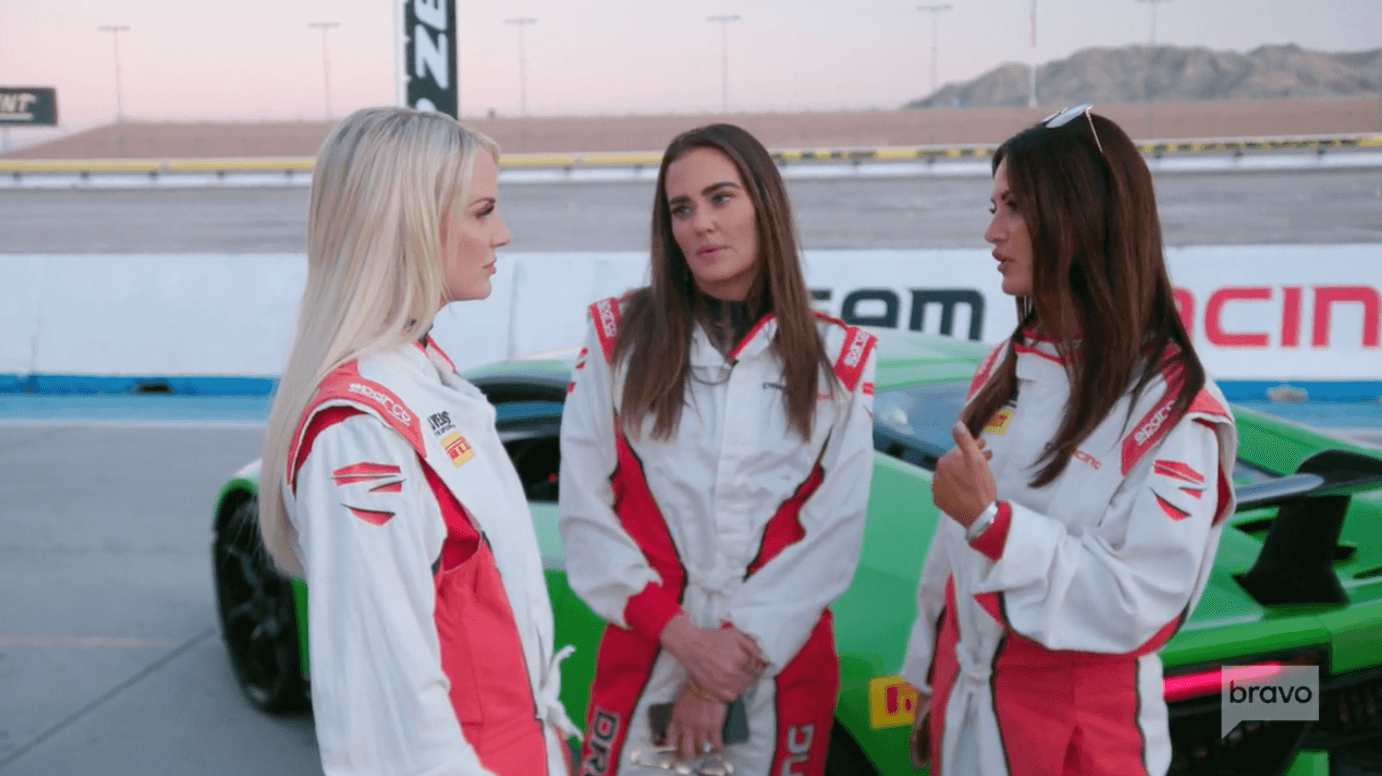 Jen wears a tropical pantsuit that bares a good portion of her fake tits and poses on top of the bar. But when she tries to get down, her heel gets caught and she falls. Fortunately, Heather catches her jacket, and Jen lands in a chair.
Meanwhile, Meredith, Lisa, and Whitney drive to the track. The tension is thick, as Whitney tries to talk to Lisa, who takes a phone call. But she does tell Whitney how great she is at racing. She and her family do it a lot.
At the track, Lisa tells the instructor she drives a Porsche Panamera, so she's used to fast cars. The instructor just blinks at her and says, "Okay." She wants to know the best car for her high-octane lifestyle. He tells her that since her outfit is red, she should pick a red car. Done!
The women hop in their cars and zoom around the track. Well, Lisa doesn't. She drives like a geriatric taking the alternate route to the grocery store. Whitney and Meredith race past her quickly.
Once they're done, Whitney apologizes about how the hip-hop party got so out of control. Meredith and Lisa insist that no one speaks for them, not even Mary, who says both women are afraid of Jen. After Whitney apologizes again, the women forgive her.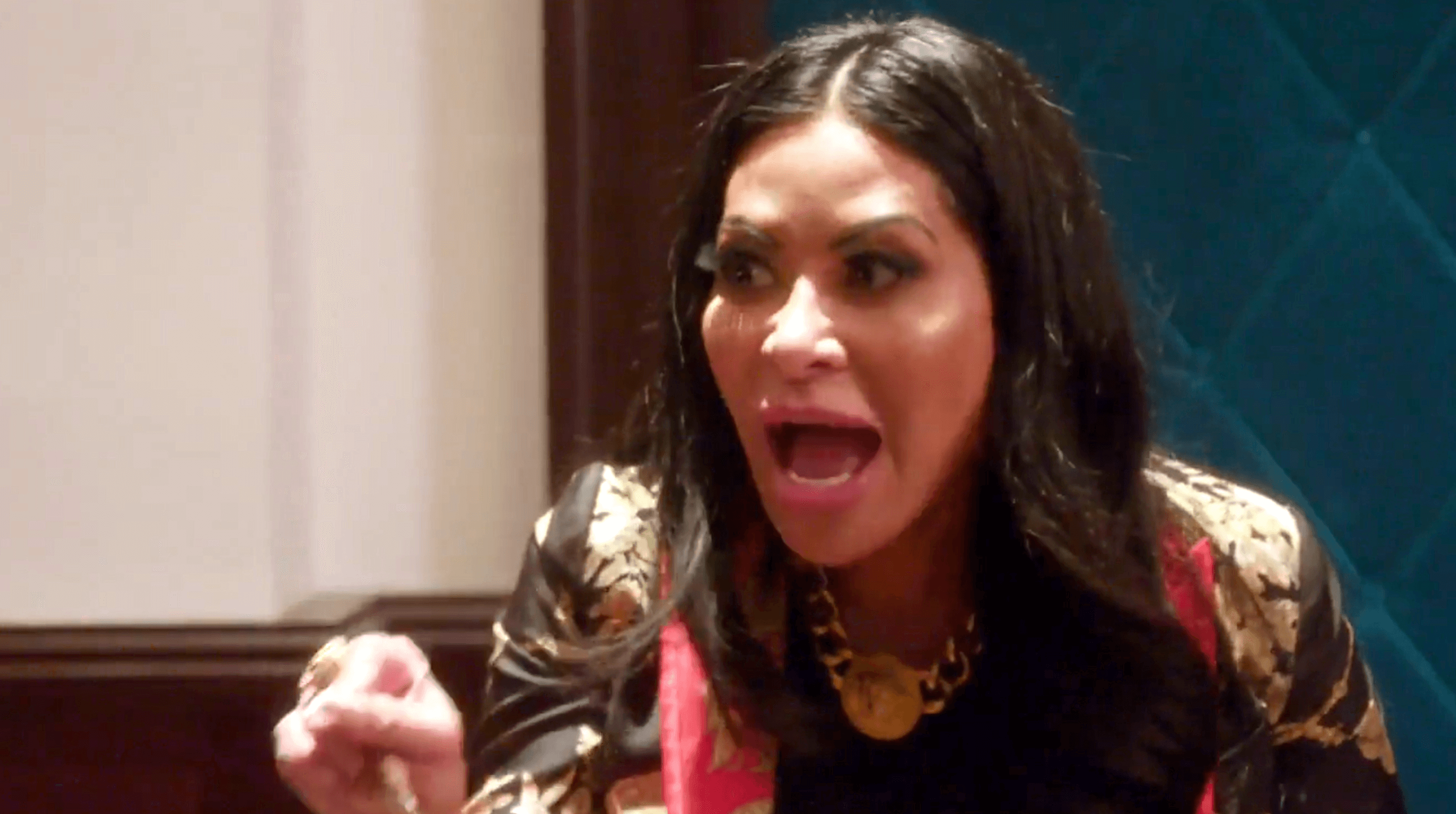 But there's one person who hasn't forgiven Whitney, and that's Jen. And not only is she still in her feelings about the hip hop party and Whitney's bad timing, but she's also angry with Heather. Heather insists Whitney was trying to look out for Jen by telling her the women were talking to Mary behind her back. Jen doesn't see it that way, and the fact that Heather isn't blindly backing her is more fuel for her fire. 
Jen says if Whitney comes to them with information, she needs to finish it. But Heather doesn't understand why Jen is still angry. She and Whitney hashed it out at the spa last week. Heather says Jen is the one who threw the glass. That wasn't Whitney's fault. 
Jen planned this perfect shopping situation for Heather, so why is Heather still not siding with Jen? Jen wants to bitch slap Whitney, and she's is quickly working up a head of steam. According to Jen, Heather is putting herself on the line for Whitney.
And that's our episode. So, do you think Jen lured Heather with the shopping to force her to choose sides? Did you agree with Lisa's passive-aggressive behavior toward Whitney? And do you wish each episode had more of Mary?
Stay Connected With All About The Tea: Twitter Ι Instagram Ι YouTube Ι Facebook Ι Send Us Tips
I'm a fiction writer by day and a reality TV addict by night.