'RHOC' Finale RECAP: Braunwyn Comes Out As A 'Big Ol Lesbian' & Goes Head-To-Head With Shannon & Kelly
It's the season finale of the Real Housewives of Orange County. We start the episode at Emily Simpson's house. She's planning a beach party and is crafting seashells in a bottle along with the invitation. And she's using Elizabeth Lyn Vargas's house as the venue.
Gina Kirschenheiter stops by to visit Emily. Emily says Shannon Beador is angry with Gina because Gina hasn't been attentive enough during her Covid crisis. But according to Gina, Shannon calls a lot, and she's often tipsy. Furthermore, Shannon doesn't really reciprocate the concern. She never calls to ask about Gina and her life, she just calls to complain about John.
At Shannon's house, she's cooking ribs and worrying about Sophie, who's leaving for college in three days. Shannon has many worries about cutting the apron strings. Many, many worries.
When her kids drink a soda, Shannon yells about sugar, then asks John to pour her a glass of vodka. But she still lifts a glass to toast to Sophie. Shannon admits Sophie is the most like her. She's headstrong and dramatic, but Shannon thinks her daughter will do great things.
Sophie says her mom has raised her to be strong and independent. She praises Shannon for being a great mom.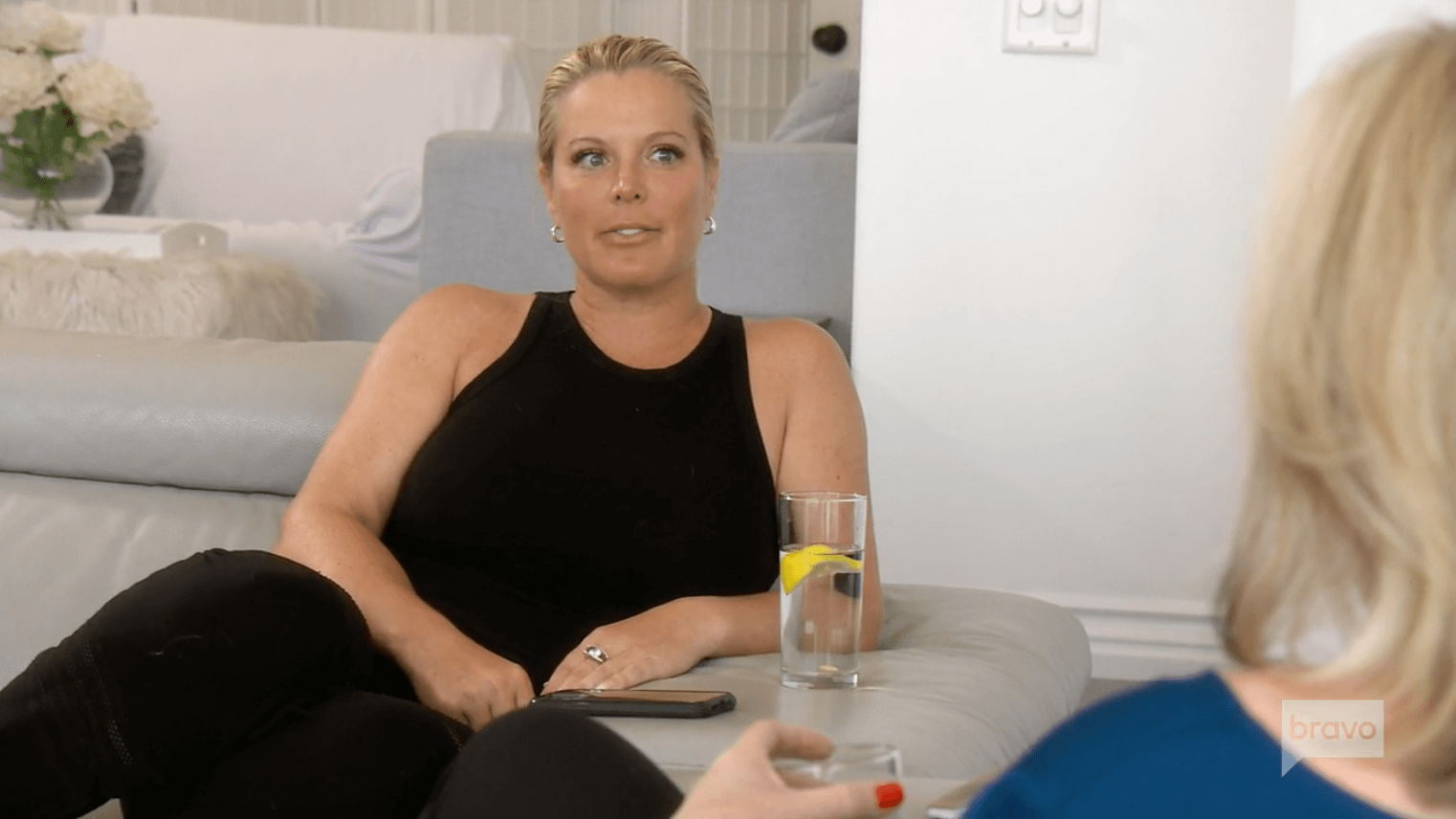 At Kelly Dodd's house, she and Rick Leventhal are playing ping pong in the living room. They stop playing to discuss the wedding. They plan on keeping it small and intimate. 
Kelly complains about Braunwyn Windham-Burke. Sober Braunwyn just isn't fun. She's angry and volatile. And Kelly's not the only one who has problems with Braunwyn. When Elizabeth invited Braunwyn to her home a few days prior, Braunwyn didn't even bother replying. That's just rude!
And speaking of Elizabeth, her new therapist comes to visit. Elizabeth begins by talking about her divorce and then swings around to her crazy childhood. She admits she deflects with humor.
As Elizabeth opens up to her therapist, her throat tightens. The memories she shares are uncomfortable and painful. Growing up in a cult and being sexually abused has forced her to put up walls. She desperately wants girlfriends, but she doesn't feel accepted for herself. Elizabeth breaks down in tears and covers her face as she realizes the road to self-healing will be a long one.
It's time for the party. Emily arrives at Elizabeth's house. She has a photo booth with props, a beach picnic, and a chef.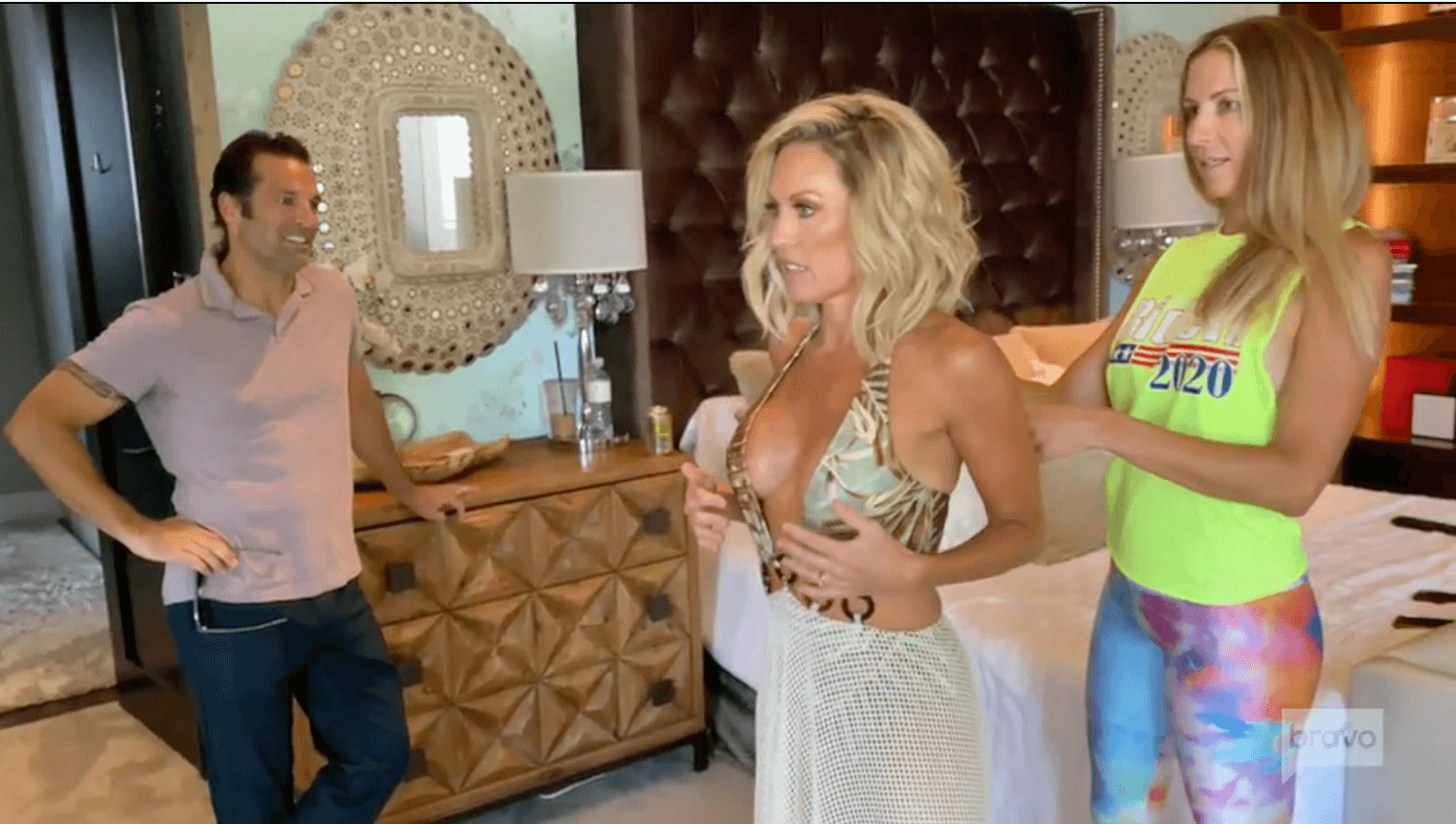 Shannon is getting her torso wrapped in tape so she can fit into her dress. She's put on a few pounds and the Spanx just isn't enough. 
Braunwyn is getting help from her friend, Shari. As Braunwyn slips into a barely-there swimsuit, her husband, Sean, walks by and comments on how hot she looks. But Braunwyn isn't interested in Sean's opinion. Braunwyn claims that Sean is her life partner, that she wants to be with him, but she's not in love with him.
Back at the beach, Elizabeth's brother, Andrew, is acting as bartender. He promises to keep the champagne flowing.
Gina shows up first, then Kelly arrives soon after. Elizabeth comes downstairs just as Brauwnyn arrives. Shannon shows up last, and for the first time in weeks, the women are all together.
Shannon brings gifts for everyone. She's had masks made with cute sayings. Her own mask reads "una amiga."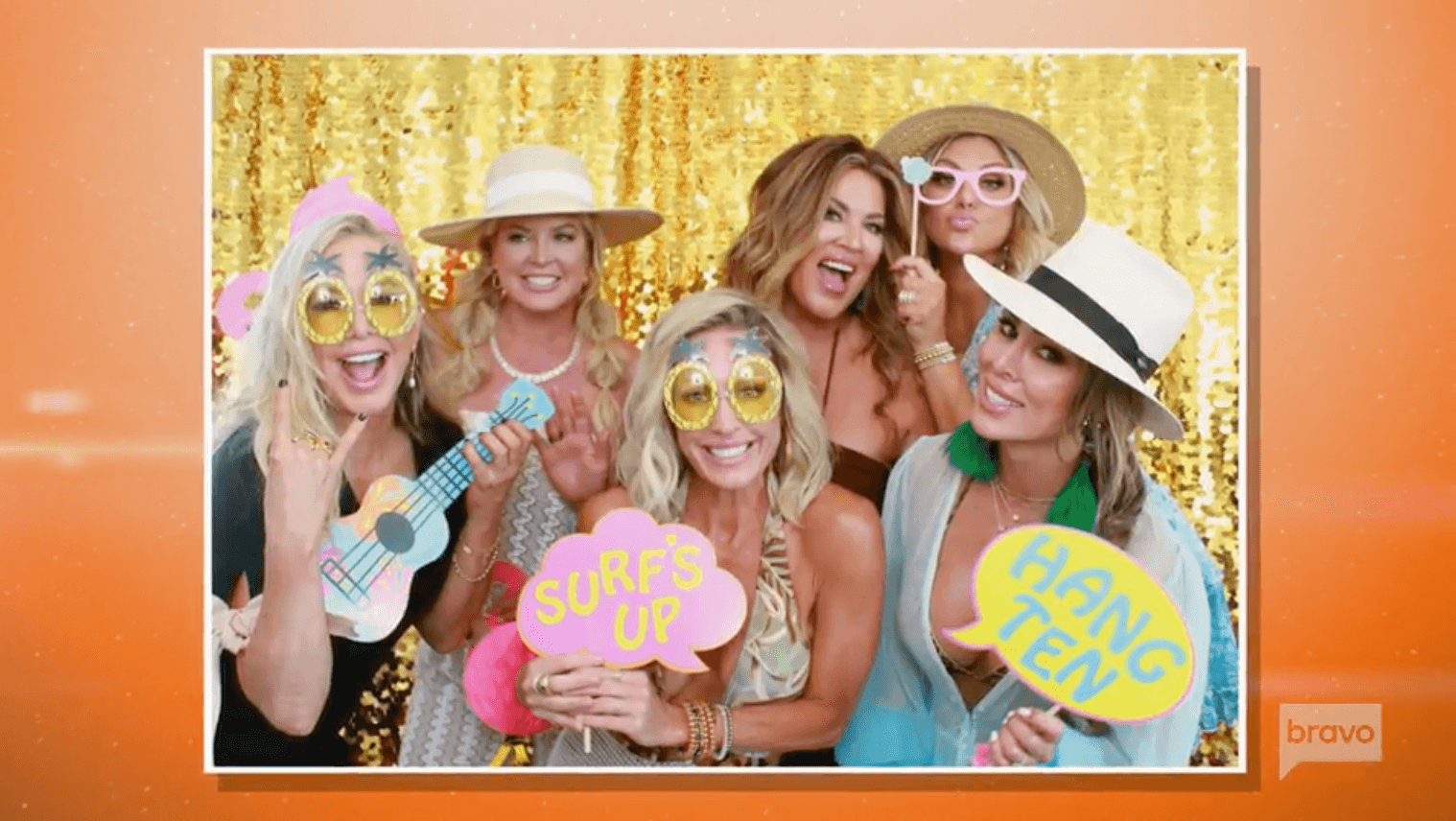 The women stand in front of the sparkly curtain and take selfies. Then they begin with the tequila shots. Well, everyone except Braunwyn and Gina.
Braunwyn tells Gina she's starting school the next week. She wants to become an addiction therapist. This is what she has to do to stay sober.
The women head out to the beach to eat. Elizabeth takes Kelly aside and says she's heard that Sean moved out of the Burke home, and Shari has taken his place. 
Meanwhile, Shannon, Gina, and Emily sashay toward the beach. On the way, Emily says Braunwyn's been gossiping about Shannon's relationship with John. According to Braunwyn, John was so drunk at a golf tournament, he had to be taken home by his father. Not true, says Shannon! John doesn't play golf. In fact, he doesn't even watch golf. All lies!
Gina has been worried about Shannon's relationship with John. John had been in and out of the house, not following Covid rules. Shannon admits she's hurt that Gina hasn't been around to support her, but Gina says she was trying to give Shannon room and not put herself in the middle of Shannon's personal life.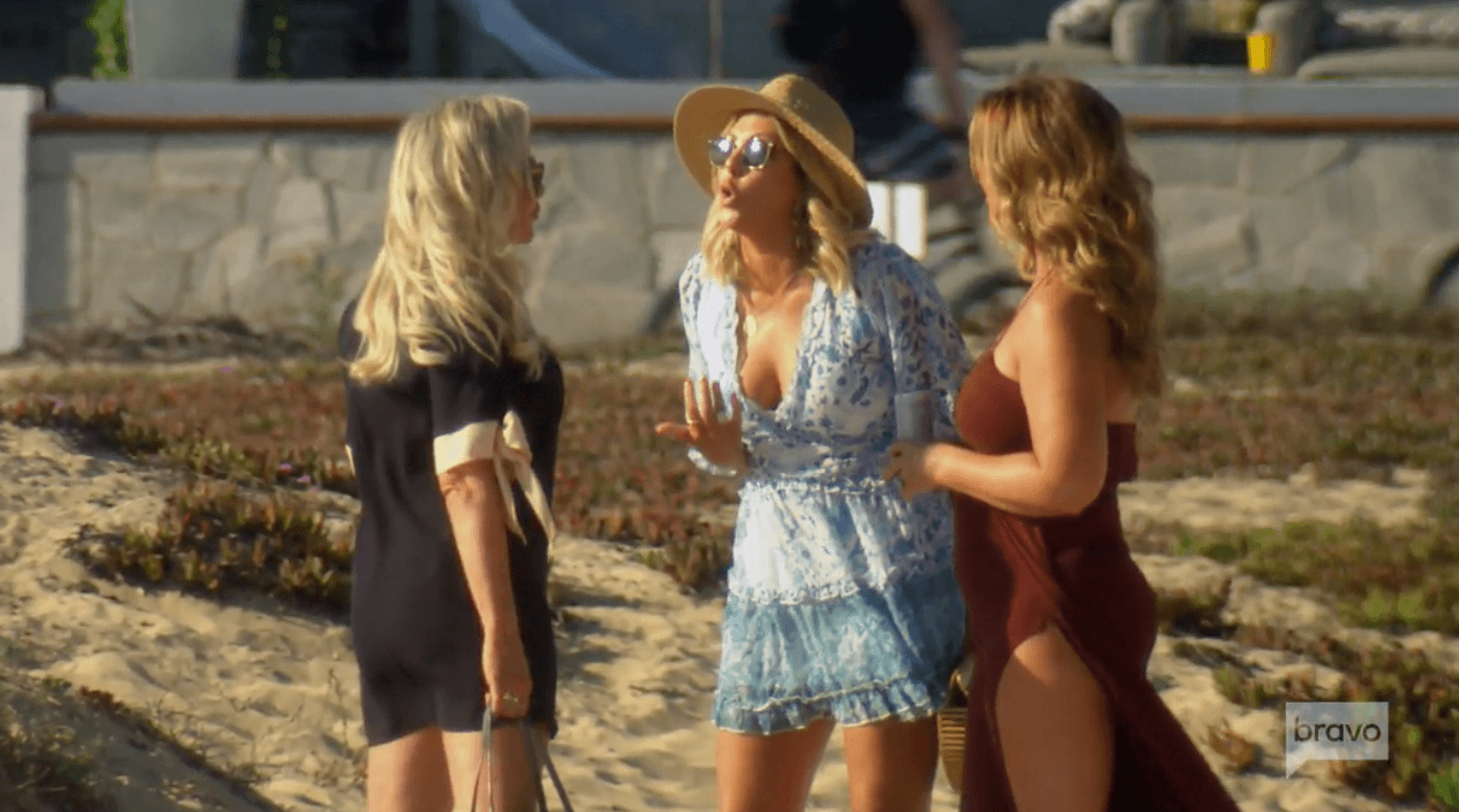 Emily tackles Shannon head-on. She says Shannon has a tendency to drink and overshare. Once she sobers up, she tries to backpedal and make her relationship sound perfect. Shannon says she's just venting. She has to get out her frustrations, don't take them so seriously.
Shannon says her marriage was so bad, she thought John was her knight in shining armor. But once the honeymoon stage wore off, they argued. They were together too much and the arguments got a little heated. But she's committed to John.
At the table, Kelly asks Braunwyn how her daughter, Rowan, has been. Gina had said Rowan was in a dark place with her OCD. But now, Braunwyn says her daughter is doing very well. 
Kelly wonders why Braunwyn shares things with some of the women but not all of them. Braunwyn says Kelly never calls to check on her, that's why she never tells Kelly anything. Kelly says Braunwyn never reaches out either. It's a two-way street. 
Kelly claims Braunwyn makes no sense. She just straight up full of shit. Brauwnyn says she's an open book. But when Elizabeth sent Brauwnyn a long, grateful text thanking her for her support on the girls' trip, Braunwyn merely replied, "Thanks."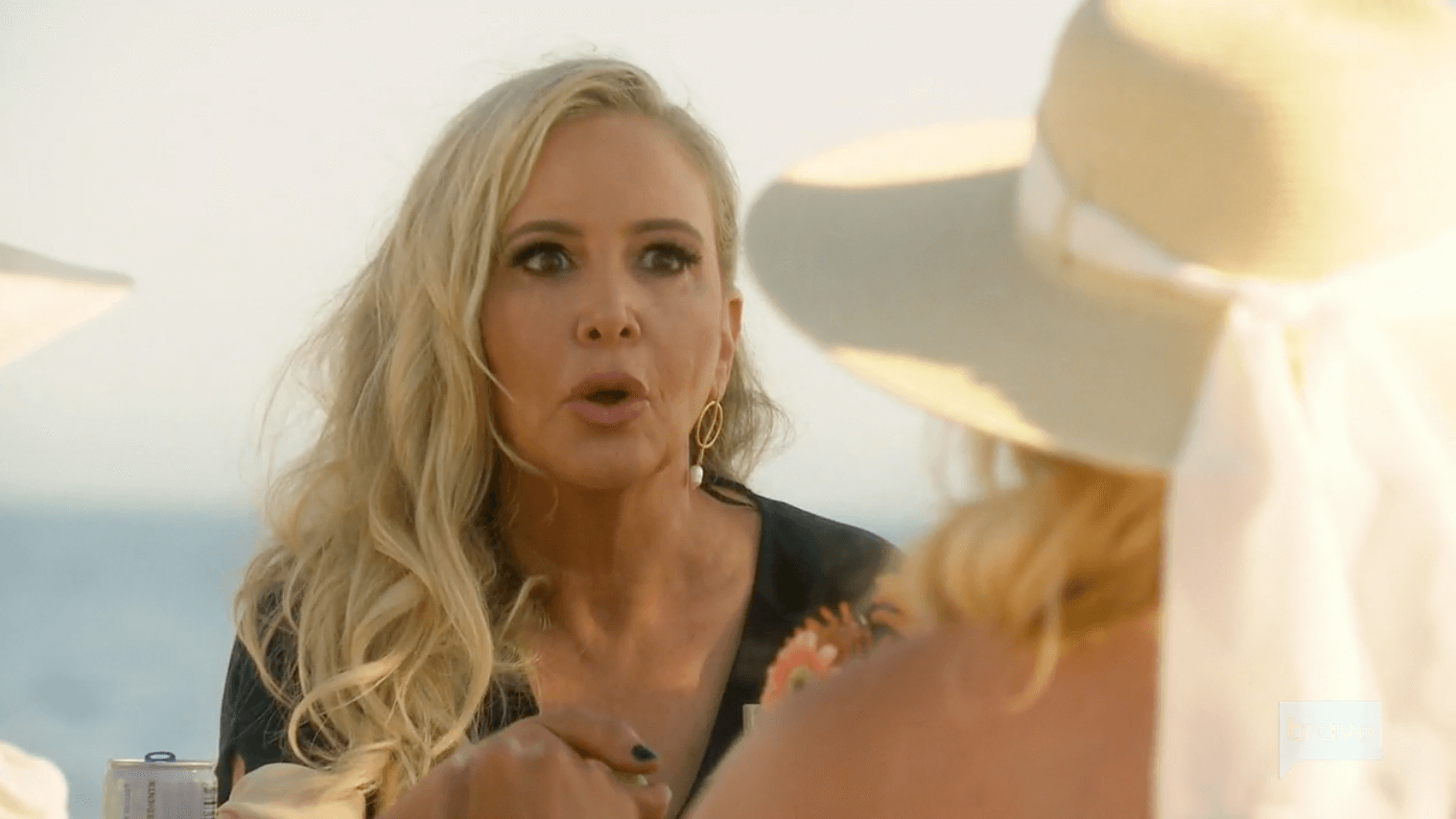 But the story behind that is Elizabeth called Braunwyn a liar behind her back, said she was neglecting her children because of the alcoholism. Elizabeth's sister abandoned her own daughter and seeing Braunwyn ignore her kids triggered Elizabeth.
Shannon takes this opportunity to tell Braunwyn that she was not the reason Brauwnyn decided to dig up dirt on Elizabeth. Even though Shannon was vocal about Elizabeth's stories not adding up, she now says she didn't instigate Braunwyn.
The women agree that Elizabeth's stories don't make sense either. Emily feels Elizabeth is probably lying and doesn't even know she's doing it. The dots just don't connect. Elizabeth says she's now in therapy to work on that.
Kelly disperses the tension when she spies a pod of dolphins. The women stop fighting for a minute, as Elizabeth says she wanted to get Vince Neil to attend Shannon's birthday party, but stupid Covid got in the way. In case you don't remember, Poison is Shannon's favorite band. Elizabeth calls Vince, but it's the wrong number. And the whole thing is very embarrassing. 
The women scoff at Elizabeth, but Kelly tells them to back off. The ladies are always complaining that Elizabeth isn't honest, but Braunwyn's not honest either. For instance, what's going on with Braunwyn's girlfriend, Shari?
Braunwyn admits she's in love with Sean and Shari. But she's not sleeping with Shari. Braunwyn has no idea of what is going on in her marriage. They're fighting to stay together, and that includes individual therapy for each of them. Emily points out that Sean has a problem with Shari living in the house. If she made the commitment to work on her marriage, then Shari needs to go. Braunwyn says she needs Shari, and she has to be selfish right now. Too bad for you, Sean!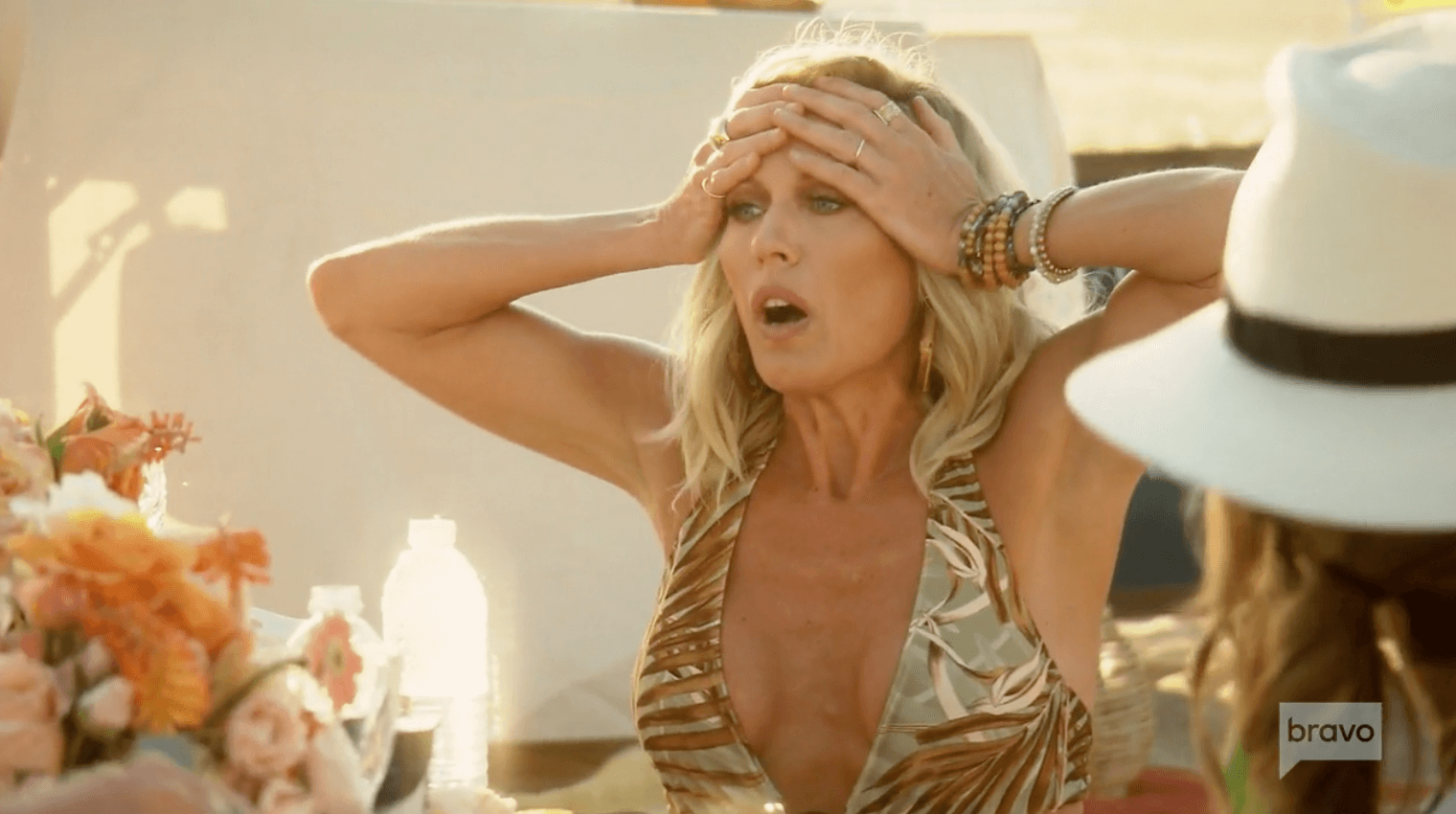 Emily and Gina head back to the house to use the restroom. In their absence, Shannon takes another swipe at Brauwnyn, who said in Instagram that she hates Newport Beach. It's too conservative! Shannon wonders why Braunwyn and her family have chosen to live there if she hates it so much.
Braunwyn grew up in Laguna, and it was great. She thought Newport Beach would be the same. Kelly tells Braunwyn she's full of shit. The two places are nothing alike, and everyone knows it!
Braunwyn wants to be a beacon of light to other liberals like her. Kelly tells her that in America you can have differing opinions. Braunwyn yells that Kelly never shuts the fuck up. 
Elizabeth says Brauwnyn makes all these posts on peace and love and telling everyone to be tolerant. But Brauwyn is the least tolerant person. What's up with that, huh?
As Shannon rolls over in the sand and shows off the tape tied around her gut, Brauwnyn moseys back to the house, saying Sean has arrived. She brings him back out to the beach to greet the ladies.
John, Jimmy, and Travis all come out to the beach to be with the women. Shane shows up last. When Emily goes to sit in the photo-ready rattan chair, she falls over backward and winds up in the sand. Shane just looks on but doesn't help get her up. Typical Shane.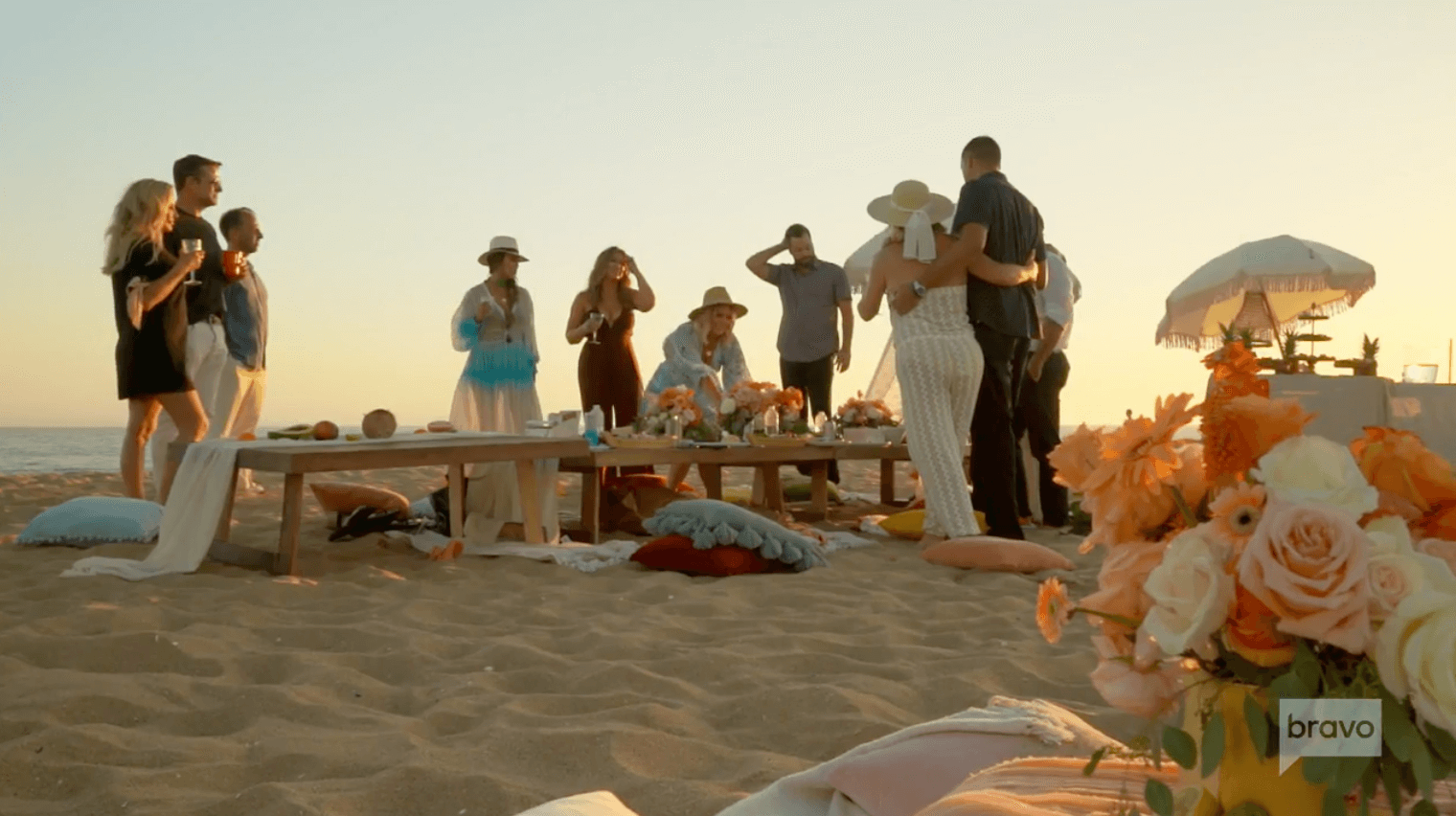 The women toast each other and we see little snippets of where the women are today. Braunwyn admits she's a lesbian and has a new girlfriend. She and Shari no longer speak. Elizabeth has a lot of work to do on herself. Kelly got married but didn't invite any of the ladies. Emily has lost weight. 
And that's our show. So, did you enjoy this crazy Covid-heavy season? Do you think Elizabeth will be back next year? Who was the MVP and your least favorite Housewife?
Stay Connected With All About The Tea: Twitter Ι Instagram Ι YouTube Ι Facebook Ι Send Us Tips
I'm a fiction writer by day and a reality TV addict by night.