'RHOA' RECAP: Kenya Moore Says Sleeping With Kandi Burruss Would Be "The Best Sex I've Never Had"
We start this week's Real Housewives of Atlanta at venue for Cynthia Bailey's engagement party. Kenya Moore is throwing the surprise party, and she wants a wow factor. And that includes an ice sculpture and fake snow.
Kandi Burruss is cutting the cord with her daughter, Riley, who's going to college. But Riley doesn't know how to clean, and she needs to learn. Kandi Burruss calls in Mama Joyce to help teach a few fundamentals. But little Ace comes in and wants to help, so Riley puts him to work and learns nothing.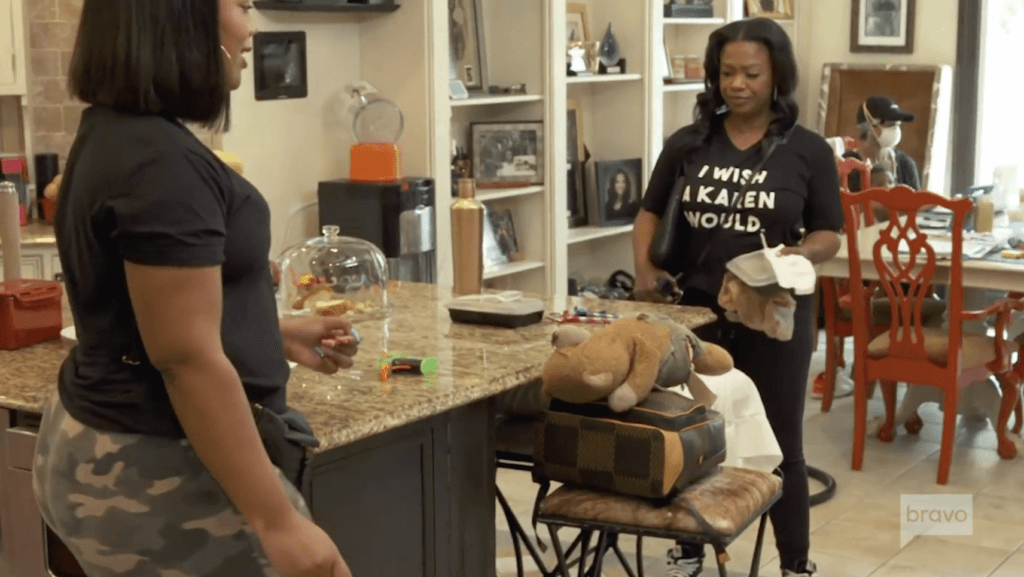 Cynthia Bailey stops at the lingerie shop. She's supposed to meet Kenya, but LaToya Ali got an invite, too. Since Kenya's late, Cynthia has to make small talk with LaToya, and she's not happy about When Kenya arrives, LaToya shows the naked pics Kenya took of herself. Why is she sending them to LaToya? Kenya pleads the fifth. Hmmm.
Last week, Kenya Moore was disinvited to Porsha Williams' surprise party, the one her sister threw to celebrate Porsha's newfound social activism. Kenya still plans on inviting Porsha to the engagement party she's throwing for Cynthia, but she's in her feelings about being excluded.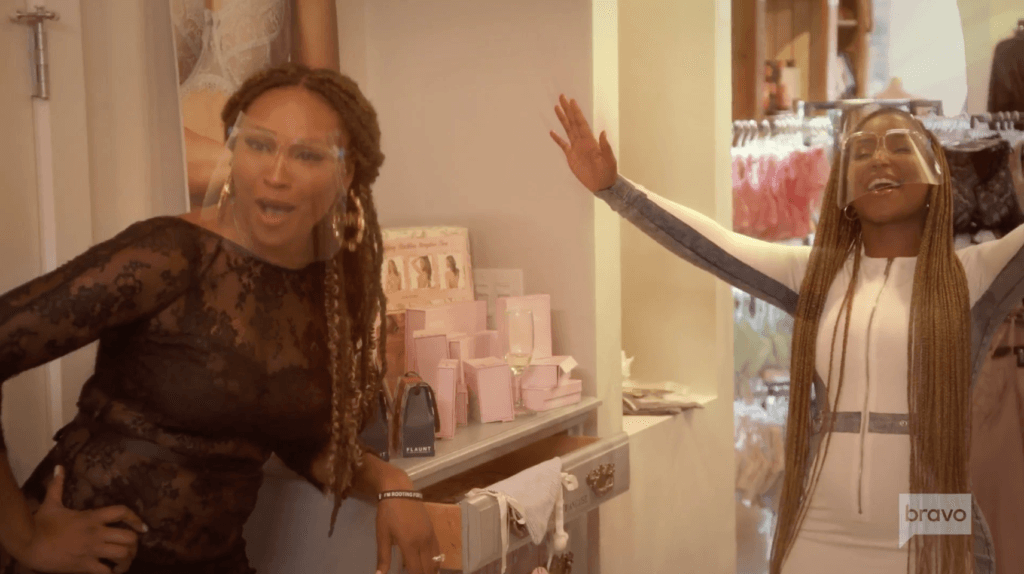 LaToya struts out of the dressing room to show off a bra and thong to Kenya. Cynthia barely blinks and calls Kandi to find out the dress code of the engagement party. LaToya wants to know what the party is for, but Kandi isn't dropping any hints. Cynthia wonders if Joe Biden might be attending.
Cynthia and Kenya finally try on lingerie. Cynthia models a pretty white, lacy teddy. Then she gets her hair caught on a hanger.
At Porsha's house, her sister, Lauren, stops by with a box of Varsity Hotdogs with her. Not only is that not Dennis's restaurant, but Porsha's vegan.
Laruen admits she uninvited Kenya from the party, even though Kenya sent a Rosa Parks Barbie for Porsha's daughter, Pilar. When the producer asks if Porsha feels sorry for Kenya, Porsha cocks her head to one side and wonders why on earth she would ever feel sorry for Kenya.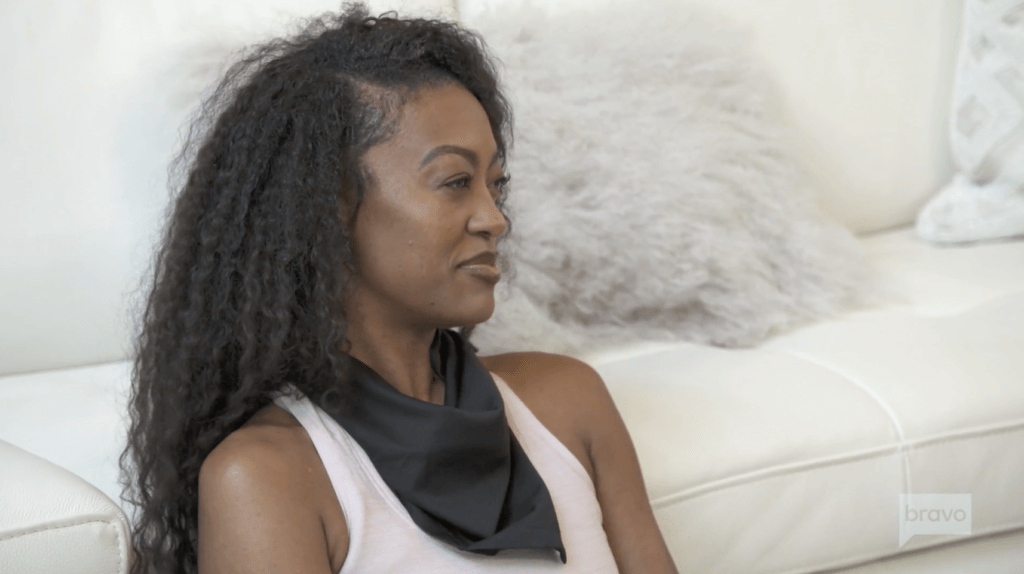 Porsha is working on a book, an autobiography. She's been talking about the past with her mom and Lauren. Porsha's parents divorced when she was three. Lauren got to live with their father, but they never felt like half-sisters.
Porsha's father died when she was seventeen, and she had a preconceived idea of what a man should be. Porsha hopes that Dennis will be a powerful father figure in Pilar's life.
Porsha asks her mom how to successfully coparent. It wasn't always easy, but Diane wanted her ex to have a solid family. When Porsha learns that Lauren got a kiss on the forehead every morning from their dad, and she never had that kind of relationship with him, it brings her to tears.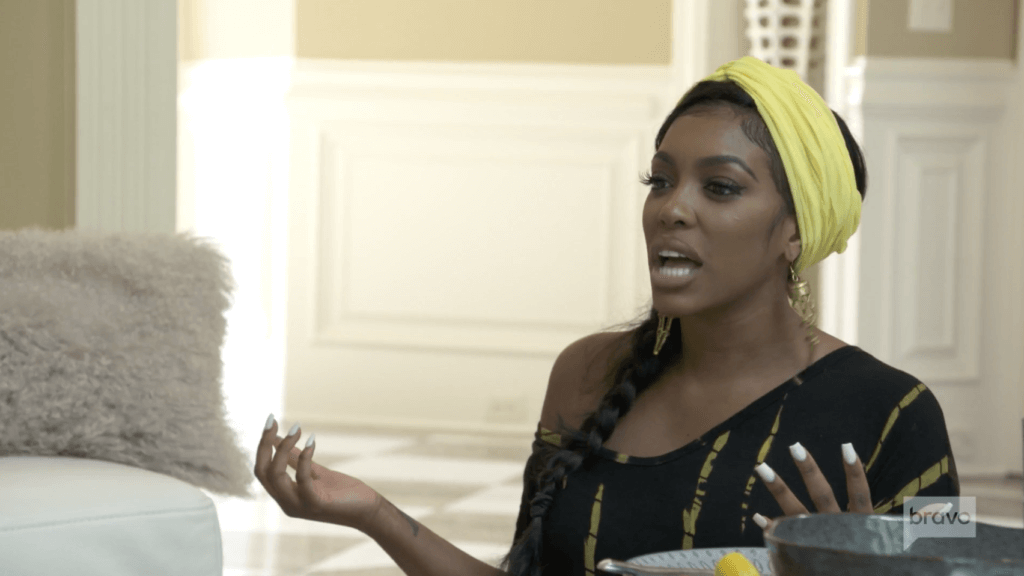 The night of Cynthia's engagement dinner has arrived. The winter wonderland theme has been achieved, but Kenya wants more snow, damn it! And the ice sculpture is starting to melt!
We see the other ladies getting ready, and they're all running a little late. There's a real worry that Cynthia will make it before everyone else.
Tanya arrives first, then Kandi  and Todd. Cynthia and Mike come in before the rest of the guests are on hand.
Cynthia seems confused, despite all the displayed pics of Cynthia and Mike together and #Chill written on the wall and the ice sculpture. Yes, Cynthia, this party is for you. When she finally understands that the party is for her engagement, she's overwhelmed. Cynthia takes Kenya aside and asks her to be a bridesmaid. Kenya cries tears of happiness. Cynthia asks Kandi to be a bridesmaid, as well.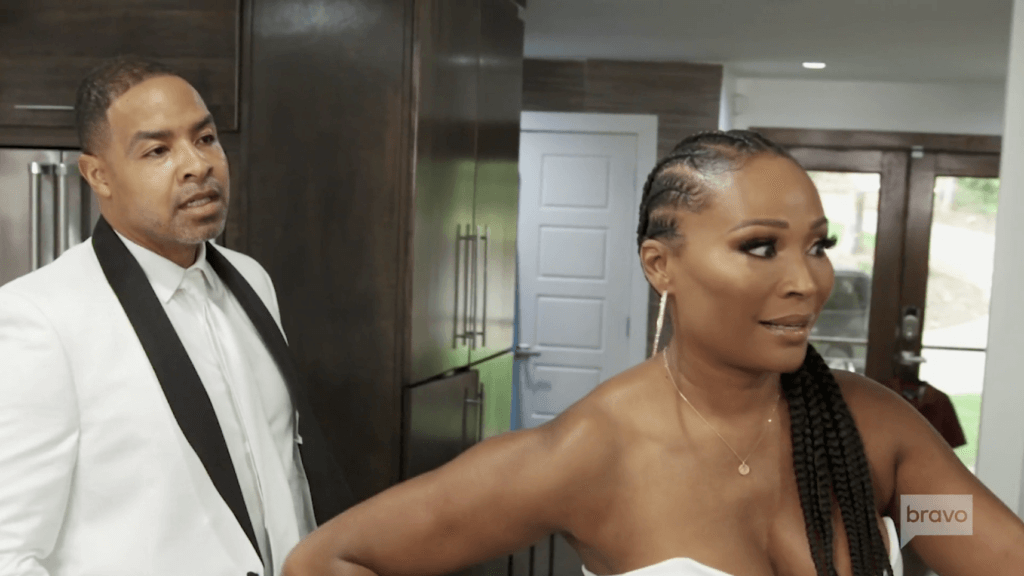 Marlo stumbles in wearing fuzzy white boots as Kenya takes the microphone, even though the dinner party is very small. She calls Mike and Cynthia to take their place by her side. At this point, Porsha arrives — almost an hour late.
As Kenya gives a long, rambling speech, Porsha kisses everyone hello and whispers with the other women. Porsha finally understands that the party is for Cynthia and Mike.
Kenya tries to sing as she instructs the couple to dance. Kandi takes the mic and riffs a bit. Mike grabs Cynthia's ass and squeezes. Porsha then shares the mic with Kandi and they both sing a little duet. At this point, Cynthia finally cries. Kenya has made sure there's a vegan menu for Porsha. Porsha is missing lemon pepper wings, but she swears that sex is better when you're vegan.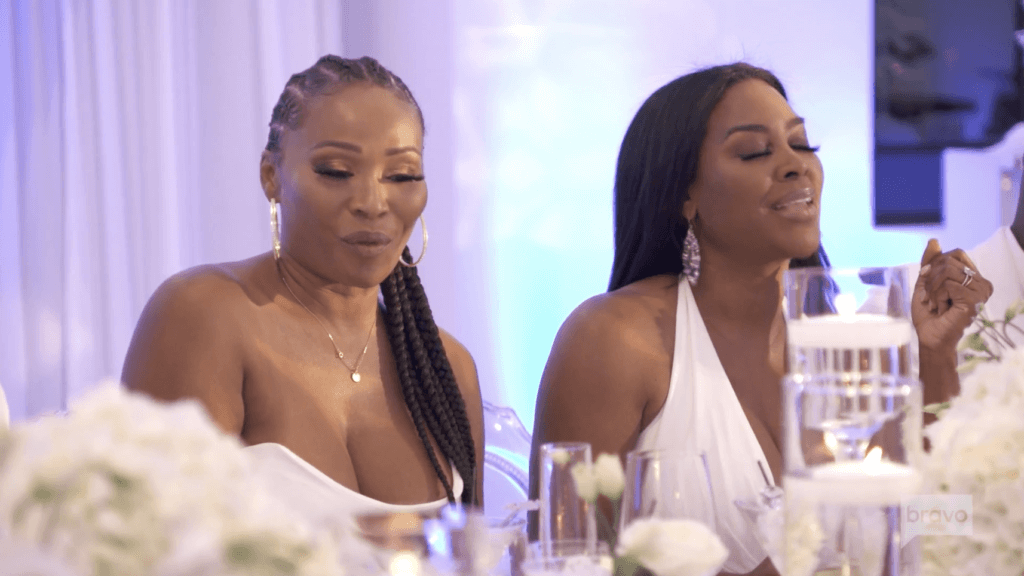 LaToya finally strolls in almost an hour and a half late. LaToya shows the naked pic Kenya sent and flashes it around the table. The other ladies are shocked that Kenya is sending out naked pics of herself.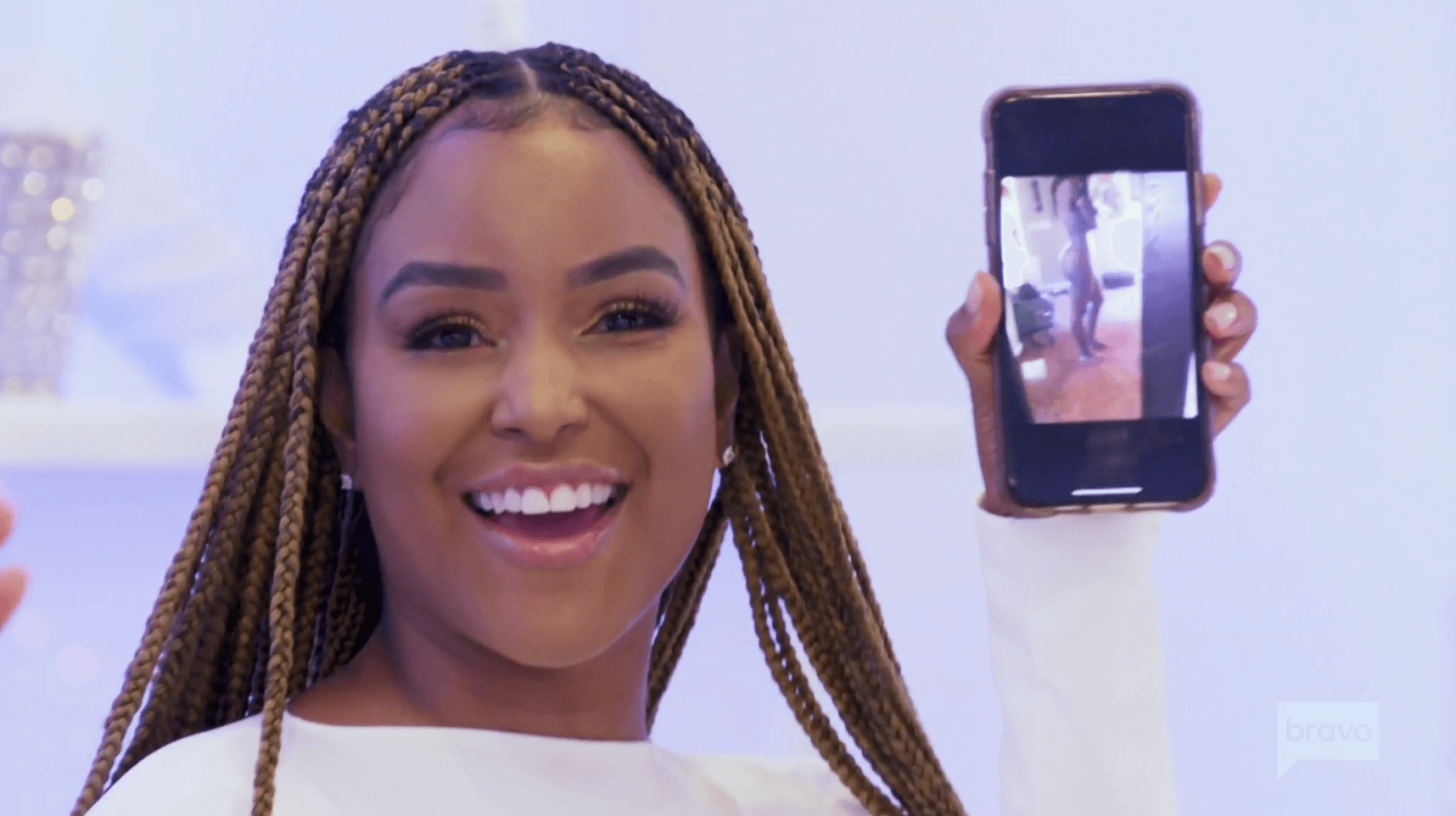 When Marlo asks if Kenya is going to get her ass done, Kenya says this is why she shouldn't have invited Marlo. She thinks Marlo must want to eat her ass. Um…okay. Kandi tries to calm the brewing storm, while Todd is watching the basketball game on his phone. Mike just wants to know the score.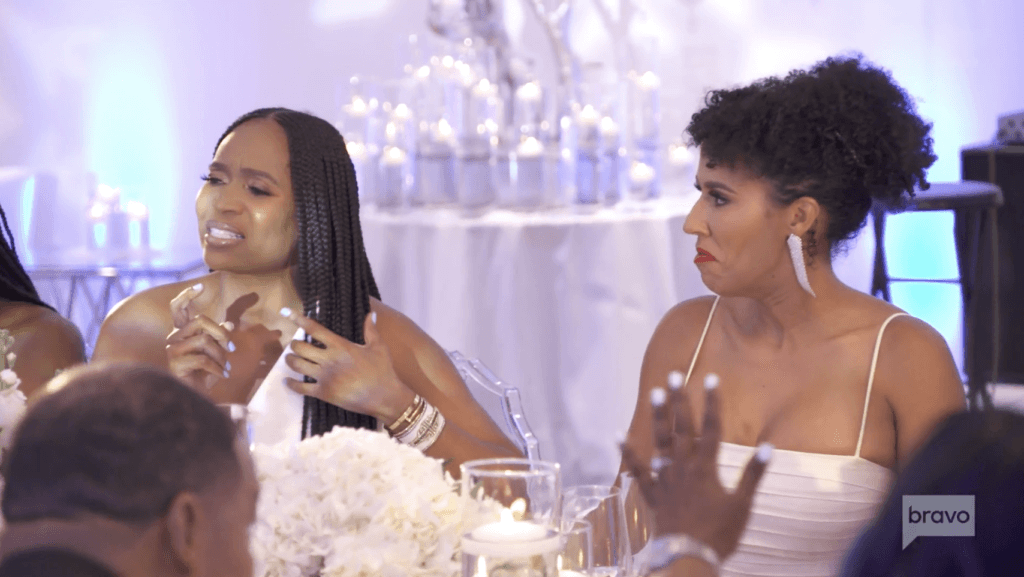 Kenya announces there are three women at the table she could get with. Porsha isn't one of them, but Kandi is. LaToya is another, and Cynthia makes number three.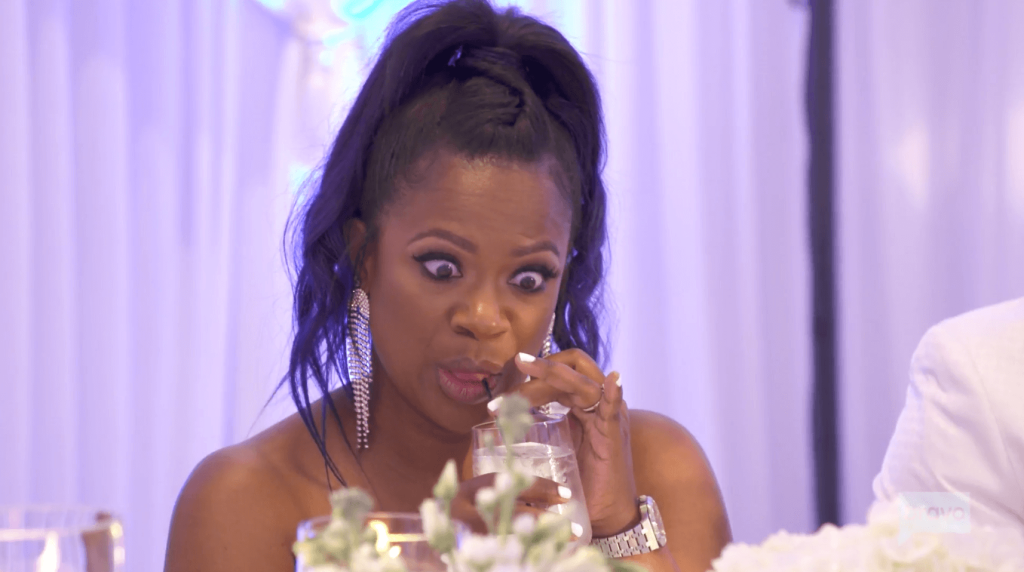 Kenya asks if Porsha got the gift for Pilar. And it would be better if she could have given it in person. When Porsha tries to explain that Lauren didn't know if Porsha and Kenya were in a good place, Kenya cuts her off and says that's a convo for another day. Then why did she bring it up?
The women end the night by dancing and twerking. And Cynthia really wishes Joe Biden had made an appearance.
Press play below to watch All About The Tea's Real Housewives of Atlanta recap on YouTube and SUBSCRIBE to our channel.
Now, it's a new day and time for Riley to leave for college. Because of Covid, they have to drive Riley and her things to school. They have a two-hour window to unload everything. And Kandi won't be able to celebrate Riley's eighteenth birthday with her.
Kandi is stress eating until the last minute. Ace wants to go, too, but he's forced to stay home. He cries as he realizes Riley's leaving home and he wants to help her clean. He grabs an extra pair of gloves because Riley doesn't like her hands to get dirty. Aww!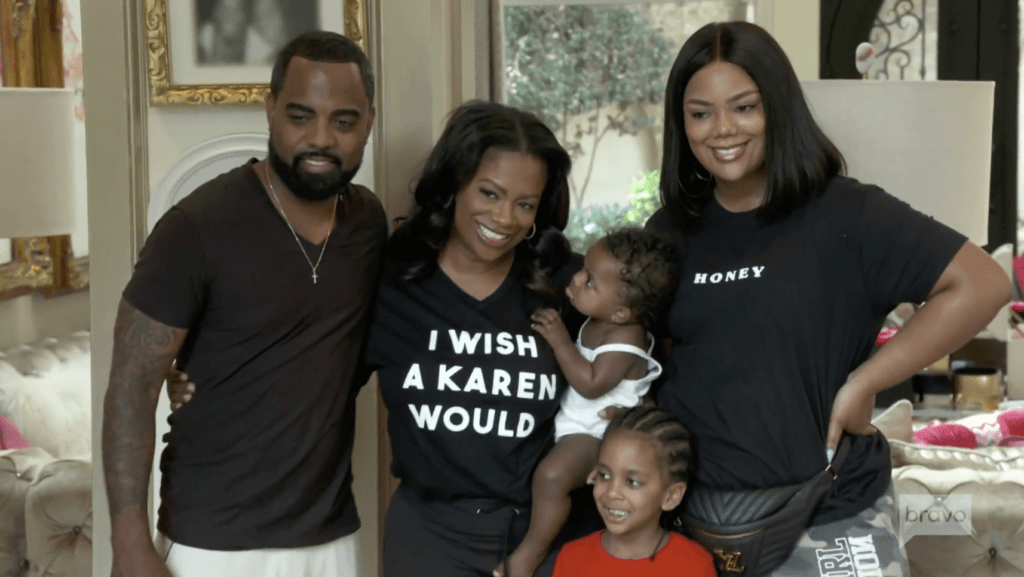 We see a flashback of Riley and Kandi through the years. She hugs Ace goodbye and heads off to college. Meanwhile, Kandi is still eating pasta in the van.
And that's our episode. So, was the engagement party a success? Is Kenya this horny because of lockdown or because she's free of Marc? And why didn't we see Drew Sidora this week?
Stay Connected With All About The Tea: Twitter Ι Instagram Ι YouTube Ι Facebook Ι Send Us Tips
I'm a fiction writer by day and a reality TV addict by night.