'RHOC' RECAP: Braunwyn & Sean Talk Marital Drama, Kelly Calls Braunwyn Fake & Elizabeth Exposes Her Past
On the Real Housewives of Orange County, we open this episode with Braunwyn Windham-Burke, her husband, Sean, and her thirty-four children as they celebrate her sixth months of sobriety.
Kelly Dodd has a mask in her fridge for some reason. Elizabeth Lyn Vargas signed her divorce papers after six years of marital acrimony. And Shannon Beador receives the organic headboard she bought for daughter, Sophie's, dorm room. Oh, and she bought a second one for Sophie's roommate because you know, toxicity is a thing. (Shannon, these girls will consume so much alcohol, their internal organs will be pickled by Christmas break. But by all means, focus on the organic headboards.)
Shannon is also making up a box for supplements, nebulizers, and first aid supplies for Sophie to take. Just in case! She's also having her tailor make Sophie's bed skirt. Because she wants it done right, damn it!
Sophie has a few issues with Shannon taking over the dorm decorations. But Sophie leaves in nine days, and there's still so much to be done. Sophie's not worried, though. Mostly because Shannon is doing all the heavy lifting.
You know what Shannon hasn't done? Updated her will. As it stands now, ex-husband David still gets the bulk of her estate. Yikes. Call that lawyer fast, woman!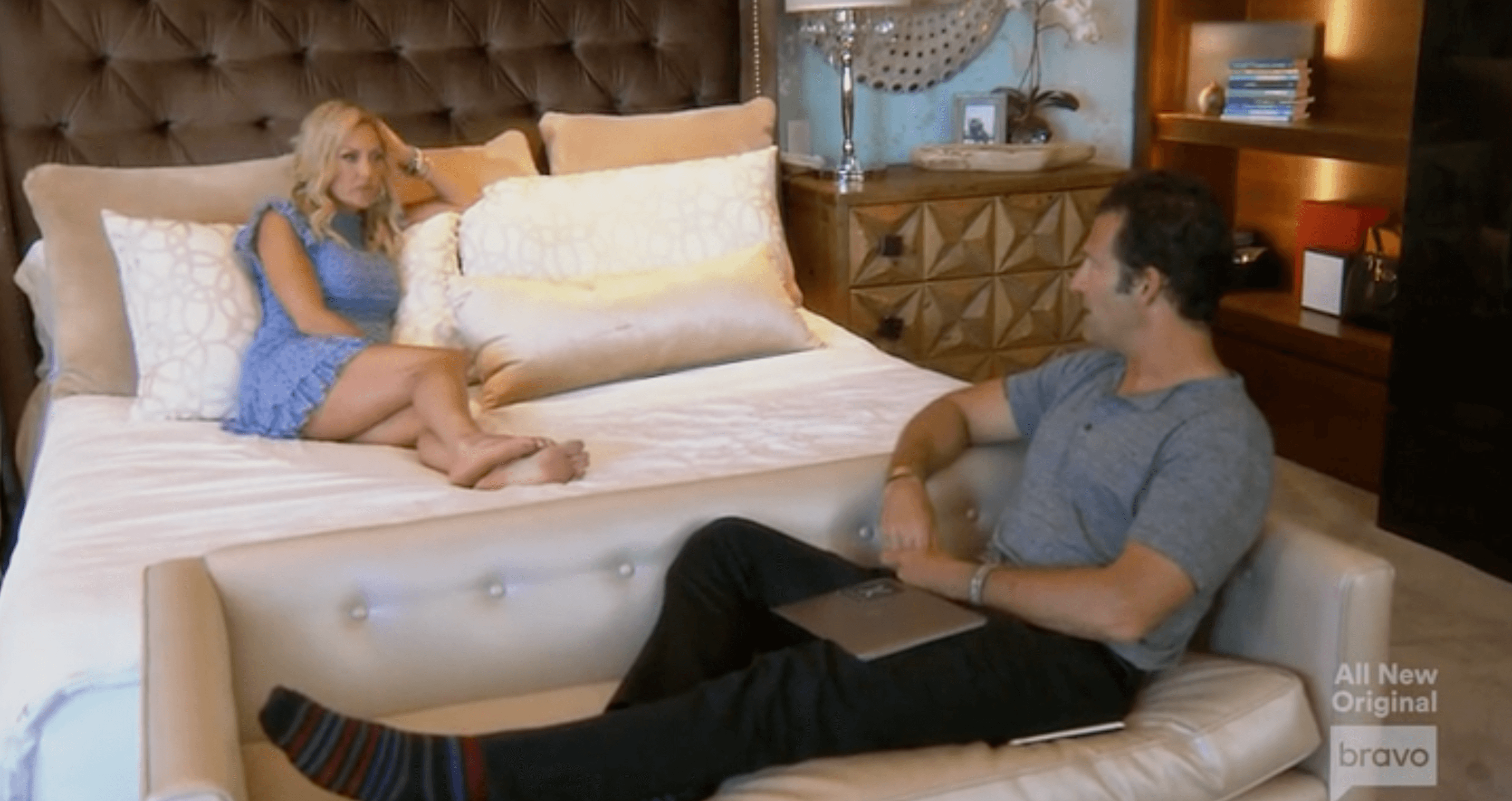 Over at Braunwyn's house, she and Sean have been together too much during lockdown. She asks if he's discussed this forced togetherness (and their unhappiness in each other's company) with his therapist. Then she tells Sean that after twenty-five years together, she knows nothing about him. And he never talks about his feelings. Sean defends himself, saying he's now taking steps to do just that. He's jealous that she has fun with her girlfriends, while he's viewed as a co-parent. They're not having sex or any emotional intimacy.
Braunwyn complains that Sean made promises, none of which he's kept. He was supposed to up the romance factor and plan fun activities. But so far, she hasn't seen any of that. She feels she's putting in all the work to change herself, but she doesn't see him putting in any effort.
He tries to share his perspective, but she interrupts. Their conversation quickly devolves into an argument. 
Braunwyn admits there are aspects of her personality she doesn't like, so in response, she punishes Sean. The more she pushes him away, the tighter he clings. (Can you imagine how fun it must be for their kids, living with these two?)
Elizabeth's brother, Andrew, comes for a month-long visit. They discuss their childhood trauma. Andrew was dyslexic, and because he couldn't read, he was beaten severely. They watched their aunt die of an allergic reaction, praying that God would heal her instead of getting medical attention. 
As Elizabeth and Andrew recall the events, she starts crying. Though Elizabeth's mom tried to leave many times, the family would always wind up back with the commune. Finally, they made the break when Elizabeth was nine.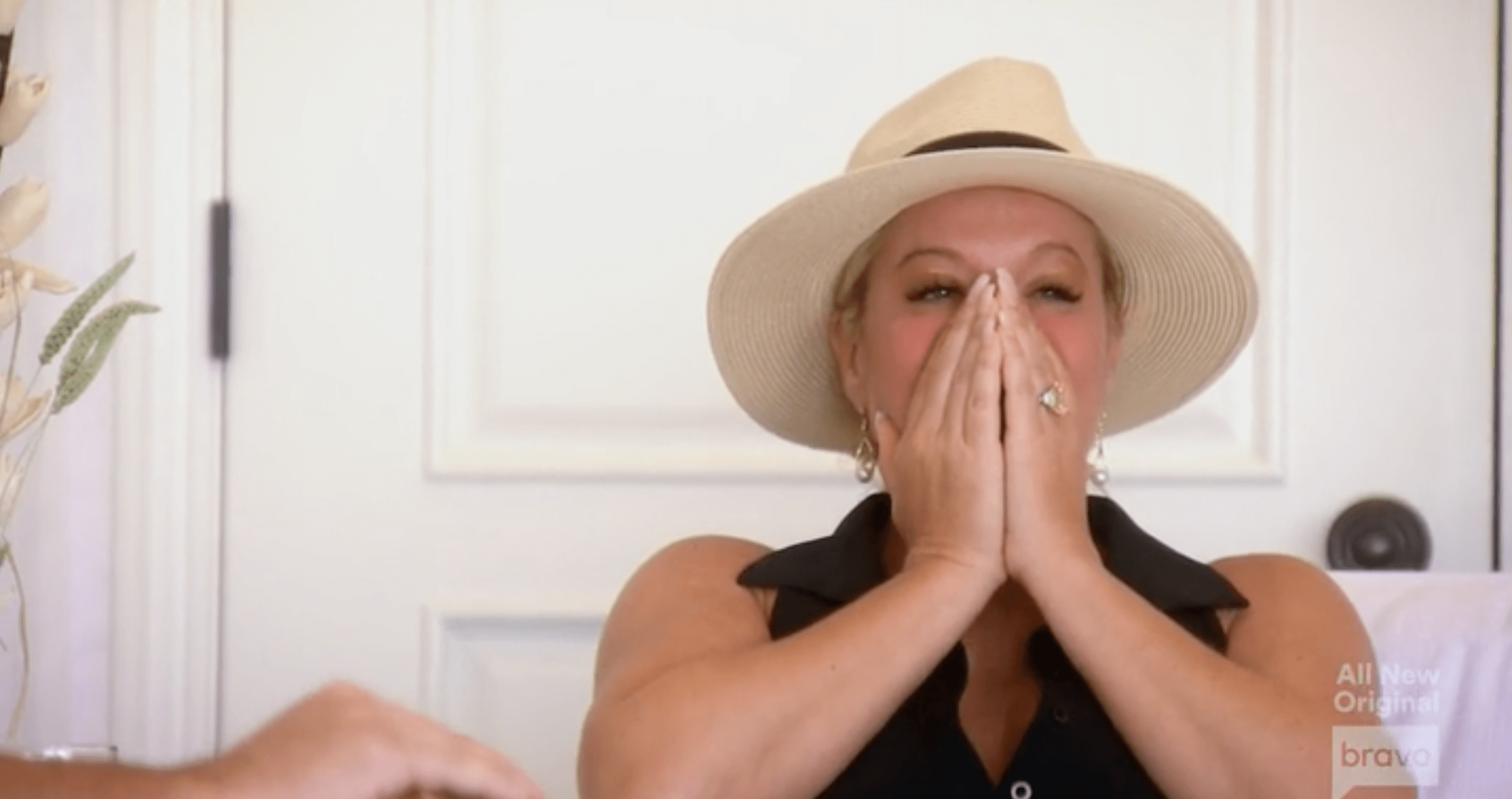 Elizabeth can't approach her mom with any of her memories. Her mom is too fragile to face the truth. Andrew grappled with his past until he was in his thirties. He wants Elizabeth to work through it, too. 
Emily Simpson stops by Gina Kirschenheiter's townhouse. Emily is finally out and about after suffering from Covid.
Emily wants the scoop from the recent girls' trip. Gina spills the tea on Braunwyn's hypocritical behavior. While Braunwyn bashed the women for talking about Shannon getting Covid, she turned around and gossiped about Shannon and her boyfriend, John. According to Braunwyn, the couple is drinking too much and fighting all the time.
There's a rumor going around that John was so drunk at a recent golf tournament, his own father had to come and take him home. Emily and Gina think Braunwyn, as an alcoholic herself, should have some compassion. And if she really cared about Shannon, why didn't she go to Shannon and tell what's being said instead of talking behind her back? Good questions, ladies!
Kelly takes daughter, Jolie, to the beach. Jolie definitely has the sulky teenage thing going on. She feels like she's in prison. Kelly is too strict. And on top of it, she doesn't get any allowance for doing chores. Life in the OC is tough, y'all!
Kelly feels Jolie needs lots of boundaries. That will lead to success. She's hard on Jolie because she wants results. Kelly agrees to stop yelling so much. Fortunately, Jolie likes Rick Leventhal, because he softens Kelly a bit. He acts as a mediator between mother and daughter. Kelly gets teary as Jolie says her life is better with Rick.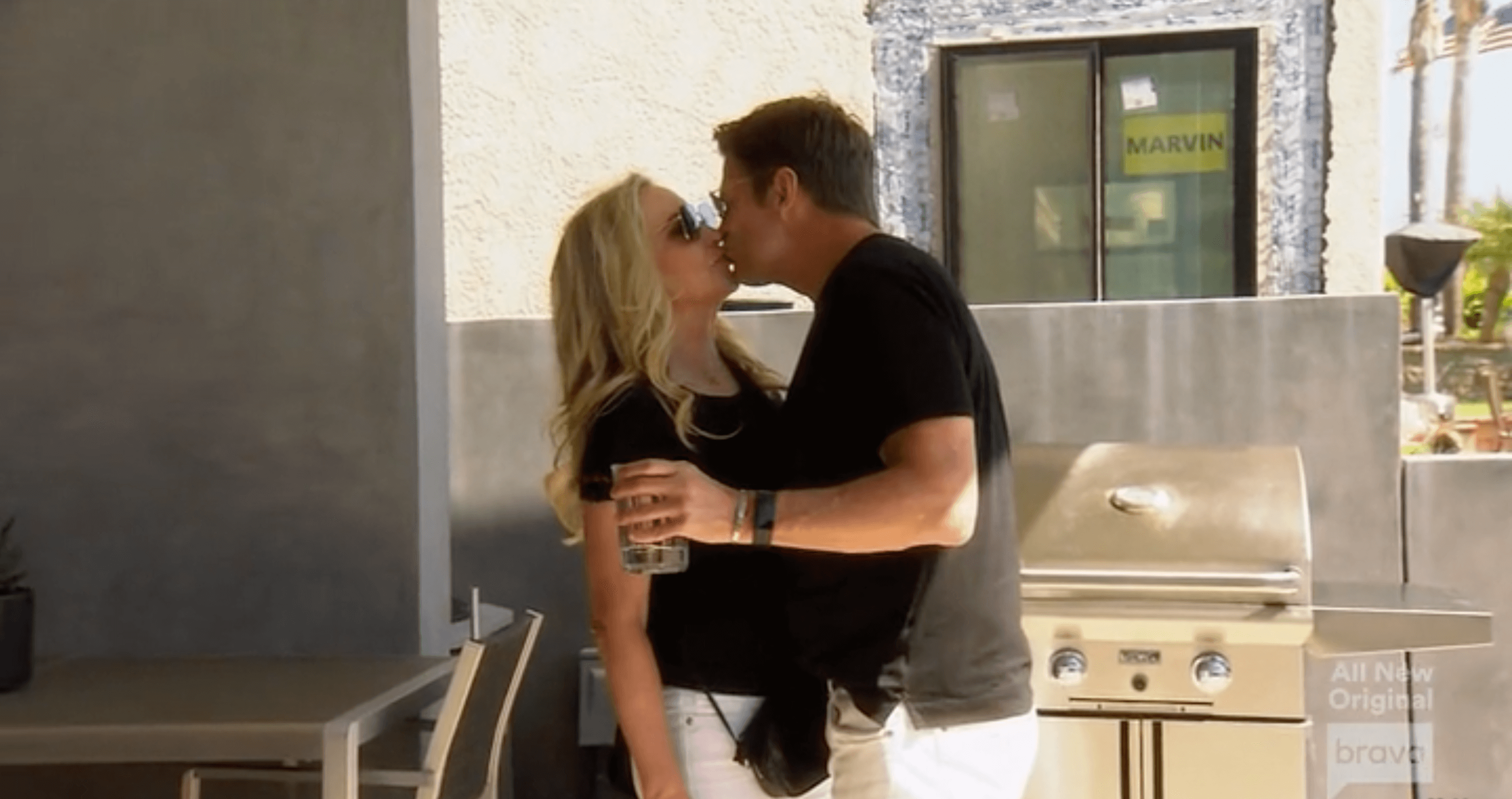 Shannon hasn't seen John since she tested positive for Covid. It's been three weeks, and now they're reuniting at his house. Shannon admits that during lockdown, she drank too much and her sleep was affected by all the stress. She took out her frustrations on John, and she apologizes. He admits it's hard to be together 24/7. Shannon's reactionary, but he still is committed. She hasn't scared him away!
Gina and Travis make breakfast. As they eat, Gina says she's worried about her kids starting school. And she's got a new custody agreement with her ex, Matt. But that might change after his domestic court case. He refused a plea deal, which tells Gina that he's still not taking responsibility for his actions. On the plus side, Gina is through with all of her own court drama and will soon have her driver's license reinstated.
Emily visits Elizabeth at the beach house. Elizabeth has ordered food, and the two women head to the deck to eat, leaving the men inside. Talk turns to Braunwyn and how she investigated Elizabeth's financial background.
Elizabeth shares her cult past and the sexual abuse she suffered. She credits Braunwyn for helping her through the revelations during the girls' trip, but when Elizabeth tried to reach out once they got home, Bruanwyn became standoffish. Again, Emily and Elizabeth agree Braunwyn is a hypocrite.
At Braunwyn's, her friend, or her "wife" Shari, is visiting. Shari spent part of lockdown at the Burke house, much to Sean's displeasure. Braunwyn looks up to Shari, who is a single mom and in charge of her own life. I'm sure that's a little easier when you have one kid as opposed to seven.
They discuss her sobriety celebration, where Sean ordered Braunwyn's favorite, a red velvet cake. Turns out, Braunwyn hates red velvet. Shari brags about knowing Braunwyn better than anyone. Even Sean.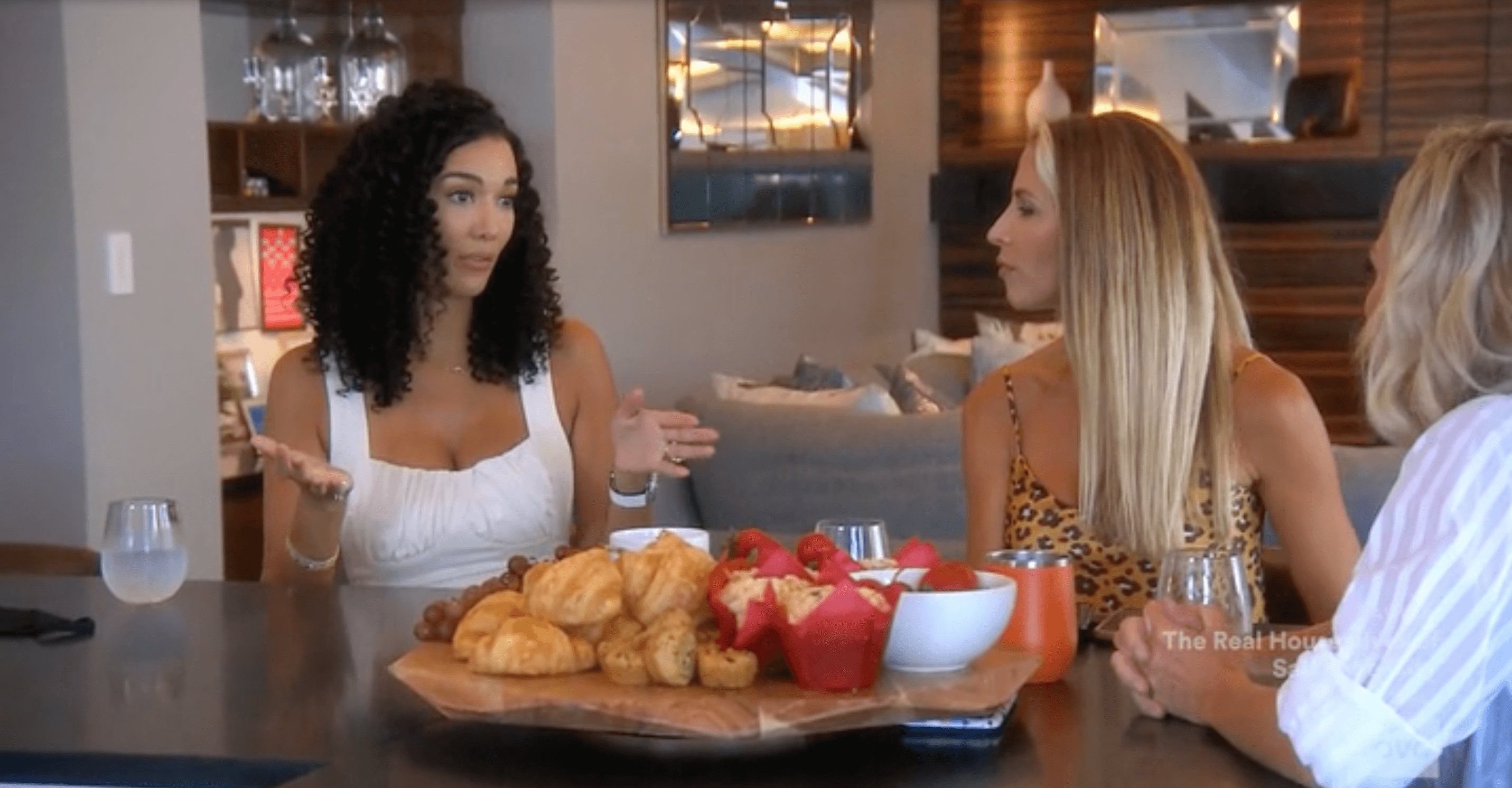 Braunwyn's other friend, Noella, arrives. As soon as they're settled, Braunwyn starts bitching about Sean. During their many arguments, he's even tried to get Shari to side with him. 
Braunwyn has been attending two meetings a day. She's ready to move forward, and if that means leaving Sean behind, so be it. She wants to attract strong, powerful women into her life, and that's what is making Sean so insecure.
At Shannon's, Sophie is packing her things. She's ready to put the Newport Beach life behind her. She's tired of living a shallow existence. Shannon reminds her daughter to be kind to everyone and not to talk about anyone behind their back. Then those shady produces show clip after clip of Shannon doing just that.
Later, Kelly stops by Shannon's house. Sitting on the counter is her final check from David. A whopping 1.4 million bucks for seventeen years of marriage.
The two women tromp outside, where Archie is hanging out in the hot tub, as all pampered dogs do. Shannon admits that the lockdown was hard on her relationship with John. Kelly thinks Shannon's temper is out of control when she's drinking.
Kelly says Gina spilled the tea on Shannon's relationship during the girls' trip. If Gina cares that much, why didn't she reach out to Shannon? She's hurt that Gina's been talking shit behind her back. Shannon thought they were better friends than that.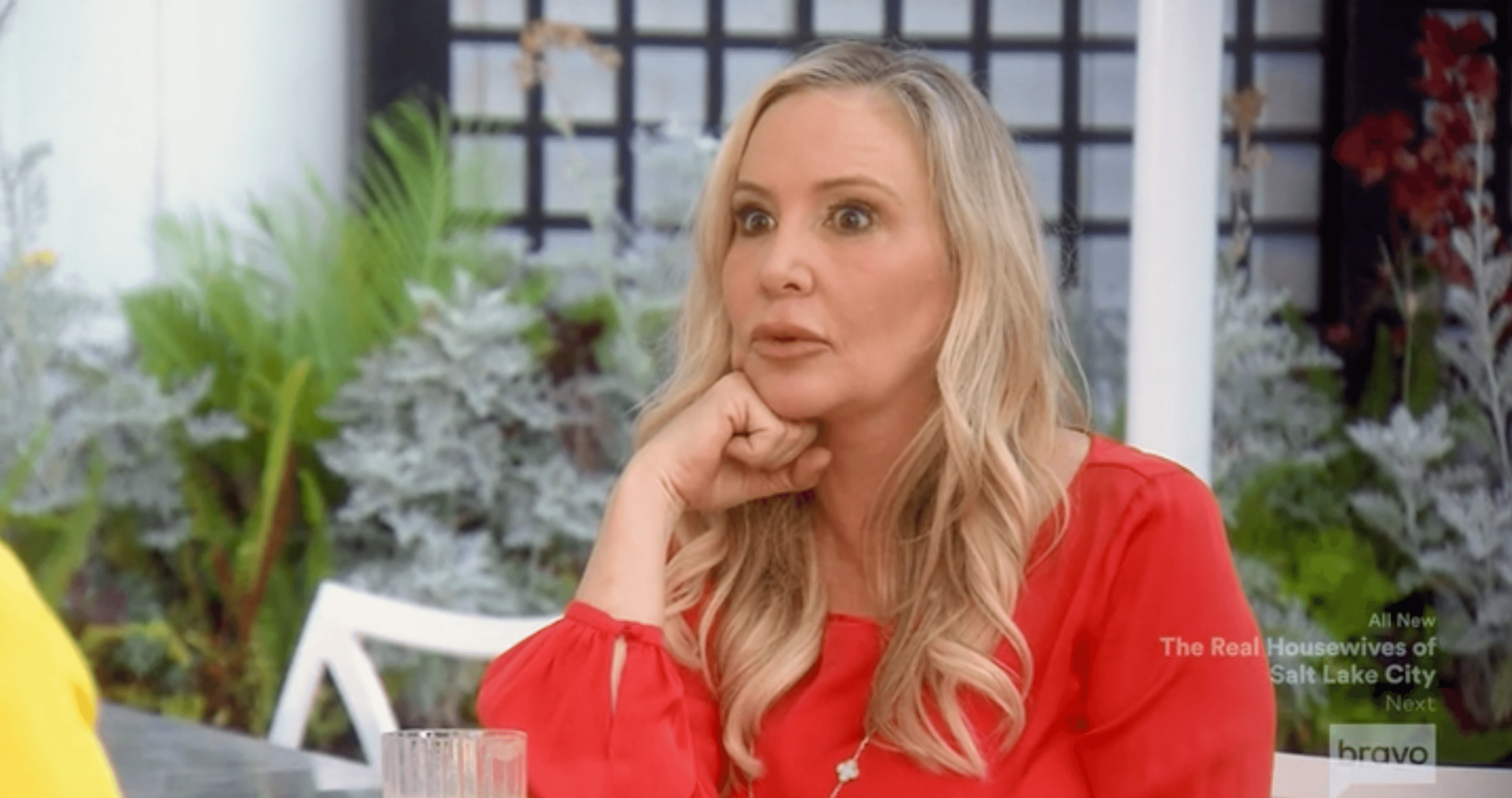 But Kelly has more news. Braunwyn may be on the brink of divorce. They discuss Shari moving into the Burke household. Is Shari the other woman? Why won't Braunwyn just tell them what's going on? Kelly is tired of Brauwnyn's fake life. 
So, are you tired of the Braunwyn show? Should all these women stop drinking?
Stay Connected With All About The Tea: Twitter Ι Instagram Ι YouTube Ι Facebook Ι Send Us Tips
I'm a fiction writer by day and a reality TV addict by night.