Celebrity News
Kanye West Exposed For Cheating On Kim Kardashian With Male Makeup Guru Jeffree Star!
A video has circulated, exposing Kanye West's alleged affair with male beauty guru, Jeffree Star. The accusation comes on the heels of reports that Kanye and Kim Kardashian are getting a divorce.
READ ALSO: Kim Kardashian and Kanye West Are Getting Divorced!
A social media personality suggests that Kanye West's alleged relationship with Jeffree Star is the reason Kim is leaving her husband of six years.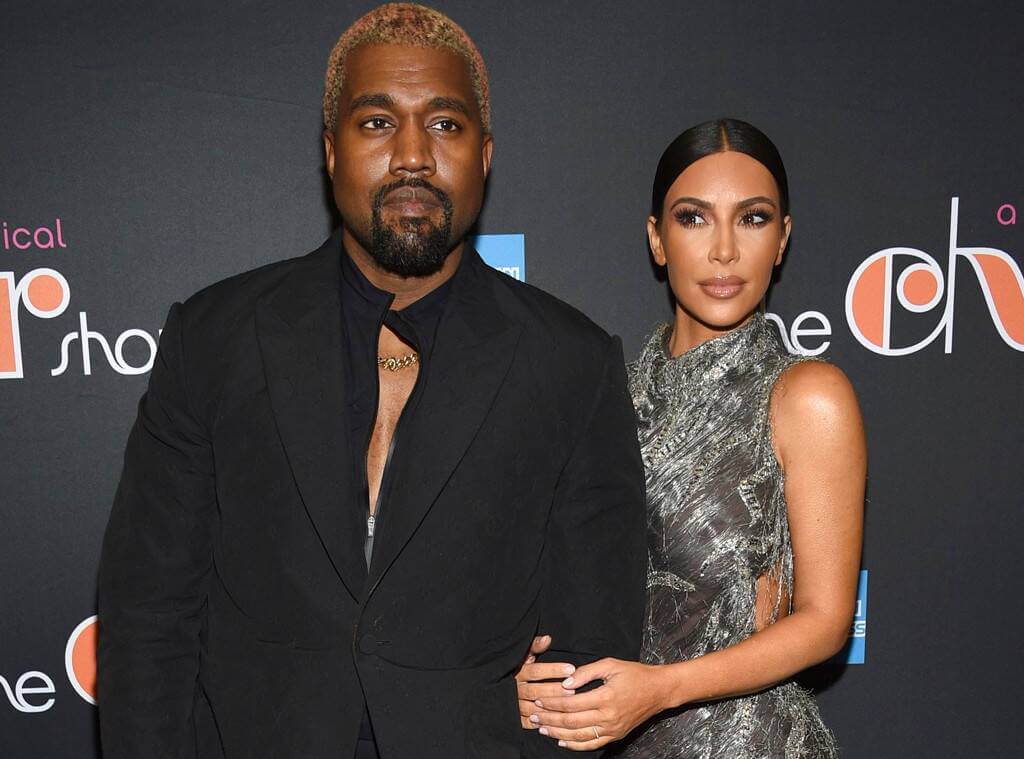 TikTok influencer, Ava Louise, posted a video outing Kanye for allegedly sleeping with a "very famous male beauty guru." Ava added that "a lot of people on the scene have known for a while." Ava alleged that Kanye's affair with Jeffree Star is the reason the rapper turned to God and why he hates himself. She also claimed that her source is valid.
@realavalouiise

i can't say WHO cuz he'll sue me hint hint but it's part of the reason Kanye's so religious now it's his self hatred …. my source is legit I promiss
"i can't say WHO cuz he'll sue me hint hint but it's part of the reason Kanye's so religious now it's his self hatred …. my source is legit I promiss," Ava wrote.
The social media influencer followed up with a second post, this time alleging that Kanye has been sleeping with a pastor.
"This is alleged and I was told by a source – a very good one," Ava wrote on her post. "But it made so much sense to me. Kanye's *possible* internalized homophobia is so sad :/."
Ava took to her TikTok comments and hinted at her source. "My friend is a big lawyer in LA and met with Kim months ago and was told all of this given evidence," Ava explained. "I want to drop receipts but I can't."
In a third post shared by Ava, details of the rumor are broken down by fellow TikTok influencer, Patty Eminger, adding location data and other unconfirmed info to the mix.
Jeffree Star caught wind of the rumor and added fuel to the fire. And in his typical fashion, the makeup artist didn't confirm nor deny the rumor, but he did use it to promote himself. 
Jeffree posted a photo on both Instagram and Twitter with the caption, "I'm ready for Sunday Service 🕊️," referencing Kanye's famous gospel gathering.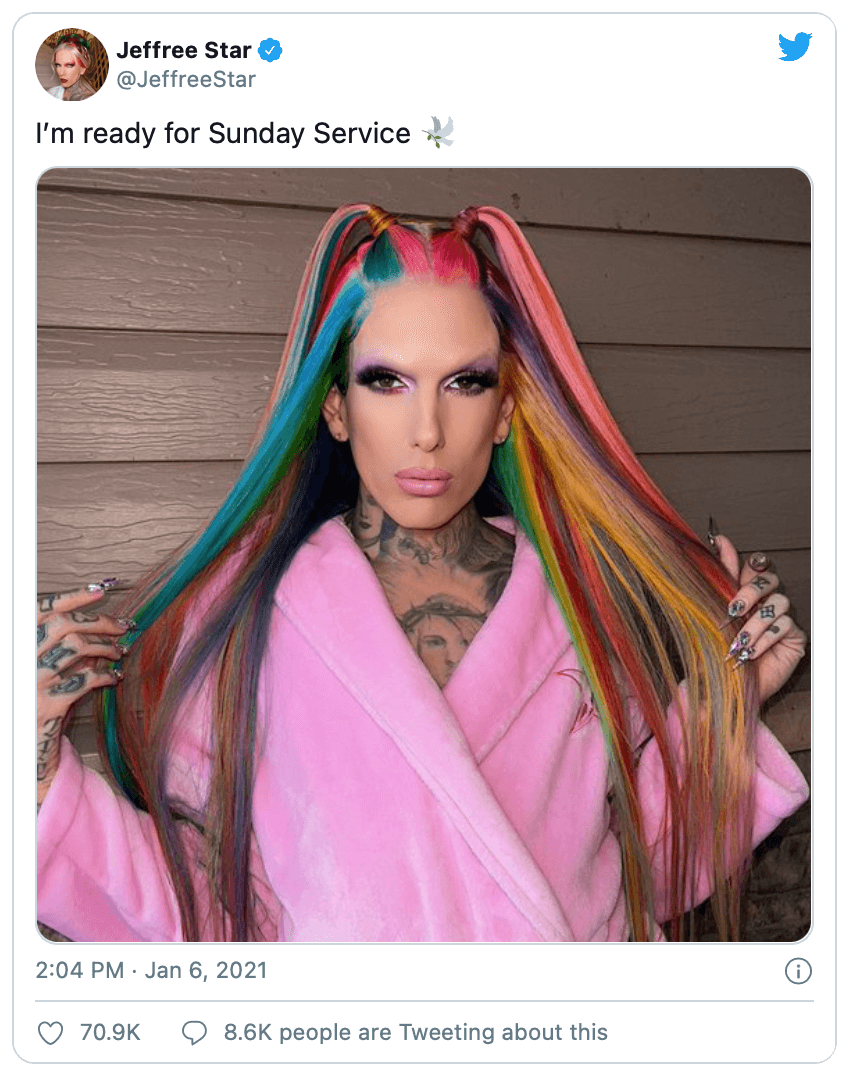 Online entertainment source, DramaAlert, tweeted that it reached out to Jeffree Star for a statement about the Kanye allegations and posted a screenshot of texts of the conversation. When asked about the rumors, Jeffree replied, "Hahaha… I'm having the best time in Wyoming, come visit sometime!"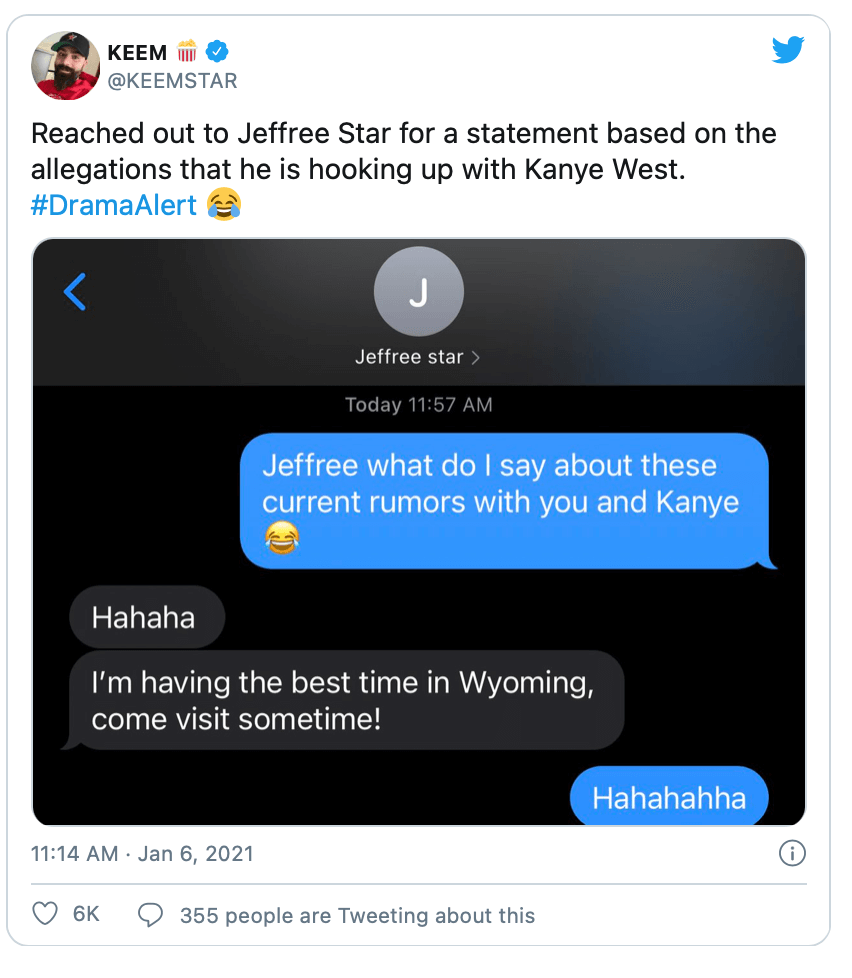 All About The Tea discussed the Kanye and Jeffree Star rumors in their latest podcast on YouTube. Click play below to watch and SUBSCRIBE to All About The Tea's YouTube channel.
As reported, Kim and Kanye's marriage has come to an end. According to Page Six, multiple sources told the outlet "divorce is imminent" for the couple and that Kim has hired divorce attorney, Laura Wasser. 
"They are keeping it low-key but they are done," a source told Page Six. "Kim has hired Laura Wasser and they are in settlement talks." Kim Kardashian hasn't been seen wearing her ring finger and Kanye's been staying at his Wyoming ranch as the two have been living separate lives.
Stay Connected With All About The Tea: Twitter Ι Instagram Ι YouTube Ι Facebook Ι Send Us Tips