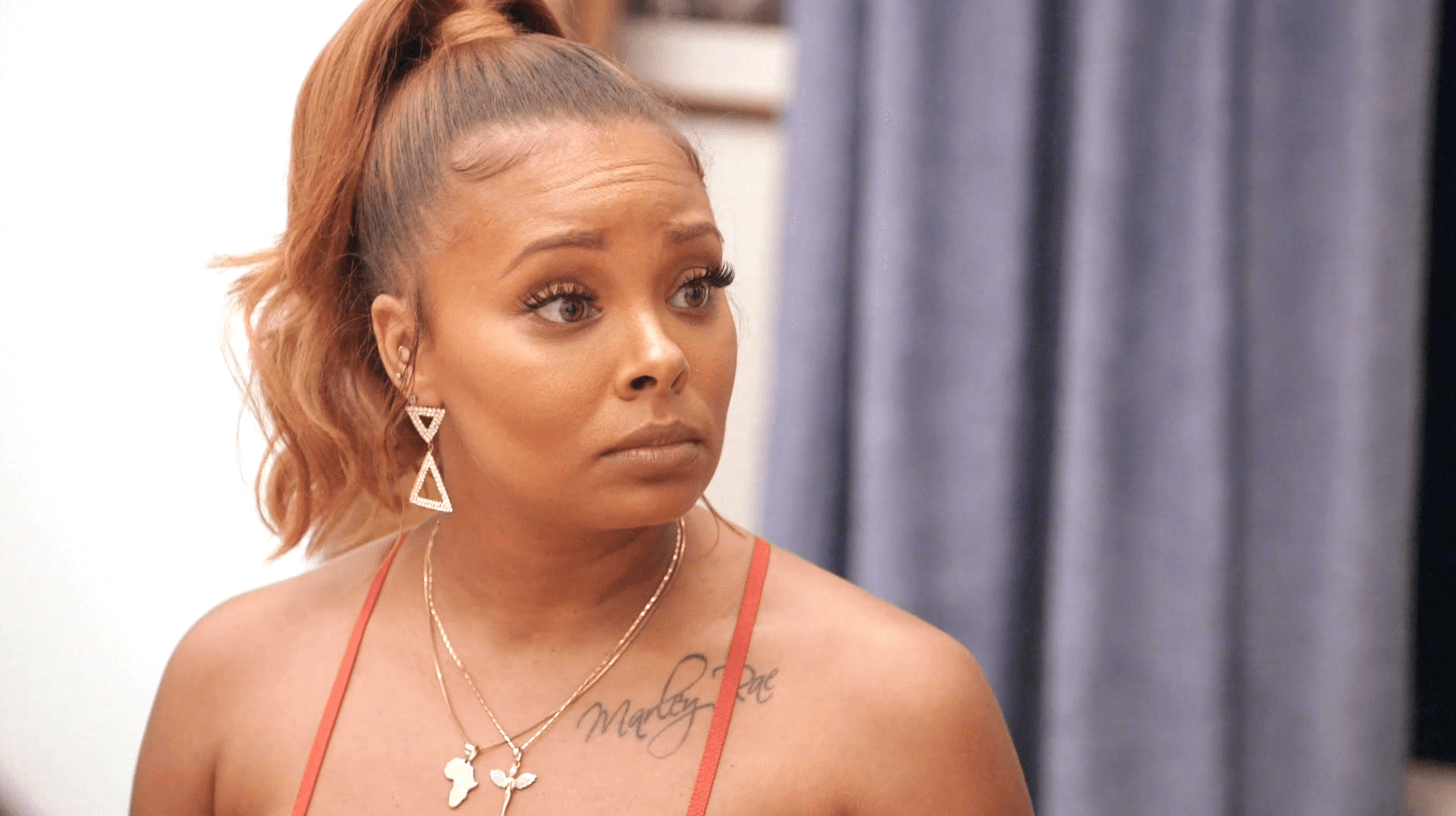 Eva Marcille and her accessory brand are being accused of pilfering the name and look of a similar business operated by a Black woman named Jordan Simone. The 21-year-old business owner has called out the Real Housewives of Atlanta alum, and social media voices have also been blasting the former reality star. 
Eva took to Instagram on Tuesday to share about her new accessory line. 
"Sup y'all, it's your girl Eva Marcille and I'm super excited cause I'm literally only one week away from launching my new accessory line called Jaded by Eva Marcille," she wrote. "My favorite color is green, it's the color of luck, and of purity and of life. So, get you some Jaded by Eva Marcille…stay tuned."
Jordan, who runs jewelry line "Jaded By Jordan," alleged that Eva blocked her Instagram account from viewing the "Jaded By Eva Marcille" page, in order to keep her in the dark about her copycat company. Jordan weighed in on the situation on Tuesday and issued a statement on her personal account. She acknowledged that while she is not the only person who markets jade jewelry, Eva is guilty because the specific curation of her pieces is unique to her store. 
"…i'm not the only person selling these pieces but i am the ONLY person selling all jade jewelry WITH these specific pieces," she said. "hence 'Jaded by…'. something original that nobody has seen which is why my business went VIRAL.. the fact that she blocked me just shows that she didn't want me to see it, bc i was blocked before i even said anything."
"lol how you take someone's whole concept down to the mf name," she continued. "it's crack"
"and yes i'm pissed bc i am VERY big on originality. everybody knows this. don't fkn play w/ me. it even makes it worse that you would try to use your fame as leverage to do some sh-t like that thinking you can get away w/ it. if you don't see the problem then you're apart of the problem," she added. "I don't play about my brands, PERIOD!"
Instagram and Twitter users jumped into the controversy, and have been digging up receipts to spread the word and prove Jordan's case. Screenshots of Eva's brand name being changed from "Jaded by Eva Marcille" to "Jade by Eva Marcille" along with other social media evidence have been shared to hold the former ANTM contestant accountable for knocking off Jordan's brand. 
Jordan took direct aim at Eva took in her Instagram Story, on Wednesday.
"you stole our while [sic] brand name, along with our whole concept. along with blocking us before we were aware. even photoshopped the jade pieces on a pic and your logo was also similar to ours. you changed 'jaded' to 'jade' like that makes a difference but okay!," adding a photo of Marcille with a final message that said, "often imitated NEVER duplicated 👎🏾 "
Eva's jewelry page has since been taken down, and it remains unclear if the former RHOA personality will relaunch with a new moniker. The brands are conceptually very similar, so it remains to be seen if Eva will shift her brand to her own unique vision.  
The Real Housewives of Atlanta airs on Sundays at 8 pm, ET, on Bravo.
Stay Connected With All About The Tea: Twitter Ι Instagram Ι YouTube Ι Facebook Ι Send Us Tips