Candiace Dillard recently took to Instagram to share some nasty messages and comments sent by angry fans—one even encouraging the Real Housewives of Potomac star to kill herself. 
RELATED: 'Your Existence Is Vile, Burn In Hell, Street Rat!' Candiace Dillard ATTACKS Fans On Social Media!
"Kill yourself, you ugly, spoiled, weak trash bag," the fan spewed.
"Your mother hates you," the message read. "Chris will leave you. You will never have kids. You will die alone and miserable."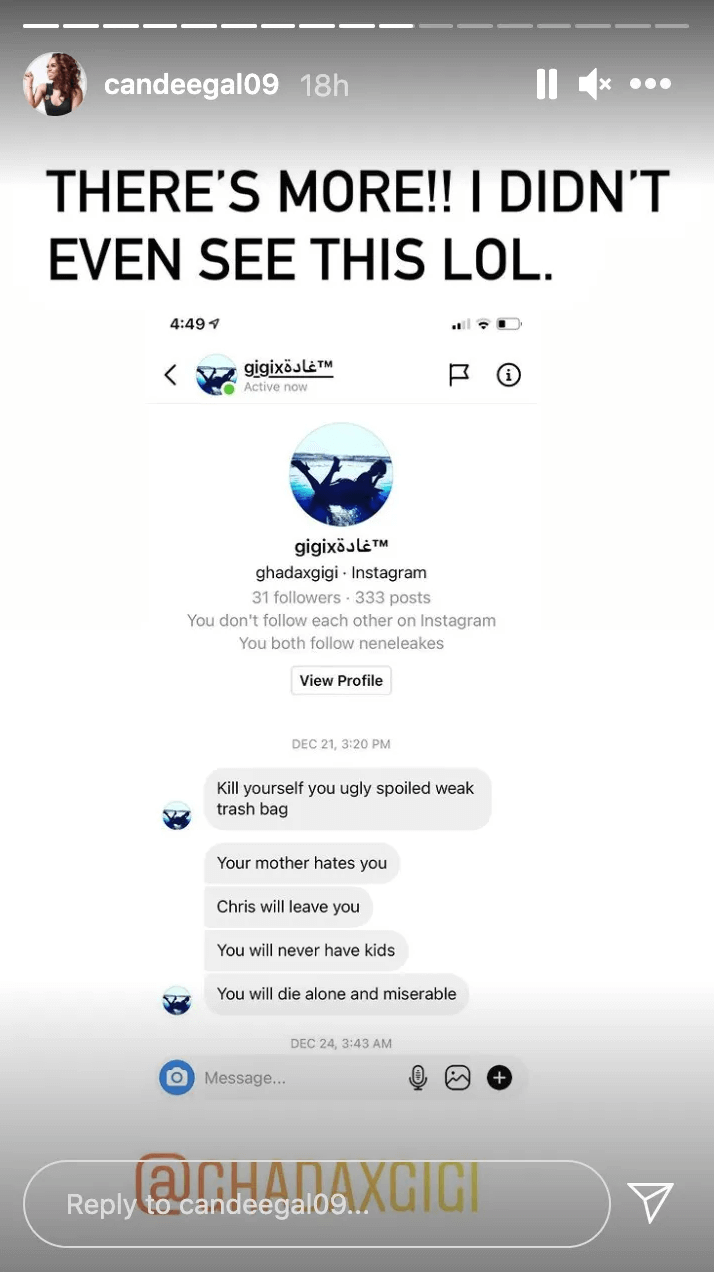 "Stick that f–king butter knife right in your f–king throat," the same account wrote on Candiace's Instagram page. 
Candiace shared the online venom with her followers, posting the comments and the viewer's Instagram profile, writing —"These are the kinds of people to leave in 2020 to rot."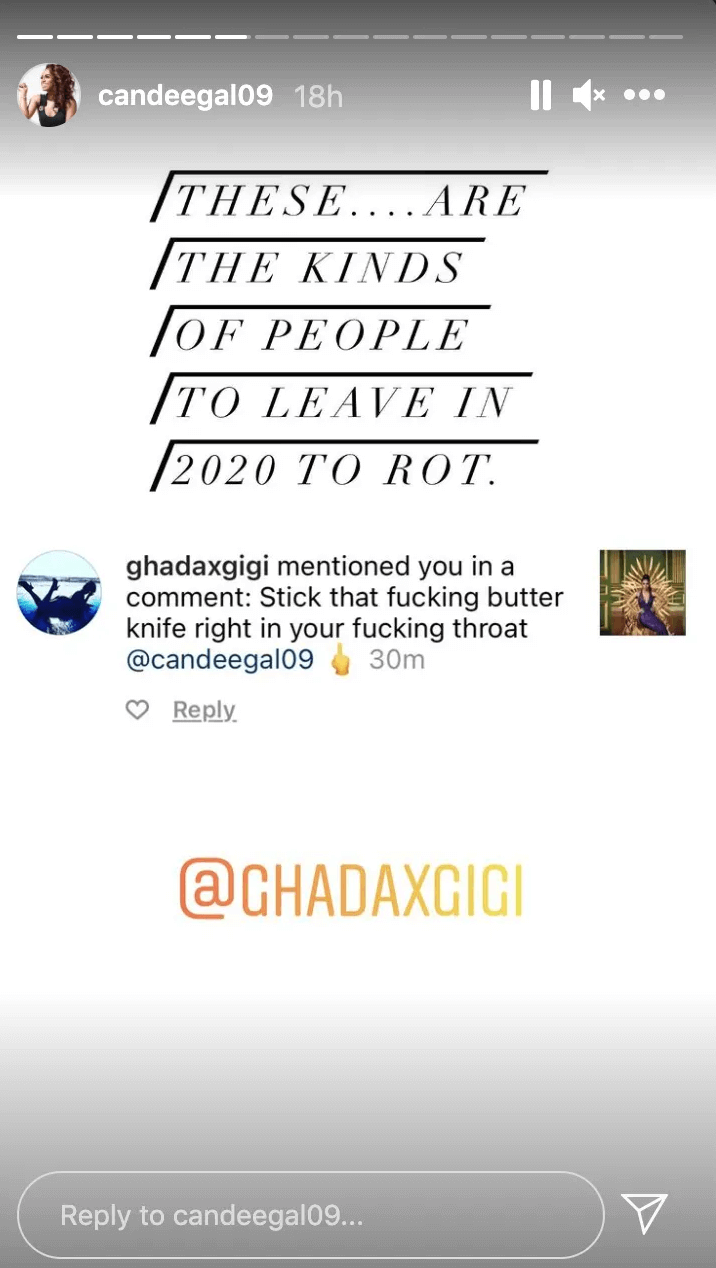 Candiace's fans fired back at the outspoken viewer writing negative comments in response. "Ugly," "miserable" and "nasty" were only a few of the words used by the reality star's angry followers. 
Others weighed in on the drama and agreed that some fans take Bravo drama too seriously. 
"People go way too far. It's only a tv show," one fan wrote.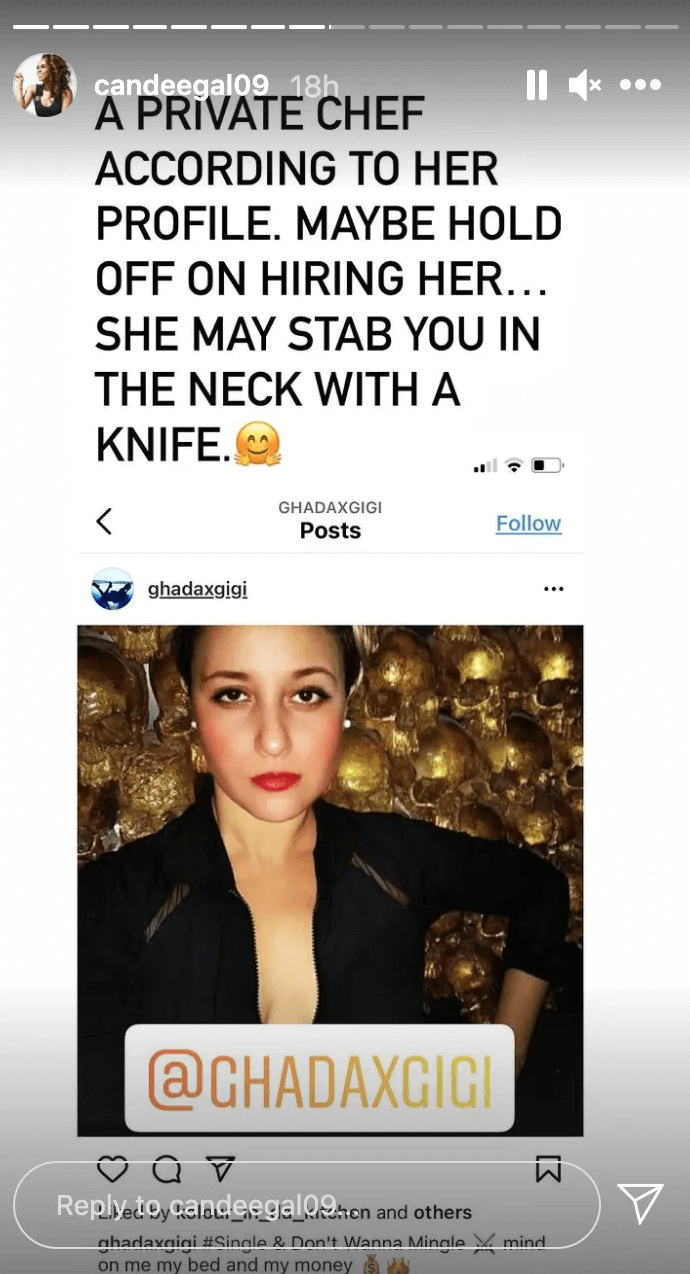 "Over someone you don't even know…I'll never understand sending hate or death threats," another chimed in. 
"For God's sake, it's a TV show!!! We are allowed to like and dislike housewives, but this is just disgusting and scary," a viewer added. 
"Way out of line. Enjoy the drama and move on," another fan agreed. 
As reported last month, Candiace unleashed her online fury during a RHOP episode—aiming and shooting nasty tweets at viewers who dared to call her out. 
Candiace fired her first shot in the direction of her co-star, Monique Samuels, defending her decision to go "legal" after their explosive physical altercation, earlier in the season. The reality star's choice of words raised many fan eyebrows—but her Twitter tirade had only just begun. 
"I made it legal because like they do in the zoo, you made it violent. But keep gaslighting. It's what we expect from your kind," Candiace wrote. 
One viewer warned Candiace to dial it back—reminding the reality star that her runaway mouth was what triggered her smackdown with Monique.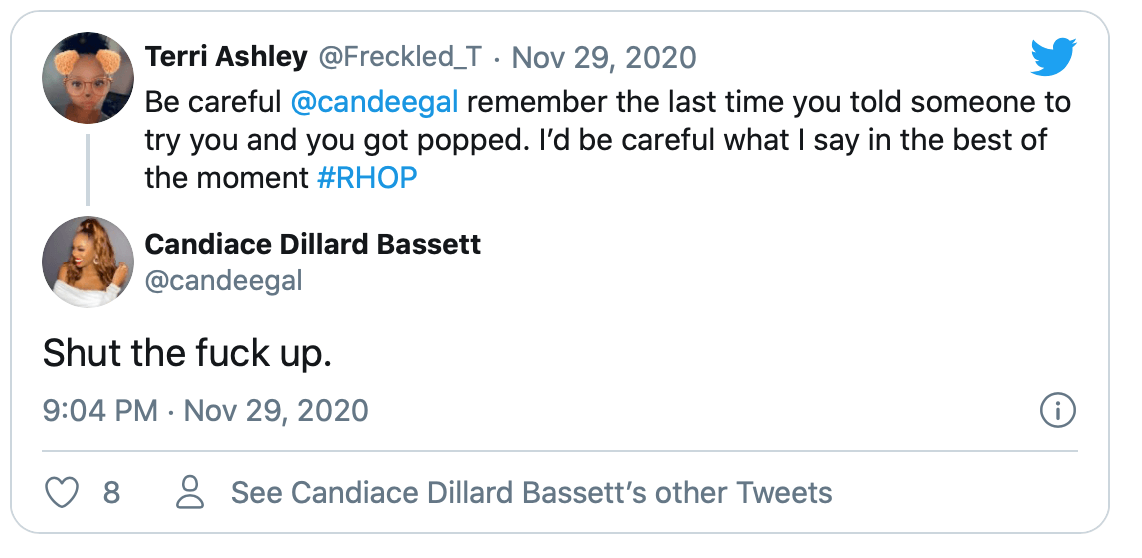 Candiace declined the advice, then threatened the Twitter user.
Candiace got into it with another fan, who blasted the nasty remark aimed at her co-star. 
"Referencing another woman of color as being in the zoo is so vile," the viewer tweeted.
Press play below to watch All About The Tea's podcast on YouTube — and SUBSCRIBE to the channel.
Candiace snapped back with a vicious response—wishing eternal damnation on the fan.  
"Your existence is so vile. When you get to hell, enjoy explaining how harassing a Black woman ad nauseam on twitter for no reason at all doesn't qualify you to burn in hell," Candiace wrote.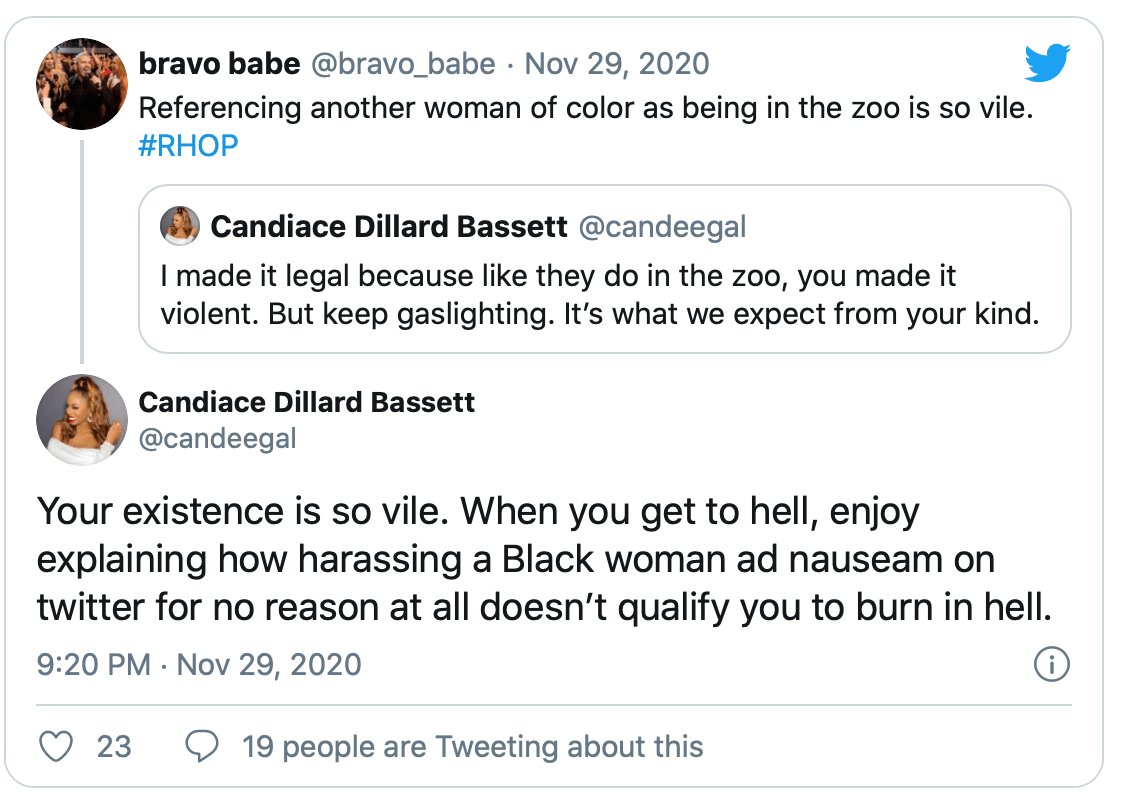 The viewer didn't back down, responding—"So threaten my existence and then sentence me to hell? How do you not stay sued? Speaking of…lemme just find my lawyer right quick."
Candiace kept the vitriol coming— slamming the fan as a "street rat." 
The Real Housewives of Potomac is on hiatus. 
Stay Connected With All About The Tea: Twitter Ι Instagram Ι YouTube Ι Facebook Ι Send Us Tips