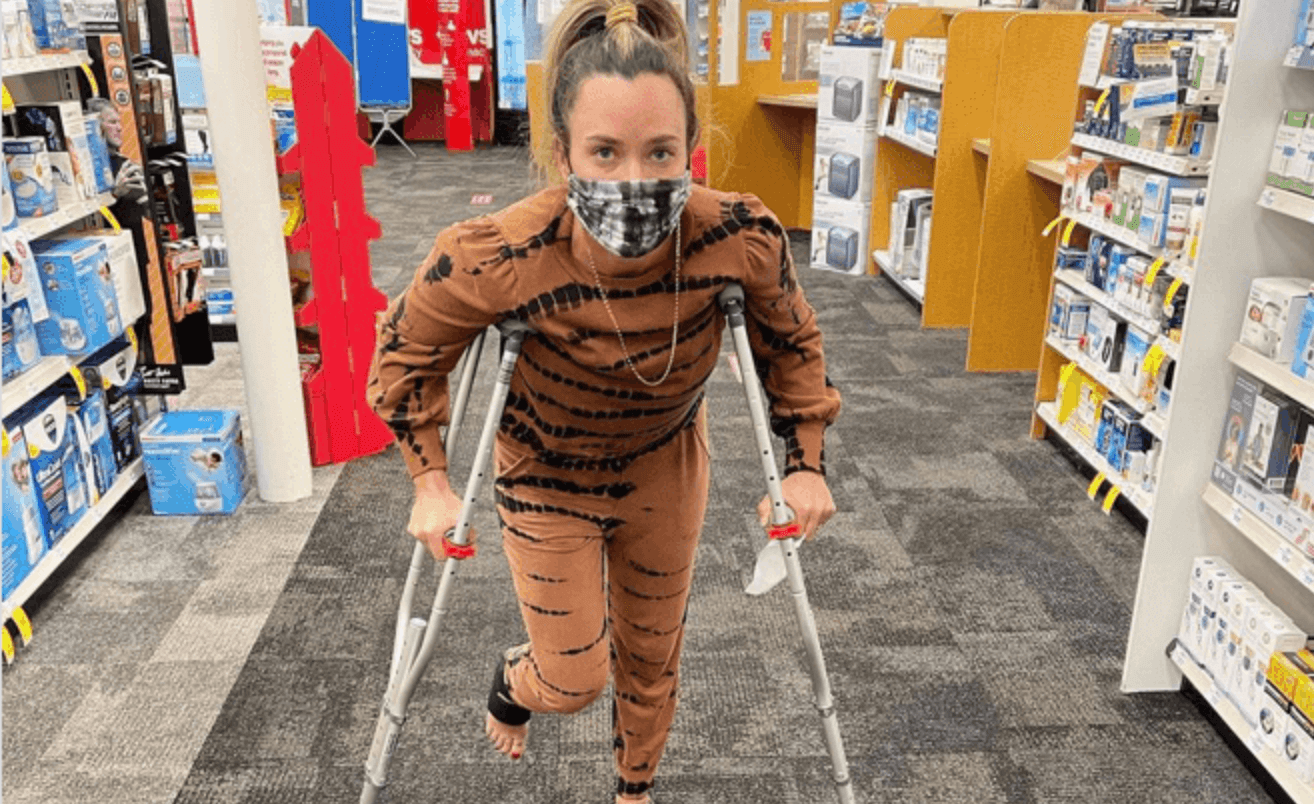 Teddi Mellencamp Arroyave is laughing off her recent foot injury. The Real Housewives of Beverly Hills alum revealed on Instagram on New Year's Day that she had suffered a dancer's fracture while playing pickleball. The wellness coach/trainer will be recovering for at least four to six weeks and kicked off 2021 by sharing a photo of herself at a pharmacy on crutches. 
RELATED: Teddi Mellencamp Gives 'Dove Noggin Update' — Reveals Daughter Has A Scar and Has To Wear A Helmet
"I gave 2020 the boot— and 2021 returned the favor! 4-6 weeks to be exact," she said in the snap's caption. "Starting Monday because apparently foot fractures are all the rage and there's not a boot in all of LA! See you Monday @weissorthopedics. The silver lining: it's called a 'dancer's fracture' so I'm basically a ballerina now. Pickle Ball: 1. Teddi: 0."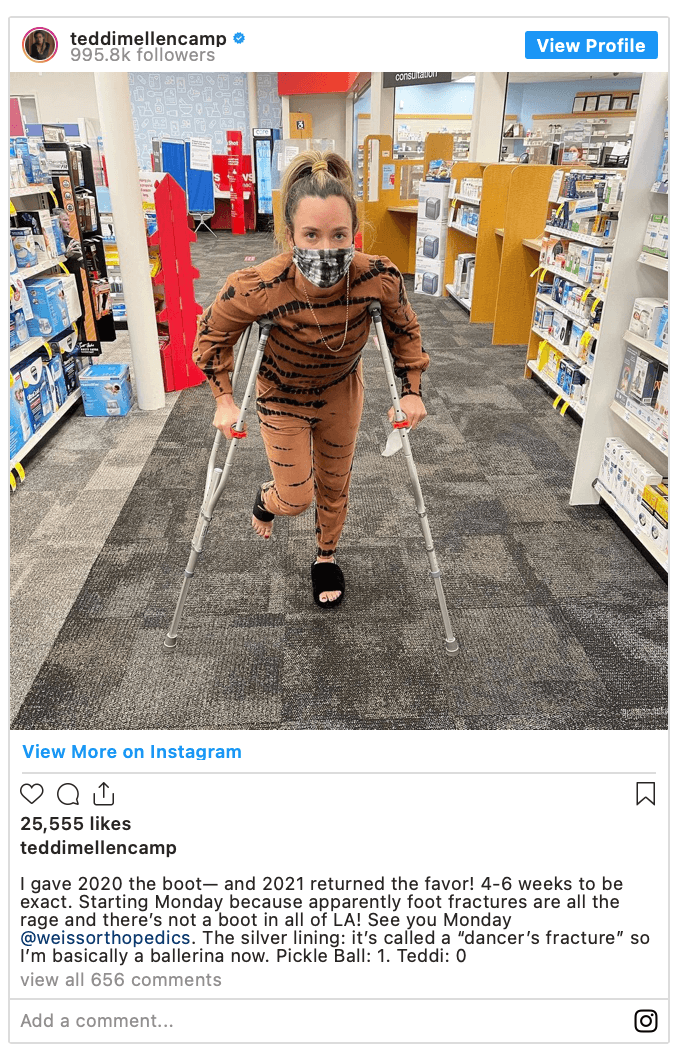 Teddi's former RHOBH co-stars, Kyle Richards and Lisa Rinna reacted to the painful share. 
"NOOOOOO," Rinna wrote, and Kyle quipped, "I absolutely cannot…"
Real Housewives of Orange County star, Braunwyn Windham Burke, commiserated with Teddi in the comment section of a separate Sunday post, sharing that she had also started the new year with an injury.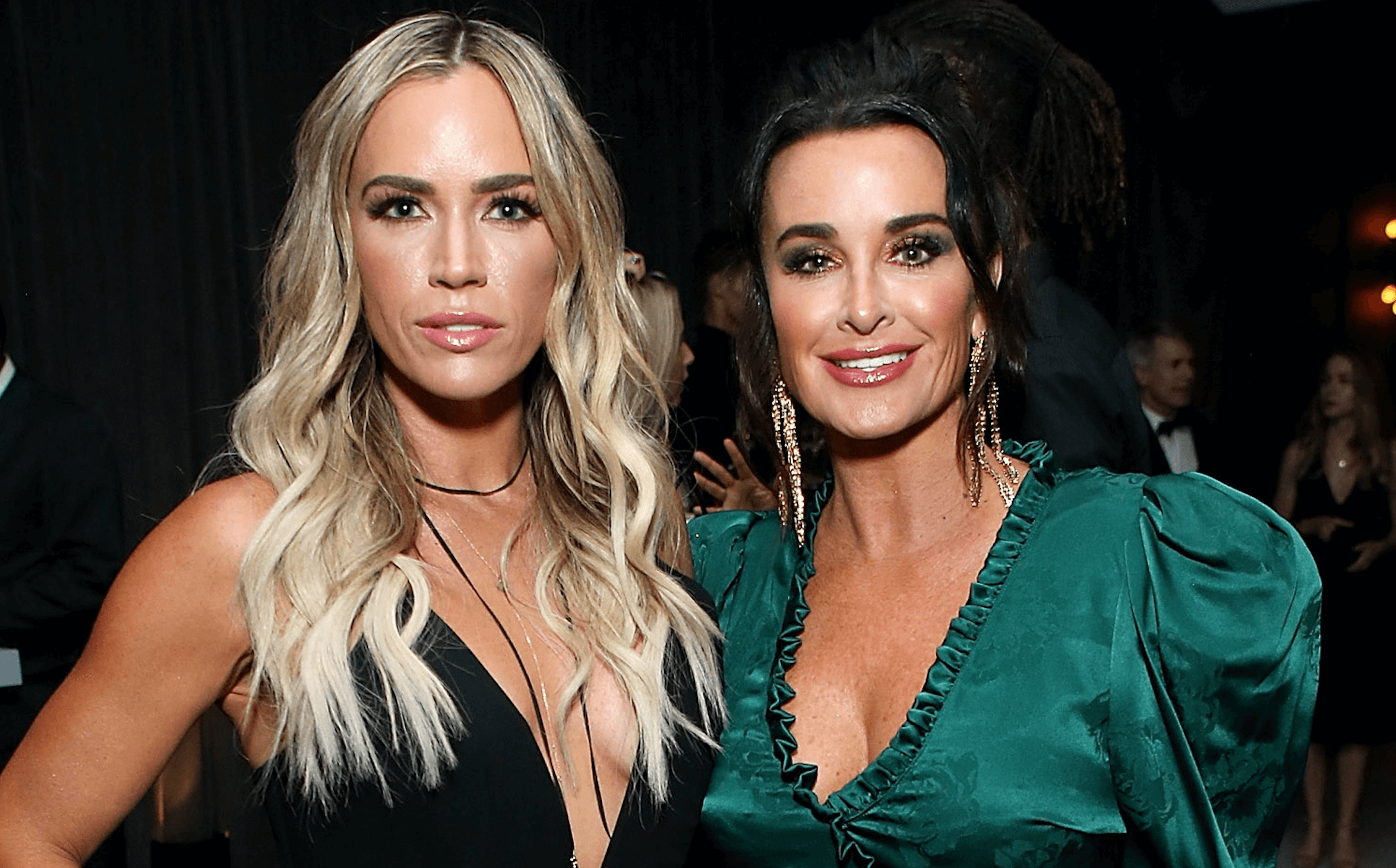 "I'm in bed with a sprained ankle doing the same thing!! Oh 2021," Braunwyn wrote. 
"hahaha! I can't wait for my boot to arrive so I can be mobile. I am not the worlds best stationary person. Hope you heal quickly," Teddi responded. 
Teddi took to Instagram on Sunday to share her personal growth "word" for the new year.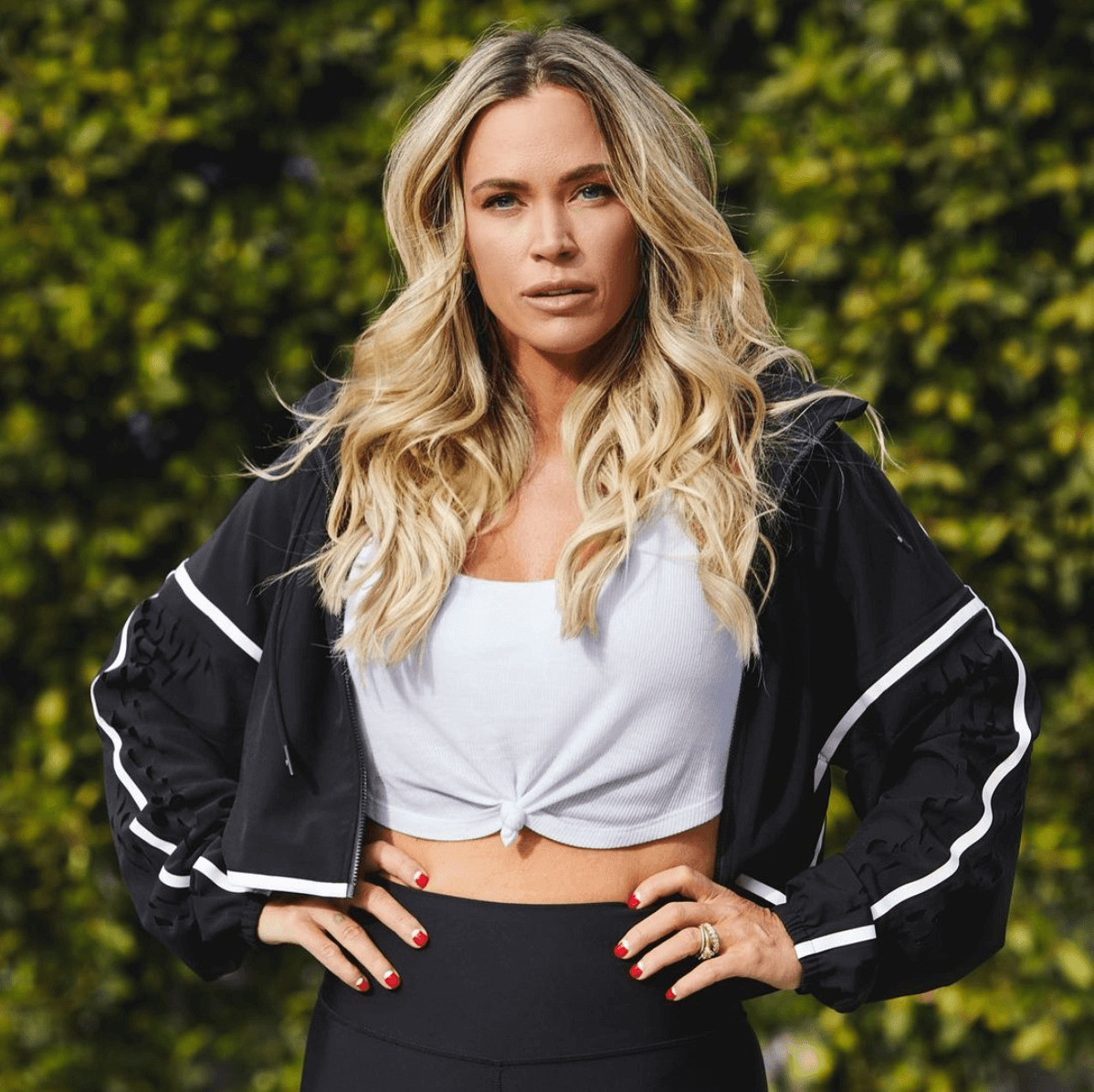 "I was recently pressed to give my 'word' for 2021. And I came upon 'trust,'" Teddi captioned an outdoor selfie. "Trust in my family and friends. Trust in my intuition and faith. Trusting what the future holds. Trust in the fact that I have pores like all humans do and there's nothing I can do about it 😂. I know we wanted to wake up to 2021 being 'back to normal.' But we will get there in due time. Trust me."
As reported in December, Teddi shared a "noggin update" on her youngest daughter, Dove, who underwent successful neurosurgery over the summer after being diagnosed with Lambdoid Craniosynostosis. The former reality mom took to social media to write from the perspective of her adorable baby girl. Teddi shares three children, Dove, 9 months, daughter Slate, 8, and son Cruz, 6, with husband Edwin Arroyave.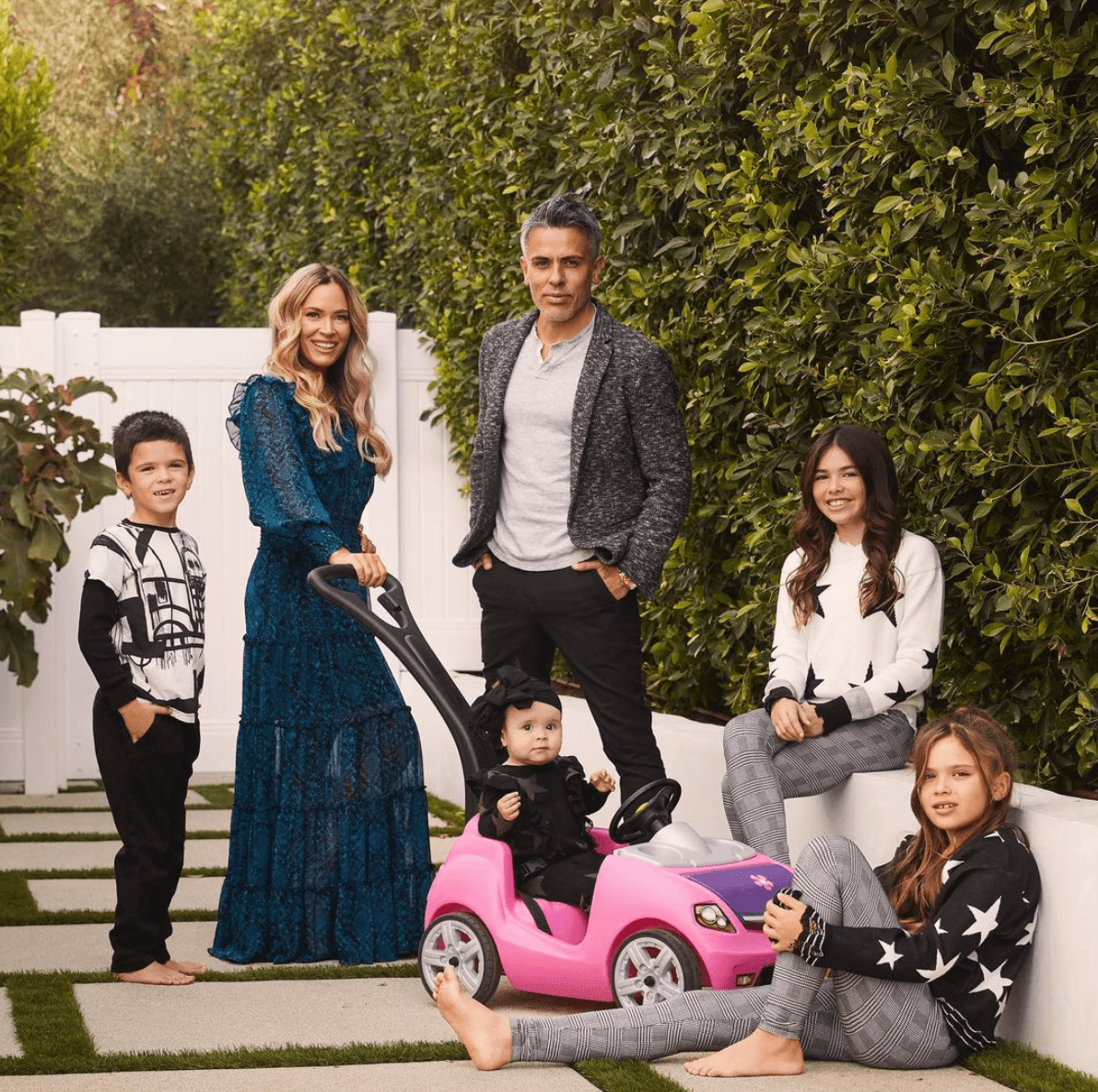 "Dove noggin update. 'Hi guys, I am 9 months old and other than a zig-zag scar underneath my hair across my head I wouldn't even know I had neurosurgery a few months back. I have been in this helmet aka doc band for 10 weeks and am about to grow out of it. The docs said I have to wear another helmed for 10+ more weeks but it truly doesn't bother me one bit," Teddi wrote underneath a cute snap of Dove, wearing her helmet. 
"Mom cried a little when she found that out but then Dr. Urata reminded her that not only is it helping me shape my head further, but it is protecting me as I am starting to learn to crawl and lift myself up incase I bump into something," Teddi continued. "I get to take it off one hour a day, normally during and after bath time, which is a good thing because peeyou it can get stinky."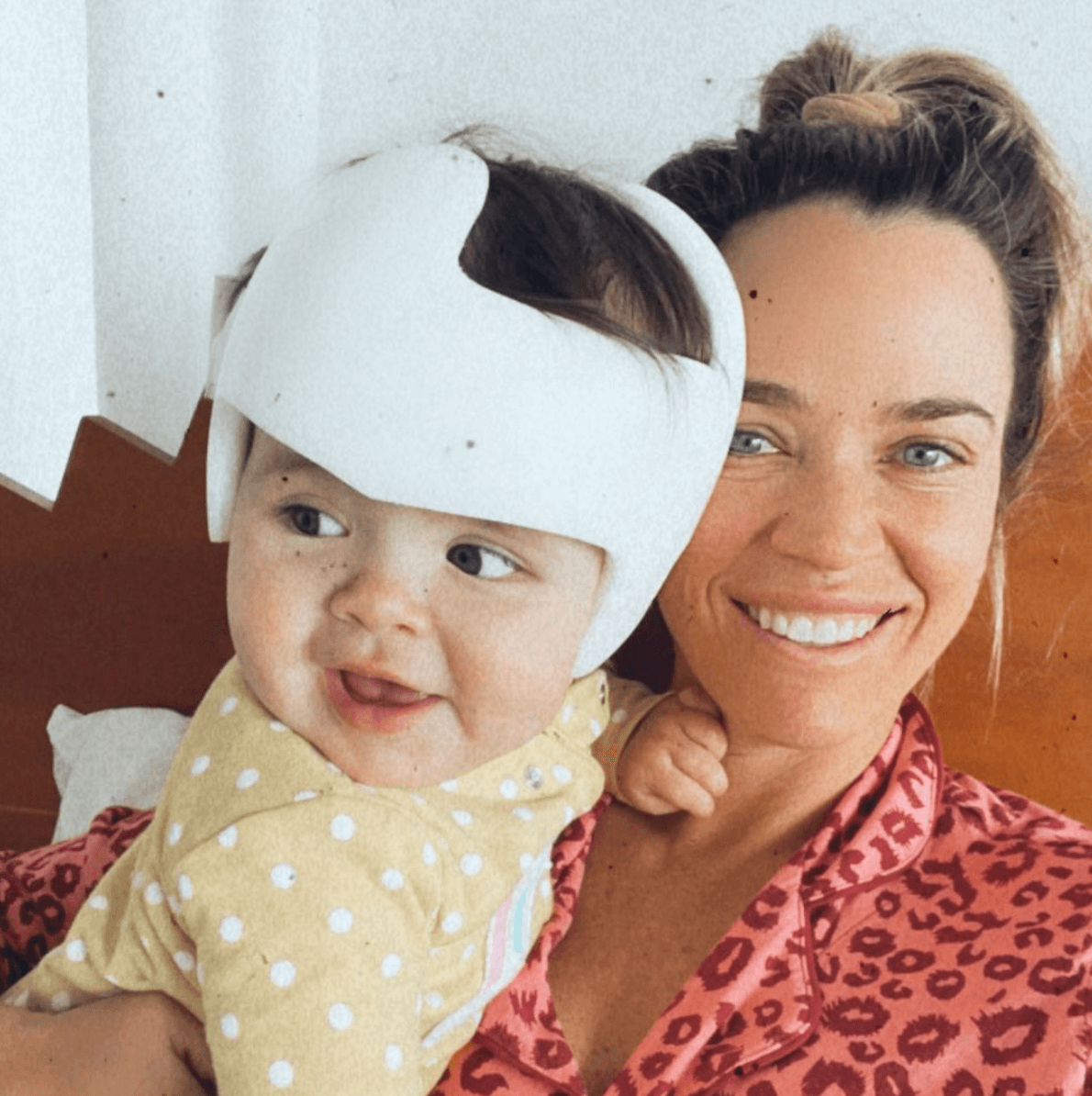 The former Bravoleb concluded the update by sharing more about her daughter's personality. 
"I am a happy silly baby who loves to laugh, command all the attention in a room, go on walks and be sung to. For any other #craniowarrior babies out there. We have got this," she added. 
The Real Housewives of Beverly Hills is currently in production. 
Stay Connected With All About The Tea: Twitter Ι Instagram Ι YouTube Ι Facebook Ι Send Us Tips