Real Housewives of Atlanta
'RHOA': Porsha Says Uninviting Kenya to Her Party Was a 'Good Choice' & Lauren SNAPS At Kenya For Party Comments!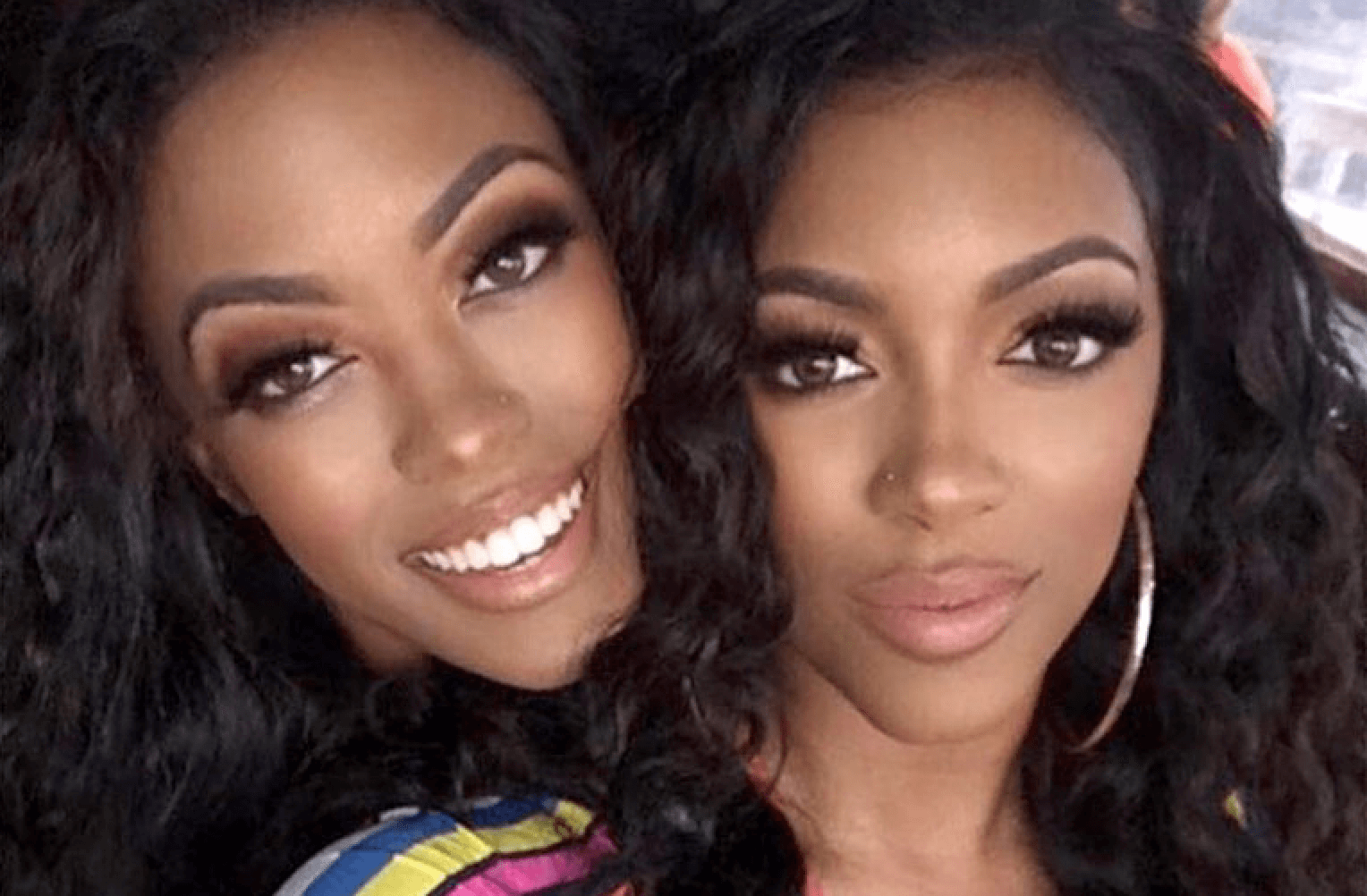 Porsha Williams believes that her sis, Lauren Williams, "made a good choice" by shutting Kenya Moore out of her surprise party. 
RELATED: 'RHOA' RECAP: Drew's Husband Wants 'Respect And Sex' & Kenya Gets Uninvited to Porsha's Party
Lauren set the record straight about the party drama on Instagram, after Sunday's episode highlighted her plan to celebrate Porsha for her involvement in the Black Lives Matter movement. Cynthia Bailey asked Lauren if Kenya Moore was invited during a phone call, forcing Lauren to admit that she did not plan to include Kenya in the celebration. She clarified that Cynthia could bring Kenya as her plus one. 
"I mean, as long as she comes with good intentions," Lauren told Cynthia, who assured Porsha's sister that there would be no conflicts. "I just want this to be all good vibes."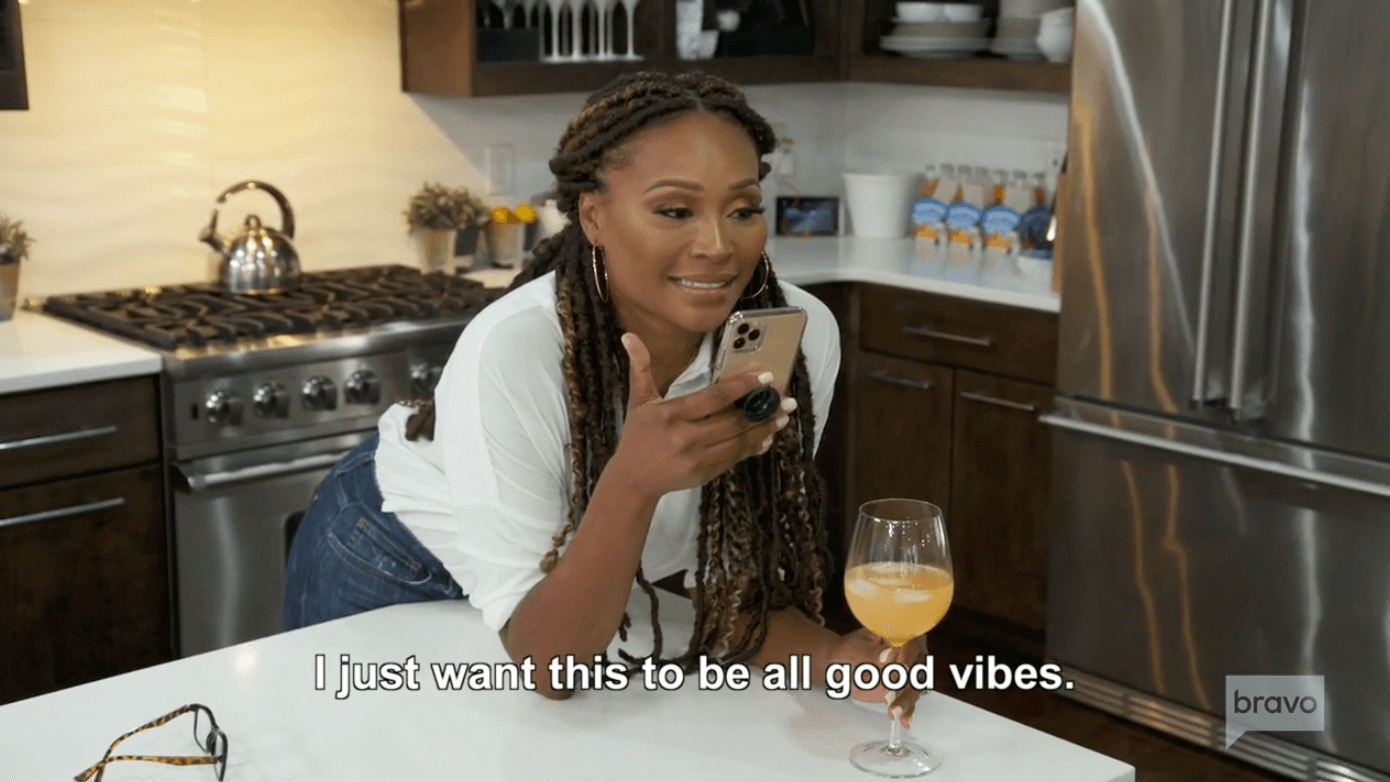 Kenya agreed to attend to "show my support as I would with any of you ladies celebrating a good cause."
Kenya said that she was "excited" about the event while speaking to Cynthia on the phone just before the party, but Cynthia killed the mood when she revealed that she had received a problematic text from Lauren. 
"I got a text from Porsha's sister Lauren saying that she was feeling a little apprehensive about you coming," Cynthia revealed. "I wouldn't want to even chance ruining this night for P. Please don't bring Kenya."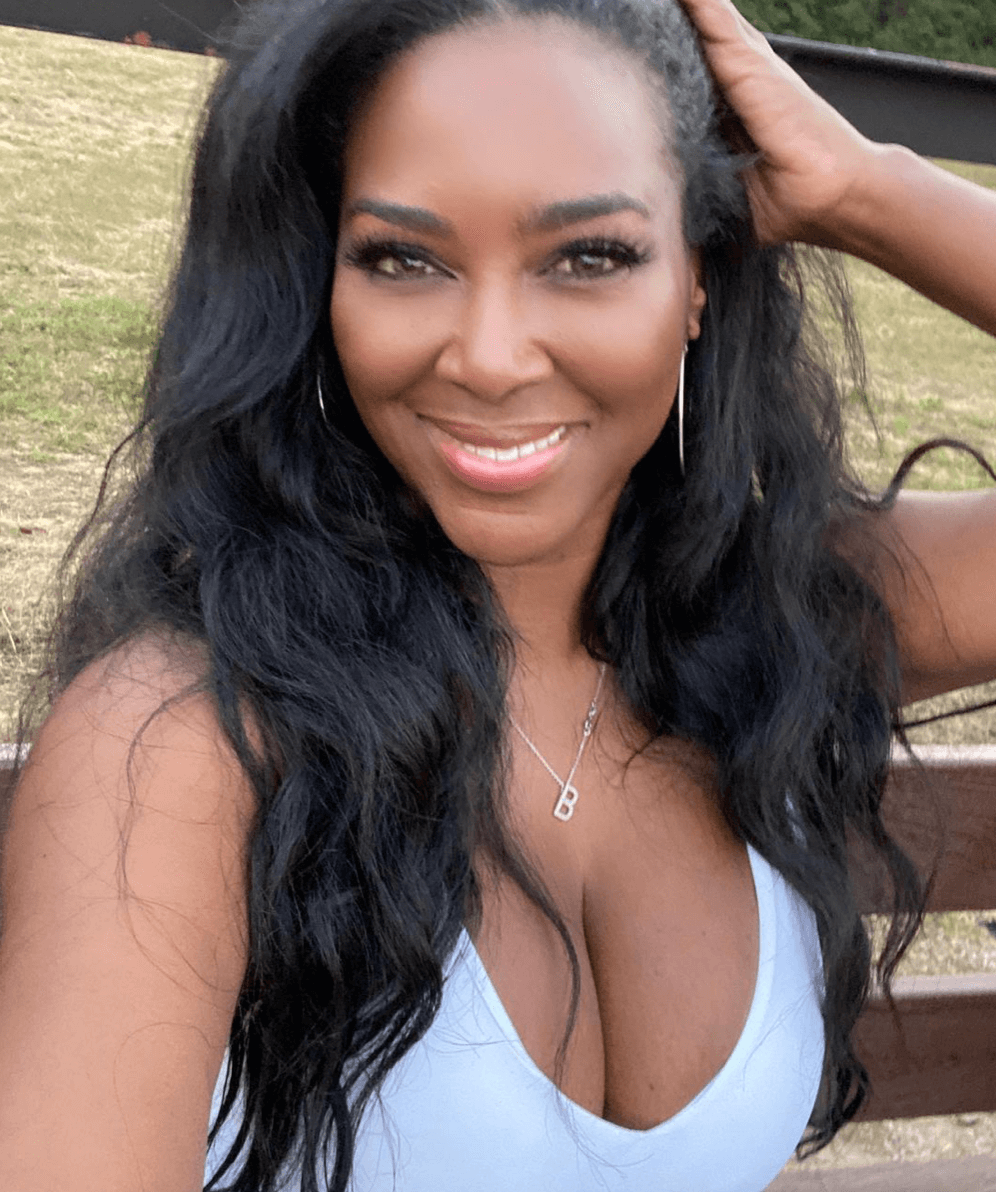 Kenya was not pleased by the diss, and noted during a confessional spot—"Who would not take someone rescinding an invitation as an insult?" 
Lauren opened up about her decision on Instagram, on January 3. 
"She has had my back since sleeping in [the] hospital waiting room with me the night daddy died, to the day we buried him (pictured), to sleeping on the hospital floor while I was in labor with Bales, and everyday since then," Lauren wrote. "I'll protect her at all costs everytime. That will never change."
"I changed my mind within 2 hours of hesitantly extending the invite," she explained. "My change of heart text was sent more than 24 hours before the party and only 2 hours after the invite."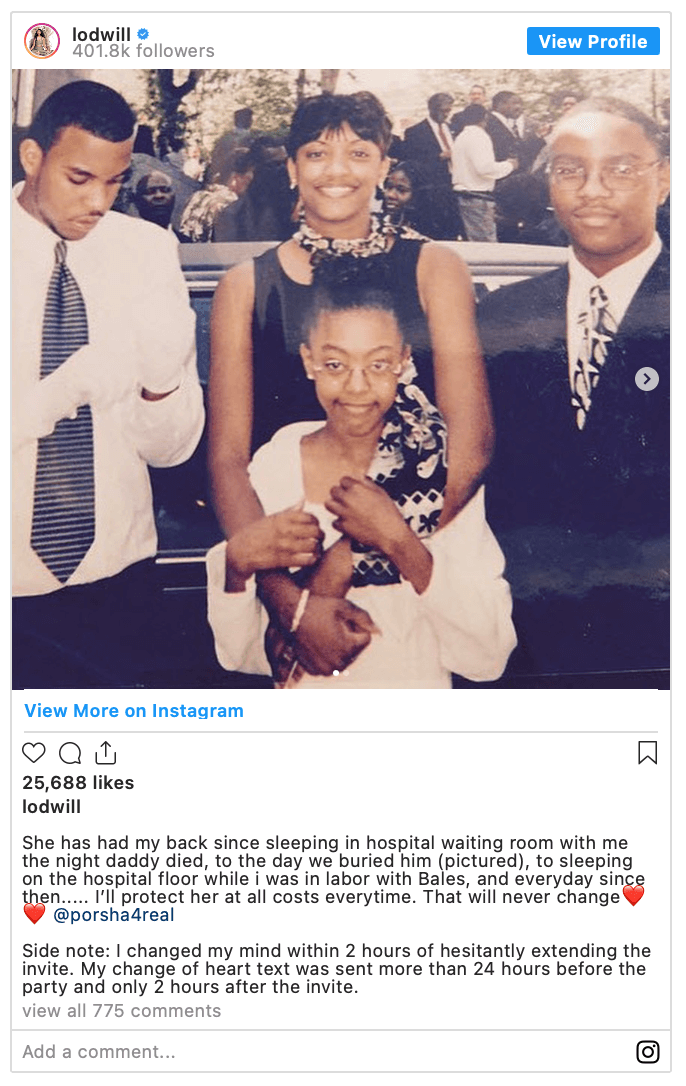 Lauren shared her thoughts about Kenya's reaction, after the episode. Fan account "therealitytvsource" shared the IG snippet.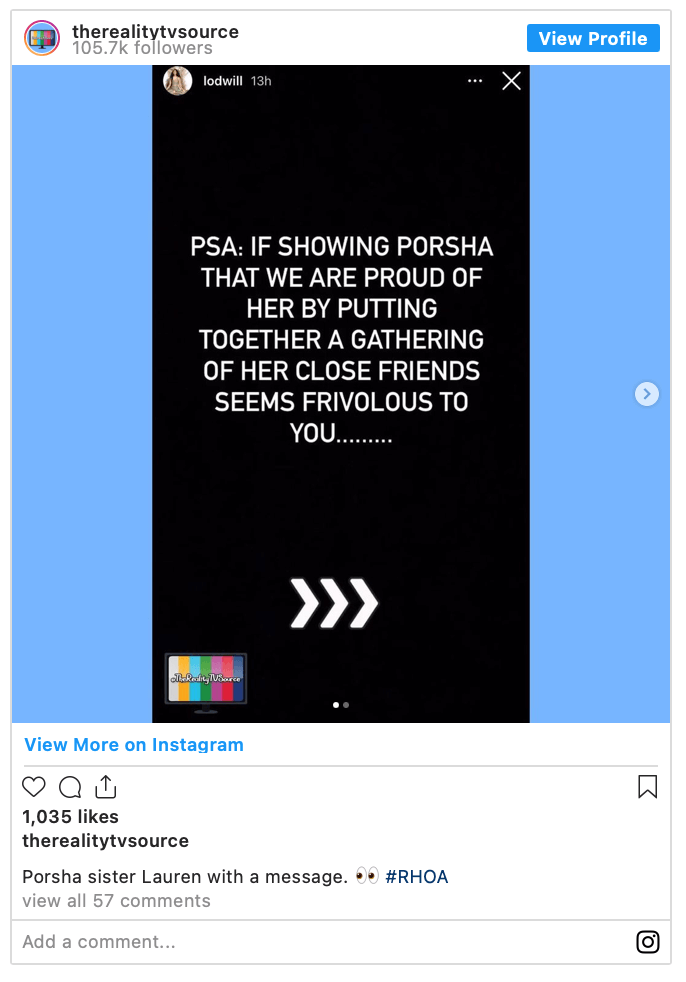 "PSA: If showing Porsha that we are proud of her by putting together a gathering of her close friends seems frivolous to you…I encourage you to remember that you 'give people their flowers while they can still smell them.'" 
"Especially when they are out there putting their lives on the line." 
Porsha spoke out about her sister's decision to ax Kenya from the guest list in a post-episode installment of Bravo's Chat Room.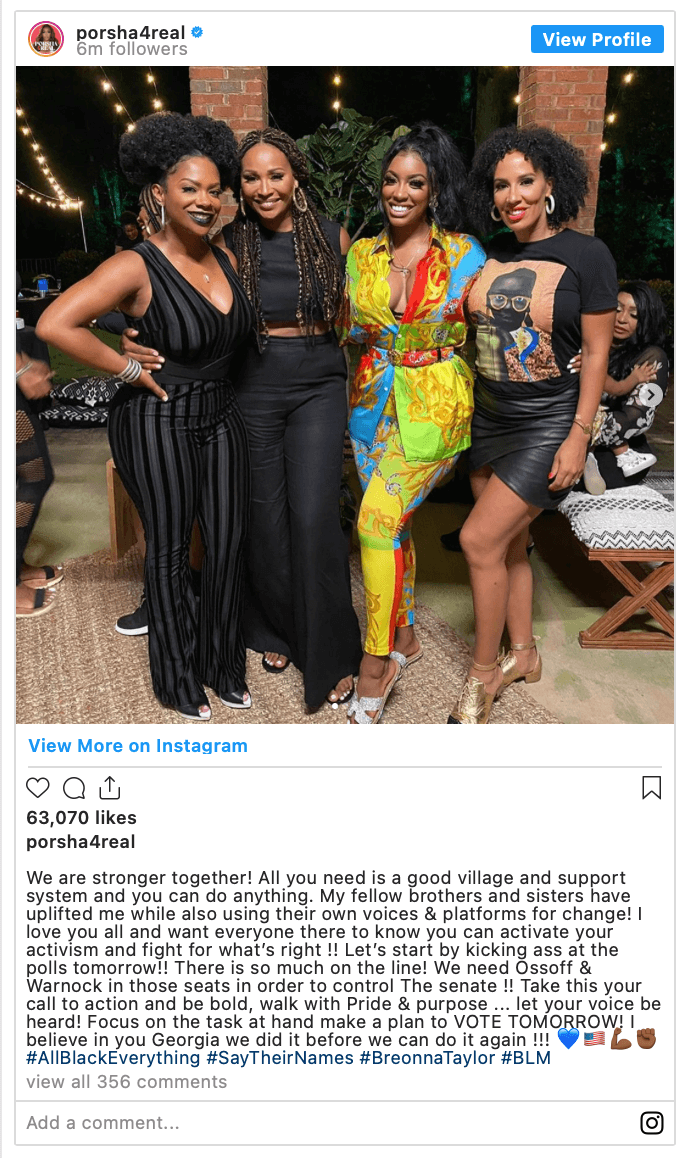 Porsha was asked if she would have been "upset" if Kenya had attended her party. 
"Oh no, of course not," Porsha said. "You know, at the end of the day I really feel like we could have at least tried to be mature enough to put any feelings to the side for the bigger cause." 
"The things that I know now…I think that it probably was the best choice for her not to have come," Porsha added. "Even though I had nothing to do with her choice, I think she actually made a good choice."  
Watch the video below!
The Real Housewives of Atlanta airs on Sundays at 8 pm, ET, on Bravo. 
Stay Connected With All About The Tea: Twitter Ι Instagram Ι YouTube Ι Facebook Ι Send Us Tips