'RHOA' RECAP: Drew's Husband Wants 'Respect And Sex' & Kenya Gets Uninvited to Porsha's Party
Welcome to 2021, kids. Too bad the Real Housewives of Atlanta are still mired in 2020.
We begin our episode at Porsha Williams's house. She's chatting with bestie, Shamea, and talks about the subpar cuisine she received in jail. Then we hop over to Drew Sidora's place, where she tries to get her two-year-old daughter to repeat the word chicken, but the little cutie insists she's eating duck instead.
Kandi Burruss isn't ready for her daughter, Riley, to go off to college. Even Kandi's right-hand man, Don Juan, thinks Riley is coddled. Who is going to be there to make sure she gets her homework done on time? Riley assures him that she can handle her own studies. After all, mom Kandi isn't exactly an academic. Wow! This kid has a big pair of lady balls to go along with her enormous sense of entitlement. When Kandi objects to being dissed, Riley clarifies that Kandi has street smarts, not book smarts. Oh, okay then.
Cynthia Bailey and her monotone sister, Mal, head to the yoga studio to practice with Yogi A. Kenya Moore meets up with them. Cynthia isn't the most coordinated person. She gets her left mixed up with her right and even slaps Kenya in the boobs a couple of times. But it isn't Kenya's enormous bosoms that are sore, it's her creaky hip.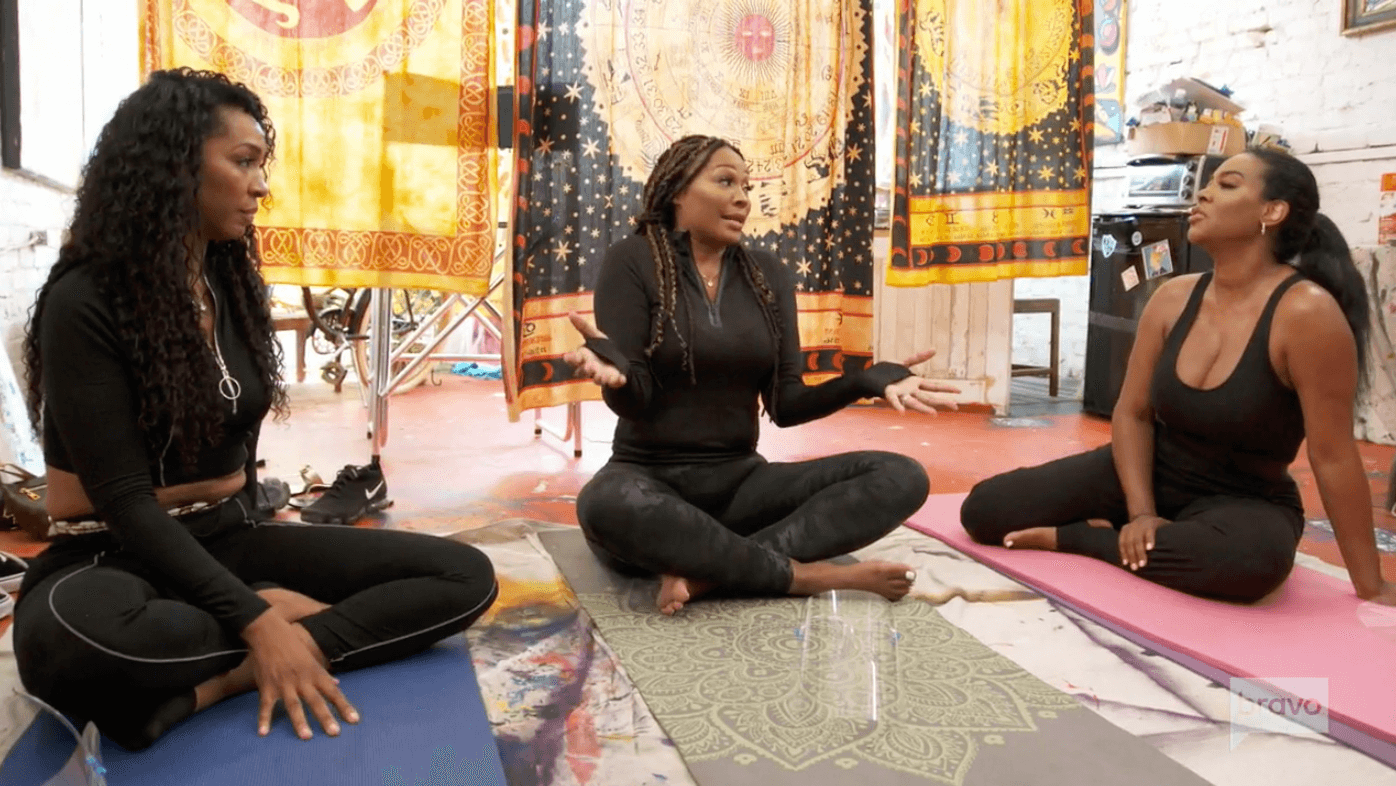 After their session, Yogi A makes himself scarce so the ladies can talk. Cynthia admits to being stressed about the wedding. She details her argument with Mike. She'd rather have the venue than the date. Kenya points out that Cynthia has told the world she plans on marrying Mike on 10/10/20. Now, she's changing her mind. Kenya thinks Cynthia wants a big, filmed production rather than a marriage, which is pretty much what Mike has said, too.
The argument gets a little heated. Cynthia claims she's committed to the man, not the date. But she finally understands that Mike must feel rejected and that the venue seems more important to her than the marriage itself. In yet another flip-flop, Cynthia says she'll marry Mike on 10/10/20 if they have to have the wedding on the sidewalk. Uh-huh.
Kenya admits that she was in a bad place last season, and as a result, she almost ruined Cynthia's surprise engagement. She insists she cares about Cynthia and their friendship, so she's doing everything she can to help Cynthia now.
Yogi A comes back with sage and smudges them to ward off negative energy. You may need a stick the size of a Douglas Fir, sir, because these women have a lot of energy.
Kandi meets Kenya at an outside restaurant. Kenya talks about Cynthia's wedding date indecision. Kandi says the last wedding Cynthia had, the one to broke-ass Peter, was kind of a low rent affair. If you'll remember, they couldn't even pay the bar bill and had to borrow money from Cynthia's mom. Now that she has a little coin in her pocket, Cynthia wants the wedding she's always dreamed of. That's normal, right?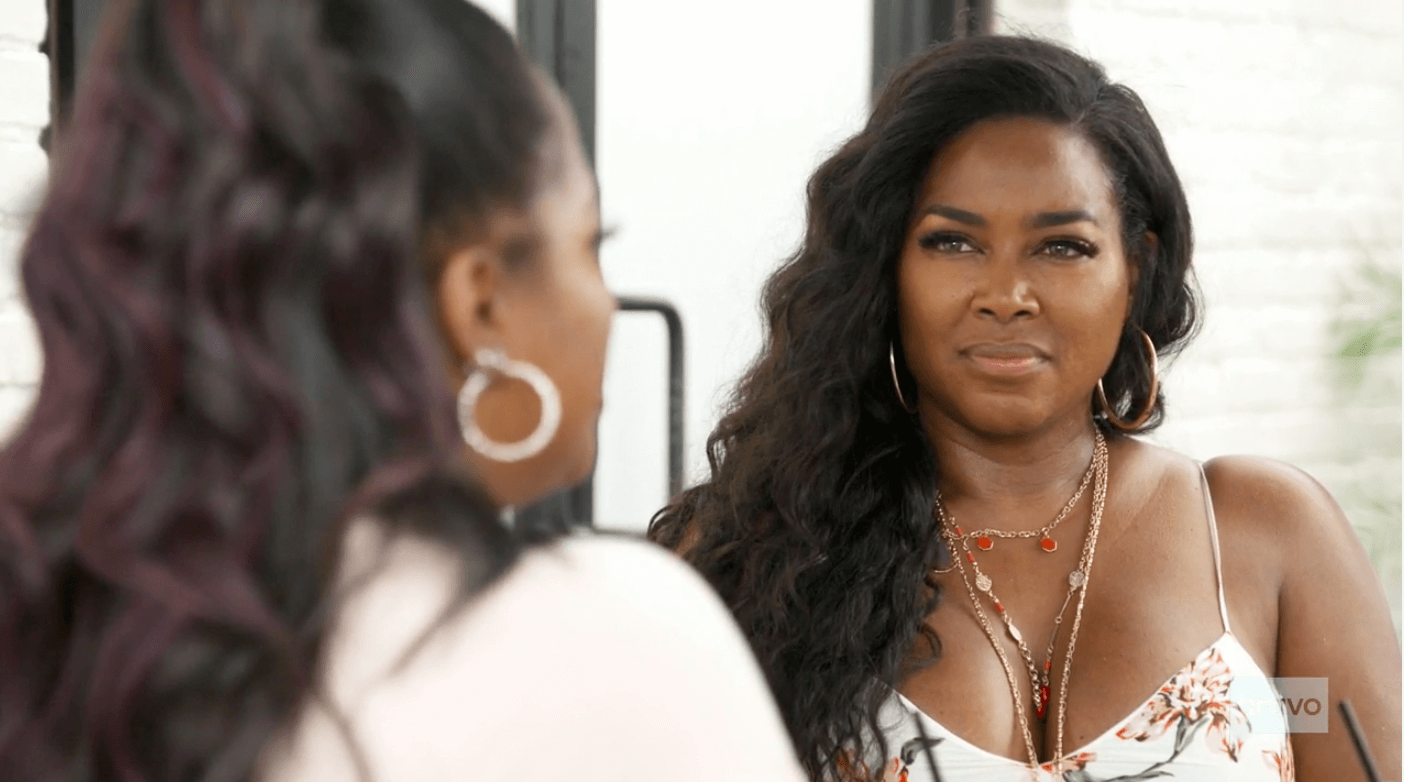 Kenya wants to throw a surprise engagement party for Cynthia. She asks Kandi to send out the invitations so everyone will arrive on time. Kandi wonders if Kenya's worried that if the invites come from her, people won't bother to show up. Yep, that's about the gist of it.
Will Porsha and Marlo make the invite list? Kenya says they're cool with Cynthia, and it's her party, so yep. And speaking of Porsha, Kenya can't believe Porsha didn't wear a mask while protesting. Who does that?! Kandi just rolls her eyes at the shade.
Kenya also talks about their mutual friend, LaToya Ali. We see a little girl on girl flirting from a couple of weeks ago when LaToya showed up at Kenya's house for tequila shots. Kenya acts coy when the producer asks if there might be a little romance going on with LaToya, but she doesn't say no.
Over at Drew's house, they leave the kids with her mom, Pastor Jeanette to go to an outdoor marriage counseling session. Jeanette hopes the pair can get on the same page and find a good compromise for their issues. Drew comments that in the past, they've gone to counseling and received homework, which Ralph refused to do.
Therapist Love McPherson shows up to help. Drew and Ralph head outside to the yard to confer with Love. Drew says she wants a peaceful home and wants Ralph to step up and show her son, Josiah, how to be a man. She also wants Ralph to be more transparent.
What does Ralph want? Respect and sex. As far as sex, a minimum of three times a week. And respect would include not emasculating him like Jeanette did with Drew's father. Drew says she doesn't treat Ralph that way. As she's talking, he reaches out and strokes her shoulder briefly. She questions why he did it because it was fake. He claims he was trying to comfort her, but she calls bullshit.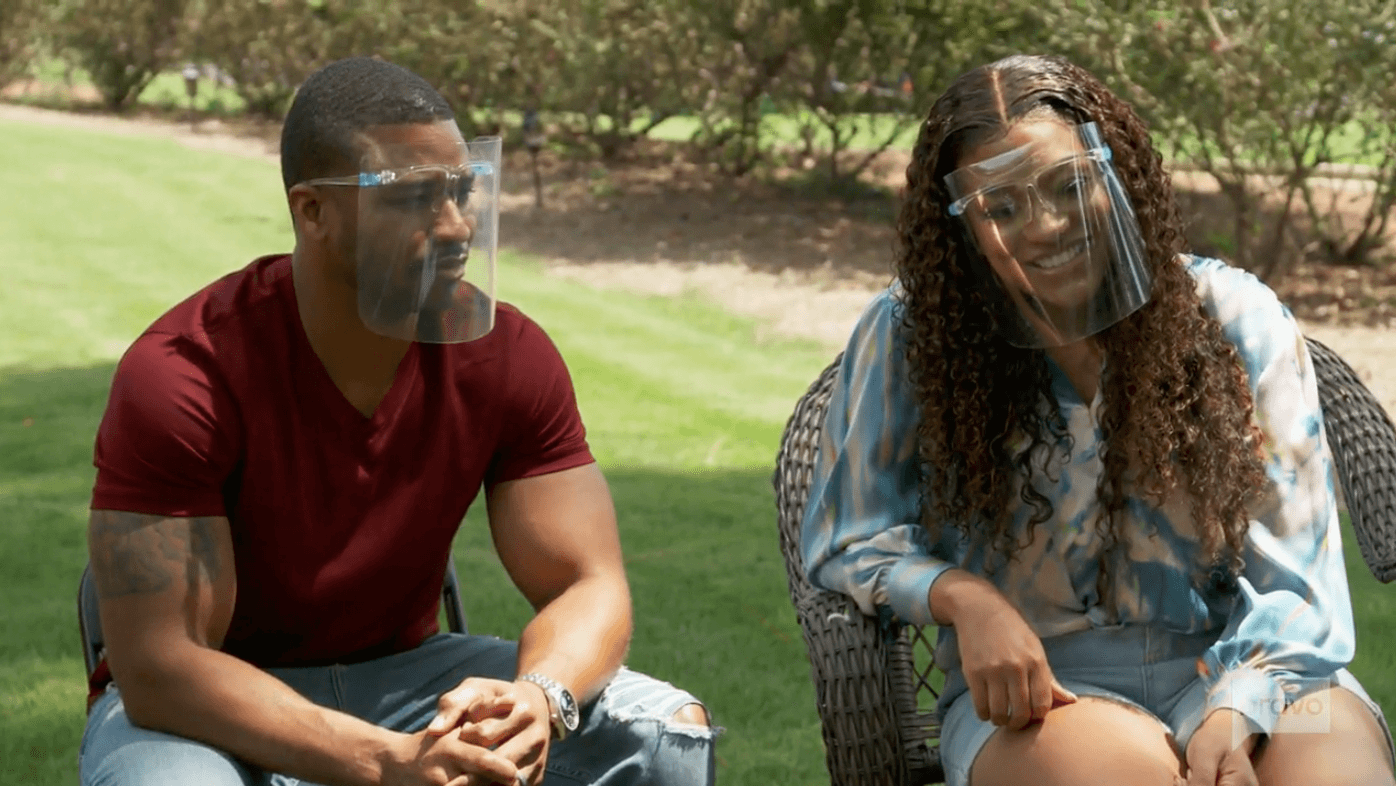 Love delves into Ralph's history. He was raised by his mom and abandoned by his dad. Ralph's mom wasn't affectionate, and he took on the role as man of the house. He didn't feel his mother appreciated his efforts, so at age seventeen, he went to live with his dad, who'd just lost his job. As a consequence, Ralph's mom got evicted, but she wound up apologizing to him. 
Love points out that Ralph finally got an apology after he left, which is why he leaves now. He's a runner when things get tough. Drew wants to love him, but she's not his momma, and she's paying the price for his past.
Drew been in individual therapy to work on herself. She takes accountability for her part in their marital problems, but she never sees Ralph working on himself. As she cries, Love asks Ralph if he'd like to embrace his wife. He gives her a one-armed hug.
Drew has heard his apologies too many times. She wants to believe he's sincere about working on their relationship, but she's jaded.
At Lake Bailey, Lauren, Porsha's sister, calls Cynthia. She wants to throw a surprise party to honor Porsha's newfound activism. Cynthia asks if she can ride with Kenya. Um…Kenya didn't make the invite list. But if Cynthia can guarantee Kenya will be on her best behavior, Cynthia can bring her as a plus one.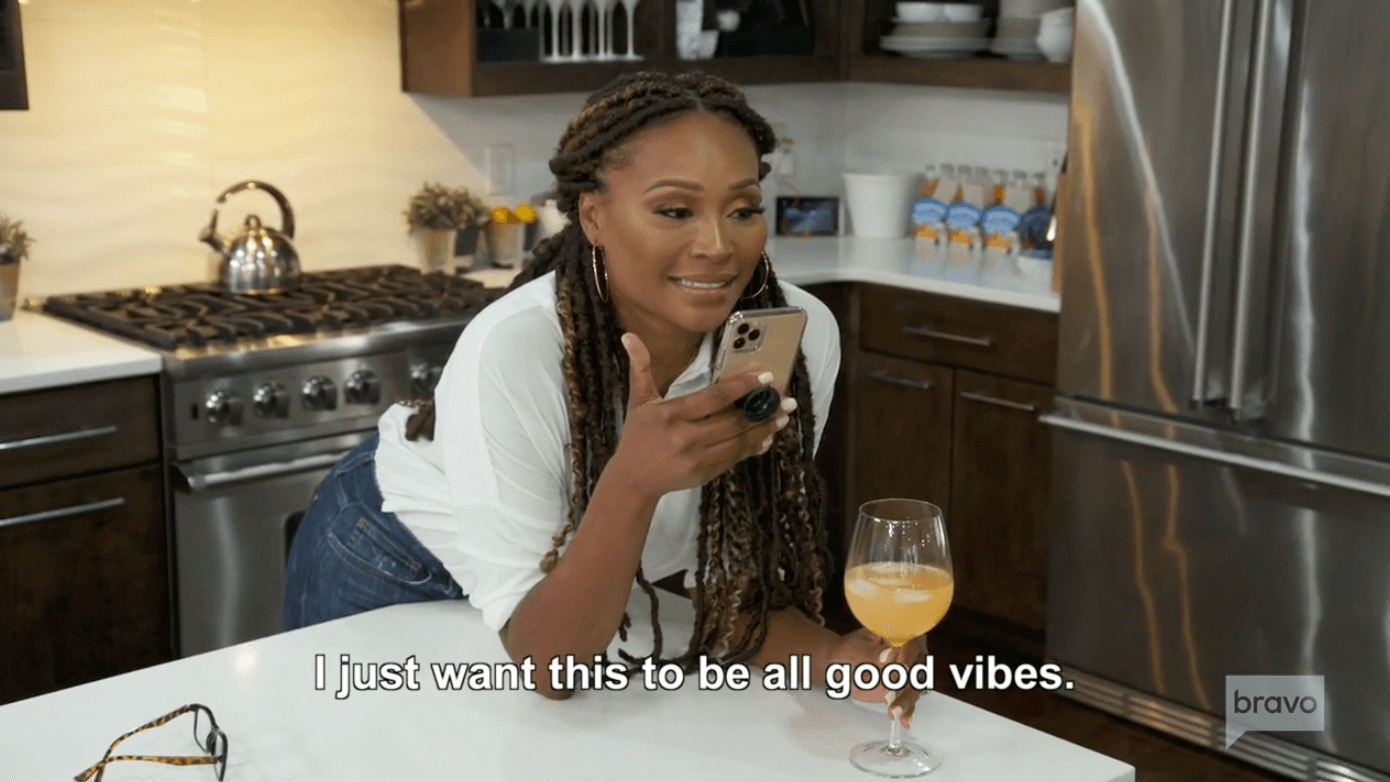 Lauren calls Kandi, too. Kandi happens to be having lunch with Marlo and LaToya. Yep, they can both come, as well. 
Cynthia immediately calls Kenya to discuss the wedding list. She's spent the past few hours writing her vows and repeating them to a mannequin for a dress rehearsal. Then she extends the invite to Porsha's party. Kenya commits to coming briefly.
Back at Drew's house, things have taken a bad turn. Ralph's dad had a heart attack and died. They're going to the funeral, despite Covid. In the past, Ralph's dad was "limited" and didn't always make it to his games. Ralph had hoped that he and his dad would have an opportunity to have some fun together now that he was an adult, but they never got the chance.
This put things in perspective for Ralph, though. Tomorrow is uncertain, so he needs to love and appreciate Drew for who she is.
The day of Porsha's party has arrived. Tanya picks her up and takes her to a juice bar. Marlo is waiting for them. As Tanya orders, Marlo wants details on Porsha's relationship with Dennis. They've broken up for good. But Marlo bets a thousand bucks they'll be back together within ninety days.
Porsha isn't willing to take him back, but she does like the way he's trying to woo her. He's bought her many Chanel bags, which he calls "co-parenting gifts." Porsha doesn't want to lead him on, but she's not giving those bags back, either.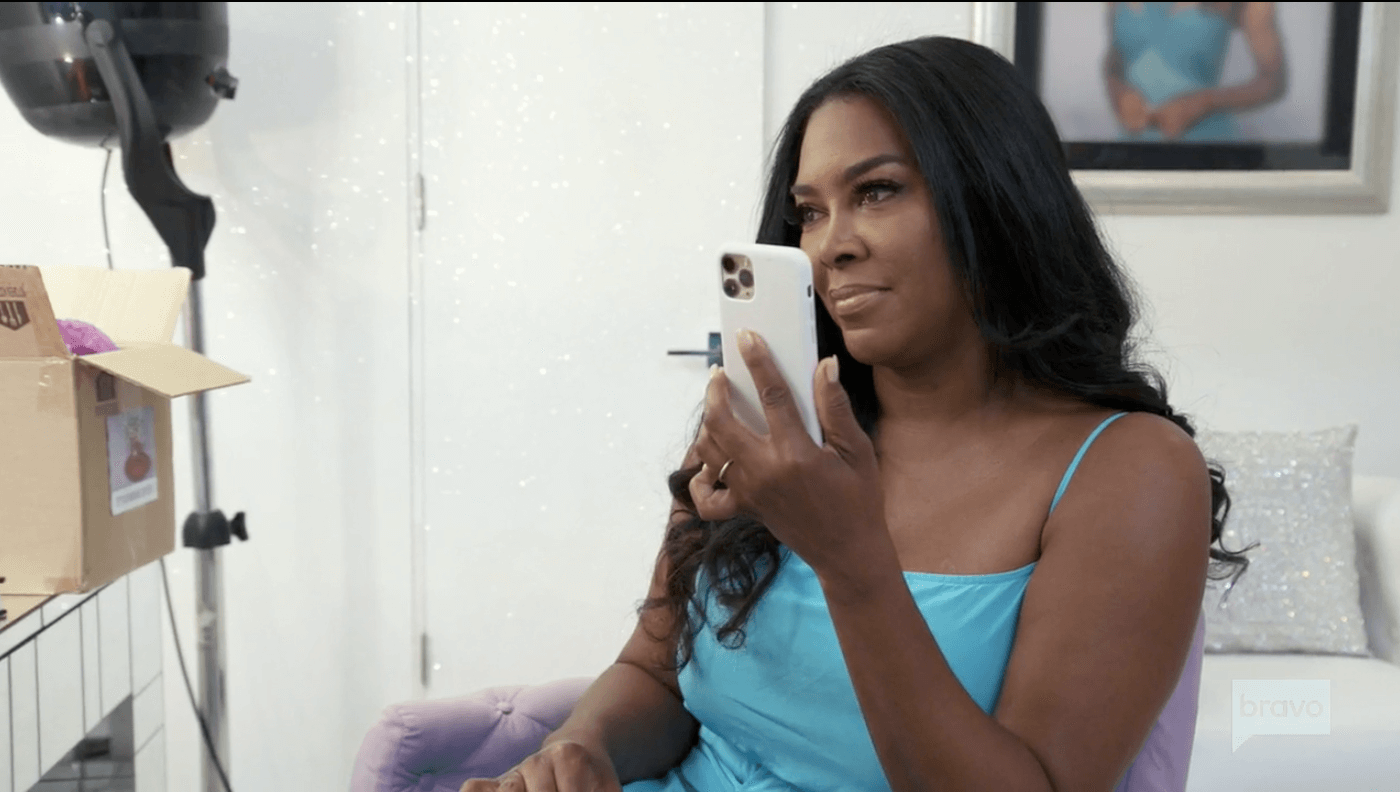 As Kenya is getting ready for Porsha's party, Cynthia calls. Kenya's excited about tonight. She even has a Rosa Parks Barbie to give to Porsha's daughter, PJ. Too bad Kenya won't be going to the party, after all. Lauren has been feeling apprehensive about Kenya being there, so Cynthia has to cancel Kenya's invite. Needless to say, Kenya is ten shades of pissed. She asks if production knew about the disinvite. They say it's news to them, too.
Kenya calls Kandi and asks her to tell the girls about their plans for Cynthia's surprise engagement party. She tells Kandi how she's been disinvited to Porsha's party, which is self-serving and fake as hell anyway. And why is that Porsha always manages to get arrested on camera? It's just a photo op! Kandi thinks if Kenya doesn't believe Porsha is being genuine, maybe she shouldn't be there in the first place.
At Porsha's house, Lauren has decorated the backyard with photos and names of civil rights leaders. But this is a Housewives party, so no matter how much good Porsha has been putting out into the world, there's still bitching and infighting amongst the women. LaToya meets Falynn, who talks about her mixed family. Husband, Simon, has five kids. Falynn has three of her own. LaToya asks how old Simon is. Falynn admits he's in his fifties. LaToya says Falynn looks like the type of woman who dates only older, rich men. Wow. Okay, then! Kandi calls Toya "Kenya on steroids" and she's not wrong.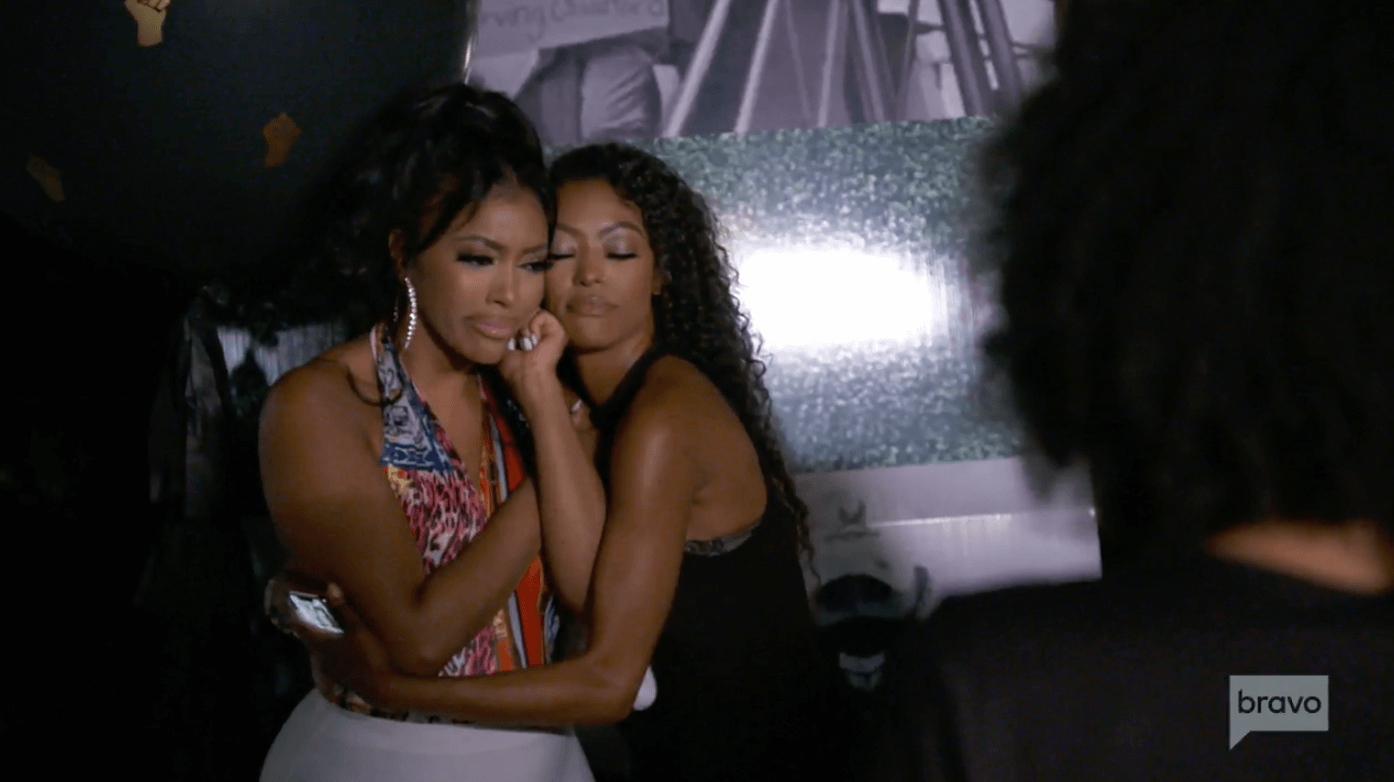 Tanya finally brings Porsha home to her surprise party. Porsha is so touched she begins to cry. She says she doesn't need thanks for protesting. 
Cynthia gives Pilar the birthday gift from Kenya. Cynthia makes a point to tell Porsha that Kenya was disinvited. 
Next, Kandi gives the group an announcement that there's a white dress party planned for the next week, but she won't tell them what it's for. She issues the invite while sitting next to Cynthia. Way to be stealthy, Kandi.
Porsha gives a rousing speech and appreciates her friends supporting her. 
And that's our episode. So, do you think Kenya should have been disinvited? Is Ralph going to put in the work to save his marriage? How will Kenya get her revenge?
Stay Connected With All About The Tea: Twitter Ι Instagram Ι YouTube Ι Facebook Ι Send Us Tips
I'm a fiction writer by day and a reality TV addict by night.