Celebrity News
Tamar Braxton And Vince Herbert's 18-Year-Old Girlfriend FIGHT On Social Media!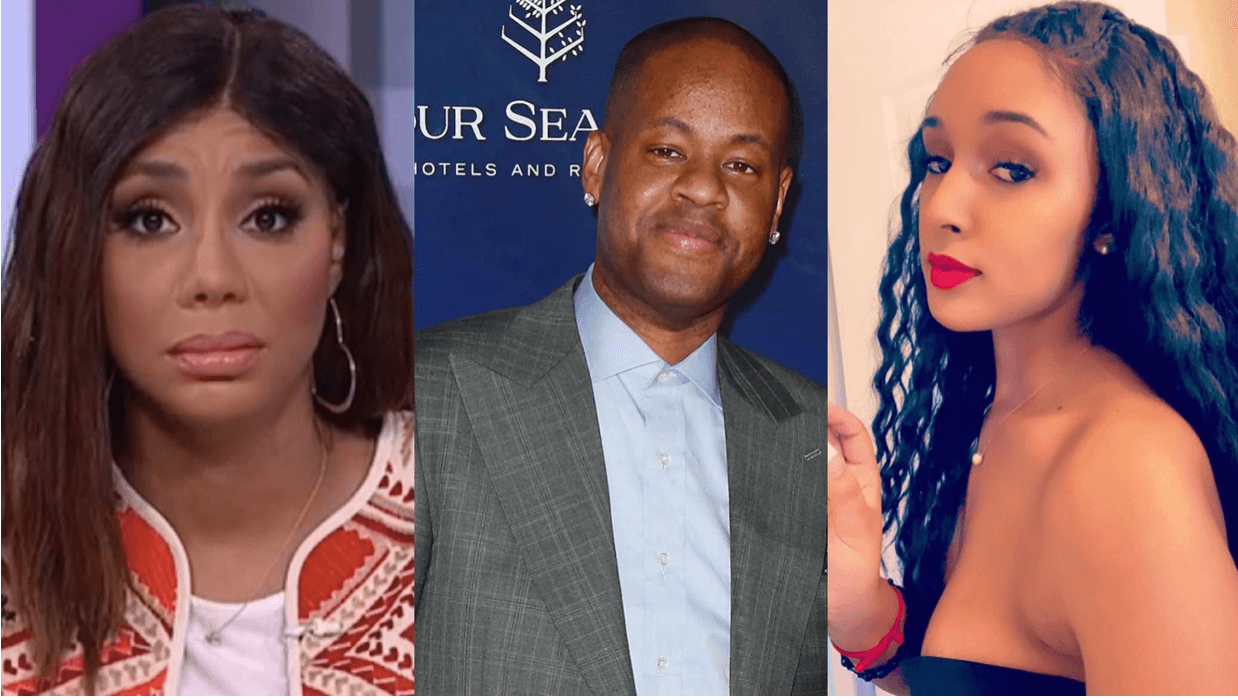 Tamar Braxton has made it perfectly clear that she is "under construction," so when her ex-husband Vince Herbert's alleged new boo came for Tamar on Twitter, the singer was very confused. 
RELATED: Tamar Braxton Reveals Being Fired From 'The Real' Triggered Her Breakdown
In 2017, Tamar filed for divorce from Vince citing "irreconcilable differences," and she filed for joint custody of her and Vince's 7-year-old son, Logan. In 2019, the couple's divorce was finalized, ending 11 years of marriage. Tamar moved on to a new relationship with her now-ex-boyfriend, David Adefeso, and Vince has tried to keep his love affair under wraps.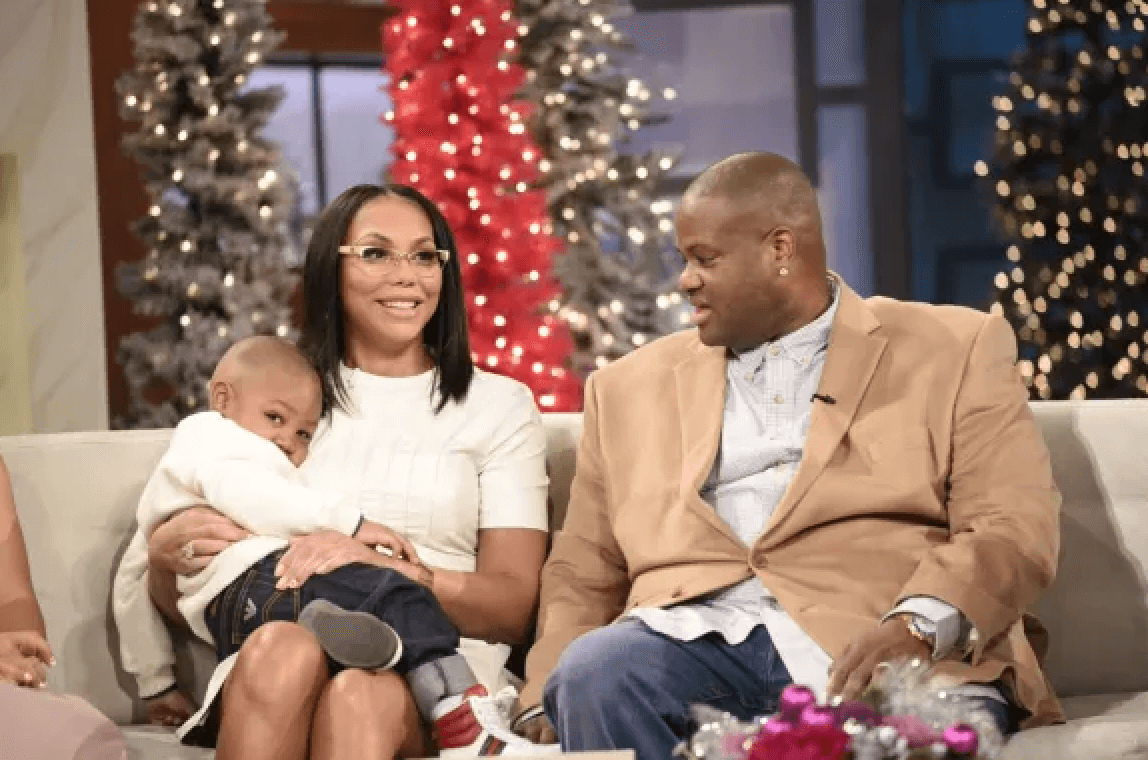 However, a few months ago, rumors surfaced that Vince impregnated an 18-year-old young woman named Jamie Taylor. Not only did rumors claim Jamie was pregnant by Vince, but that she was younger than 18. About a month ago, Jamie went on Instagram Live to deny the rumors and note that she is a grown woman.
As if that wasn't enough, Jamie hopped on Instagram Live again, but this time with Love & Hip Hop: Atlanta star, Akbar V. During the Live, Jamie asked for advice about her relationship with a recently divorced industry man who claims he's still trying to work things out with his ex-wife while dating Jamie.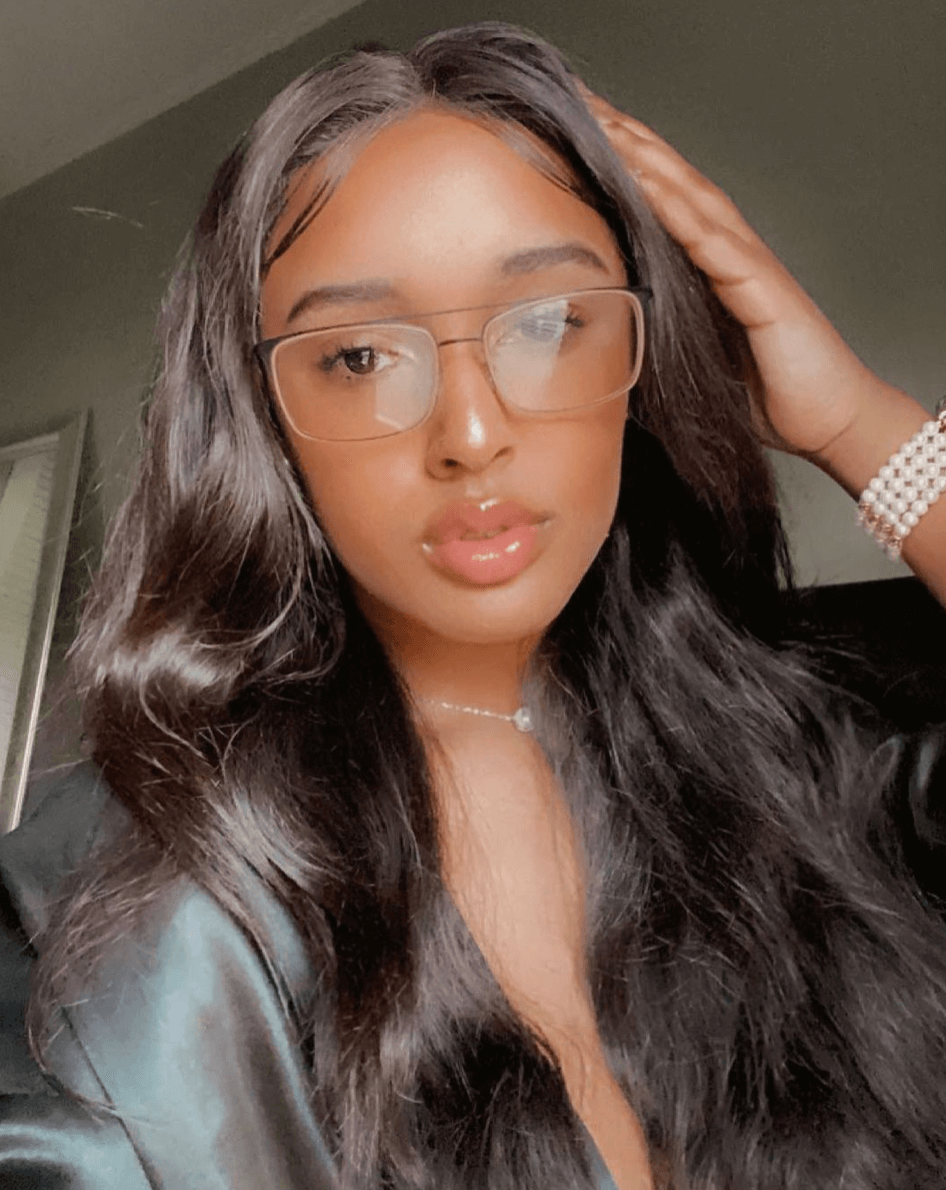 "I had been messing with somebody in the industry for the whole year…He was back and forth, just playing a game," Jamie told Akbar. "He was like, 'You gon always be my boo but I'm trying to work it out with my baby momma. But here's the thing: I can't have nobody over to my house. I can't do none of that. What you think  I should do? I always feel like I'm put last."
Akbar called out Vince's name, asking Jamie if he was the "industry" man she was talking about, but trying to save face, Jamie denied that it was him.
Following the Live conversation, a fan suggested Tamar and Vince get back together for music's sake. "God please let TamarBraxtonHer and Vince become friends so she can do a #WinterLoversLand 2," the fan tweeted. Tamar shut down the fan's hope with the quickness and spilled a little tea of her own. 
"Atleast you know what it REALLY is," Tamar began before calling Jamie a liar. "Seems like half the world is listening to some online girl. 🙄 when the REAL TEA is she was never THE girl !! he claimed a whole nother girl to all of us. My cousin Vince is a trip. He's the LAST man I'll be back with. [throwing up emoji] #dontblameme."
After the Instagram media account @gossipofthecity_ posted Tamar's tweet, Jamie found her way into the comment section and responded to a fan. "She said 'he claims' pick up on that love. I know wassup, she know wassup, and he know wassup. 😘😘."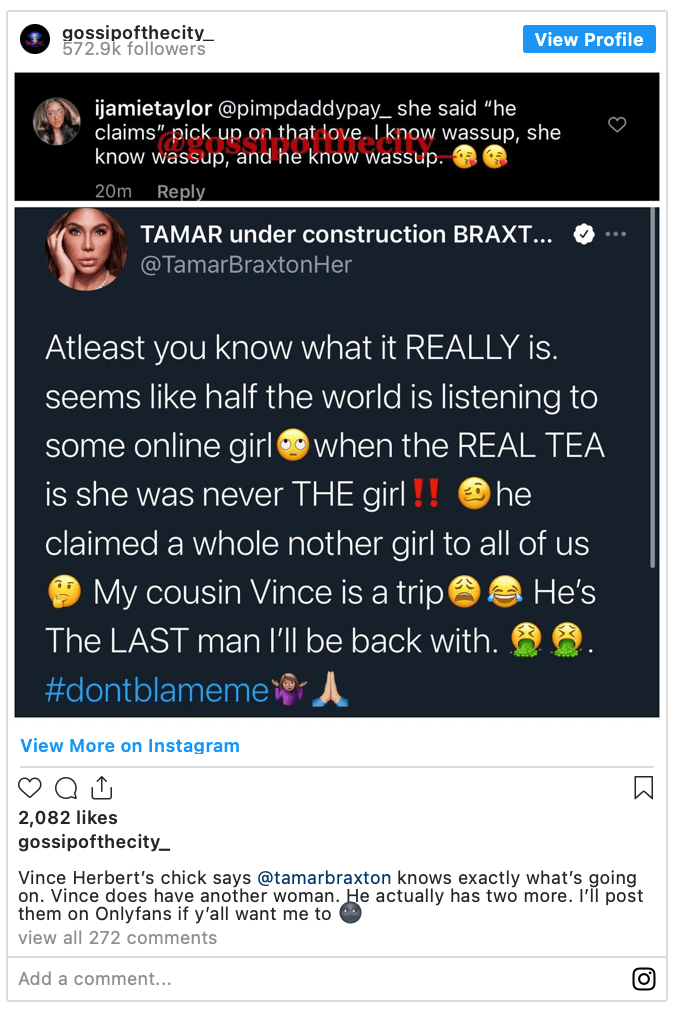 Now, more pressed than ever, Jamie Taylor is sticking to her claims that she and Vince are in a relationship, and she has receipts to prove it.
A Braxtons fan account reposted a video of Jamie showing a screenshot of a FaceTime conversation she had with Vince. In the screenshot, Vince is smiling from ear-to-ear as he talks to Jamie. Jamie then gives viewers a closer look as she places the phone right in front of the camera. "Ohhh," she says as she pulls the phone away, making it clear that she indeed talks to Vince.
The Braxtons fan account captioned the retweet with the question, "
 what is she trying to prove." Tamar retweeted the fan's retweet questioning the same.
"Sis I don't know…I'm over here under construction, SINGLE, working on myself & making life great for me and my son. 🙏🏼🌟…at this point, baby girl wants attention so ima pray for her, my cousin Vince and his girlfriend Angie. #stayunderconstruction," Tamar wrote in a now-deleted tweet.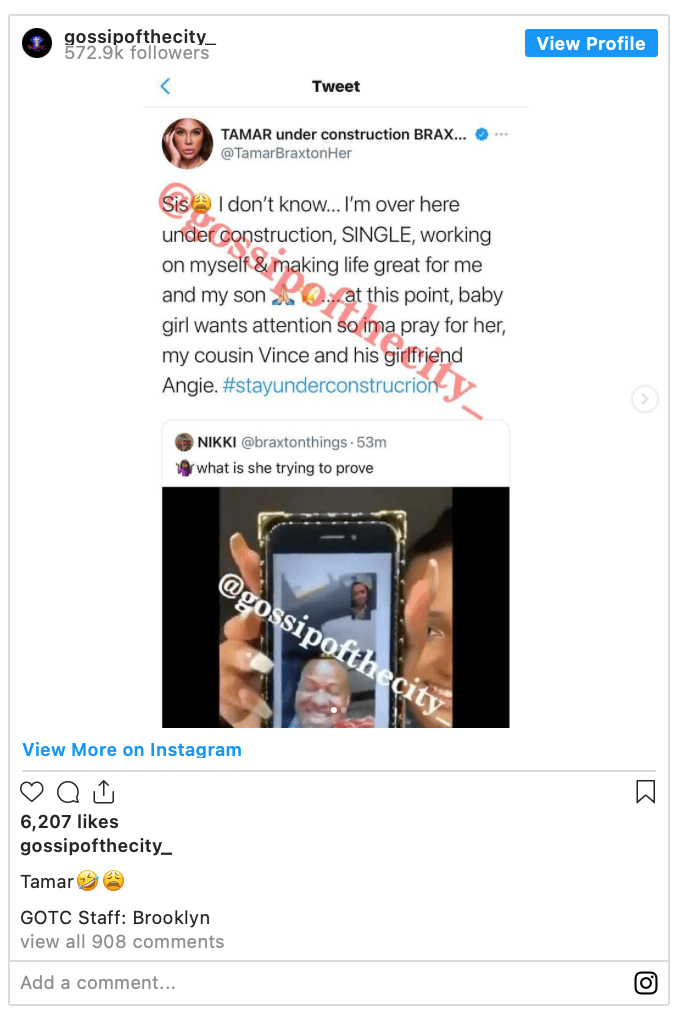 Jamie caught a lot of flack for trying to prove a point and after receiving a lot of backlash, she took to her Instagram Story with a message for her haters.
"Y'all not about to sit here and make me look stupid or make it look like I'm lying," Jamie exclaimed in a lengthy caption. She noted that although she doesn't owe anyone an explanation, she is "so tired of y'all smart comments."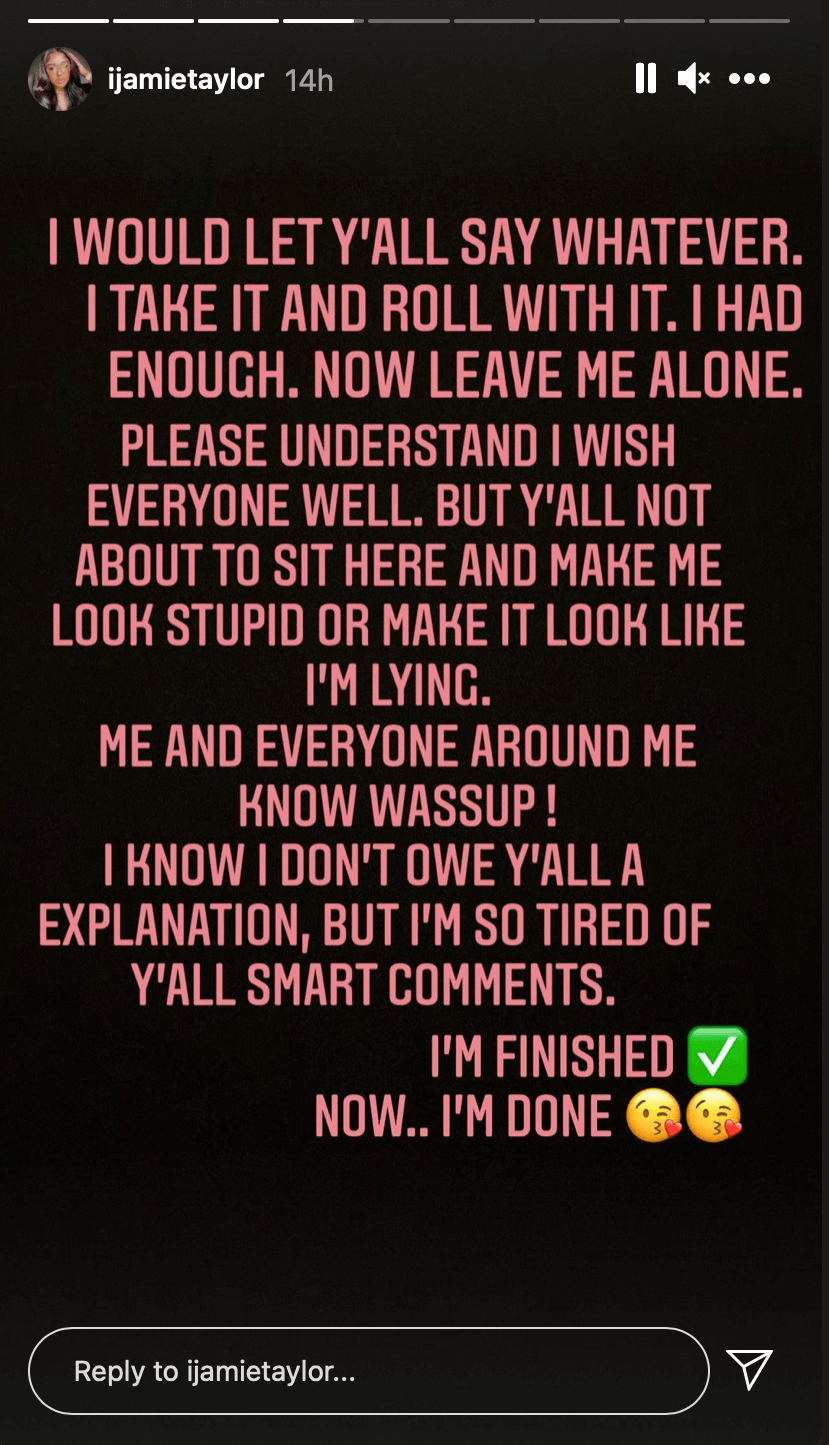 As reported, Tamar revealed the moment her life started falling apart, and it begins with her getting fired from 'The Real.' During a sit-down on Taraji P. Henson's new mental health-based show, 'Peace of Mind With Taraji,' the singer broke down moments that lead up to her "losing control" of her life, pointing out that she first "fell into the fog" after she was fired from 'The Real.' 
"The first time I knew that things wasn't normal, was when everything went down with 'The Real,' Tamar said. "I was in my bedroom; it was completely dark." Tamar agreed with Taraji that she "was in a fog" noting, "you don't shower, you don't eat, you don't know what day of the week it is or the time… you don't care."
Stay Connected With All About The Tea: Twitter Ι Instagram Ι YouTube Ι Facebook Ι Send Us Tips