'RHOA' RECAP: Porsha & Dennis Split, Drew & Ralph Seek Marriage Counseling, And Cynthia & Mike Argue About Their Wedding
We begin the Real Housewives of Atlanta with Porsha Williams marching for Breonna Taylor once more. We see a flashback of Selma, where Porsha's grandfather marched in 1965. 
Porsha is arrested again, after being charged with obstructing a highway and disorderly conduct in the second degree. She was one of the last protestors to be freed from jail.
We next see Cynthia Bailey and her sister, Mallory, discuss her upcoming wedding. Cynthia's wedding party will be dressed in white; the guests will wear black. Cynthia and Mike Hill, however, will be dressed in neither. Mallory looks at Cynthia in confusion. 
Newbie, Drew Sidora, and her two-year-old daughter are making pancakes. As Drew helps pour batter, her five-year-old son, Machai, calls her on the phone—even though he's practically in the same room with her. She tells him to grab the syrup as she ignores her husband, Ralph. He schleps a keyboard into the living room for their Zoom church service later that morning.
They promised if Drew's mom, Pastor Jeanette, watched the kids on their anniversary, they'd take over the worship music on Sunday. Unfortunately, the anniversary ended in disaster when Drew confronted Ralph over his disappearing act from the week before.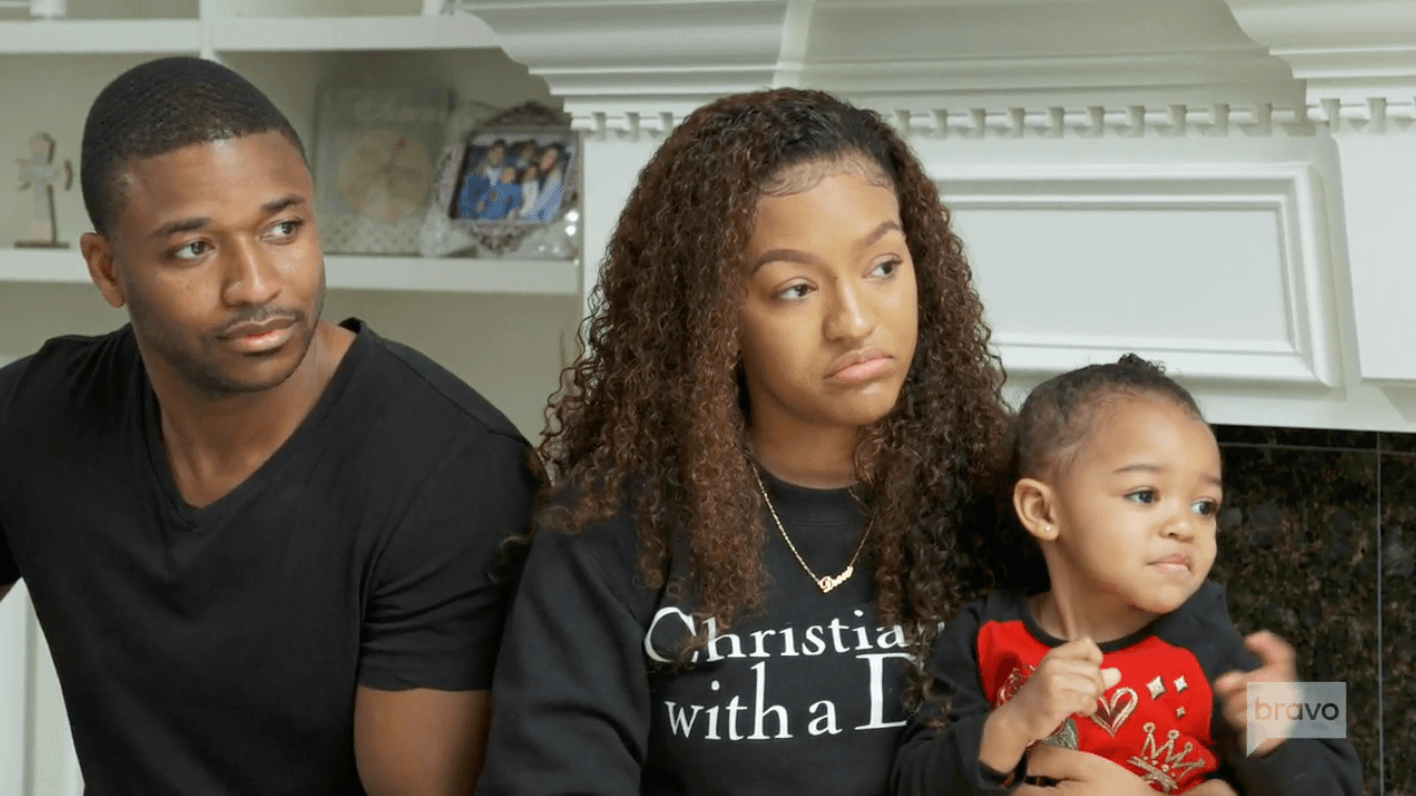 Ralph finally told Drew where he went for three days, but he resented her for daring to ask. Now, they've tabled the discussion and are pretending like things are just fine. Sure. Sounds healthy.
Jeanette is practicing her sermon, entitled "Bridle Your Tongue." She's aiming this message right at Ralph. He takes offense, naturally. As Ralph and Jeanette start to argue, Drew attempts to play the peacemaker.
Drew says Ralph is argumentative and combative. It's exhausting. But as Ralph points out the sermon is something they all could use, Drew once more tables the convo for a later date. This seems to be a recurring pattern.
LaToya Ali pulls into the sloping drive of Moore Manor. LaToya has a camera in hand to take pics of Kenya for a dating app. But first, tequila!
They start gossiping about Drew. LaToya thinks Drew's wig sits like a big, fat pet on top of her head. LaToya names it Drewisha. Kenya laughs her ass off at the shade.
Next topic: the state of Kenya's marriage. She's now ready to pull the trigger on the divorce. And what better time to start dating than now? So, LaToya snaps a few pics of Kenya. She's out to snag a new man, even while she's still wearing her wedding ring.
At Kandi's house, she and Cynthia are exercising on the basketball court. Kenya joins them. Kandi's trainers are ready to help since the women all gained weight during lockdown.
After the workout, the ladies sit down to eat fruit. Cynthia says she wants two-hundred-fifty guests at her wedding. She has the perfect venue in mind. Kenya thinks Cynthia should have the ceremony at Lake Bailey. She's even angling to be the planner.
They discuss a prenup, and Kandi counsels Cynthia not to wait until the last minute. She admits her prenup with Todd tainted the beginning of her own marriage. Kenya didn't bother with a prenup, and now she might lose it all to husband, Marc.
Porsha, her sister, Lauren, and Tanya get together for a swim date. They head to Porsha's new friend, Falynn's, pool. On the drive, the women complain about lockdown.
Porsha had a honeymoon period with Dennis, but that didn't last. After a major argument, they broke up. Porsha says she doesn't like who she is when she's with him. Besides, she's too busy being a mom and activist right now to think about relationships.
Falynn greets the women and takes them to the spacious backyard. Her husband, Simon, welcomes them to the house. They eat tiny pieces of fruit and smoke a hookah. Lauren thinks it's a little too strong, so Porsha and Tanya pick her up and toss her in the pool. Porsha falls overboard with her.
When Fallyn orders her husband to turn on the hot tub, he obeys. The women are impressed at how well trained he is.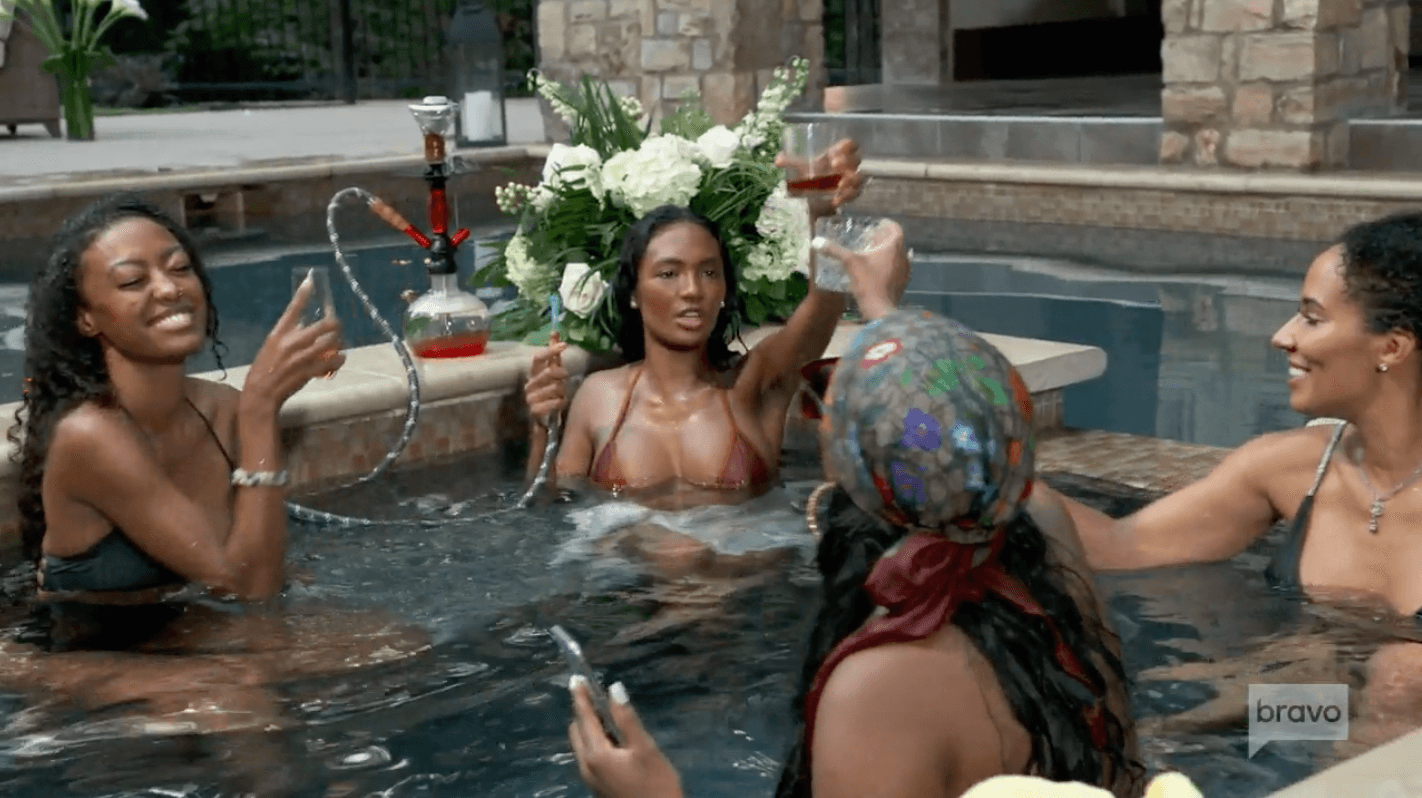 While lounging in the spa, Porsha talks about her most recent arrest. Though she got through the ordeal, she cried for three days over the Jacob Blake shooting. Fallyn says she's experienced racism firsthand. Porsha encourages the women to not be helpless. She speaks about the trauma she's experienced and what she's doing to change the world.
They end the day on a good note. Fallyn gifts them with boxes of booze and accessories. Someone is trying very hard to earn a peach!
At Drew's, she asks Ralph to haul a few boxes. She's had three surgeries this year on top of lockdown, and now she's getting ready to move. It's the first house she's bought, but she can't move in yet. They still have appraisals and closing dates to deal with. Is this a sure thing? Ralph says it's not done until it's done.
Drew wants to be involved in the process. He's bored with trying to explain it to her. He's resentful that she's "inserting" herself into the business side of things. He tells her to stay in her lane, and her lane is packing. Let the big man handle the finances, Little Lady! Ugh.
Ralph is so shady, I'd be fine toothing those accounts to make sure he's not skimming off the top.
Drew is tired of fighting with her husband. She's not sure the marriage is going to last and the constant arguments are wearing her out.
On the drive to the new house, and Drew says she's reached out to a marriage counselor. Ralph thinks Drew has already tainted the therapist's perspective against him. Drew feels like she can't do anything right, but he at least agrees to go with her to the appointment.
Cynthia takes Mike to the Governor's Towne Club, her ideal venue for the wedding. She has definite ideas of her perfect day, but Mike just wants to get married.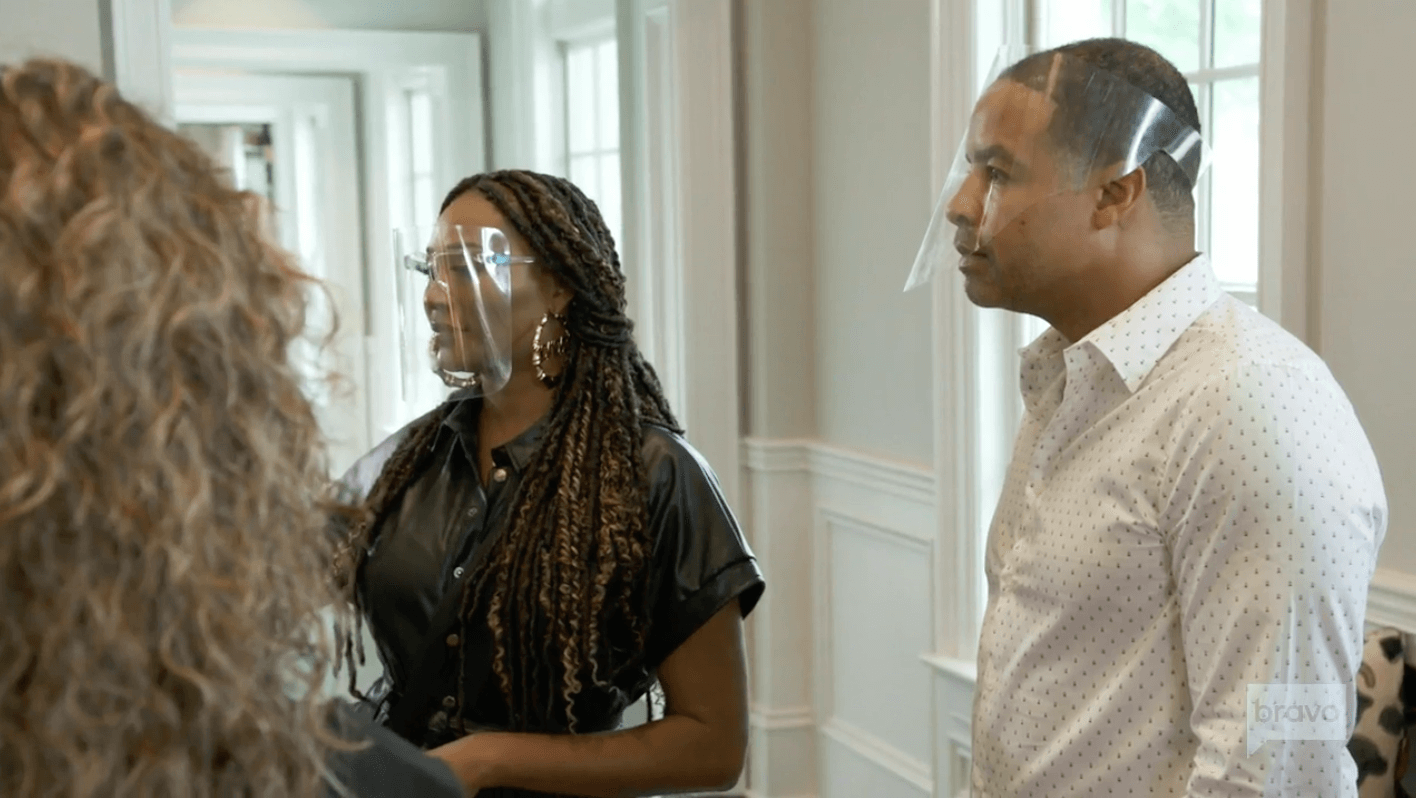 Mallory joins them to help with the planning. She's playing the go-between to help talk Mike into splurging on a big ceremony. 
Cynthia wants an aerialist to swing from the ceiling. Because nothing says true love like an acrobat.
They're shown the bridal suite, the groom's suite, and a grand ballroom. Outside, there's a balcony overlooking the golf course and a gazebo. But…what about Covid restrictions?
The ceremony must take place outside, but they'll have a mix of inside and outdoor activities. Mallory points out that they could plan on a smaller wedding at Lake Bailey. No, Mallory. You're not here to appease Mike. You're here to talk him into this fantastically big, expensive extravaganza!
Mike wants to keep the date of 10/10/20, no matter where it happens. Cynthia's a little heartbroken. She wants Mallory to have her back, and Mike simply wants a backup plan. Still, Cynthia can't commit to the date, because the venue is the most important part.
Mike is pissed that she's backing out of the date. She wants to share the ceremony with her friends and family. Mike feels that, for Cynthia, the wedding is more important than the marriage.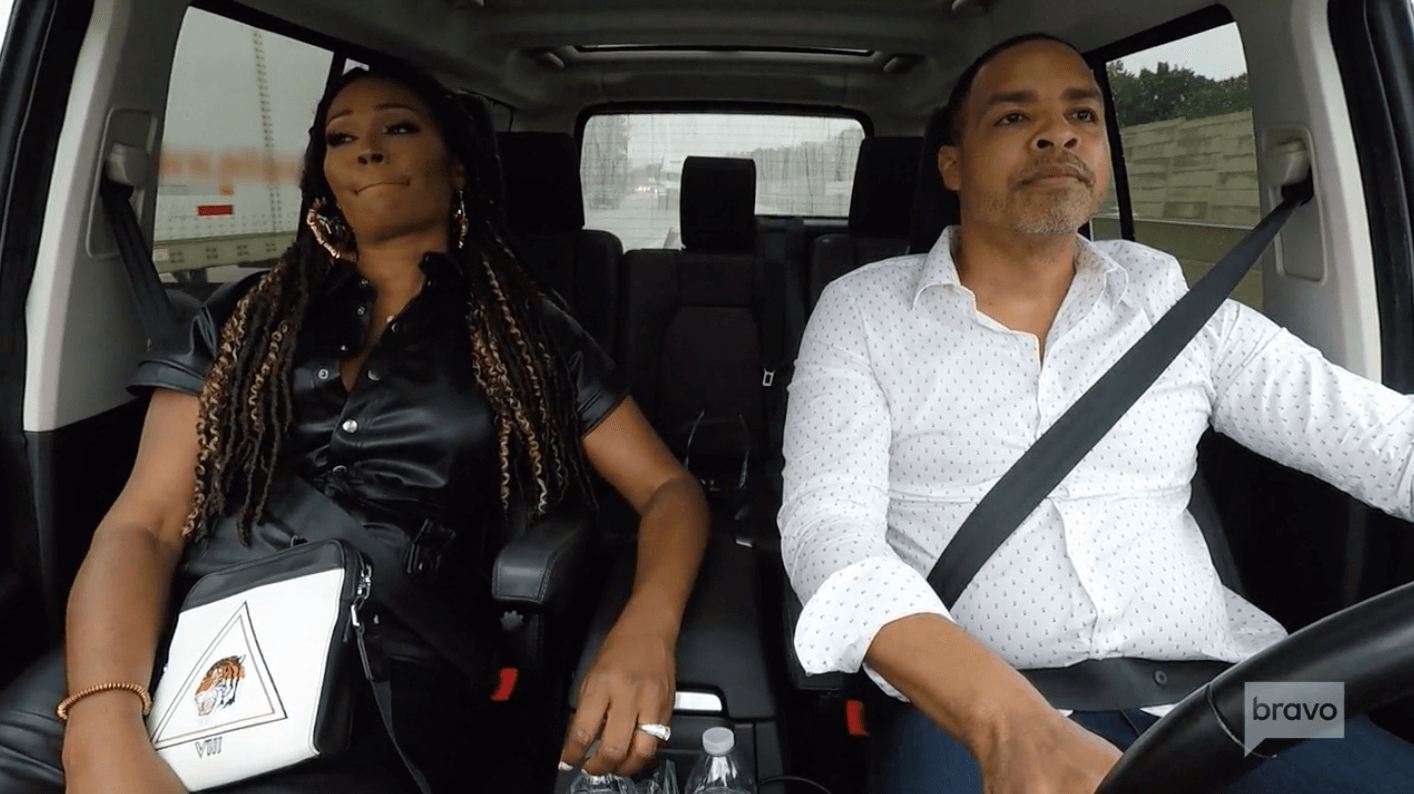 Cynthia angrily swans back into the clubhouse. Even though the women who work at the club try to reassure them, Cynthia leaves with drooping shoulders.
On the car right home, Mike says his prize is Cynthia. He thinks she wants to postpone the wedding if they can't get the venue. She insists she wants to marry Mike, but she wants her big day, too. 
Things get heated as they argue about semantics. He flat out asks if they're definitely getting married on 10/10/20. She doesn't know, and he gets so angry, he shuts off the camera.
And that's our episode. So, is Cynthia being unreasonable? Will Ralph and Drew make it to the new house with their marriage still intact? How are you liking LaToya?
Stay Connected With All About The Tea: Twitter Ι Instagram Ι YouTube Ι Facebook Ι Send Us Tips
I'm a fiction writer by day and a reality TV addict by night.