RECAP: Candiace & Monique Go Head-To-Head & Expose The REAL Reason Behind Their Beef On 'RHOP' Reunion Part Two!
Welcome back to the second part of the Real Housewives of Potomac! Let's get started, shall we?
The reunion picks back up where it left off with Monique Samuels reading Gizelle Bryant and "Pastor Holy Whore" for filth regarding their alleged fake relationship. But instead of responding, Gizelle is left stunned and speechless. She does, however, manage to squeak out a "Jamal and I are fine." Sure, Jan.
Candiace Dillard-Bassett pipes up and asks Gizelle what she would do if it turns out that "the thirst book" is indeed true. According to Gizelle, they will simply "cross that bridge when we get there." Dr. Wendy Osefo hops on board and points out how calm Gizelle appears, considering the information she was just given. Gizelle stammers around before saying that the older she gets the less stuff like that bothers her. Well, alrighty then.
The ladies take an hour-long break for lunch before reconvening. My guess is they had a lot to digest and wasn't just what they consumed for lunch. Once back, Ashley Darby swiftly lands in the hot seat as Andy tackles the wild subject that is Ashley's marriage and all of her husband's antics including the alleged infidelity during the girls' trip to the lake.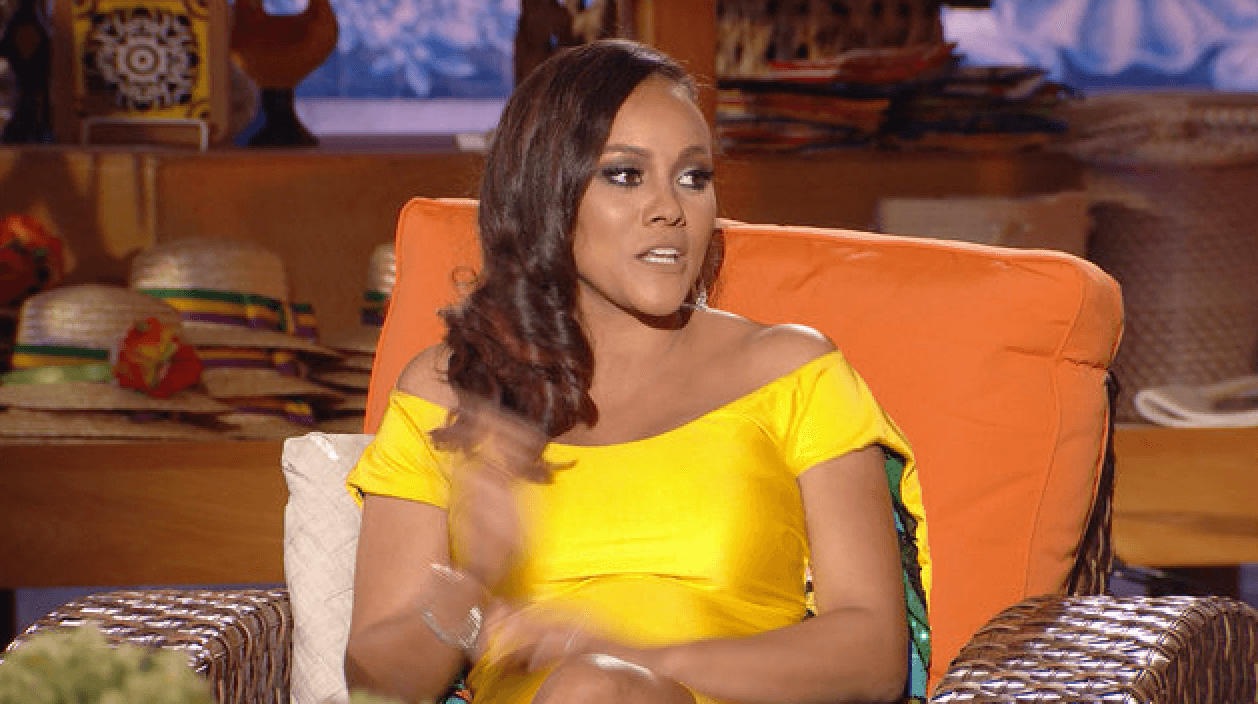 According to Ashley, Michael has really "stepped up to the plate" after almost losing his family due to his bad behavior. She says he is also "really excited" about baby number two. Unfortunately, he is noticeably missing from the reunion, but Ashley has an answer for that too. Apparently, Michael is attending a wedding in South Carolina for someone very close to him. 
Ashley also fields questions about her bout with postpartum depression and whether or not she's worried about it the second time around. Ashley says it took about six months to feel any sort of normalcy after the baby was born and that she's preparing herself for those same feelings with baby number two should they resurface. She says it also took months for the rip in her anus to repair itself as well. YIKES.
Ashley drops a bomb, however, when she admits she's had her own indiscretions in the past and that's why she's so understanding when it comes to Michael and his bad behavior. When asked if she has an open marriage, Ashley denies that but says that they have engaged with others when they were together.
As for the night, while Ashley was away, Ashley says that Michael maintains that the two did sleep over but did not engage in anything physical except for the make-out sesh in the Uber ride to the hotel.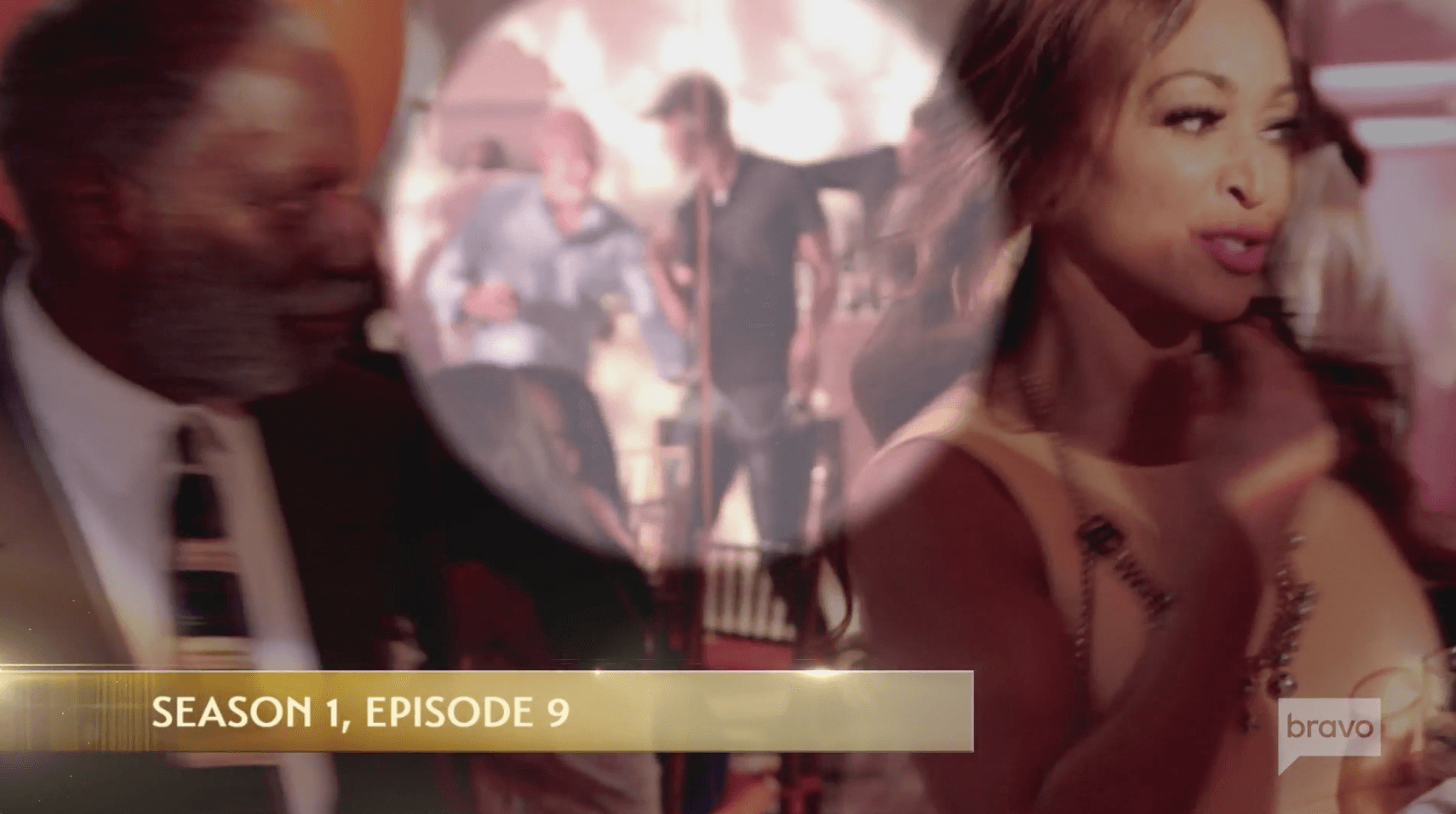 Andy also brings up the footage that has surfaced of Michael squeezing a producer's bottom during a party. Given the lawsuit, in which he was accused of doing the same thing to someone else, this is not a good look for ol' Mickey Darby. 
Andy finally asks Karen Huger the question we've all been waiting for: "Do you have a disdain for Ray's dick?" Karen is adamant that she does not and says that even being accused of that is disgusting to her. 
Andy switches gears to Monique. First, he addresses the scary moment when T'Challa went missing though some of the other ladies (ahem, Candiace and Robyn Dixon) didn't appear to believe he was actually missing. 
Then Andy moves on to the rumors about Monique cheating with her trainer. According to Monique, the rumors stem from an ex-friend that she filmed with during season two who later took the rumor to former cast member, Charrisse Jackson Jordan, who then delivered it to Gizelle. Gizelle then made it her personal mission to bring it out on the show. But the rumors unfortunately didn't end there. According to Monique, not only did they accuse her of having an affair, but that she also got pregnant by her trainer. And there ya have it, folks. 
The dreaded wine bar brawl then comes front and center to the discussion. While Gizelle and Robyn believe that Candiace had no malicious intent by inviting Charrisse to her anniversary party, Karen admits that it was "questionable" given the backstory. 
Monique confesses that she did overreact about the fire pit incident and Candiace not joining in on her activity, but maintains that it was all due to a buildup from other instances in which she felt like Candiace did her wrong.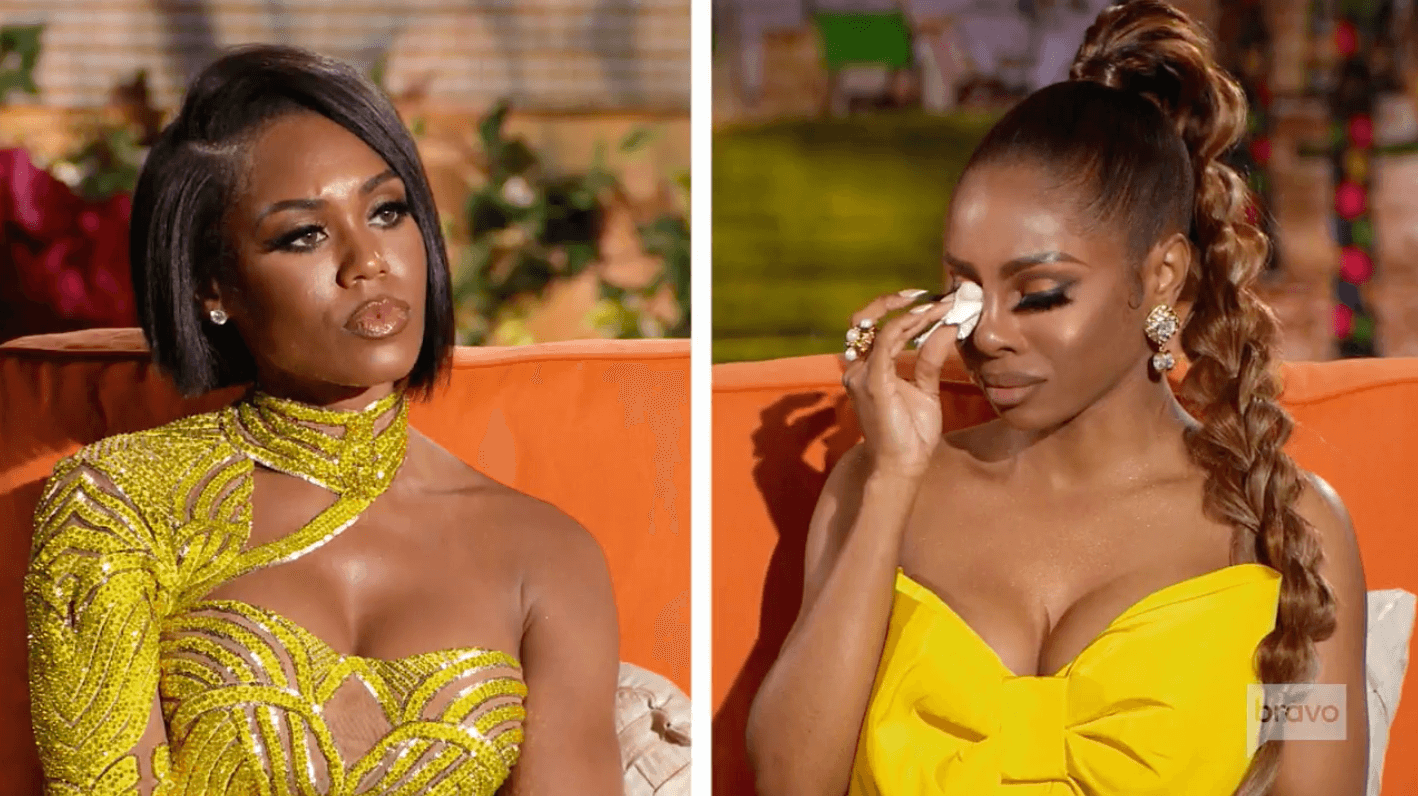 Regarding the altercation, Andy brings up the hand that was caught in the footage pushing Monique right before things took a turn for the worse. Gizelle cops to that being her hand but says that she did not push Monique but rather placed her hand on her shoulder to stop her. 
Press play below to watch All About The Tea's Real Housewives of Potomac recap on YouTube and SUBSCRIBE to our channel.
Candiace, aka Post-It note, breaks down over the traumatic footage Andy shows on the screen and immediately squeaks out some crocodile tears while furiously dabbing them away with her triangle tissues. After going on and on about how she feels that Monique drove the narrative that she deserved what she got, she then promptly excuses herself saying that she can't discuss it anymore.
Tune in next week for the final part of the reunion complete with the husbands! Dun dun dunnnn.
Stay Connected With All About The Tea: Twitter Ι Instagram Ι YouTube Ι Facebook Ι Send Us Tips
Amanda Byerly focuses on Reality TV recaps for All About The Tea. Amanda is a 30-year-old wife, mother and self-proclaimed Bravo TV junkie. When she's not watching Bravo, she's writing about it, reading about it, or listening to podcasts about it. "I get by with a little help from Bravo TV."