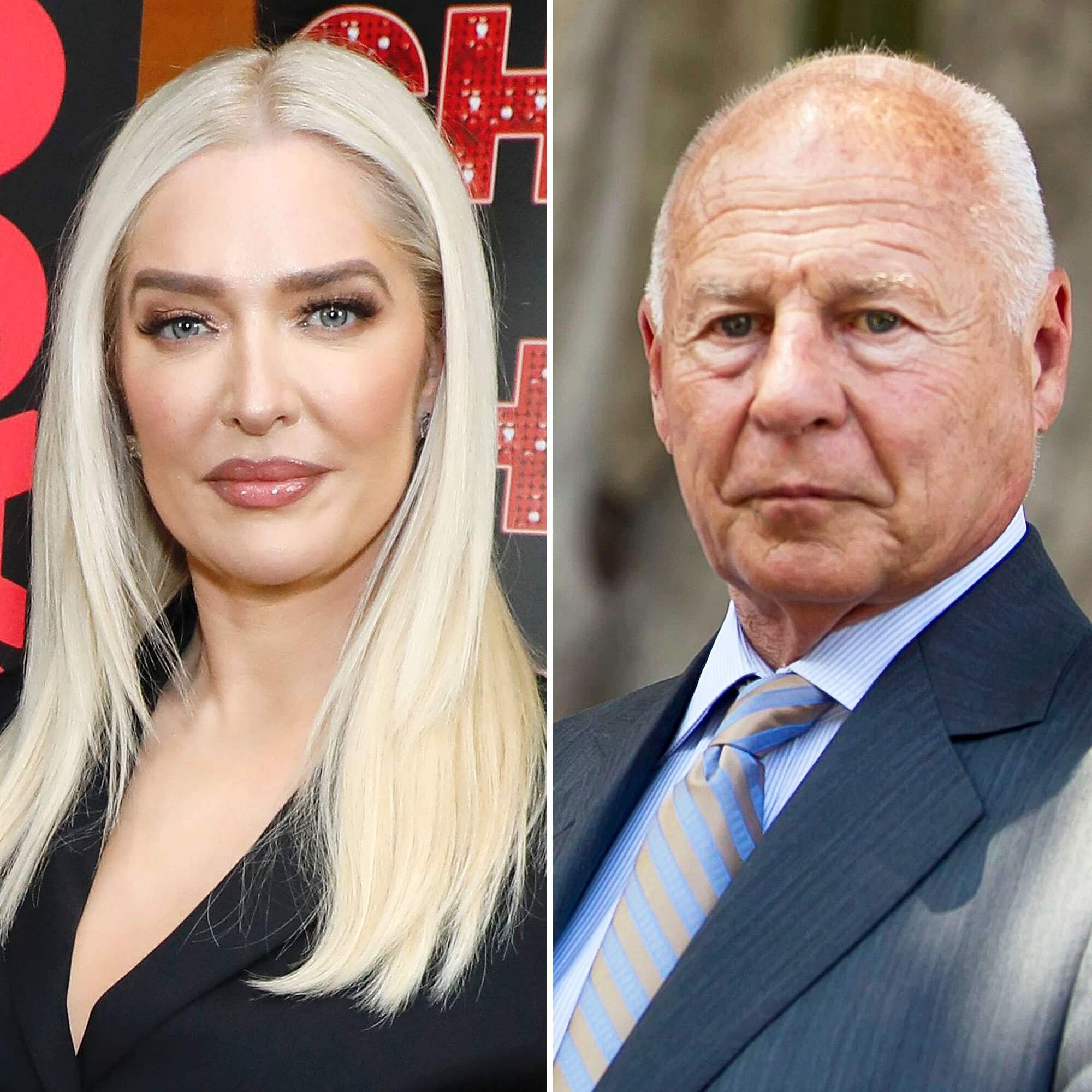 Erika Jayne took to social media to call out Tom Girardi's alleged mistress but many Real Housewives of Beverly Hills fans believe she's trying to distract from her legal troubles.
RELATED: Tom Girardi Testifies He's Broke & Erika Jayne FORCED To Sell Her Designer Closet Online!
Erika Jayne, 49, posted-and-deleted several text messages from an old cell phone of Tom Girardi —allegedly sent from California judge, Justice Tricia A. Bigelow.
"This is Justice Tricia A. Bigelow. She was f–king my husband Tom Girardi and he was paying her Saks bill and paying for her plastic surgery." The post captioned.
The messages include telling the married lawyer, "Tonight was fantastic. Really. But it would be a whole lot better if I were f–king you."
Another message read, "MIss you babe. Makeup sex?" along with several requests for Girardi to pay a Dr. David Matlock, with Bigalow threatening, "I can ask my new boyfriend to pay if it's a problem. He's got big dough."
Tricia A. Bigelow is a judge for the 2nd District Division 8 of the California Court of Appeal. She's had the position since 2008 after being appointed by then-Gov. Arnold Schwarzenegger.
However, many Real Housewives of Beverly Hills fans are not buying what Erika Jayne is selling.
Many onlookers believe the reality diva is trying to distract from her current legal drama involving, Tom Girardi's multiple lawsuits accusing the couple of fraud and embezzlement.
One person wrote, "You're only posting this to distract everyone from talking about Tom's lawsuits."
Another stated, "I'm not buying this at all. You're not slick, Erika. You just want to deflect from the money Tom stole from the airplane crash victims."
Someone pointed out, "Your timing is highly suspicious. The judge just froze all your assets and shut down your online store, so you posting this as a distraction."
RELATED: Erika Jayne Online Clothing Sale SHUT DOWN By Court Order Amid Tom Girardi Asset Freeze!
Another fan of the show noted, "You are a liar, cheat, and a fraud. This means nothing to me. I still believe 100% your divorce filing is an attempt to hide assets from the court."
As reported, Chicago law firm Edelson PC asked U.S. District Judge Thomas Durkin to order Erika Jayne to cease all sales of her online clothing store with the intention of collecting missing funds owed to the families of the victims who lost their lives in the Lion Air Flight 610 crash. 
This comes after Tom Girardi filed a motion with the court claiming he's broke and incompetent.
According to court documents Tom Girardi testified this fall that his creditors have an inflated view of his actual wealth, "At one point I had about 80 million or 50 million in cash. That's all gone. I don't have any money," the powerhouse lawyer stated in court documents.
Tom and Erika have been hit by multiple lawsuits, accusing the couple of mishandling client funds. As reported, a judge recently froze Tom's assets on behalf of Lion Air flight victims.
Tom's lawyers alleged that the famed attorney suffered a "serious illness" that required hospitalization in recent months. They claim that the illness was behind the "mistake" that caused the families not to be issued the settlement payments, in full.  
Tom and Erika Jayne are in the process of divorcing, after the reality star filed documents on November 3. 
The Real Housewives of Beverly Hills is currently in production.
Stay Connected With All About The Tea: Twitter Ι Instagram Ι YouTube Ι Facebook Ι Send Us Tips