'RHOC' RECAP: Braunwyn Windham-Burke & Kelly Dodd Get Heated Over Racial Inequality On 'RHOC'
We start this week's Real Housewives of Orange County with Emily Simpson having Covid. She tells Kelly Dodd that she and her kids are fine, but husband, Shane, is now sick in bed. This means Emily must cancel on the cast trip. If things go left on vacay, Emily tells Kelly to Facetime her so she can watch the drama from afar.
At Braunwyn Windham-Burke's house, she complains to her husband, Sean, that the other women will be drinking on the upcoming trip. Will she be able to resist booze and stay sober?
At a three-story villa in Lake Arrowhead, Kelly arrives first. She calls Gina Kerschenheiter, giving her a description of the layout of the house. Though the house may be large and have great views, it's decorated in a rustic style and one of the bedrooms has four bunk beds. The artwork consists of a badly painted canvas featuring raccoons.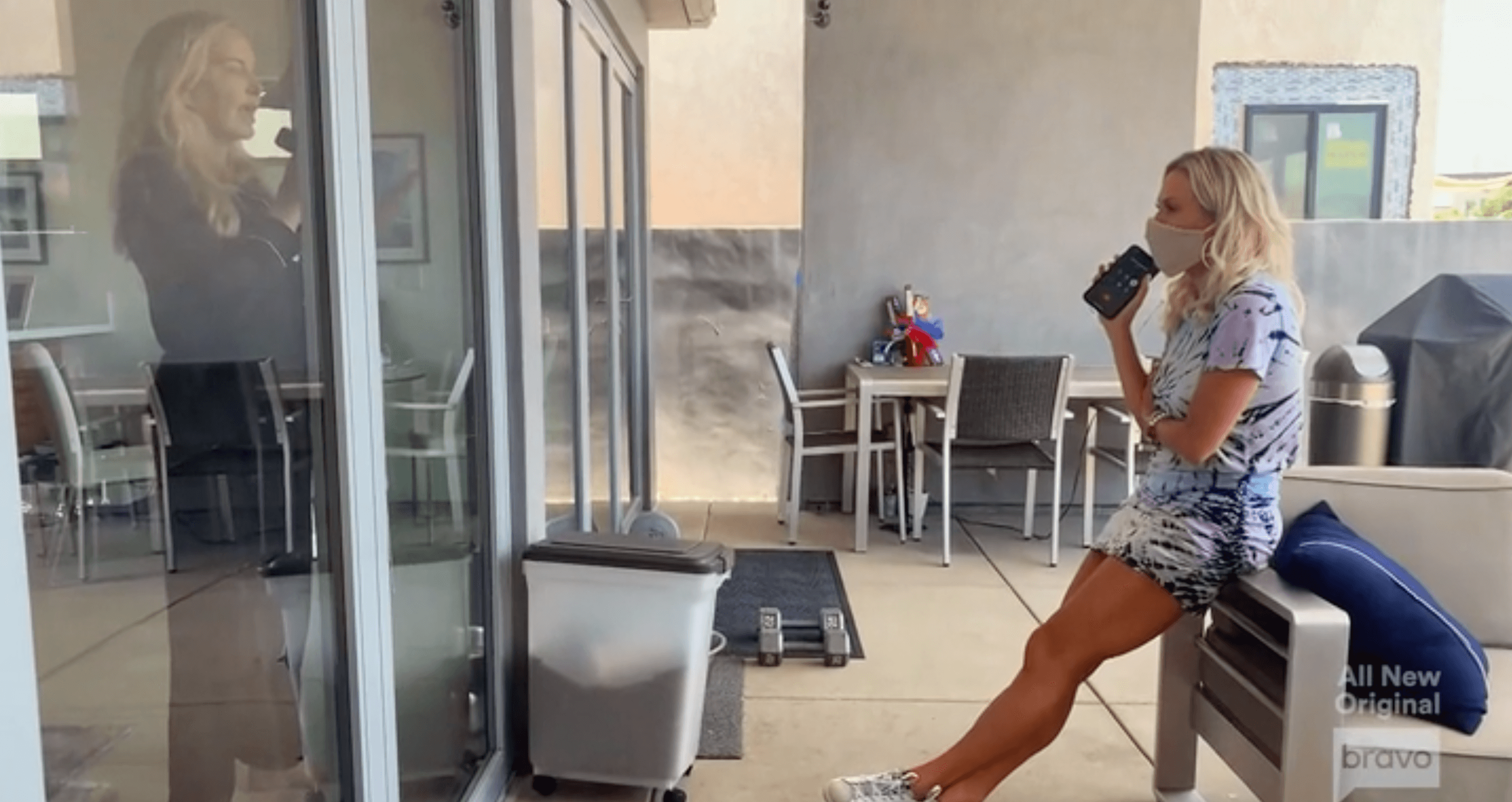 Braunwyn stops by to see Shannon Beador. They speak through their phones and look at each other through the window. All of Shannon's kids have Covid, and though she tested negative, she's not feeling well. She now must isolate from the three girls and stays at John's house.
Elizabeth Lyn Vargas arrives at the lake house next. She follows Kelly into the kitchen, where Kelly begins to unpack her supplements for IBS, including protein powder and apple cider vinegar. I think Shannon and her hypochondriacal ways have rubbed off on Kelly.
When Gina arrives, she gets the master bedroom. Normally, she shares a small condo with her partner, Travis, and six kids, so she deserves the extra space.
The women decide to have a cocktail. They wonder if they'll be able to drink once Braunwyn arrives. 
The other problem with Braunwyn is that she instructed Kelly and the other women to quarantine before they all joined each other on the trip. But Braunwyn and Sean attended a pool party in the days leading up to the trip, and Elizabeth has a video proving it.
When Braunwyn walks into the house, the women half-heartedly greet her. She wonders why the other women aren't wearing masks. She says she's been sequestered in a bubble with her family and no alcohol. Now, she's face to face with bottles of booze for the first time since her vow renewal.
Kelly immediately questions why Braunwyn went to a party when she told everyone else to quarantine. Braunwyn defends herself, saying she called Kelly after the party. She didn't realize she needed to isolate, and when she found out, she left the party immediately. In her diary interview, Braunwyn accuses Kelly of skewering the facts.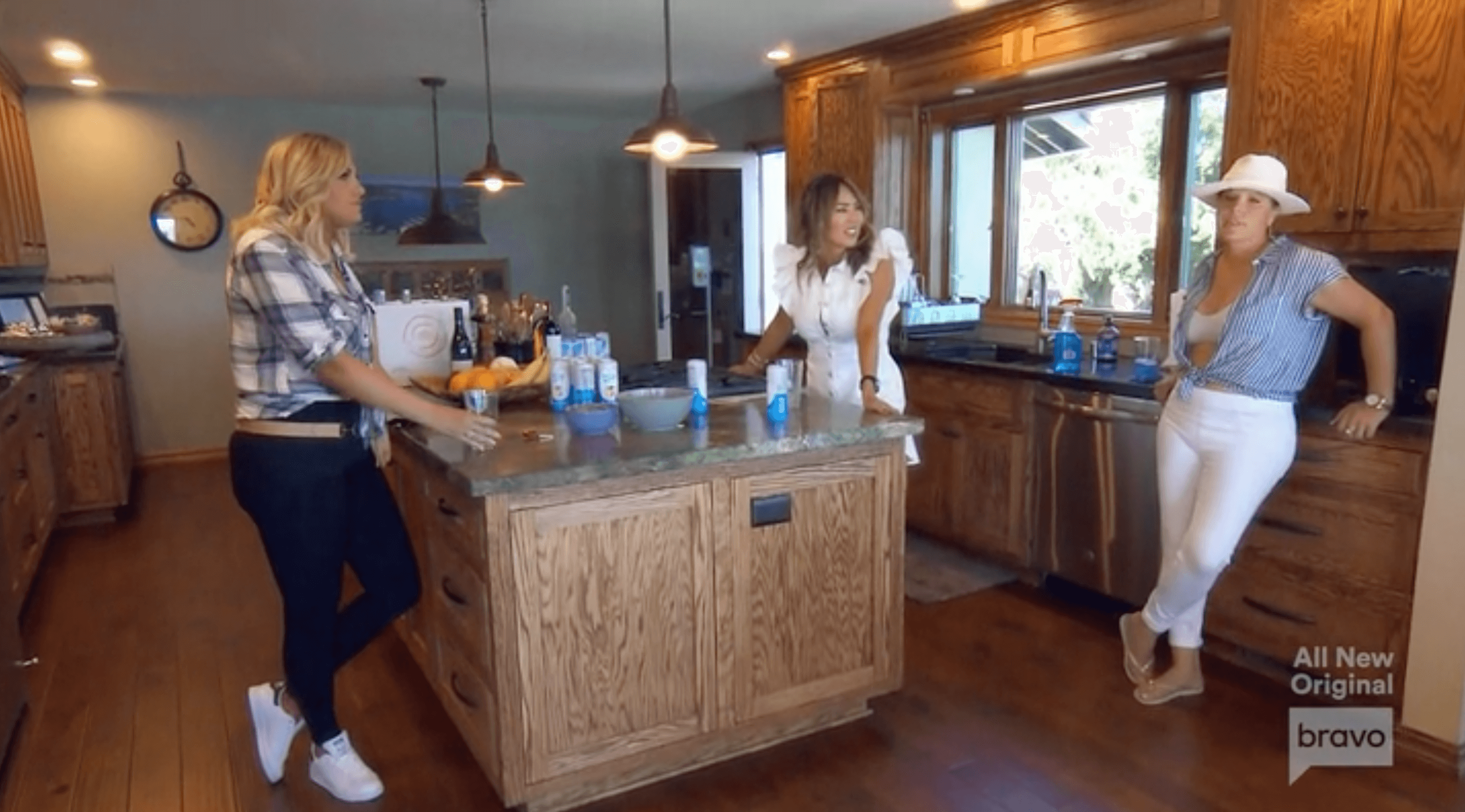 Talk turns to Shannon. Gina doesn't understand why Shannon allowed John to come and go, as well as all the kids (his and hers) when she's immunocompromised. At this point, Braunwyn abruptly heads toward the back door. Gina asks why she's leaving, and Braunwyn says she refuses to talk shit about Shannon while her family is sick.
At this point, Elizabeth calls bullshit. Braunwyn spent last week's episode digging into Elizabeth's financial past. She found out the Elizabeth has taken out loans on her house and defaulted on one of them. Kind of hypocritical to lecture the other women when Braunwyn's guilty of shit-talking, too.
Back in the OC, Shannon is taking tons of supplements. John teases her as she overreacts to the bad taste. In the meantime, Sophie has made a quarantine countdown. The girls are baking and spending time together, but they miss Shannon.
When Braunwyn tells Gina she doesn't feel good talking about Shannon behind her back, Kelly says Tamra and Vicki talked smack about her all last season, yet Braunwyn never said a word. I think we remember all those train rumors.
Braunwyn needs to speak to Kelly, to figure out why the other woman is so angry with her. Gina informs her that Elizabeth's not too happy with Braunwyn, either. She chides Braunwyn for trying to dig up dirt on Elizabeth.
Kelly tells Elizabeth (in the bunk room) that Braunwyn is trying to make herself look good on camera. She doesn't buy Braunwyn's BLM activism, either. She thinks it's all fake. Elizabeth agrees. Then Kelly accuses Braunwyn of having a professional photographer on call to take pics of her protesting.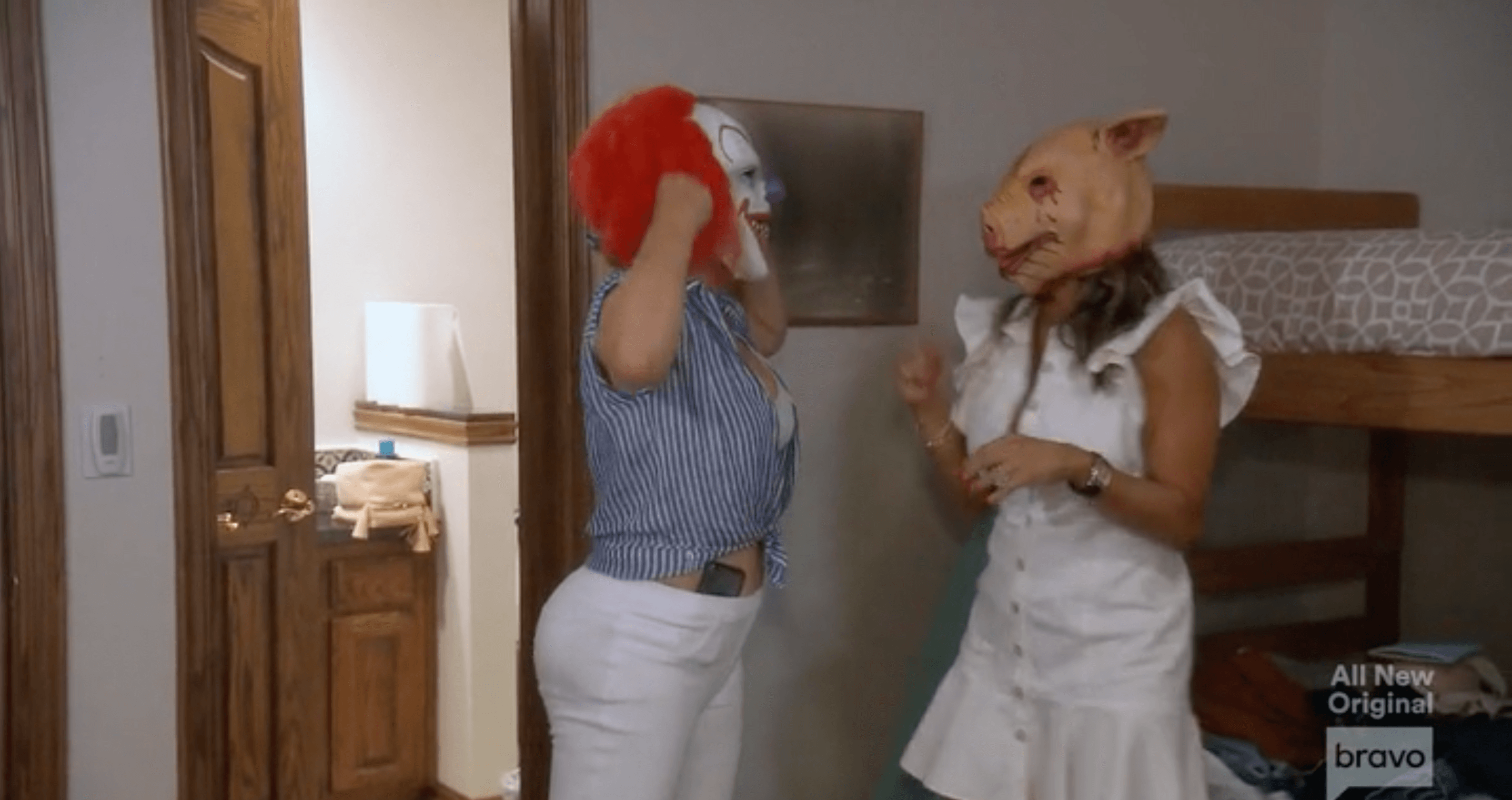 Kelly has brought scary masks to scare Gina later. Kelly dons a pig mask and says, "I'm Vicki!" Not nice, Kelly!
Shannon and John Facetime her girls. They're on their own, but they still must take care of themselves, so Shannon has supplements delivered to her home and instructs the girls to take them all, including the Vitamin C. Oh, and go through the fridge. Anything with an overdue expiration date has to go. The girls are barely paying attention.
Shannon's kids are achy and have no sense of smell. Why didn't they tell her about their symptoms earlier? Because they were afraid to admit they snuck out of the house to attend a party. I don't blame them. Shannon can be scary. Not as scary as Kelly's pig mask, but still.
Back at Lake Arrowhead, Braunwyn and Gina are having a convo. Gina encourages Braunwyn to check out the bedrooms, but Braunwyn isn't staying in the house. She's got a room in the resort so she can go to bed at ten and not have to deal with the women once they start drinking.
Braunwyn says her marriage is in trouble. She and Sean haven't had sex in forever. She hated being stuck at home with him during quarantine. They had a long talk, and Braunwyn didn't know if they'd end up together or apart. Ultimately, they decided to put in the work and stay together. (We see how long that lasts.)
Gina can smell the trouble in Braunwyn's marriage. Even their vow renewal felt sterile. We see a flashback of how unenthusiastic Braunwyn acted during the ceremony. 
Gina says Sean is sticking it out and supporting his wife. What more can she ask of him? Braunwyn confesses that she's asked Sean why he didn't take the kids from her and leave. Because he was afraid she'd die. At least if he was in the home, he could keep an eye on her.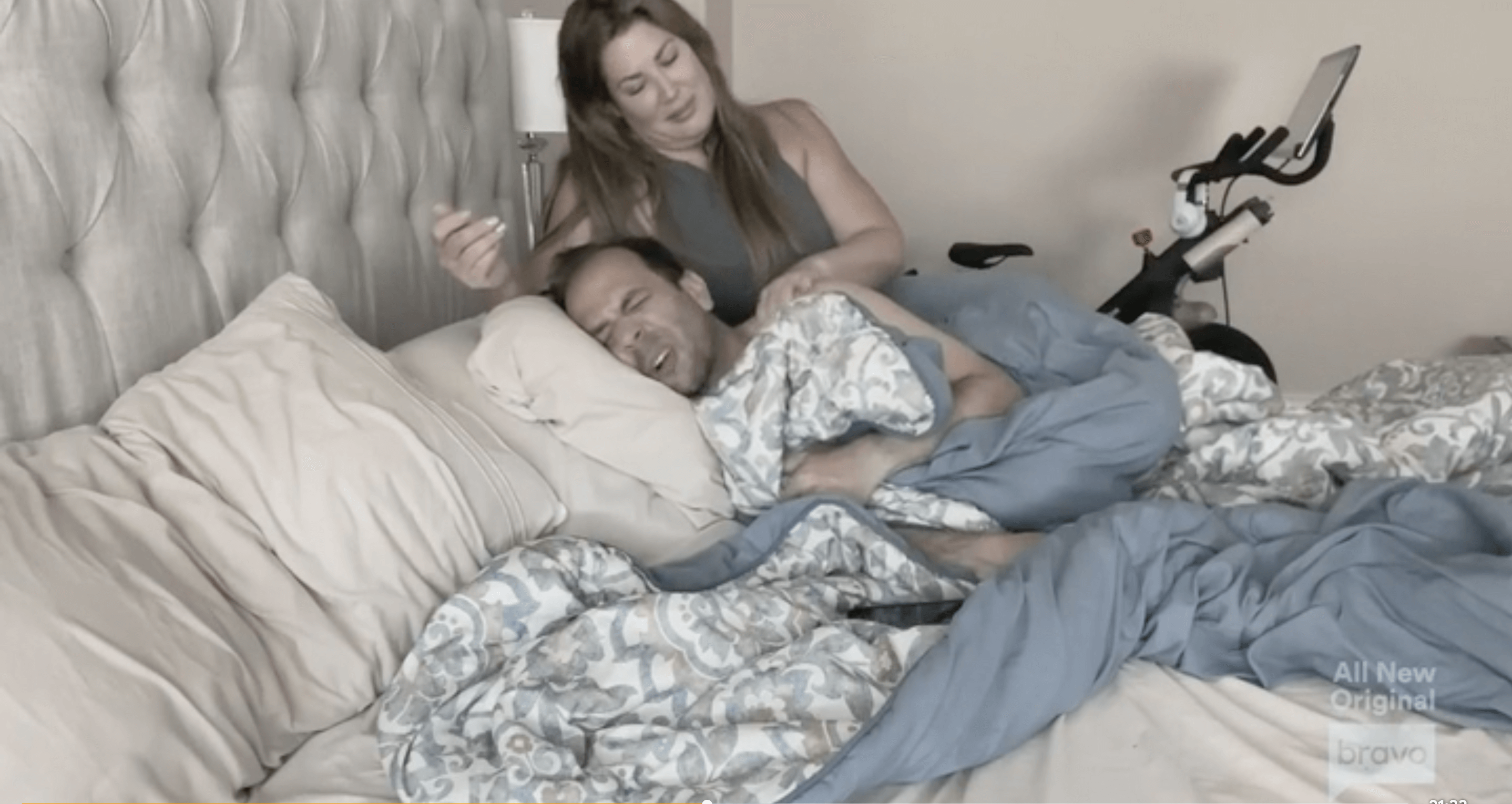 At Emily's house, she's checking in with Shane. While she has few symptoms (just low energy). Shane tested negative, he can't get out of bed. When he asks why she didn't bring him lunch (lunch being ice cream), Emily says she can call his mom to bring some. But that would make him a mama's boy. Shane winces.
It's obvious Shane and Emily are in a better place this year. She's even giving him props for keeping his sense of humor in the time of Covid. 
At this point, the kids are scrambling for Emily's attention while she's trying to take care of Shane. It's exhausting!
At the lake, the women trek down to the beach. Gina has a fear of water, but she's putting on a brave face and promises to dip into the lake. 
You know what else Gina hates? When people laugh at their own jokes. Elizabeth does it a lot. Gina assures Braunwyn that she's much funnier now that she's sober. Kelly disagrees. A drunk Braunwyn is a fun Braunwyn!
Braunwyn hops on the paddleboard, while Kelly critiques her performance. She says Braunwyn sucks at it. When Kelly hops up on the board, she quickly falls into the water. Hello, karma!
Gina gathers her courage to get on the paddleboard. She climbs on behind Elizabeth, and they both immediately fall into the water. Gina scrambles back to the pier, scared something is going to come up from the depths of the lake and get her.
Meanwhile, Kelly calls Shannon. She fills Shannon in on Braunwyn's bad attitude and the argument they had. As Kelly calls Braunwyn self-serving, guess who comes out of the water and overhears the conversation? Yep. Braunwyn. Kelly's floppy hat keeps her from noticing until it's too late.
Back home, Emily is now in tears. Shane has gotten worse. He can't breathe, and he's got a fever. The stress and fear are getting to her.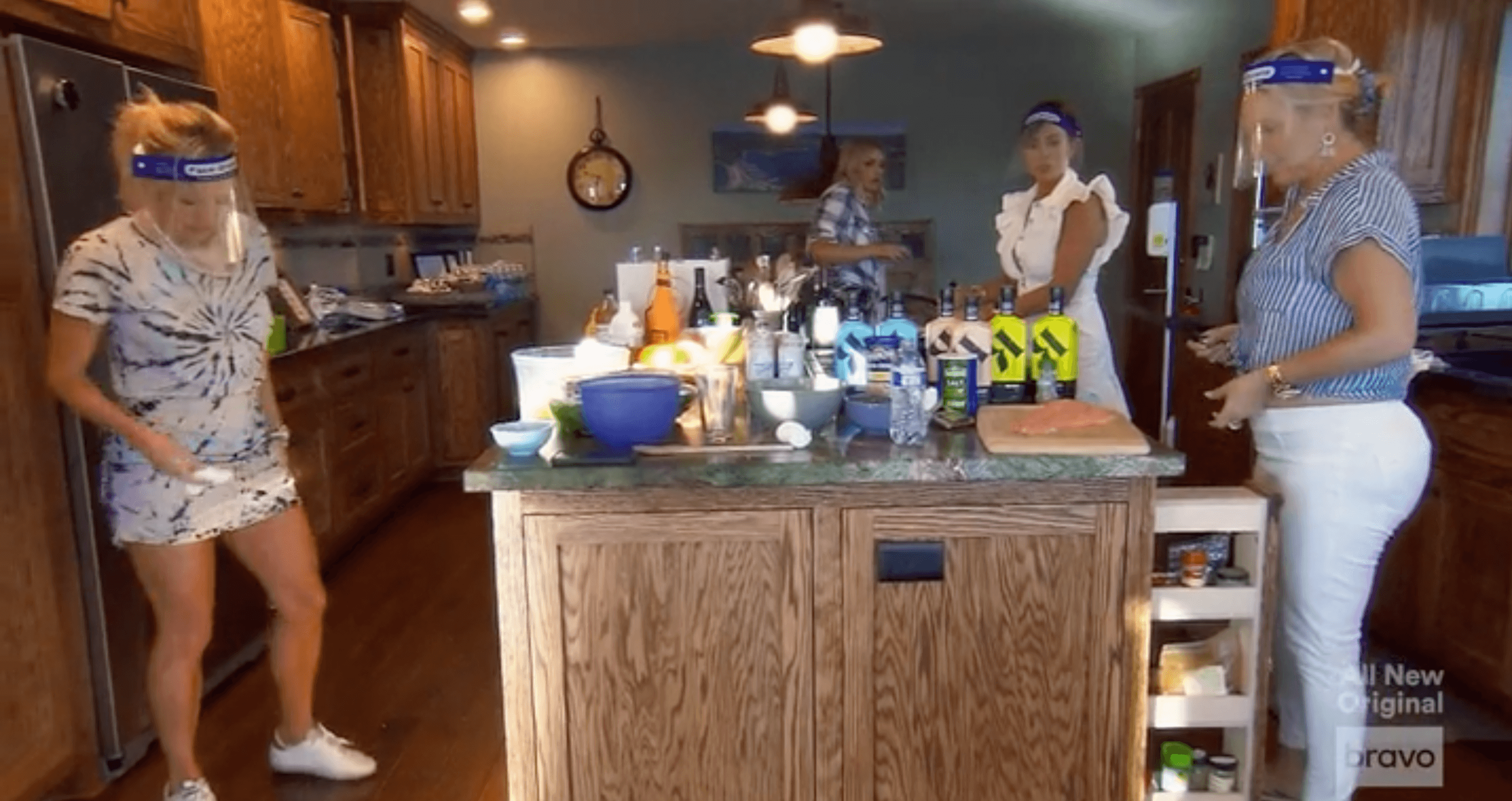 In Arrowhead, Kelly is taking charge of dinner. The women don face shields to cook, even though they've been near each other all day. When they complain about not being able to see through the visors, Gina shows them how to peel off the protective film.
The other three ladies are trying to chop onions and roll out dough. But they're hopeless. Kelly wonders why they can't cook a simple meal. By the time the wet whisk hits the floor, Kelly's ready for a cocktail.
Braunwyn's jealous. All she wants is a drink. She steps outside to call Sean. When one of Braunwyn's fifty-three children answers the phone instead, she berates Sean, saying the one thing she asked him to do was keep his phone nearby.
Braunwyn feels she's being a buzzkill. She's not sure she should have come on the trip. Abstaining is harder than she thought it would be.
Emily takes Shane to the hospital. His oxygen is low, and they're giving him meds through an IV. She's worried he won't pull through. And she can't be there for him. So, she sits outside the hospital and waits for Shane to call.
Emily phones Shannon. Shane has been coughing up blood. He thought he might be having a gall bladder attack, but she's certain it's Covid. This terrifies Shannon because Shane's healthy while Shannon has scarred lungs.
As dinner cooks, Kelly wants to watch Rick on TV. They discuss his new job in the OC, which he likes. Though one of Rick's daughters claims he's conservative, Kelly insists it's not true. He's just a fair journalist who doesn't let politics sway the way he reports a story. Oh, and by the way, he's not conservative in the bedroom, either. TMI, Kelly!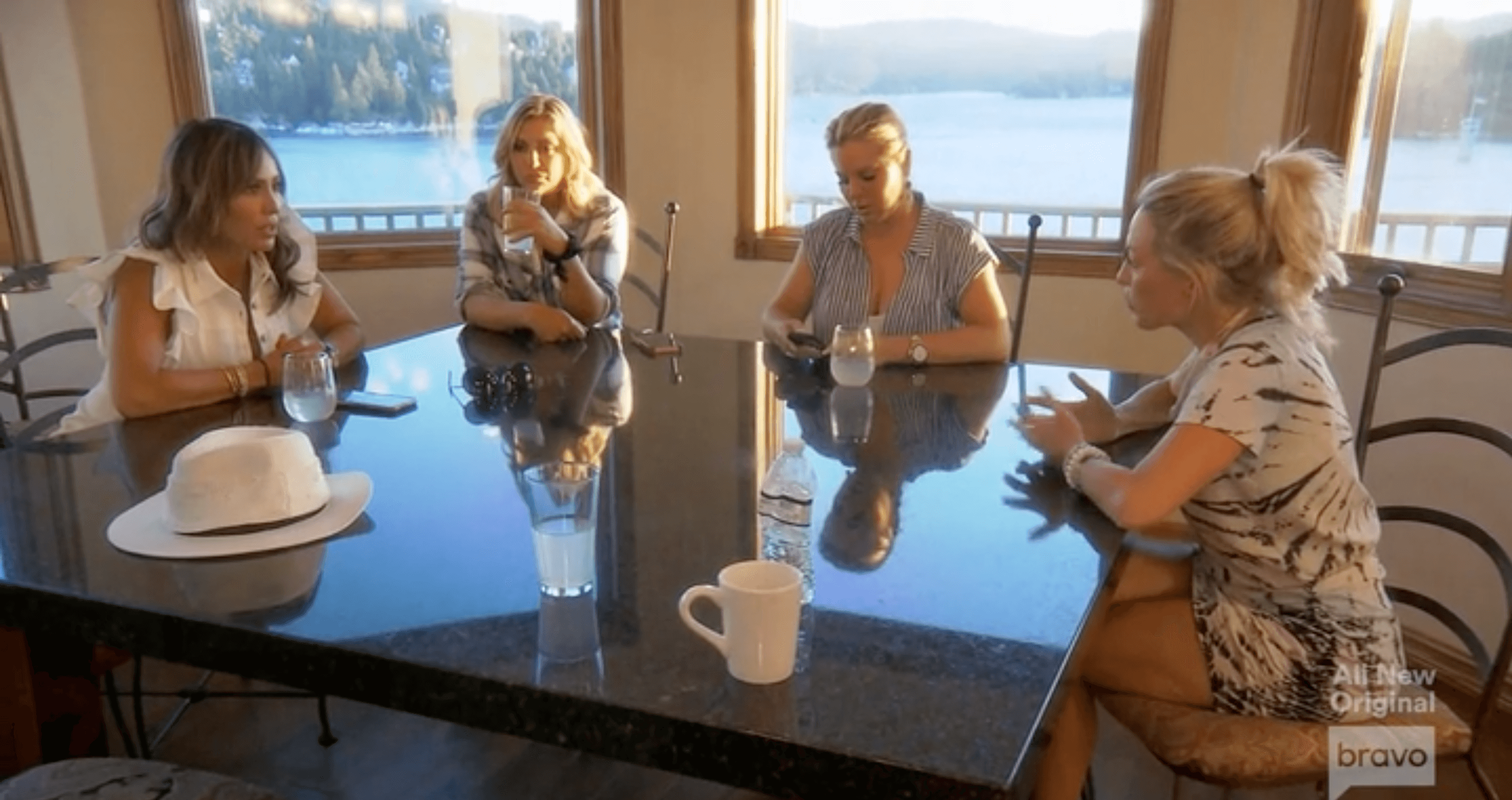 Rick doesn't believe you should rewrite history or tear down old statues, either. Braunwyn thinks some statues are offensive to people, so they should come down. Are you going to tear down Rome and the Coliseum, Kelly argues? People need to remember history. Braunwyn says statues don't educate people.
Braunwyn sticks to her guns and tells Kelly to stop belittling her. Kelly believes Braunwyn is sheltered. She's never paid her own bills nor does she have a decent education. So, who is Braunwyn to lecture her, huh?
Braunwyn says black people are disproportionately killed by cops, more so than white people. But…Kelly's a minority. She's Mexican, after all. It's not the same, Braunwyn insists.
Gina interjects. When she was arrested for her DUI, she never feared getting shot by the police. She now wonders if she would have been treated the same if she was a woman of color. Elizabeth says she's only starting to understand her white privilege. 
The women stop arguing long enough to eat dinner.
When Elizabeth goes to move her car so that Braunwyn can back out of the steep driveway, Gina asks if Braunwyn plans on talking to Elizabeth about checking into the other woman's background. Gina thinks Braunwyn has spent her time in isolation being bored. She needs to channel all this energy into something positive.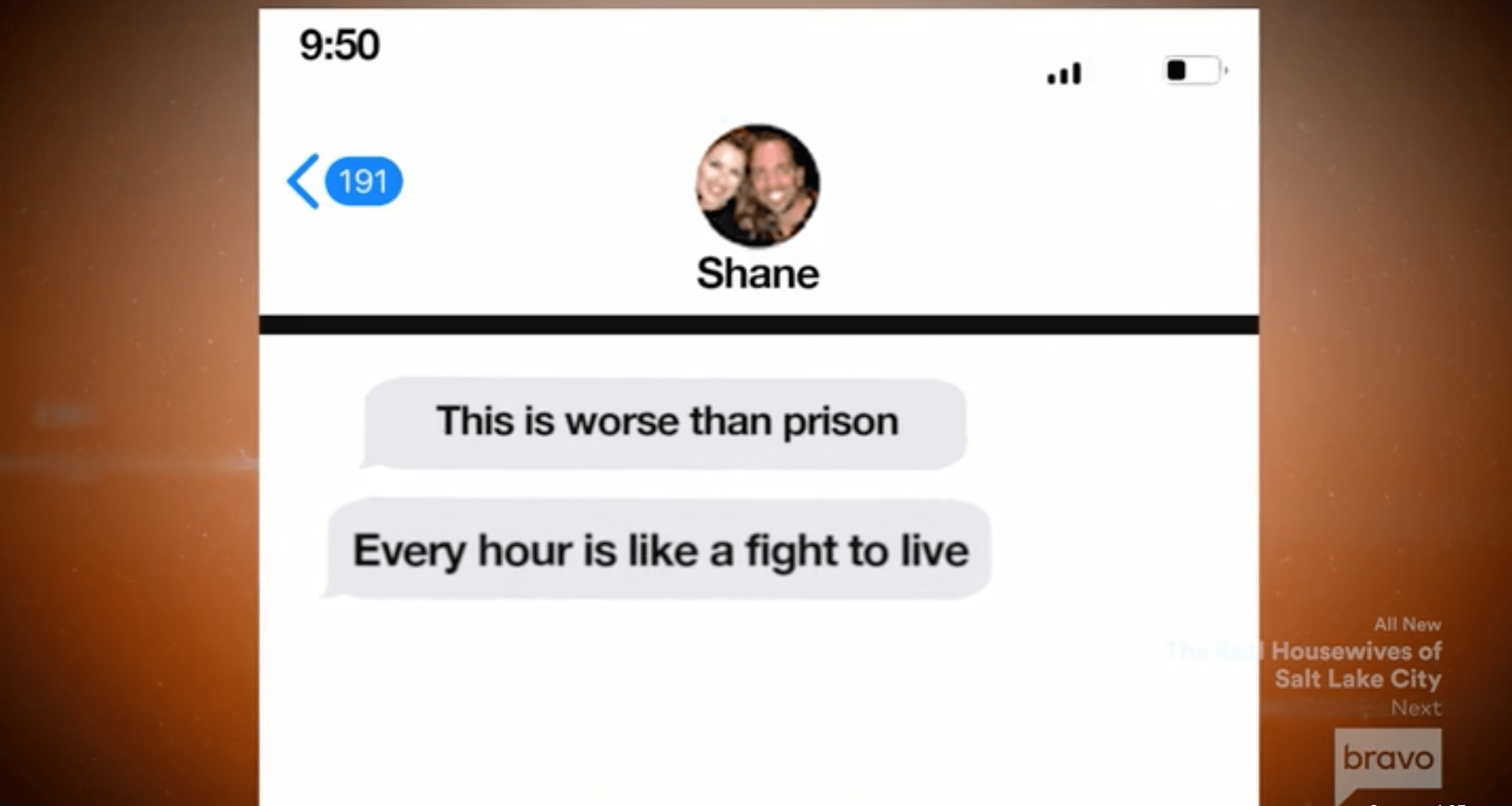 When Elizabeth steps back into the house, Braunwyn leaves. Elizabeth promises she'll talk to Braunwyn the next day.
In the master suite, there's a bug infestation. Poor Gina. The ceiling is black and moving. This is her one time to have a room to herself. Thanks a lot, nature!
Back in the OC, Emily gets a hospital update on Shane. He's asleep, but they won't tell her anything else. She's worried, tired, and anxious. Twenty minutes later, Shane texts and says every hour is a fight to live.
And that's our episode. So, do you think Braunwyn was more fun drunk or sober? Would you be scared to tell Shannon if you had Covid symptoms?
Stay Connected With All About The Tea: Twitter Ι Instagram Ι YouTube Ι Facebook Ι Send Us Tips
I'm a fiction writer by day and a reality TV addict by night.