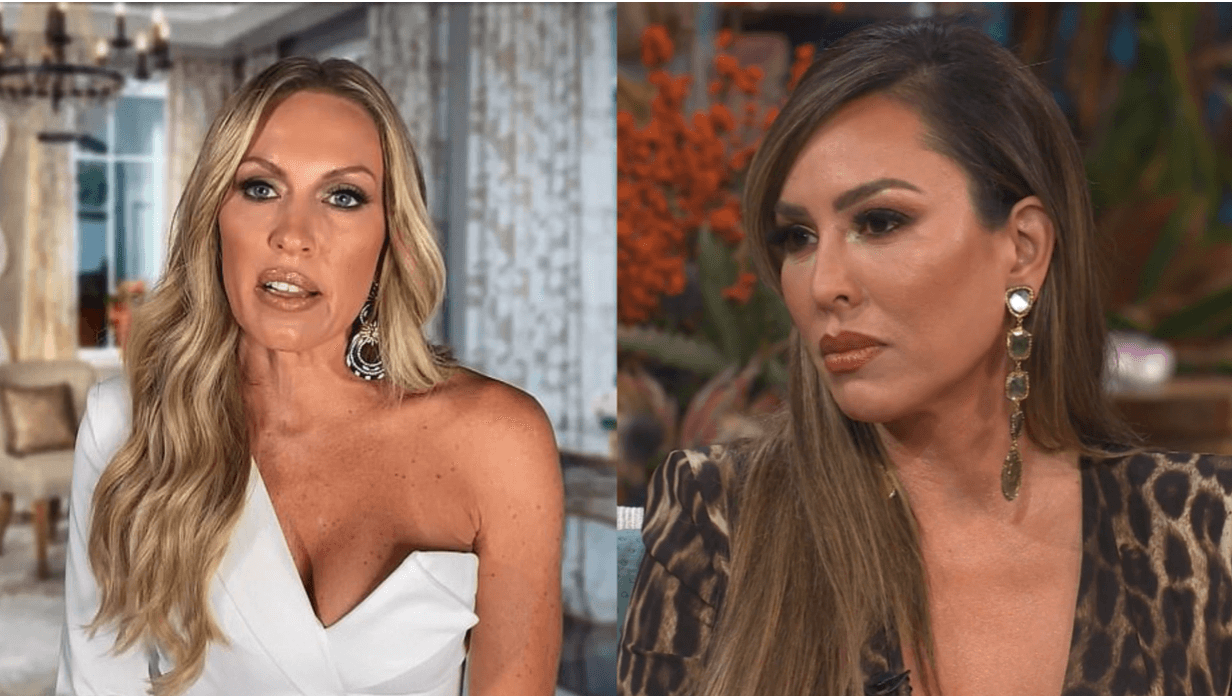 Braunwyn Windham-Burke is shutting down bogus claims made by her Real Housewives of Potomac castmate and frenemy, Kelly Dodd. 
RELATED: 'It's Fake!' Kelly Dodd DRAGS Braunwyn Windham-Burke For Faking Alcoholism!
Over the weekend, Kelly Dodd posted a series of tweets, claiming that Braunwyn was once placed on a 5150 psychiatric hold. In a now-deleted tweet, Kelly wrote, "I am not going to be blamed for her mental disorders, alcoholism, cheating, violence, & her children being depressed," Kelly began in the tweet, according to Page Six. "She's been in a 5150 hold."
Braunwyn Windham-Burke, who is a huge advocate for mental health, caught wind of Kelly's comments and shut down the rumors immediately.
"Good morning. So once again, I'm waking up, reading some stuff and honestly, there's certain people I work with that I'm shocked how much they get away with," Braunwyn said in a video posted to her Instagram Stories. "How many lies they're allowed to tell — how it seems like nothing really happens." Braunwyn continued:
"I just want to clear something up. I've never been on a 5150 hold. That's a lie. Not that there's anything wrong with that. You know, when I needed help 10 years ago, I checked myself in [for treatment]. So that's a different situation. But, 5150 holds are good for people who need them. There's no shame in that. There's no shame in mental health issues."
According to California law, a 5250 hold allows a mentally-ill patient to be involuntarily held for a 72-hour psychiatric hospitalization.
Kelly Dodd shot back at Braunwyn on Twitter, noting "You said it on camera at Lake Arrowhead. The others heard it too. Lying then or lying now? Pick one."
Kelly also deleted a tweet that mentioned Real Housewives of Beverly Hills alum Taylor Armstrong, who accused her late, estranged husband, Russell Armstrong of abuse. "Haven't they learned anything from Taylor Armstrong's late husband?" Kelly tweeted, comparing Taylor and Russell to Braunwyn and Sean. "Clean up your own house. Get help. Stop blaming others."
AllAboutTheTea.com reported that, during a sit-down on Watch What Happens Live, Kelly Dodd revealed that she doesn't regret her insensitive reactions to Braunwyn Windham-Burke's struggle with sobriety.
"I don't regret it because I think that her whole sobriety thing is contrived and I think it's fake," she told Andy Cohen who appeared shocked. "I don't think that she had seven kids so she could 'not drink' and I know her well enough that this was a pre-plotted thing that she wanted to do to get her own show. … She wanted to get her own show, her talent agent told her to stop drinking. It's all contrived. I don't believe that she is a real alcoholic, no. You'll see it after on at the end of the show, what happens. It's really good."
The Real Housewives of Orange County airs on Wednesdays at 9 pm, ET, on Bravo.
Stay Connected With All About The Tea: Twitter Ι Instagram Ι YouTube Ι Facebook Ι Send Us Tips