RECAP: Monique Samuels' Receipts Expose Gizelle Bryant's FAKE Relationship with Jamal On 'RHOP' Reunion!
Welcome to the highly anticipated Part 1 of the Real Housewives of Potomac reunion – color coded tabs and all. Let's get started, shall we?
The reunion starts with Andy Cohen taking a walk down memory lane and reviewing the ladies past looks. Everyone appears to agree that it's the Grande Dame, Karen Huger, that has changed the most during her time on the show, though she'll only admit to having filler injected into her nose. 
Ashley Darby discusses how she's working to get her groove back, even as a mother and six months pregnant with a second one. She admits that she feels as though her body is both Dean and her new baby's but that's not gonna stop her from wearing a shockingly revealing dress to the reunion. Let's just hope there are no wardrobe malfunctions to report.
Andy addresses the backlash about Gizelle Bryant's fashion and style choices but Gizelle acts as if she's unphased, citing that it's all Karen's fault as it came from her. Gizelle, honey, we all know what the inside of your home looks like. The jig is up. 
Karen admits that while Gizelle is a very beautiful woman, her taste "sucks." She is grateful, however, that Gizelle was able to provide her with some laughs during quarantine. Newcomer, Wendy Osefo, attempts to explain away Gizelle's bad fashion choices that because she suffers from "pretty girl syndrome" she simply doesn't have to try – so she doesn't. Even, Candiace Dillard-Bassett piles on stating that she really wished Gizelle could have just one day with a really amazing stylist. YIKES.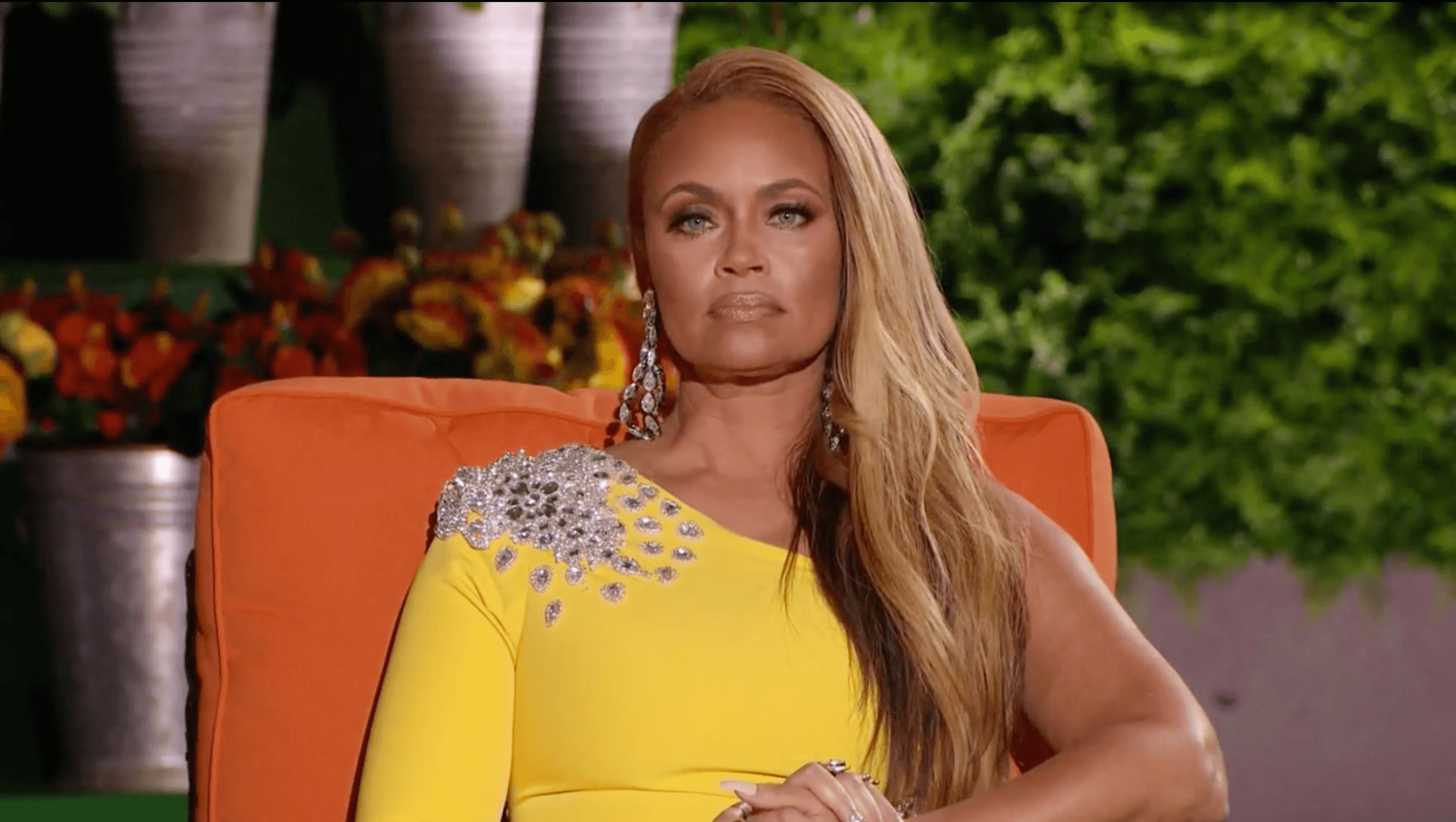 Andy asks Robyn Dixon and Gizelle how they've been able to keep their friendship for so many years while working in the Housewives' universe. According to Robyn, it's simple: they genuinely enjoy one another and look at each other as true friends as opposed to looking at each other for strategic purposes only. 
Andy finally moves on to Wendy and her four degrees. Lest we not forget. Cue the montage of Wendy referring to all four of her degrees in quite literally every scene she's in. We surprisingly learn that Wendy is still teaching at "THE JOHNS HOPKINS UNIVERSITY." (Andddd the university she talked about quitting over and over again.)
Ashley seizes the moment to explain that she feels as though Wendy uses her education and accomplishments in a way to bring others down. According to Wendy, however, that's all due to her Nigerian culture as they are a very proud group and education is number one for them.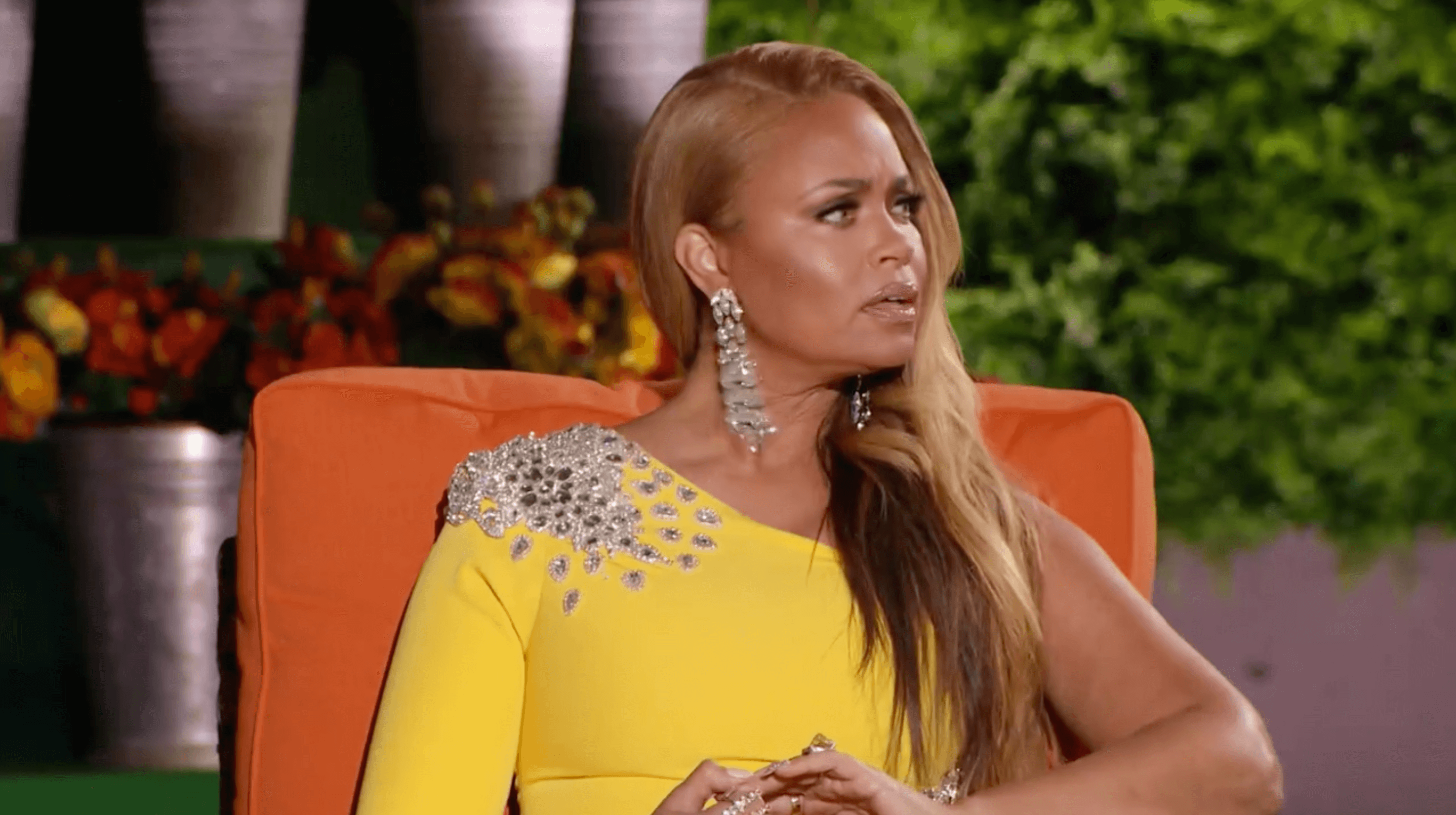 Andy confronts Gizelle about adding the word "floozie" when reporting back to Wendy that Karen referred to her as a "freelancing floozie." Gizelle cops to adding that word, to which Andy responds "That a big add." According to Gizelle, however, she only stretched the truth because Karen was gunning to get rid of Wendy from the get-go. Karen, however, is adamant that is completely untrue.
The topic finally moves on to Candiace and she immediately throws shade at Ashley for her singing endeavors. The two bicker back and forth as Candiace delivers a few low blows. Andy brings up Candiace's behavior on Twitter and even refers to her as "a disaster on Twitter."
Ashley then brings up a good point that the way Candiace harassed her on Twitter the day her baby was born could've been a great time for her to say that it was affecting her emotionally, etc. but she didn't. Ashley, dear, it's still not too late to throw some post-it-notes up on your bathroom mirror. "You ARE okay."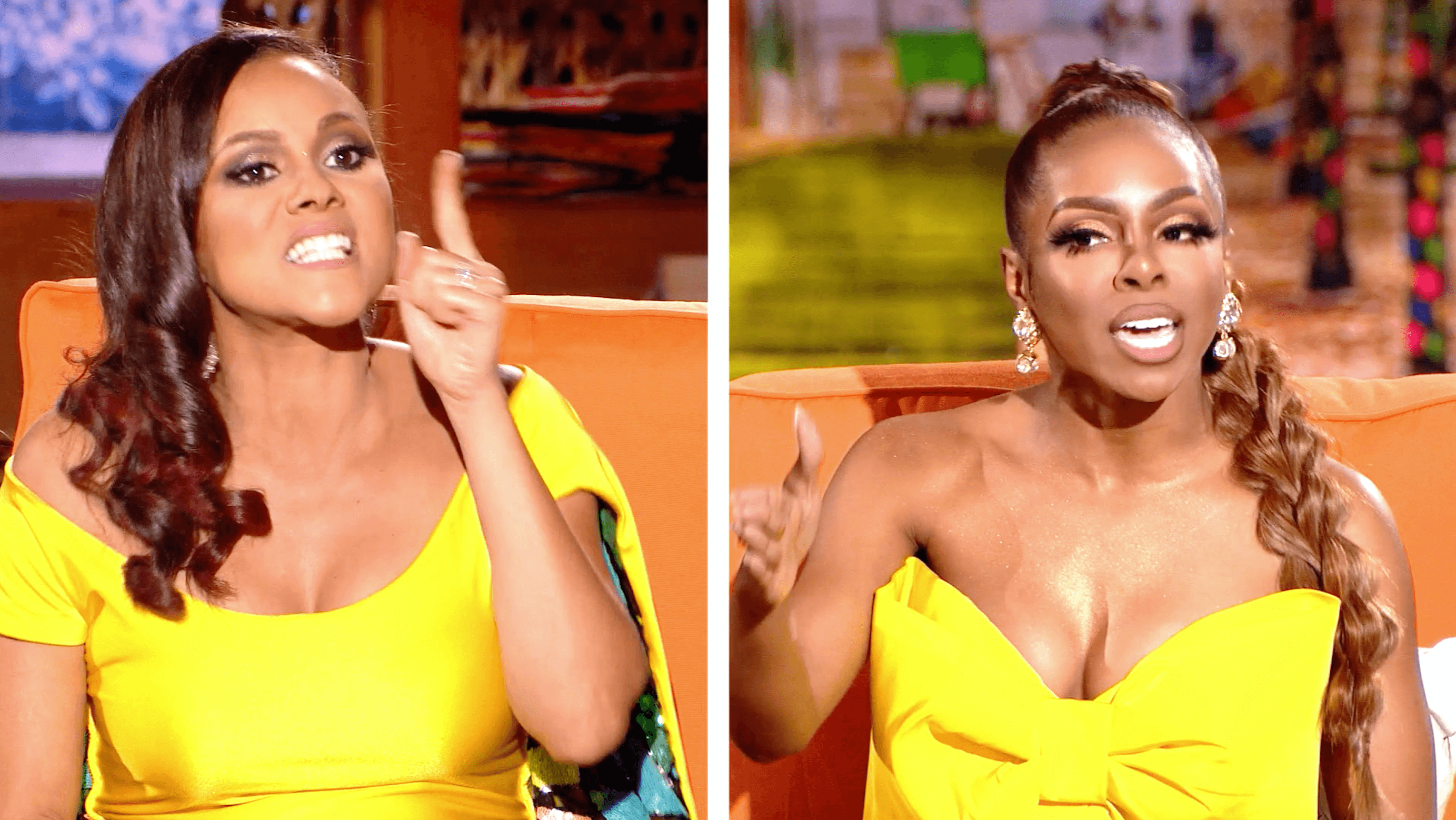 Andy brings up colorism and how it may or may not have played into the show. One fan asked if the Housewives believe that colorism has anything to do with both Candiace and Wendy being referred to as "aggressive."
The question appears to strike a nerve with Wendy who looks around the room at the rest of the ladies intently, waiting for them to respond. Monique maintains that it has nothing to do with color and everything to do with "judging the actions at that particular moment."
Wendy proceeds to accuse Ashley of using inflammatory language and buzzwords such as "aggressive" and "ferocious" which then cause a ripple effect and result in her being on the receiving end of hateful messages. "Understand it's a nod and a wink to certain people to say, 'Okay, this is what we're calling these women.'"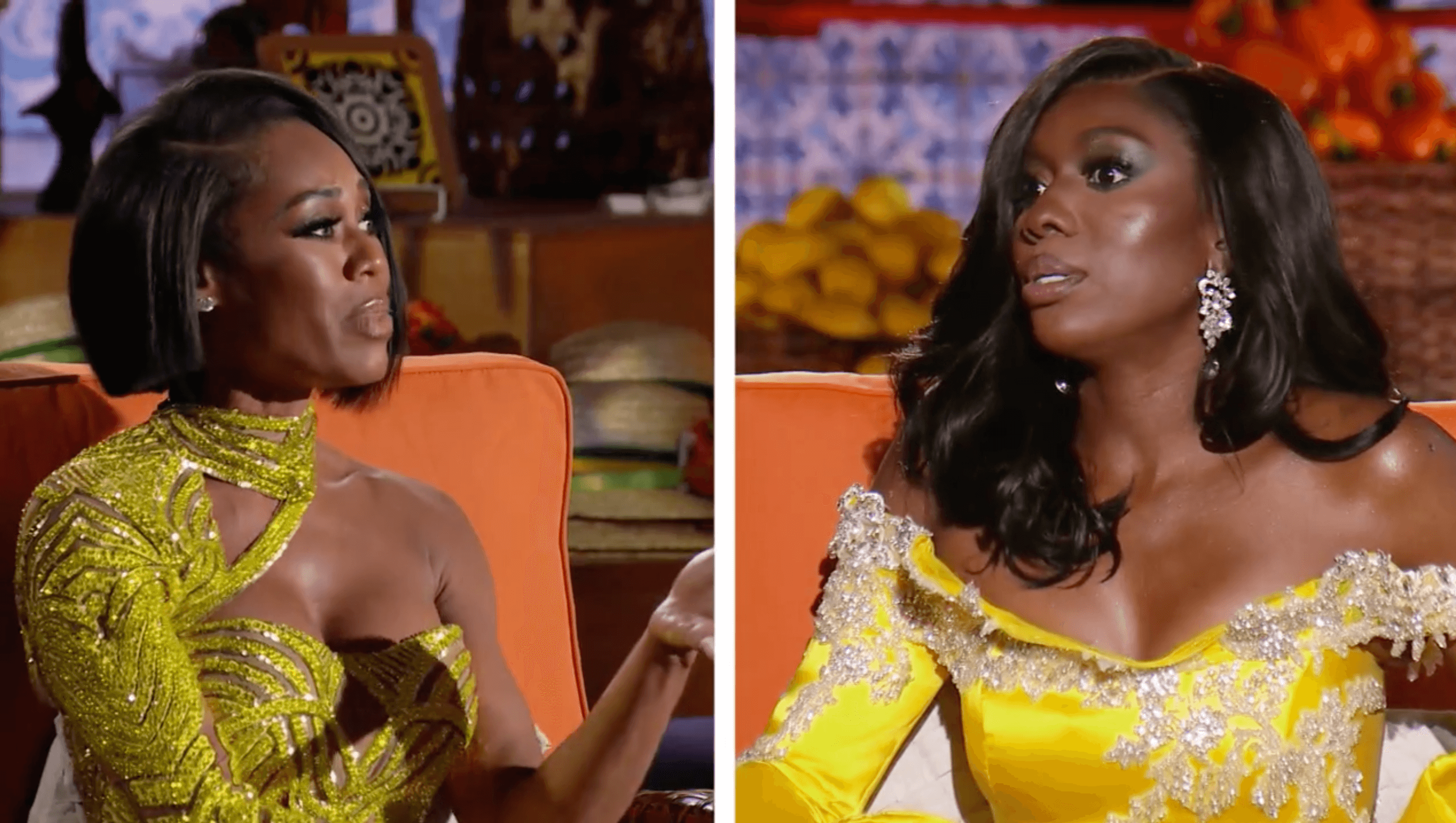 Andy then unknowingly sets it all the wayyyy up when he asks Wendy what the proper way would be to refer to a woman of color who is indeed behaving aggressively. Before Four Degrees can answer, Monique Samuels respectfully interjects, "Hood Rat or ghetto – as they call me. Maybe that's a better terminology." Anndddddd mic drop. In that very moment, maybe for the very first time in her life, Dr. Wendy Osefo is rendered speechless, because she KNOWS that Monique has a valid point. 
Andy then switches gears and asks Candiace if she and Chris still plan to expand their family to which Candiace evades the question and then ambiguously responds that "there's been some forward movement" whatever that means.
We also learn that Candiace and Chris have purchased a new home and that she's also enrolled in classes to earn her Master of Business Administration. Andy observes that it appears Candiace is growing up. We'll be the judge of that, Andy Cohen.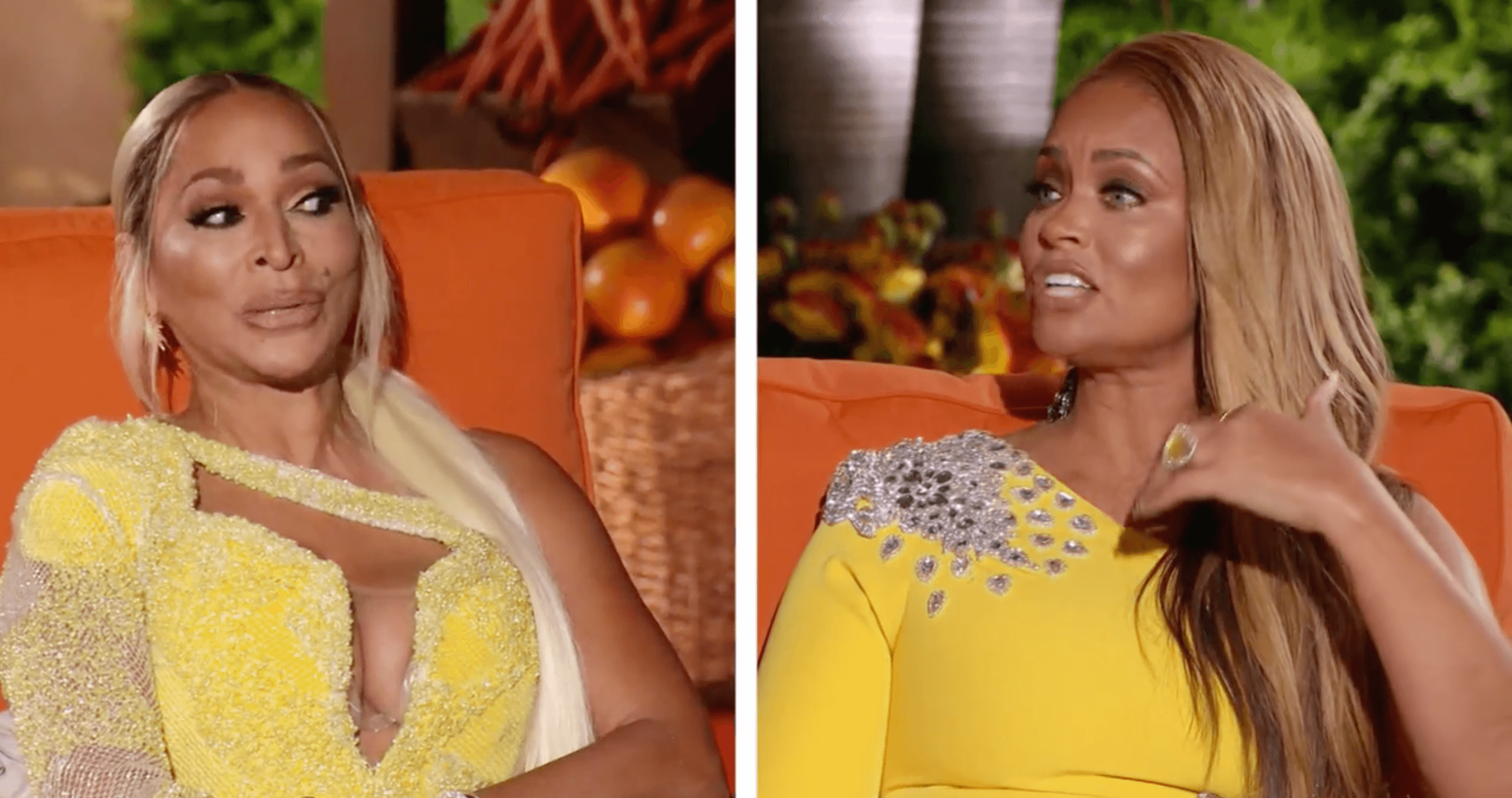 After a short break, Andy switches gears to discuss Gizelle and her "relationship" with her ex-husband and famous pastor, Jamal Bryant. Gizelle sheepishly admits that the construction of the West Wing in her home renovation has come to a halt due to COVID-19 to which I politely respond: BS. As someone who broke ground after COVID and is already in her new home, I highly doubt that the builders were not able to source the construction materials necessary to complete a renovation. AND NOW WE SAID IT.
Gizelle also claims that the manufacturer for her makeup company, Every Hue, also shut down due to COVID and that's why fans have not been able to purchase from her site. Karen, however, calls Gizelle out stating that the word on the street is that the business was liquidated. Ruh-roh.
Press play below to watch All About The Tea's Real Housewives of Potomac recap on YouTube and SUBSCRIBE to our channel.
Gizelle then attempts to explain away her dad's hot mic moment. According to Gizelle, he's her father so there would be a problem if he didn't have those feelings. Um, wut?! Or maybe the problem is attempting to reconcile with a man who cheated on you several times and you, yourself, referred to as a "cheater, cheater pumpkin eater." But hey, what do I know?
Karen then accuses Gizelle and Jamal of carrying out a fake relationship all for a storyline. She then brings up the new baby that Jamal is rumored to have fathered while he and Gizelle have been "dating." Gizelle maintains that Jamal has not fathered any new children since they have been back together.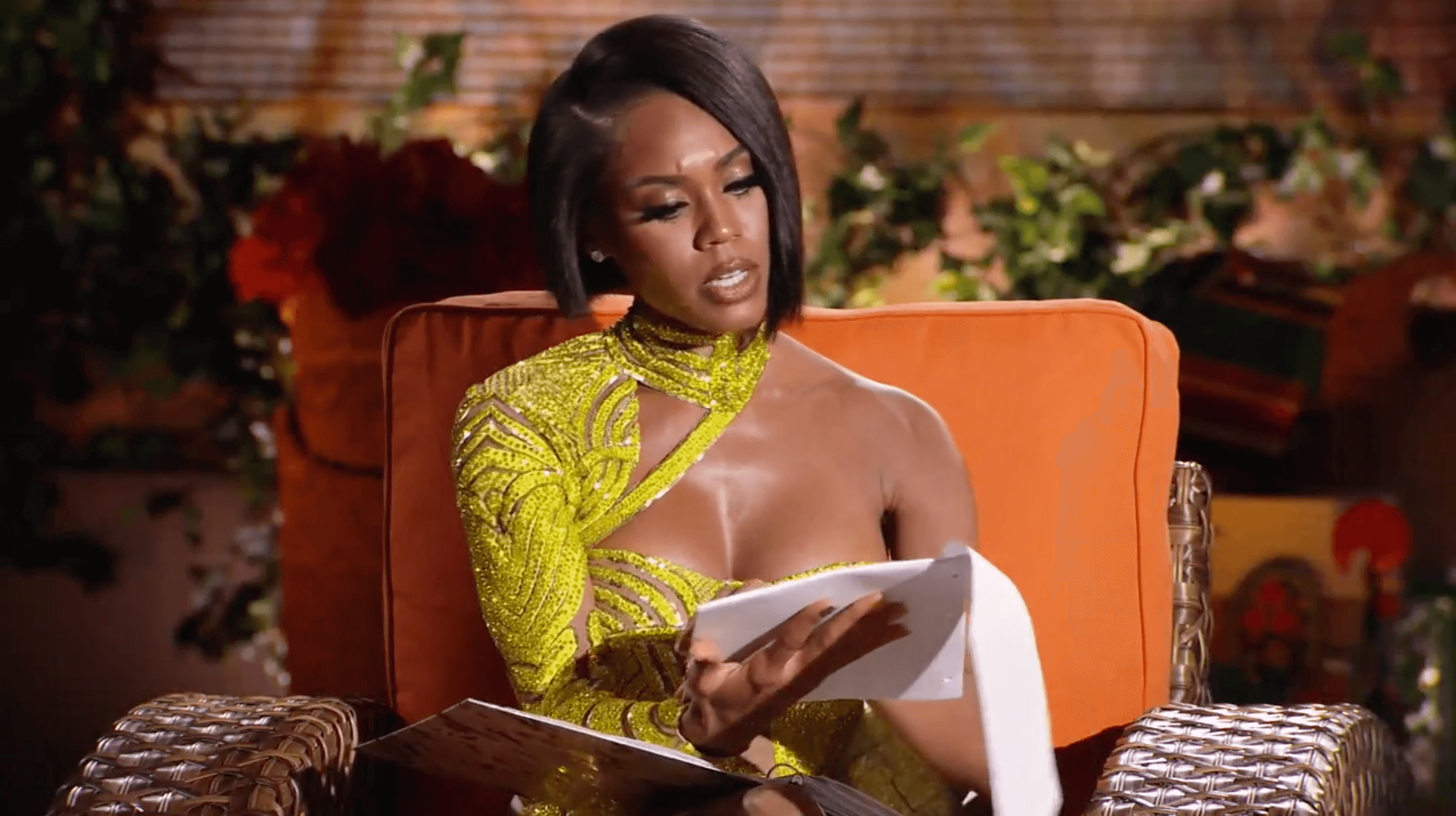 But Monique's not buying it as she announces that Jamal told his girlfriend at the time that the relationship was just reality TV and it wasn't real. Andy then asks Monique how she knows this and Monique explained that the woman reached out to Monique with screenshots, etc. Initially, Monique chose not to engage, but after Gizelle opted to play dirty throughout the season, Monique decided to prepare a few receipts for the reunion, all organized carefully in her color-coded binder. 
Andy asks Monique how she knows those screenshots the woman sent are real and Monique proceeds to call out Jamal's phone number. Even Gizelle admits that the phone number does indeed belong to Jamal. "Yeah, that's his phone number." The room is eerily quiet as every person on the stage including Andy proceeds to pick their jaw up off the floor. 
Tune in next week as the drama inevitably continues…
Stay Connected With All About The Tea: Twitter Ι Instagram Ι YouTube Ι Facebook Ι Send Us Tips
Amanda Byerly focuses on Reality TV recaps for All About The Tea. Amanda is a 30-year-old wife, mother and self-proclaimed Bravo TV junkie. When she's not watching Bravo, she's writing about it, reading about it, or listening to podcasts about it. "I get by with a little help from Bravo TV."