'RHOP' RECAP: Juan Proposes To Robyn & Michael Darby and Chris Bassett Square Off!
Welcome back to the season finale of Real Housewives of Potomac – the one where a man gets touched, and no we're not talking about the cameraman, thank goodness. Now let's get started, shall we?
The episode opens with Robyn Dixon in full on party planning mode for her and Juan's annual "Winter Wonderland" party. Well, of course. What else does one do when they owe $90K in back taxes to the federal government. Unbeknownst to Robyn, however, (yeah right) her ex-husband, Juan, plans to get down on one knee. Again. With a Morganite ring, no less. The only Housewife not invited to the shindig/surprise is Monique Samuels who appears to still be in time out from the other ladies. 
Speaking of Monique… cut to Monique visiting a therapist to get to the root of her issues and why the altercation with Candiace Dillard-Bassett even happened in the first place. According to Monique, she feels as if she's been isolated and wrote off by the entire group of ladies and it dredges up old memories of being bullied as a young girl by her peers. Monique says that at first she attended a predominantly all-white school and was ostracized for being black, and then transferred to a predominantly black school where she was teased for speaking "too proper." YIKES.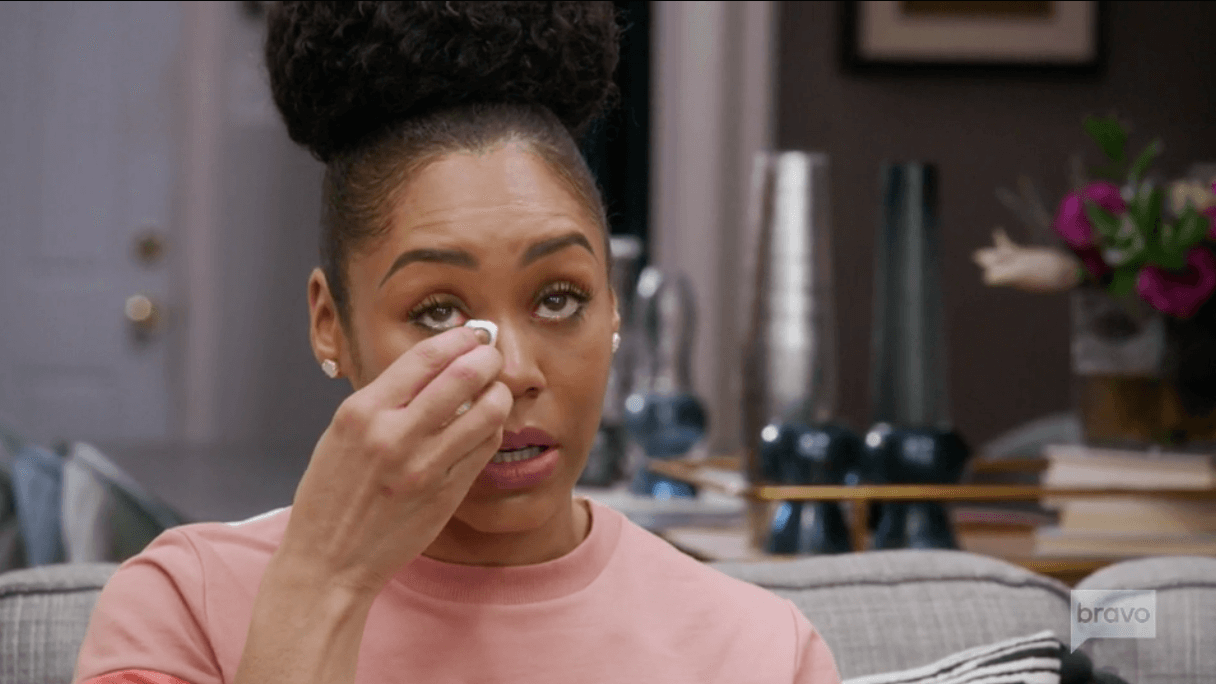 Later in her confessional, Monique is asked a very pointed question by one of the producers. "Are you remorseful for what happened?" the producer asks. To which Monique carefully responds, "I am remorseful for my actions, but I am not sorry for defending myself when I felt I needed to."
Across town, Ashley Darby is running around like a chicken with her head cut off trying to get Baby Dean ready for his five-month photo shoot. Yes, apparently that's a thing. Meanwhile, Michael is sitting on the couch sipping on an ice-cold Corona and completely tuning out the fact that his wife could maybe use some help. Some things never change…
Later, while pumping on the couch, Ashley fills Michael in on the wig shift party in which the it came out that Karen Huger invited Monique to come help her set up and that inevitably riled up Candiace. "Well Candiace gets to be a victim for another day so that was good for her," Michael responds. And while I know we're not supposed to like Michael I can't help but love the fact that he didn't mind to say what we were all thinking in that very moment. 
The conversation then moves to Juan Dixon and how he plans to propose to Robyn at the holiday party. Michael, however, isn't buying it. "That man will not do that", Michael says and then alludes that he knows more as to why Juan would never propose to Robyn again. Remember though, Michael. This is a reality show. And when one owes five figures to the IRS, they're probably willing to do just about anything to create a storyline that still makes them relevant. Amirite?!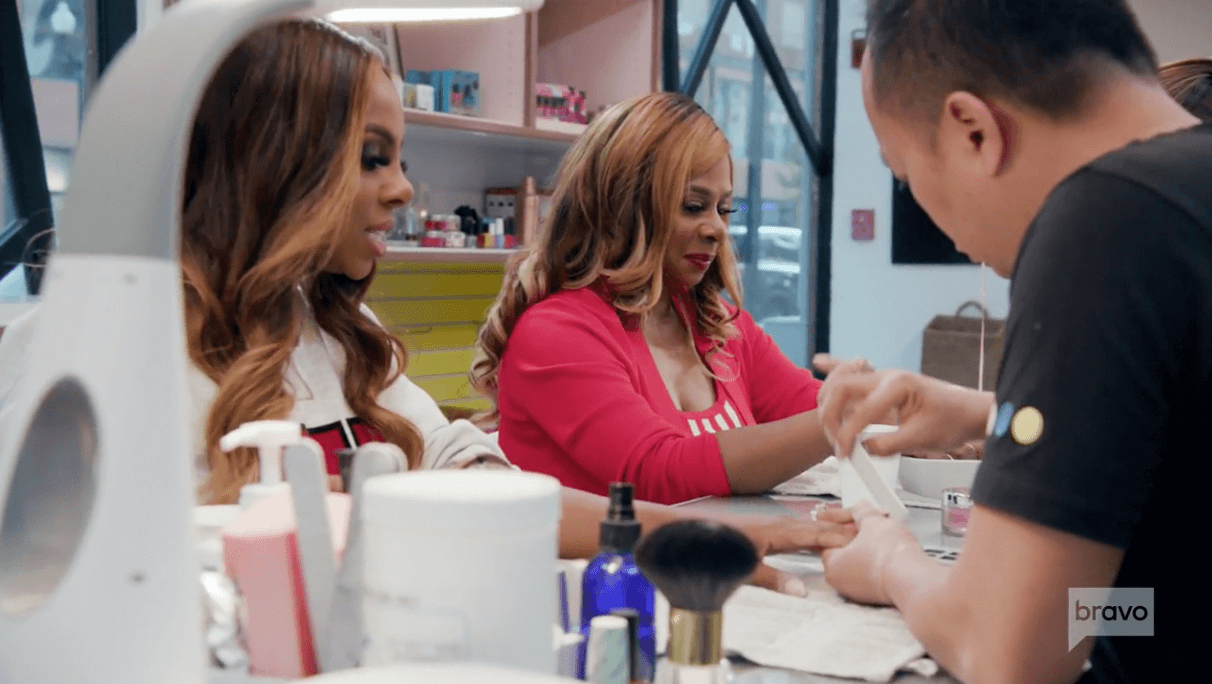 Meanwhile, Candiace and her mother (remember the scary lady who turns handbags into weapons that she then uses on her daughter) take a trip to the nail salon. Candiace then immediately starts talking once again about how the incident has made her realize that she wants to be a mother, primarily due to the way her mother stepped up and supported her during her "trauma." A.K.A. her mother was not the one assaulting her this time.
Cut to The Grande Dama, Karen, jet setting off to Florida to be on HSN. Sans Ray, of course. He's got "business to tend to." Before she leaves, however, she and Ray discuss the ladies' behavior at her wig launch. But Karen makes it very clear that she has zero qualms about riding the fence and refusing to take a side in The Great Barn Brawl of Potomac.
As far as the HSN appearance goes, Karen nails it, serving the viewers a fierce look complete with a red blouse and white fur stole, while advising the viewers to apply La Dame fragrance to the back of their kneecaps. Hey, don't knock it 'til you try it, okay??!!
Robyn and Juan also meet for a therapy session and for the first time we get a very in-depth look at the demise of the Dixons' marriage. Robyn delves into their relationship explaining how they met, how long they dated, when they got married, etc. Robyn also matter of factly accuses Juan of never being a hands-on dad, especially when the children were young.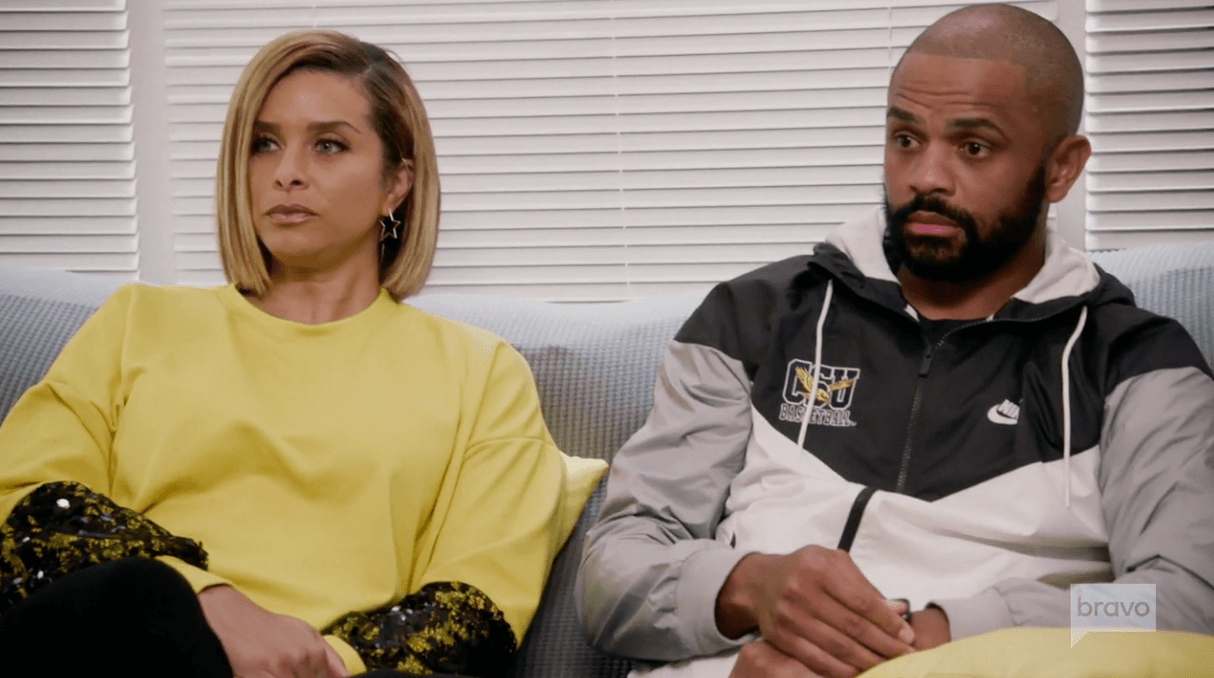 Juan, however, remembers the marriage much differently citing that the couple have two children very close in age put a lot of strain on the marriage and left him looking for romance and affection elsewhere. "I was lonely," he confesses. Robyn admits that while in the throes of caring for two babies, she didn't even care to fight for their marriage, eventually resulting in her filing for divorce. 
Luckily, the therapy session ends on a good note with Juan praising Robyn for always being there for him, even when "they hit rock bottom." Robyn's eyes well up with tears as she tells him she's proud of him. Looks like the surprise proposal is still on the table, after all. Take that Michael Darby.
While en route to the party, Candiace warms up her vocal cords in the car. As it turns out, she's been asked (but really probably begged) to perform her new bop at the holiday party. Spoiler alert: you're in a for a treat, viewers. A real treat…
After a very quick (probably too quick) warm up sesh, she then explains to her husband that she has every intention of calling Karen out for what she views as trying to set her up at the wig launch party. Wow, this night is shaping up to be a pretty great night for Candiace. She gets to perform her sad song and still remain a victim at the same time. As they say, the show must go on – even for those in the midst of deep trauma and despair. Put that on a sticky note, mmkay.
Gizelle Bryant arrives at the holiday party, once again sans Jamal Bryant. In her talking head, Gizelle maintains that her ex-husband turned new boyfriend is a pastor and because of that, he's not able to do anything on Saturday nights. Well, alrighty then. Gizelle immediately gets to work peppering Juan with questions asking him about the proposal. Meanwhile, Robyn is a mere few steps away.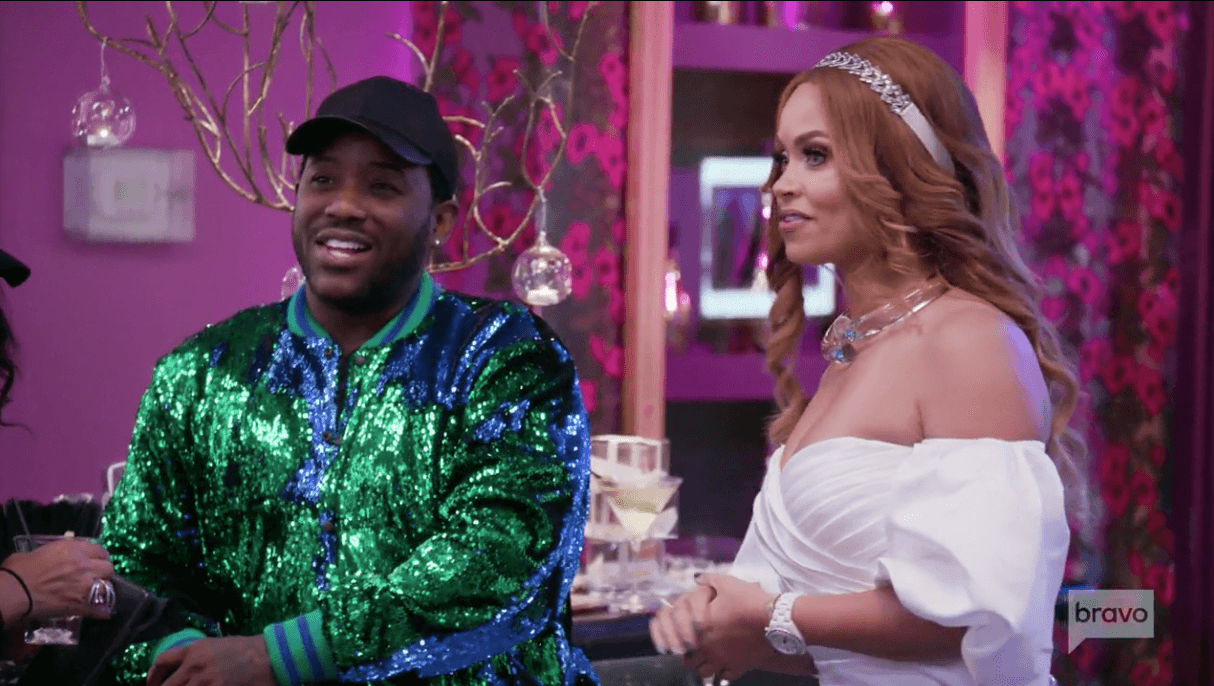 Ashley walks in the door and immediately asks Gizelle where Jamal is, to which Gizelle makes some comment about how "crazy" Jamal's schedule is. So ~crazy~ girl. Ashley then attempts to make small talk with Robyn and Gizelle and mentions that Michael is a very hands-on dad to Baby Dean. If drinking Corona on the couch is hands-on, then SURE. Michael also echoes those same sentiments stating he's much more hands-on with Baby Dean than he was with his other children, which I'm sure makes them feel great to hear on national television. Robyn then seizes the moment and says that's precisely why Juan wants her to have another baby. Hmm…. Because earlier at the therapy sesh he basically blamed your two children for his cheating and the demise of your marriage. Okay, girl.
Ashley then brings up a text from Karen that states her plane coming back from Florida has experienced mechanical issues and there's a chance she won't make it to the party. Pretty, convenient, Kurn.
Once Candiace arrives she immediately gets to work leading the charge against Karen for not showing up at the party. But Robyn maintains that she's unbothered by Karen's absence. Especially after the comment Karen made about Juan. (Lest we not forget, "you better worry about what Juan says when he's drinking.) Hey, maybe Karen and Michael are both privy to information that the rest of us do not know. Just a thought. 
Meanwhile, Ashley brings up to Gizelle that Michael was very adamant that Juan had zero plans to propose to Robyn at the party. At the same time, Michael is cornering Juan as to whether or not Juan has any special plans for the evening. Juan, however, is not biting and remains very tight-lipped about the proposal.
Gizelle then drags Michael over and presses him about any information he might be privy to that she is not. A drunken Michael rambles on about he and Juan have "a special relationship." Hmm… just how special, Darby?! Gizelle then marches over to Juan in an attempt to shake him down and make him propose to her friend.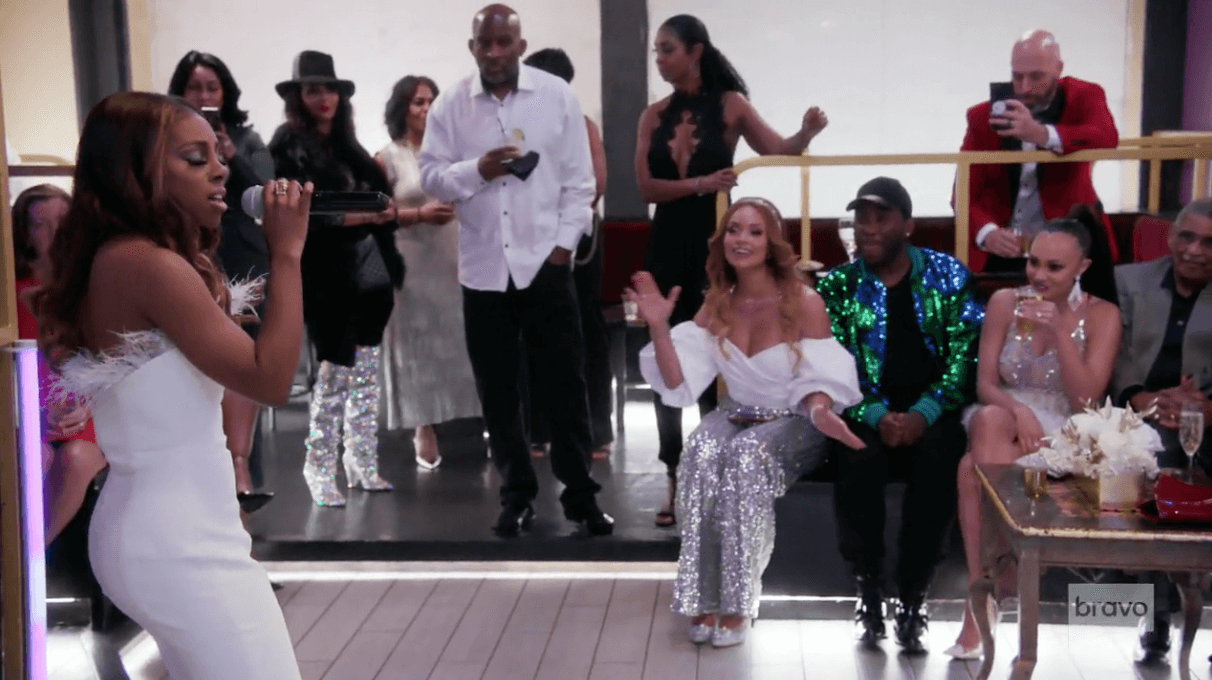 But first, a special performance by yours truly, Candiace Dillard-Bassett.
To say she bombed would be putting it mildly. This woman TANKED. While desperately attempting to sing along with the track, Candiace abruptly asks that the volume be turned up. Maybe a soundcheck upon arrival would've been more beneficial then immediately trying to rally the troops against Karen as soon as she walked in the door. Just a thought… 
A mix between yodeling and hot breath yoga work goes for a few good minutes while her husband awkwardly films the entire disaster with his iPhone. Meanwhile Gizelle's date, shady Cal is off to the side fighting back cackles and tears. Bless it.
Once the dreadful, butt-clenching, secondhand embarrassment inducing "performance" is over Robyn promptly seizes the mic and reminds all of the guests that they do indeed have an open bar. A.K.A. everyone deserves a drink after that nightmare.
Juan then saunters up and steals the mic away and launches into his own speech. "Robyn has been my rock, my mountain," he starts off. He then gets down on one knee while Gizelle acts as security and pulls Candiace and Wendy out of the shot. He pulls out the Morganite ring and all's well that ends well. Meanwhile, poor Michael Darby is looking on in disbelief.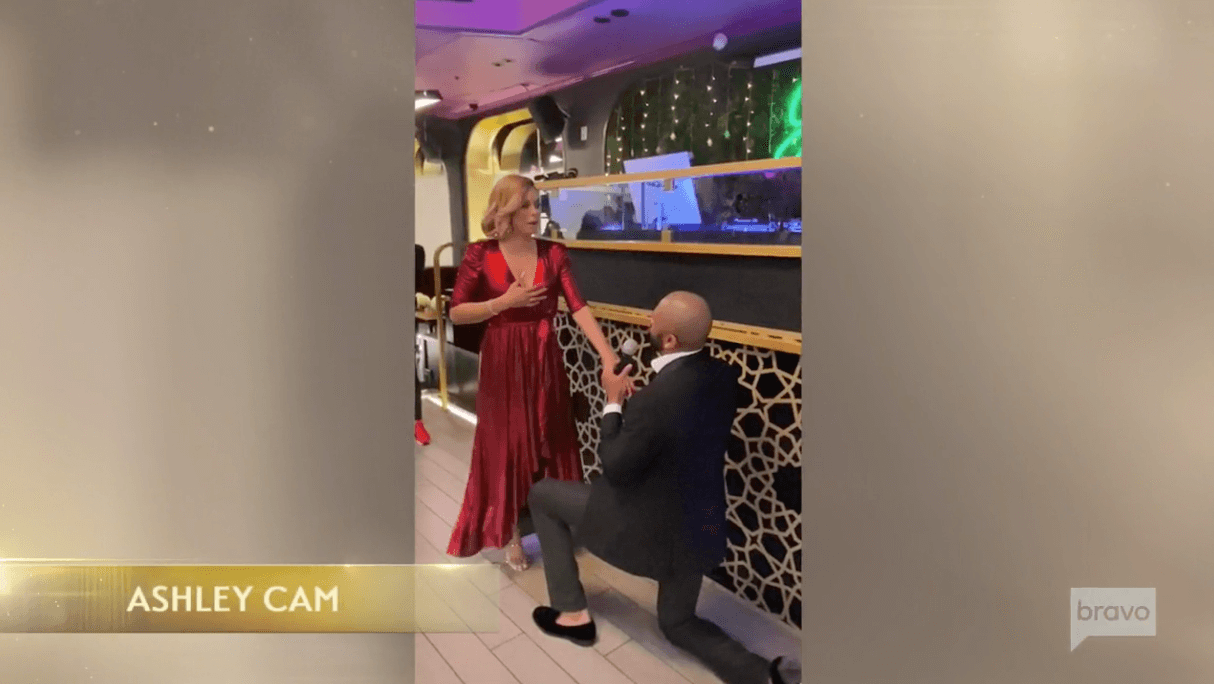 In a surprising moment, The Grande Dame enters the building. Karen quickly learns about the proposal. "I'm really sorry I missed that. Robyn don't get a lot of moments," Karen shadily points out.
The ladies immediately get to work confronting Karen about the wig launch party. Karen sticks to her guns, citing that she had zero intentions of setting up Candiace to have a run-in with Monique. "Bottom line is you guys did not meet at my party," Karen says. Meanwhile, Michael Darby is getting drunker and drunker by the moment.
Press play below to watch All About The Tea's Real Housewives of Potomac recap on YouTube and SUBSCRIBE to our channel.
Candiace loses her temper and goes all Jack Nicholson on Karen. "YOU KNOW THE TRUTH KAREN. YOU SAW THE TRUTH. BLAH BLAH BLAH." Michael, drunkenly observing Candiace losing her mind from across the room playfully jabs at Chris that he should control his wife. Chris then tells Michael he should get the F out of his face before pushing him away. Michael then immediately goes berserk demanding security. Ashley then hops right in the middle, bringing up a very valid point that Candiace and Chris want to sue Monique but they are the real aggressors.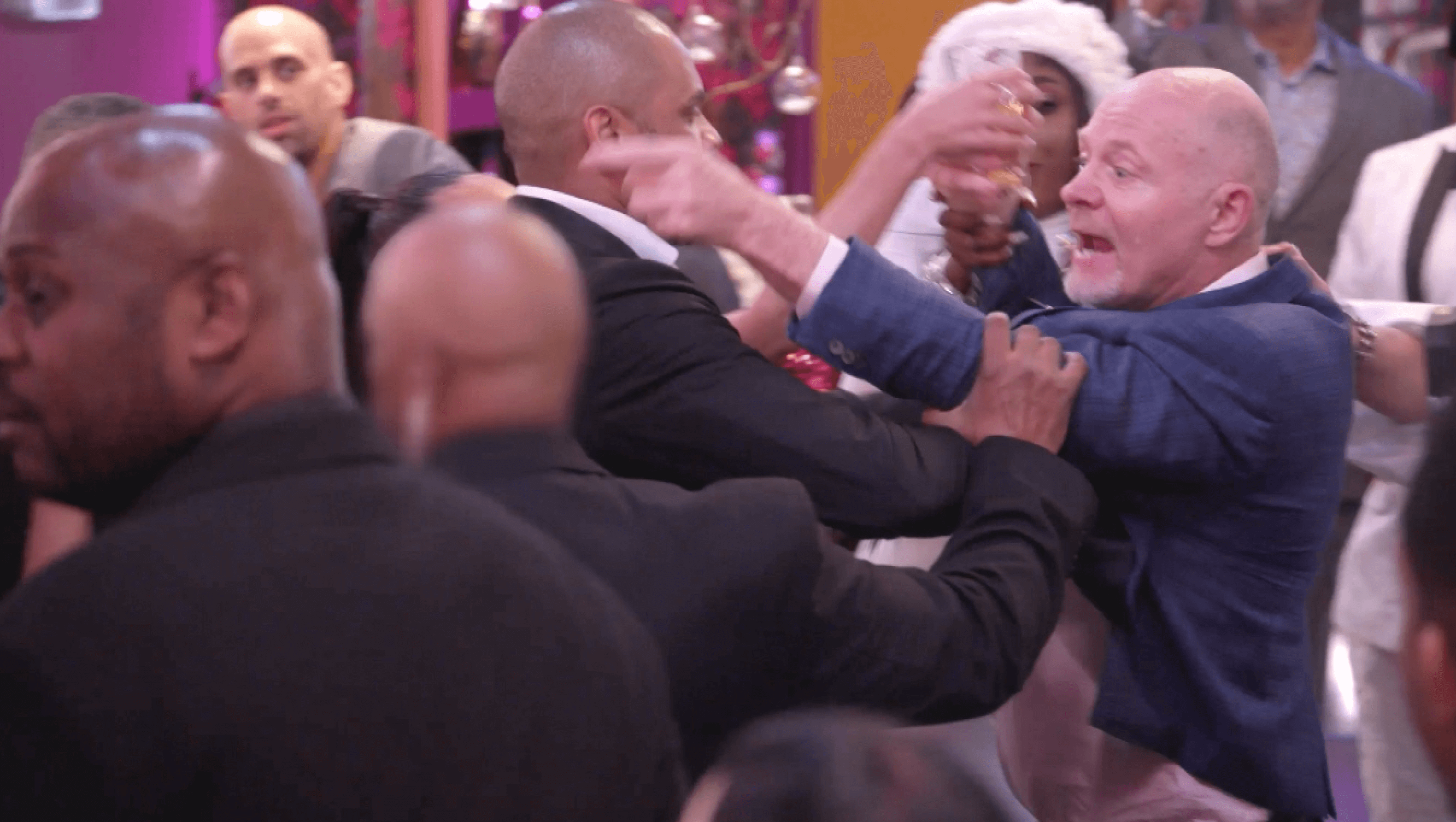 It then takes an entire crowd including Ashley and the newly engaged Juan to calm down a very inebriated Michael who just keeps shouting over and over again that he's calling his lawyer and Chris is going to jail. 
The party wraps with Michael demanding that Ashley take her mic off. Outside of the party, Michael seems to be causing even more of a ruckus and it ends with Ashley manhandling her husband and shouting that "he's embarrassing the F out of her." Dun. Dun. Dunnnn.
The episode closes with a confessional of Monique stating that the case was ultimately dismissed due to the fight being "mutually consented." And there ya have it, folks. Be sure and tune in to the socially distanced reunion. Hey, maybe there's one bright side of COVID. The women (and men) are all expected to remain six feet apart.
Stay Connected With All About The Tea: Twitter Ι Instagram Ι YouTube Ι Facebook Ι Send Us Tips
Amanda Byerly focuses on Reality TV recaps for All About The Tea. Amanda is a 30-year-old wife, mother and self-proclaimed Bravo TV junkie. When she's not watching Bravo, she's writing about it, reading about it, or listening to podcasts about it. "I get by with a little help from Bravo TV."