'RHOC' RECAP: Braunwyn Reveals Dark Secrets & COVID Hits The OC Causing Production Shut Down
Welcome back to the Real Housewives of Orange County, where we find ourselves in Palm Springs, in the aftermath of Braunwyn Windham-Burke's vow renewal weekend, where Kelly Dodd has just tossed newbie, Elizabeth Lyn Vargas in the pool—fully clothed. I wonder what Kelly would have done if she'd gotten tossed in the deep end. I'm sure she'd just laugh it off, right? Right?!
After Elizabeth dries off, she, Kelly, and Braunwyn go tour the Frey House, an Art Deco home and museum combined. According to Kelly, she loves history. (This is the same woman who didn't know who Ernest Hemingway was last season, so…) 
The view of Palm Springs is terrific, and the house has been built around a boulder, which now sits in the living room/bedroom. They sip champs and stare out the window.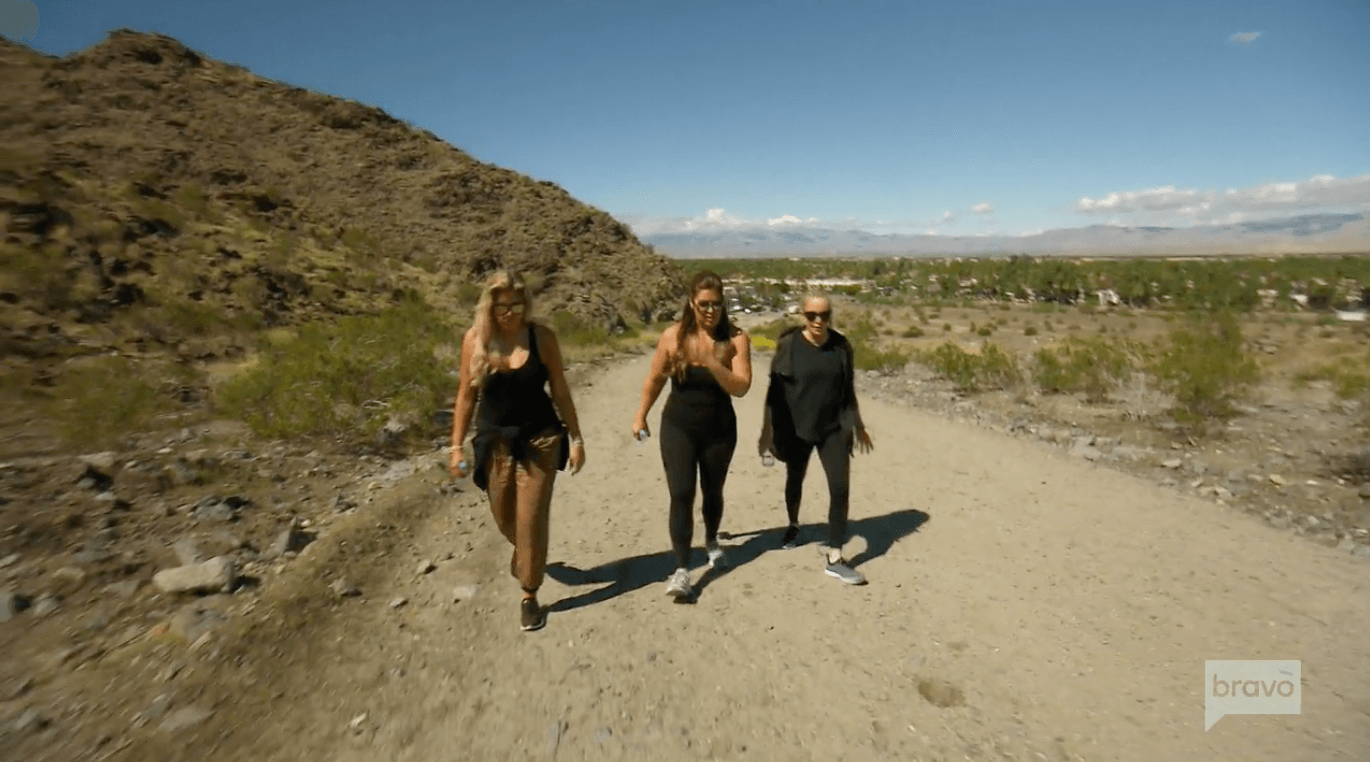 Gina Herschenheiter, Emily Simpson, and Shannon Beador go hiking. Shannon's still feeling the effects of too much tequila from the night before. As they walk, they talk about the text Elizabeth sent her ex, claiming she's sorry for ever divorcing him in the first place—despite his having a baby with his mistress and the fact they've been apart for six years. I think she probably misses his bank balance more than his personality.
The women are confused by Elizabeth. She may be an entrepreneur now, but she was a struggling jazz singer when she met her ex. And he was already married, though going through a divorce. Supposedly, they've been together for twenty years but married for only five? I agree with the trio, it's not adding up.
Gina is tired of hearing Elizabeth talk about her money, how much she doesn't really care about cash but is holding out for a bigger settlement. Also, Elizabeth bought a Ferrari with her ex's money and plans to donate it. As Gina points out, any charity would rather have the money than the car, especially since a car depreciates once it's been driven. But then again, maybe only Fords and Hondas depreciate. Do Ferraris lose their value? #RichPeopleProblems
Gina decides Elizabeth needs her compassion, and besides, she's more worried about Braunwyn, who seems broken. Gina mentions she and Emily accompanied Braunwyn to an AA meeting earlier that morning. Shannon seems surprised they went. Or maybe she's a little jealous she wasn't asked to go, too?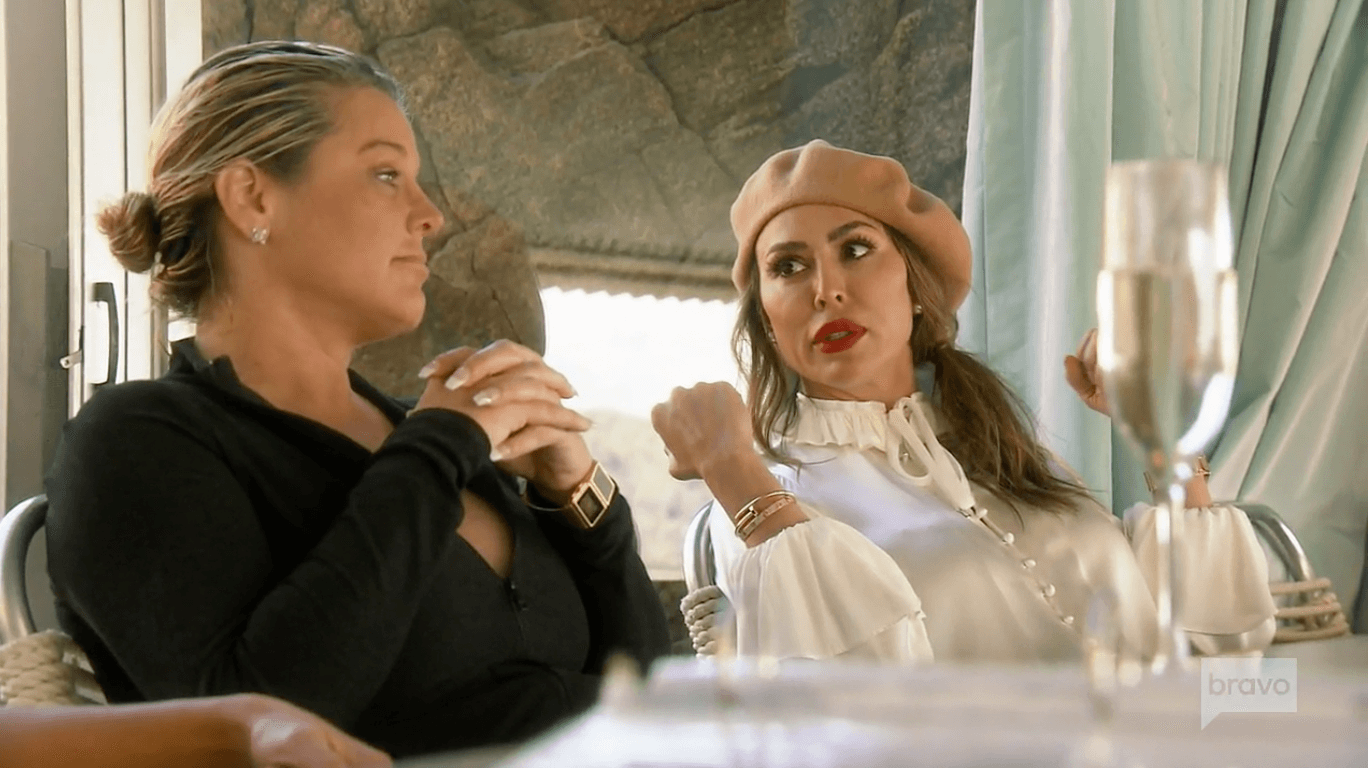 Back at Frey House, Kelly whips out a big old spoon and starts stirring the shit. She tells Elizabeth that Gina and Emily aren't convinced she's telling the whole story of her bizarre marriage. Elizabeth is hampered by a gag order, so she can't say how much her ex is worth or what she'll get in the divorce. 
Kelly points out that for someone who isn't supposed to talk about her divorce, Elizabeth talks about her divorce a lot. She and Braunwyn urge her to shut up about it.
Elizabeth tells us that she never wanted to be looked down upon as a "poor Mexican girl" so she worked three jobs in high school. And yes, she talks about her divorce as much to sexless boyfriend, Jimmy, as she does to everyone else. He's tried to leave her because of it, but she always begs him to stay. Oh, Elizabeth, honey. That's sad. 
Ultimately, Elizabeth thanks them for telling her the truth. Then she talks about how Shannon went off on Jimmy the previous night. She's not sure why, because she hasn't been able to discuss it with him. He left for work earlier that morning. Kelly and Braunwyn assure her Shannon acts out when she's drinking. It's not personal.
Back in Newport Beach, Corona is picking up steam. But that's not going to stop Gina and Travis from teaming up to play doubles tennis with friends.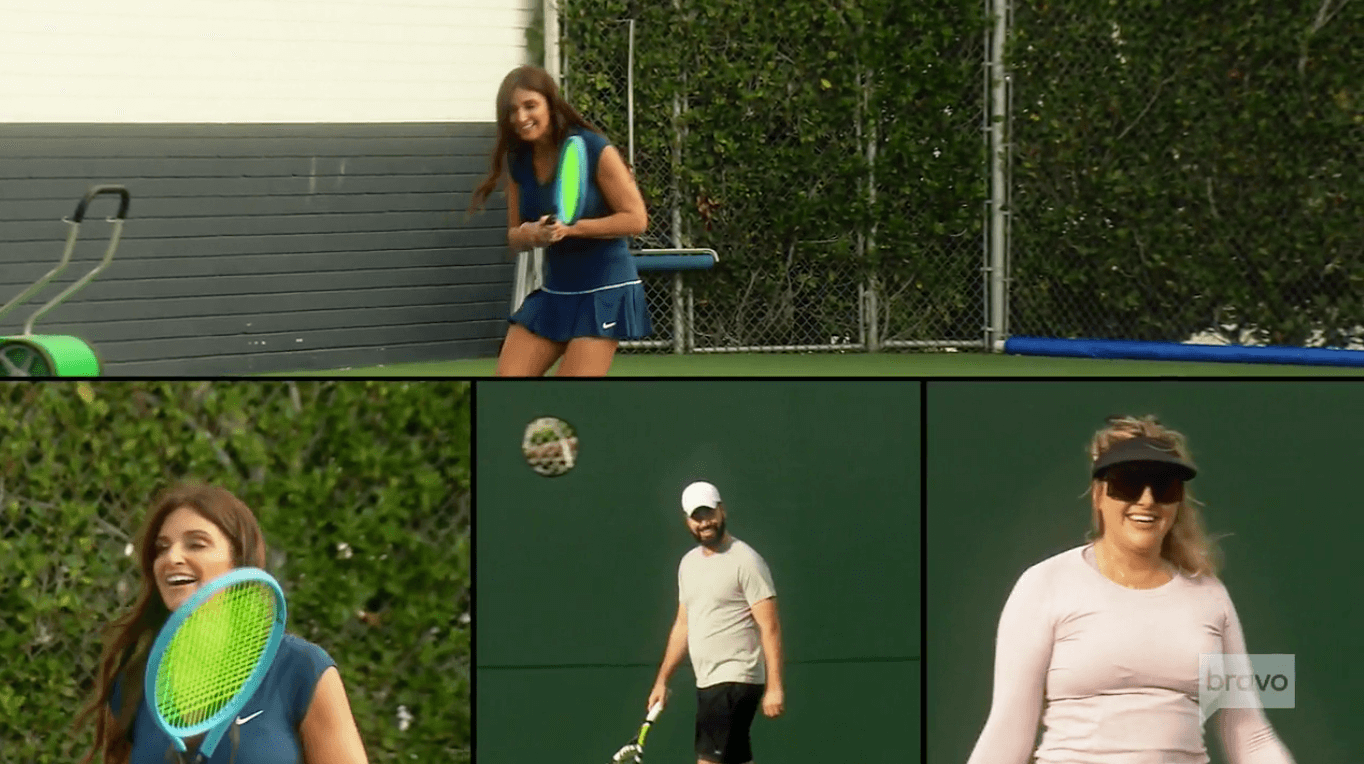 While playing, she discusses her son's baseball team and a contentious mom. Gina's ex, Matt, is the coach. He shows up for every practice, every game, but the loudmouth mom is spreading rumors that Matt is only trying to look good to the community. Gina cries foul. And while Travis isn't crazy about hearing her discuss her ex, he's been her rock through the divorce.
Braunwyn has taken time away from delousing of her twins to make it to a therapy session. She tells her new therapist that she started drinking before her freshman year in high school. The alcohol helped with her massive anxiety.
We find out that Braunwyn's life and marriage hasn't always been picture perfect. Twelve years ago, she had a miscarriage. She was so depressed, the drinking escalated and she took Xanex with it. She locked herself in a closet for five days and was sent to a psychiatric facility. Sean kept the kids away. 
Braunwyn admits she has a very dark side. Sean's spent years managing her and protecting her. She resents him for enabling her, but she also takes responsibility for the situation. Her therapist warns that now Braunwyn's sober, she needs to manage her anxiety in a different way. It's not going to be an easy road.
Shannon takes her daughter, Sophie, to shop for a dress. It's time for Sophie's Coming Out Ball. No, not that kind of coming out, although having a ball thrown in your honor might make the whole process easier, no? Anyway, Sophie is a debutante and needs a white dress. And it can't be strapless or have lace or flowers.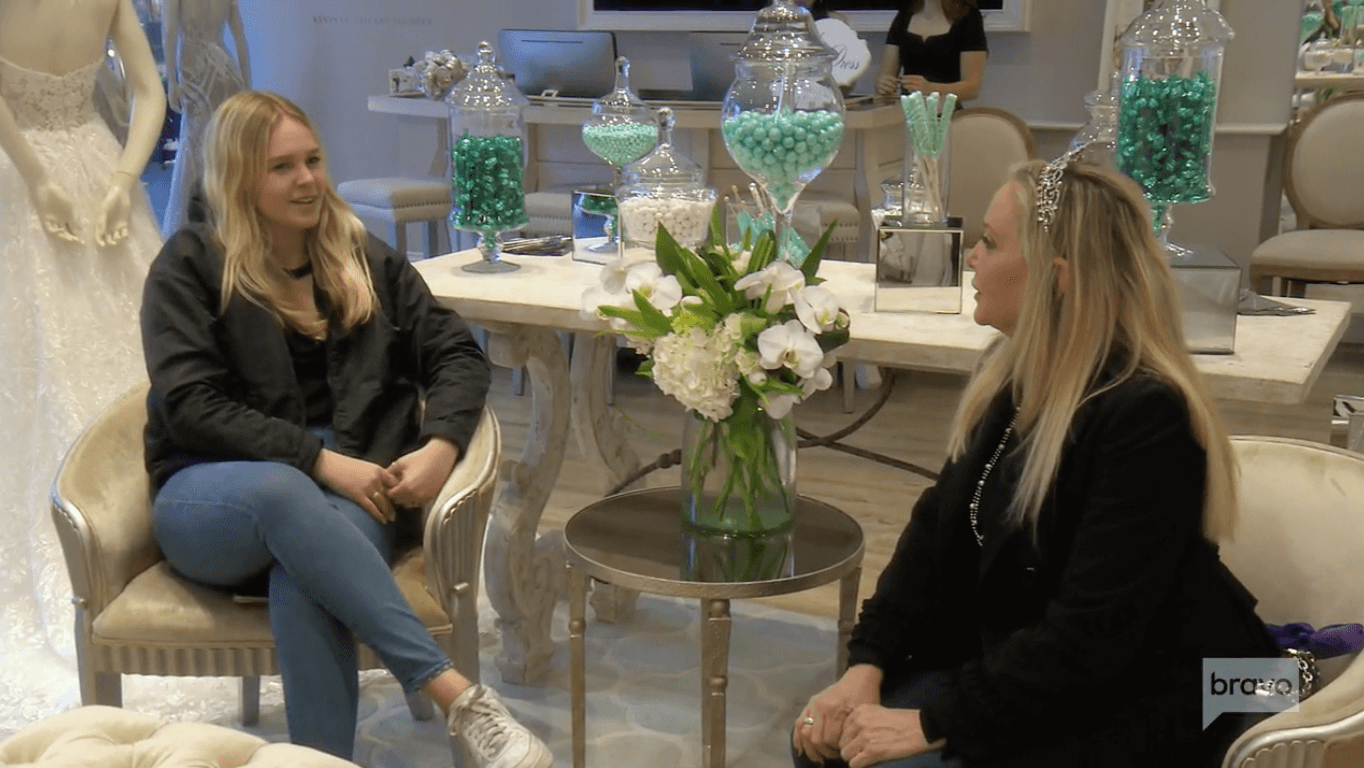 Shannon didn't do the debutante thing, but her mom and grandmother did. Sophie has always been close to her grandmother and great-grandmother, so she's pleased to carry on the tradition. 
Across town, Braunwyn takes her son, Jacob, to the makeup store. Jacob is into drag, so he gets a makeover and learns a few tips. Braunwyn recently bought him a pair of heels, which he's wearing to school. She sees him as inspiration. 
Elizabeth goes to a personal trainer. She's recently lost thirty pounds. She says she gained weight during the divorce. (All six years of it?) She's going to trial in twenty days and has paid two million bucks in divorce fees. Now, each pound she sheds is another way of shedding her marriage. 
After she's done, Elizabeth facetimes her mom. She says the women are annoyed at her inability to talk about anything other than her divorce. Elizabeth says their criticism is the exact reason why she doesn't like women. 
Elizabeth's been burned by female friendships. Probably because they only liked her for her private jet. When the perks were gone, so were her friends.
At Shannon's house, she's found her wedding dress in the garage. It's been in a box for twenty years and brings back a lot of mixed emotions. Addie tries on the dress and veil, just in time for Shannon's boyfriend, John, to come in. She tells us she's not going to rush into another marriage. She wants it to be right before committing.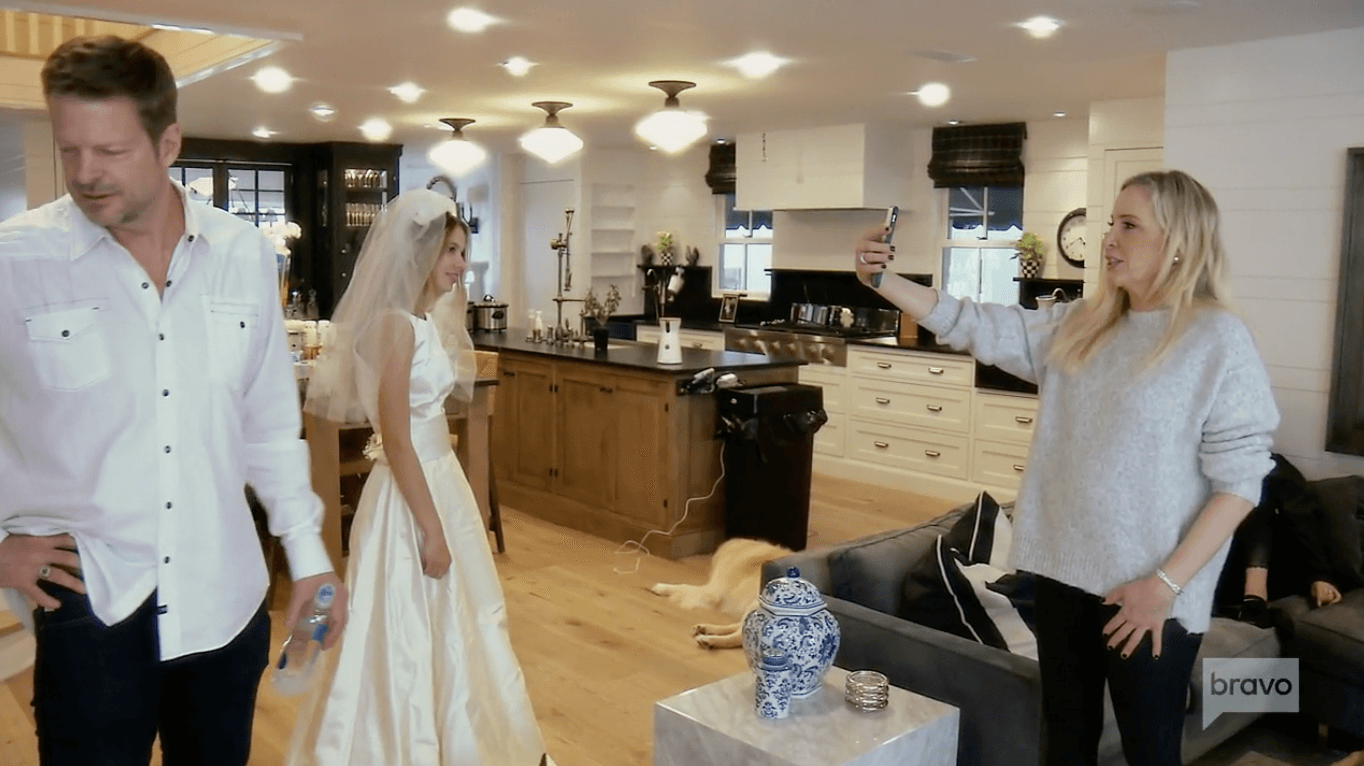 Shannon facetimes John's daughter, Juliet, who's been working for her. Costco is out of beer and chicken. This sends Shannon into panic mode. Nevertheless, the kitchen island is full of vitamins, baby wipes (as opposed to hand wipes), soap, shampoo, pain reliever, and the ingredients for homemade sanitizer.
Emily and Gina go to the Italian market. They take their daughters and explain to them the delights of Italian cuisine. All those delicious carbs! 
They talk about Shannon and her Covid fears. Braunwyn's grandmother was exposed to the virus, now Shannon is in panic mode. 
Emily wants her kids' school to send clear signals about how to keep them safe. But she's not one to freak out. She teases Gina for buying ingredients for meatballs instead of scrounging the stores for toilet paper.
Meanwhile, Shannon is in tears. She complains to John that she's worried about using paper towels in case she can't get more. He's just worried about Shannon's health. Because of her lung issues, she's at high risk. He gives her a hug and tries to reassure her.
At Kelly's house, she talks to her friend, Lena, and hears that San Fran has been closed down. Her business partner arrives and announces the stores are bare of meat and toilet paper.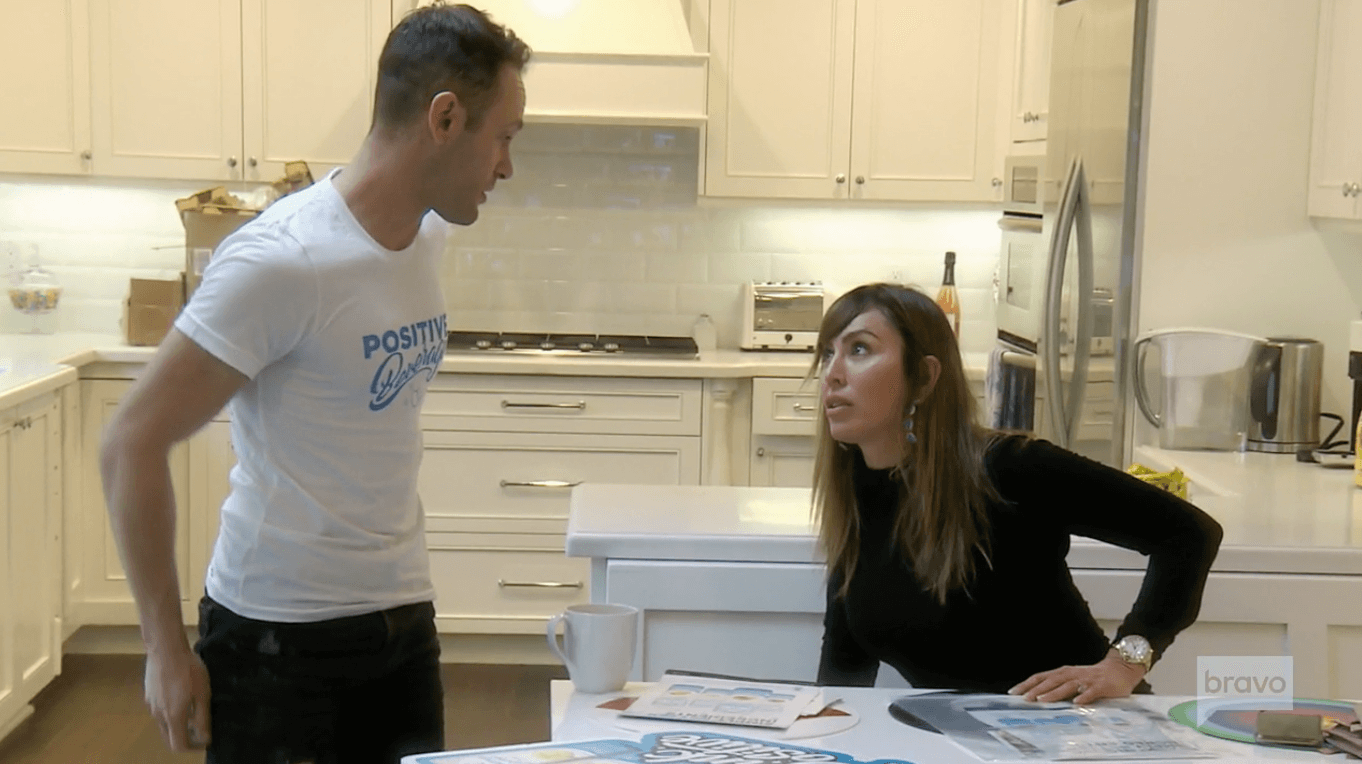 Kelly's water business is in trouble because they're shelling out money and not seeing much of a return at the moment. All momentum on her water line has waned. Kelly's worried that all of her investment money might be lost, too.
Shannon calls and complains about not having meat. Kelly says Shannon is blowing the virus out of proportion. Sure, Shannon has to be cautious because she's compromised, but for most people, it's not a big deal. 
Gina calls her mom and dad in NY. Gina shares that her kids' school is now closed for a month. And there's no toilet paper to be had! Not even on Amazon. With the kids home, the small house seems even smaller. Also, Gina's been giving Matt a pass on custody because of his work situation, but now she's going to have to toughen up. The kids need consistency. And Gina will need a break.
Gina's upcoming domestic violence is around the corner, and she's so stressed, her whole body is covered in a rash. She is giving a victim statement to the court and is terrified about Matt's reaction. 
At Braunwyn's house, her eighty-three kids are at home because their school and all extracurriculars have been shut down. Rowan, Braunwyn's seventeen-year-old daughter is terrified. She's worried about running out of food and missing her prom. Oh, and old people. She's worried about them, too. Rowan suffers from anxiety and OCD. So when Sean tries to look on the bright side, saying maybe the school will come up with a solution, Braunwyn tells him to pipe down. His cheery outlook is grating on her nerves.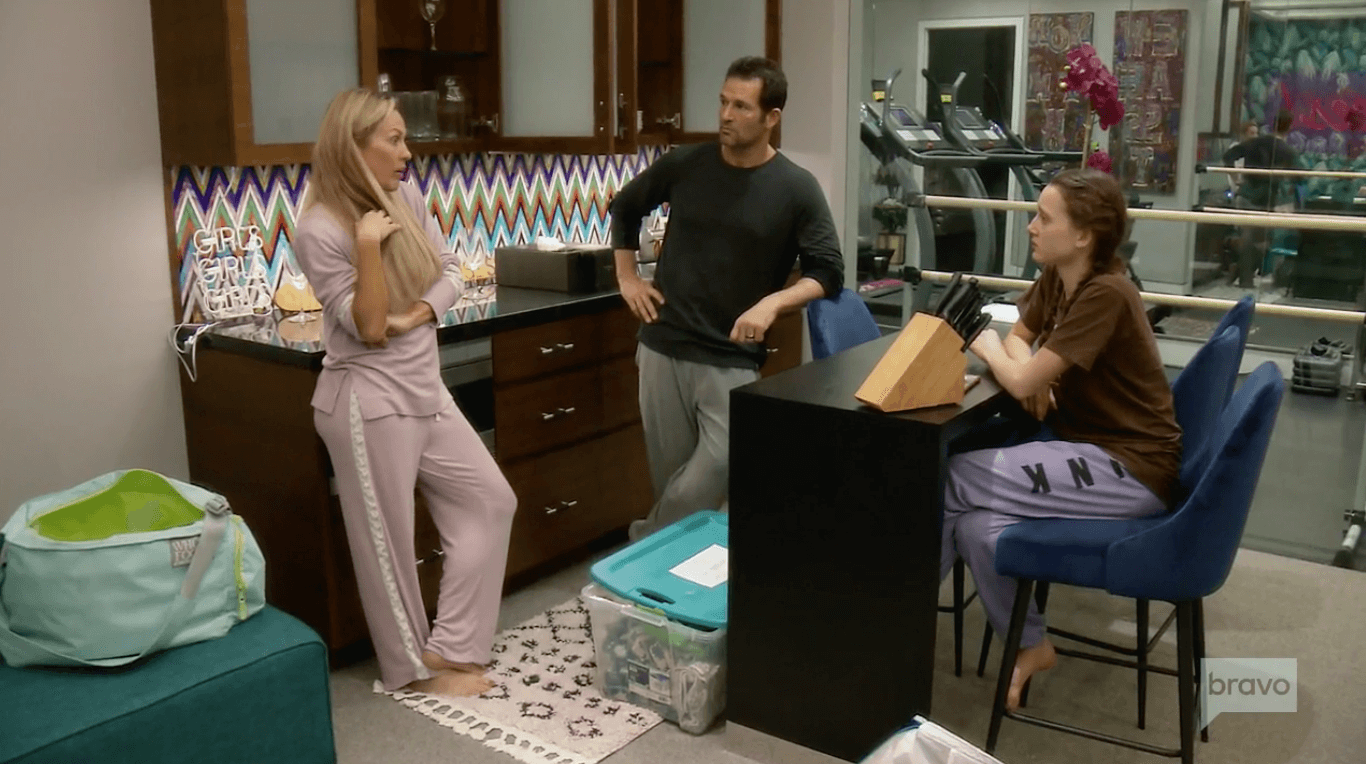 Braunwyn turns her daughter's anxiety into yet another story about her sobriety. She's happy she's not drinking so that she can take care of her daughter. But she admits that she's scared she's going to start drinking again. She wants the tequila out of the house. Braunwyn dumps three bottles down the drain. She tells us how in the past, she'd be guzzling tequila to help her handle her own anxiety, but as of now, she's forty-two days sober. 
Sorry, Rowan. Your worries take a backseat. Braunwyn's situation is the most important thing here. But I'm sure Rowan's used to it.
Rowan gets tears in her eyes as she thinks about the treatment she received for her OCD. What will happen to the kids who need help but are sent home? Braunwyn tells her to stop obsessing. She invites Rowan to an AA meeting, the one with sweet, little, old people. Because…it's all about Braunwyn.
She starts to tell what happened in the meeting that morning (which is a no-no, right? That whole anonymous thing?) As Sean butts in to share about the cute old people, Braunwyn freaks out and starts yelling that no one lets her talk. Can't she just tell her story?! But the truth is she won't stop talking.
Braunwyn is crawling out of her skin. Being home with all those kids for the next month—she'll be out of her mind with boredom (how can you be bored with nine kids, I ask you) and may revert back to bad habits. 
*Cue the dramatic music* Bravo tells us in bold font that on March 14th, production stopped on RHOC. 
And that's our episode. So, what do you think? Does Elizabeth talk about her divorce too much? Are you tired of Braunwyn's sober journey? And did this episode remind you to stock up on toilet paper?
Stay Connected With All About The Tea: Twitter Ι Instagram Ι YouTube Ι Facebook Ι Send Us Tips
I'm a fiction writer by day and a reality TV addict by night.