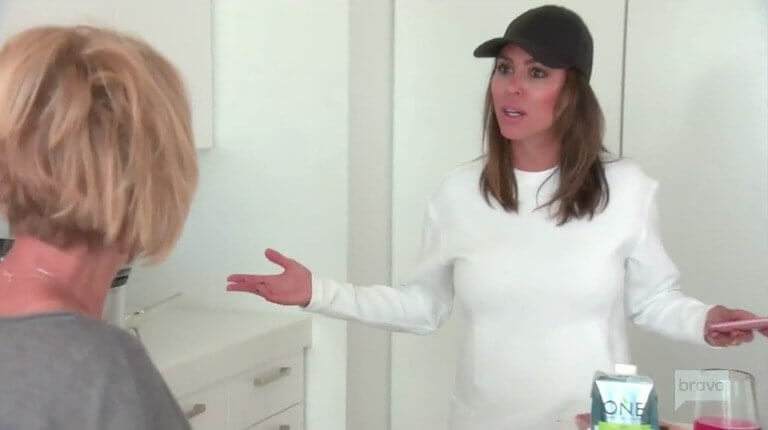 Kelly Dodd's mother, Bobbi Meza, dined out only one day after being discharged from the hospital, after a bout with coronavirus.
Kelly Dodd's brother, Eric Meza, confirmed that their mom was on the mend after rumors swirled that the 71-year-old had landed in the ICU.
Eric Meza even asked his followers to pray for his mother's recovery, during the scary ordeal. 
READ ALSO: Kelly Dodd's Mother Hospitalized With Coronavirus After 'RHOC' Star Mocked the Deadly Virus!
As reported, Kelly's brother revealed the news on Instagram on Saturday, November 21, in a post that read, "Prayers for my mother. She has COVID19." He captioned the photo, "Prayers needed for my mother. Thank you. She is in ICU."
Kelly Dodd refuted that their mother was in ICU in the comment section. 
"Mom has me blocked! Jr said she's not in ICU," Kelly said in reference to her other brother, JR Meza. The comment was later deleted.
RELATED: Kelly Dodd Attacks Black Couple Over COVID Super-Spreader Wedding Amid Her Appalling Coronavirus & RACIST Antics!
Eric Meza revealed that his mother had Thanksgiving dinner at Mastro's because she wanted to eat a steak. Her steak dinner came only one day after being discharged from the hospital, after becoming infected with Covid-19. Eric shared details about the holiday outing via a series of photos and videos on his Instagram Story. 
"#HappyThanksgiving. Not your traditional TG. But she was craving a @MastroOfficial," Eric wrote alongside a photo of Bobbi eating at the restaurant.  
He followed up with a series of photos of himself with his mom and brother, sharing their Thanksgiving holiday. 
Eric also posted an update about his mom's health on his Instagram feed, telling his followers that she had been "discharged from the hospital" and  "beat Covid-19." It was clear that Eric felt grateful for his family that day, as  he thanked his "sibling/brother who has my mother's back." 
It remains unclear if Eric's comment was an indirect jab at Kelly. He gave his brother kudos for practicing "what he preaches."
Eric  also shared a timely message with his followers. 
"For anyone you know who may have COVID19 And they are prescribed Methylprednisolone, it's IMPERATIVE to check with your Endocrinologists if you're type 1 or type 2 [diabetes]," Eric wrote. "This steroid is very dangerous and is the main reason why my mother ended up in ICU. Please be careful out there. Wear your mask, wash your hands, Take Vitamin D, Zinc & Vitamin C."
Eric Meza quipped that the virus "wasn't the flu," after thanking his followers for their "positive thoughts and prayers."  
Real Housewives Confessionals shared the story on their Twitter page, and fans lashed out, some labeling Eric and Kelly irresponsible. Some commenters doubted that Bobbi actually spent time in the ICU, and others blasted the family for dining in public so soon after Bobbi's struggle with the dangerous virus.  
As reported, Kelly Dodd sparked ongoing backlash after making controversial comments on social media about the Covid-19 pandemic. 
The Real Housewives of Orange County airs on Wednesdays at 9 pm, ET, on Bravo.
Stay Connected With All About The Tea: Twitter Ι Instagram Ι YouTube Ι Facebook Ι Send Us Tips