'RHOP' RECAP: Candiace LOSES IT On Ashley For Writing A Statement For Monique!
Welcome back to an all-new episode of Real Housewives of Potomac – the one where Candiace Dillard-Bassett loses it on Ashley Darby after finding out some very telling information. So let's begin, shall we?
The episode picks back up where it left off with the Green-Eyed bandits interrogating Ashley by the pool for completing a character witness statement about Candiace on behalf of Monique Samuels. According to Gizelle Bryant, Ashley, and Candiace's relationship is now "zero." Ya think, Gizzy?!
Once the initial shock wears off, however, the ladies appear to laugh it off as Ashley says she plans to wait until the very last night to break the news to Candiace. A fireworks send-off perhaps?
Later that morning the ladies meeting in the lobby for a fun day of sightseeing, sunbathing, and swimming. During the excursion, Wendy suggests that Candiace get up and perform the remix to her song and she immediately obliges. Surprise, surprise.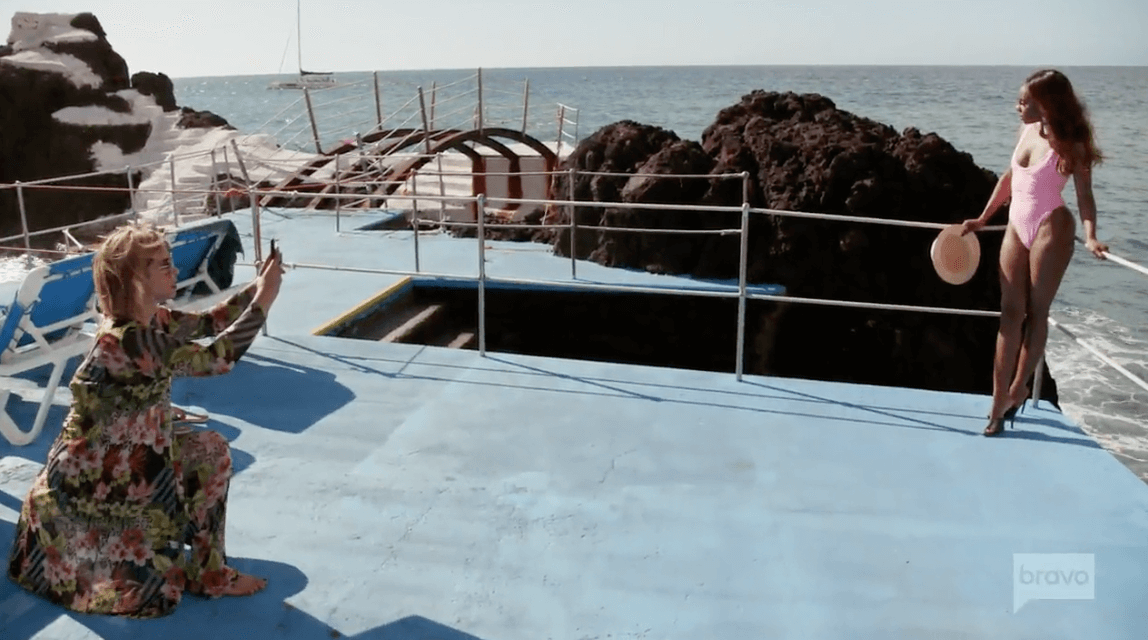 While sunbathing on a rocky cliff in Madeira, Portugal, Gizelle gets a private moment alone with Candiace while Ashley and Karen Huger are re-enacting the famous titanic scene in which Jack teaches Kate how to fly on the front of the boat. Gizelle tells Candiace she's proud of how she handled Ashley confronting her the previous night at dinner. According to Candiace, she's "learning to pick and choose her battles." That's great and all but maybe it's a little too late for that – am I right?! Gizelle then asks Candiace how she and Karen are. Candiace says that she now looks at Karen differently and as far as trust goes, she's "figuring it out." Kind of like how she's figuring out that music career, eh?
That evening the ladies enjoy another beautiful dinner. Before dinner, however, Karen Facetimes Ray (her hubby with the bad d*** )and attempts to turn him on with a visual of her sporting her Chanel outfit. Later she laments in her talking head that she misses the days "when it was as simple as having a feather and a handcuff to get the sparks going."
While at dinner, Robyn Dixon breaks the ice by asking for a show of hands as to how many of the women have sent their men a nude while away on the trip. Which was basically just a way for her to tell everyone that she has sent her ex-husband turned live-in boyfriend, Juan, all the nudes. Okay, Robyn, I see you. You gotta do something to lock down that Morganite ring, I suppose.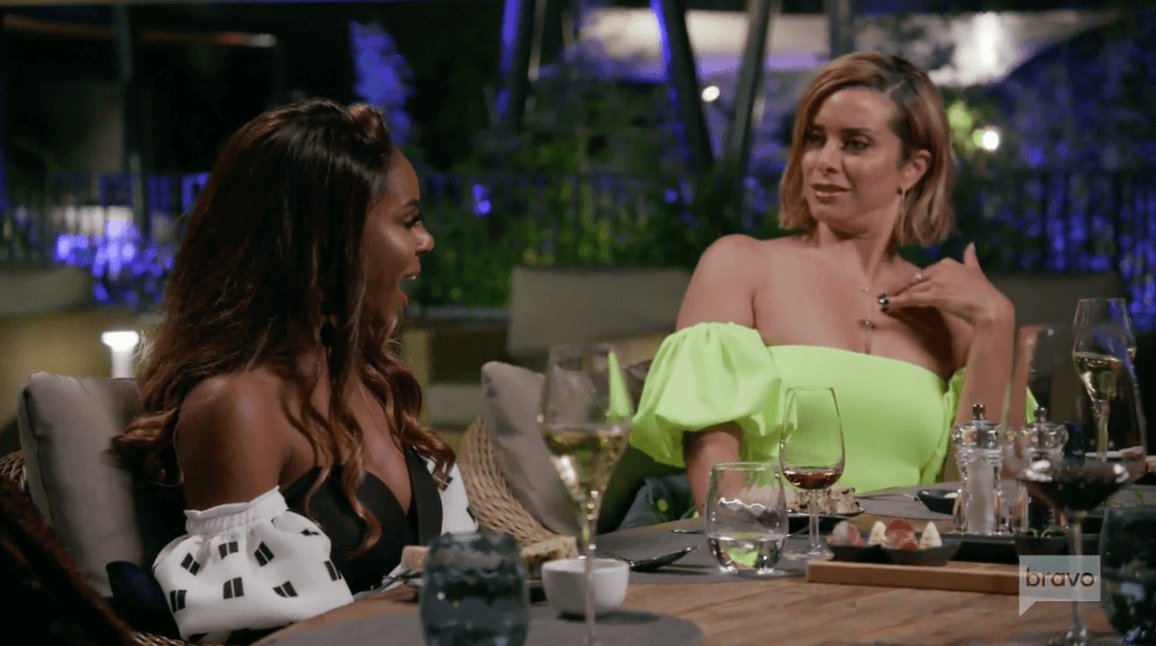 After some egging on, Candiace attempts to join in on the fun by sending her hubby Chris a picture of her "Hershey kisses" right there at the dinner table. Classy. Is this how she came up with the material for her song?
The next day the ladies embark on a motorcycle sidecar tour complete with matching helmets and tiny Britney Spears adjacent headset mics so they can talk with one another. Nice touch, Bravo, nice touch. 
The ladies finally arrive at a Poncha tavern to taste test their way into oblivion for the third day in a row. Maybe this is where Ashley decides to break the news to Candiace? Not quite. This, however, is the moment in which The Grand Dame finds out she was nixed from Robyn's Embezzled Embellished photo shoot. 
Robyn announces that her website is now live and the ladies begin to ooh and ahh over the photos until Wendy addresses the big fat elephant in the room. "Wait. Where's Karen???" Robyn attempts to explain Karen's missing photos away. "So Karen's images didn't turn out great. When I looked at, I just felt like it didn't match the rest of the website." 
Karen, however, seems unphased. "I'm good," she says. Later in her talking head, Karen continues to appear unbothered quoting the famous Ariana Grande. "Thank you, next" she smirks as she points out the faulty lining in one of the hats. Okay, Kurn. I see you.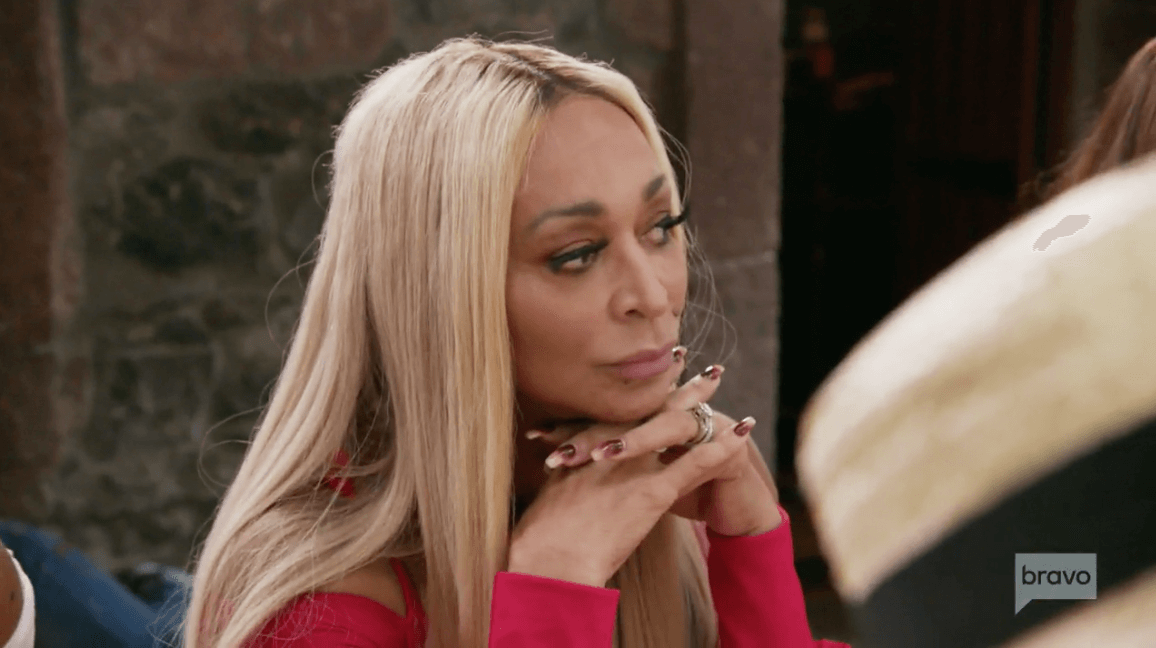 Later at lunch, Karen seizes the moment to announce she's started a new business, a wig line. She's also planning to host a wig launch back in Potomac. Be there or be square. Ashley is the first and only to congratulate Karen. Robyn immediately asks the question everyone is probably already thinking. "Are you inviting Monique?"
"I'm not, because it's not a good thing for you all to be around each other right now," Karen replies. Phew. Candiace can rest easy. The lie detector test (aka next week's sneak peek footage) however determined that was a LIE.
We're then treated to a montage of the ladies getting ready for their last night in Portugal – one that involves dressing up in Dominatrix outfits and enjoying a catered dinner… in the board room of the hotel. The why behind this party is still a big fat mystery to me, though.
Ashley and Gizelle meet early to prepare for the party and Gizelle can't help herself but to ask Ashley if she still intends on letting the cat out of the bag to Candiace regarding her decision to help Monique out with the character witness statement. Ashley says she does to which Gizelle asks if she can wait until after the games are over and Ashley obliges. Oh, it's definitely going to be game over… that's for sure.
The ladies start to arrive and it's obvious they all came to play the part. Candiace, however, wins the Dominatrix award as she shows up in an all-black leather get up complete with an eye mask.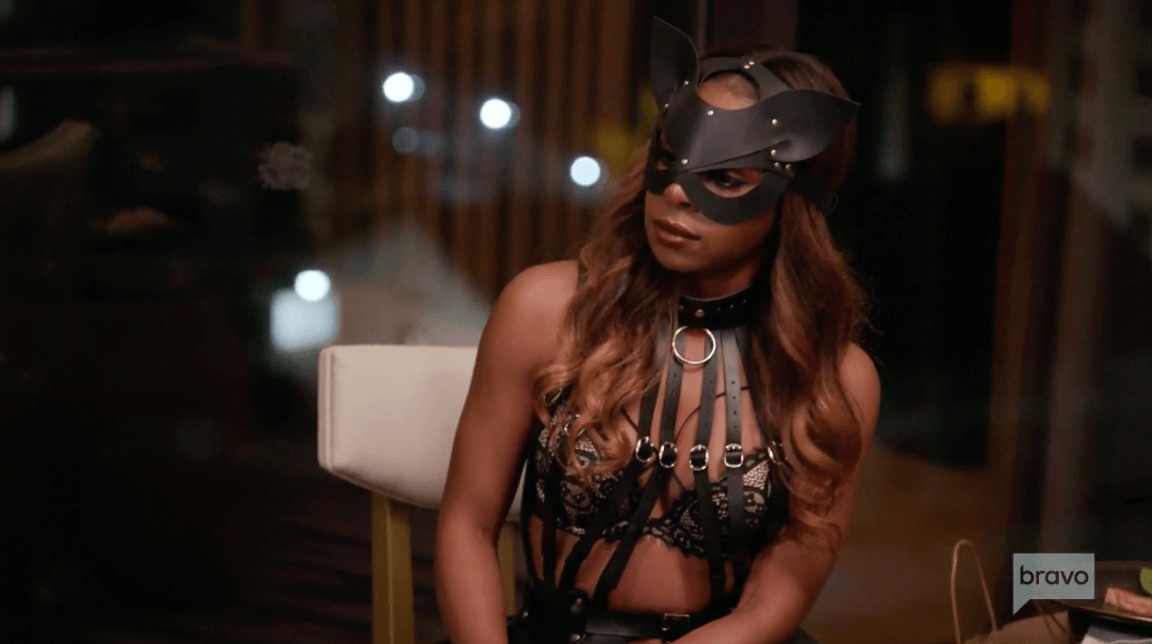 During the game session we learn some very crucial information regarding the state of Karen and Ray's marriage. According to Karen she "retired her mouth" and poor Ray hasn't had an attention in that department in a very long time. Like two and a half years. YIKES.
We also learn from Dr. Wendy Osefo that her husband Eddie is the more dominant partner… something I certainly did not see coming from ol' four degrees.
Fast forward to the moment Ashley finally comes clean. "I want you to hear this from me versus seeing it. Monique did ask me to write a statement. I did it because I'm worried about what could happen to her," Ashley says.
Wendy four degrees Osefo starts to pepper Ashley with the same questions Robyn asked. And once Ashley reveals it was a character witness statement, Wendy echoes Robyn's same sentiments accusing Ashley of assassinating Candiace's character. Clearly, Wendy was already filled in on all of this by the Green-Eyed Bandits and then coached by her attorney husband on how to school the ladies on what a character witness statement is. Thanks, Professor Wendy.
Candiace then resorts to a game of tit for tat and accuses Monique of talking "cash money s***" about the Darbys. Wendy then proceeds to call Ashley a snake while the rest of the group minus Karen piles on. Ashley then promptly excuses herself but not before Candiace hurls a big fat F YOU at her.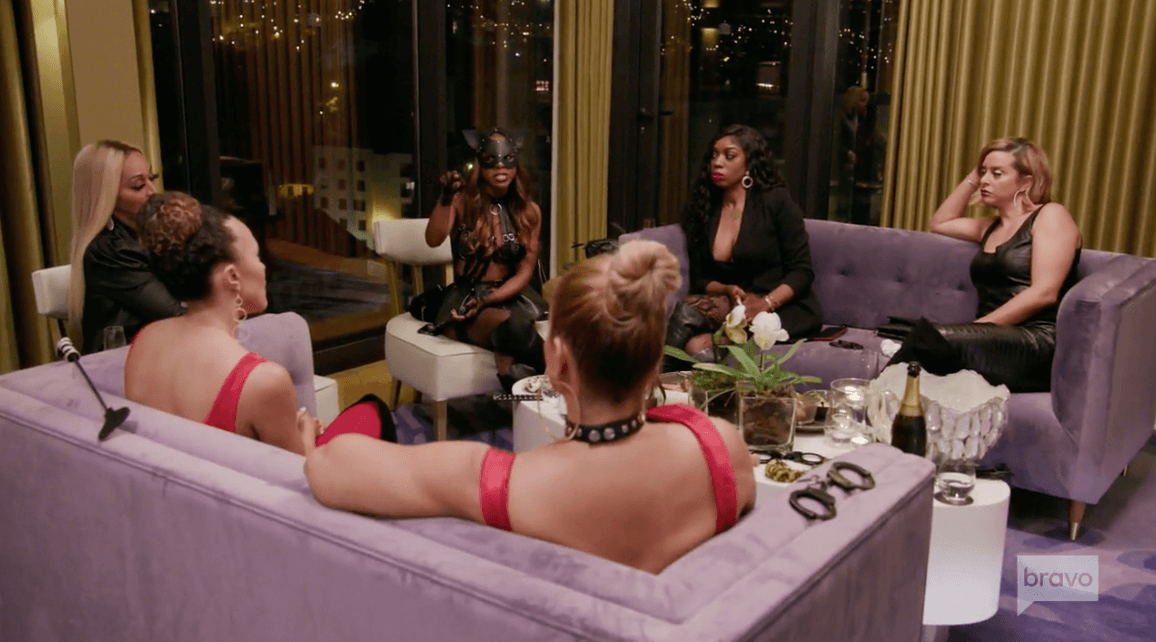 Things only go from bad to worse when Karen refuses to condemn Ashley, citing that she is privy to information regarding the case that the other ladies are not. The ladies question her as they all had a front row seat to the brawl but Karen doesn't budge citing it's a legal case and she refuses to talk.
Press play below to watch All About The Tea's Real Housewives of Potomac recap on YouTube and SUBSCRIBE to our channel.
In her confessional, however, Karen comes clean and says that Monique showed her the court documents including a statement from Candiace in which she says that she "released" a glass of wine onto Monique. According to Karen that's a bold-faced lie and both of the ladies are wrong in this situation and should be treated accordingly. 
The ladies all return to their rooms and like clockwork Ashley and Candiace both immediately call their husbands in an attempt to be validated for their feelings. And just like that another drama-filled cast trip comes to a close. Tune in next week as the drama inevitably continues!
Stay Connected With All About The Tea: Twitter Ι Instagram Ι YouTube Ι Facebook Ι Send Us Tips
Amanda Byerly focuses on Reality TV recaps for All About The Tea. Amanda is a 30-year-old wife, mother and self-proclaimed Bravo TV junkie. When she's not watching Bravo, she's writing about it, reading about it, or listening to podcasts about it. "I get by with a little help from Bravo TV."