'RHOC' RECAP: COVID Hits The OC As Braunwyn And Sean Renew Their Vows!
We begin this episode of the Real Housewives of Orange County, by seeing Kelly Dodd and her fiancé, Rick Leventhal in bed. Rick's boxed stuff is littered all over the house in anticipation of his move to California. He's given Kelly flowers and a necklace, and now he's promising to make her happy and take care of her. They lounge together, kissing and canoodling like a couple of soap stars during a love scene. 
Moving on from that TMI, coronavirus hits the OC. But right now, Gina Kirschenheiter and Emily Simpson go to the park to workout. They lunge and stretch and schlep uphill until the trainer finally leaves and allows them to talk about important stuff, like the birthday party for Gina's daughter, Sienna.
Gina and her ex, Matt, are now co-parenting, but he still has to go to trial for spousal abuse. Gina is afraid if she testifies or reads a victim statement, she'll make Matt angry. Emily sees Matt as a narcissist who tries to make Gina feel guilty for doing the right thing. If anyone should feel guilt here, it's Matt. Emily promises to accompany Gina to court and hold her hand.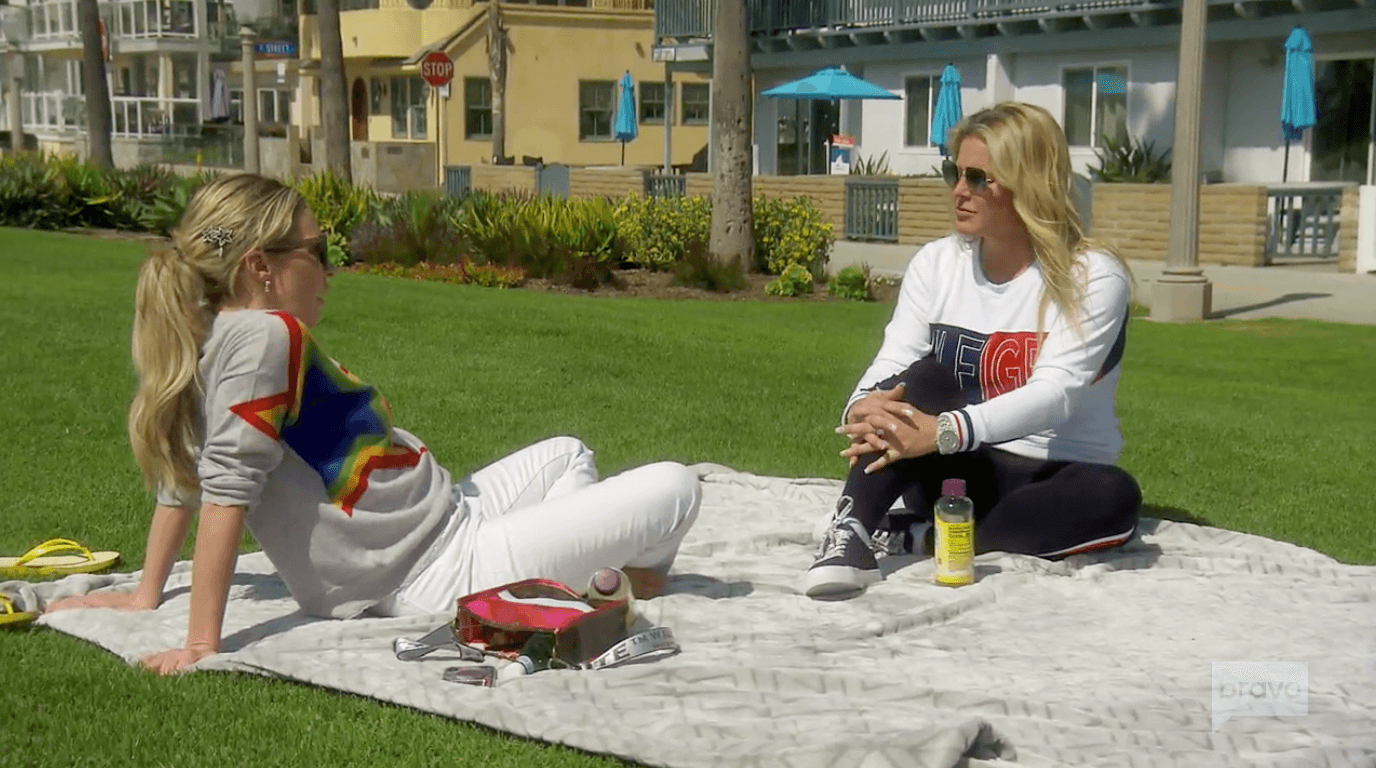 Elizabeth Lyn Vargas and Braunwyn Windham-Burke go bike riding along the beach. This is the first time they've been together since Shannon Beador's housewarming party, where Braunwyn went bonkers and yelled at Gina. But she's found a sympathetic ear in Elizabeth, who's no stranger to addiction. Her deceased father was an alcoholic, and her sister is an addict. Elizabeth may not be able to help her sister, so she's helping Braunwyn instead.
Braunwyn says she now knows Shannon isn't her true friend. Just a drinking buddy. Also, why didn't Shannon tell Braunwyn that they'd be tasting tequila at the party? That's not something a real friend would do.
Elizabeth understands fair-weathered friends. When she was still with her husband, she flew her friends to exotic jaunts all over the world, but once she split from her billionaire ex, the friends disappeared.
With her vow renewal service coming up, Braunwyn still hasn't spoken to her mom, Dr. Deb. Deb threatened to out Braunwyn for her drinking if she didn't walk back comments she'd made about her mom's negligent parenting. Dr. Deb also called Tamra and gossiped about Braunwyn's drinking. How is Braunwyn supposed to trust her mom after that? We'll find out, because Dr. Deb is going to be at the ceremony.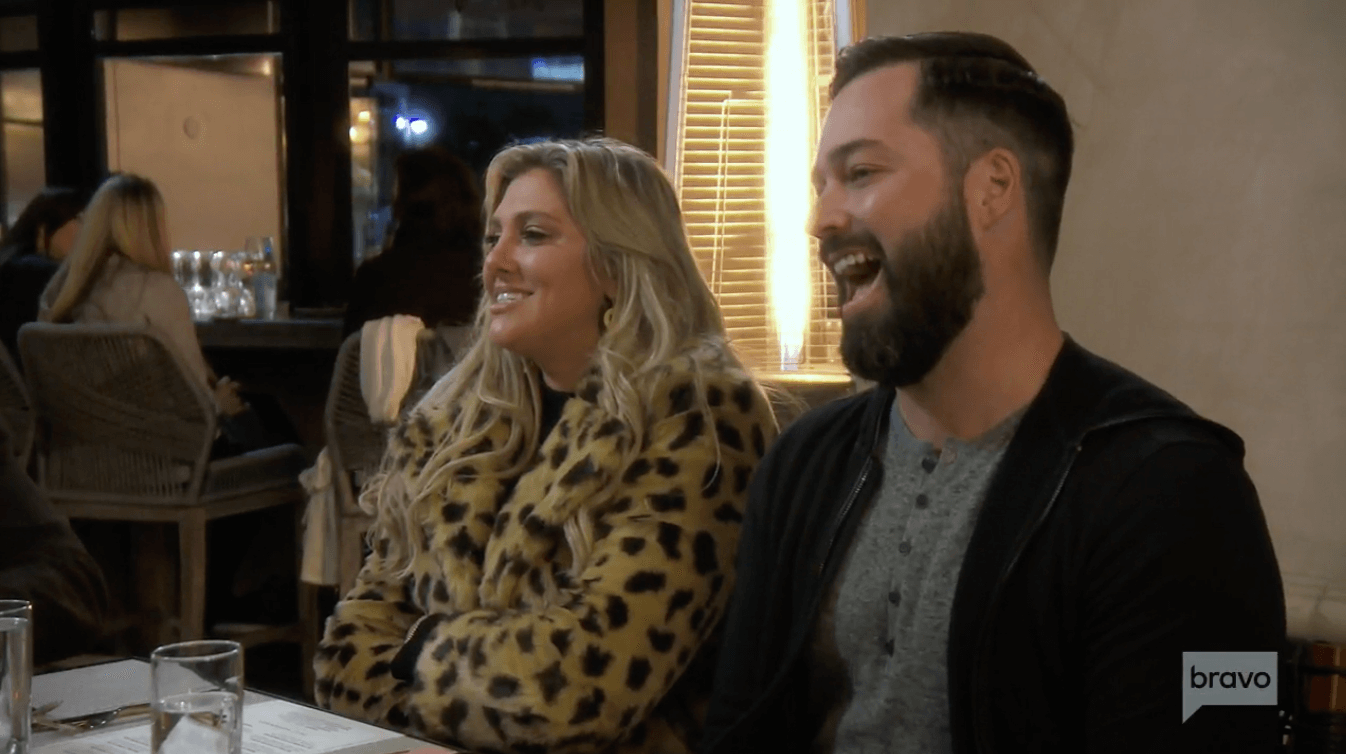 Gina and her man, Travis go on a couples' date with Elizabeth and Jimmy, along with Shannon and John. After ordering drinks, Shannon tells everyone she's been stockpiling hand sanitizers, frozen foods, and canned meats. 
Gina tells the others about her date with Braunwyn. They went to an AA meeting and coffee afterward. Gina is now #TeamBraunwyn, doing a complete one-eighty. Gina admits that Braunwyn was vulnerable for the first time. Elizabeth agrees. But Shannon isn't feeling so forgiving. She's upset that Braunwyn called her a liar. Still, she's planning on attending the vow renewal, and unlike Gina and Elizabeth, Shannon's going to get her drink on. Braunwyn can suck it!
Kelly is having a meeting with her water team. She's invested a quarter of a million dollars in Positive Beverage. It's now in Target. Unfortunately, her team spent a hundred grand on getting a booth ready for the Natural Products Expo West, which was canceled due to Covid.
Kelly's also heard that Shannon is starting her own water line. She and her partners scoff at the idea. Shannon has no idea how hard it is to get involved in the water biz. It's a tough H2O game out there, people! But Shannon's drink is lemon based with anti-inflammatory ingredients. But Kelly isn't the water genius she'd have you believe, because their current new water contains prickly pear. Kelly was clueless. "What's prickly pear? I know what a pear is …" Do you, Kelly? Do you?!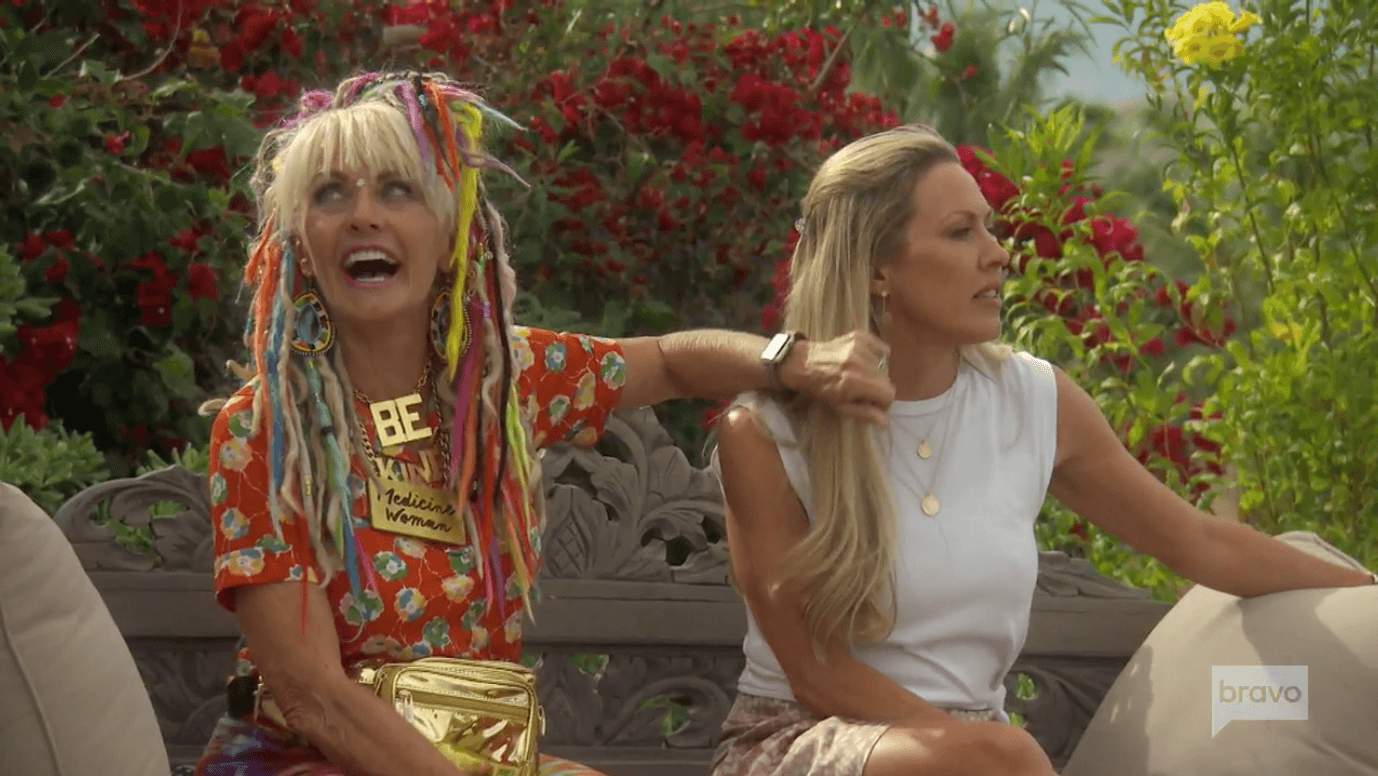 Sean and Braunwyn trek to Palm Springs to her mother's home. Braunwyn's only been at the house once, and just for a few minutes when she picked her boys up from Dr. Deb's. Now, Braunwyn's half-brother, Marley, takes her on a tour. Deb and her husband bought the property a decade ago and have been slowly making it into their dream home, complete with a rock circle out in the yard. There's a center pit where you can burn letters and things. Deb says it's a perfect place for "letting go." This is a not so subtle reminder for Brauwnyn to stop bitching about her childhood.
Braunwyn talks about the OC ladies, how they'll all be coming to support her renewal. Deb says she's met Gina a few times, and Gina didn't seem interested in her. (Um, Deb. You know you're not a member of the show, right?) But Braunwyn defends Gina, saying she's the only one who wants to hang with Braunwyn now that she's sober. That's because, according to the loving Dr. Deb, Braunwyn's a lot less fun now that she's no longer imbibing. At least, Deb backtracks, that's what her friends might be thinking. 
Braunwyn tears up as she tells us that Dr. Deb has used addiction against her own daughter, calling her broken and unreliable. Even now, Deb can't even admit she's proud of Braunwyn for taking this first step, and that hurts.
Kelly stops by Shannon's house on a rainy afternoon. Rick has flown back to NY and can't attend the ceremony. Emily and Shane come in next, followed by Elizabeth. Once Gina arrives, they take a van to Palm Springs.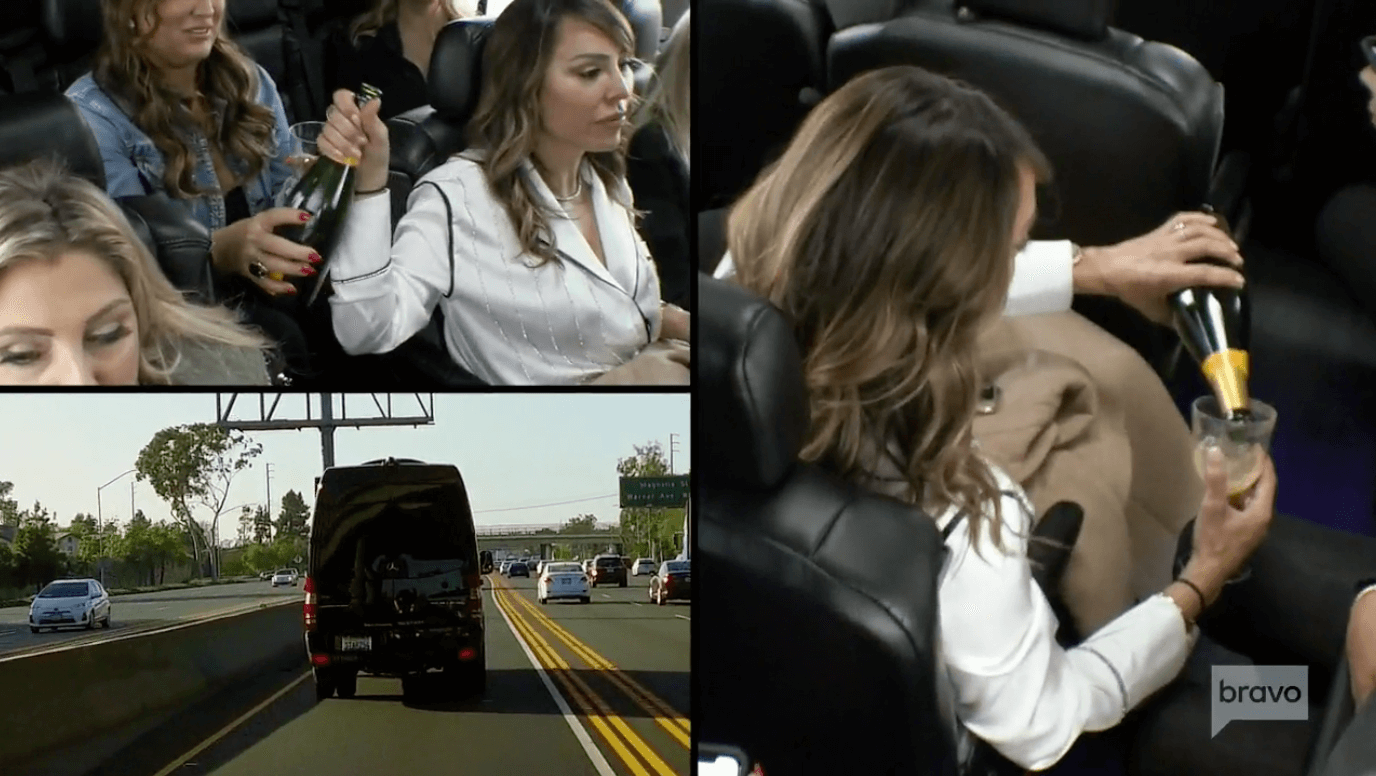 After they get on the road, Kelly pops the champs and everyone toasts to Braunwyn and Sean making it twenty years. The closest to them has been Shannon, who stuck it out with David for seventeen years. She admits she hasn't met his fiancée. David won't even return her texts involving the kids. She just wants to co-parent, but it's hard when he won't meet her halfway.
Talk turns to Instagram, where Emily says Shannon has blocked her for over two years. Shannon whips out her phone and changes that. Now, Emily promises to comment on all of Shannon's posts.
In Palm Springs, Braunwyn's BFF shows up to help her get ready for the ceremony. Shari helped Braunwyn get sober. Sean was still trying to cover for her at that point. Braunwyn credits Shari for saving her life.
On the bus, Gina tells the group that there will be no tequila at this party. What?! These women may talk about water, but they mostly drink tequila. Without it, they'll be parched. Their bodies might dry into husks before they make it back to the OC. Kelly is particularly offended by this and wants to stop at a liquor store and stock up. She'll drink it discreetly, from a flask, because she's classy like that. 
Braunwyn's kids finally arrive in Palm Springs. She's excited to see them, but she really wants to prove to everyone that she can do this sober.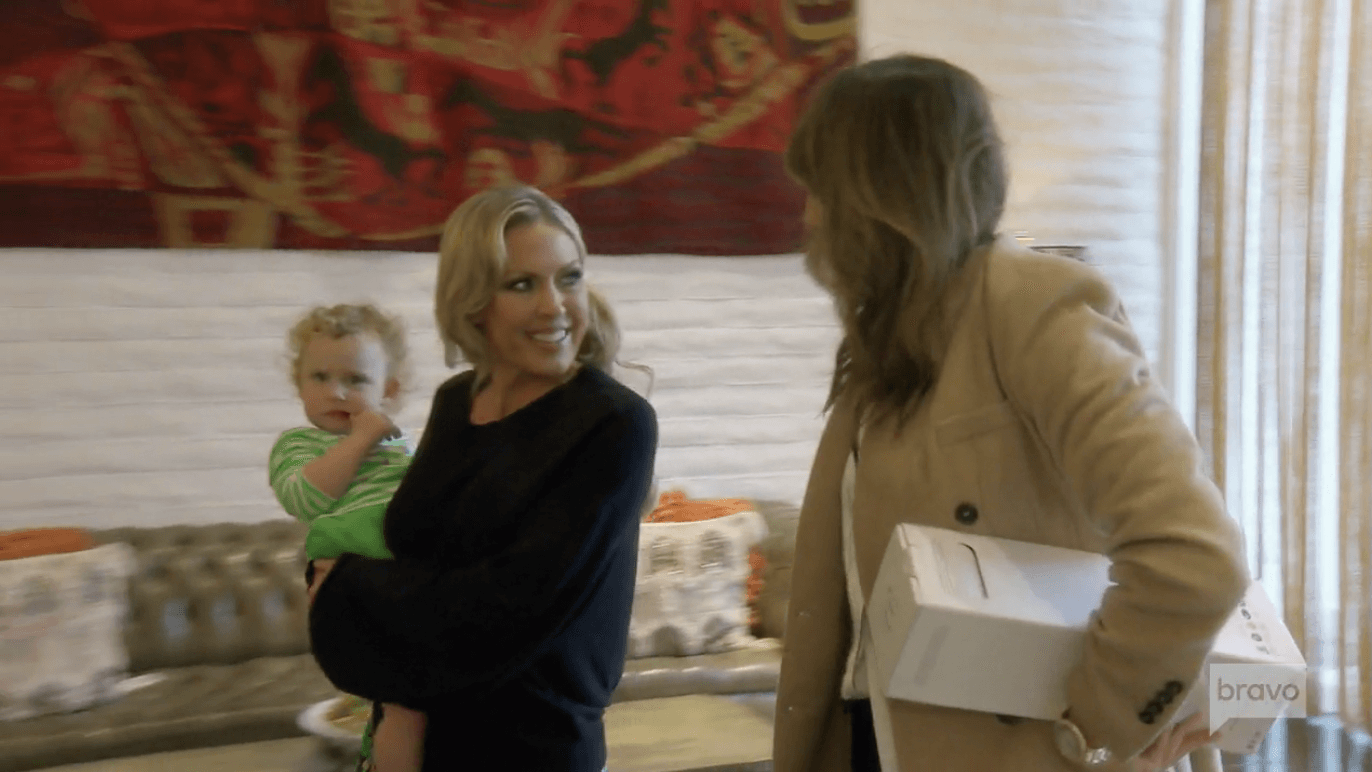 When the ladies get to the hotel, they meet Braunwyn. Shannon is coolly pleasant and has enough respect for her sober host that she has the bellman carry her tequila to her room. Kelly? She doesn't give a shit and carries a bottle under her arm as she greets Braunwyn. Gina, ever the supportive new friend, promises to attend a meeting with Braunwyn first thing in the morning.
The women settle into their rooms. Shannon and John pass the pool that explicitly tells them not to enter if they have diarrhea. Gross. Kelly facetimes her dog, Benji, and daughter, Jolie. Elizabeth and Jimmy sip champagne and kiss awkwardly. Shane is too weak to open a bottle of mayo, but Emily twists off that cap without blinking.
Gina joins Emily and Shane for dinner. Gina's upset that Kelly made such a big deal about Braunwyn not having tequila at the party. Shane agrees that Kelly's jokes and jabs were out of line. 
Then they start discussing Jimmy and Elizabeth. Elizabeth is freezing her eggs, but isn't sure if she wants kids. Shane says Jimmy has been adamant about not wanting them, so who's she saving those eggs for? Is Jimmy a companion or a boyfriend? And what does he think about Elizabeth's talk of invitro? Gina vows to find out.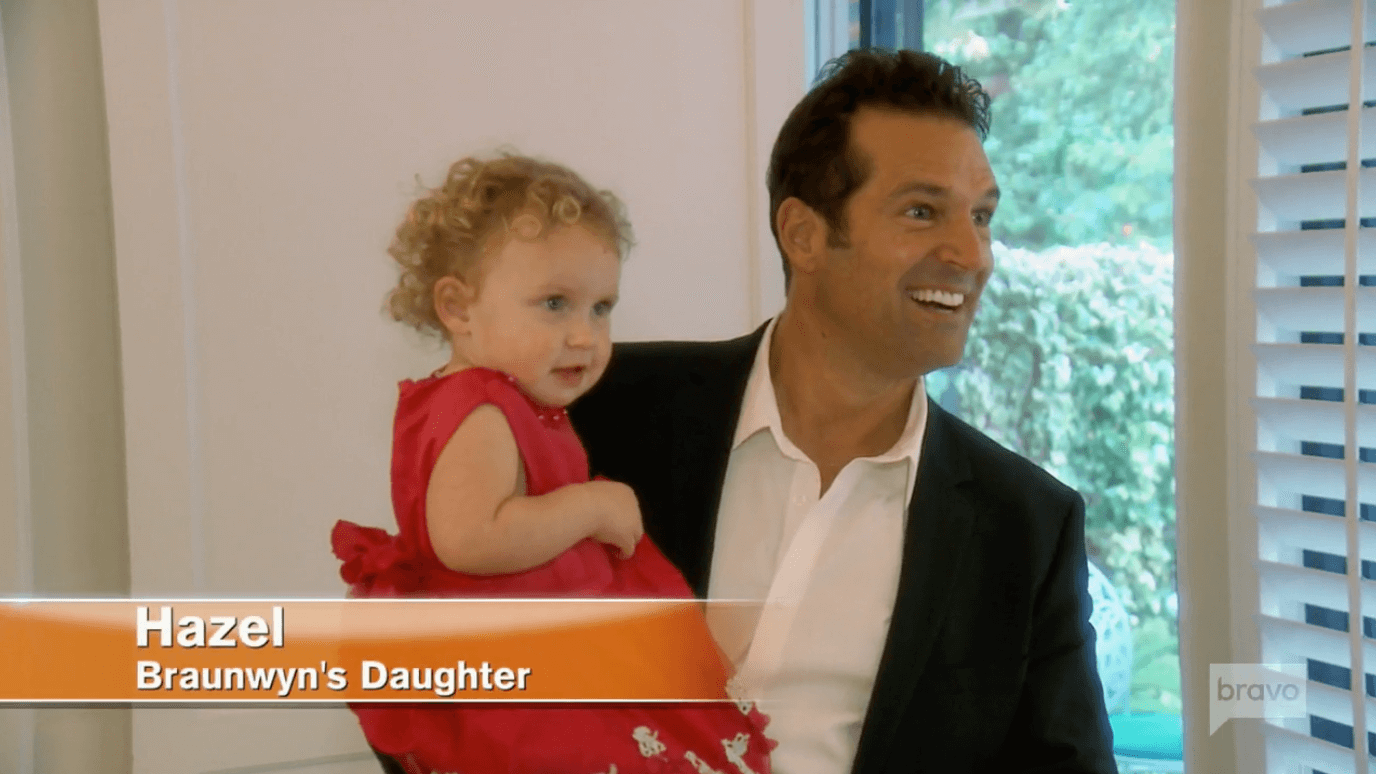 Braunwyn's finally ready and wows Sean with her dress. She says that she and Sean are at a new chapter in their lives, and she's excited to see what's next.
Shannon is having trouble getting ready. She's worried that they're late, that she's too fat, that her daughter's dress is too short. But she makes it on time.
Shannon reflects on her own vow renewal and how it spelled an end to her marriage. She hopes Braunwyn isn't cursed like she was.
Zach, Kelly's business partner, and Kelly whisper snarky comments about Shannon and her all-black ensemble. Then Kelly approaches Shannon and demands to know about Shannon's water plans. Amino water? That's a little too close to Kelly's water company. Shannon sets the story straight. She's not selling water, but a little tincture supplement. Shannon insists she would never infringe on Kelly's business. 
The drag queen officiant calls order, and everyone takes their seats. Poor John has to listen to Shannon bitch about Kelly and the water misunderstanding. He tries to look concerned but mostly looks bored.
The officiant introduces all the Burke children, as they make their entrance. When the drag queen makes a reference to most of the guests being drunk, there's a long, awkward pause.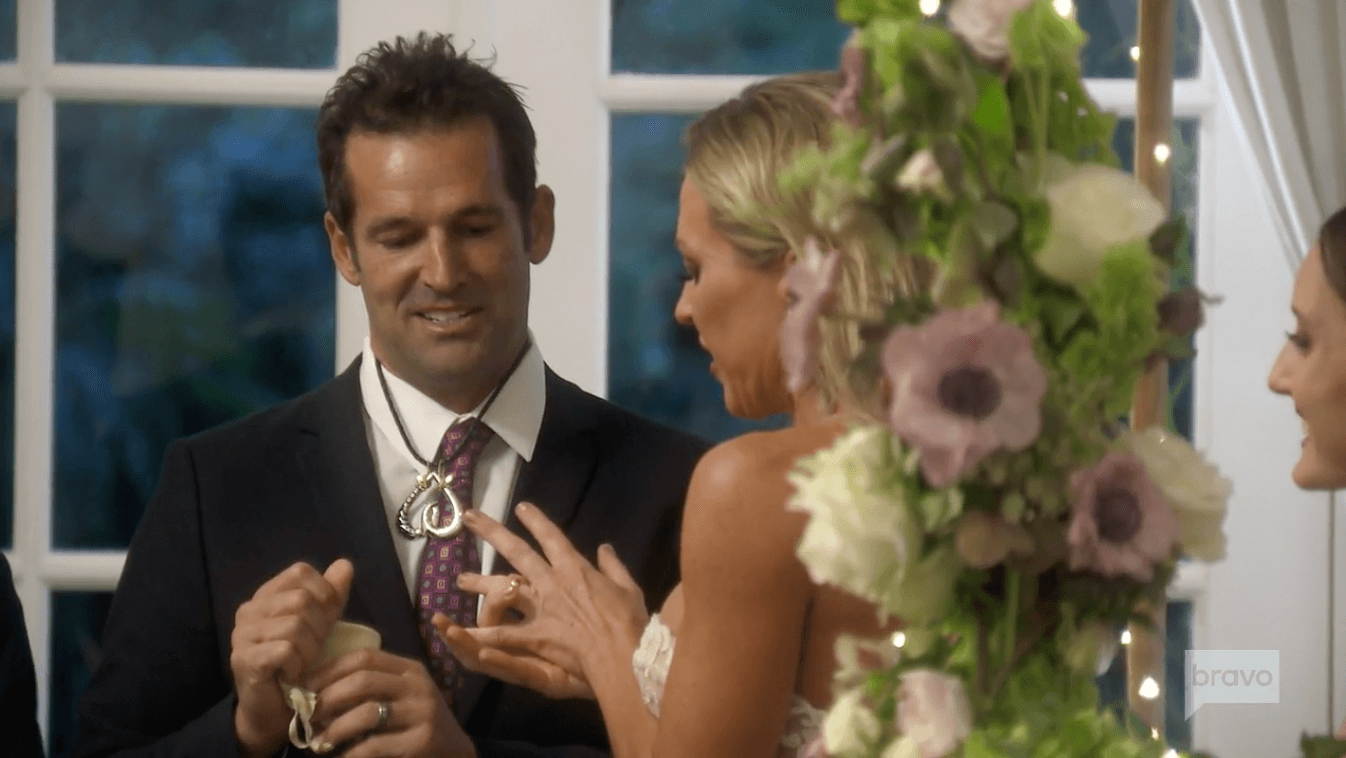 At the altar, Braunwyn gifts Sean another statement necklace. (Oh, the humanity!) Emily again compares it to the Survivor immunity idol. Sean gives Braunwyn a ring with all their kids' birthstones. Jacob asks some stupid questions of his parents, like would Braunwyn always promise to love Sean, even when he's famous, and runs off with a twelve-year-old model. Eww. Remember the good old days, when kids were relegated to the back of the room, given a Gameboy, and told to stay quiet? Ah, good times.
After the ceremony, Shannon leaves John and sits by Gina. She immediately complains about Kelly thinking Shannon was starting a water line. Emily and Gina support Shannon, and then Kelly comes and sits down behind them. She knows Shannon's talking sh*t about her, and if you think Kelly will let that slide, you've never watched RHOC.
So, do you think Dr. Deb was being too harsh? Was Kelly out of line with Shannon? And would you take your own tequila to a wedding?
Stay Connected With All About The Tea: Twitter Ι Instagram Ι YouTube Ι Facebook Ι Send Us Tips
I'm a fiction writer by day and a reality TV addict by night.