'RHOP' RECAP: Ashley Darby Takes Monique Side In Fight, The Ladies Play Cruel Prank On Wendy!
Welcome back to an all new episode of Real Housewives of Potomac – the one where the green-eyed bandits find out that Ashley Darby has given a character witness statement regarding ol' Candiace Butterknife Dillard. Obviously, both Gizelle Bryant and Robyn Dixon are none too pleased with this info and the fireworks ensue! Let's get started, shall we?
The episode picks back up where it left off with Gizelle and Karen Huger sparring back and forth about Gizelle's alleged fake boyfriend/ex-husband, Jamal Bryant. "He ain't here," Karen says as she gestures around the table wildly and the ladies look on confused. Meanwhile, the ladies all look around at one another while trying to muster up the courage to remind Karen that this is a girls trip. 
Karen then brings up the fact that Gizelle Instagram storied herself walking in front of a jewelry store alluding that Juan is on his way to putting a ring on it – again. According to Robyn, however, "the ball is in Juan's court" as she will not corner him into marrying her — again.
Ashley then leads the ladies to their very first excursion of the trip… toboggan rides.  After a near-death experience, the ladies then head to the markets to a do some shopping. Gizelle pulls Karen aside and chastises her for nearly spoiling Juan's engagement surprise. But in doing so, she basically admits that Karen was right and there is a ring on the horizon. Karen gleefully skips away knowing that she is now officially in on the secret. Ay yi yi.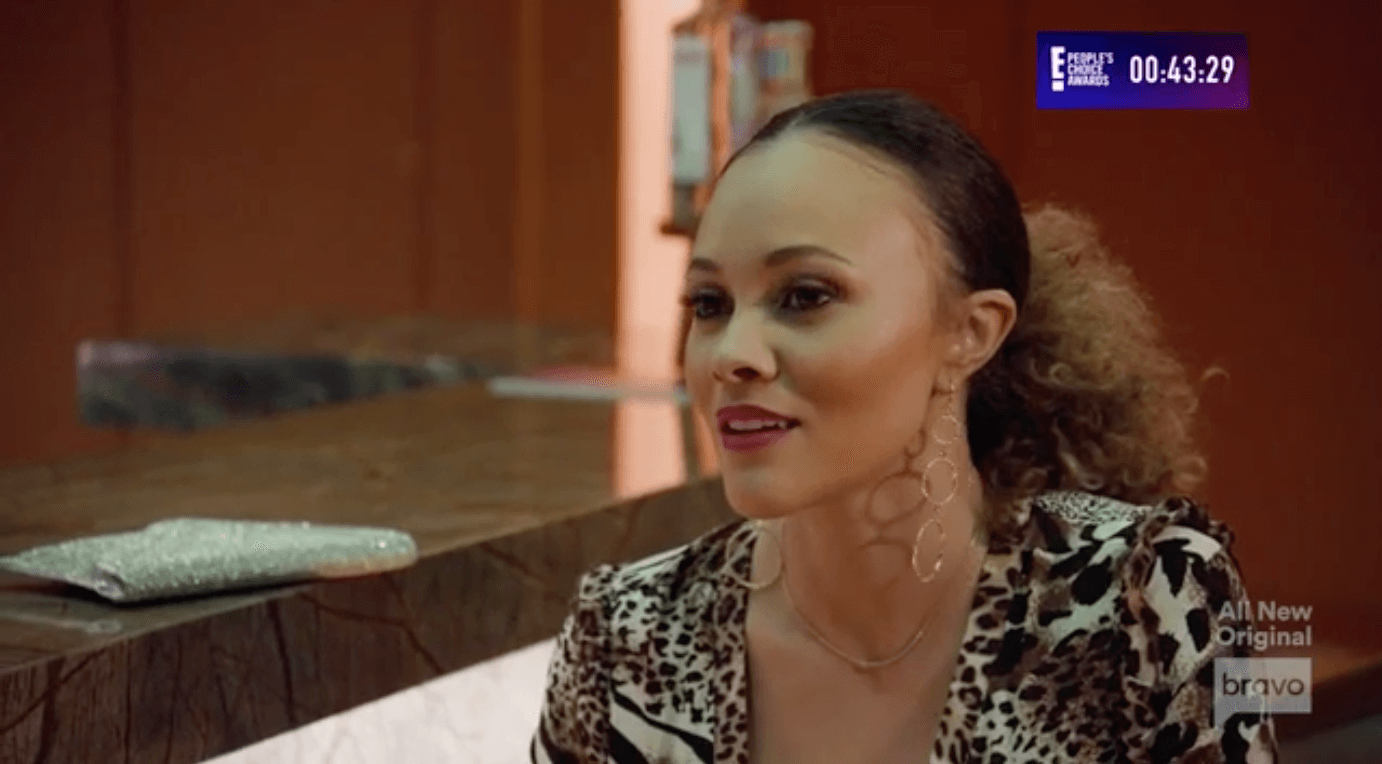 Cut to Gizelle plotting to initiate the new girl on the block, Dr. Wendy Osefo. Gizelle explains to Ashley that she's got a few pranks up her sleeve involving planting rubber snakes and spiders in her room. Let the hijinks ensue!
The ladies meet for dinner at a beautiful waterfront restaurant and Candiace Dillard makes a shocking revelation when she declares that since the winery brawl she's now officially ready to have kids. Not sure exactly what getting your hair pulled has to do with deciding you're suddenly ready to be a mother… but okay!?
While everyone else relishes in Candiace's news, it's obvious Ashley is feeling some type of way. It's finally time. As Ashley says, "the Karma train has finally arrived" in her station. She then launches into a monologue about how when she and Michael were trying to start a family and even miscarried, Candiace was less than sympathetic or supportive. In fact, she was downright mean – even accusing the couple of fake crying about their miscarriage at Monique Samuels' event. 
Instead of apologizing on the spot, we're treated to this awful song and dance of Candiace saying I'm sorry in a round-about way without ever actually uttering the words. Anyone else noticing a pattern here or…?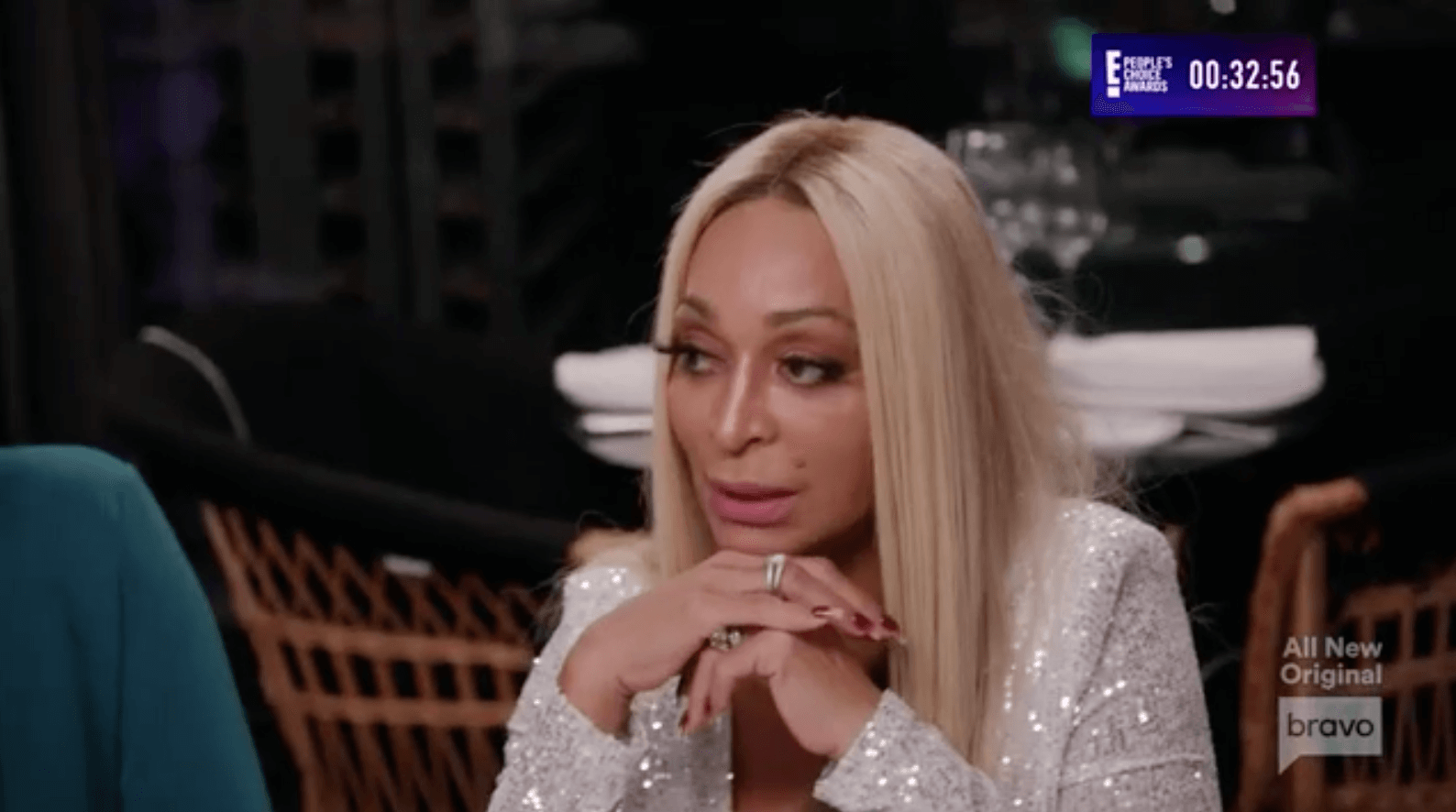 Karen then seizes the moment to make the moment about her when she delivers a long soliloquy about how she and Ray have finally opened up to what each of them needs – even in the bedroom and now their marriage is much better off for it.
Karen, hunni, we get what you are trying to do here but no distraction in the world could allow the ladies to forget about Ashley's attempt to call Candiace out for her disgusting behavior towards a woman who is dealing with a miscarriage. 
Traveling can be stressful with children, but here are some tips to ease the tension from Not For Lazy Moms Podcast. Press play below to watch.
Ashley starts back in and admits that she's "holding on to some things." Gizelle and Robyn start working overtime in an effort to defend their pet project a.k.a. Candiace. According to the Green-Eyed Bandits, Ashley used to behave the same way as Candiace before having a child of her own. Ashley brings up a good point, stating that she never went on social media and bashed someone for all the world to see and instead of agreeing with Robyn, Robyn simply excuses Candiace's behavior citing it as a "character flaw." Um wut? Is threatening someone with a butter knife also considered a simple character flaw or…?
Once it becomes apparent that Candiace will not be let off the chopping block until she mumbles out an apology, she does so, though it's apparent to everyone that she was only willing to give it once she was backed into a corner.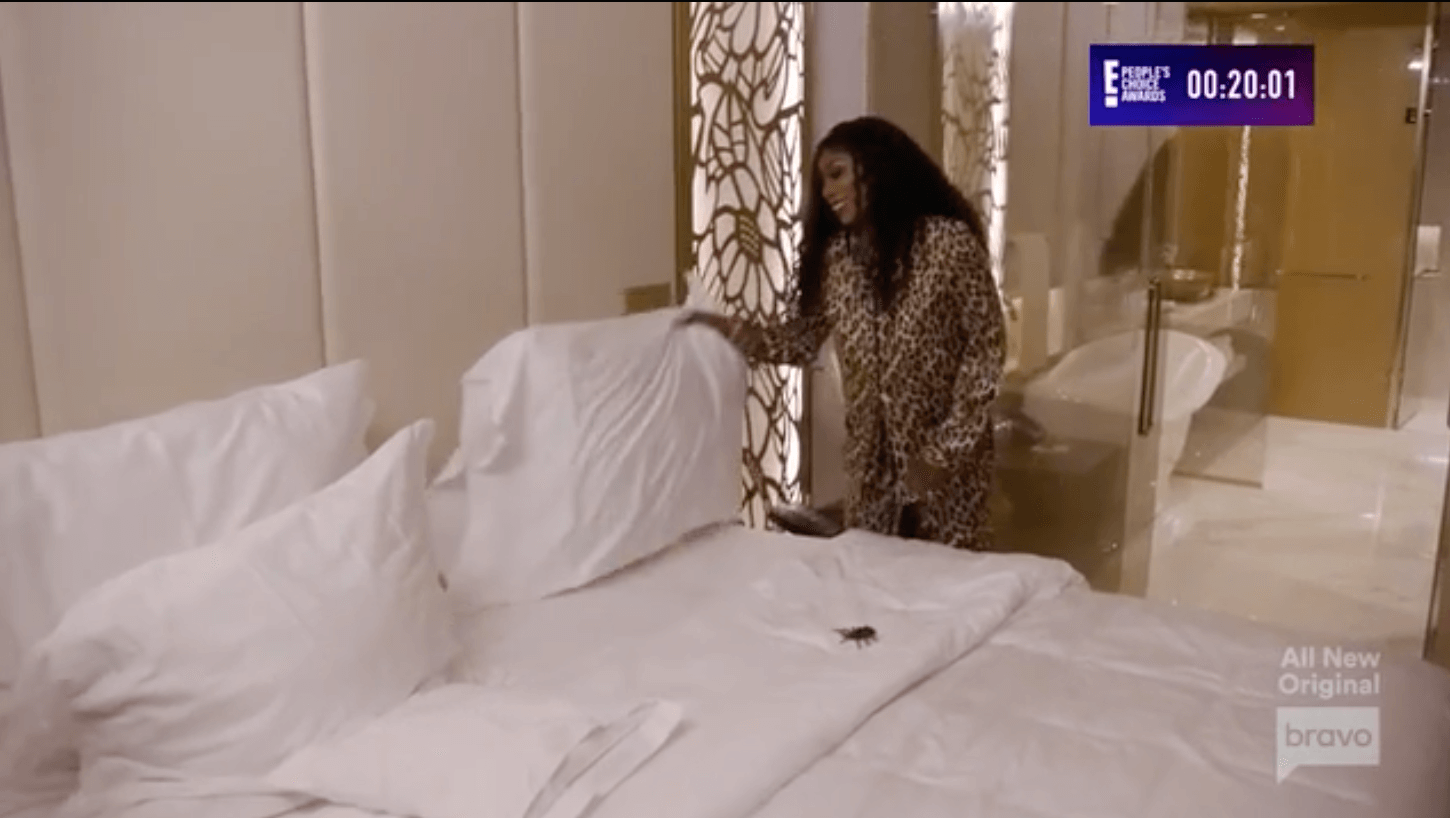 After dinner, the ladies head back to the hotel for after-dinner drinks but first – they must haze Wendy. Gizelle, Robyn, and Ashley head up to Wendy's room and wait for her to arrive. Once Wendy arrives they jump out of the closet and the first prank is more or less a dud. Later, however, the producers stay in the room and capture Wendy's screams as she finds both a rubber spider and a snake in her bed. Finally!
The next morning Gizelle and Robyn meet by the pool and Robyn proceeds to tell Gizelle that Karen's modeling photos from her Embezzled Embellished photoshoot are "challenging." Basically, Robyn doesn't think Karen has what it takes to model her hats. Gizelle echoes Robyn's same sentiments declaring that Karen "is not doing the hats justice." Um, excuse me? The Grand Dame is not doing the trucker hats justice? LOL. That's funny. Robyn arrives to the conclusion that the only other option is to nix Karen from the website altogether. That should go well.
The conversation then switches gears and promptly moves on to what sex looks like with Ray and Karen. Robyn then casually drops a bomb that Karen drunkenly admitted years ago that she hated Ray's d*ck. Shots fired. I repeat shots fired.
Ashley then meets Gizelle and Robyn by the pool and delivers the devastating blow that she's already submitted a character witness about Candiace on Monique's behalf. YIKES. As expected, Gizelle and Robyn aren't happy to learn this news and immediately start taking Ashley to task. "So she wants you to assassinate Candiace's character???" Robyn asks.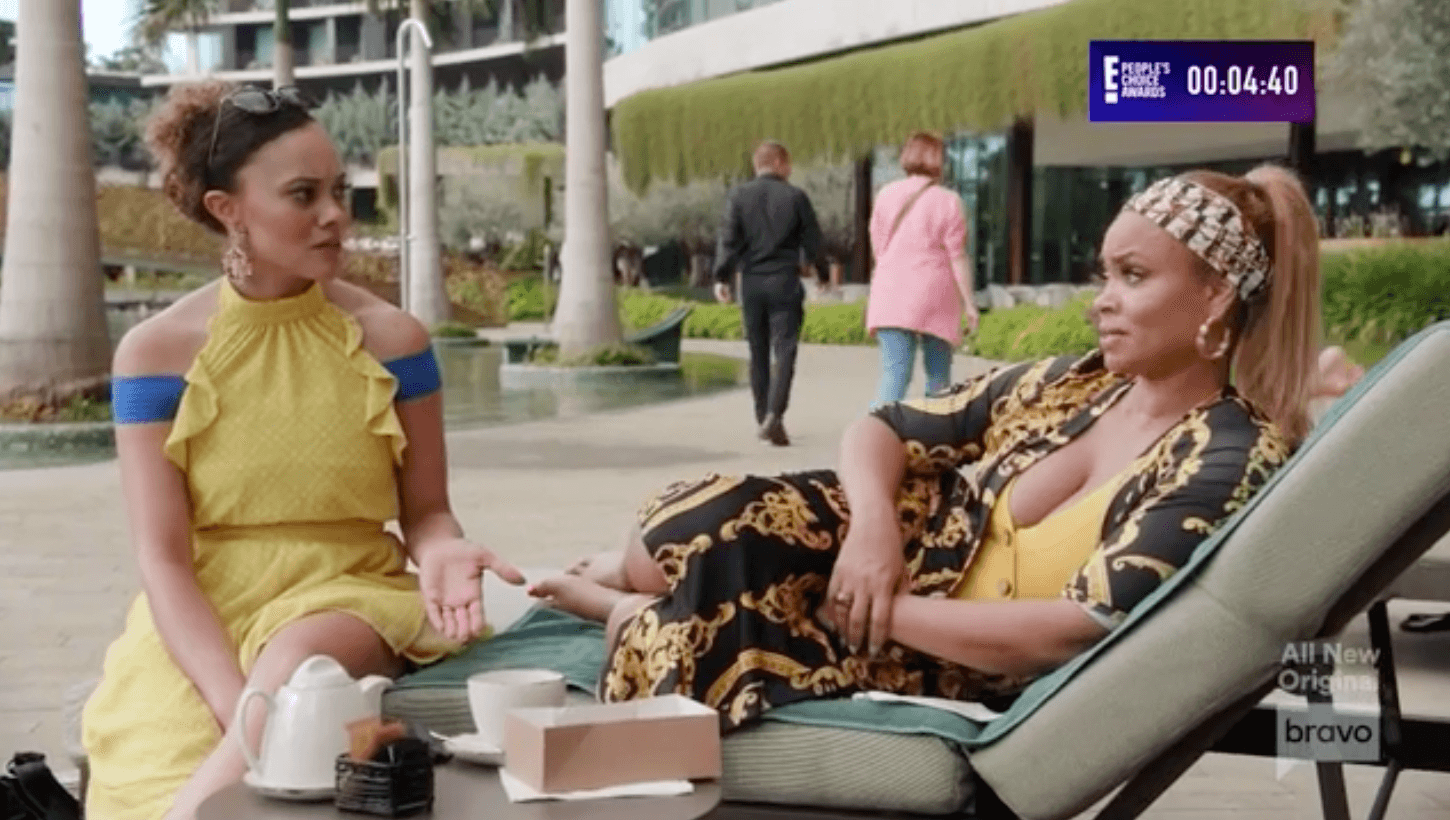 Ashley brings up that the stakes are quite high as Monique could potentially go to jail over this. Judge Gizelle says with complete conviction as if she knows for certain, that Monique is not going to jail. Hear ye, hear ye. Judge and jury Gizelle Bryant has spoken.
Ashley quips back that she doesn't know that and instead she is simply returning the favor after the Samuels' wrote a statement on behalf of Michael Darby during the infamous butt-grabbing incident.
Gizelle then declares that Ashley and Candiace's relationship will be over once she learns this information and Ashley responds back, "I can't say I'm sad about it." Sayonara, sweetie!
Stay Connected With All About The Tea: Twitter Ι Instagram Ι YouTube Ι Facebook Ι Send Us Tips
Amanda Byerly focuses on Reality TV recaps for All About The Tea. Amanda is a 30-year-old wife, mother and self-proclaimed Bravo TV junkie. When she's not watching Bravo, she's writing about it, reading about it, or listening to podcasts about it. "I get by with a little help from Bravo TV."