RECAP: Mary Cosby & Jen Shah Argue On the Season Premiere of 'The Real Housewives of Salt Lake City'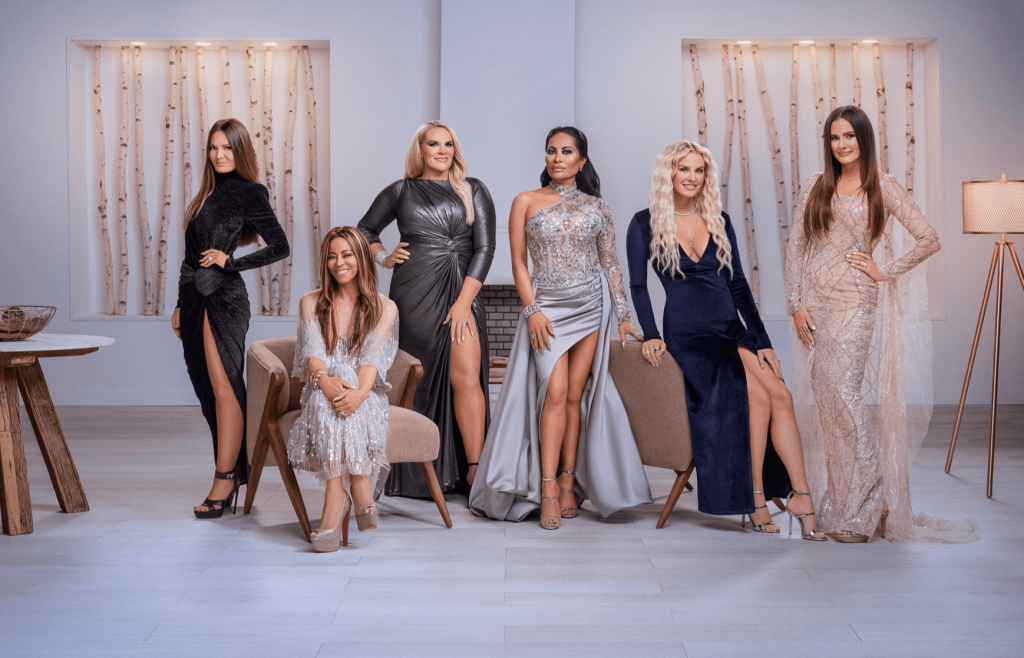 Welcome to the newest Housewives franchise. It's time for the Real Housewives of Salt Lake City!
Let's start with Jen Shah. We meet up with her and her husband, Sharrieff, in her wood and stone chalet. Her husband is cooking breakfast for her. Originally from Hawaii, she moved to Utah when she was six. People mistakenly take her for African American. Her husband is, however, African American. She has two boys, twenty-four and fourteen, respectively. 
Sharrieff is a football coach at the University of Utah. Because of his schedule, they don't spend a lot of time together. They met in college, and for Sharrieff, it was lust at first sight.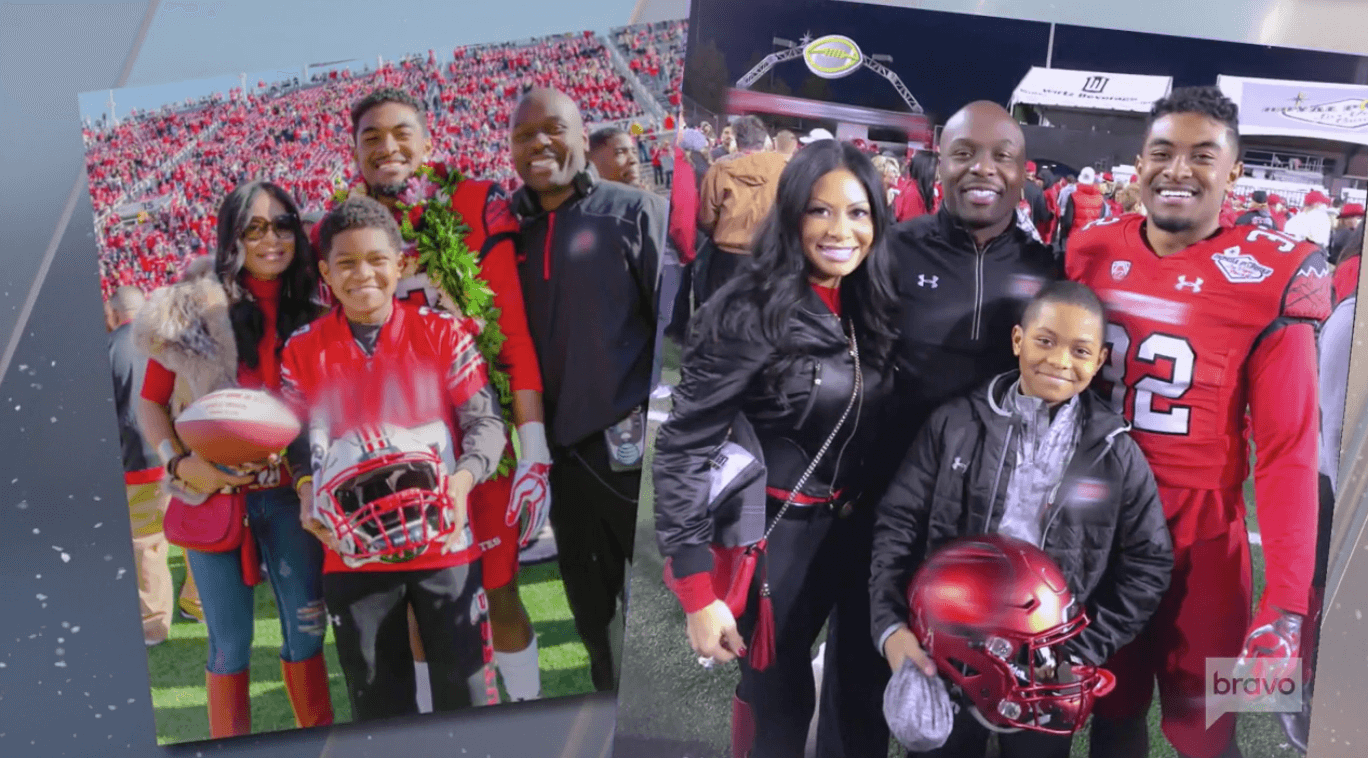 Sharrieff Jr. is applying to med school, and while Sharrieff wants his son to get a job, Jen wants him to study. Omar is doing well in school and might have a girlfriend, but won't discuss it with his parents. Jen asks if he's kissed a girl, because that's how you get herpes and maybe AIDS. Um…I guess Jen didn't graduate with a science degree? Next, she asks him if he knows about sexting. Both boys act shocked and gently mock her.
Sharrieff is Muslim; Jen was raised Mormon. When she asked him to convert, he refused because the Latter-Day Saints refused to allow black people to join the church until the 1970s. So, she converted instead. 
Heather Gay moved to Utah when she was fifteen. She believes perfection is attainable. She owns the Beauty Lab, which is a twenty-million company, and has a Mormon pioneer ancestry. 
Her daughters come in to the office for a few treatments, even though their skin is baby smooth. What fourteen-year-old needs a facial?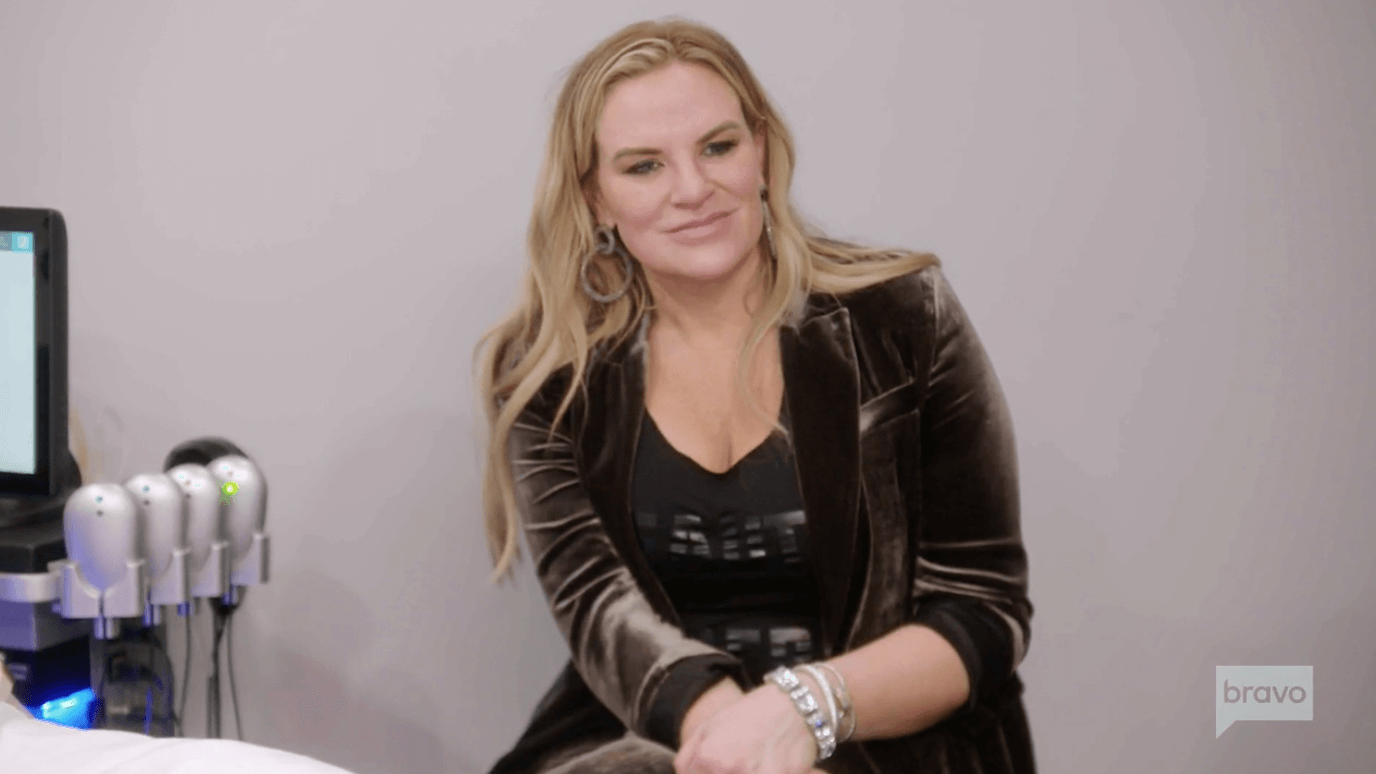 She tells us that she married into a very wealthy family. Howard Hughes hired her Grandfather-in-law as a driver and henchman, and left a significant portion of his money to their family. But when she divorced her husband, she had to make it on her own.
Meredith Marks, her husband, Seth, and son, Brooks go for a hike. The family moved to Utah seven years ago, and have lived there mostly part-time. She's Jewish and from Chicago.
Meredith finds a surface kindness in Utah. She and Seth have been married for twenty-three years. She has three grown children, and Brooks is taking a gap year and living at home. He helps her with her makeup, which she considers a boon.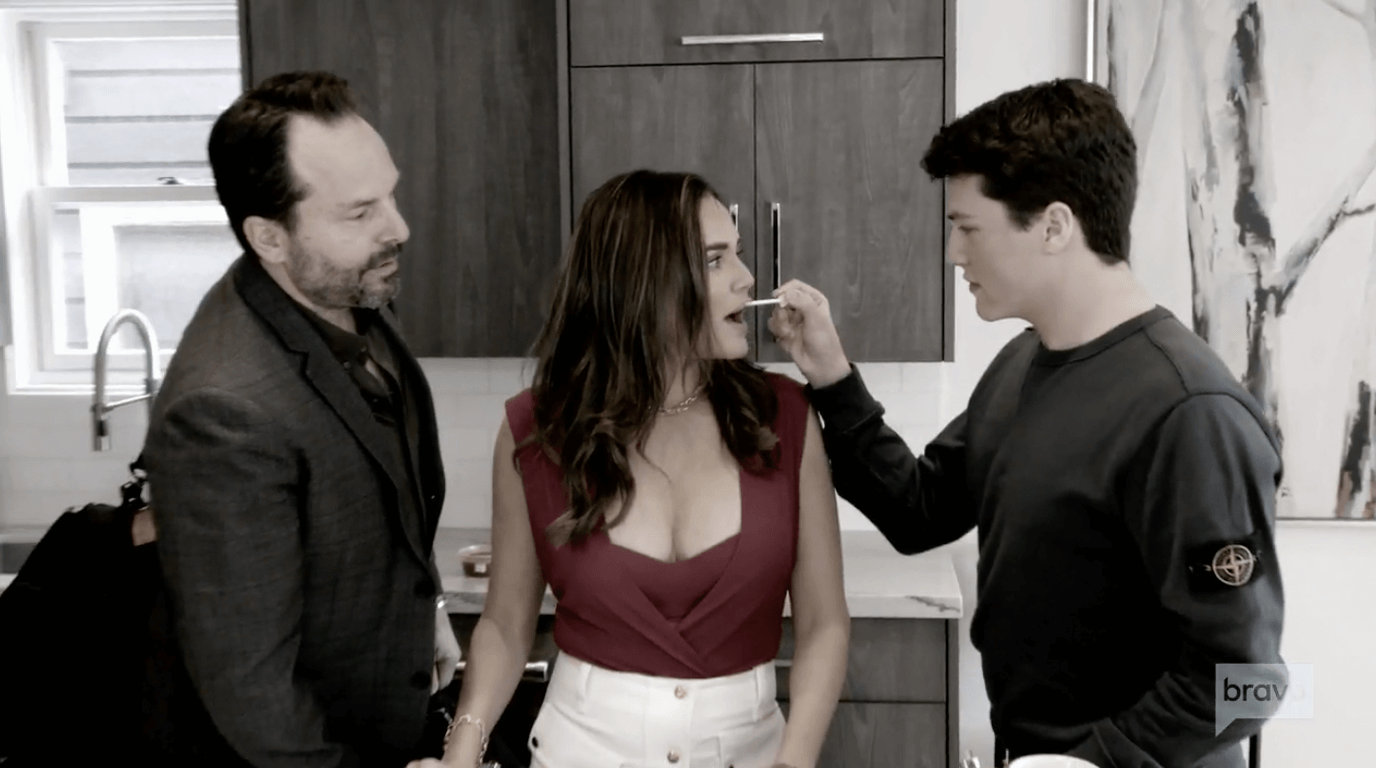 Seth is trying to build a business and living in Chicago. But Meredith needs to be in Utah for her store and jewelry business. She has a lot of celebs who wear her togs. 
Seth thinks you can't have enough money or sex. Sadly, he claims to be overworked and undersexed. Meredith is not amused. 
Lisa Barlow was born and raised in NY. She's Jewish by heritage, Mormon by choice. She came to Utah for college and never left. 
John and Lisa's sister served on their mission together. They've been together for sixteen years and have two boys.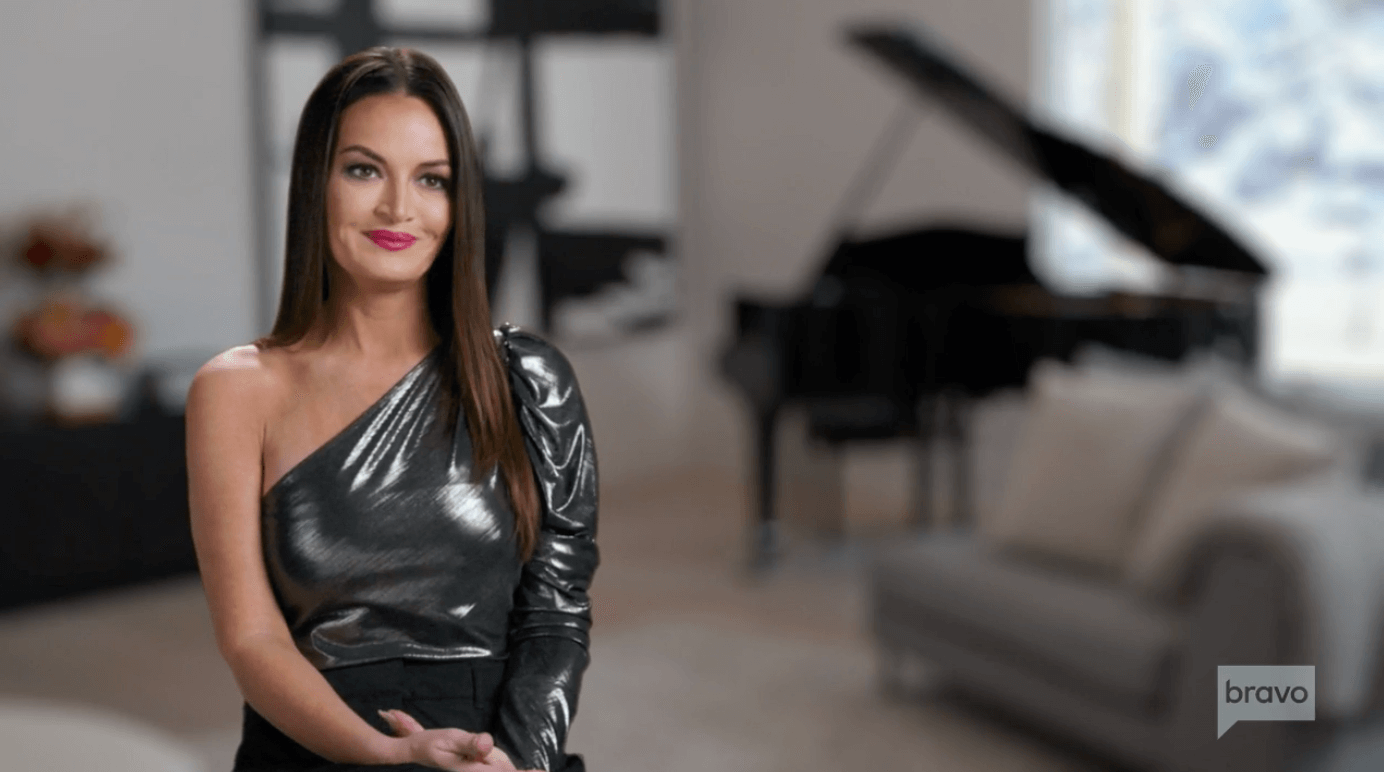 Lisa has a marketing company and with her husband, owns a few liquor brands. (That's a Mormon no-no, no?) But she likes her tequila and doesn't care what anyone thinks of her.
Lisa doesn't cook. She doesn't make breakfast, and they don't eat as a family. And she's not apologetic about it.
When Jen (and Stuart, her 1st asststant) arrives at the Beauty Lab, she meets up with Heather. Jen wants her armpits Botoxed. Sweat is so embarrassing, y'all! She's even had her knees done. Jen is Heather's dream customer.
They discuss Meredith's upcoming birthday. Male strippers and recreating Studio 54 sounds perfect! At least according to Jen. Heather's not so sure.
It's Whitney Rose's wedding day, and despite the cold, she's having an outdoor ceremony. Whitney is a perky blond and also Heather's cousin. She's always wanted a fairytale wedding — including a dress that flashes her cleavage to all and sundry. But this isn't just a wedding, it's a vow renewal ceremony. Because she was preggers the first time around — and forced to wear her prom dress — she now wants a big blowout.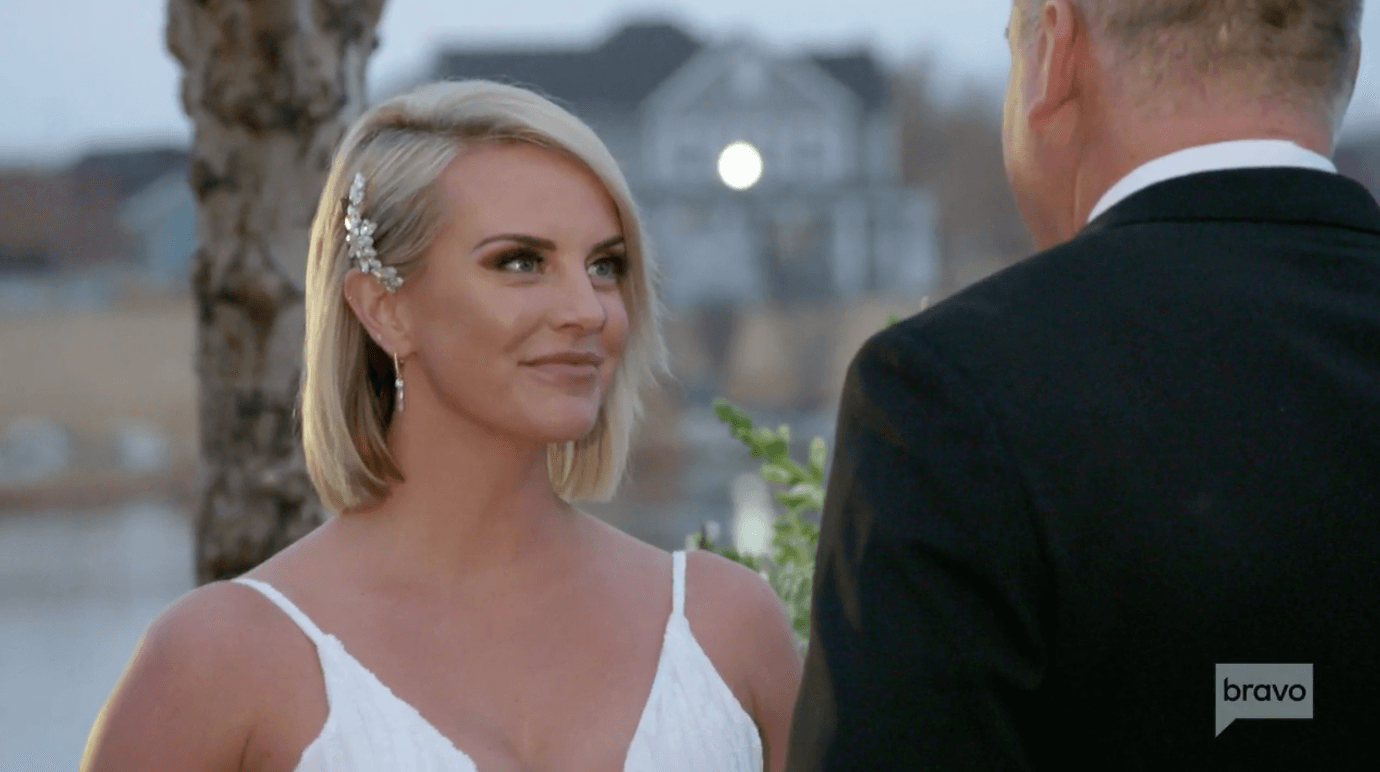 Whitney and Justin have been married for ten years. He's eighteen years older than she is. They worked together, were married to other people, and tried to hide their liaison. Sadly, baby bumps are hard to hide. They now have two kids, Bobbie, nine, and Brooks, six. Yep, Bobbie Brooks, people. You can't make this shit up.
Because of their adultery, they were ex-communicated from the church.
Whitney's great-great something was a bodyguard for Joseph Smith himself. No longer being a Mormon is kind of a big deal.
During their first wedding, her family turned their back on her. But now they're finally coming around. Whitney's not unhappy with her choice. As she spins on the stripper pole in the middle of her reception, her creepy dad looks on, cheering.
Back to Jen, Stuart drives her around town. He's indispensable. He does everything for her, including buying tampons and keeps track of her period. Okaaay.
She's expecting him to plan the birthday party for Meredith — and he has to execute it in four days. But he's used to it, because Jen loves to throw over-the-top parties. This birthday shindig is less about Meredith and more about Jen showing off.
Lisa stops by Meredith's house. They were set up on a friendship blind date. They look so much alike; they could be sisters. They wait for Jen to arrive before digging into the cucumbers.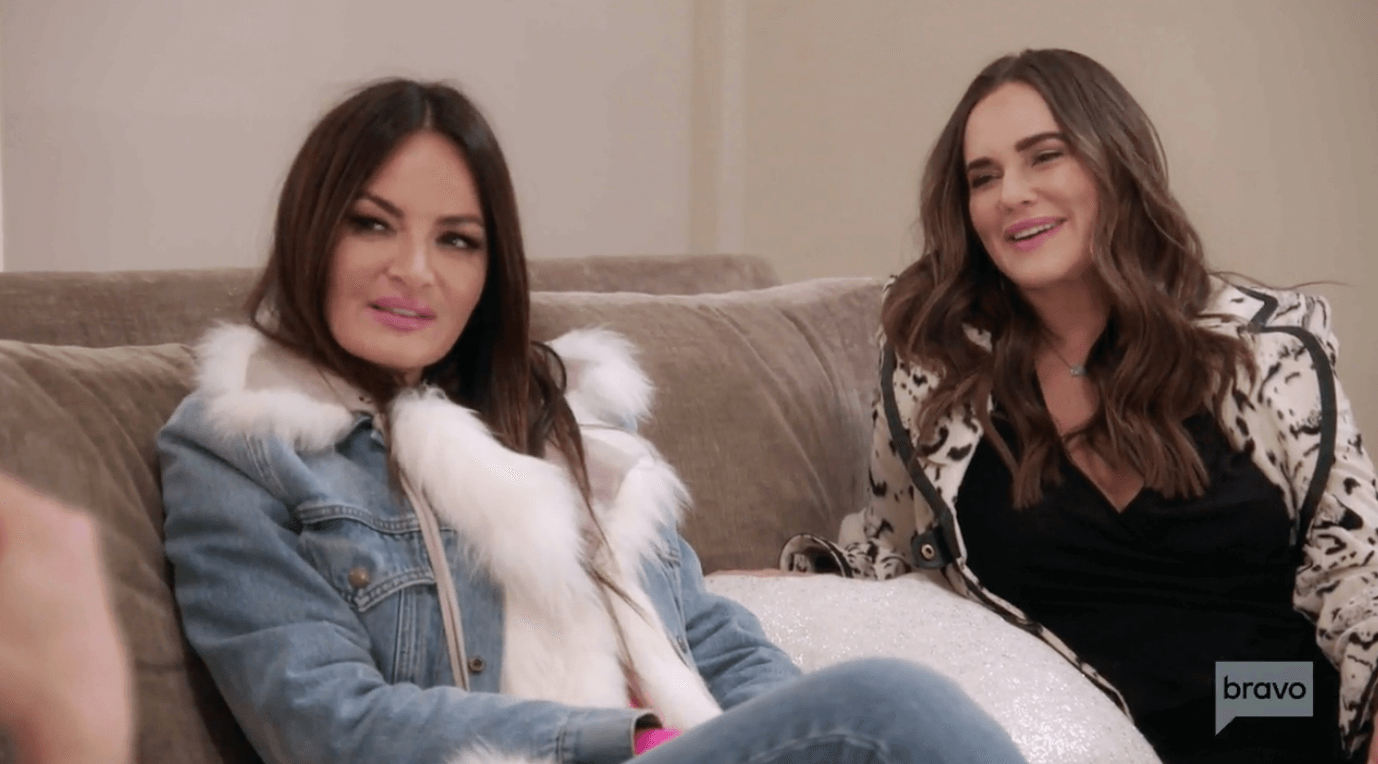 When Jen does arrive, she has on six-inch heels despite the falling snow. Jen met Lisa at Sundance. Lisa knows the celebs and has access to all the best parties.
Jen thought Meredith was stuck up when they first met, but now they're buds. Jen tells Meredith she's planning a small, girls only cocktail party for her birthday, but really, she's planning on a red carpet, step and repeat party with male strippers for servers.
Heather and Lisa went to school together and have known each other for twenty years. At least according to Heather. Lisa? Well, she doesn't really remember Heather, except that Heather was a titty flasher in college.
Across town, Whitney meets up with Mary Cosby for drinks. Mary has no filter and says whatever pops into her head. She has a colorful ascetic and loves designer labels.
Though Whitney claims she adores Mary, she didn't invite her to the vow renewal. Mary herself has been married for twenty years — to her step-grandfather. Yeah.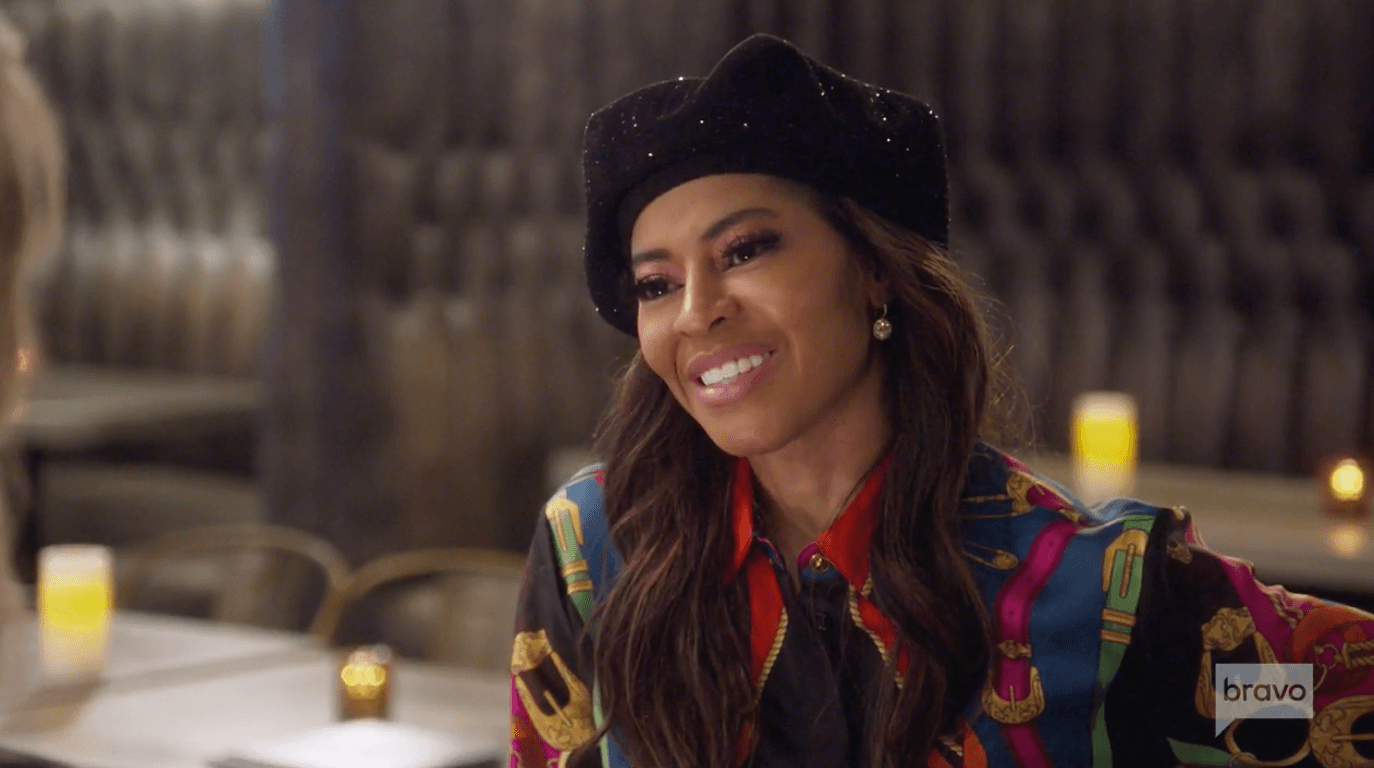 Mary says her grandmother wanted her husband to marry one of her granddaughters so they could take care of him. The other women think this is weird. Because it is. But Mary doesn't give a fuck.
Mary is Pentecostal. Her grandmother started the church, and like the husband, Mary inherited the church, too. Though she's actually the head pastor, she refers to herself as First Lady.
As Whitney checks her phone, she says Jen is throwing a party for Meredith. Mary is certain she won't be invited. Jen and Mary used to be great friends until six months ago when Mary said Jen smelled like a hospital. ??? And now they're on the outs. Mary doesn't like hospitals. They trigger her.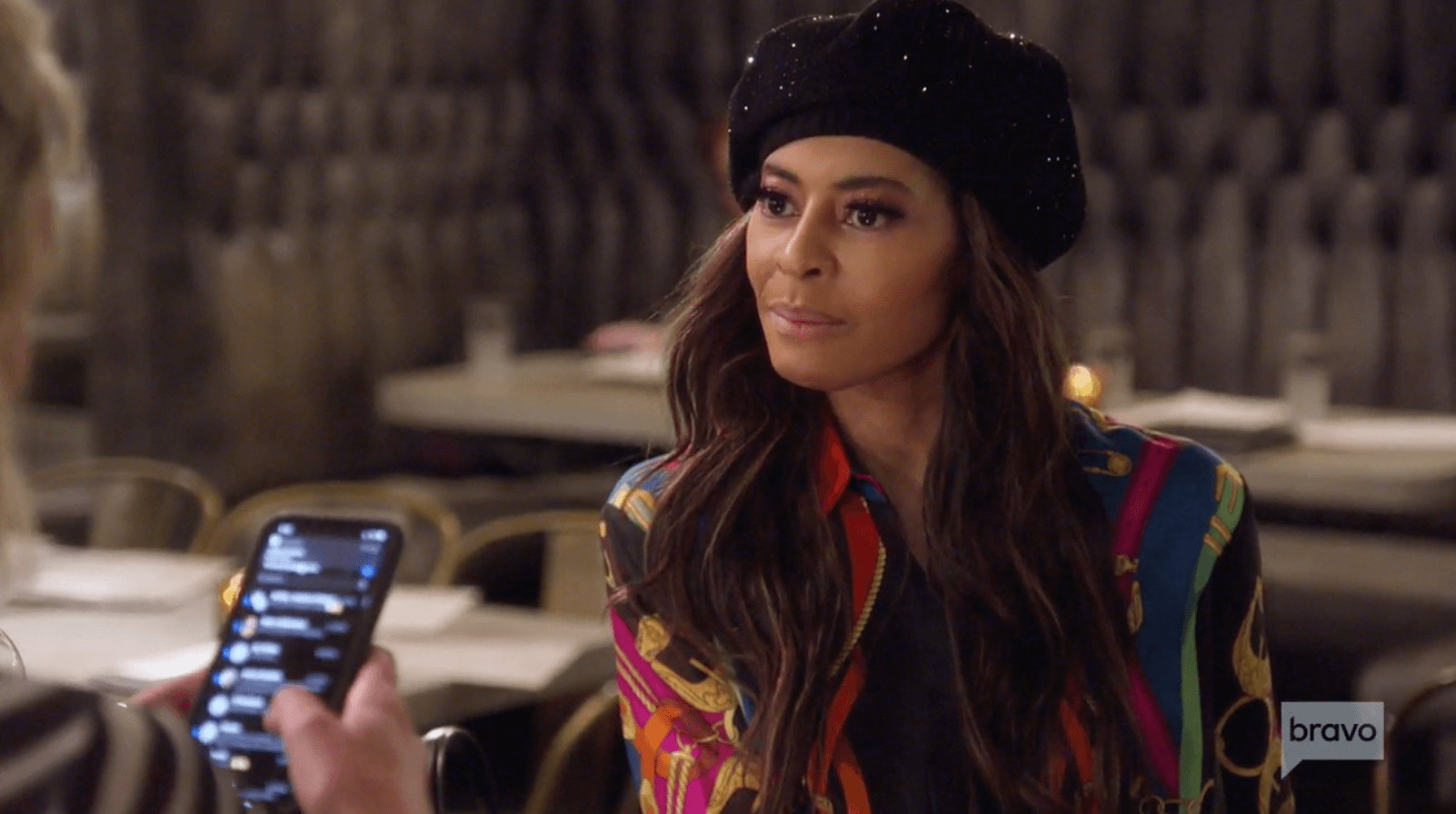 Jen was indeed at the hospital with her aunt, who needed both legs amputated. She met up with Mary and a mutual friend for dinner afterward. She was hurt by Mary's comment and isn't ready to forgive.
Shockingly, Jen does invite Mary to the party. Meredith wants Mary to receive an invite, so Jen begrudgingly agrees.
The day of the party has arrived. Jen is turning her house into a club, and she's got a microphone to yell at all of her workers, as one does…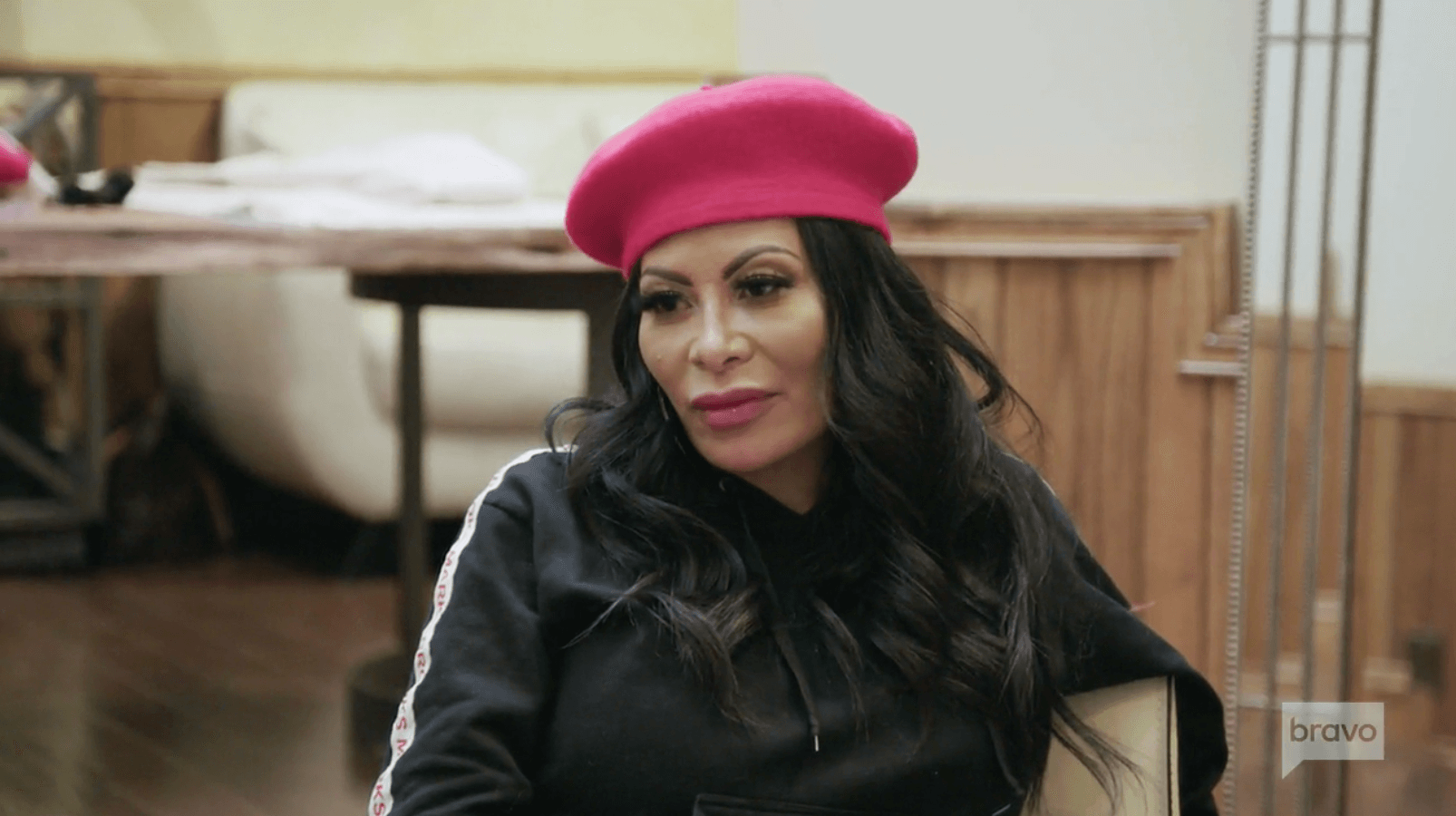 Heather arrives and has to park down the street because of the trucks. Jen has removed all the furniture and plans to drape the walls in white fabric. But she'll have to have everything back in place before her husband, the Coach, comes back from work.
Jen tells Heather that Lisa didn't remember her from school. Heather also denies that she was a good time party girl. Heather is offended and deems Lisa a bitch. So much for twenty years of history. Heather was a virgin when she got married and wishes she could have gone to a real school and joined a real sorority. Instead, she signed an honor code, for goodness' sake!
As Meredith gets ready for the party, Brooks spreads rose petals and lights candles all over the house for his mom's big day. It looks kind of like a nursery exploded in the living room. Seth won't be on hand, because he's still in Chicago. Brooks is Meredith's plus one, and he's not looking forward to it.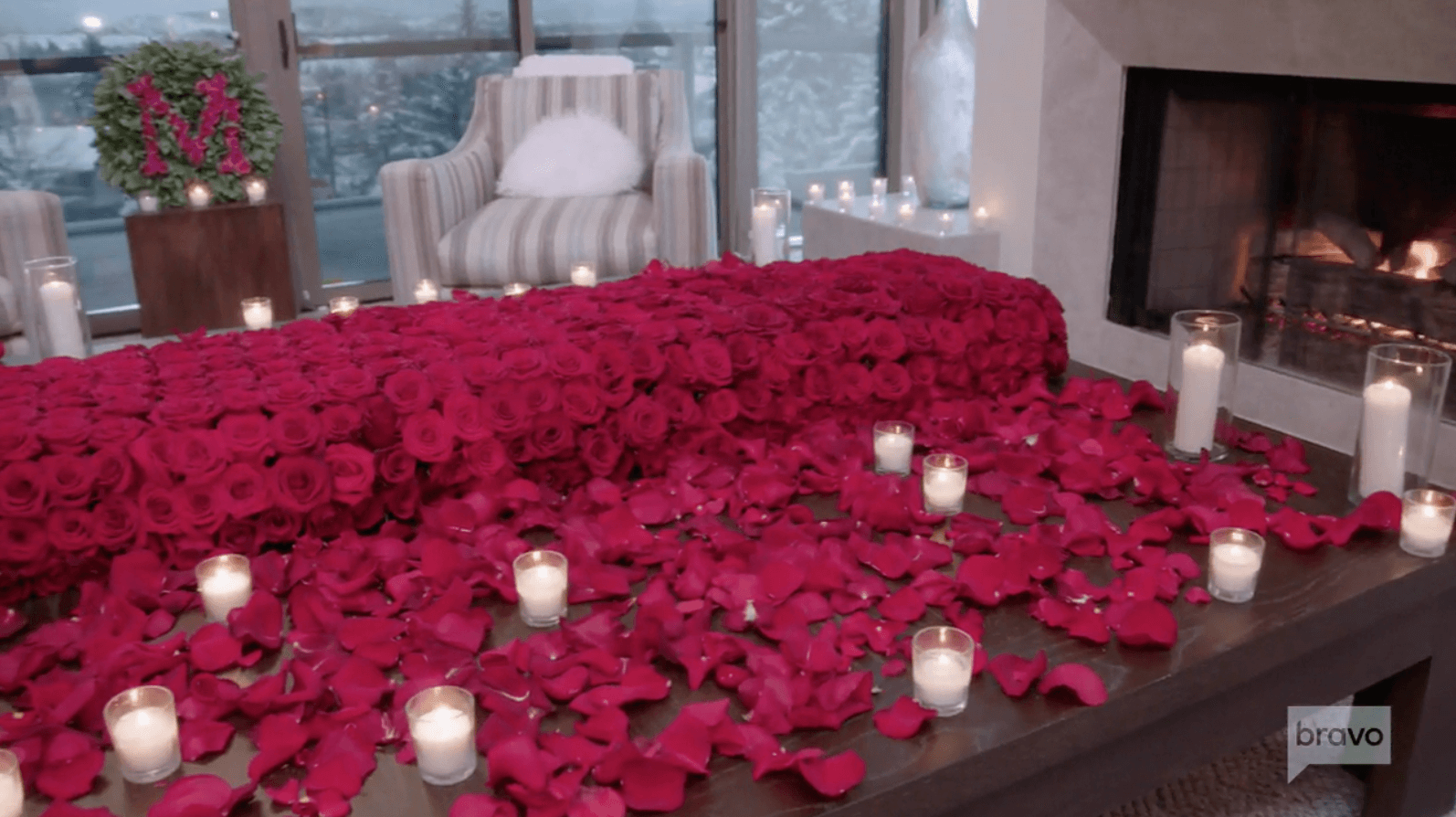 When Meredith sees the flowers sent by Seth, she's thrilled. Still, she's sad her husband isn't with her on the big day. Meredith admits she's forty-eight, and she looks amazing.
As the ladies start arriving to the party, they walk though a step and repeat tunnel before entering the chalet. Shirtless men hand out food and champs while flexing their pecs. 
Because Lisa's too cool for school, she wears tight black pants, a black blouse, and a fur jacket. No short cocktail dresses for her, thank you!
Whitney and Mary arrive next. And finally, the birthday girl shows up in a hot pink, feathered dress that makes her look like a neon muppet.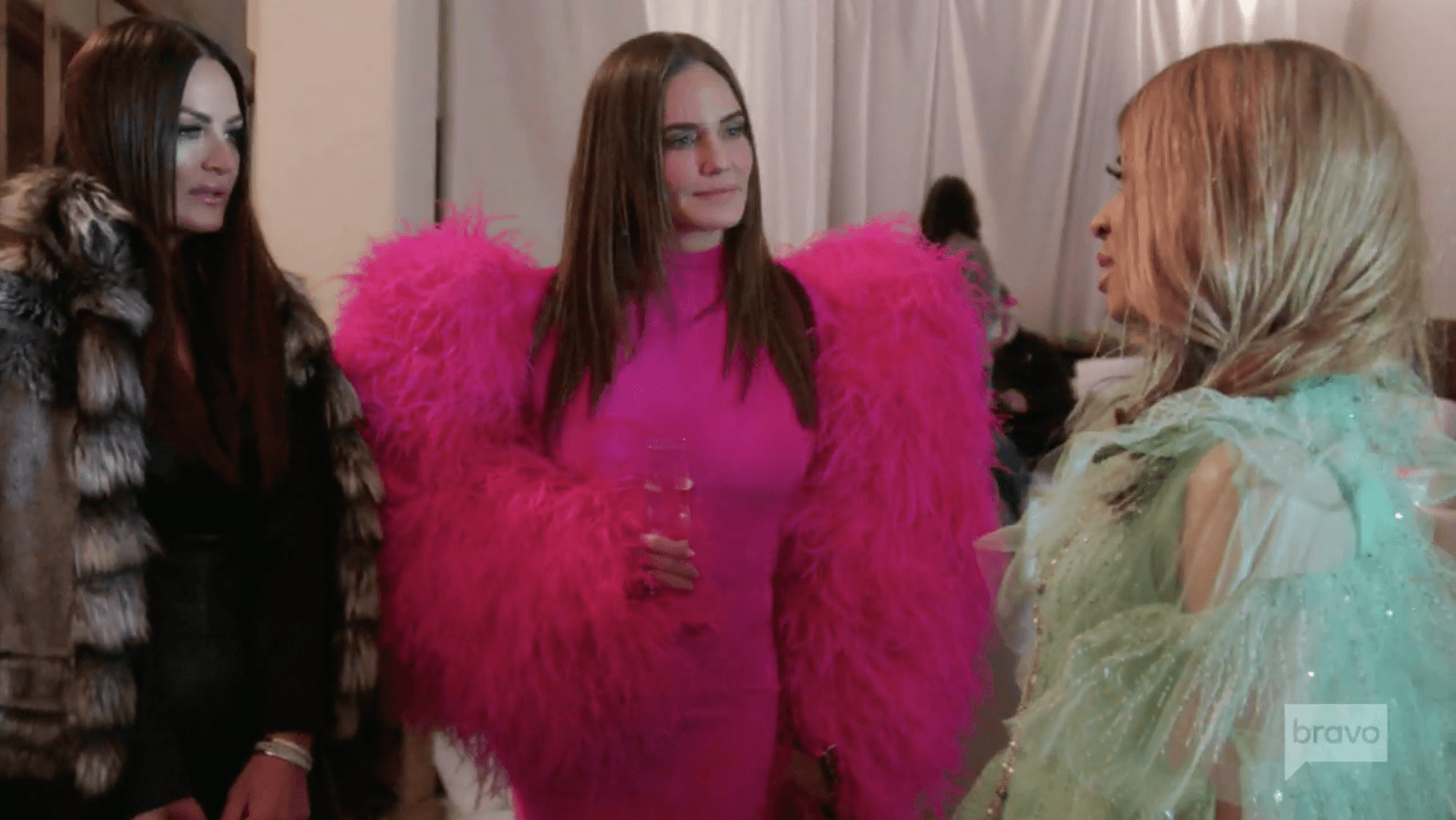 She pauses at the floral step and repeat, which reads: Shah Chalet. Sorry, Meredith. This may be your birthday, but it's still Jen's world.
Jen hasn't made her entrance yet. She's still getting glammed.
Meanwhile, Heather is licking a meatball like she's no stranger to giving oral pleasure. These ladies are too much!
When Jen finally makes her way downstairs, everyone cheers. Lisa thinks her grand entrance is tacky. Who are you kidding, Lisa? This whole damn party is tacky.
Then come the Tonga dancers, because Jen wanted to tip her hat to her own heritage. Since, you know, this is Meredith's party and all. 
When Heather finally approaches Lisa and Meredith, Lisa barely pauses with a, "How's it going? Good to see you." Then she keeps moving on to more fabulous people. Rude! Heather wonders why Lisa is being so dismissive.
Mary and Jen finally stop and talk. Jen says the hospital comment hurt her feelings. But Mary says when she got her odor glands (huh?) removed, she died on the operating table twice. Worst experience of her life and the smell reminds her of that time. Jen isn't appeased. She was grappling with her aunt's amputations, and didn't want to hear any criticism from Mary. 
They argue over semantics, and Jen wants an apology. Mary insists she wasn't being mean. They pull in their mutual friend, Keri, and ask her for confirmation. Mary finally admits she said it to the table at large, and isn't sorry. It wasn't personal. After calling Keri over, Mary now dismisses her, but Keri won't leave.
Mary has no sympathy for Jen's aunt. She must have had a bad diet if she had to have both legs removed. What can Mary do about it? Harsh, Mary. Especially for a pastor!
Jen leaves, locks herself in a room, and starts cursing Mary. Mary remains unfazed.
So, that's the first episode of our new show. What do you think? Are you in for more?
Stay Connected With All About The Tea: Twitter Ι Instagram Ι YouTube Ι Facebook Ι Send Us Tips
I'm a fiction writer by day and a reality TV addict by night.