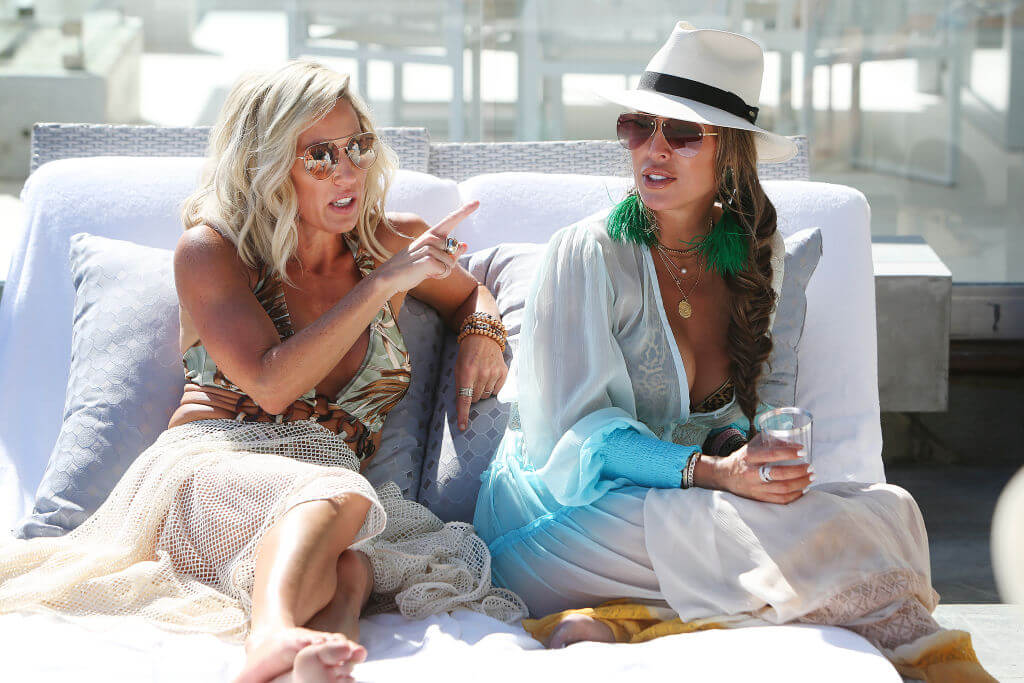 Kelly Dodd blasted Braunwyn Windham-Burke on Instagram on Tuesday, slamming her Real Housewives of Orange County co-star as a liar and a  tax evader. 
Kelly bashed Braunwyn as a "loser" who regularly leaves her children in the hands of nannies, and suggested that her co-star does not pay taxes. The reality star called the mom of seven boring and accused her of spreading lies, during a rant posted on her Instagram Stories. Kelly posted several videos — and proclaimed that Braunwyn had accomplished little in her life.
"She's such a poser and a loser and she's never done anything with her life," Kelly said.
Kelly Dodd, 45, captured another video outside of Braunwyn's rental home. 
"Here's Braunwyn's house. Braunwyn's lived here for two years. Why do you still have Florida plates, Braunwyn?" Kelly asked. "My husband [Rick Leventhal] just moved here from New York. He had to get California plates. Are you not paying your taxes, Braunwyn? Are you not paying your taxes? You still have Florida plates? Oh my God, hypocrite!"
Press play below to watch.
Many fans bashed Kelly Dodd for exposing Braunwyn's home and license plates, but Kelly clapped back, revealing the reason behind her IG beatdown.
"What's more dangerous, me showing a dark house and a license plate linked to a Florida address where Braunwyn doesn't live… or her calling me a racist and homophobic in a nationally televised interview?" she asked.
"She's already shown her home on TV and advertised the neighborhood where she lives. I revealed nothing except her out of state plates and more of her phony life," Kelly continued, adding "#victim, #fake, #phony, #liar, #thirsty, #whackjob, #braunwynwindhamburke, #hypocrite," and "#hypocrisy."
Kelly took her vitriol to the comment section, agreeing with fans who labeled Braunwyn "boring" and "thirsty." 
"Is she really 42?" a viewer asked, to which Kelly snarked—"she looks 52."
Kelly responded to another fan who encouraged her to focus on her own happiness and "screw Brawny."
"Thanks but it's just dangerous and irresponsible for her to go on national television and make false accusations against me and my [cast mates] .. [she] needs to be exposed for her lies and hypocrisy!!!" Kelly ranted. 
"Braunwyn is a fruitcake!!! [She's] like the wind going in every direction trying to have any type of storyline. It's exhausting [and] she's boring and thirsty," another fan commented. 
"Well said," Kelly replied. 
Real Housewives of Orange County airs on Wednesdays at 9 pm, ET, on Bravo. 
Stay Connected With All About The Tea: Twitter Ι Instagram Ι YouTube Ι Facebook Ι Send Us Tips