'RHOC' RECAP: Gina Goes To AA With Braunwyn, Reunites With Ex Matt At Daughter's Party
Tonight, on the Real Housewives of Orange County we start with Emily Simpson cleaning out the litterbox. She takes a break to facetime with Gina Hirschenheiter. Emily spills the tea on her meeting with Braunwyn Windham-Burke from the night before. Braunwyn admitted that she's been mean to Gina because of their rocky relationship last season. Gina thinks Braunwyn's husband, Sean, runs interference for her and that Braunwyn needs to stand on her own two feet. But that might be a tough ask, considering Braunwyn's only been sober for a month.
Over at Braunwyn's rented mansion, her fourteen-year-old son, Jacob, wants to dress in drag. He loves fashion and asked for a pair of high heels last Christmas. Braunwyn and Sean hire a stylist to bring over a rack of fancy dresses for him to wear to a dance. Apparently, Jacob doesn't yet know if this is a future lifestyle or just a passing phase. Either way, Braunwyn is supportive.
Braunwyn films him as he tries on various cocktail dresses. With his curly, long hair pulled back, he struts and poses. Jacob says he feels drag is a kind of therapy. After having severe depression for over a year, Jacob found solace in taking on a drag persona. Braunwyn finds inspiration in Jacob and his journey.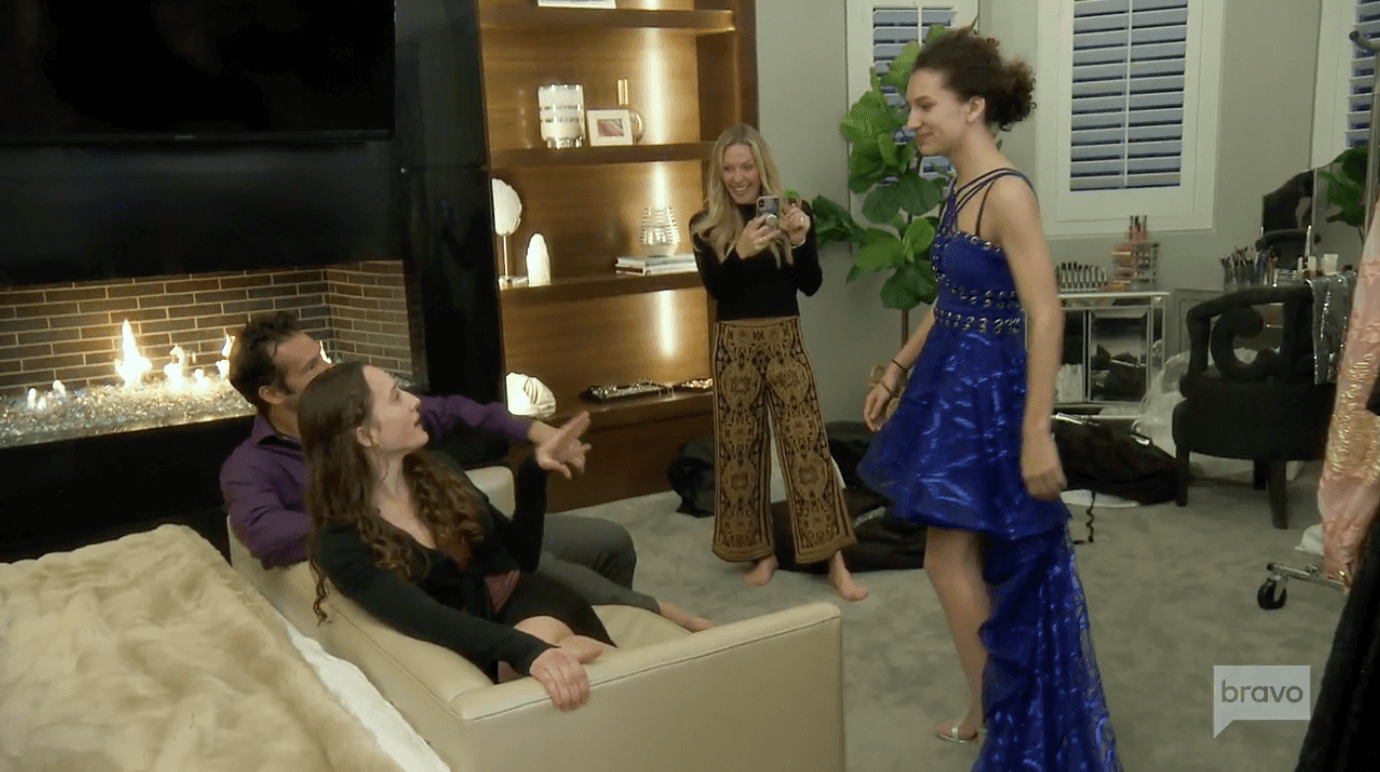 Gina stops by her attorney's office. Not for the divorce this time, but because of the DUI she received last season. She had to go to AA meetings (though she's not an alcoholic), take a driving course, and pick up dog poop as community service. (Hey, Gina. Go help your friend, Emily. She's got a full litterbox at her place.) But fortunately, her boyfriend, Travis, has been chauffeuring her around the OC.
She also talks to her lawyer about the domestic abuse she suffered from her ex, Matt. She can choose to give a statement to the court about the impact on her life and her kids. But things are better between her and Matt. Though she wants to give a public statement, she may not have the courage to follow through.
Shannon Beador's daughter, Sophie, is ready for college. And she's writing a book about her parents' divorce. Shannon wants to read the manuscript, but she is afraid of how her toxic relationship with her ex, David, has impacted her children. Shannon feels guilt over her what her daughters experienced as she and David fought constantly before the divorce.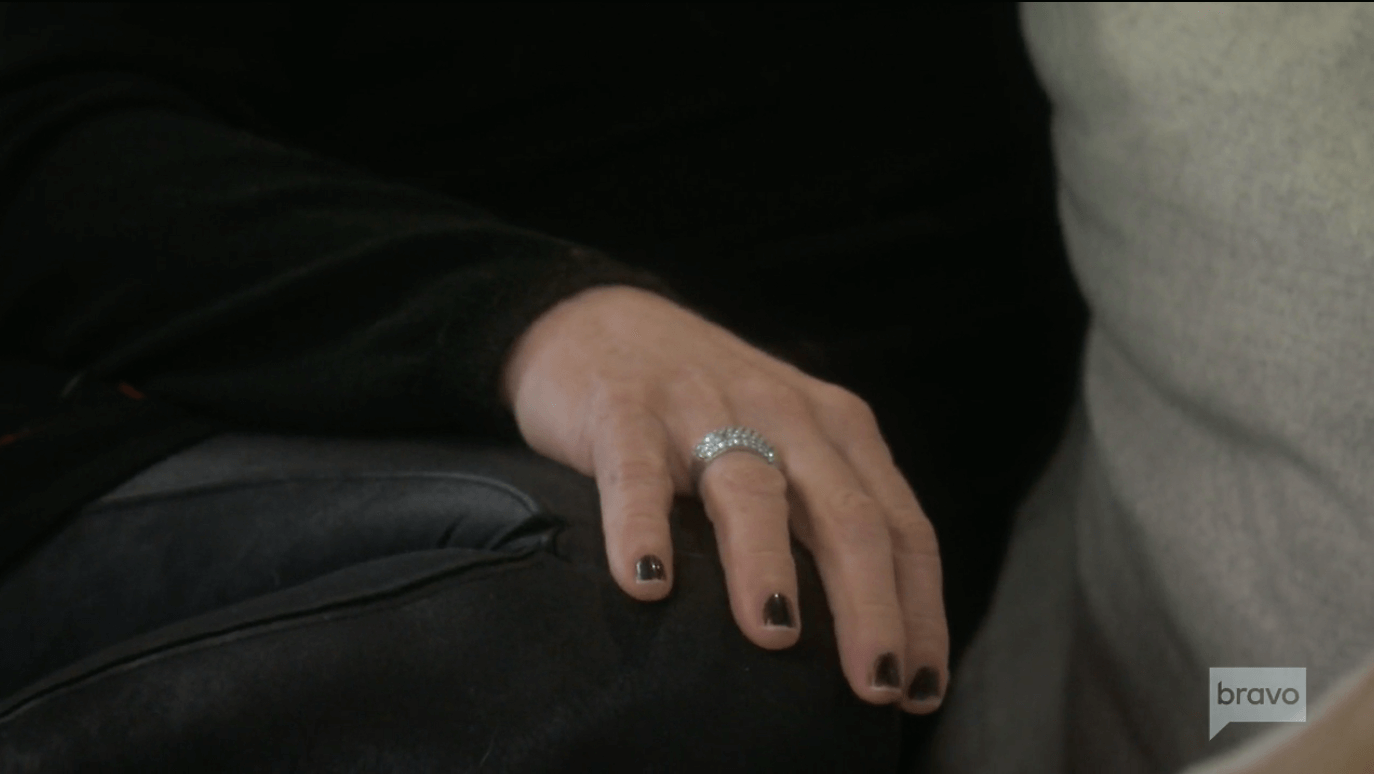 Shannon shows her new ring (on her right hand) that was a gift from new beau, John. Sophie thinks Shannon needs a man who supports her financially and emotionally. She's not sure John can do both, but ultimately, it's Shannon's decision, and Sophie likes John.
We are forced to watch Braunwyn try on wedding dresses for her upcoming vow renewal. She takes Kelly Dodd along for the ride. Because she was knocked up twenty years ago, Braunwyn didn't have the big wedding she always dreamed of. Now's her chance. And since Kelly is also engaged, it's a great opportunity for her to look, too.
Unfortunately, Kelly isn't exactly a supportive shopping buddy. She deems one dress too poufy, and tells Braunwyn her panties are visible in another. Kelly gives a couple dresses a try, but she doesn't like them on herself any better than she likes them on Braunwyn. And don't get her started on flowers in the hair, because that's just stupid! Kelly's embarrassed that this is her third time down the aisle. Let's hope this one sticks, yeah?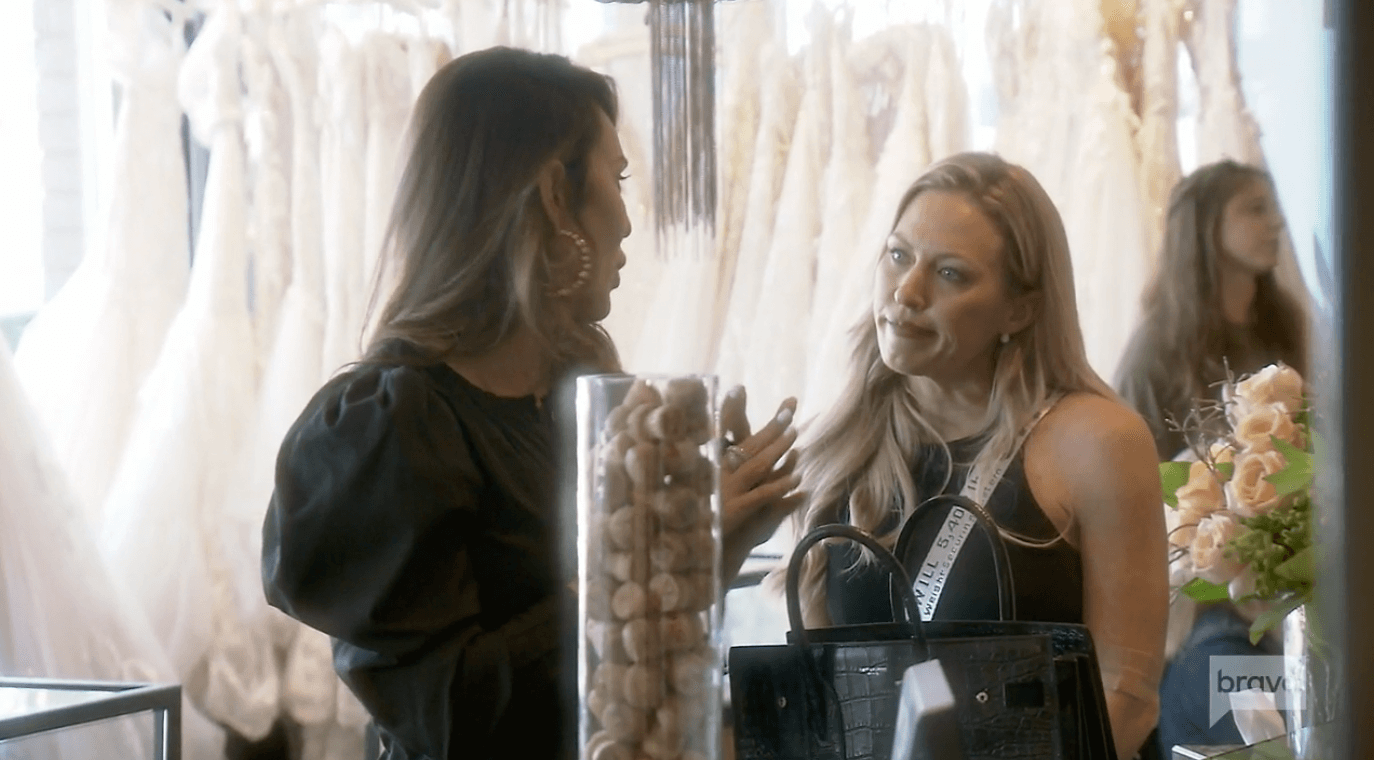 Braunwyn doesn't find a dress for herself, and she doesn't know what her kids will wear. She wants all the girls to wear matching dresses, but her oldest, Rowan, isn't excited by the idea. Braunwyn mentions that Jacob also wants to wear a dress, and Kelly is confused. Is he dressing in drag for attention? Braunwyn isn't sure, but she tells us he's being true to himself.
At Elizabeth Lyn Vargas's house, her mom, niece, and brother are still in residence. Elizabeth has no kids of her own, but her niece and nephew are her surrogate kids. She's set up a million-dollar trust for each one.
Elizabeth's sister is a heroin addict and has been since she was fourteen. Though Anna has agreed to rehab, she's now estranged from the family and no one can find her. While Elizabeth has tried to help her sister, mom is exhausted by Anna's addiction. And she's been the one taking care of Casandra, Anna's daughter.
It's a new day, so Gina and Shannon drop by Elizabeth's beach house. While Elizabeth is showing off her digs, Shannon admits she used to have a rental at the end of the street. But she had a grass yard and wasn't directly on the beach—where strangers can just amble by. When Elizabeth mentions that she wants to buy a Ferrari, Shannon says her mother used to have one. All Gina needs is a bag of popcorn to sit back and watch the one-upmanship going on with these two OC divas.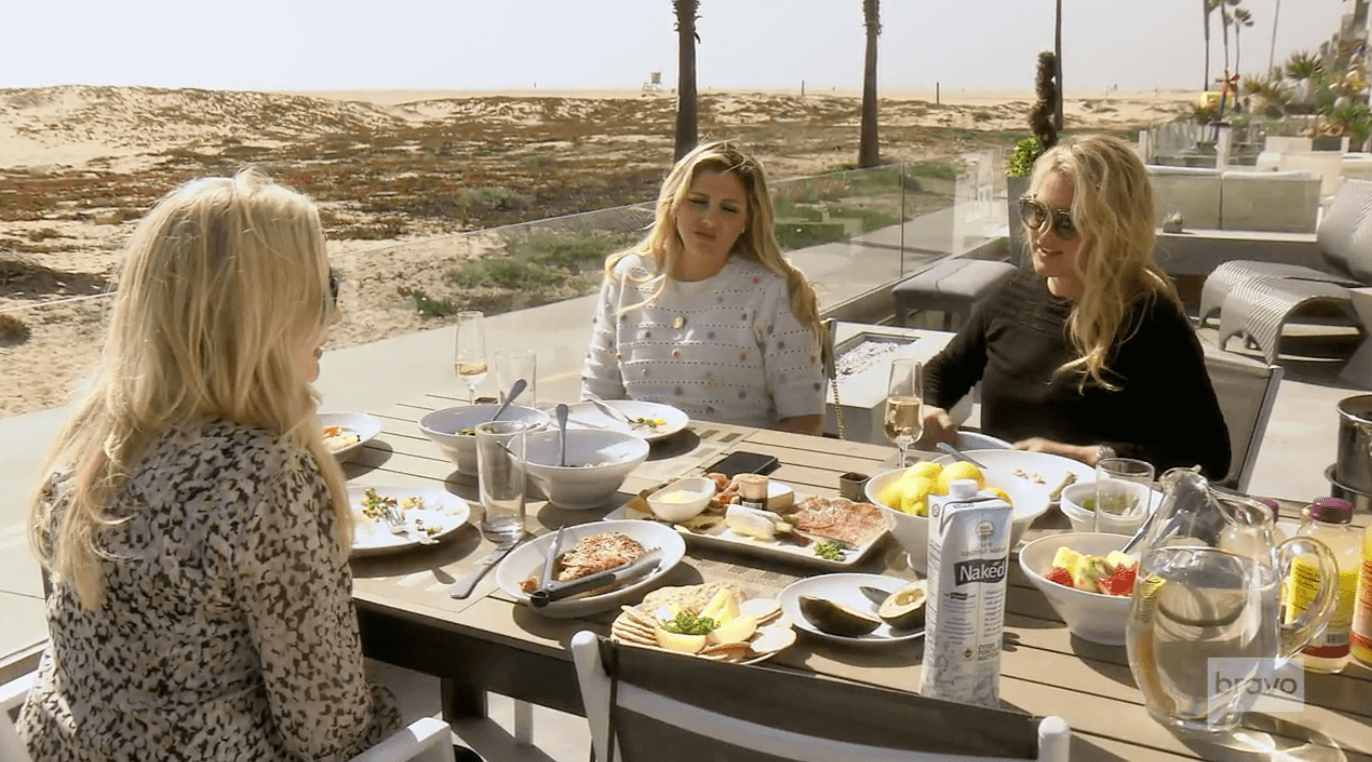 Elizabeth put together a nice lunch, but she bought everything from the market and left the tags on the bowls. So that people could read the ingredients for themselves, maybe? Either way, color Shannon unimpressed.
Shannon asks Elizabeth if she's talked to Braunwyn since the housewarming party last week. Elizabeth feels that all the women should rally around Braunwyn during this difficult time. Gina's not having it. She's tired of Braunwyn projecting shit onto her. Furthermore, Gina has declined the vow renewal invite.
Shannon's not excited about the ceremony either, but her kids are. She doesn't want to look like the bad guy by telling her family that she got in a fight with Braunwyn, so she's sucking it up, putting on her Spanx like an adult, and heading to Palm Springs for the vow renewal.
Gina breaks down as she tells the women she's met with her lawyer about the domestic violence situation. It's going to be hard to put on a happy face at her daughter's upcoming birthday party, but she'll do it for her kids.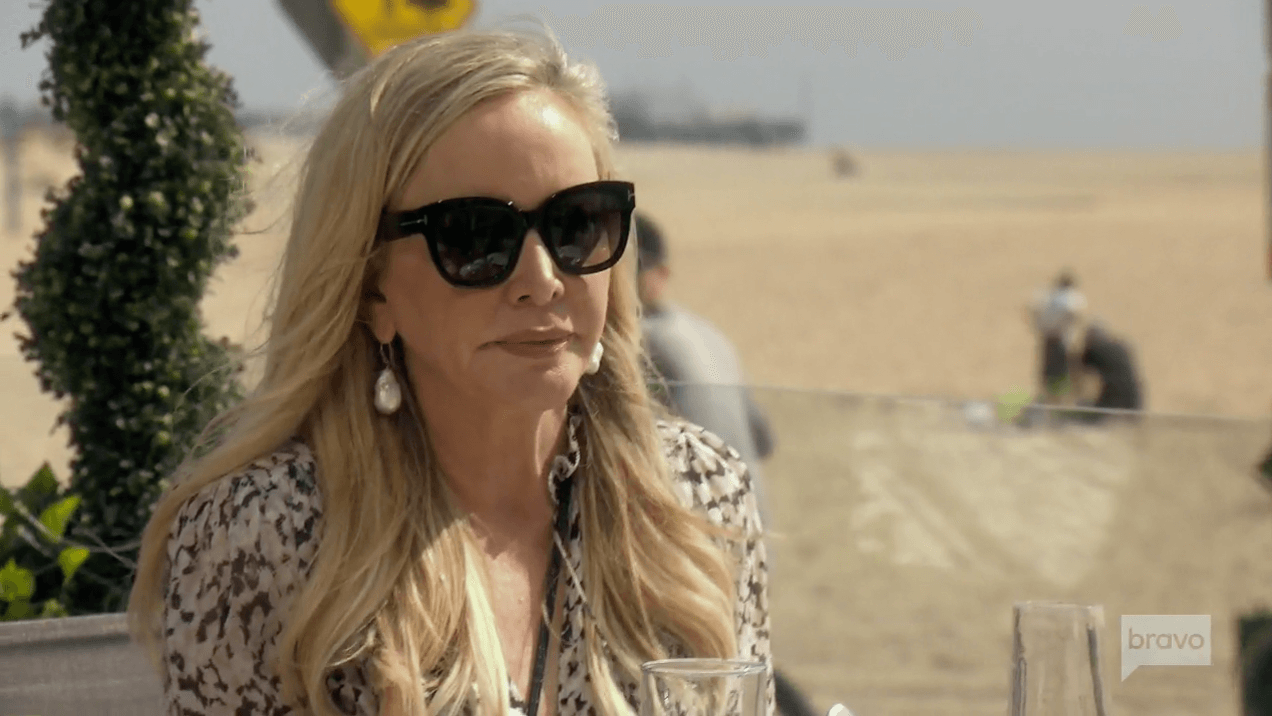 Shannon shares that Sophie is writing a book about the divorce. She's feeling guilty, and as she shares this with the women, Shannon also has tears in her eyes. 
Both Gina and Shannon hope their daughters are stronger for going through the difficult times.
Next, Shannon and Kelly are definitely turning a corner, because they're going to the car dealership together. They discuss the Coronavirus on the way to meeting Elizabeth. How can you not touch your face? It's impossible!
Elizabeth is buying a mid-life crisis car. She's planning on taking the new car to Palm Springs for Braunwyn's vow renewal. She also believes the women should support Braunwyn on her journey through sobriety. Kelly and Shannon both claim they've always supported Braunwyn. But…can they drink in front of her? Elizabeth thinks they should be sensitive to Braunwyn, who reminds her of Anna. Kelly ain't having it. She's going to get her drink on, and if Braunwyn can't handle it, too bad, bitches!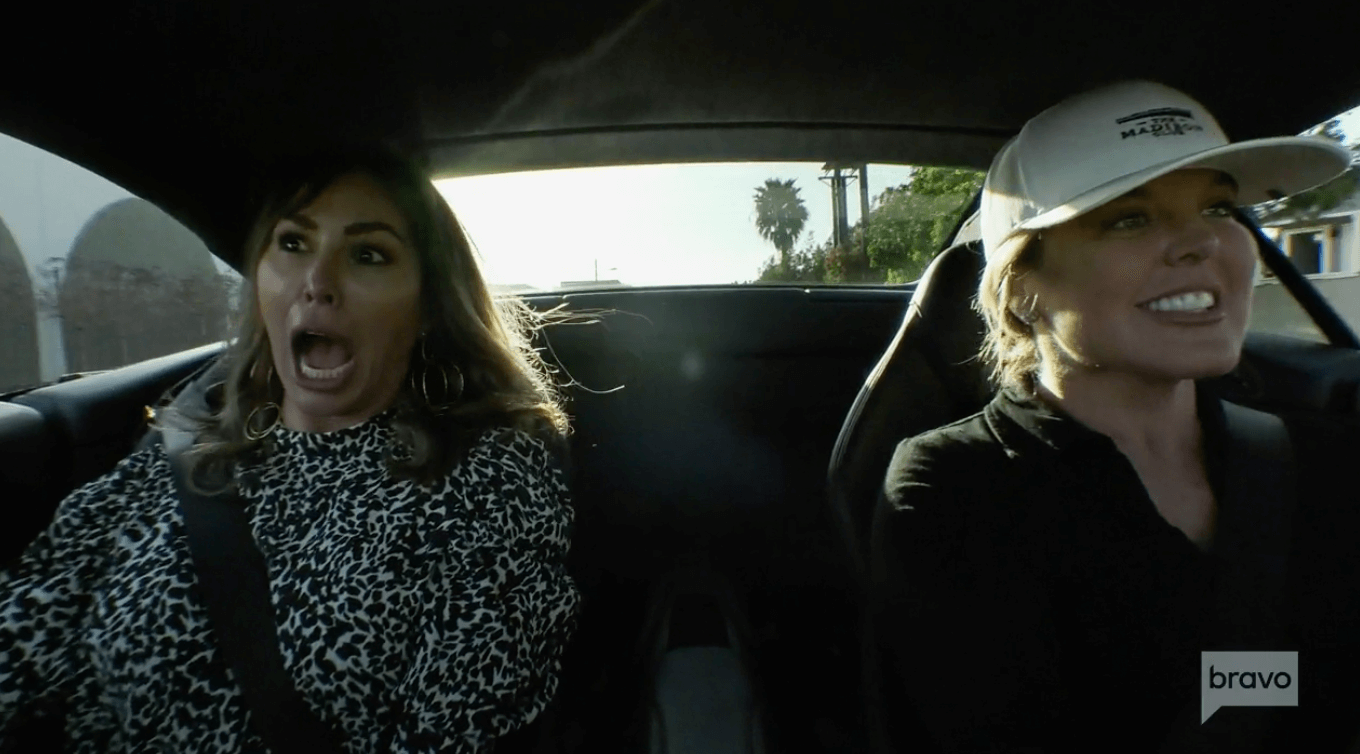 Shannon resentfully stands by while Elizabeth tells Kelly to hop in the car and they take a test drive. But Shannon gets her own car to drive. Too bad it's a kids' toy car. Shannon isn't amused, but she tries to act like she is as she gamely climbs in and takes a spin around the parking lot. Shannon tells us she doesn't need a flashy car to prove she has a big penis. Or something like that.
Braunwyn and Gina are finally meeting up after their fight at Shannon's party. They're headed to an AA meeting and coffee afterward. Gina apologizes for taunting Braunwyn for being a drunk. Braunwyn admits that Sean has been protecting her all these years. Before she could display bad behavior, he'd remove her from the situation. Sean's been attending AL Anon meetings to figure out his new role in the relationship.
Braunwyn and Sean separated previously, and her drinking was the cause. She admits that getting pregnant would help her stop drinking for short periods of time. In fact, Sean suggested she get pregnant again in order to curtail her intake. 
At Emily's house, RHOC alum, Lizzie, brings a dummy dressed in one of her swimsuit creations. Emily is helping her design suits for women with fuller figures. She wants to design for sexy moms who have a few curves. They're planning a photo shoot soon.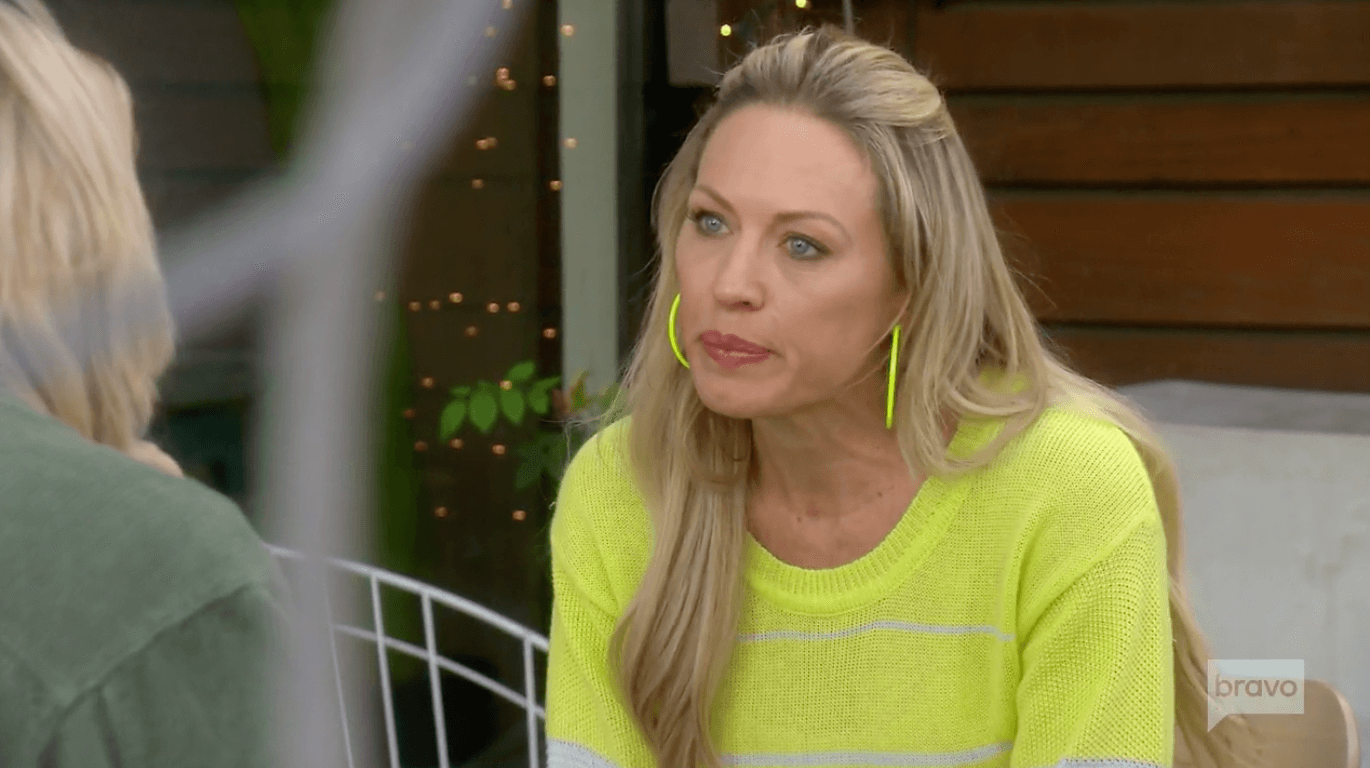 After the AA meeting, Braunwyn and Gina stop by a café. At the meeting, Braunwyn led the discussion about anger. She publicly forgave Gina, and Gina says she's let go of all her anger toward Braunwyn. Braunwyn admits she was trying to hurt Gina and apologizes.
Gina says that their walk on the labyrinth in Sedona last season was one of the most meaningful moments of her life. Braunwyn admits she wasn't even sober during that event. She'd been secretly all morning, and though she wasn't drunk, she wasn't sober.
Both women decided to start over. Gina asks if she can come to the vow renewal after all. Braunwyn is onboard, and Gina promises she won't drink during the weekend. They end up hugging it out.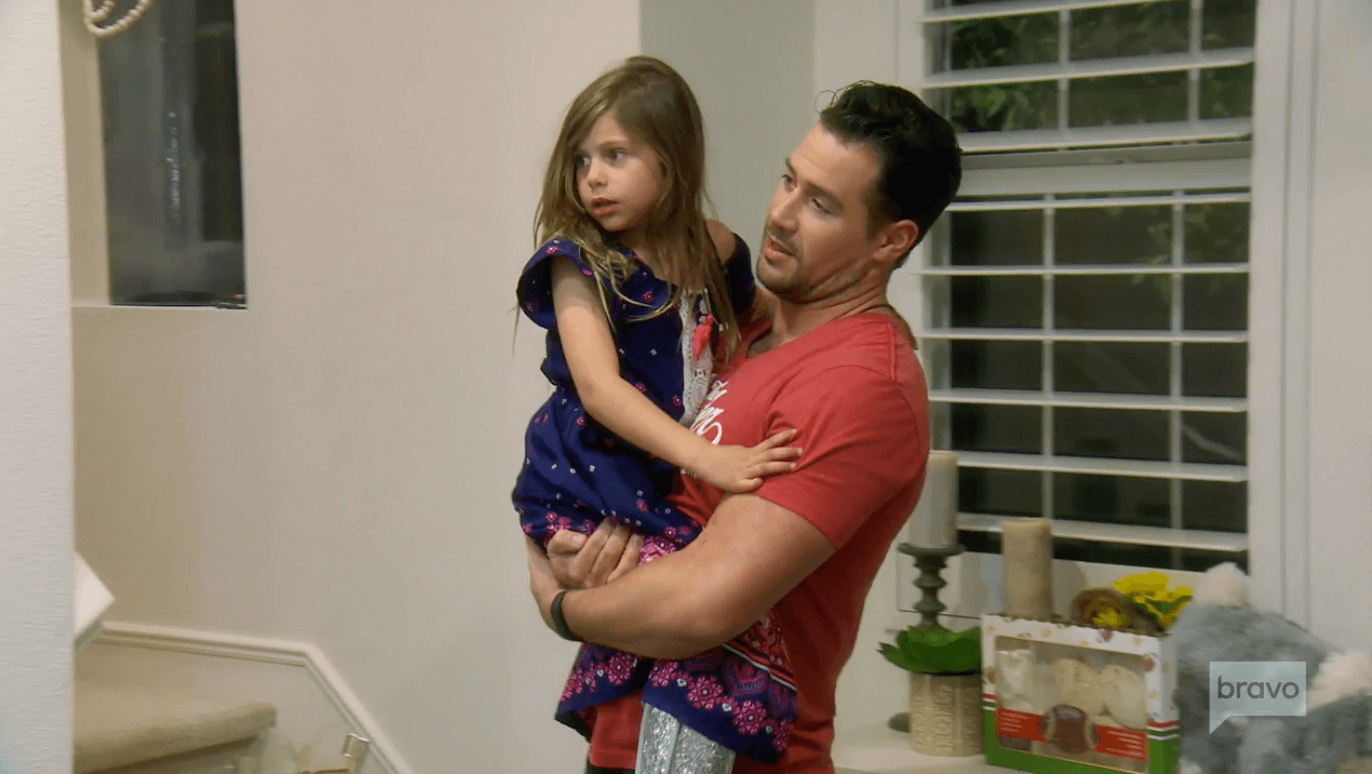 2
The day of Sienna's birthday has arrived. Matt is coming, and Gina feels conflicted. Travis has no respect for Matt and how he hurt Gina, but he's trying to support her.
When Matt arrives, Sienna goes nuts with excitement. He brings his new girlfriend, and there are awkward hugs all around. Gina has been burying her feelings about the abuse. She has decided to make a victim impact statement to let him know how she feels. Still, she's carrying a lot of guilt that he might go to jail.
And that's our episode. So, are you tired of hearing about Braunwyn's sobriety? Is Gina doing the right thing by making a statement? And how long will it be before Shannon and Elizabeth have a blowout?
Stay Connected With All About The Tea: Twitter Ι Instagram Ι YouTube Ι Facebook Ι Send Us Tips
I'm a fiction writer by day and a reality TV addict by night.