Tamera Mowry's Husband Adam Housely Goes APE SH*T After Trump Loses Election, Leaks Receipts Of Election Fraud!
Tamera Mowry's husband, Adam Housely, rubbed fans the wrong way when he went berserk with claims of election fraud after former Vice President Joe Biden was elected the 46th president of the United States.
On Nov. 5, the former Fox News correspondent took to Twitter to inform his followers that, because there are so many claims of election fraud, he did a little digging to confirm what's real and what's fraudulent.
"With all the reports and claims of fraud it's up to us in the media to either confirm, or deny such claims, rather than universally accept or dismiss," Adam Housely tweeted. "So..I am now going to report an instance I found and am asking Nevada to take a look and will put these individuals in touch."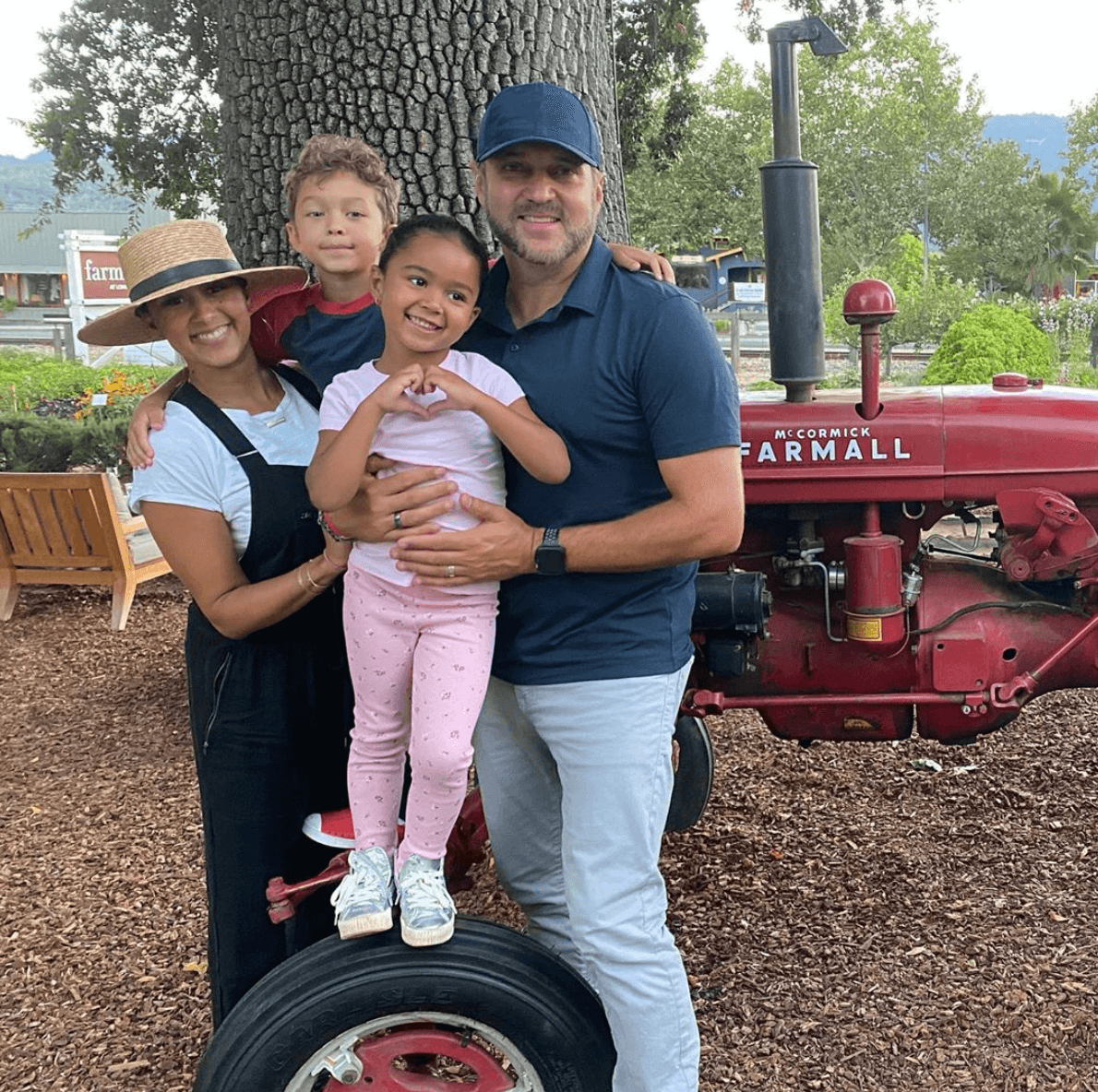 According to Adam, he spoke with a Nevada family of five who claims they all voted "about a week and a half before election in Nevada in person and voted for President Trump." But when they checked their ballot status online, there were no records of their information in the database. The family then called the state.
"Upon calling the state they have been told that none of them are registered voters and their votes have not been counted," Adam continued. "Paramedic says all 5 are indeed registered and voted about a week and a half before election in Nevada in person and voted for President Trump."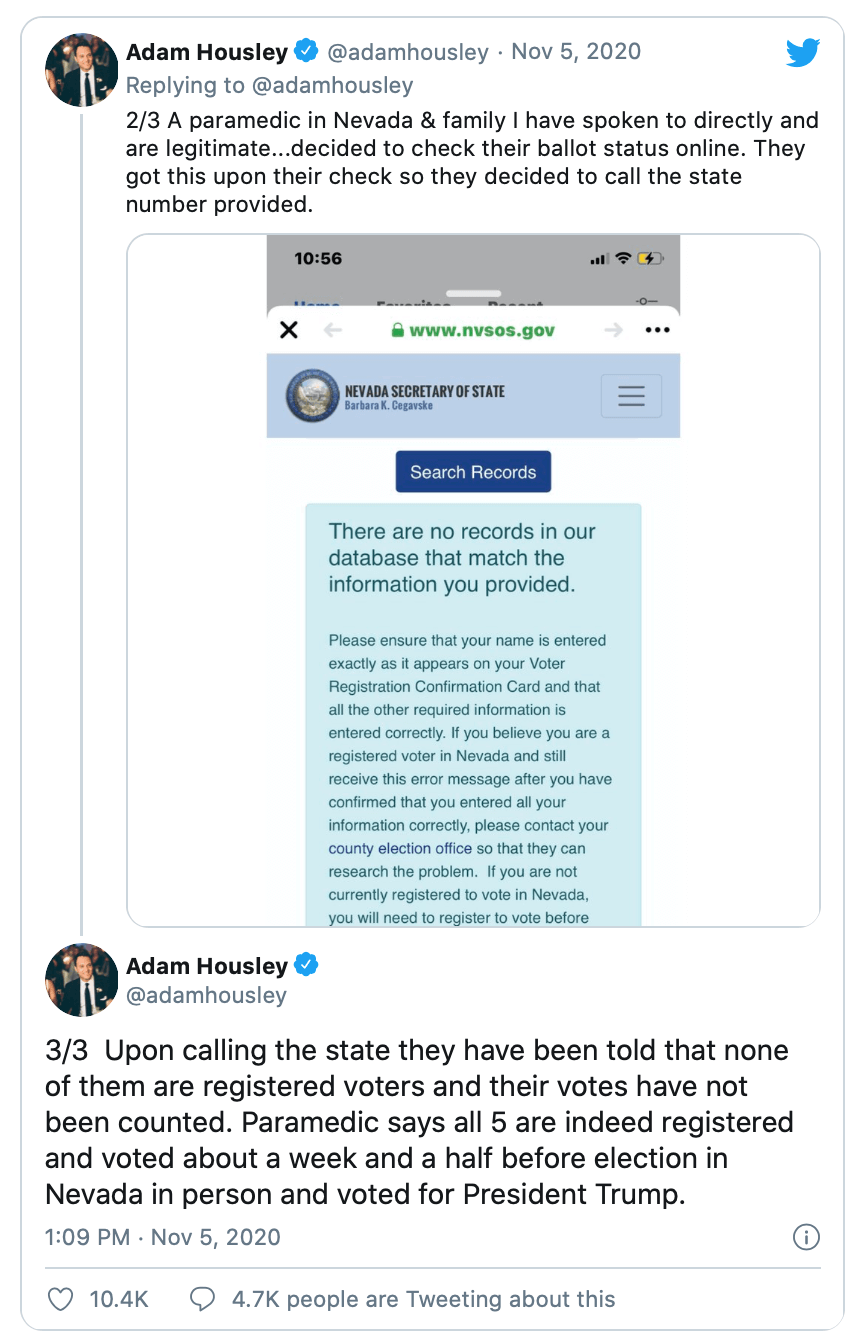 Adam Housely received a lot of flack from followers who are against Trump. Adam fought back, suggesting that fair is fair. "I'm just saying practice what you preach," he tweeted. "All valid ballots must be counted…no matter when they were received. Rather than push conspiracy…and I've seen some of it…let's find fact. I have just done that in two instances. These people are reporting to their respective states."
Fans didn't agree with Adam's response. One fan replied, "'No matter when they were received' – that's not what the laws state." Another said, "No matter when they were received? That's a bridge too far, Adam."
Adam wasn't done.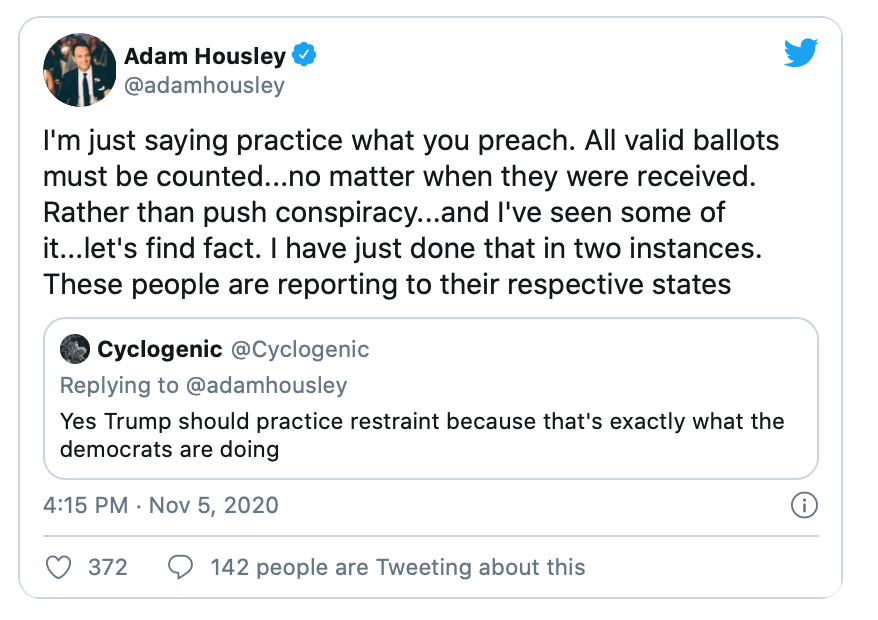 Adam Housely then reported that there was a huge error in votes recorded for the deceased. Adam explained that "an 87 year old man applied online for absentee ballot 5 days AFTER his death." He continued with more 'factual' tweets:
"More from Pennsylvania…and this I have..not retweeted. So this is factual. More and confirmed votes recorded for the deceased. Most notable, one DOD 10/2/20 but a ballot was processed and posted 10/27. DOD 10/22/20 mail-in ballot 10/23/20 mailed from the county on 10/24/20."
Adam expressed that we "need to investigate reports" since he did it easily.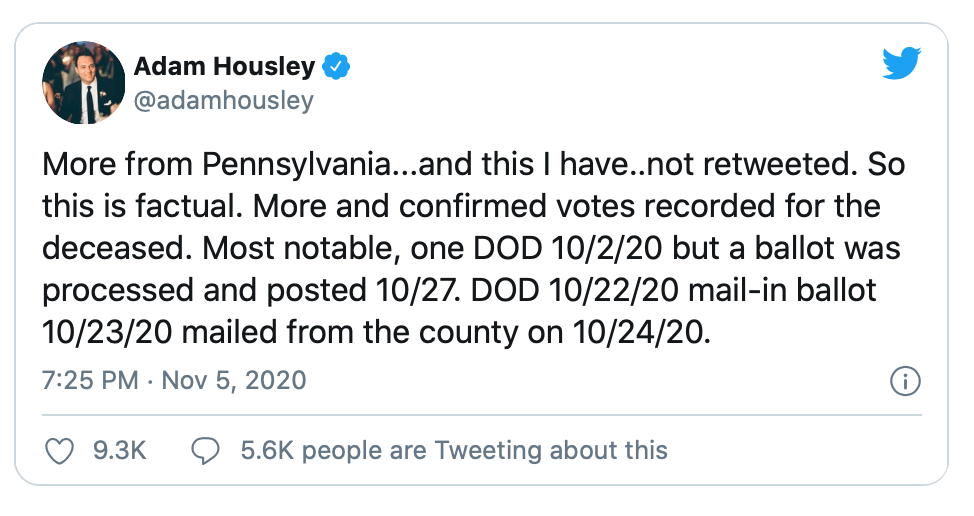 Fans called Adam Housely and wife Tamera Mowry out for being Trump supporters. After getting a ton of backlash for his election fraud tweets, Adam clapped back to the trolls:
"Here's what's stupid. Some of you attack me because I don't support Trump…now a few trolls attack my wife and I on Instagram claiming I am all Trump," Adam tweeted. This is what's wrong with society…none of you were in the voting booth with me. All I care is about fairness and truth."
Stay Connected With All About The Tea: Twitter Ι Instagram Ι YouTube Ι Facebook Ι Send Us Tips
Ashlee Nicole is a Senior Editor at All About The Tea, who specializes in content curation. Born and formed in New Orleans, LA, Ashlee is an absolute music junkie and self-proclaimed foodie who loves all things music, entertainment, and culture.