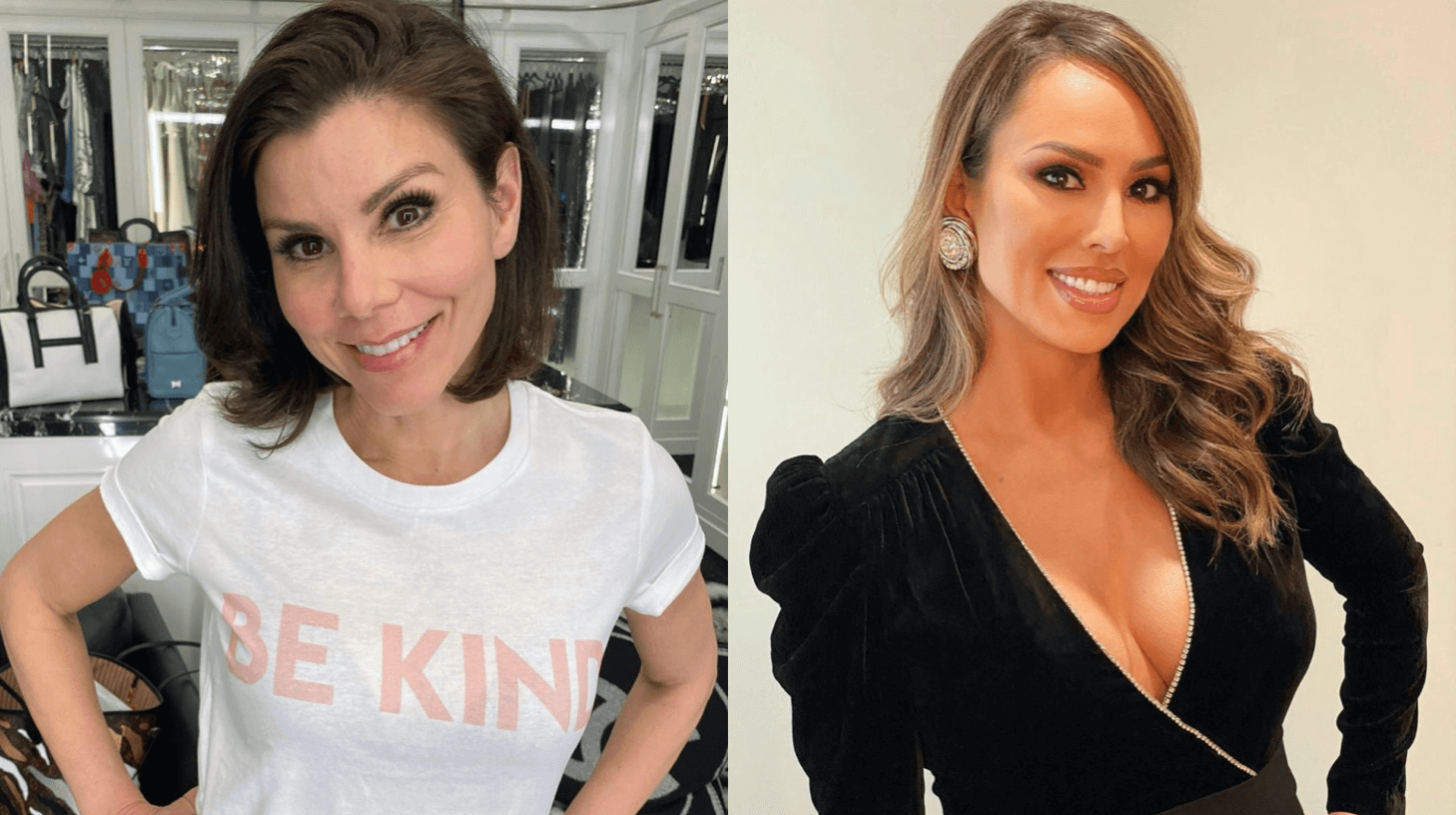 Heather Dubrow has sounded off about Kelly Dodd's controversial attitude toward the Black Lives Matter movement and the Covid-19 pandemic. Heather revealed during a "Poplitically Incorrect" podcast appearance that she holds no "ill will" for her former Real Housewives of Orange County co-star, but does not agree with her recent behavior. 
Heather reacted to the fan outcry calling for Bravo to fire Kelly and the push to boycott the series. 
"[Kelly]'s not in my world. I don't harbor any ill will. I don't want to be friends, But, I think that in these days and times, talking about the boycott, if you don't believe in the Black Lives Matter movement, if you're gonna be against this, if you're not gonna understand where we are in our world today and what humans need, you're not human," Heather said on November 2.
Heather hinted that she was not against Bravo dismissing her outspoken ex-cast mate.  
"I think in those circumstances, you can understand why someone would be canceled," Heather commented.
Kelly recently bashed her husband, Rick Leventhal's ex-fiancee, Lauren Silvan, alleging that she had come forward amid the MeToo movement because she was "desperate for attention." Heather noted during the podcast chat that issues stemming from unwanted sexual attention have infected the entertainment industry for years. 
"I remember going on this one call, and they wanted a spokesperson/model to represent this company. And I don't remember the company but it was more like a tech company or like a paperclip company. It was something like that, something very not sexy. But I remember going and they had you bring three outfits and you had to bring a swimsuit which I also felt was kinda weird," Heather shared about her time as a young actress.  
"I go there and it was this one creepy Jabba the Hutt type guy. And as secure as I am and as smart as I am, I literally put on every outfit, paraded in front of the guy, changed the outfit in the bathroom, came back, and sat down in front of him," Heather explained. "He was giving me this whole speech, then started showing me photos of his previous hosts on yachts, scantily-clad with him there. And I'm trying to assimilate because I literally couldn't believe it was happening. Eventually, I left and they called and offered me the job and I declined, but I was so horrified that I had put myself in this position and that I didn't immediately leave. You're young and you're kinda dumb and scared and you don't make the best decisions. Thankfully nothing happened."  
The RHOBH alum also revealed that a potential new series was in the works, featuring her husband, Dr. Terry Dubrow, and their four children, Maximillia, Nicholas, Collette and Katarina. 
"Those conversations would definitely be floating around. And if there was ever a time for us to be doing something like that, it would be now," she admitted. "I think that when we got off Housewives it was kind of the exact right time for the entire family for different reasons. But for the children in general, an awkward time and they needed their privacy. When kids are little and they're just running through the set it's fine, you pat 'em on the head, they keep going, it's not a thing. But at some point, they have to have a say in how they're portrayed and how they're seen and if they even wanna be on it or on a show of any kind. So I'll tell you, if something like that were to happen, this would probably be about the time."
Heather hinted that the new show would air on Bravo, or E! the network behind her husband's series, Botched. 
"I think a hypothetical network would be maybe someone we've worked with before," Heather teased. 
Heather also shared about how she landed in her daughter's school uniform on Halloween. 
"I had nothing to wear. I went into my daughter Max's closet and I go, 'Can I just put on your uniform from school?' She was like, 'okayyyy.' And that was it, the costume was born!" Heather shared. 
The Real Housewives of Orange County airs on Wednesdays at 9 pm, ET, on Bravo. 
Stay Connected With All About The Tea: Twitter Ι Instagram Ι YouTube Ι Facebook Ι Send Us Tips