'RHOP' RECAP: Wendy Osefo BLASTS Karen Huger For Mimicking Her, Karen Fights Back!
Welcome back to an all-new episode of Real Housewives of Potomac – the one where the ladies find out they're taking a trip to Portugal. Let's get started, shall we? Oh yeah and drink every time you hear Dr. Wendy Osefo utter the word "degree(s)."
The episode opens with Candiace Dillard-Bassett and her voice lesson with her friend Cliff. She tells Cliff that she plans to get her "I See You" remix out as fast as she can and perform it live. Hey, I hear the Not For Lazy Mom's podcast needs a couple of performers…
Across town Gizelle Bryant and Robyn Dixon meet Karen Huger for tea. But of course, Gizelle has bigger plans than just tea. Instead, she's vowed to get to the bottom of Karen's drunken outburst with Wendy. Go ahead and spill that tea, Karen. Give the ladies what they want.
Gizelle experiences a Freudian slip when she asks Robyn how her hat business, Embezzled, is doing. Ooh, Gizelle. You're so messy. Even with the other half of your Green-Eyed Bandit gang. Robyn, however, takes the low blow in stride before promptly asking the ladies to be her hat models for her Embezzled Embellished business. Karen, much more eloquently than Gizelle, brings up the rumors regarding Robyn's tax situation. Robyn admits that while she was paying taxes she simply wasn't paying enough. Luckily, after about three months the tax lien should be lifted. Phew!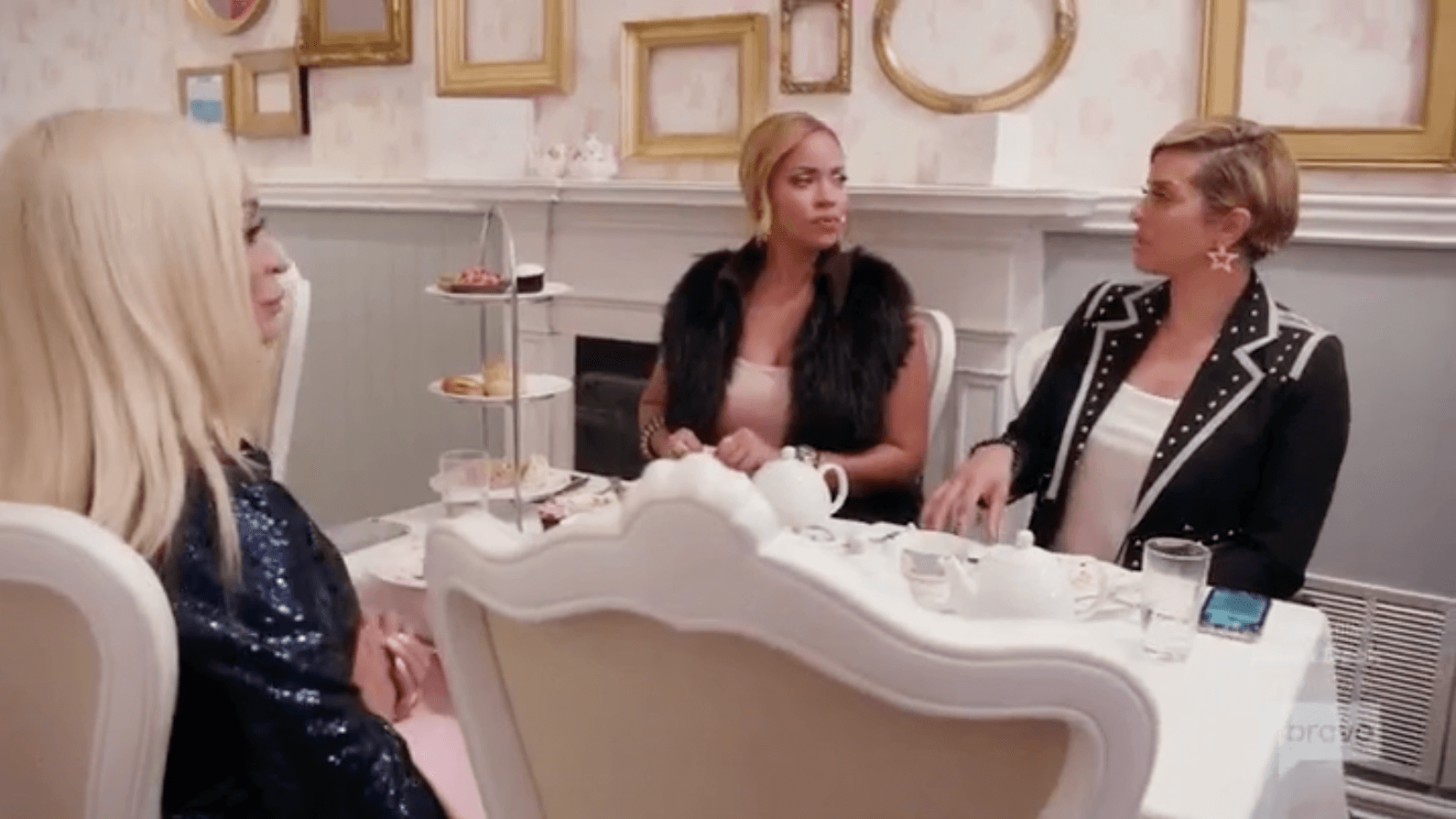 Gizelle then pivots to the real reason for the afternoon tea. Karen's drunken run-in with Wendy. Gizelle explains that Wendy relayed to the entire group that Karen admitted that she bailed Ray out with her own money. While Karen admits that she "soldiered up" for her husband, she is adamant that Wendy's claims that she ever wanted the money back from her husband were completely false. "Ooh… that's a reach but no," Karen says. She then unleashes in a pretty accurate impression of Wendy coming down the stairs at her event and sticking her nose in Karen and Candiace's conversation. Something tells me these two will never be close…
Speaking of Wendy, back at the Osefo residence, Wendy is left to sulk about Karen's "ignorant" comment. How dare she refer to a woman with four degrees as ignorant?! She says that Karen calling her "ignorant" is very hurtful. She then launches into a soliloquy about how she defended her dissertation while heavily pregnant and lost her dad while she received her doctoral degree. Does someone hear a tiny violin playing or is that just me? 
Meanwhile, Ashley Darby pays a visit to the couple's therapist for a solo sesh. She drops a bomb when she admits that she feels as though she and Michael are both unhappy – sexually and emotionally. She also admits that she doesn't feel sexy but rather feels like a utility… for Baby Dean only.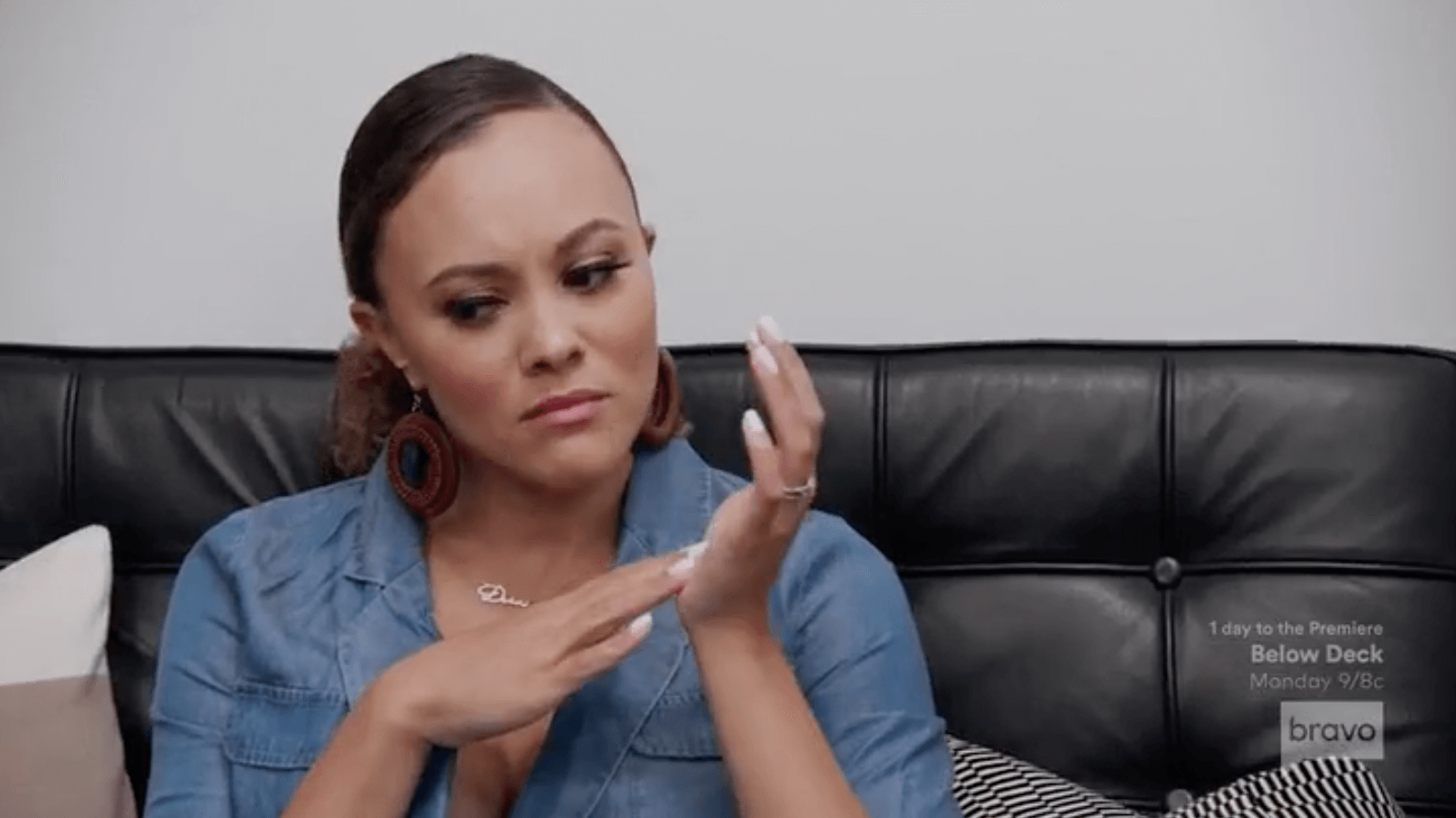 The therapist gives her a postpartum depression assessment and it's obvious that she is still wrestling with some depression after giving birth to Baby Dean… although I'm not sure Baby Dean is to blame. Could it be her trifling husband is at fault for her depression? DING DING DING.
Cut back to Candiace hard at work trying to make the "I See You" remix happen. She admits that it took her husband sending the song to basically anyone with a pulse before finding a man by the name of "Chuckie" to work with her. And better than that, he wants to sign her to his label. Umm… wut? This has Dorothy written all over it – am I right?! How much did she have to grease Chuckie's palm to make her daughter's dreams a reality? I need to know.
Back at the Samuels' residence Monique is wrestling with the possibility that she might be ripped from her kids and serve time in jail for the barn brawl with Candiace. But maybe there's a way out of this mess after all….
Ashley and Baby Dean pay Gizelle a visit at her home. In between breastfeeding sessions on Gizelle's couch, she opens up about her fears of Michael making yet another mistake. While there she hints at the possibility of an all-girls trip – sans Baby Dean.  She also tries to persuade Gizelle to allow Monique to come on the trip as well but that idea is quickly shot down. Oh well. She tried.
Later, the ladies meet Robyn to help model her hats. Wendy arrives and Gizelle immediately gets to work spilling all the tea about their meeting with Karen and her impressions of Wendy, namely the fact that Wendy is not a medical doctor. "She said you haven't performed no surgeries. You haven't cured cancer. You don't have a cure for AIDS," Gizelle inaccurately recalls to Wendy. At which point you can see smoke coming out of Wendy's very large brain. Wendy then vows to have a discussion with Karen when she gets there. YIKES.
Candiace arrives with her sunglasses on indoors (ya know, now that she's a big superstar and all) with Ashley right behind her. Karen arrives last and Wendy promptly gives her the cold shoulder. Double yikes.
After the photographer gets all of the shots of the ladies modeling their Embezzled Embellished hats, Ashley invites all the ladies to journey with her to… Portugal. As she unfurls a flag that was supposed to be a hint the ladies all look like a deer in headlights before, of course, Wendy Four Degrees Osefo blurts out "PORTUGAL." 
Press play below to watch All About The Tea's Real Housewives of Potomac recap on YouTube and SUBSCRIBE to our channel.
Wendy seizes the moment "to clear the air" a.k.a. call out Karen for simply pointing out the fact that Wendy is not a medical doctor. Wendy sinks to a new low when she points out that Karen doesn't have any degrees. "N'ere one." Talk about a low blow, Wendy. Karen, however, doesn't shy away from that fact but rather digs her heels in and says she has  been "blessed with the spirt of an entrepreneur."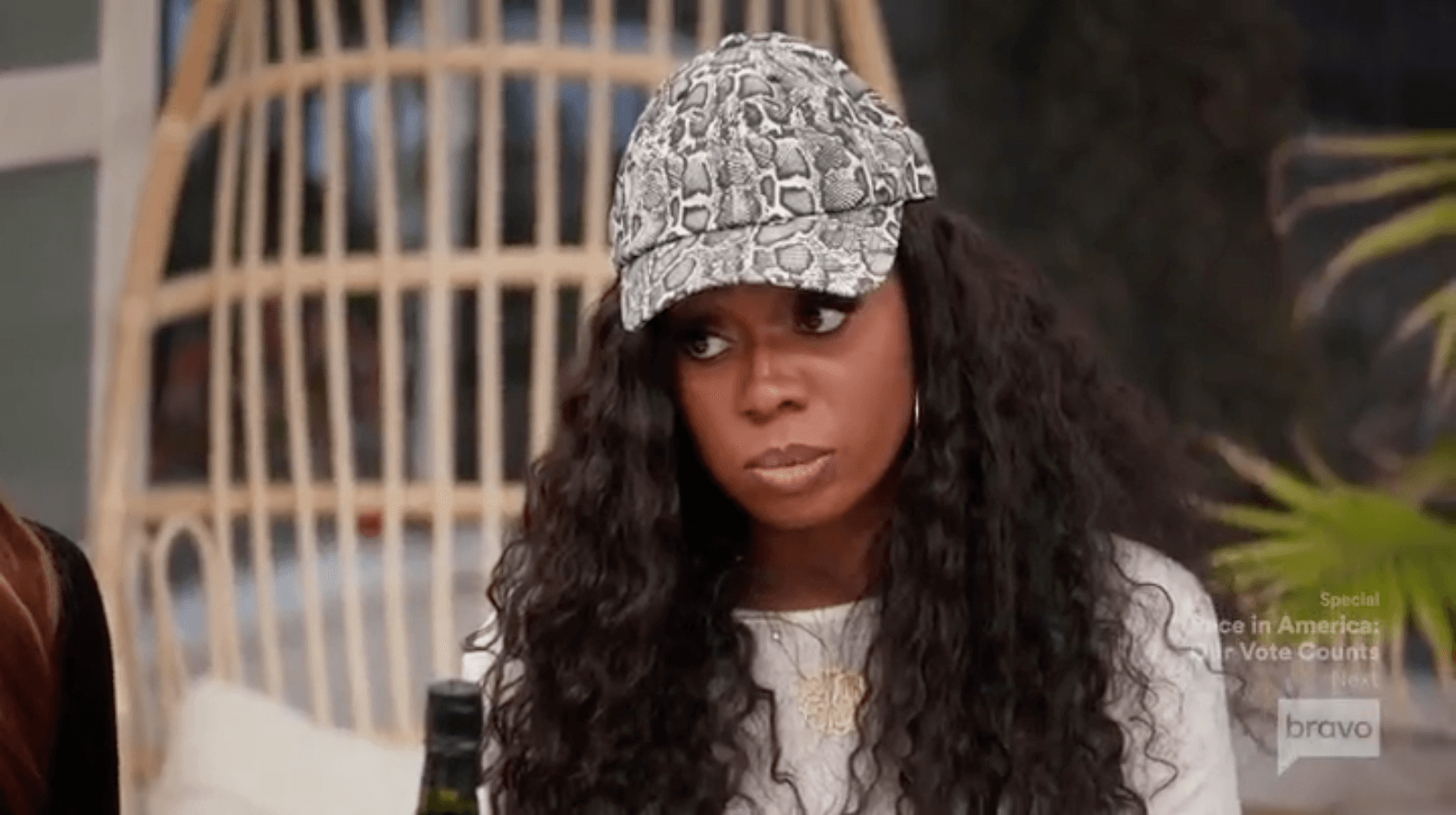 Wendy then makes the comment that she's not one to brag about her degrees, but thankfully Bravo provides us with a beautiful montage of her doing just that. Karen finally gets a word in and instead of rolling around in the mud with Wendy she hits her with some particularly wise words. "My mother said this and I stand by it: Common sense is a saving grace. And baby you can't buy it and I got it." Mic drop. 
The episode ends on a rather ominous note as screeches can be heard around the world coming from the inside of the Dillard-Bassett residence. Candiace gets word that she is being counter-charged for her own part in the barn brawl. Imagine that. "F*** that rusty a** b****," Candiace seethes." Oh, how the mighty have fallen. 
Meanwhile, in her own confessional, Monique, rather astutely points out, that two people are the reason that the fight happened. "If you're going to come after me, I have no choice but to come after you," Monique declares. LET THE GAMES BEGIN.
Tune in next week as the drama inevitably continues…
Stay Connected With All About The Tea: Twitter Ι Instagram Ι YouTube Ι Facebook Ι Send Us Tips
Amanda Byerly focuses on Reality TV recaps for All About The Tea. Amanda is a 30-year-old wife, mother and self-proclaimed Bravo TV junkie. When she's not watching Bravo, she's writing about it, reading about it, or listening to podcasts about it. "I get by with a little help from Bravo TV."