'RHOP' RECAP: Karen CHECKS Candiace and Wendy After They Confront Her About Supporting Monique After The Fight!
Welcome back to an all new episode of Real Housewives of Potomac – the one where Candiace Dillard-Bassett and Karen Huger finally duke it out over Karen's unwillingness to desert Monique Samuels just because cry baby Candiace wants her to. 
The episode opens with Gizelle Bryant meeting Juan Dixon at a jewelry store to pick out engagement ring 2.0 for his ex-wife turned soon-to-be fiancé, Robyn Dixon. But it quickly becomes apparent that Gizelle is also in the market for her own "double for her trouble" ring – to the tune of $60K. 
Juan quickly reigns Gizelle back in, explaining to the poor sales attendant that he's actually looking for a ring in the $9K to $10K range. Oh, and supposedly Robyn prefers a Morganite stone over a real diamond. Sure, Jan.
Meanwhile, across town, Monique is hard at work preparing for her Not For Lazy Mom's live podcast. In a last-ditch effort, she attempts to invite Robyn and Dr. Wendy Osefo to the event so they can see for themselves just how much she's changed in two weeks time. While Robyn beats around the bush as to whether or not she will attend – Wendy makes it very clear that she has zero intentions of coming.
The Grand Dame a.k.a. Karen Huger is still on a quest to get her marriage to Ray back on track and she's now enlisted a life coach… in a head-to-toe purple get up. Hey, if at first you don't succeed utilizing a radio host to save your marriage, by all means, call in yet another unlicensed "professional."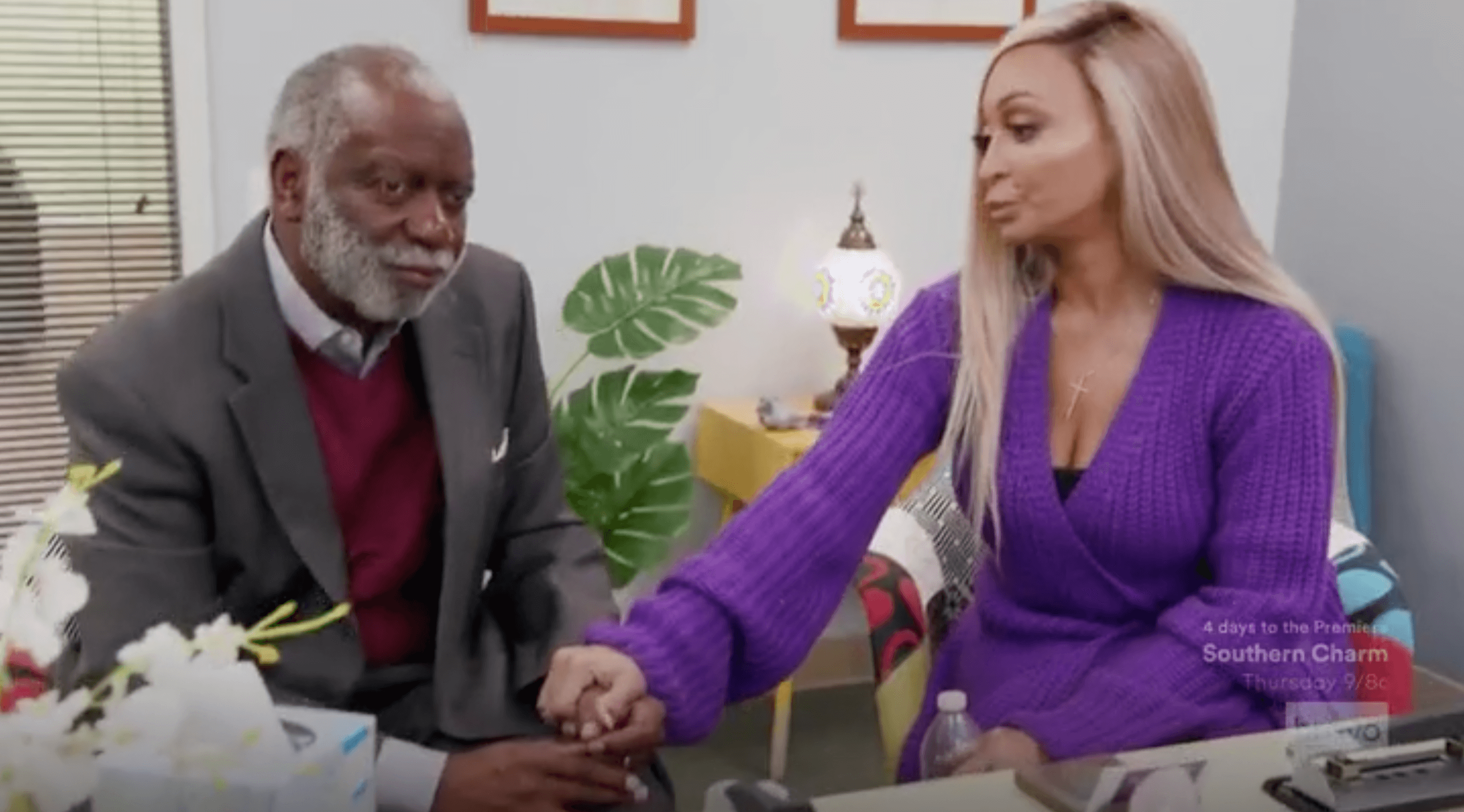 In a round-about way Ray explains that he may be harboring a bit of resentment that his wife has suddenly become the bread winner while he's in the midst of his third retirement. In a nutshell, he prefers her to remain in the house-wife role. At the end of the session, he does thank his wife for all that she's done over the years and for the time being, all appears to be right in the Huger household once again.
At the Osefo residence, in between giving her older sons medicinal breastmilk she calls up and invites all of the ladies (sans Monique) to Wine with Wendy – an event she describes as "a gathering of Black women who are movers and shakers in the DMV area, getting together to make positive changes in our community." 
While on the phone with Candiace, Candiace claims that she is having hourly panic attacks dealing with the social media bullying following her altercation with Monique. And she's convinced that Monique is to blame for it all. Candiace explains that she's not in the best place with Karen either and plans to confront her at the event for what she considers as Karen taking Monique's side.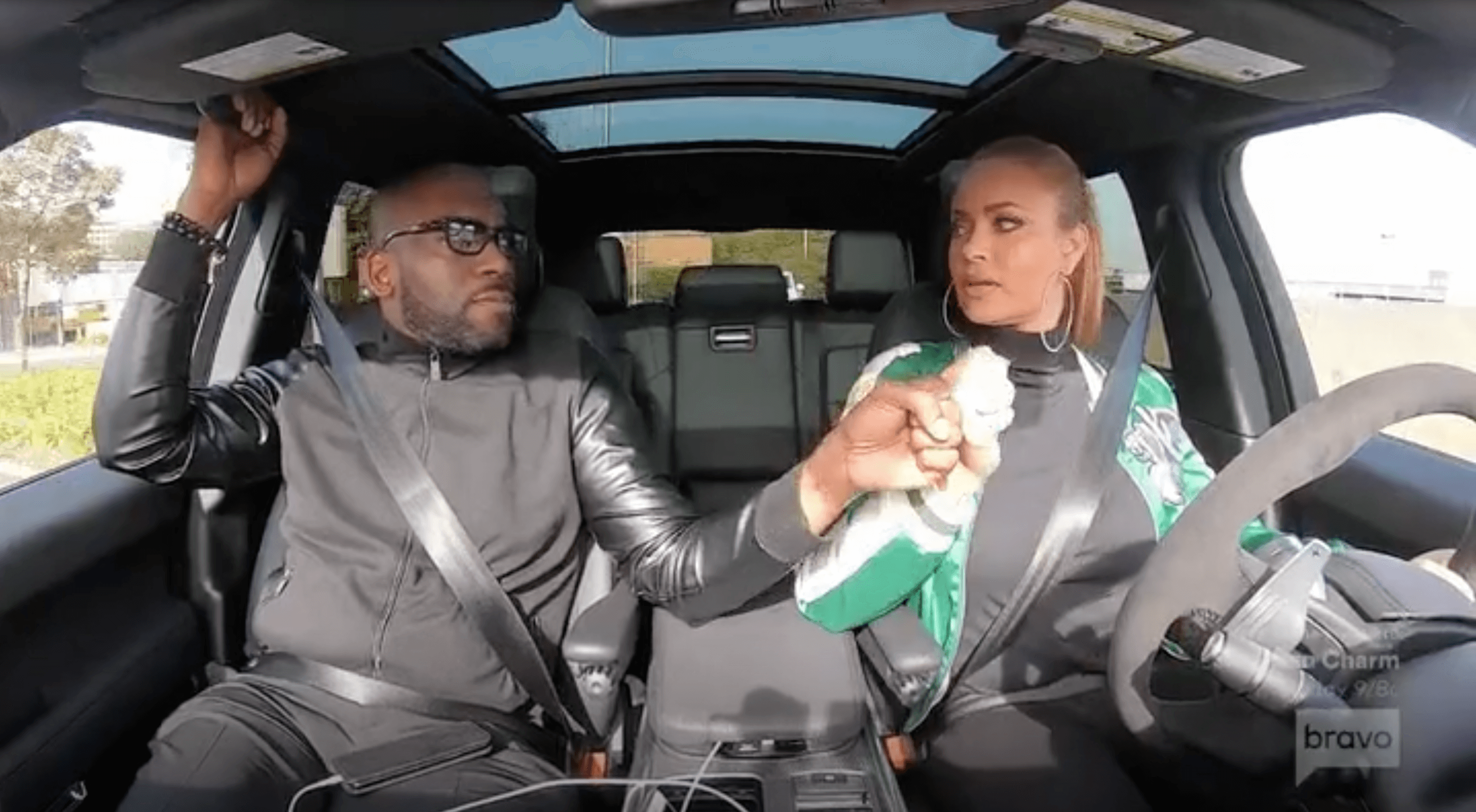 Gizelle is once again chauffeuring her ex-husband turned new boyfriend, Jamal Bryant, back to the airport. She finally broaches the subject of their long-distance relationship and Jamal explains that he has simply been waiting on her to come around to the idea of taking their relationship to the next level. Rightttt…..
Monique's event goes about as expected… lackluster ticket sales and many questions about the status of her relationship with Candiace. Monique responds by saying, "pray for us." But the real tea, happens prior to the event starting. Ashley Darby is the only one who attends Monique's event. Monique explains that she feels like she's being "iced out" by the other ladies, including Karen, who sent her an early morning text saying that she wouldn't be able to attend the podcast due to her not feeling well. Ashley then lets the cat out of the bag that Karen is the one who told Candiace that if she were in her shoes, she would press charges. YIKES.
Juan and Robyn, along with their sons and Robyn's parents, enjoy a night out complete with bowling, buffalo wings, and pizza. When Robyn excuses herself to the restroom, Juan drops a bomb to Robyn's parents that he plans to propose to Robyn… again. Luckily for Juan, Robyn's parents seem much more keen on the idea than poor Gizelle's dad. Lest we never forget the hot mic incident.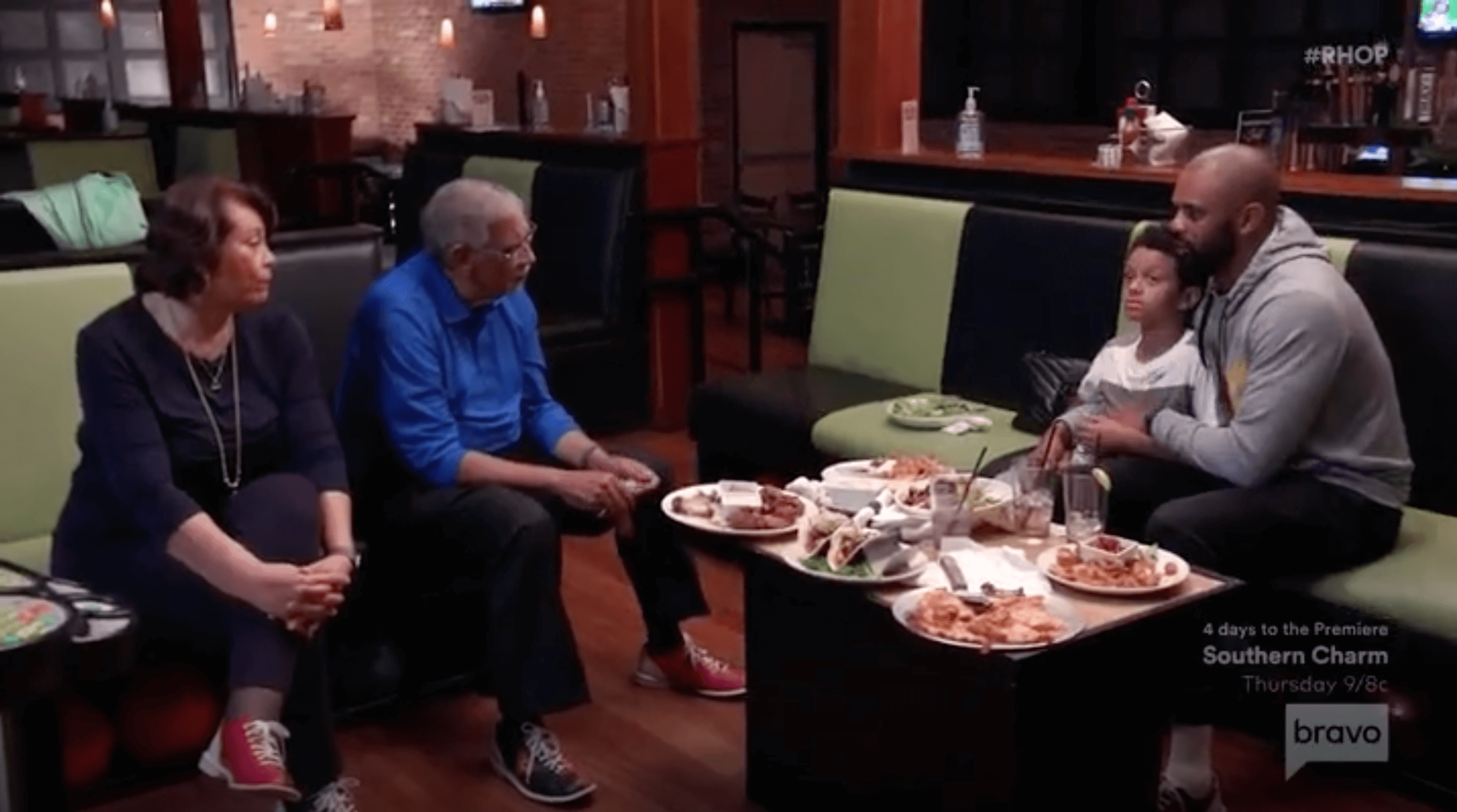 During their night out Robyn also breaks it to her parents that she owes $90K in back taxes to the IRS, but it turns out her parents already knew. How? Instagram, of course. 
It's finally the day of Wine with Wendy and Wendy is in her element putting the finishing touches on the event before everyone arrives. Candiace arrives in a pair of stillettos complete with what appears to be ostrich feathers glued on the back and Robyn shows up in an ill-fitting wig that she must be using to remain incognito from the IRS. 
The event goes off without a hitch. The fireworks don't occur, however, until after the session is over and Candiace pulls Karen aside to confront her. Once alone, Candiace wastes no time accusing Karen of being "soft" on Monique. "What I need to hear from you is that you understand that what Monique did was wrong," Candiace demands.
Karen, however, is adamant that she has told Monique that what she did was wrong and the producers even provide footage that backs that up. Karen then launches into a monologue of how just a couple of seasons prior she remained steadfast in Candiace's corner even though she disagreed with her behavior as well. "When I was holding you down, I didn't always agree with what you had done or said to others. And I am doing no more for my friend Monique than I did for you!"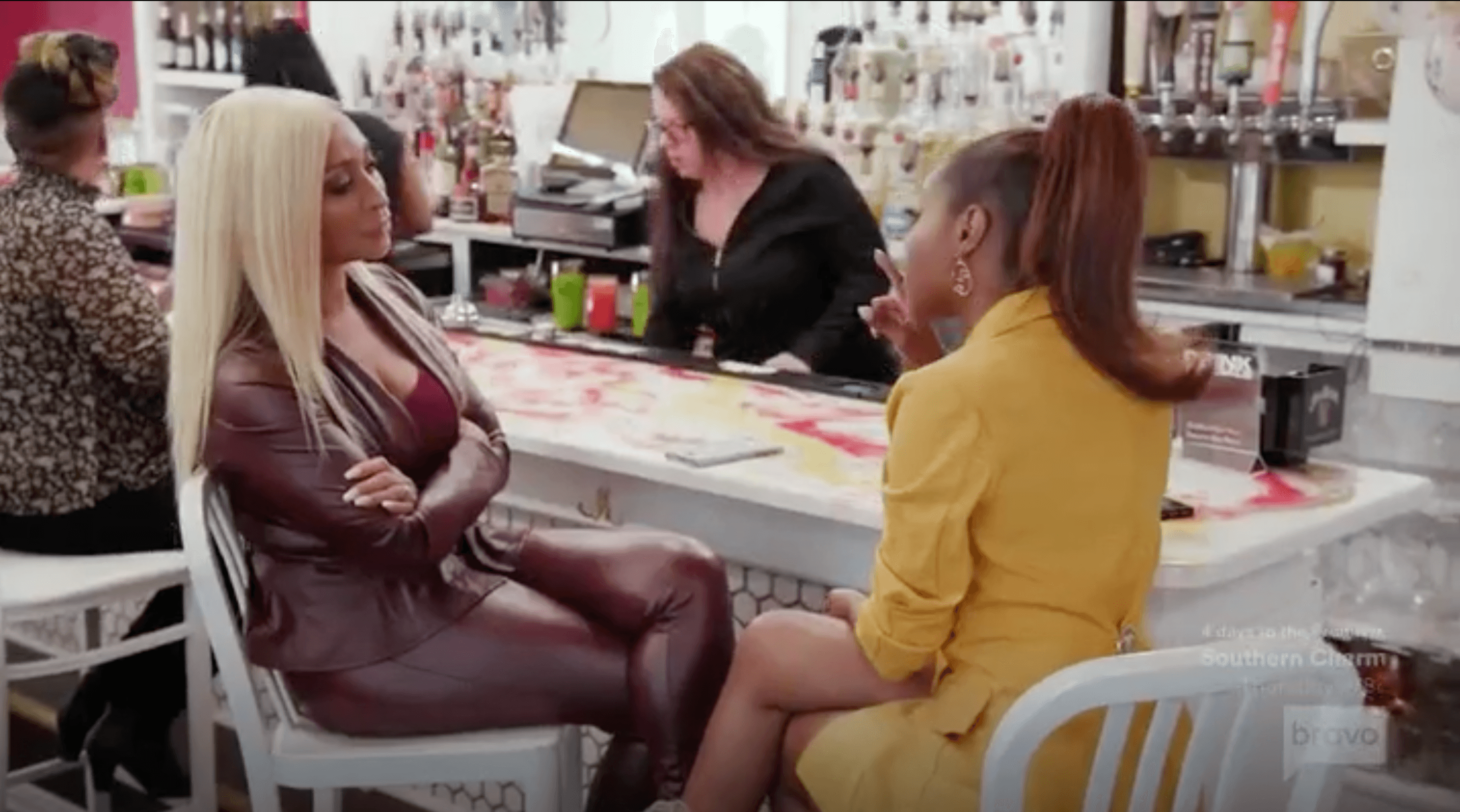 Wendy then abruptly joins the conversation and tries to pile on Karen but it becomes evident that Karen is having nothing of the sort. Karen then refers to Wendy as "ignorant" for not being able to look past her own feelings regarding the incident. SHOTS FIRED. I REPEAT SHOTS FIRED.
Press play below to watch All About The Tea's Real Housewives of Potomac recap on YouTube and SUBSCRIBE to our channel.
Karen then makes some vague insinuation that Monique's outburst is due to a medical condition. "Something is wrong with Monique medically, and I will stand neutral until I hear the medical reports!" Umm… okay?
Simultaneously, Gizelle is serving the rest of the ladies tea as she explains that Wendy had a run-in with Karen a few nights back. Wendy claims that after Karen was over-served she started blabbing all of her personal information with Ray, including the fact that she took one for the team and paid off Ray's tax debts for him. Could that be why he's so resentful of her now? Maybe. But Gizelle vows to get to the bottom of it, either way. Ya know, to make sure her good friend is okay. 
Tune in next week as the drama continues to unfold!
Stay Connected With All About The Tea: Twitter Ι Instagram Ι YouTube Ι Facebook Ι Send Us Tips
Amanda Byerly focuses on Reality TV recaps for All About The Tea. Amanda is a 30-year-old wife, mother and self-proclaimed Bravo TV junkie. When she's not watching Bravo, she's writing about it, reading about it, or listening to podcasts about it. "I get by with a little help from Bravo TV."