'RHOC' RECAP: Braunwyn Struggles With Sobriety, Gets Into Fight With Gina!
We open this episode of the Real Housewives of Orange County in Kelly Dodd's beach condo. She's packing and ready to move to Shannon Beador's neighborhood. But in the meantime, Emily Simpson stops by for a cheese and cracker spread…and to shoot the shit. It seems that since Shannon is now a lone amiga, she's been calling Kelly, eager to rekindle their friendship.
Kelly has turned a corner with Shannon. She's trying for civility. Emily wonders how Kelly can trust Shannon. Answer: Kelly can't. But she knows Shannon has a softer, kinder side to her, and that's what pulls Kelly back into Shannon's orbit.
One thing both Kelly and Emily can agree on is that Shannon is a follower. Now that she's on her own without Vicki and Tamra, she needs to set a new tone with the ladies. Mainly, Emily is irritated that Shannon's ignored her for two long years. Emily is a member of the cast—like it or not!
At Elizabeth Lyn Vargas's house, her brother, mother, and boyfriend with no benefits, Jimmy, have come to visit. It's her mom's birthday, and Elizabeth teases her about going to a spa. Oh, what kidders. Lyn likes theme parks, not spas. That's because Elizabeth was raised in trailer parks, and her dad was an itinerant preacher.
Elizabeth's niece is reading a book on how to save money. Lyn and Elizabeth's brother think she could learn a thing or two about saving money. Elizabeth reminds them that they're the beneficiaries of her spending habits.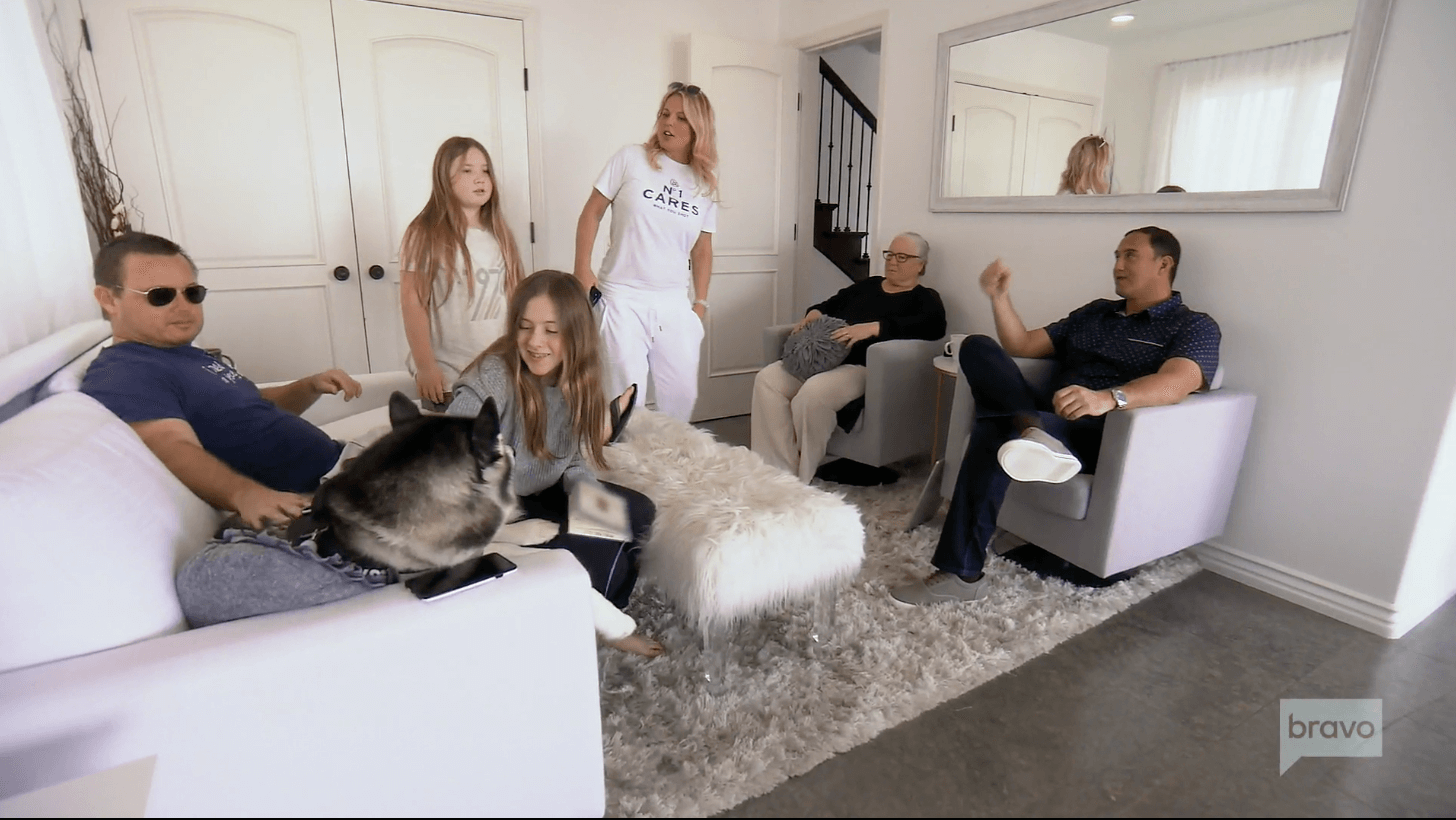 Elizabeth forces Jimmy into taking the dog for a walk with her in order to get some alone time. He's in the tech world, younger, and unlike her ex, an introvert. 
Elizabeth is generous. Not just with her own family, but with Jimmy's, too. She's planning on flying them in to visit. All she asks in return is that his mom makes her killer tamales. Sounds like a fair deal to me.
As we learn more about Elizabeth, we find that though she's half Mexican and half German, her father refused to teach his kids Spanish for fear that they'd be shunned when they were older. But now, she's eager for Jimmy to teach her some Spanish. He's schooling her about her own culture, and she's grateful.
I have to be honest here. Maybe it's because Jimmy's on camera for the first time and he's simply nervous, but there doesn't seem to be any chemistry between these two. So, I'm hoping that as the season continues, we'll see how they click. 
Braunwyn Windham-Burke and her husband, Sean go to dinner for Valentine's Day. Last year, she planned a romantic evening in their "love condo", but this year she's newly sober. According to Braunwyn, Valentine's Day is "more subdued."
Braunwyn has fourteen clean days under her belt. She tells us that she's been pregnant, drunk, or nursing for twenty-five years. As she sits across from Sean, insisting it won't bother her if he has a cocktail, her eyes well up. You can see she's struggling.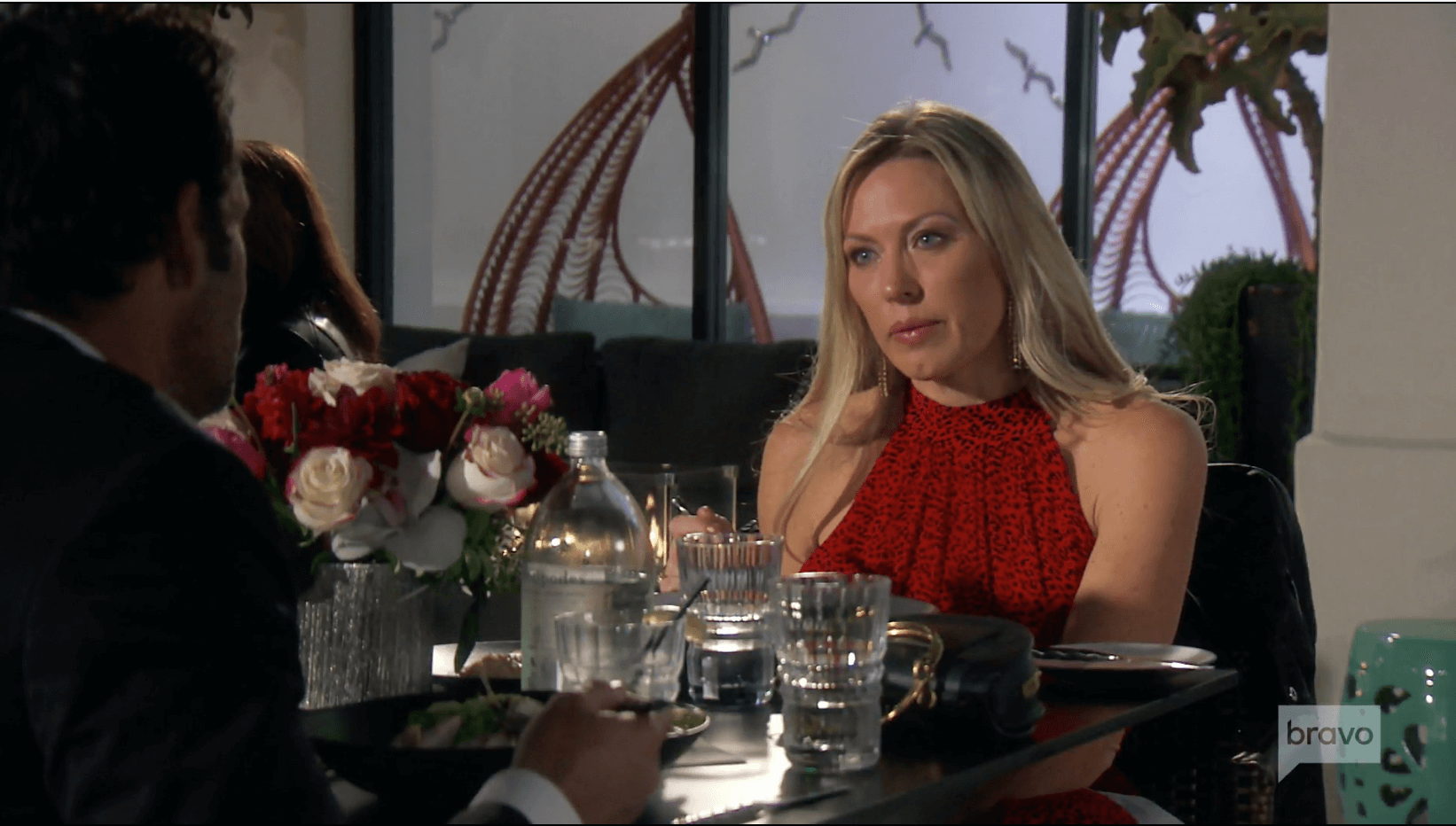 As she wipes away tears, she assures Sean that she's fine. He tells her that if she has a drink, she won't fail. But Braunwyn knows that if she drinks, she'll be back in that hole. And since she's gotten sober, she and Sean haven't had sex or even held hands.
As Braunwyn tries to pull herself together, Sean says he enabled her in the past, because he wanted to make her life perfect. He's always taken care of her—getting her home and cleaning her up when she's had too much to drink. She thinks they're codependent. And as she voices concerns about not having alcohol to lean on—so that she can be the fun, crazy Braunwyn—she wonders who she is without the drinking. Sean assures her they have enough love to get through anything, but it's obvious she's not feeling it.
Another concern is that Braunwyn will lose friends. Will they stick around if she's her authentic self? She's not sure, and that's scary, too.
It's a new day, and we're in Shannon's modern farmhouse. She's having a meeting for her upcoming products. Her new company, Real for Real, has sucked up all the money she had on her own, along with the alimony she received from her ex. (Which was one-point-seven-million, by the way.) 
As Shannon presides over her boardroom (the kitchen table), she's wrangled her boyfriend's daughter, Juliet into the business, as well. They pick out new containers for her upcoming lemonade drops, and Shannon tells us that though she's grateful to QVC, she made some business mistakes early on. Now, she feels the pressure to perform because all of her money is tied to this new venture.
John comes in late and approves of the bottles she's chosen. She tells us John is her biggest supporter. In a seventeen-year marriage where she constantly had to defend herself, Shannon loves having a real partner.
Emily and Gina Kirschenheiter head out for Mexican food. Gina says she's been on a happy diet. All eating and sex, no working out. But with six kids in the house, I'm not sure how much sex she's getting.
As they toast with skinny margaritas, Gina and Emily talk about the rough patch their friendship went through last season. Then they start talking about new girl, Elizabeth. Gina was supposed to meet Elizabeth a few months earlier, at Braunwyn's birthday party. But Gina completely forgot about the party. Whoops! That's okay though, because Braunwyn has been talking shit about Gina's new, tiny condo. Gina already knew. She played tennis with Tamra (will the specter of this woman never leave the show?!) and Tamra heard from Shannon that Bruanwyn had a few things to say about Gina's new digs. Emily heard the same from Kelly. I guess since Braunwyn quit drinking, she's taken up obsessing about Gina's small home instead.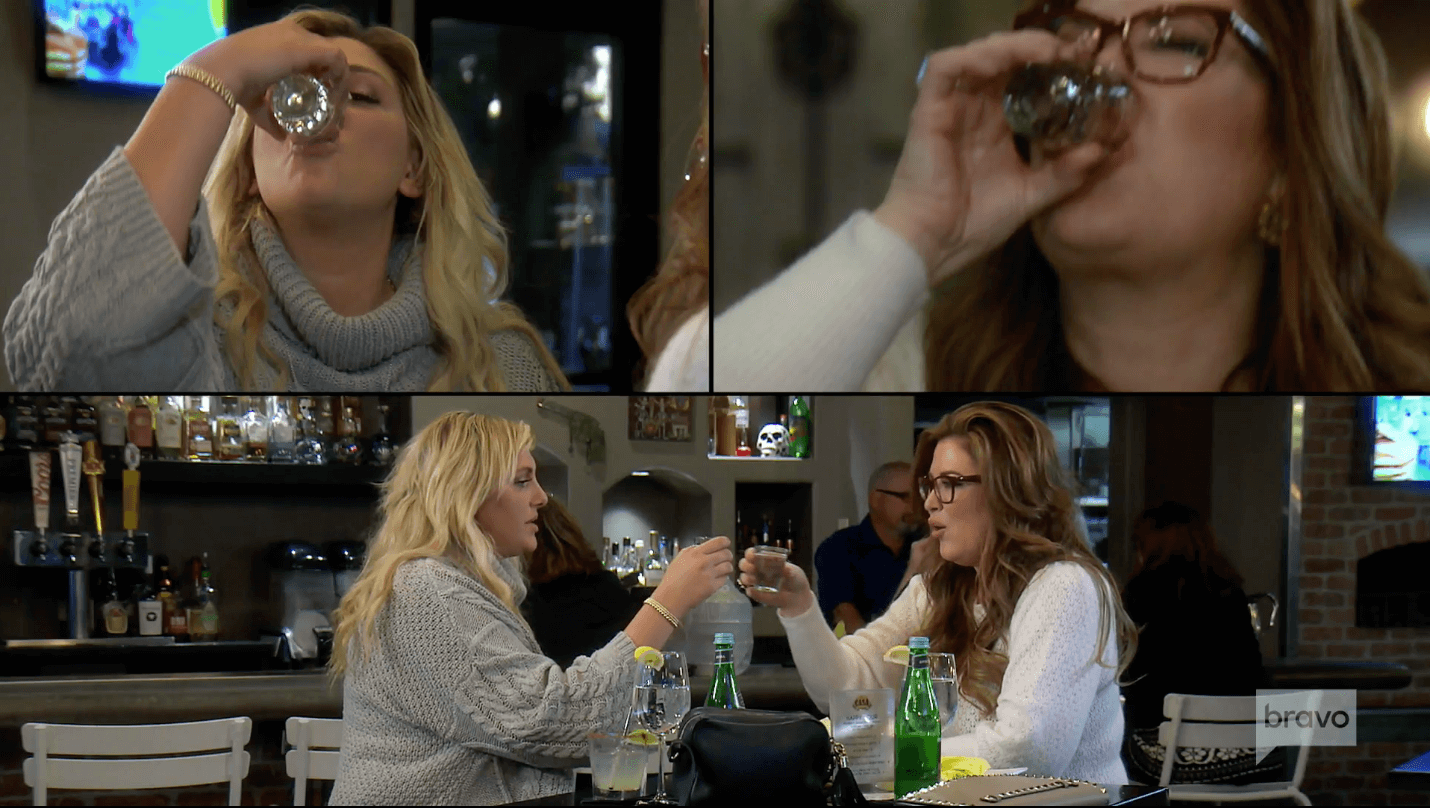 Next, Emily and Gina start slamming shots until Emily's lips are numb. Then Emily spills the tea about Braunwyn's new home—including the nightclub. Gina isn't interested in having eight-thousand square feet of living space. People who buy houses like that are assholes! Suuuuurrrrre, Gina. Whatever you say.
What Emily really wants to know is how Sean and Braunwyn got all their money. He doesn't have a job, according to Em. Gina wonders if Sean is a male escort. He does have a large statement necklace worthy of a gigolo (which Emily calls an immunity idol—good one, Em!). Why else do they have a sex condo, if he doesn't use it for business purposes? 
Braunwyn texts Emily as she has dinner with Gina. So, Gina encourages Emily to call her. Gina confronts Braunwyn over the phone. Braunwyn says she's heard Gina's been taking shots at Sean, and it's not cool, okay? Gina acts stupid, saying she doesn't know what Braunwyn's talking about. Braunwyn says the bleach has gone to Gina's brain, and if she wants to talk, they need to do it in person. Braunwyn challenges Gina to say to her face what she's been spewing behind her back, then hangs up on Gina.
We find out that Sean texted Gina. And who did Braunwyn hear this from? Tamra Judge. This woman is angling to get her job back, and angling hard, people. Anyway, Sean texted Gina after Vicki's tea party birthday last season. After he got Braunwyn to bed. Talk about a man who shits where he eats. He's texting his wife's castmate? That's messed up.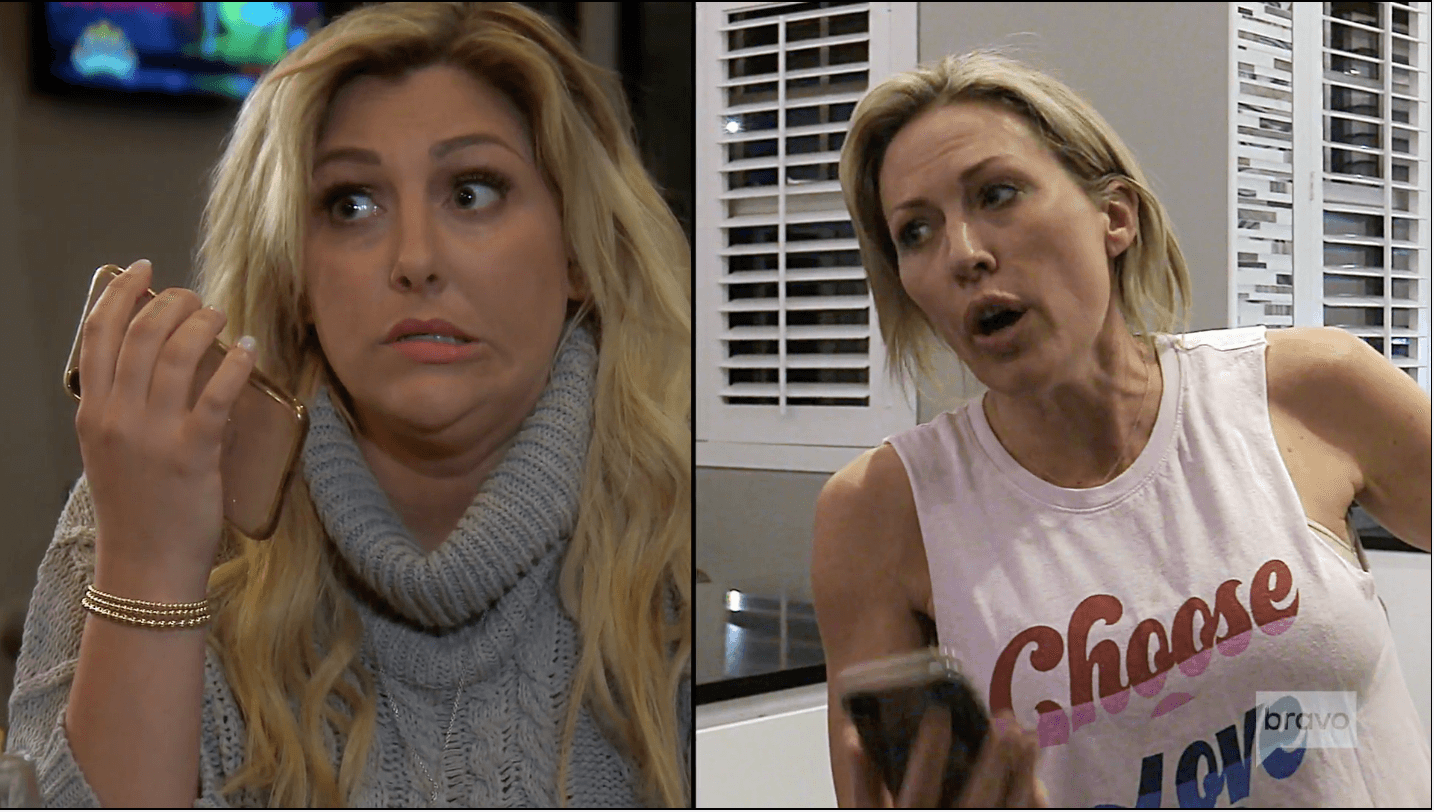 After Braunwyn hangs up, Gina makes Emily call Braunwyn again. But Braunwyn isn't having it. She doesn't want to have this confrontation over the phone. They bitch at each other and throw a few jabs, then Braunwyn hangs up once more.
Now, it's a new day in the OC, and it's packing day for Kelly. She calls her mom as she sits in the closet. Kelly and her mom are speaking after being estranged the past couple of years. It's taken some time, but they've rebuilt their relationship. Kelly's having trouble with Jolie, who is in the middle of teenage angst. And with a mom as embarrassing as Kelly, I imagine it will get worse before it gets better.
Elizabeth and Braunwyn meet up at a kids' store. The two are shopping for Emily's daughter's upcoming birthday. As Braunwyn talks about Gina's misunderstanding over Sean's text, Elizabeth has very little sympathy. Her ex had a kid with his mistress. A text? Pffft, that's nothing!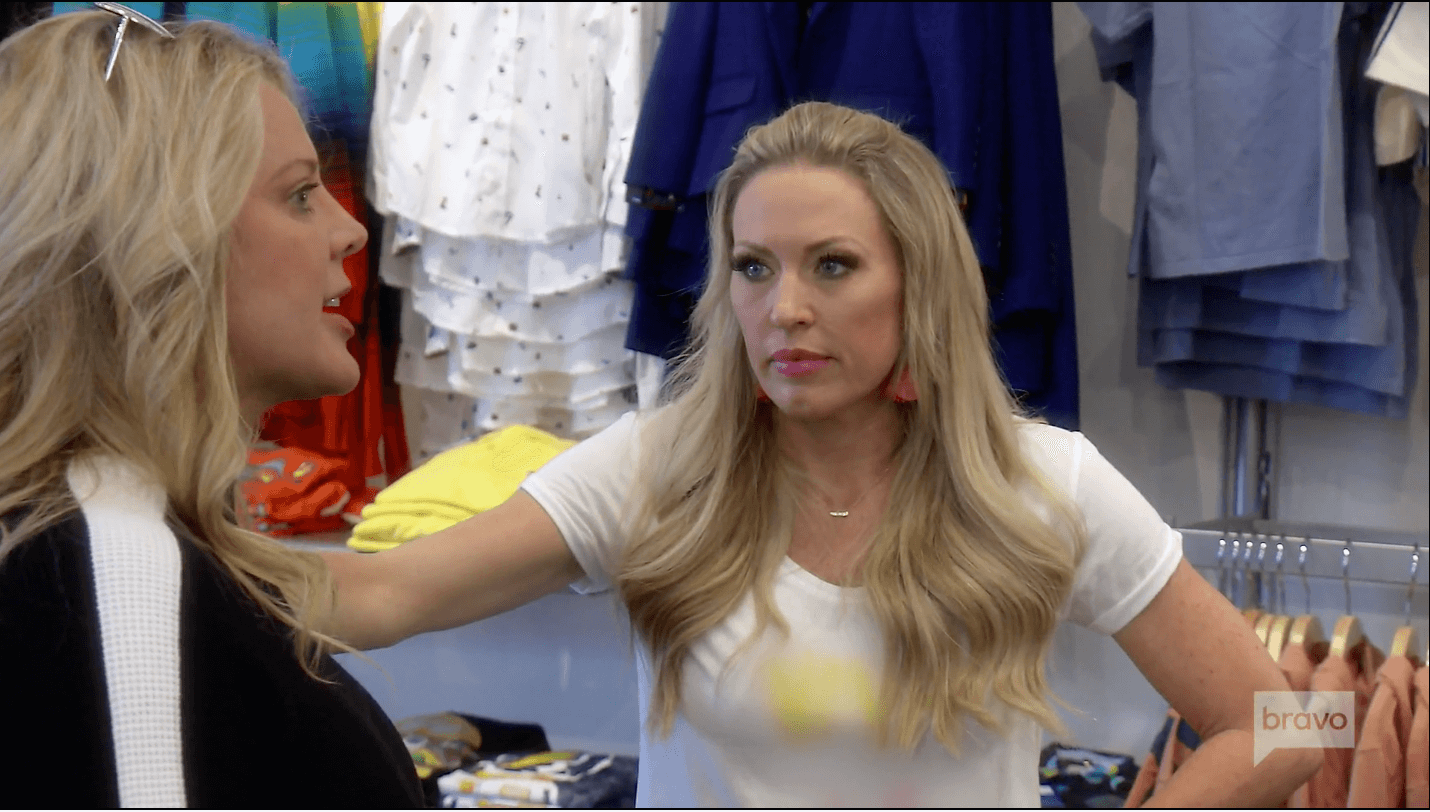 Elizabeth has had fun with her family, and now she's ready for them to go home. She shares with Braunwyn that the family went through a lot because her dad was an alcoholic and died from it. Braunwyn says her dad died from drinking, too. Elizabeth spent the past two years drinking because of her divorce and had to pull herself out of it before she went down the same road as her dad. Braunwyn understands completely, but doesn't share her newfound sober status with Elizabeth.
Later that day, Braunwyn is at home, lying down. Sean comes in to soothe her. She explains that she's having a bad day and wants a drink more than anything. Sean hugs her. Three hours later as she leaves the house, he tells her that if she needs him, he'll come for her.
As she leaves, Braunwyn is stopped by her daughter who wants to know what's going on. It turns out that Braunwyn's mom, Dr. Deb, called…you guessed it…Tamra to fill her in about Braunwyn's decision to stop drinking. That was an overstep. Now, Braunwyn has to tell everyone that she's an alcoholic before she wanted to put it out there.
Braunwyn stops by Shannon's house to pick her up for dinner. She and Shannon have always been drinking pals, so things might get awkward between them.
Braunwyn is driving a minivan instead of the two of them renting a car and driver. That, coupled with the fact that Braunwyn hasn't been drinking, makes Shannon believe Braunwyn is pregnant. She even brought along a pregnancy test.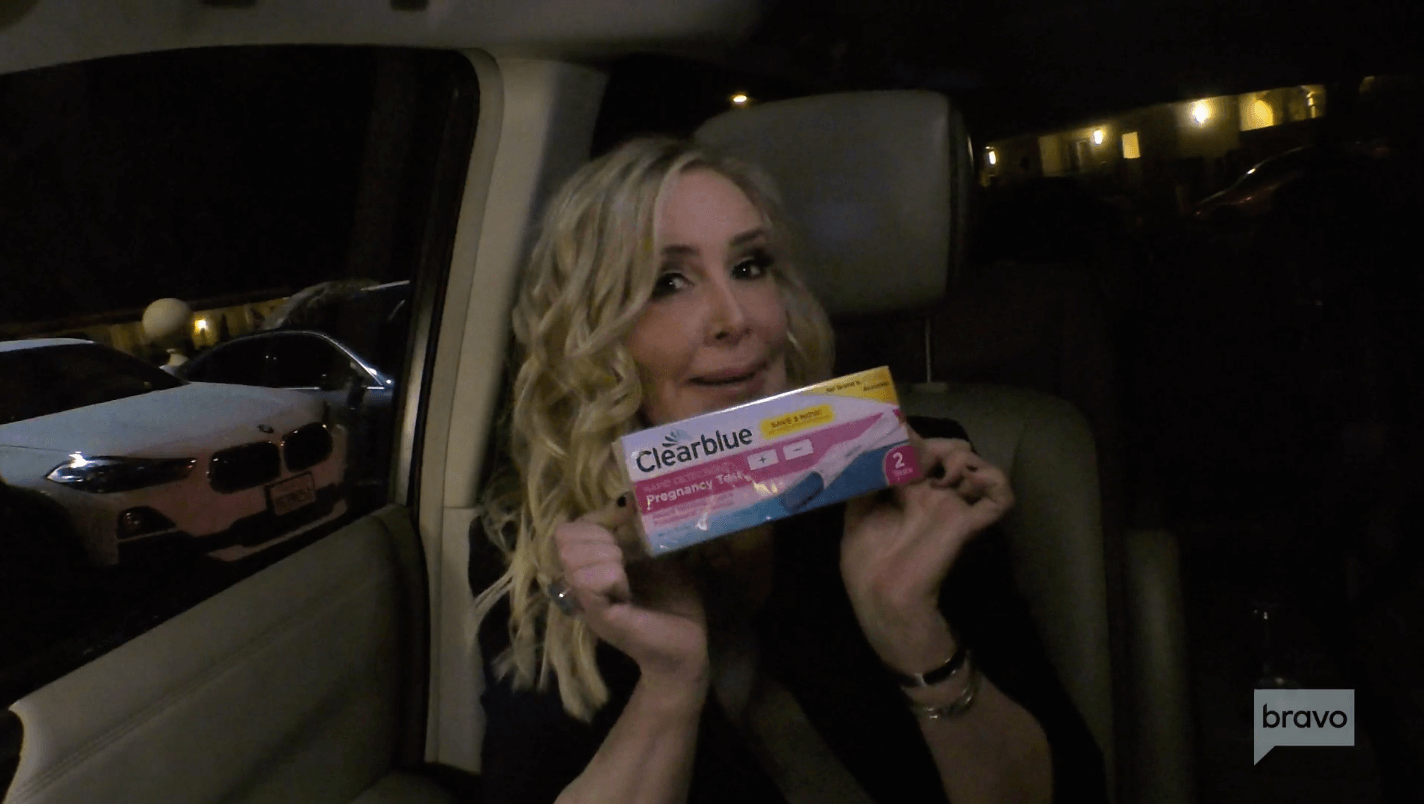 Braunwyn finally tells Shannon that she's an alcoholic. Shannon is speechless. Braunwyn admits that when she drinks, she can't stop. It goes on all day, from morning to night. We find out that Dr. Deb tried to blackmail Braunwyn, saying if she didn't recant all of the complaints she voiced last season, Dr. Deb would tell everyone on the show that Braunwyn has a drinking problem. Nice one. Mom! Dr. Deb is more worried about her own reputation than for Braunwyn's privacy.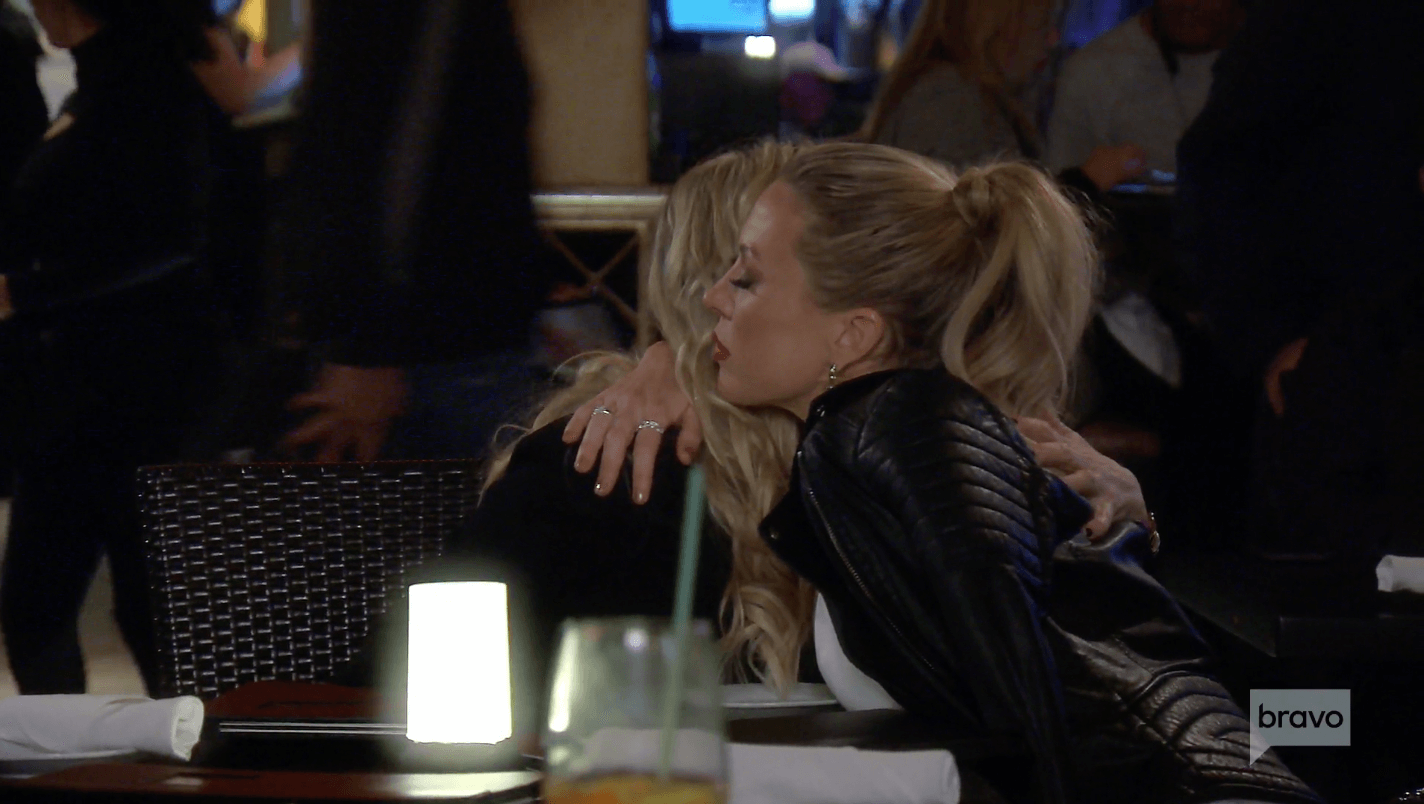 Shannon says she had no idea Braunwyn's drinking was out of control. As we see flashbacks from last season, it's amazing Shannon couldn't see it. But Shannon is super supportive and encourages Braunwyn to go to AA meetings. They hug, and Braunwyn feels better about telling Shannon the truth.
The day of Anabelle's birthday party has arrived. Emily has planned a kitten themed party. She fills Shane in on the latest gossip, about Gina and Braunwyn not getting along and about Braunwyn's admission about being an alcoholic. Both Gina and Braunwyn are supposed to be at the party, and that could spell trouble. No worries. Shane says if they misbehave, he'll chuck one of them out of the house.
Braunwyn, Sean, and three of their seventeen children arrive for the party. Braunwyn gave Emily an out, by saying she would skip it if it was too uncomfortable to have both her and Gina at the same shindig. Emily assures Braunwyn that Gina will be mature. I'm hoping that's not true. What's better than a cat fight at a kitten party?!
Before Gina arrives, Emily pulls Braunwyn aside and says she knows that both women will be on their best behavior…however, Braunwyn did say some shitty things about Gina. Braunwyn says she's not the only one making fun on Gina's small house. Braunwyn claims Shannon called Gina's new home "sad and depressing." Emily now has another reason to dislike Shannon.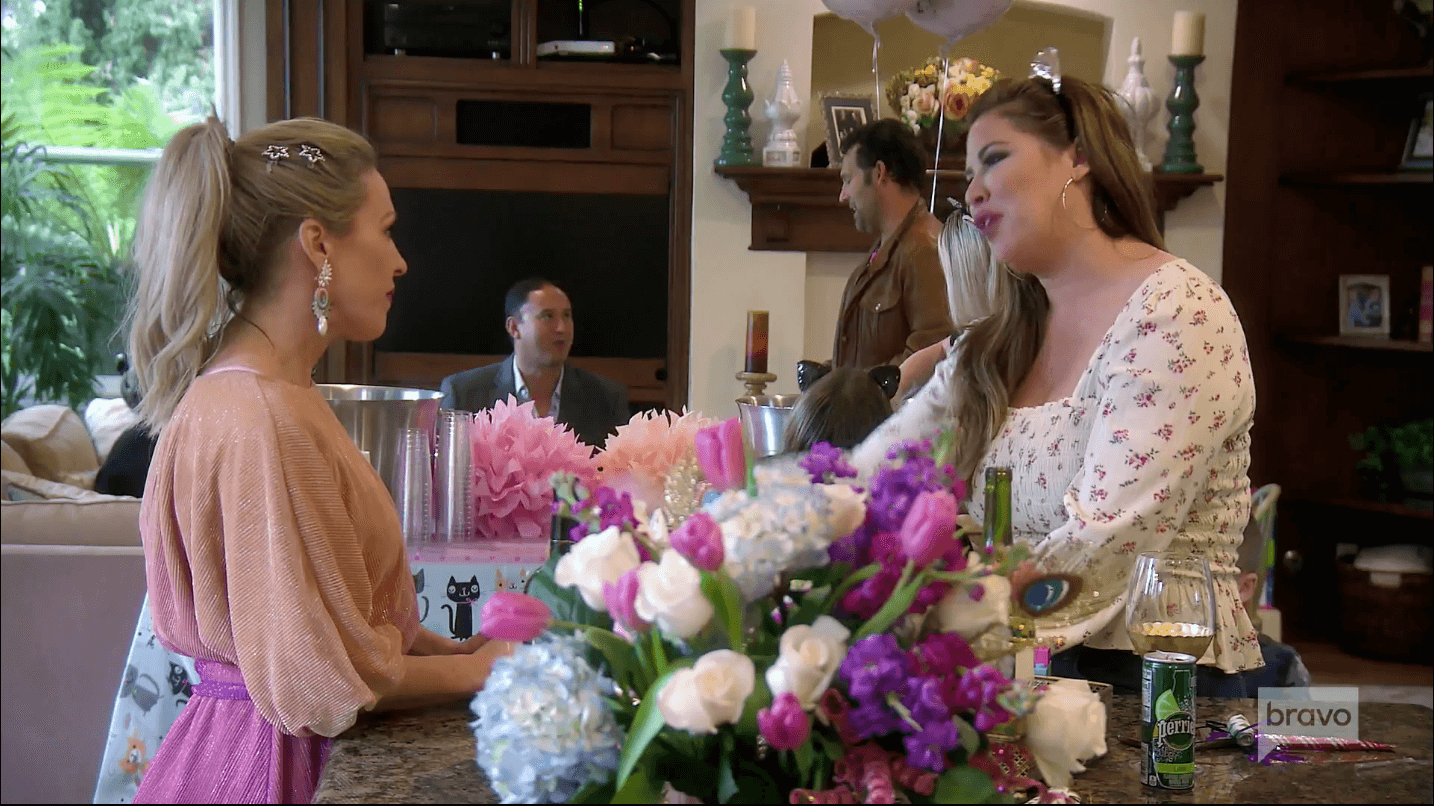 Gina shows up without her kids. When she greets Sean and Braunwyn, they barely acknowledge her. 
Gina and Elizabeth chat for the first time and stay inside. Sean and Braunwyn remain in the backyard, wishing Gina would apologize.
Emily corners Gina and spills the tea about what Shannon supposedly said regarding Gina's condo. Emily defends Gina. Girlfriend doesn't get any child support or spousal support. She's doing the best she can.
As she leaves, Braunwyn wants to get together with Gina later in the week. Gina agrees to meet.
That's our episode. So, what do you think? Why did Braunwyn throw Shannon under the bus? How horrible is Dr. Deb? And do you think Braunwyn can stay sober?
The Real Housewives of Orange County airs on Wednesdays at 9 pm, ET, on Bravo.
Stay Connected With All About The Tea: Twitter Ι Instagram Ι YouTube Ι Facebook Ι Send Us Tips
I'm a fiction writer by day and a reality TV addict by night.