Black Ink Crew
Nina Marie Admits Sleeping With Black Ink's Ryan Henry After His Cancer-Stricken Best Friend BEAT Her Up!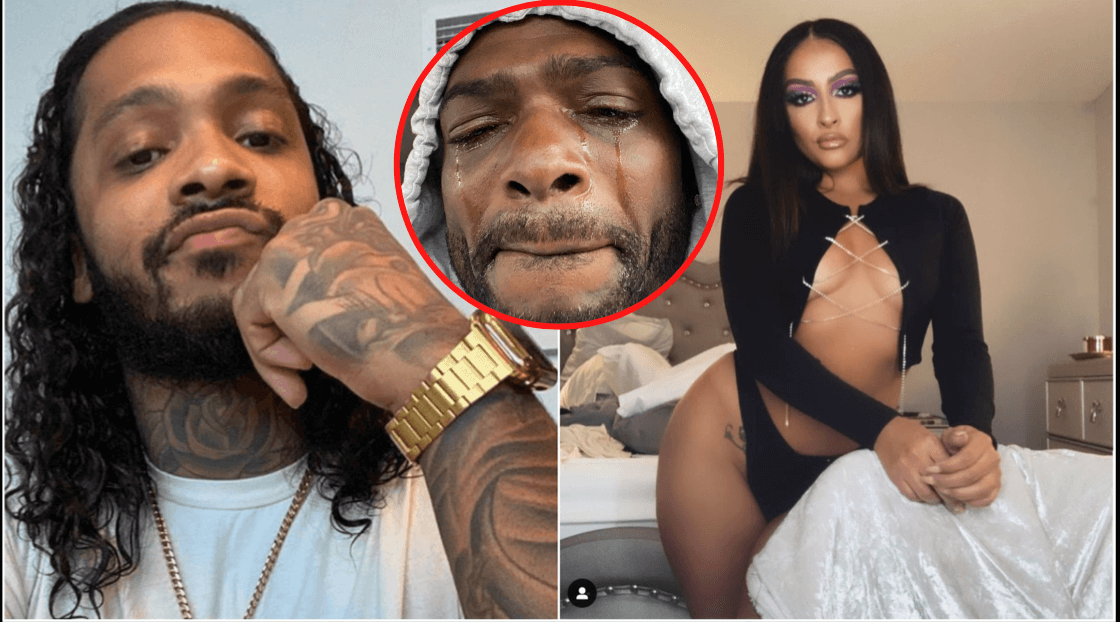 The entire drama surrounding Black Ink Crew: Chicago star Ryan Henry's entanglement with his best friend, Anthony Lindsey, and Anthony's baby's mother, Nina Marie, is getting messier by the day. Over the weekend, Ryan finally came clean and admitted to sleeping with Nina. Now, not only is Nina admitting to sleeping with Ryan, but she reveals that her ex and baby's daddy, Anthony Lindsey, abused her.
READ ALSO: 'Black Ink Crew Chicago' Star Ryan Henry Admits to SMASHING Cancer-Stricken Best Friend's Baby Mama!
On Monday (Oct. 19), Nina Marie took to Instagram and posted a slideshow of photos showing off ton of bruises and marks on her face, neck, shoulders, and legs.
In the caption, Nina explained that, in honor of Domestic Violence Awareness month, she wanted to share some of her experiences. In the caption, she alleged that Anthony abused her several times within the six years they were together, including when she was pregnant with their son, Caydenn. Nina gave details on the incidents before accusing Anthony of being "a master manipulator" who "easily maneuvered his way" into her life "and slowly gained control."
As if the photos weren't enough, Nina then hopped on Instagram Live to elaborate. Nina said she wanted to get on Live to discuss her relationship with Anthony and to let us know that he is NOT the man he's been portraying.
"Just so you guys can see who you're lifting up and who you are defending sooo hard in this situation because this person is not exactly the best person in the world," Nina began in the nearly 10-minute video. "He's not so innocent out there. And so I also wanted to make that very clear."
Nina also wanted to take accountability for sleeping with Ryan.
"I just want to take accountability for what I've done," she said. "In no way, shape, or form was it right. I don't feel as though it is something that I should have done. I was selfish. I wasn't thinking. I didn't really care about anybody's feelings at that point and that's terrible."
Anthony Lindsey returned to Instagram and fought Nina's abuse claims. He posted the police report from the night of the incident Nina detailed and said that he was actually the victim:
"Police report from that day. Her crazy ass was fighting me! It shows me as the victim I refused to press charges. I refused to even post this back then. Public record go look it up. Upper left corner say victim-Anthony Lindsey."
Anthony also went live to further back up his statements.
"She didn't have bruises on her face," he said to his viewers. "If you read the police report, I'm driving the car, she takes the bag, hits me in the face with the bag. I'm driving, we in traffic, she going crazy and sh*t with a sundress on. I'm driving holding like this by her chest with my hand like that."
Anthony continued on, saying that throughout this whole ordeal, he hasn't said anything bad about Ryan or Nina. After telling viewers to check his police record, Anthony said the incident happened five years ago and doesn't know why Nina is now posting photos of her bruises. He stands by his claim that Nina was the abusive one and that on the night of the incident, police asked him if he wanted to press charges.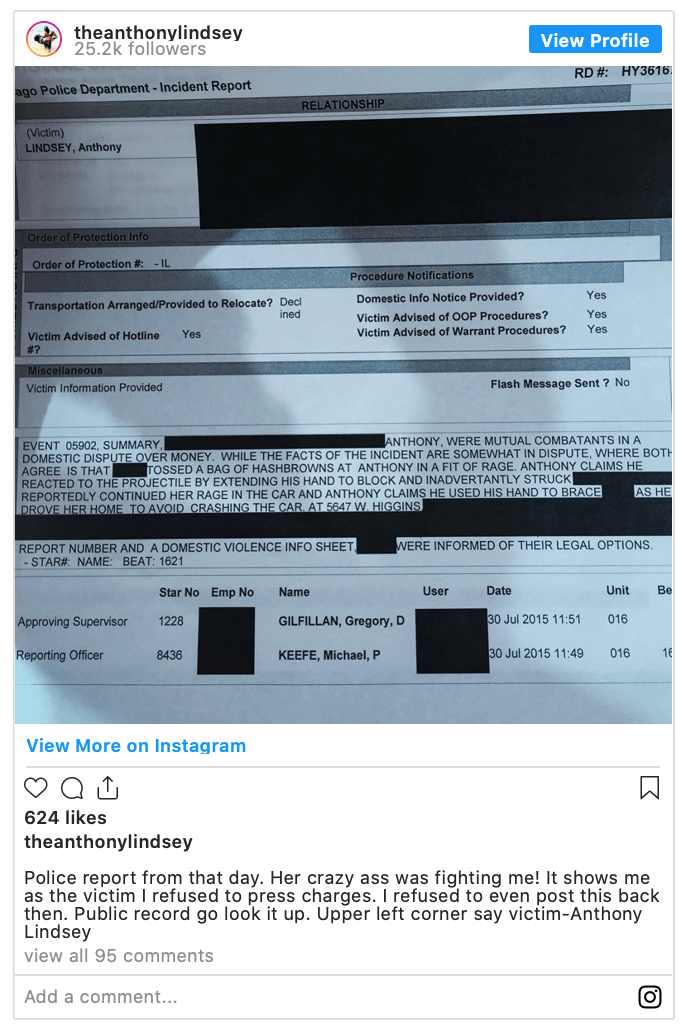 As All About The Tea has reported, Ryan came clean with fans on Instagram Live over the weekend. "I hurt people that I care about badly," Ryan said during the Live. "I disrespected myself and my family."  Not only did Ryan Henry apologize publicly, but he says he's already apologized to Anthony in private.
"I've apologized to Anthony. We talked," he said. "We talked a lot after this happened. Ya'll just got it a little bit later.
Watch Ryan's apology below. Press play below.
Stay Connected With All About The Tea: Twitter Ι Instagram Ι YouTube Ι Facebook Ι Send Us Tips