'RHOP' RECAP: Candiace Officially Presses Charges Against Monique!
Welcome back to an all-new episode of Real Housewives of Potomac. The one where – Candiace Dillard-Bassett marches down to the courthouse and presses charges against her frenemy Monique Samuels.
The episode opens with Dr. Wendy Osefo and her husband, Eddie, discussing a sip-and-see event for their infant daughter, Kamrynn – one that marries their Nigerian heritage and their American culture all together. There's only one problem. He's still not speaking to his family. During her talking head interview, Wendy explains that both her mom and Eddie's mom were "pillars in the Nigerian community" but they had a falling out and Eddie's mom became "intimidated" of her mother and decided she no longer wanted her son to marry Wendy. The rest of the family including Eddie's father and siblings took his mother's side and they haven't heard from them since. Something tells me there's more to this story, but I digress…
Meanwhile, Ashley Darby and her wayward husband, Michael, attend a therapy session to discuss the time Michael was unfaithful while she was out of town for more than five minutes with their infant son. The name of Michael's game is deflect, deflect, deflect. According to Michael he feels "complete isolation" due to Ashley relishing in her new role as a mother and that caused him to cheat. He also claims he suffered years of emotional abuse at the hands of his father and that apparently causes him to cheat as well. At the end of the session, the therapist asks them to work on bettering their communication and all's well that ends well. For now, anyway.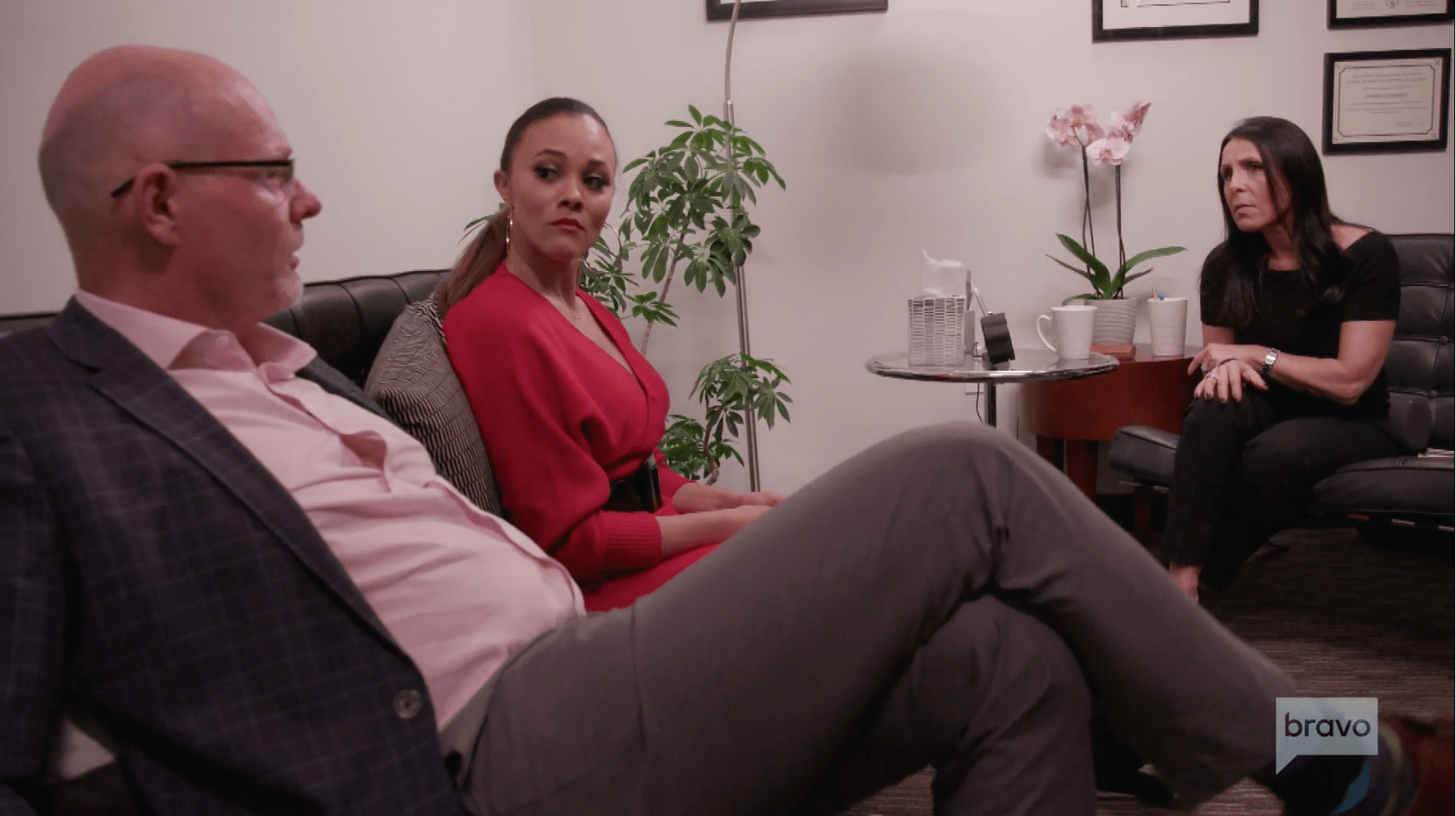 Across town, however, Karen Huger and her husband Ray are duking it out sans therapist. She tries to explain to Ray how much she needed the trip to her hometown… but that it also made her think about the disconnect that she and Ray are experiencing. Karen admits that she has recently experienced some success with her new fragrance line and "being a public figure" which is Housewife code for being on the show, but ultimately she doesn't want that getting in the way of their marriage. Ray immediately interrupts her, saying "that we worked very hard for her." YIKES. Shots fired. She finally breaks down and asks Ray if her new business venture is intimidating to him? He then asks her if she thinks that any of his newfound fame and fortune has went to her head. OOF.
And now to the meat of the episode – we bear witness to Candiace's mother giving Candiace a pep-talk all the way to the county courthouse where she presses charges against Monique Samuels for the altercation at the winery. You remember the one. The one where she asked Monique to "drag her." Yeah, that one.
With one hand on the steering wheel and the other one holding her phone she tells her mother she feels "justified in taking this route" because she did "nothing to justify that kind of behavior." Candiace, honey, now that's rich. Even for you. She then managed to squeeze out a few crocodile tears and puts the phone down only long enough to pull out a triangle tissue and quickly get to work dabbing the corner of her eyes. The next shot we see is of her walking into the Montgomery County District Court. Dun. Dun. Dunnnn.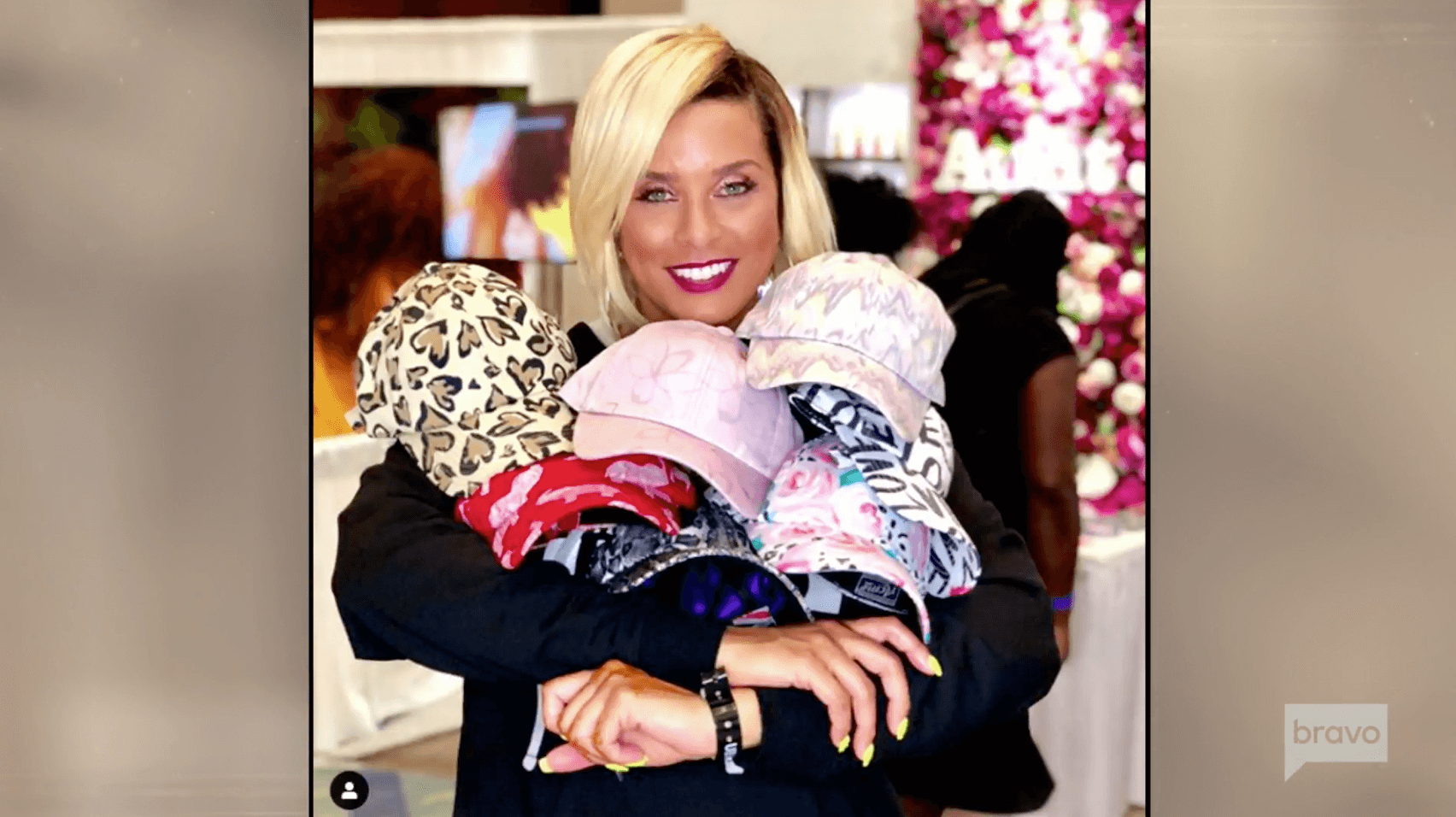 Concurrently, Robyn Dixon is hard at work at home on one of her many new business ventures, a hat line she named "Embellished." Here's to hoping she has employed an accountant for this venture. According to Robyn, she's made the difficult decision to take her "foot off the gas" on buying a new house and getting married as she's got way bigger fish to fry at the moment i.e. the $90K in back taxes that she owes. 
After pressing charges on Monique, Candiace then skips off to the nearest restaurant without a care in the world to meet with one of her nearest and dearest, Clifton a.k.a. Cliff a.k.a. Cliffy a.k.a. Cliffers. She's clearly very much in need of a yes-man and she's definitely found it in the poor lap dog that is Cliffy. She immediately gets to work explaining to Cliffy that she went to give her statement and told the powers that be that she wants Monique to be "prosecuted to the fullest extent." She then launches into the same spiel about how she's essentially suffering from PTSD and has resorted to putting up post-it notes all over her home with the words "You're okay" scribbled on them. And like clockwork, she then pulls out the triangle tissues. Insert the rolling eyes emoji here.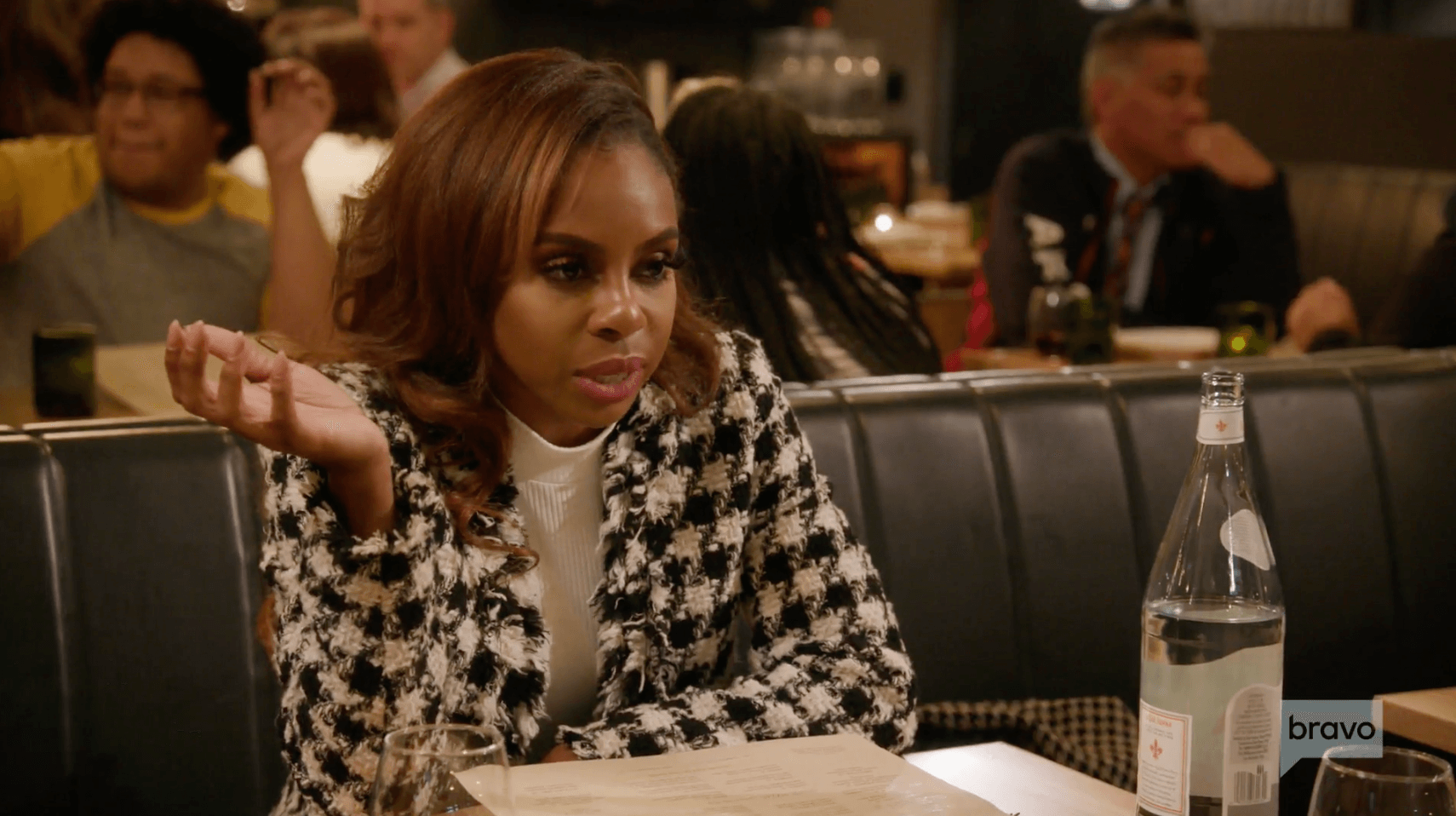 Cliffy asks Candiace about the dynamic with the rest of the ladies post-altercation and she explains that while Wendy, Robyn and Gizelle Bryant have been very supportive, her good pal Karen has been "erring on the side of caution" when it comes to supporting her. Later she says in her confessional that she doesn't know if she feels "the full weight of Karen's support" and that's something she desperately needs right now. She then adds that her "mental state is not being considered." OH, PLEASE. SOMEBODY GIVE THIS WOMAN AN OSCAR.
Meanwhile, Wendy and Eddie are touring a potential museum space for their daughter's sip-and-see event. According to Wendy the museum checks off all the boxes for what she has in mind for her daughter. Artsy – check. Culture – check. 
The conversation quickly turns to the guest list. Eddie explains that after having a conversation with one of their sons in which he started asking questions about Eddie's father, Eddie is now having a change of heart and wants to extend an olive branch to his family and invite them to the event. Wendy gives her blessing and with a wing and a prayer he hits send on the invite. Fingers crossed!
Ashley Darby and Baby Dean visit her Uncle Lump whom she considers to be like a father-figure. Together with her mother they have a nice family dinner together. Eventually, however, the conversation turns to her struggling marriage. It's very apparent that Uncle Lump is not a Michael Darby fan. Ashley starts sharing Michael's daddy drama sob story in an effort to explain away his bad behavior, but Uncle Lump is not buying it. Ashley's mom then ever-so-eloquently points out that Baby Dean was "barely out of her cooch" when Michael went astray. Ashley, however, argues that the problem was that Michael wasn't able to "get in the cooch," at which point viewers everywhere promptly vomited up the entire contents of grandma's Sunday dinner. The dinner wraps with Uncle Lump vowing that he wants to see Michael. YIKES.
Press play below to watch All About The Tea's Real Housewives of Potomac recap on YouTube and SUBSCRIBE to our channel.
It's finally the night of the sip and see event. Robyn Dixon arrives first, even before the hostess, Wendy. While Wendy is en route to the party, however, she gets an alert on her phone that Monique was charged with second-degree assault. According to her attorney husband Eddie, "that's serious" and he's "sure" that she could get jail time. 
Once everyone arrives, the ladies immediately congregate to discuss the charges. Even, Gizelle seems shocked by the turn of events. While the green-eyed bandits relish in the hot tea, Karen is having none of it and promptly leaves the table on a quest to find a glass of water. Could it be that she regrets advising Candiace to press charges in the first place?
Candiace and her husband Chris finally arrive at the party… oh and Candiace's mother, Dorothy too. Is Dorothy now moonlighting as Candiace's bodyguard or…? The ceremony starts and the head-tie ceremony is well underway. Think lots of dancing, Kamrynn in a beautiful gold ensemble being lifted up in the air, and money being thrown on the ground as Wendy's boys work overtime scooping it all up.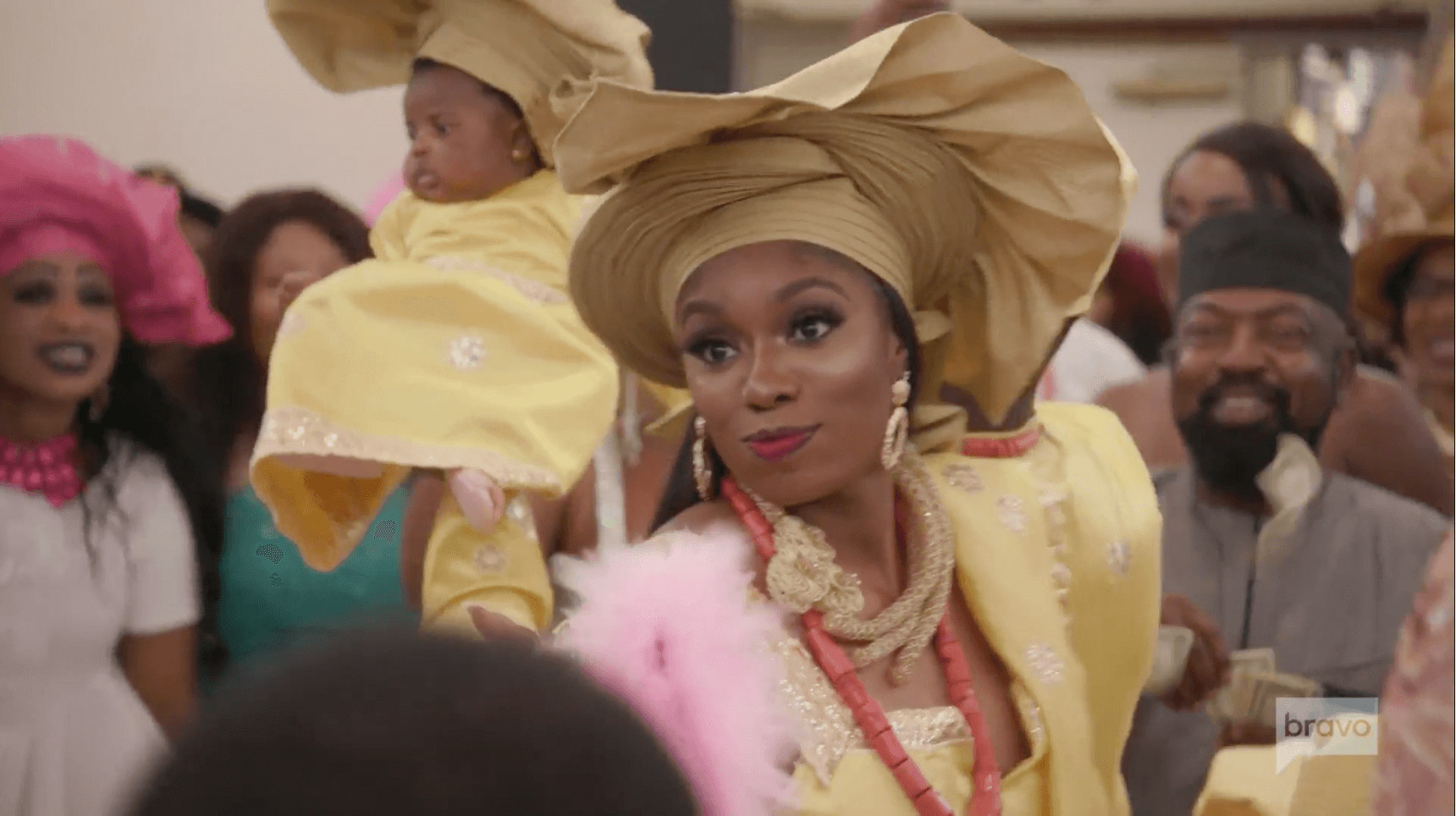 Once the pomp and circumstance is over, it's time to chow down on some authentic Nigerian cuisine. The ladies all reconvene at their table and Gizelle wastes no time getting down to the nitty gritty when she asks Candiace about pressing charges on Monique. "Is the goal for her to go to jail?" Robyn asks Candiace. Candiace responds that "the goal is for the court system to do what the court system needs to do." Gizelle then points out that after a quick Google she learned that Monique could go to jail for 5-12 years. "Yeah," Candiace answers ever so smugly.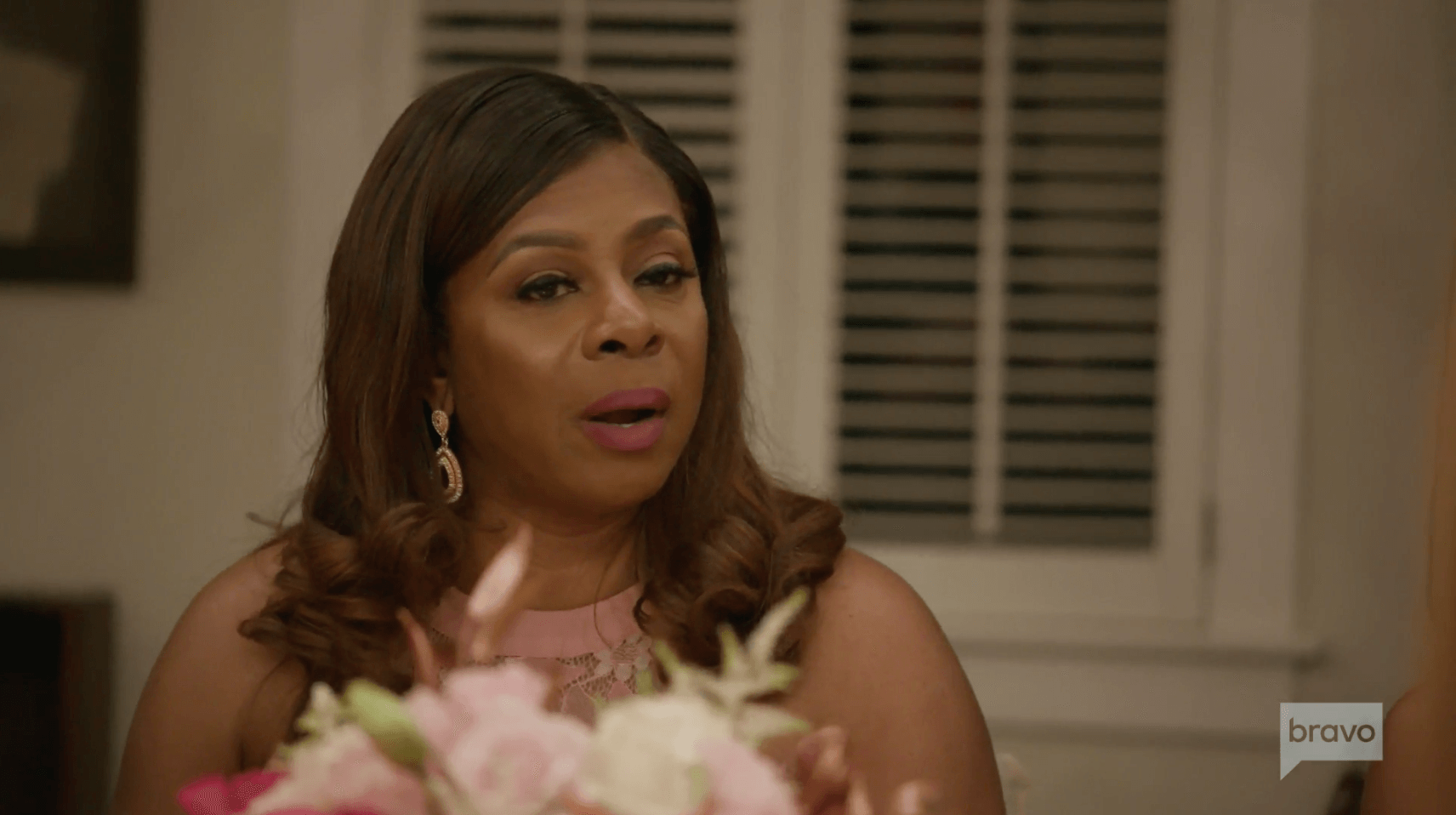 It appears that both Gizelle and Robyn have both had a major change of heart when they both say that they do not want Monique to go to jail. "We don't???" Candiace asks. Dorothy of course pipes in claiming that it was an assault and that there needs to be consequences. Ashley finally steps, seemingly the only one willing to call Candiace on out on her bull with her mother sitting at the same table. They engage in a back and forth when Candiace accuses Ashley of being paid by Monique. Ashley then points out that she's already married to a millionaire. Why would she need to be paid? "Not for long," Candiace mutters. For someone who is suffering from PTSD, Candiace is looking awfully brave right now, am I right?! Things go from bad to worse, when, in a moment of exasperation, Candiace's husband tells her Ashley to "shut up" through gritted teeth. Even he's had enough of her mouth.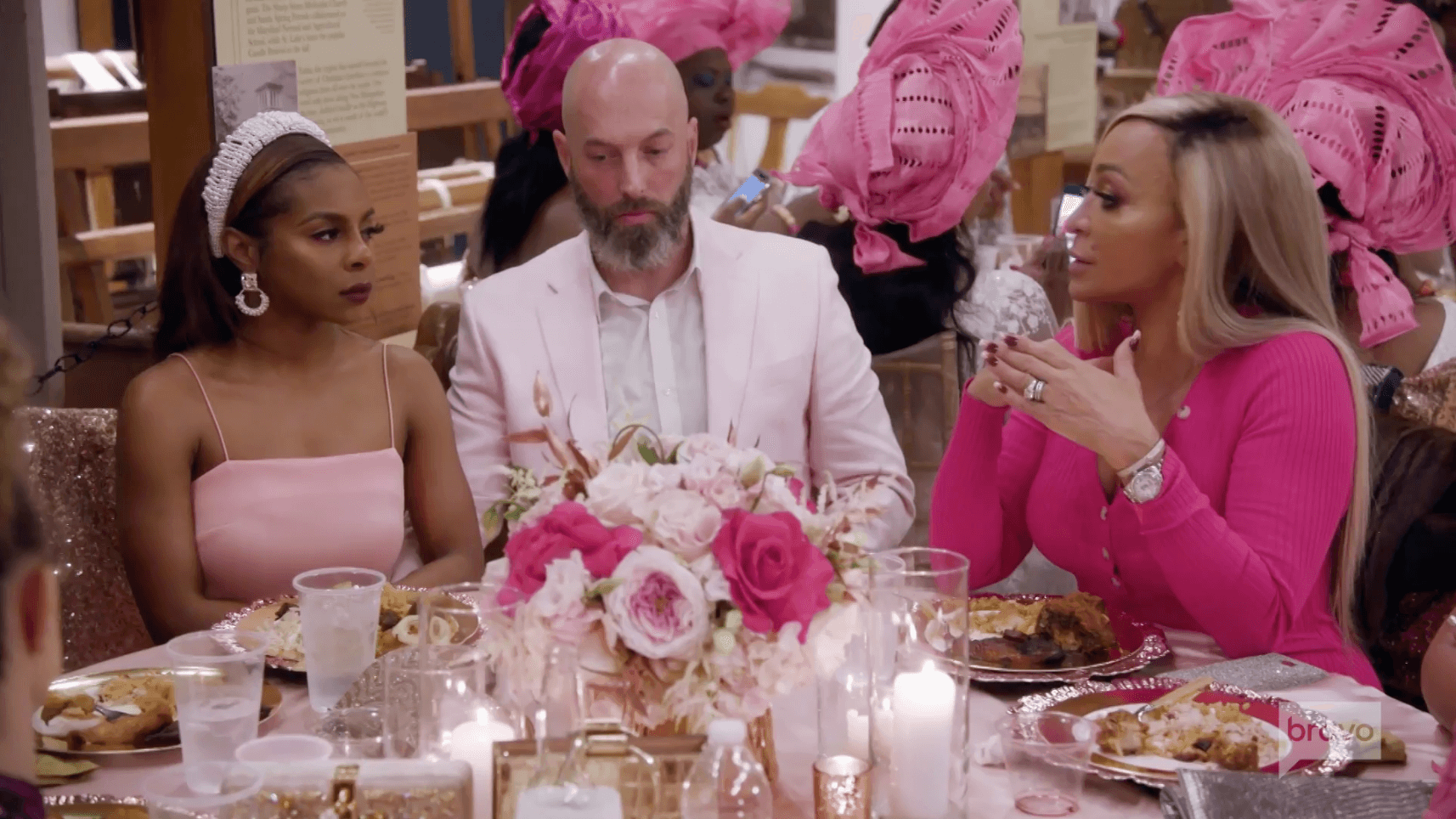 After being painfully quiet, Karen finally speaks up. While she still refuses to throw Monique under the bus, she does appear to have experienced a change of heart as well, acknowledging that Monique should've already apologized to Candiace by now.
The evening finally wraps with Wendy and Eddie discussing his family's noticeable absence. He explains that while he was hurt that they chose not to come, he refused to let it take away from the joy of the day.
Tune in next week as the drama inevitably continues!
Stay Connected With All About The Tea: Twitter Ι Instagram Ι YouTube Ι Facebook Ι Send Us Tips
Amanda Byerly focuses on Reality TV recaps for All About The Tea. Amanda is a 30-year-old wife, mother and self-proclaimed Bravo TV junkie. When she's not watching Bravo, she's writing about it, reading about it, or listening to podcasts about it. "I get by with a little help from Bravo TV."