'RHOC' RECAP: Braunwyn Windham-Burke Admits She's An Alcoholic!
Welcome to season fifteen of the Real Housewives of Orange County. Bravo has shaken things up, and this promises to be a very different OC.
We start with Shannon Beador and her new beau, John. Can I just stop to say Shannon's kitchen is amazeballs? She's got, like, four stoves. I'm sure a couple of them are convection ovens, but still, this woman doesn't do appliances half way. Remember her two washer and dryer units?
Anyhoodle, Shannon tells us a friend introduced her to John. They met, sang karaoke, and have been together ever since. But they're not, repeat not, living together—despite Shannon moving into a new house.
As Shannon cooks dinner, her boyfriend canoodles with her new dog, and Sophie, Shannon's daughter, drops a bomb. She got her ears pierced a second time. Juliet, one of John's kids, encouraged it. Shannon didn't freak out…too much.
We find out John's other daughter, Jessica, is going to Baylor. And that's where Sophie's headed. There's twenty-two-year-old Joe, who is the big brother Shannon's girls always wanted. (Wait, I thought Archie the Golden Retriever was like a brother. Where is Archie, by the way?!) And then there's the disappointing child, Juliet, with her multiple ear piercings and bad influence.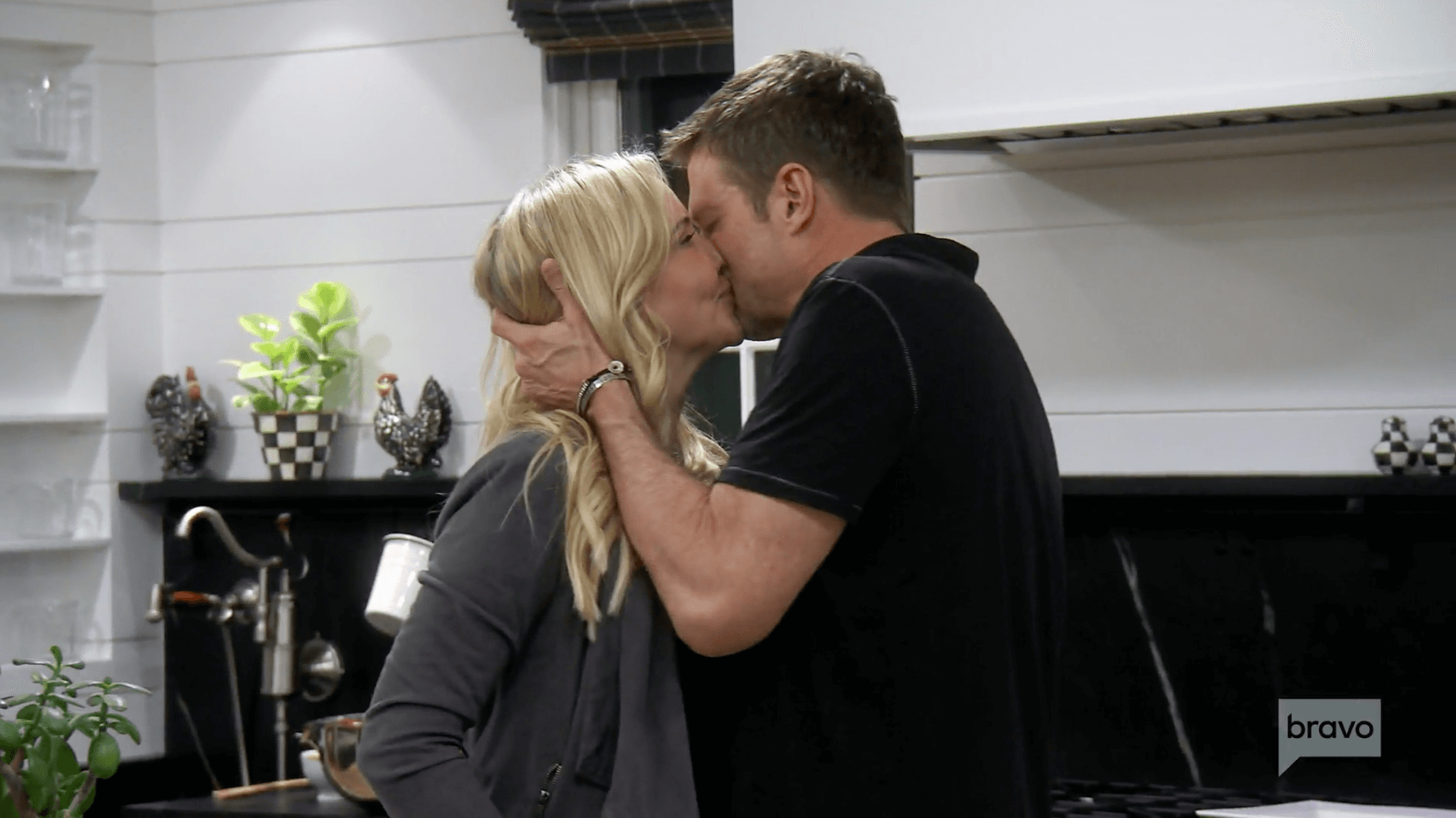 Shannon loves being with John and the fam. But she's afraid he's too good to be true. As the kids pummel their parents with silly string at the dinner table, you can see Shannon is having fun. Sort of. In a very controlled, Shannon-like way.
Kelly Dodd and her fiancé, Rick Leventhal, take Jolie to the Fun Zone. Even though Rick is sixty, he makes Kelly feel like she's in the movie, Cocoon. Whatever that means!
Jolie has grown from adorable sprite into a teen, and that means she's turning up her nose at the fun zone and shocking her mother by saying "shit" and refusing to put down her phone. Teenagers. Can't live with them, can't send them to boarding school because it's too damned expensive.
Kelly finds a psychic to look at Rick's cards. And no, that's not a euphemism. The psychic tells Rick his current relationship is strong and passionate. He gets a little goofy at the word passionate, and gives Kelly googly eyes. Kelly tells us his bod is rock hard, and he leaves her very satisfied.
Gina Kirschenheiter has moved into a new home. Unfortunately, she still has platinum extensions. I had hoped for better. So, Shannon stops by to check out Gina's new digs. Hearing Shannon try and fake enthusiasm for Gina's small abode is hilarious. "It's niiiiice," Shannon says, her voice rising three octaves.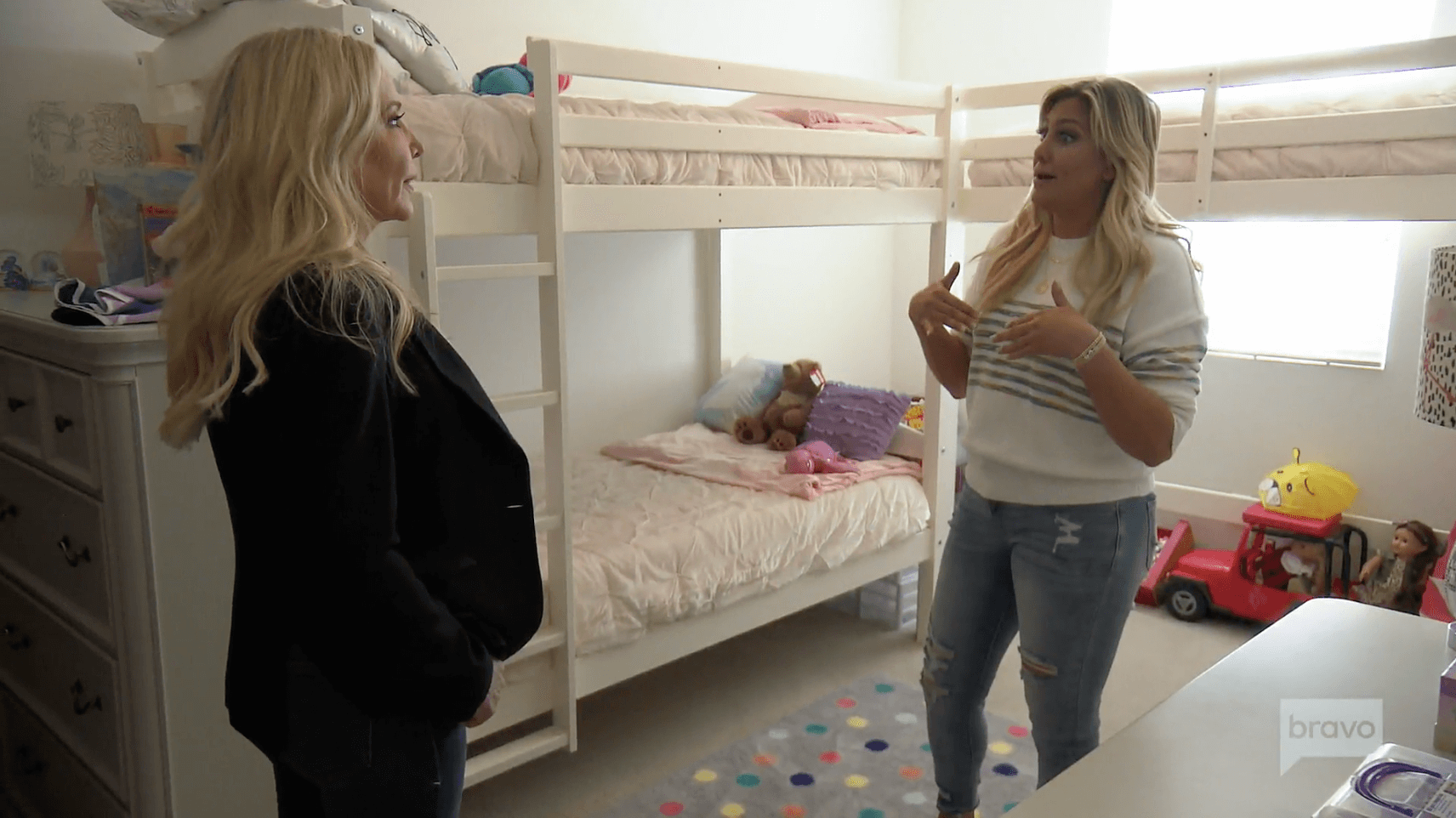 Gina had a shitty year, after the divorce, domestic violence, and the DUI arrest—so at least things are looking up. Gina has three kids. Her new man, Travis, has three kids. And they've crammed all those children together in multiple bunkbeds. Gina tells Shannon her house is hers—you know, financially—but Travis makes it feel like home. Awwww!
The two women sit down at the kitchen table and start shooting the shit. Talk turns to Braunwyn Windham-Burke and how she moved a block away from Shannon. Gina isn't feeling it with Braunwyn.
Apparently, Shannon and Kelly still aren't vibing either. But that isn't stopping Kelly from also moving into Shannon's neighborhood. Shannon is still upset that Kelly inserted herself into an ongoing legal battle between Shannon and Jim (Hey, I look just like Randy Quaid) Bellino. And Shannon isn't one to forgive easily.
Gina thinks Kelly's in a good place in her life. Last season, Kelly's anger was directed at Tamra Judge. And if you're one of the tens of fans missing Tamra, don't worry, she'll probably show up on Marriage Boot Camp any day now.
Time to catch up with Braunwyn as she and Kelly get together to meet new girl, Elizabeth Lyn Vargas. 
Elizabeth lives in a beach house. She's blonde and perky, so she fits right in with the rest of the cast. Elizabeth was married to a billionaire. She has houses and cars and helicopters and planes. And a younger boyfriend, Jimmy. He made them a spread of food before traipsing off to work. But here's a fun fact about Jimmy: he won't have sex with Elizabeth, because her divorce isn't final. Still, he's good company, and that's what counts, right? Well, not according to Kelly. If she and Rick weren't humping like crazed rabbits, she'd be out of there.
As Kelly, Braunwyn, and Elizabeth sit out on the patio overlooking the beach, Elizabeth fills us in on the details of her sad marriage. Her husband had a kid with another woman, despite the fact that Elizabeth wanted children. She gave up that dream when her husband claimed he didn't want kids. I think it's safe to say Elizabeth's soon-to-be-ex is an asshat.
Finally, we come to Shane and Emily Simpson. They head for dinner at an Italian place to celebrate their eleventh anniversary. Shane asks how he's been these past six months. Aaamaaaazing, according to Emily. Well, that's not a hard task, is it? He was such a nightmare last season, any good behavior would be an improvement.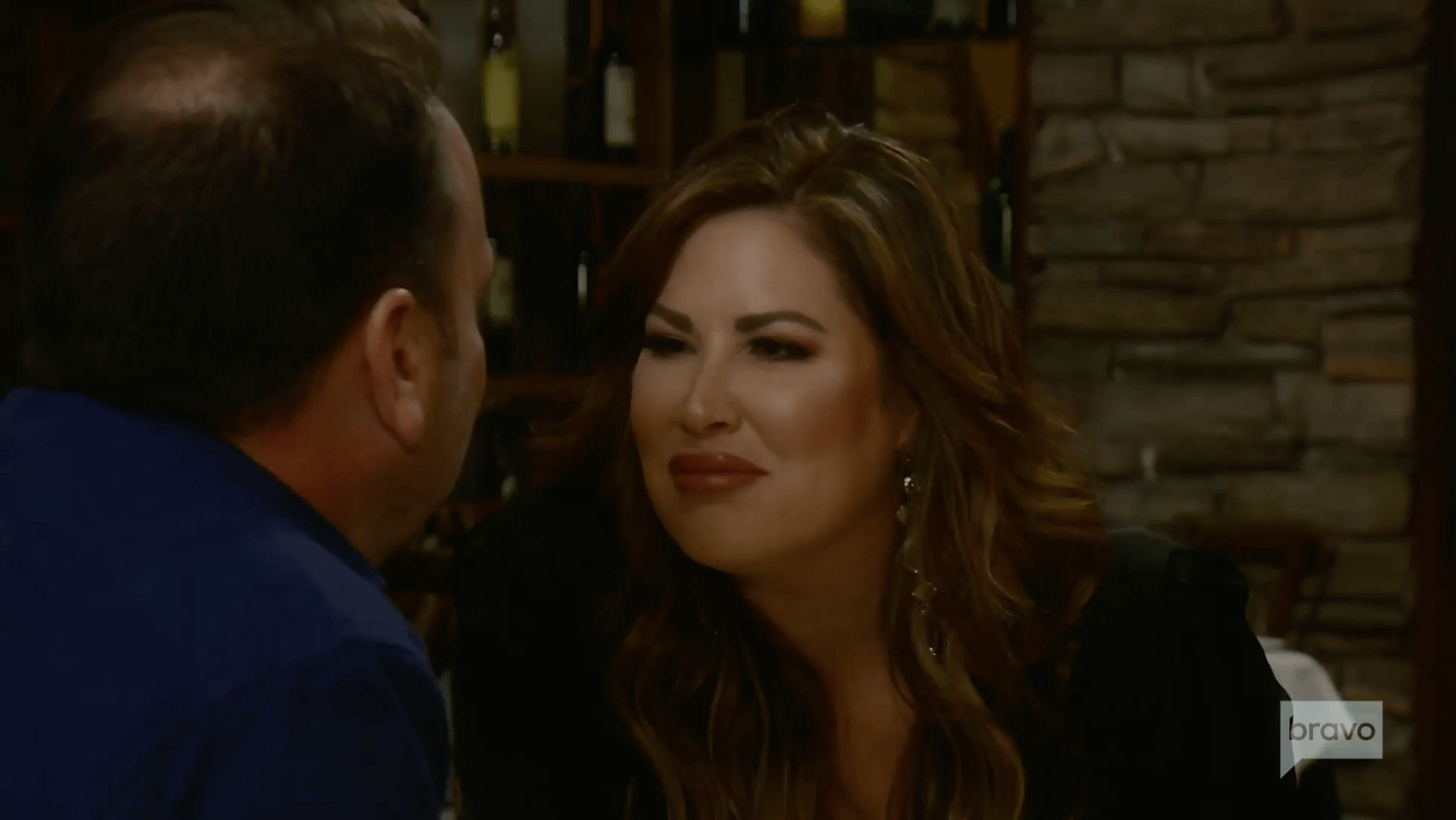 She goes in for a kiss, and he leaves her hanging. Then he asks for clarification on what "amazing" means. Emily tells us the squabbles from last season were all her fault. Shane's a great guy! Really! And a great dad. She just wasn't properly appreciative. Plus, she was in pain from her arthritis. It made her cranky. (If you say so, Emily.) 
As all couples do on their anniversary, they about Emily's costars. Braunwyn has a new, huge house. But Emily thinks Braunwyn drinks way too much. Em can't even hold a convo with the woman when she's in her cups. 
Next, we see Shannon crossing the street to Braunwyn's house, which is eight-thousand square feet. There's a pirate ship in the backyard. She has a playroom, a nightclub, a meditation room, and a volleyball court outside.
Meanwhile, Gina and Kelly are headed to hot yoga. Kelly admits to getting kicked out of hot yoga on three different occasions. At this point, Gina feels she needs to get back in the workout game. She's got a few "love chub" pounds she's put on since meeting Travis.
We watch the women contort themselves for a few minutes. Fortunately, Kelly makes it thorough without getting chucked out on the street. She tells us that her downward dog in the bedroom is right and tight. TMI, Kelly!!
Kelly says that when Braunwyn joined her and Rick in Miami for Rick's sixtieth birthday, Braunwyn was past drunk. Even Kelly, who's no stranger to being shitfaced, thought Braunwyn went overboard.
Back to Shannon and Braunwyn, we notice Braunwyn is drinking water. She didn't drink at Elizabeth's beach house either.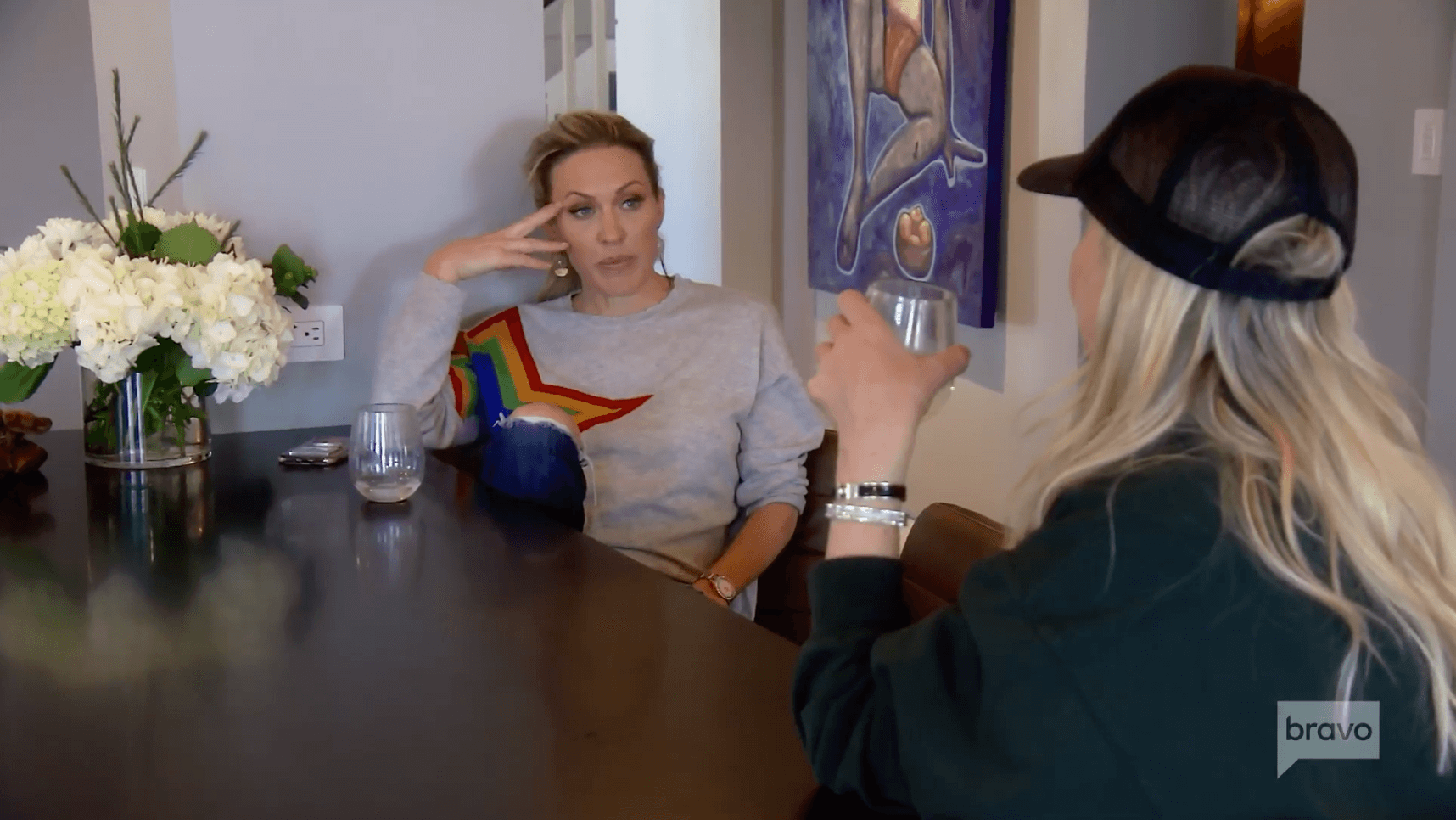 Shannon tells Braunwyn she and John aren't ready to move in yet. She still has two daughters at home, and she doesn't want to disrupt their lives if things go south with her new man. Braunwyn agrees. You should only move in once the ring is on your finger. And speaking of stupid decisions to move in too fast, how about that Gina, huh? Braunwyn doesn't approve of Gina's speedy cohabitation. And then she gets real shady by asking Shannon if it's true that Gina is living in a tiny condo. Shannon corrects her. It's a tiny townhouse. Not a condo, dear. 
Talk turns to Shannon's broken friendship with Kelly. Braunwyn understands why Shannon is hesitant to give Kelly another chance. Kelly crossed a line. A big one. Kelly stabbed her in the back by reaching out to Jim Bellino.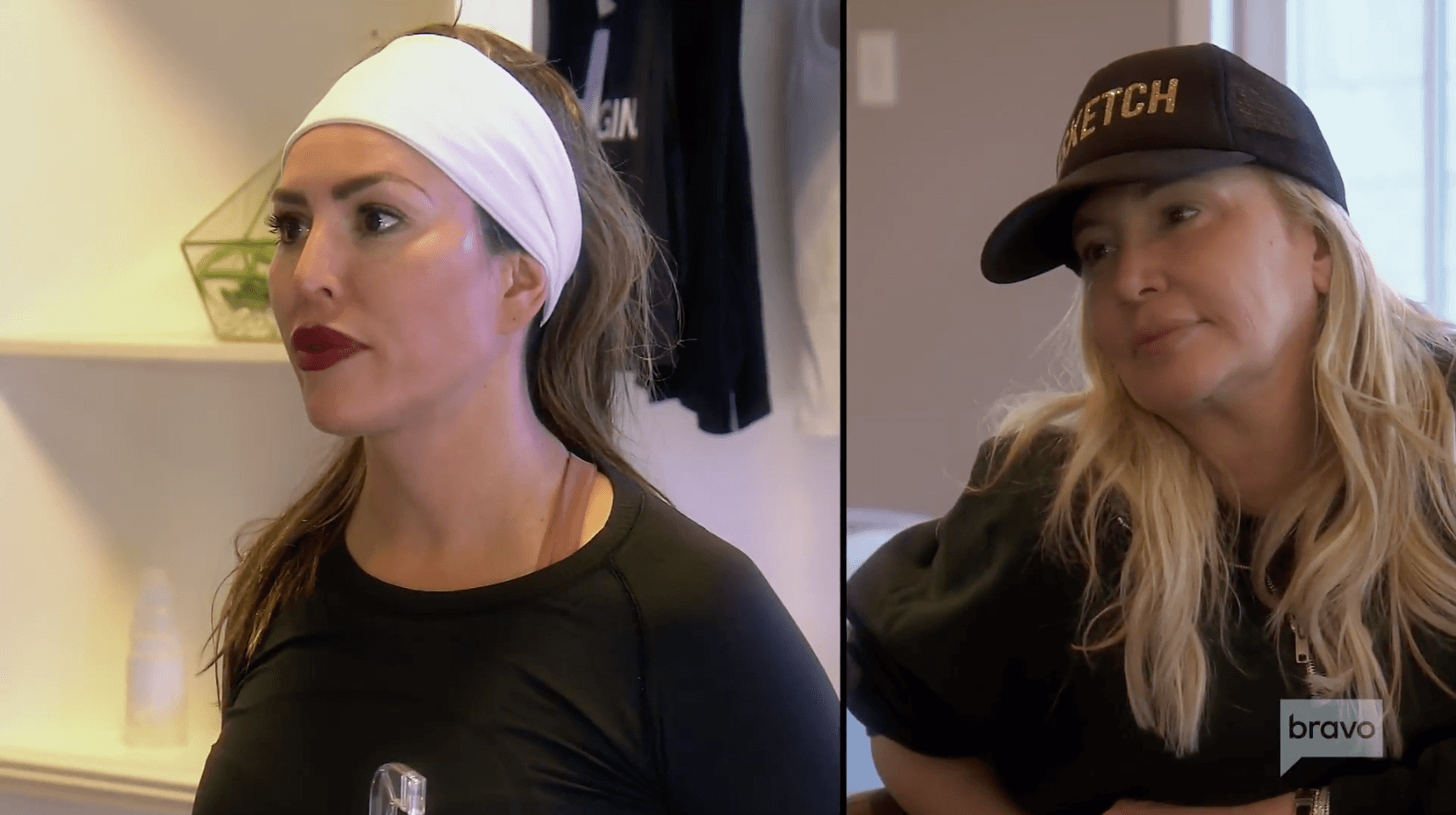 Across town, Kelly and Gina talk about the situation with Shannon. Kelly still doesn't think what she did was wrong. Gina agrees that Shannon is sensitive, but Kelly thinks Shannon was too influenced by Tamra. Or maybe it really flipped Shannon's hot buttons when Kelly contacted Jim? Hmm? Just a little?
Gina says Shannon's now in a good place. She hopes all the ladies can be friends again. After all, she, Kelly, and Shannon have new men in their lives, and they should all be happy together.
Next, Elizabeth is tooling around the OC with her brother, and she talks about her past. Growing up, Elizabeth was from a small town in Missouri near the Ozarks. She was poor, y'all. Dirt poor. But once she found out having money kept her from being poor, (which should be obvious, right?) she never stopped working. She's the founder of Edge Music Network. But what she's into right now is encroaching on Lisa Vanderpump territory. Elizabeth wants to run a dog shelter. (Quick, someone send Elizabeth a picture of Dorit with a big X through her face. No more dogs for you, Dorit!)
Elizabeth wants to sell her biz, but if she sells before the divorce is final, her cheating hubby will get half. And nobody wants that.
Elizabeth says her husband took care of her. All of a sudden, she went from small town girl to flying in private jets. But she lost herself in the relationship. She now wants to reinvent herself. And she's starting by buying a cool new lodge for all those dogs she'll save.
Kelly stops over at Braunwyn's place, and they're both wearing the same eye-watering yellow dress. Once again, Braunwyn sticks to water. They're waiting for Shannon to walk up the street and meet them. It will be the first time Kelly and Shannon have come face to face since the reunion.
We see flashbacks of all their past smackdowns, including Kelly hitting the bowl on top of Shannon's head. Ah, the memories. For now, they toast and drink shots, promising to start over.
Kelly delivers a small present to Shannon. It's an Uno game. No mas Tres Amigas. Shannon takes it as a nice gesture, but lets Kelly know her feelings were hurt when Kelly contacted Jim Bellino. Kelly says it was retaliation for getting ganged up on by the Tres Amigas. 
As Shannon continues to press her point, Kelly gets up and goes to the bathroom. She comes back to silence. Finally, Shannon apologizes if Kelly thought Shannon attacked her character. Kelly is sorry that Shannon believed Kelly tried to complicate the lawsuit. So, are things resolved? Eh…they left on a less hostile note. That's something.
Gina and her man, Travis, head to see a lawyer about her divorce. She tells us Travis is compassionate and kind. Nerdy, but sexy.
The lawyer says Matt is now representing himself. Gina hopes this means that they can work things out by themselves. Since Matt's been going to anger management, things have gotten better. 
Next up, Emily heads to Braunwyn's new place. Braunwyn greets Emily with champagne, but still refrains from drinking herself. Braunwyn's overly nervous and begins by apologizing to Emily, but before she can articulate it, she breaks down in tears. Braunwyn admits she has been drinking too much.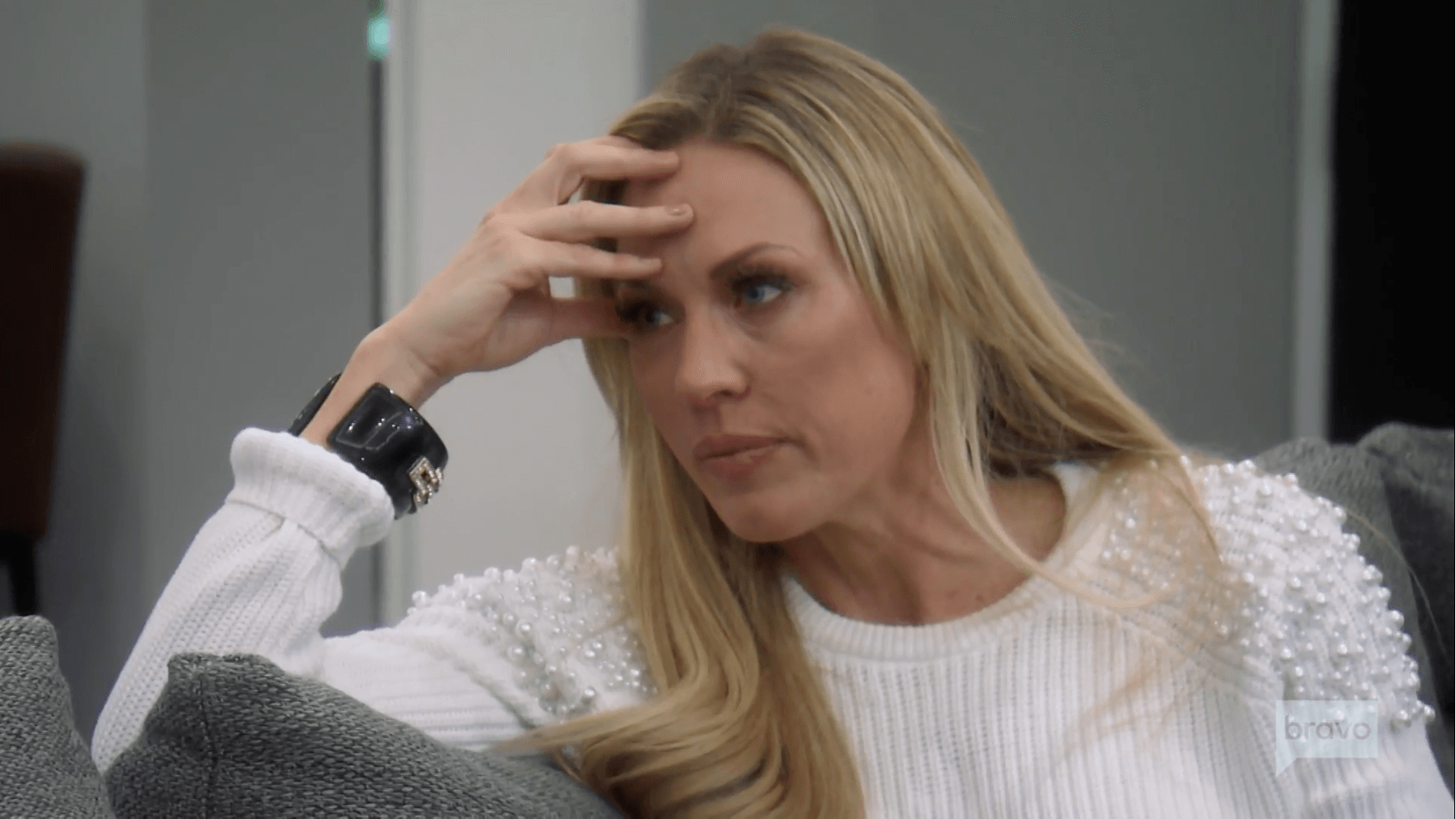 Braunwyn tells Emily that Miami was a bad time. She drank nonstop four days in a row. Braunwyn started drinking when she was fourteen. Her husband told her he'd send her to rehab if she took another drink, so she's been abstaining.
Alcohol was never a problem when she was pregnant. Braunwyn could stop cold turkey because of her babies, but now that she's not having any more, who is she without the booze? Having feelings is scary. It's easier to drown them in tequila. Braunwyn realizes she'll never be able to drink again. And she finally admits she's an alcoholic. Good for you, Braunwyn!
And that's our episode. So, are you glad OC is back? Are you liking the new direction of the show? Sound off in the comments!
The Real Housewives of Orange County airs on Wednesdays at 9 pm, ET, on Bravo.
Stay Connected With All About The Tea: Twitter Ι Instagram Ι YouTube Ι Facebook Ι Send Us Tips
I'm a fiction writer by day and a reality TV addict by night.