'RHOP' RECAP: Candiace Threatens to Press Charges Against Monique, Throws Karen Under The Bus
Welcome back to an all new episode of Real Housewives of Potomac — the one when Karen Huger treks back to her native hometown of 60 to parade around as a celebrity of sorts. So let's get into it, shall we?
The episode opens with Karen Huger calling Ashley inviting her to come along as she participates in the homecoming parade. Ashley Darby  obliges Karen on her quest for hometown fame and even says she's going to try to come solo and leave Baby Dean at home – but with whom??? Michael's got things to do, am I right?! Lest we not forget the last time Ashley was out of town. When the cat's away the mice Michael Darby will play. 
Cut to the next day when Ashley Darby, dressed in a onesie and hot pink stilettos, arrives at the Huger residence right on time and sans baby Dean. She openly admits that this is going to be a hard trip for her as this is her first time away from him, but my guess is she's more worried about her trifling husband.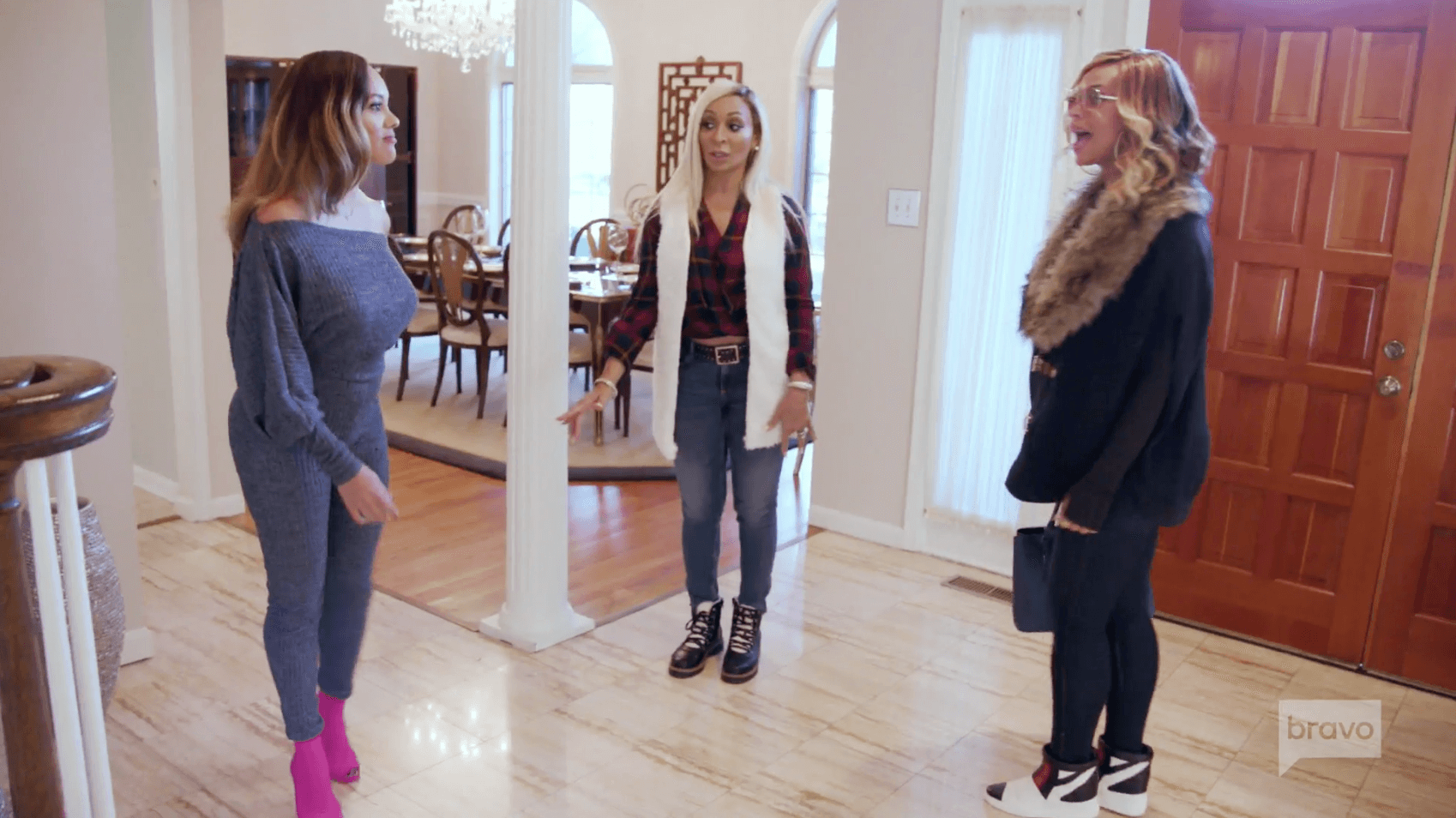 Gizelle Bryant arrives next because apparently, she too received an invite to Surrey. She immediately walks in and reminds Ashley that they're going to a farm. Gizelle, you're my girl and all but please leave the fashion advice to someone else.
Ray then promptly rushes the trifecta right on out the door and leaves Karen hanging when she leans in for a kiss. Don't let the door hit ya where the good Lord split ya, I imagine he said as the car pulled away.
Across town, Candiace Dillard is still reeling from the aftermath of her show-down with Monique Samuels. She prepares a bountiful spread of tea cookies, fruit and lemonade while waiting for Robyn Dixon to arrive.
Robyn arrives, in a leopard print ball cap and equally dreadful black sweater, and they immediately get down to it. Robyn explains that the group had a pow-wow without Candiace and the take-away was that Monique is not remorseful for any of her actions.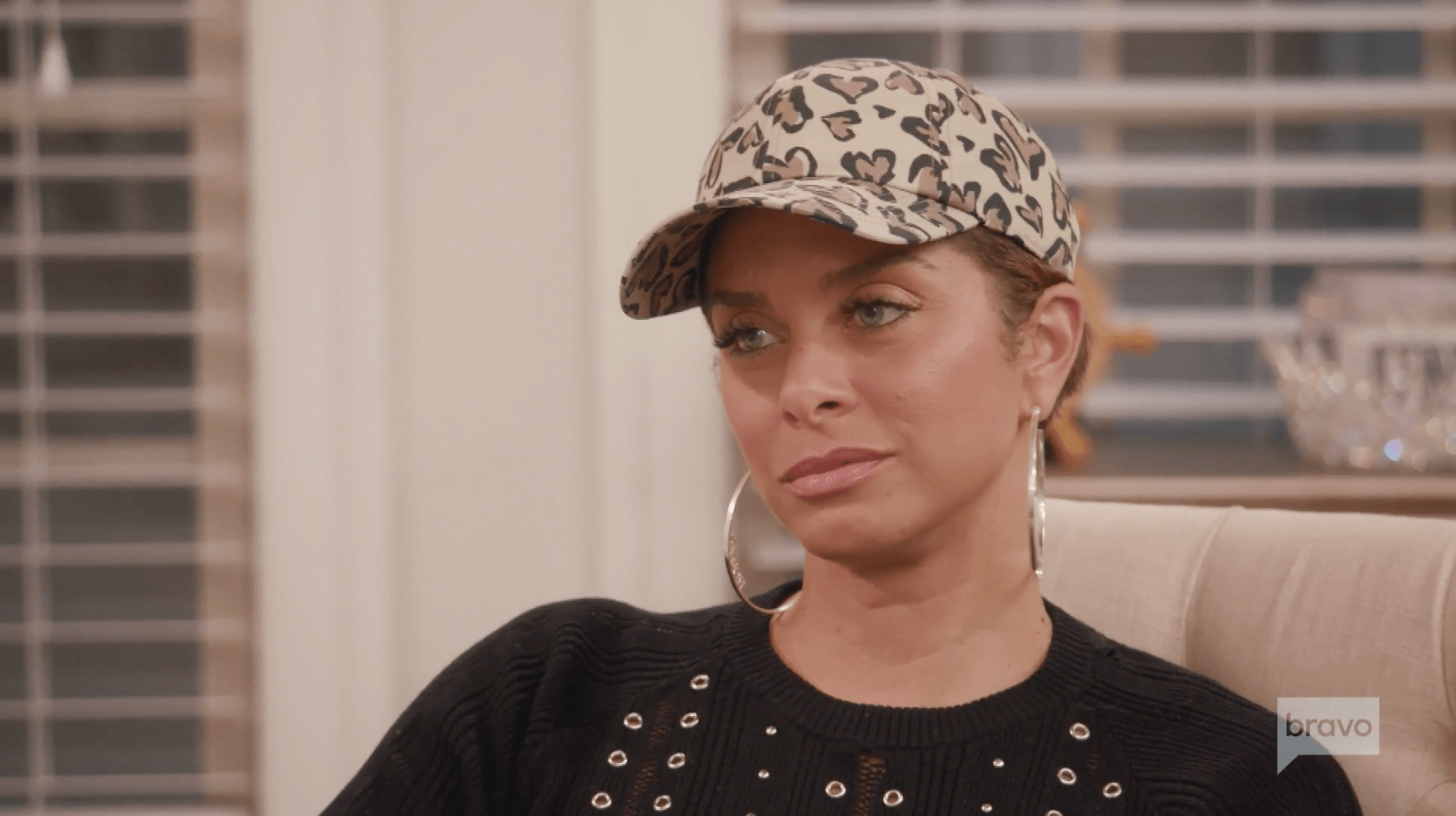 Candiace Dillard immediately pulls out the triangle-shaped tissues and gets to work dabbing as she works overtime trying to squeeze out a few crocodile tears. Even Robyn appears to be surprised by the award-winning performance. 
The pair quickly moves on to Karen. "I'm really disappointed in Karen. Like, she has not publicly expressed any disappointment in Monique," Robyn says. Candiace then promptly throws Karen under the bus explaining that it was Karen who said that if it were her, she would've pressed charges.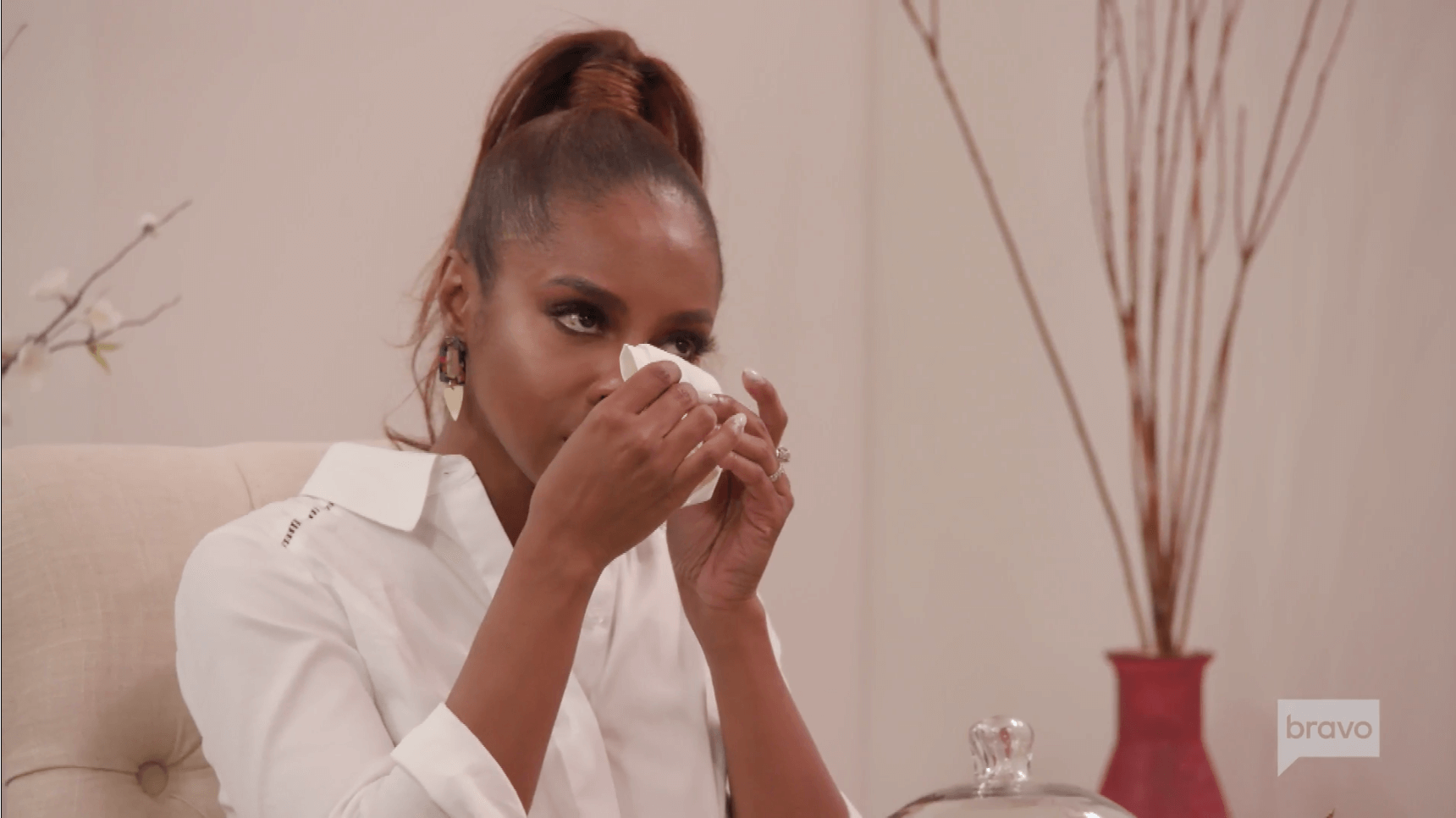 Robyn then asks Candiace the million dollar question. "Are you going to press charges," Robyn asks her. "It's on the table," Candiace replies smugly. She then goes on to say that she feels that she has trauma following the incident.
Candiace Dillard then quickly pivots back to Robyn in a desperate attempt to take the heat off of her. "Are you okay with the… stuff with the taxes," she trails off. Ah there she is. The Candiace we all love to hate. Traumatized but not enough that she still can't bring the shade we've all become so accustomed to. She then proceeds to bring up "the blogs" purporting that Robyn owes $90K in back taxes. "So, I'm a really bad accountant. I thought I could handle my own bookkeeping. I just wasn't doing them right. And then I got hit for some unreported income that I had forgotten about," Robyn sputters out in an effort to explain herself. 
Later in her talking head, Candiace points out that it was only two years ago when Robyn was accusing Karen of purposely forgetting to pay her taxes. My, my, how the tables have turned… Robyn then confesses that Juan was angry as they were in the process of looking for a new house. She then says "it remains to be seen" whether or not that is still on the table. Ay yi yi.
Meanwhile, Karen is giving Ashley and Gizelle a powerful Wooden family history lesson while en route to Surrey. Karen explains that her ancestors were slaves on the land and later went on to own the property. 
Once they arrive Karen greets her family with big bear hugs before introducing everyone. Perhaps, the most charming family member of all is sweet little Aunt Colleen. Karen then launches into an account of how she was convinced she was going to marry Michael Jackson after Aunt Colleen took her to a concert of his. "And that night you couldn't tell her a thing. You would've thought she was the one on stage," Aunt Colleen divulges. Sounds about right for the Grand Dame.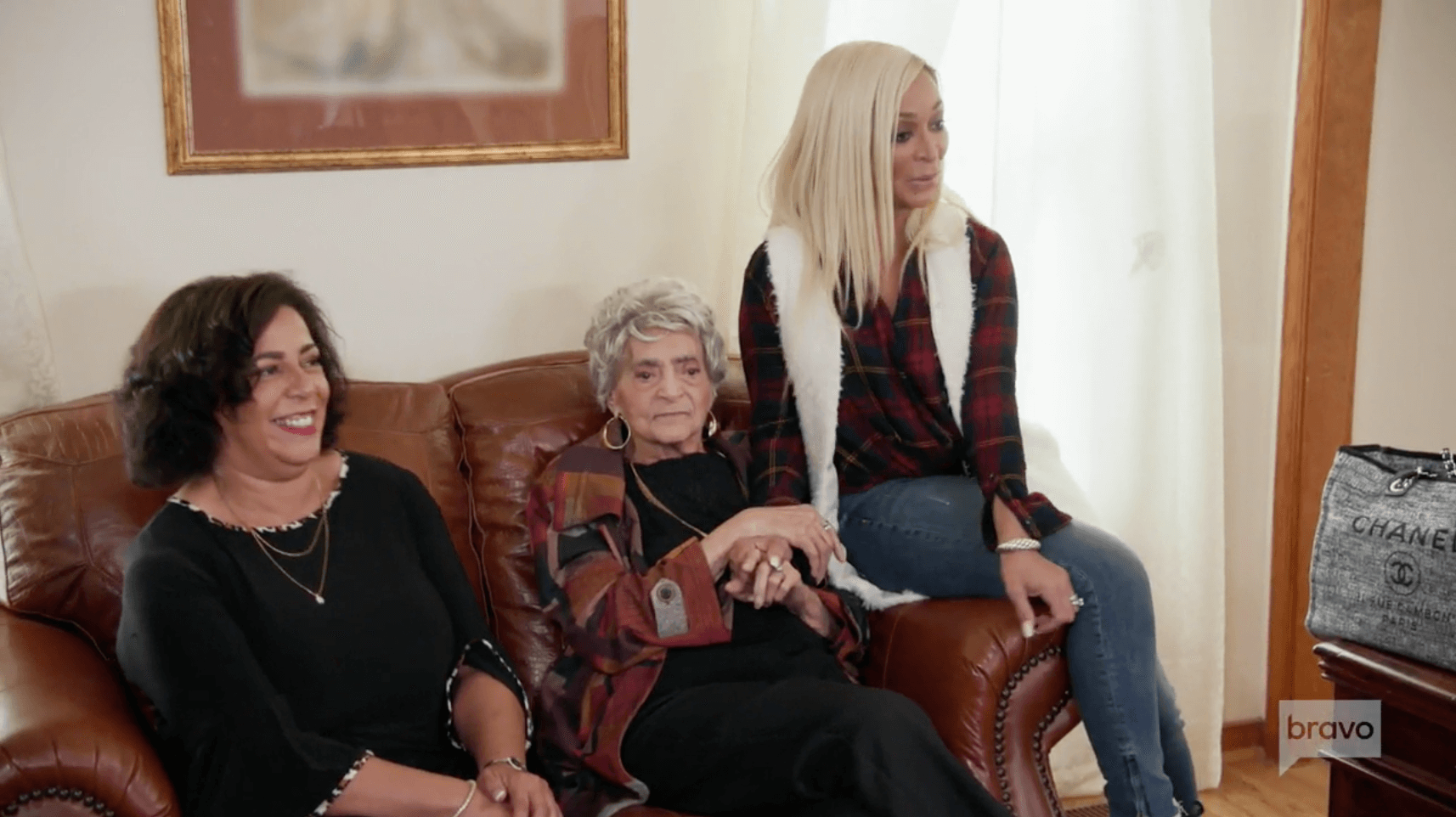 They spend some time leafing through old photos of Karen before finally going out to ride on the farm equipment, hot pink stilettos and all. But first – a phone call from wayward housewife Monique. Ashley answers the call and explains that they've been out riding heavy pieces of machinery before Monique confesses that she's been feeling on edge following the brawl between herself and Candiace. Monique then seals her fate with ex-first lady, Gizelle, when she utters the words, "At the end of the day, the sad thing about Candiace is, if it wasn't me it would've been somebody else." Dun. Dun. Dun.
Gizelle Bryant then stalks over to the corner of the barn yard. "It's all just dumb and lies." She then goes on to say that Candiace should've pressed charges the night the altercation occurred. Karen also admits that she advised Karen that she would've done the same thing. Ashley then asks Karen if Monique knows that she had that conversation with Candiace. "I believe she has but I'm gonna make sure." Sure, Jan.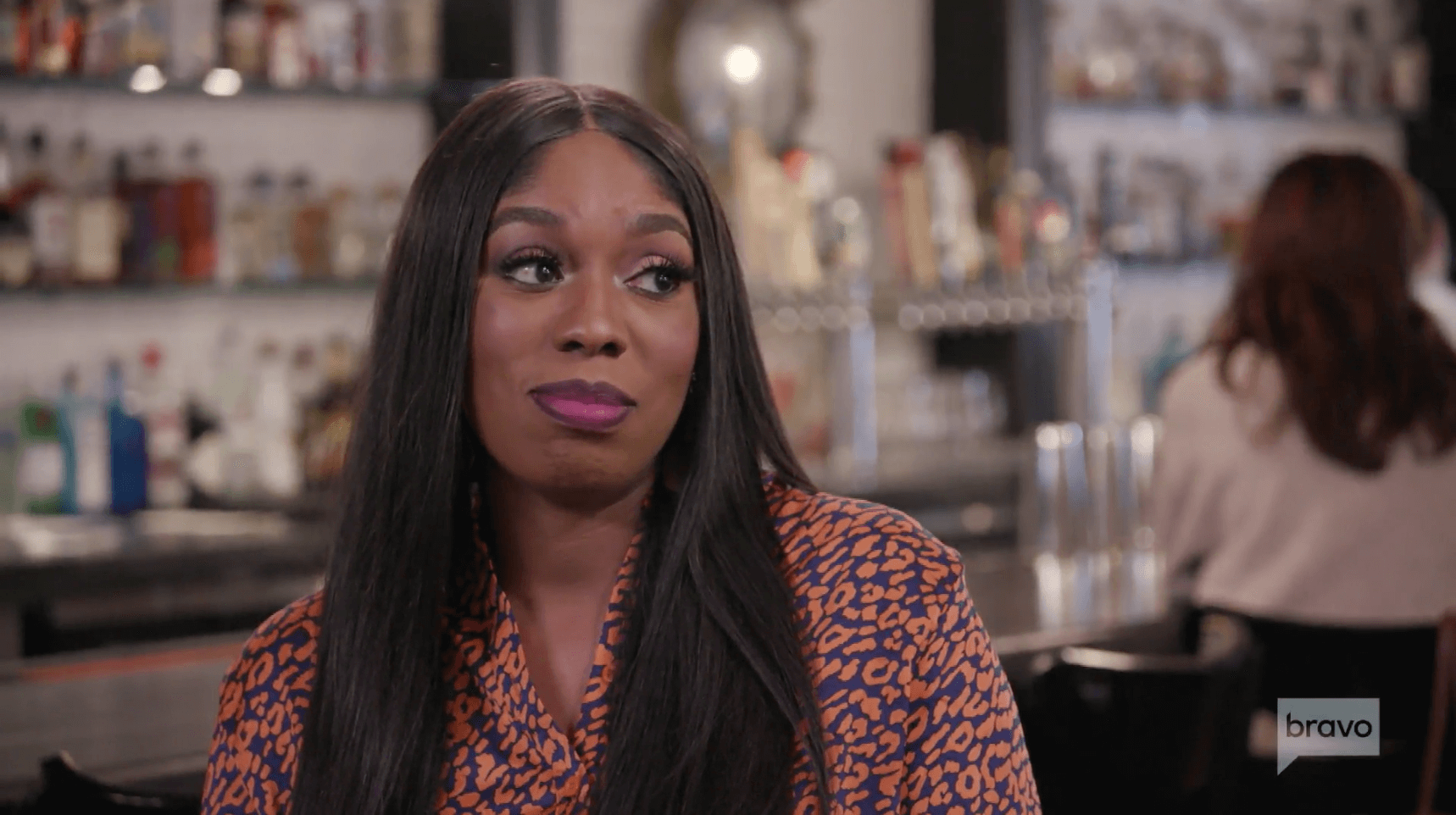 Meanwhile, in Wendy land, Dr. Wendy Osefo meets with her sister, Ivy, a medical doctor to discuss the idea of telling their mother that she no longer wants to work as a professor at Johns Hopkins University. "I'm scared to even talk with mom about possibly leaving that position," Wendy admits. She then proceeds to explain in her talking head that her Mother essentially capitalizes and gains notoriety on her daughters' achievements. Sounds an awfully lot like riding her daughter's coat tails but hey, what do I know?
Now back to Robyn and her on-again-off-again romance with her ex-husband. Tonight, they've decided to spice things up as Juan shows up at a sports bar dressed in a news boy cap. Robyn shows up in a stripper wig and introduces herself as Tatyana from Latvia. Juan is playing the role of a man named, "Dylan" to which Tatyana explains that her second husband's name was Dylan. Meanwhile, every single patron in the entire establishment is most likely dying of secondhand embarrassment.
The two do their best to roleplay for a bit before the subject of Robyn's back taxes rears it's ugly head to which Juan makes it very clear that Robyn is on her own when it comes to that one. "The reality of my tax issues being thrown in my face is not hot," Robyn confesses. So much for spicing things up.
Back in Surrey, Karen is relishing in her role as a big fish in a very small pond. Meanwhile Gizelle and Ashley look on as they parade makes it way down what is most likely the only paved street in the entire town, in between dodging the milk duds being thrown at them.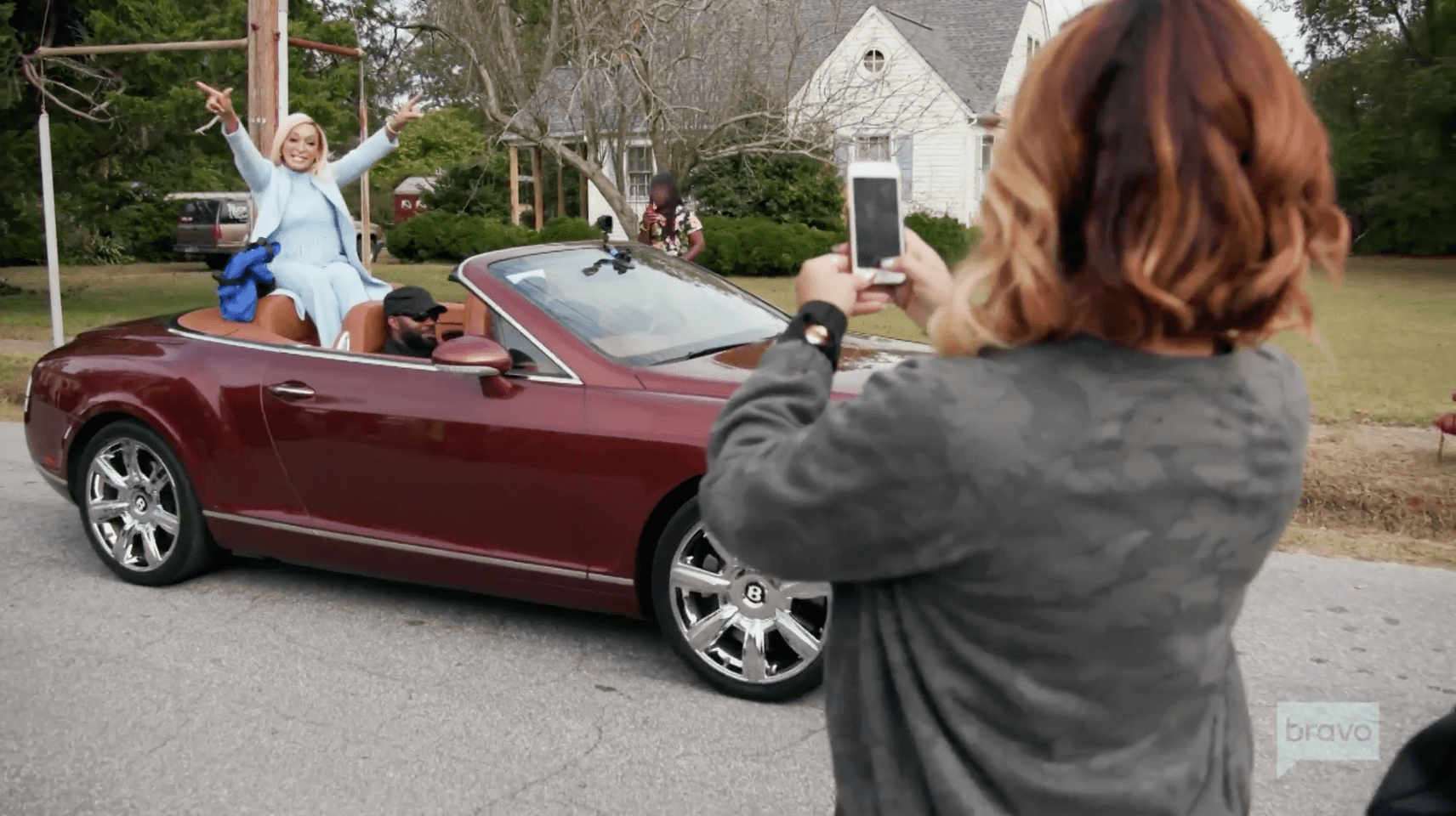 Ashley and Gizelle Bryant engage in an awkward conversation in which Ashley explains that there's a very good chance she ends up being a single mother. But instead of disappointment, I detect a twinkle in her eye. But Gizelle's having none of it as she advises Ashley that "well, people change." No, no, no, Gizelle. Just because you're willing to fall back into the arms of your dirty dog ex-husband doesn't mean Ashley needs to as well.
Back in Potomac, a traumatized Candiace decides to visit a puppy shelter in hopes of adopting a dog. According to Candiace getting a dog would be a great crash course in parenting. LOL, girl. You got jokes.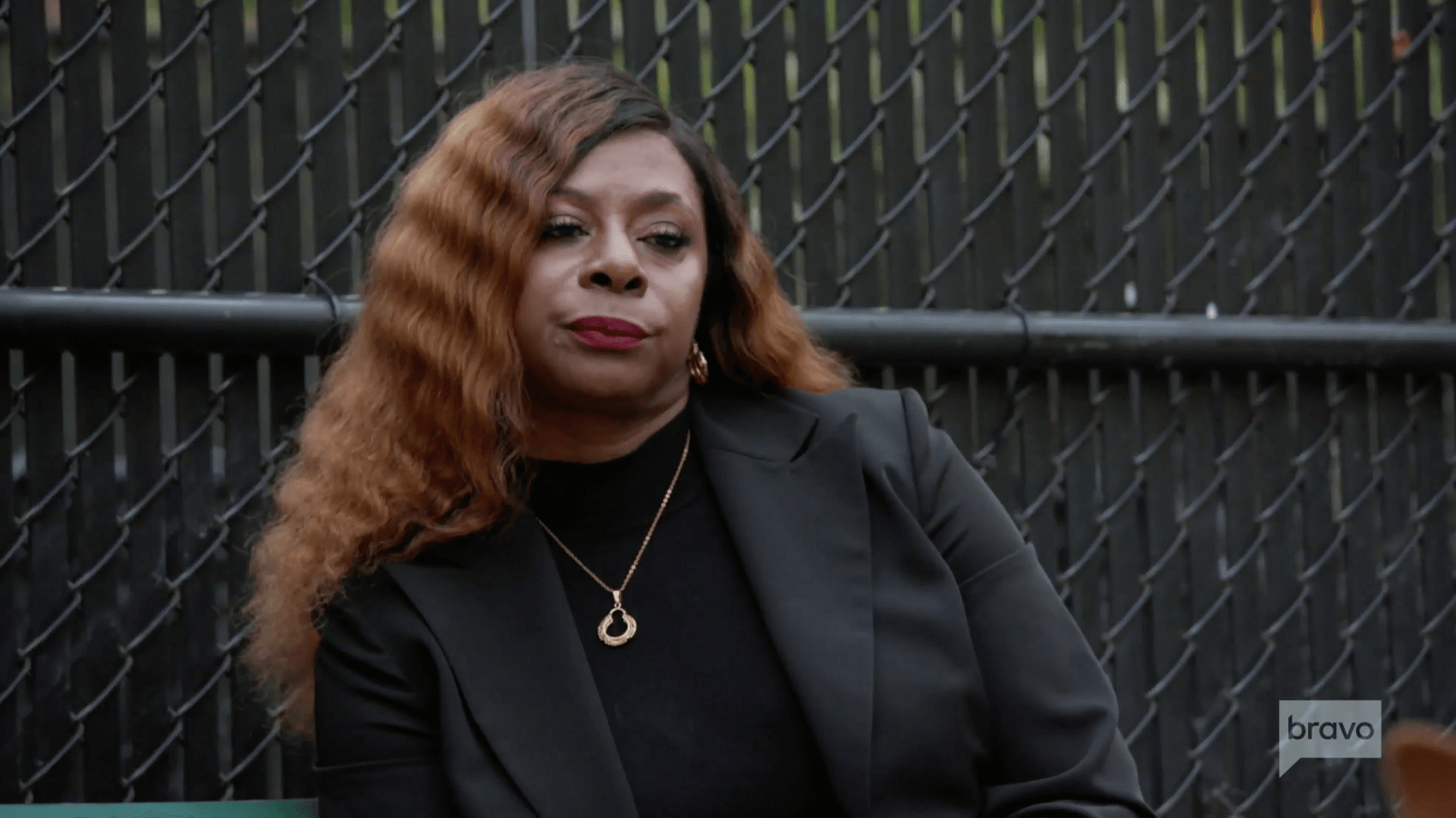 During the highly manufactured scene, we're treated to a cameo of Candiace's mother a.k.a. the queen of handbag assault. "This is the moment when we do not get in the gutter with people. This is one where we call the attorney immediately," Candiace's mother advises her. Serious question: did Candiace consider pressing charges against her mother after the handbag incident? Just wondering…
Cut back to the trifecta taking a walk down memory lane in Karen's hometown. Karen takes the ladies to back to the church she was raised in and the one where they held both of her parent's funerals. While there she experiences an emotional break down of sorts and Ashley and Gizelle are left to wonder how to comfort her during her time of need. But in true Grand Dame fashion, she immediately recovers.
At the very end of the episode we're finally given a glimpse of Monique, who appears to have had a sudden change of heart. "I need to understand how I allowed someone to push me outside of my normal behavior," Monique explains in her talking head. The pastor arrives in a grey tracksuit with his first lady in tow. They immediately get down to business with the pastor asking Monique to explain the "blacking out."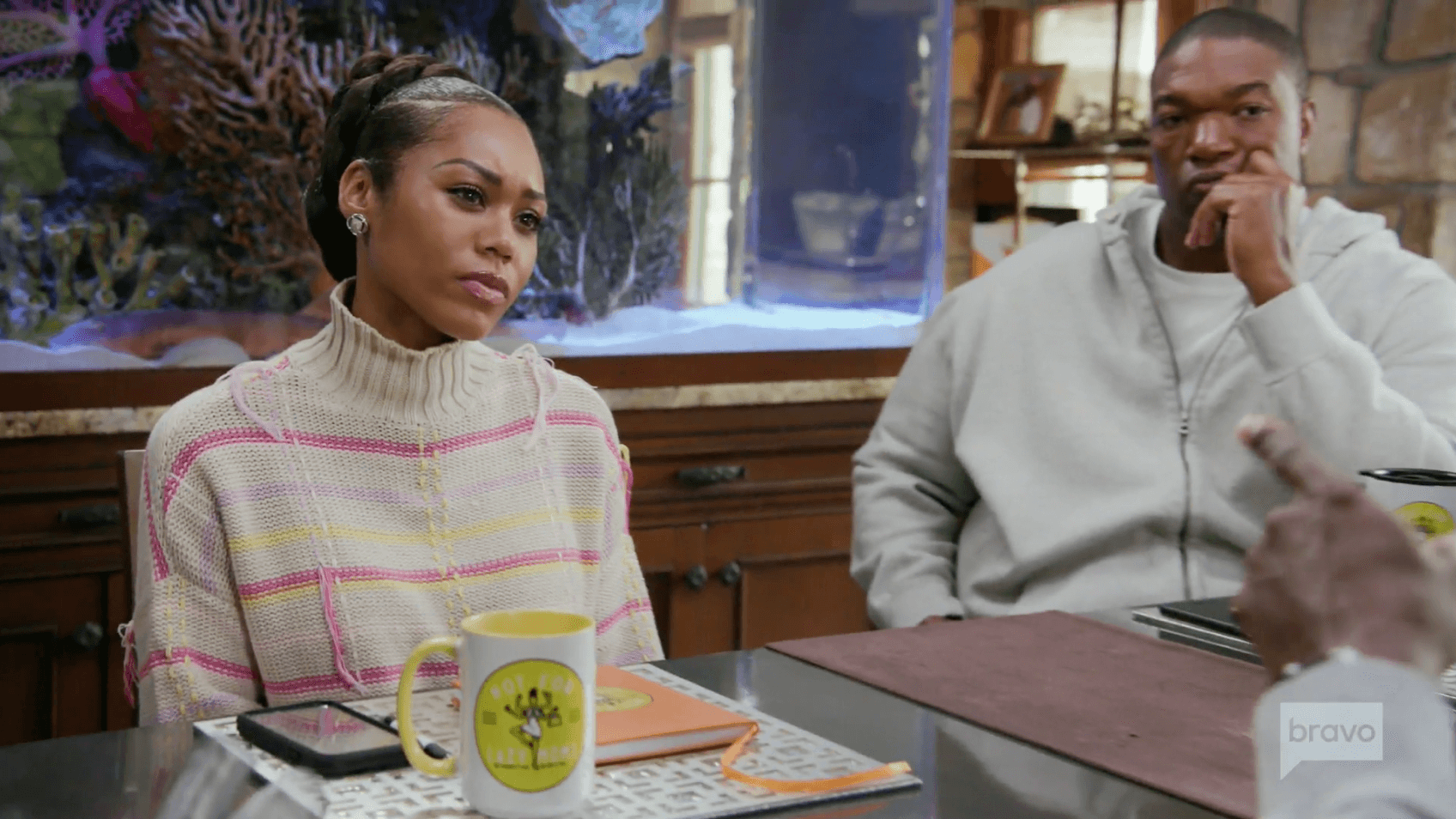 According to the pastor, Monique Samuels has been a "fighter" since he met her and that she's most likely been in survival mode since she was a little girl. According to the athleisure wearing pastor, that may be partly to blame for her reaction. The revelation brings Monique to tears while her husband, Chris, rubs her back in an effort to console her. 
Press play below to watch All About The Tea's Real Housewives of Potomac recap on YouTube and SUBSCRIBE to our channel.
Has Monique Samuels finally come to terms with what she has done? Tune in next week as the drama inevitably continues on the Real Housewives of Potomac.
Stay Connected With All About The Tea: Twitter Ι Instagram Ι YouTube Ι Facebook Ι Send Us Tips
Amanda Byerly focuses on Reality TV recaps for All About The Tea. Amanda is a 30-year-old wife, mother and self-proclaimed Bravo TV junkie. When she's not watching Bravo, she's writing about it, reading about it, or listening to podcasts about it. "I get by with a little help from Bravo TV."