Exclusive
EXCLUSIVE: Candiace Dillard Tried To FIGHT Karen Huger & Ashley Darby On the #RHOP Season Finale!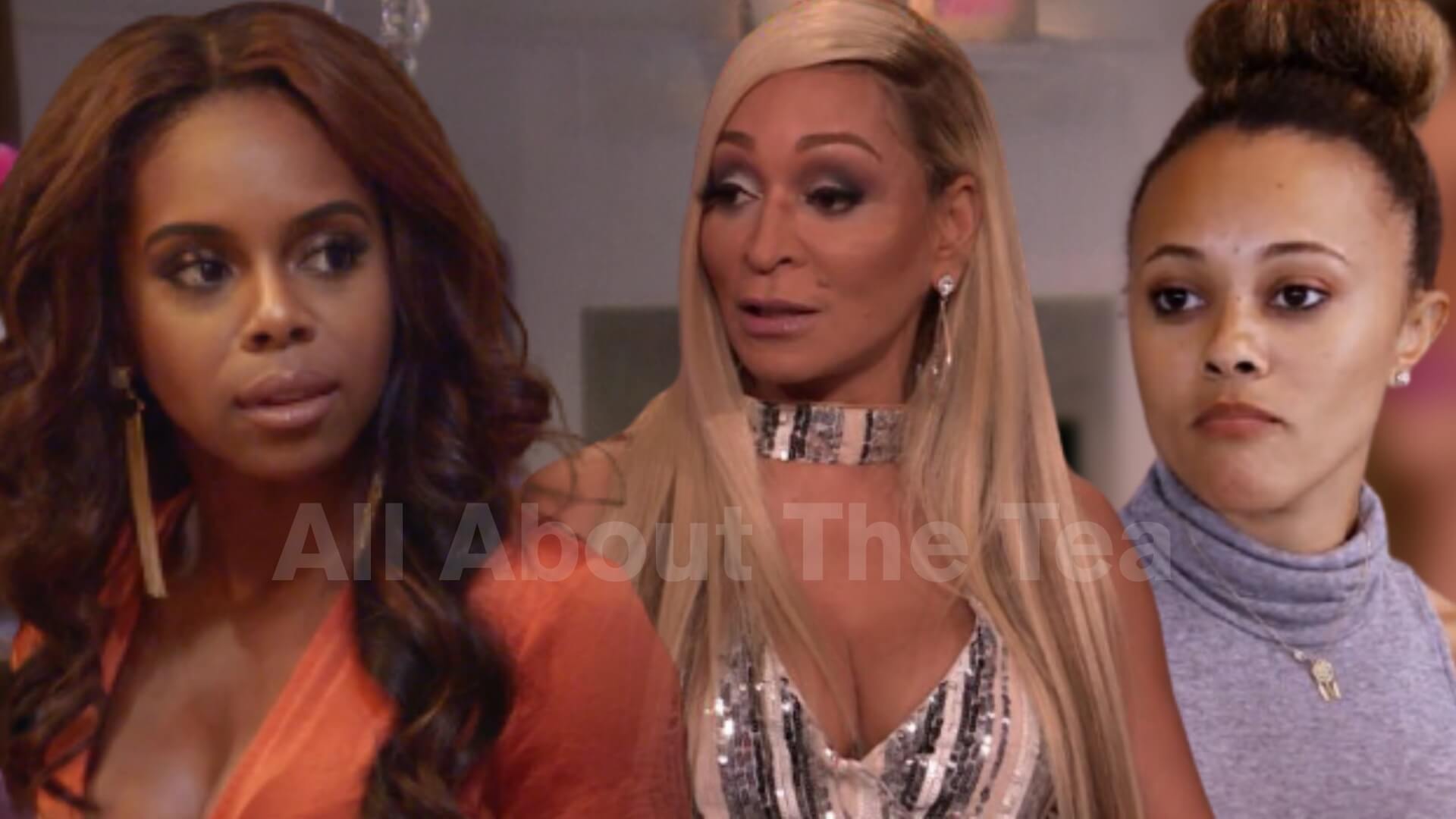 The Real Housewives of Potomac Season five midseason trailer is here and Candiace Dillard is fighting more cast members.
In the trailer, Wendy Osefo describes Monique Samuels and Candiace Dillard's fight as an "atomic bomb" that "lit fires in pockets of friendships" and forced the Housewives to chose a side.
As AllAboutTheTea.com exclusively reported back in March, Karen Huger and Candiace Dillard's friendship is on shaky ground after the Grand Dame of Potomac remained neutral in the feud between Monique and Candiace.
In the teaser below, Karen Huger declares, "You want me to choose a side and I'm not gonna do that."
Ashley Darby is also team Monique and made that very clear by giving the police a character statement on Monique's behalf. 
"Monique did ask me to write a statement." Ashley says in the trailer. 
"You wrote a statement as revenge towards Candiace," Robyn responds before Candiace adds, "F–k you, Ashley."
As fans know, Monique Samuels and Candiace Dillard are at war after they had an explosive fight on October 16, 2019 while filming a cast event for the upcoming season of The Real Housewives of Potomac. The incident led to second-degree assault charges being filed by both parties that was later dropped by the District Court of Montgomery County.
On the season finale, Candiace Dillard and her husband lose control at Robyn Dixon's engagement party. AllAboutTheTea.com can exclusively confirm, Candiace Dillard attempted to fight Karen Huger and Ashley Darby.
Candiace was "Jumping up and down on the sofa and acting like an enraged person. She was trying to fight Karen and Ashley – yelling and screaming in their face. Candiace was mad that they toke Monique's side in the fight." A source tells AllAboutTheTea.com.
Ashley yells, "Monique has no self control, but what do you have?" at Candiace.
"Who are you talking to?" Candiace fires back.
Then Chris Bassett attacked Michael Darby.
"Michael, you should get the f–k out of my face," Chris says to Michael, who's lingering behind him.
Michael responds by telling him to "Shut the f–k up" and "listen."
Things escalate from there, and Michael and Ashley are thrown out of the party and the police get involved. 
Watch the complete midseason trailer in the above video.
The Real Housewives of Potomac airs Sunday nights at 9 p.m. on Bravo.
Stay Connected With All About The Tea: Twitter Ι Instagram Ι YouTube Ι Facebook Ι Send Us Tips