'RHOP' RECAP: Monique Samuels Grants Candiace Dillard Her Request To Be Dragged!
Welcome back to an all new episode of Real Housewives of Potomac – the one where we are finally privy to the knock down drag out between Monique Samuels and Candiace Dillard. Oh, and we bear witness to a hot mic moment with Gizelle Bryant's father, Curtis! Let's get started, shall we?!
This week's episode picks right back up where it left off with Monique Samuels and Candiace Dillard sparring back and forth with one another. In a moment that I'm sure she instantly regretted, Candiace utters the famous last words, "You gonna drag me???" and Monique starts flicking Candiace's hair and asking her "You want me to???" but before Candiace gets a chance to respond the dragging has already commenced.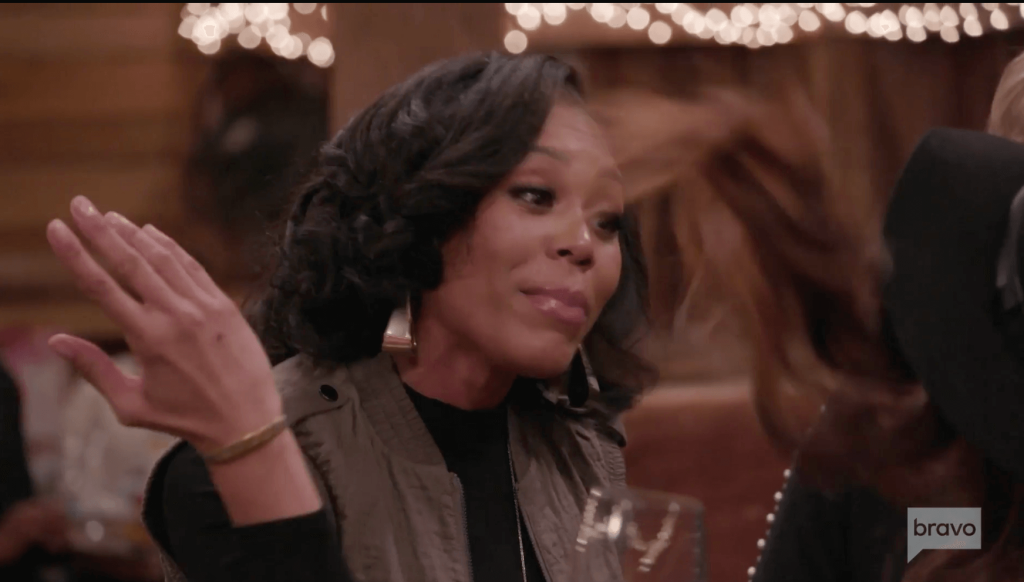 The tousle starts with some hair pulling whilst Candiace Dillard is quite literally dragged across the wine barrel tables filled with glasses and charcuterie. The producers immediately pounce and with the help of the other Housewives they try their darndest to get Monique to release Candiace's hair. Unfortunately, their efforts are all in vain as Monique has no intention of letting go anytime soon.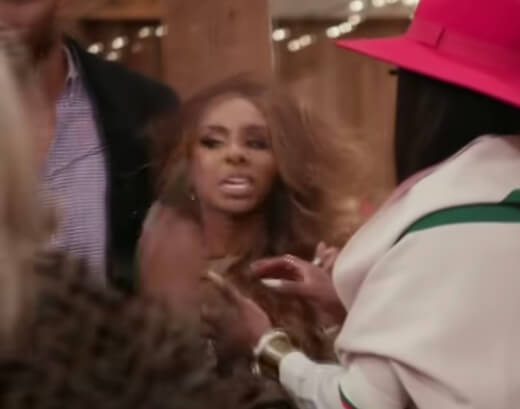 Eventually Candiace Dillard takes the only thing she has available to her — a full wine glass — and throws it at Monique's face subsequently drenching her and this may be the moment that Monique's face got cut. 
Once and only when Monique has decided she's ready to let go of Candiace's hair she does so and is immediately whisked down a stairway where the producer, James, promptly locks the door behind them. Meanwhile Candiace is left to try and pull herself back together asking, "Is my wig on?" to which Karen Huger, the wig wrangler, assures her that it is. 
Ashley Darby comes strolling out from her potty break looking like little Miss Riding Hood only to realize that all hell has broken loose. She takes one look at Candiace, stops dead in her tracks and her mouth falls to the floor. "What the f*** just happened?" she squeals.
Robyn Dixon says that Monique "has a problem" and Karen immediately accuses Robyn of throwing Monique "under the bus" before she sprints off to check on Monique who is still locked in the stairwell with James. She knocks on the door and asks if she can check on Monique but James makes it very clear he's not budging as he maintains a death grip on the door handle. Better luck next time, KURN. 
Monique Samuels  ears perk up when she hears Candiace screaming and calling her "ghetto-a** hood-a** b****" whilst on her way out of the winery.  At that point Monique flies down the stairwell raring to go yet again. Fortunately for both Candiace and her wig she's already tucked away safely in her get-away car. Everyone else is left to dog pile Monique once more in an attempt to keep her from said get-away car.
On the way home both women call their Chris'. While recounting the events, Candiace starts crying and saying that she's "embarrassed" by the incident. In contrast, Monique seems cool as a cucumber. Unfortunately for Monique, however, her Chris isn't as calm about the incident. In fact, he too, seems to echo Candiace's sentiments saying he is "embarrassed" by what she just told him. The next day, Chris and Monique discuss the events of the evening yet again and he basically tells Monique he's disappointed in her. "Y'all are grown women who can't even hang out without fighting." YIKES.
Across town, Karen Huger is left to her own devices in an effort to spice up her very stale marriage with Ray. For his birthday she's arranged for a private chef to come over and teach her how to whip up a gourmet meal for her hubby.
Meanwhile, in Bryant Land, Gizelle Bryant and her three daughters have just touched down in Atlanta to attend the re-launch of the restaurant Jamal gifted the girls with. But first – Gizelle has to break the news to her father (the same man that refused to attend their wedding) that she and her "cheater-cheater pumpkin eater" of an ex-husband are officially an item again. Good luck with that, Gizelle!
In a surprising turn of events, however, Gizelle's father seems willing to accept the news. "Gizelle I want you to be happy. I would never step in the way of anything that's gonna make you happy. Ever." He even went as far to say that he would be willing to walk her down the aisle should they decide to get married again. Now, just keep that little nugget in your back pocket for later, got it?!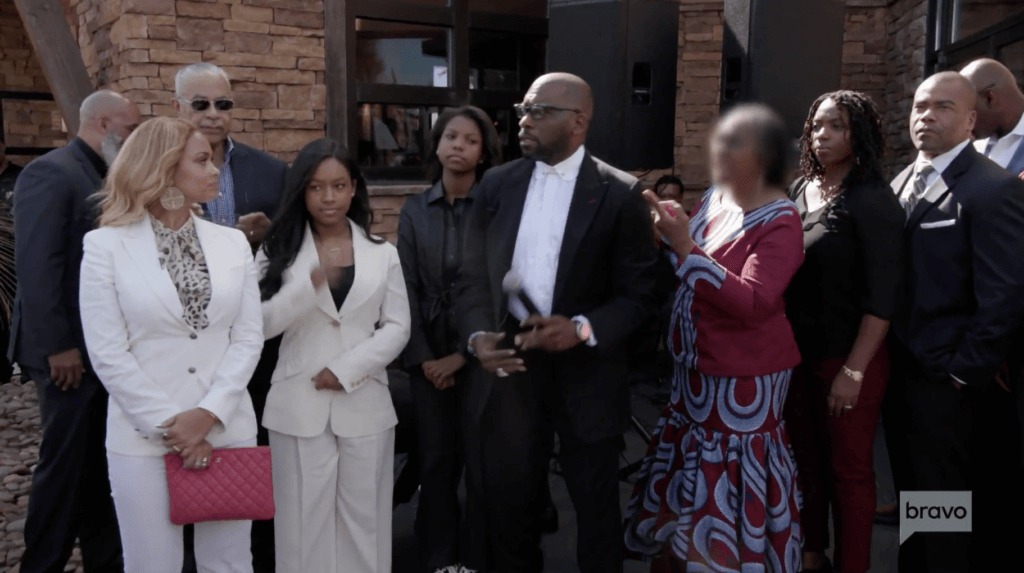 Speaking of cheater-cheater pumpkin eaters, Ashley Darby has an awkward sit down with her dirty dog of a husband, Michael. Michael is still sticking to the story that his shenanigans were all her and the baby's fault because he was feeling "disconnected." 
She then drops a bomb and asks Michael for a post-nuptial agreement. "Something that would be protecting Dean and me in the event that this happens again." Fortunately for Ashley, Michael seems keen on the idea as well. "Hmm… We can look at that. Sure," he says as his beady eyes dart back and forth.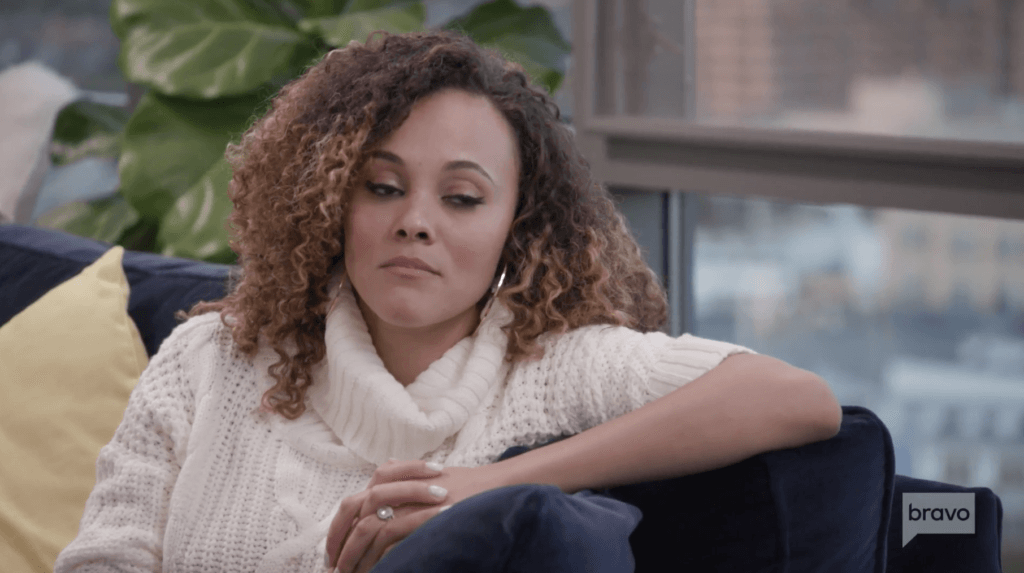 According to Ashley the initial pre-nuptial agreement the couple had expired after five years. Doing a post-nuptial agreement would outline things she would be guaranteed to get with no arguing, disputing, etc. in the event of a divorce. Ashley says it would also expedite the process. 
Back in Atlanta, the Bryant girls are getting a tour of "their" restaurant. During the tour, Jamal makes sure that they stay away from the bar. "No bar. Only communion. Keep going," he says. Later they're shown the dish pit and Jamal says that's where the girls will be all summer long. Sure, Jan.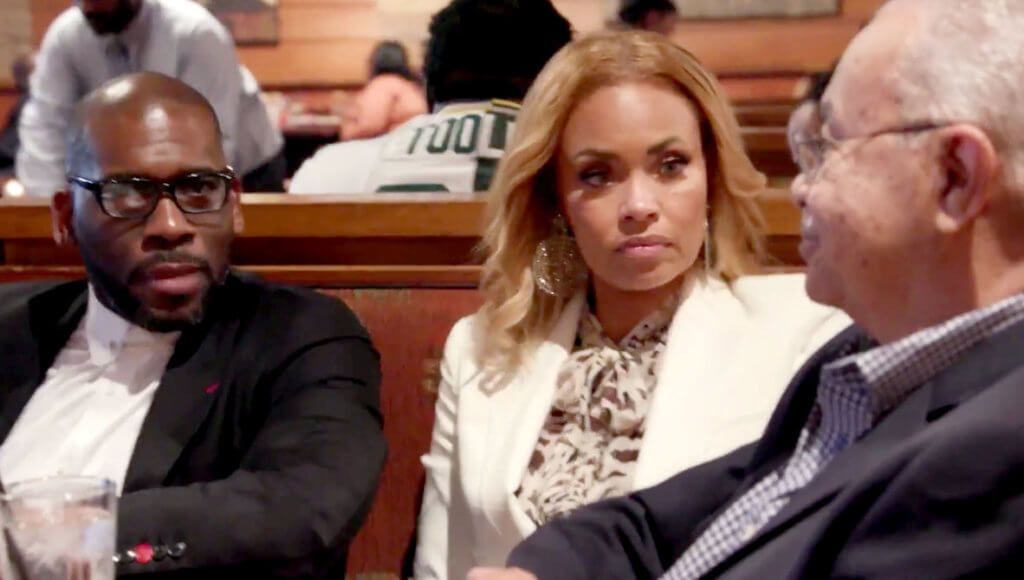 Things get especially awkward when one of the producer's ask Gizelle in her talking head how many kids Jamal actually has. "I decided I'm not speaking on children I did not give birth to. Because it's not fair to them or their mothers. The end." YIKES.
Things go from bad to worse at the Huger residence, when Karen and Ray have a radio show host come over and essentially give them marital advice. What could go wrong?
Right off the bat they admit they're not as intimate as they used to be. Karen then goes in on Ray's snoring habits. Ray, however, says he's most annoyed by Karen not having time for him anymore. "Also, you used to cook more," he turns and says to Karen. SHOTS FIRED.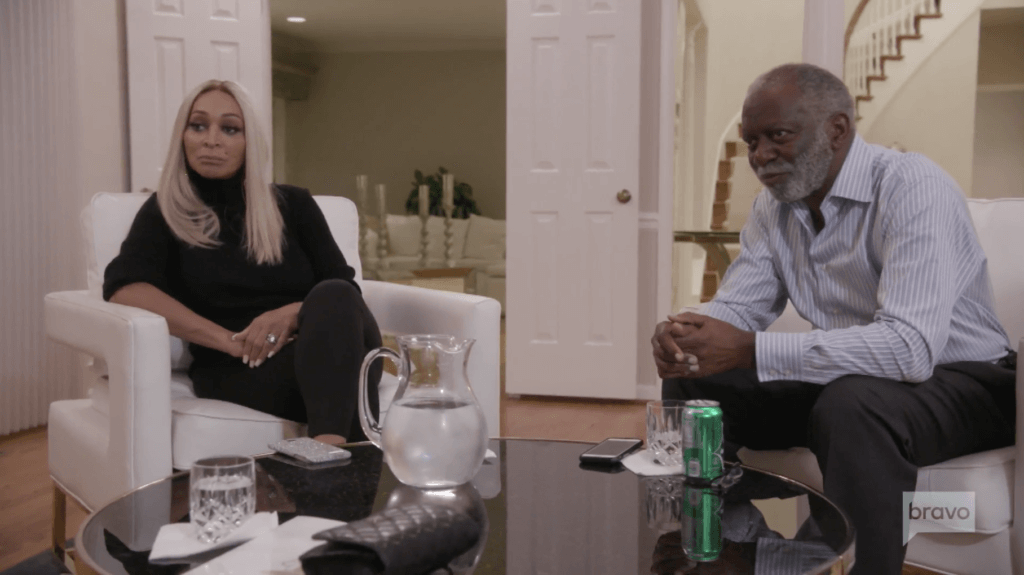 S*** hits the proverbial fan, however, when Ray admits that he only "thinks" he's still in love with Karen. As one can imagine, that doesn't go well. Immediately Karen gets up off the couch and heads upstairs. She tells production "she can't breathe" as she takes her mic off. 
Press play below to watch All About The Tea's Real Housewives of Potomac recap on YouTube and SUBSCRIBE to our channel.
The only thing more shocking than that revelation is hearing Gizelle Bryant's dad sing a much different tune after he excuses himself to the bathroom at the restaurant re-launch. After exchanging pleasantries with one another at the table Curtis promptly heads to the bathroom where he rips his mic off but is still caught delivering a soliloquy regarding his true thoughts about his daughter rekindling a romance with the wayward pastor. "I think you can take the mic off of me. I think I'm done. This is not a good move for her. You know, this guy's got 6, 7 baby mamas. You know. Do you want to deal with that again? NO! As a father, you think twice about that kinda stuff. I'm done. That's it. I'm clean." 911. 911. 911. Jamal, you better WATCH OUT.
Tune into The Real Housewives of Potomac next week as the drama continues!
Stay Connected With All About The Tea: Twitter Ι Instagram Ι YouTube Ι Facebook Ι Send Us Tips
Amanda Byerly focuses on Reality TV recaps for All About The Tea. Amanda is a 30-year-old wife, mother and self-proclaimed Bravo TV junkie. When she's not watching Bravo, she's writing about it, reading about it, or listening to podcasts about it. "I get by with a little help from Bravo TV."