RECAP: Ramona Singer FREAKS Out Over Bethenny & Dorinda's Friendship On 'RHONY' Reunion!
Welcome back to the Real Housewives of New York City, — the reunion edition. We start where we left off last week, with Dorinda Medley trying to explain why she hates Tinsley Mortimer. According to Tinsley, it all started when her fiancé, Scott, gave money to Dorinda's ex, John. Dorinda was in the dark about the situation, and when she found out, it hit the fan.
Dorinda Medley now says she's not jealous of Tins. She would never want to be dependent on a man. The real problem is that Tinsley should have been transparent instead of playing down her relationship with Scott. But Ramona Singer jumps into the fray, pointing out that Dorinda never shared her breakup with John. The Housewives found out about it on Page Six. Luann de Lesseps agrees. Dorinda defends herself, saying her friend, Greg, planted the story and pushed her into bringing her breakup to light. So…how is she more transparent than Tinsley?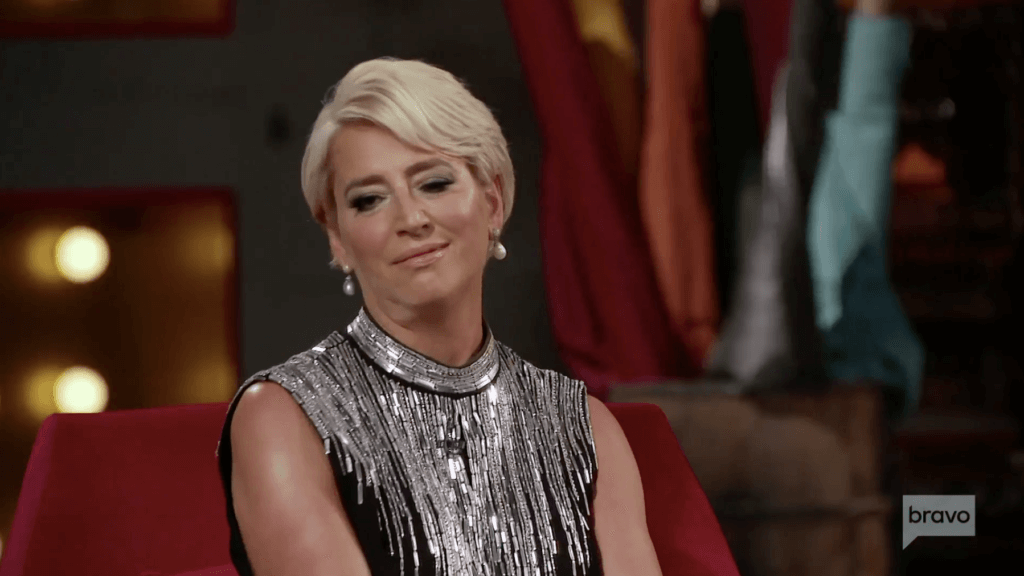 Dorinda Medley seems to have issues with Tinsley repeatedly saying she and Scott were donesville. But then she would meet up with Scott and not share it with the other women. According to Dorinda, Tinsley would have dinner with Scott, go to the islands with him, take trips to Vegas. At this point, Ramona asks if Dorinda installed a tracker on Tinsley. And the question remains, why is Dorinda so freaking invested in Tinsley's romance?
Sonja Morgan believes that Dorinda lashed out at Tinsley all season because she was in pain — from her breakup with John to her broken rib to the flood at Blue Stone Manor. And Sonja accuses Tinsley of playing the victim. 
Tinsley Mortimer has had enough and shouts that she's never been a victim. Even Andy Cohen thinks Dorinda was really, really mean this season. Hey, Dorinda apologized to Tinsley. Didn't you just hear her? No, Andy clarifies, Dorinda apologized about the turkey baster comment, but not about bullying and belittling Tins all season.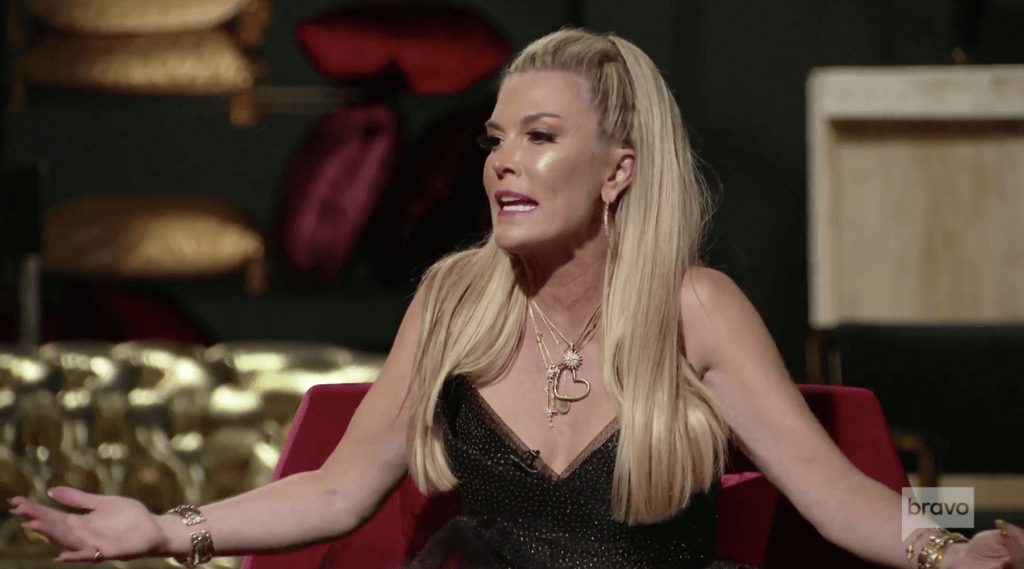 That apology comes too little, too late for Tinsley. Leah McSweeney, who was Tinsley's closest ally, thought that getting together with Tinsley and Dorinda and playing mediator would be helpful. Tinsley didn't see it that way. She thinks Dorinda needs sycophants around her to support her cause. Dorinda needs backup to make her case, and by that time, Tinsley wasn't interested in repairing their friendship.
Dorinda Medley says Tinsley has given up her life to be in a relationship. Not true, says Tinsley, and then slams Dorinda for making assumptions. Tinsley believes Dorinda's Achilles heel is her inability to admit she's wrong. And it will be her downfall. Seeing Dorinda kicked off the show next season because of her anger and booze issues, Tinsley may be right.
Andy Cohen also wonders why Dorinda went off the rails during the finale when Leah mentioned Tinsley's name. (It was bizarre and irrational, that burst of anger.) Dorinda now says she was so outraged because it "wasn't authentic". Tinsley didn't bring Leah into the group. The finder's fee should go to Bethenny Frankel. Andy admits that Bethenny did mention Leah's name, along with twenty-nine other women, but her name was also on the short list of the casting director. And by the way, so what? Dorinda is adamant that Leah and Tinsley only became friends because of the show. And why does that matter? Ultimately, it doesn't. Dorinda is grasping.
At this point, Ramona Singer accuses Dorinda of talking to Bethenny every day, that B. whispers in Dorinda's ear, even though the SkinnyGirl is no longer part of the show.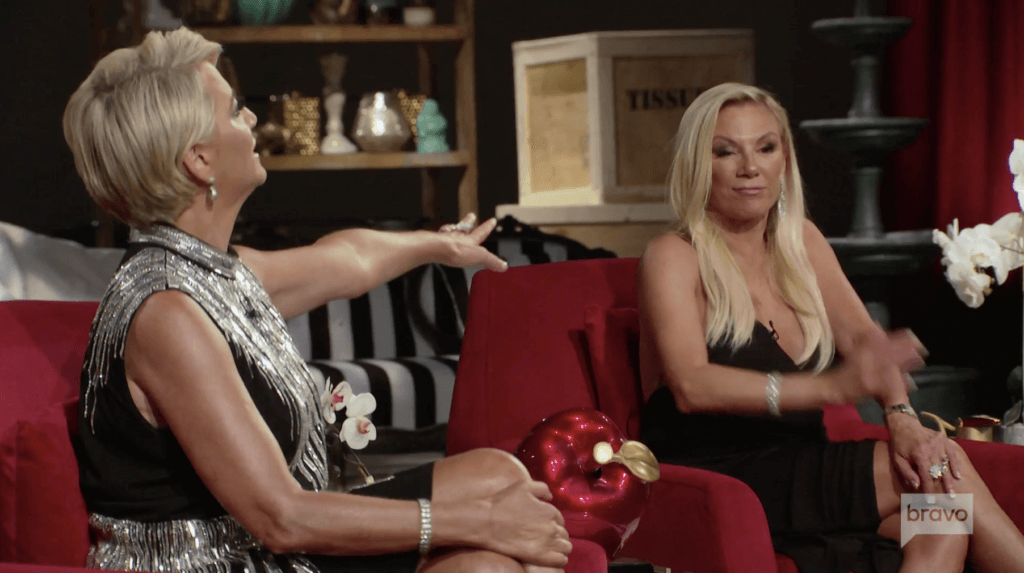 Once more, Dorinda Medley says Tinsley wasn't transparent, and that was an outrage. Ramona Singer cries foul. Tinsley came onto the show with a mugshot and told anyone who would listen about her arrest and fall from grace. Tinsley swears she was completely transparent from day one. What does she need to do, shit her pants on vacation? Will that make her more authentic?
Dorinda Medley tries another tack. Tinsley left the cast high and dry when they were already a woman down in Bethenny. Andy points out that Bethenny quit the day before filming was to begin. So, Tinsley bowing out midway through the season wasn't that big of a deal. Andy says Tinsley spoke to him and the producers about leaving. They all decided it would be best for her if she went to Chicago.
At this point, Ramona Singer gets up and leaves the set and go to the bathroom. Andy reminds her she needs a mask, so Ramona demands one from production. 
Next, we see a compilation of the trips the women took this season. From vibrators to camels to tiki torches and Luann getting bonked in the face with a volleyball, we relived the nuttiness. Sonja admits to putting the vibrator in the chicken at Ramona's Hamptons house. And that buzzing in Lu's bag in Mexico really was a juicer. Suuuure it was.
Looking back, Tinsley is embarrassed she got naked in the Hamptons, mainly because she was sporting boring undies. And Lu is still resentful of getting stuck in the basement. Ramona claims Sonja and Dorinda were adamant about the room they wanted, so Luann had to take what was left. Sonja and Dorinda both deny this, saying Ramona's a liar.
Andy chastises Ramona for calling the staff in Mexico "servants." She defends herself by saying she's old and uses antiquated phrasing. Okay.
Tinsley Mortimer leaves, we're down to five, and it's Luann's turn in the spotlight. We see her step out of the courthouse, putting probation and her enforced sobriety behind her. This season, Lu talked about her dad's battle with alcoholism, and that's partly why she reaches out to the people who are trying to get their lives back on track after prison. 
Lu admits her childhood wasn't exactly glamorous. Her dad, whom she adored, had his own issues with alcohol, and watching him go through it was rough. She chokes up and says his last ten years were sober ones. She took him all over the world and spoiled him. She still misses him every day. Lu sees him as a success story. No matter how low you go, you can get back up. 
Dorinda and Luann also got their friendship back on track. Except for that moment in the Berkshires where Luann packed her bags and left for a few hours. Despite all the hype, Leah found Luann very down to earth. Most of the time.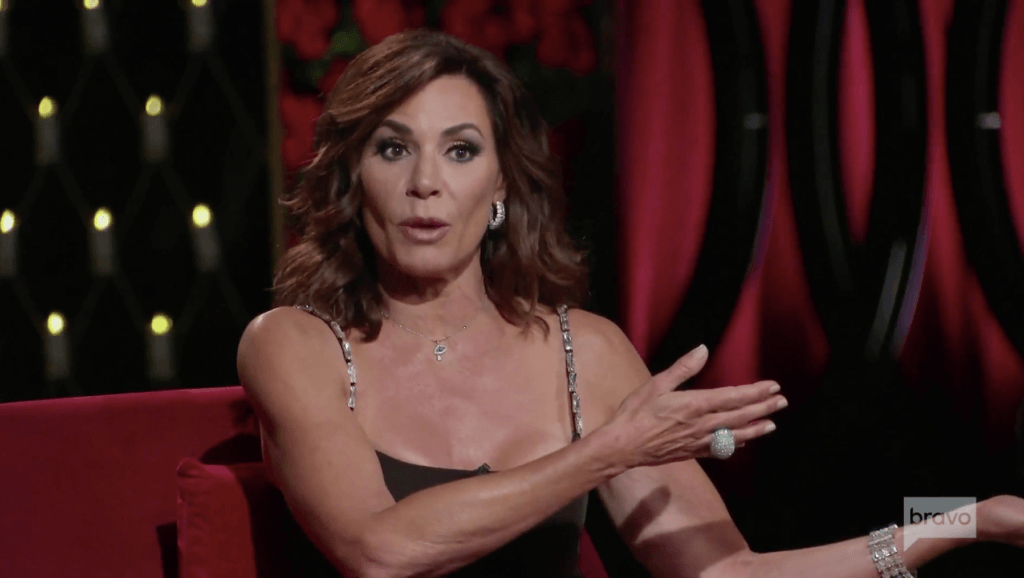 We see how Lu and Sonja got into a fight when Sonja demanded money for her role in Lu's cabaret act. Sonja still says Lu doesn't pay her to be in the show. Lu disagrees. And Lu says she wasn't compensated for "singing" at drag show bingo. Sure, it was for charity, but so what? She didn't get a dime!
Ramona comments that when they first met, Lu hid behind the Countess title. Lu admits she was hiding a bad marriage, too. Ramona praises Luann for evolving.
Next, we get a montage of the ladies hitting on anything with a penis — Lu getting a back rub from the Hamptons dog groomer, Leah making out with a Canadian, and Ramona handing out her phone number to anyone who would take it. These women aren't ashamed to admit they want sex. And they're not really that picky. (Case in point, Harry Dubin.)
Dorinda coyly tries to dissuade Andy from asking about her love life, but she's seeing someone. How serious is it? She won't say. (What about being transparent, huh?) The other women know about the guy. Lu says Dorinda's face lights up when she talks about him. Ramona thinks Dorinda will be the next one to settle into a monogamous relationship.
After the sex talk, Andy moves on to the friction between Ramona and Leah. Ramona thinks Leah is rough around the edges. And there may be some merit to that accusation considering Leah threw a shrimp at Ramona's head at a restaurant in Newport. Then there was Ramona's birthday party, where Leah dry humped Luann. That was the final straw, leading Ramona to out Leah for being bipolar.
Press play below to watch All About The Tea's Real Housewives of New York recap on YouTube and SUBSCRIBE to our channel.
Ramona admits she still doesn't understand Leah's behavior. She's more conservative and that's why she got offended at Leah's dress riding up as she danced at the birthday party. But even Lu, the etiquette expert, says Ramona overreacted. 
Andy points out that Ramona holds Leah to a higher standard. She puts up with all sorts of bad behavior from Sonja, but Leah gets slapped down for the same behavior. Ramona says Leah is crass, where Sonja is funny. Is Ramona jealous of Leah? Of course not! Ramona feels maternal toward the newbie.
We see a piece of unaired footage where Leah joined Ramona for dinner with Avery and her friends. At the table, Leah admitted she wanted a rich man with a nine-inch schlong. Ramona threatened to put Leah in timeout. After all, Avery and her young friends were present. Never mind Avery's twenty-four-years-old. But when Ramona shows the young women how she lovingly strokes a wine glass and seductively sips from the straw to attract men, that was okay. Why the double standard?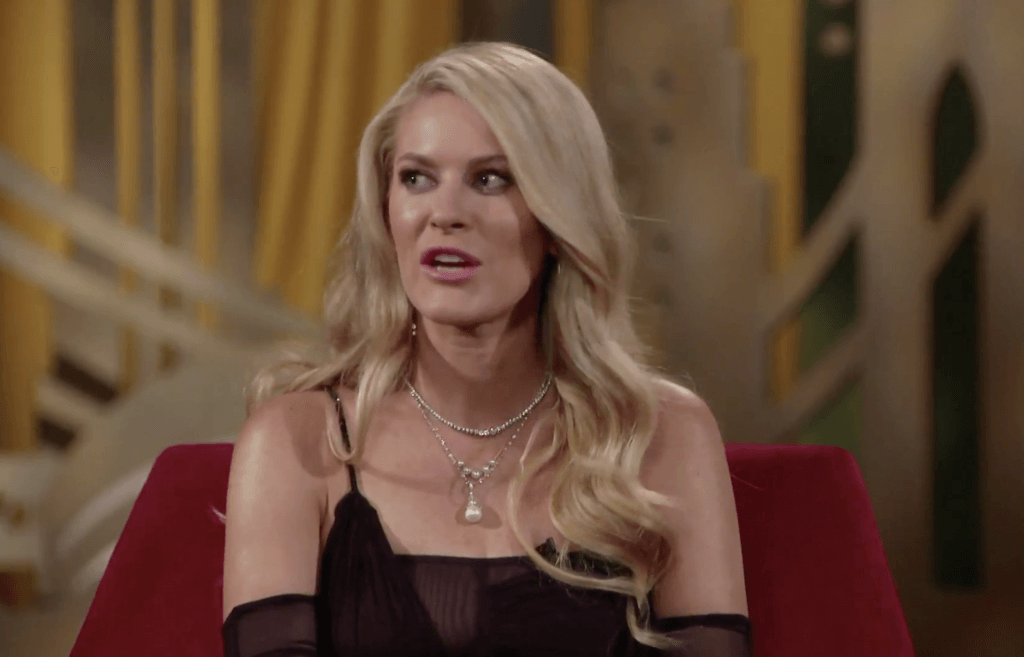 The biggest bone of contention between the two came when Ramona brought up Leah's bipolar diagnosis. Ramona thinks Leah shouldn't mix medication with booze. But Leah's not on meds. Also, Leah's twelve-year-old daughter had no idea her mom was bipolar or was hospitalized at a younger age. Leah had to have that uncomfortable conversation with Kier after Ramona brought Leah's condition to light. Still, Ramona maintains she wasn't being malicious. 
Ramona thinks Leah should be the poster girl for mental health issues. Why not own it? Why not let the twelve percent of Americans who are on anti-depressants know it's okay to have bipolar disorder? Even Andy is aghast, asking if Ramona is really doubling down on this bullshit. Ramona says she regrets that she didn't bring it up to Leah personally. Not exactly an apology, though, is it?
Andy points out that Leah wrote about her bipolar condition in a blog years ago. Why is it a big deal if the news is already out there? Because this is her first season, and it's her business. Ramona outed Leah, and it's not okay.
Dorinda calls out Ramona for throwing out blanket statements and not backing them up. Like assuming Leah was on medication. Then Dorinda says, for the second time, that Ramona has had a facelift. Her youthful look isn't due to the face cream she peddles, but to surgery. Be honest. Ramona denies it, and tells Dorinda she drinks too much. How's that for truthful?
Ramona finally says that Leah reminds her of herself, because they each "beat to their own drummer." Leah is self-made, just like Ramona. Leah has been on her own since she was a teenager, just like Ramona. Leah thinks that her connection with Ramona was maternal, and when Ramona rejected her, it brought up a lot of old feelings Leah has about her own mother.
Ramona gets up to hug Leah, but Andy reminds them they can't hug. They bump elbows instead, and agree to move forward. 
That ends part two of our reunion. So, what's your take? Did Dorinda have a legit reason to be upset with Tinsley? Was Ramona malicious when she brought up Leah's bipolar disorder? And has Lu vindicated herself since last season?
Stay Connected With All About The Tea: Twitter Ι Instagram Ι YouTube Ι Facebook Ι Send Us Tips
I'm a fiction writer by day and a reality TV addict by night.