'RHOP' RECAP: Ashley Darby Sniffs Michael's DIRTY Underwear & Checks His Phone To Make Sure He's Not Cheating!
Welcome back to another all-new episode of Real Housewives of Potomac — the one in which we expected to enjoy a fireworks show surrounding Ashley Darby's husband's indiscretions and yet we were delivered nothing. Zip. Nada. Zilch. Unless you count the screaming match between hostess with the mostess, Monique Samuels and reigning Lady of the Lake, Candiace Dillard. Oh, and Karen Huger getting torn down drunk off of Fireball whiskey. That was fun, albeit a bit disturbing.
The episode kicks off with the ladies killing a few rogue insects that are living it up in the Samuels' lake house. Meanwhile, Ashley Darby is upstairs putting Baby Dean to sleep. Gizelle Bryant and Candiace are (im)patiently wait on the couch for Ashley to finally come down. Monique is outside showing off her master fire-building skills but eventually comes back in to scrounge up s'mores supplies and, of course, eavesdrop on why Gizelle and Candiace are holed up inside having a side conversation away from the rest of the group. Monique makes it clear that she wants to know what the ladies are up to but Gizelle and Candiace remain steadfast on their mission to keep Strippergate between themselves and Ashley.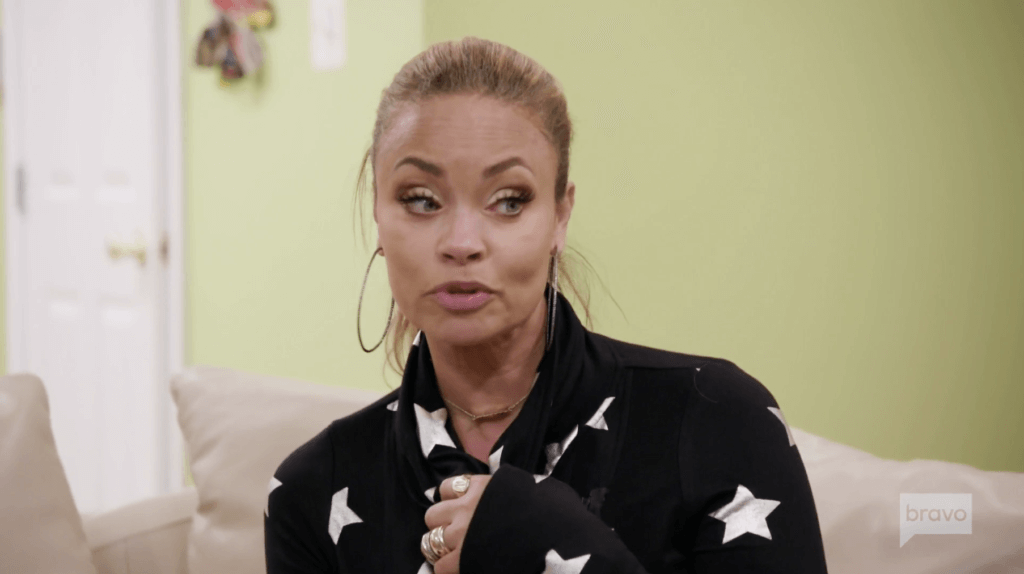 While the others retire for the evening, Karen, Robyn, Monique, Candiace and Wendy partake in Fireball shots in the basement —  and Karen has one too many shots and spills tea about her marital woes. Karen tells the ladies that she put half of her money "behind him to save him after the tax issues." Then Karen proceeds to ask Monique about her marriage and she tells her to keep the convo fun and light.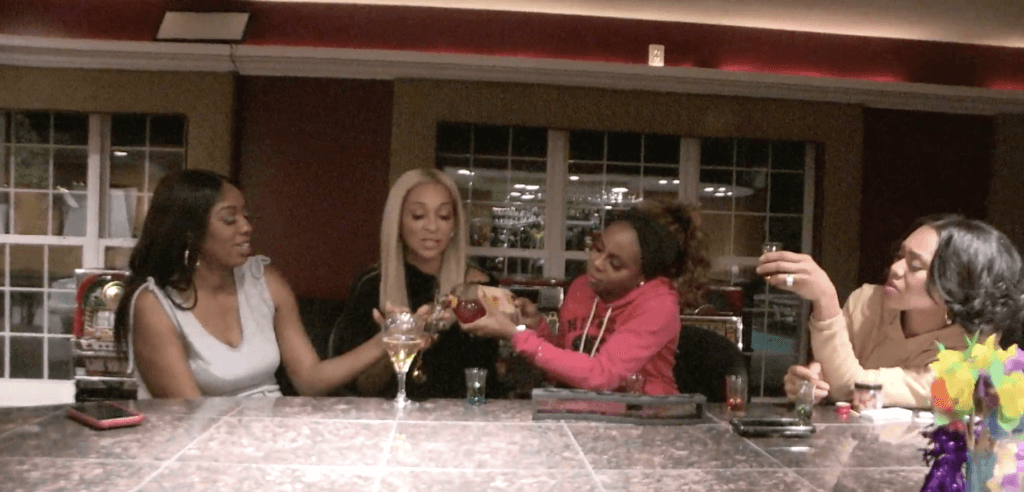 Ashley Darby finally gets Baby Dean to sleep and tiptoes her way down only to be immediately beckoned over the to the couch so Candiace can ever so gently drop the bomb. Wow, for once a Housewife has extremely damaging info about a frenemy and instead of revealing it in front of the entire group she's doing it a private manner. Is this a Real Housewives show or an episode of Dr. Drew? I'm so confused.
The twilight zone vibes only continue when Ashley calmly receives the information and photographic evidence of her husband fraternizing with strippers, instead of trying to shank the messenger (Candiace) with a butter knife. Oh wait, that scenario would probably only go down the other way.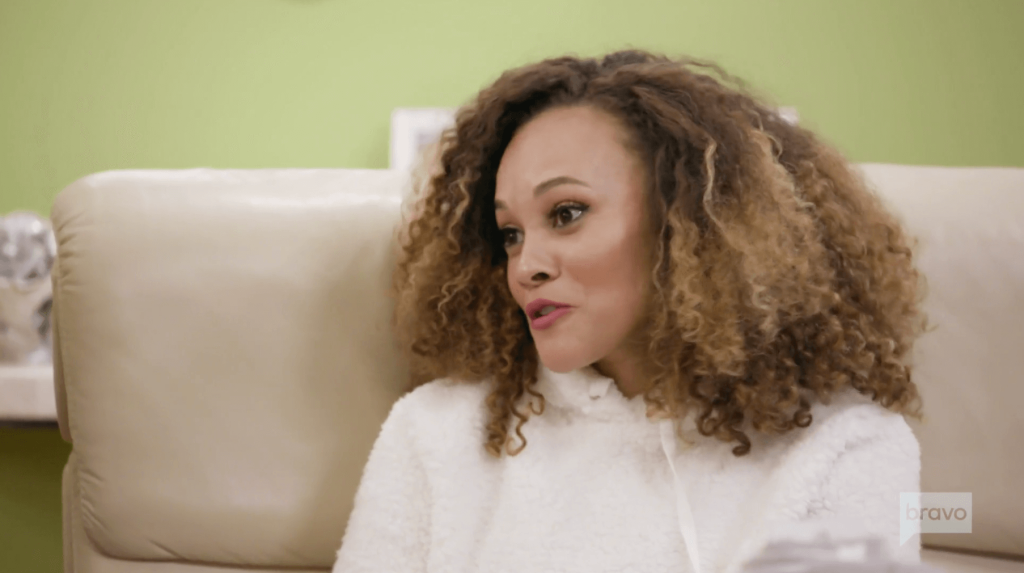 Ashley Darby's face remains stoic as she asks Candiace if the source is credible.
"As far as I know, everything is well… that's why I'm shocked," Ashley said of the claim about Michael being at the strip club.
Candiace insists that she is. But here's the real kicker: instead of holding her cards close, Ashley chooses to reveal even more damning info to both Candiace and Gizelle.
The story goes that while Ashley was pregnant, Michael came home smelling like strippers. She flipped out on him and he promised her he would not go anymore. But hey, maybe in his mind that rule only applied while she was pregnant? Or only while she's in the same zip code?
Ashley also admits that she still doesn't trust him as far as she can throw him.
"One time, he did come home, smelling like perfume," Ashley told Gizelle and Candiace. "I was upset and he was like, 'I'm sorry I was at the strip club.' I was pregnant and I was very sensitive. [I said] 'Please don't do that again' and he stopped going to strip clubs." YIKES!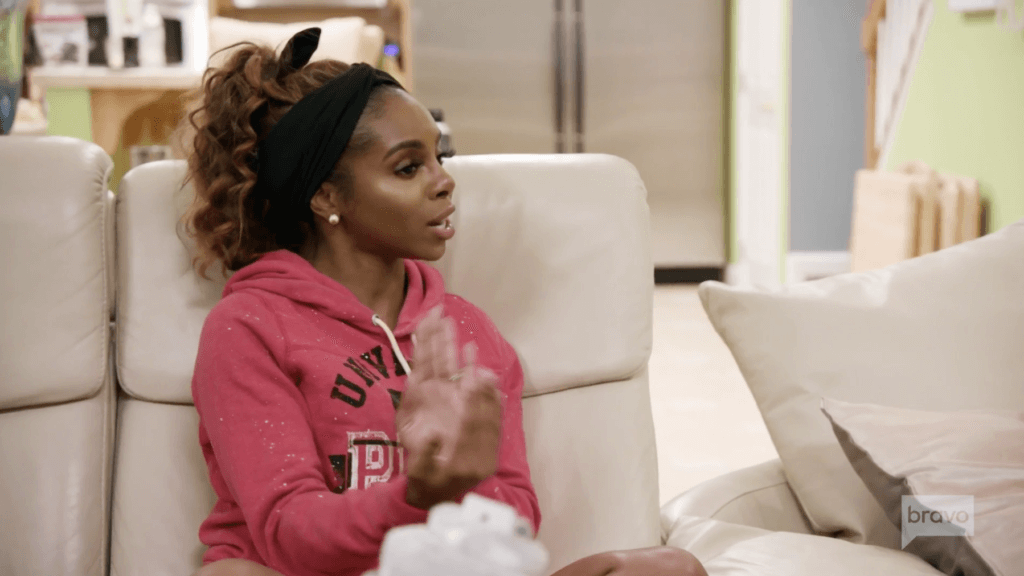 Ashley then thanks Candiace for the intel and vows to get to the bottom of it when she gets back home.
"This doesn't feel like a shock to her," Candiace said in a confessional talking head.
All in all, the entire scene is extremely anti-climactic and honestly, sort of a let-down. Well except for the underwear sniffing revelation.
The next morning, Karen Huger pops up bright-eyed and bushy-tailed at the prospect that Ray and some of the other men are on their way to spend the day. I guess those 23874937 Fireball shots didn't put her down for the count after all. She hurries to get in the shower as she shouts, "Ray's on his way and my (you know what) stinks." TMI. TMI. TMI. I AM DECEASED.
The ladies congregate in the kitchen and Monique Samuel talks about being left out of the side conversation from the night before. Gizelle has already left the luxury lake house in BFE to attend a literary awards ceremony, so only Ashley and Candiace are left to run damage control. Ashley appears to want to nip it in the bud once and for all and immediately comes clean and discloses that they were only engaging in a private conversation because Candiace and Gizelle brought forth information regarding her husband's alleged extracurricular activities.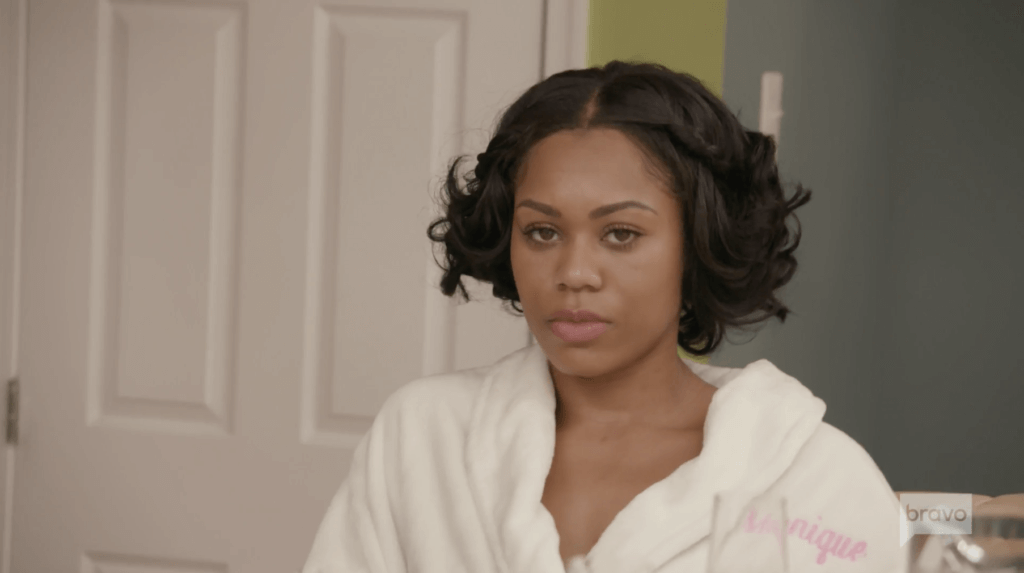 Monique Samuels, however, sets her straight, "Haven't we been down this road before? Like, when are we gonna wake up and realize that certain roads are not good to go down. This is déjà vu of last year — we saw that didn't work, and then we do it again?" 
The lady drama is put on pause as the men arrive one by one. We learn even more about Wendy Osefo when she and her husband, Eddie, share with the group their complicated relationship with Eddie's parents. It turns out that they haven't spoken to Eddie's mother or father since they boycotted their wedding and also urged other friends and family to do the same. Wowowowow. The plot only thickens when we learn that the reason for the drama stems from an altercation between Wendy's mother and Eddie's mother. Monique's husband, Chris, urges for the Osefo's to make it right with their family as he knows a thing or two about mama drama. Lest we not forget Chris's mama calling Monique a "heifer" via a hot mic on camera.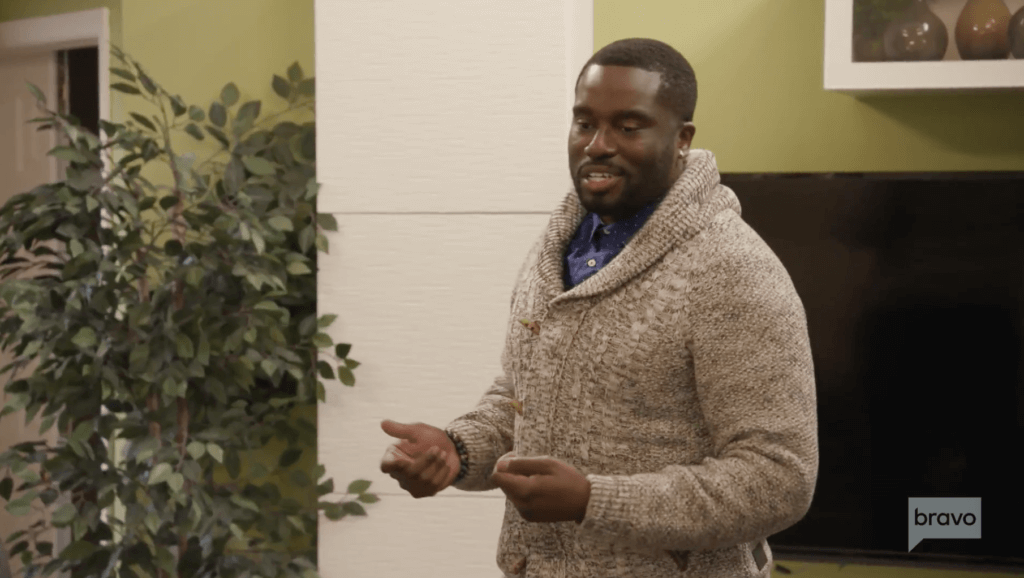 Things finally come to a head between Monique Samuels and Candiace Dillard when they engage in a screaming match over Monique being left out of the side conversation. The drama spills over as their husbands genuinely enjoy spending time with one another and the whole situation gets plain awkward. On her way out, Candiace shares a hug with Monique's husband but when she approaches Monique to tell her goodbye, Monique falls asleep on the couch and Candiace's farewell falls on deaf ears.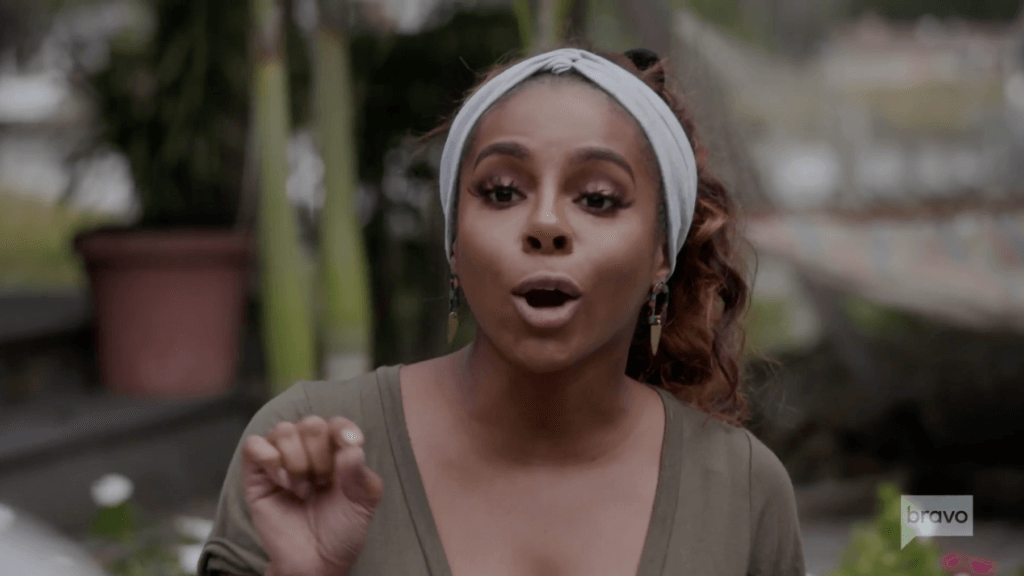 We're finally treated to a small snippet of a conversation in the car in which Ashley tries to call her husband to discuss his bad behavior.
"When I got home from Monique's lake house, Michael and I talked about the issue that Candiace brought up, and he told me he was at the strip club and this woman kept touching him," Ashley shared.
The mom of one explained that her husband didn't go into further detail about his transgressions — he's having none of it and insists he needs to get back to work "reviewing a document." 
"[He] feels bad," Ashley said of her husband Michael, adding that the argument escalated between them, resulting in the couple sleeping in separate bedrooms. "Michael slept in the baby's room and I slept in the bedroom," she shared.
The drama escalates when Gizelle called Candiace to gossip about photos sent to her of what appears to be Michael "in his boxers" in a hotel room.
"I'm minding my business and I had at least 40 DMs about Michael," Gizelle told Candiace over the phone. "This is the worst!"
"Ugh!" Candiace responds. "There's photographic evidence of Michael at a hotel, Michael at the strip club and Michael at MGM."
"Michael, everybody in the D.C. area knows who you are and everybody got a camera. You gonna get busted, honey," Gizelle says in a confessional talking head.
Press play below to watch All About The Tea's Real Housewives of Potomac recap on YouTube and SUBSCRIBE to our channel.
I can only hope that next week is the moment we finally get the showdown between Ashley Darby and her sneaky snake of a husband we've all been waiting for.
Tune into The Real Housewives of Potomac next week as the drama continues!
Stay Connected With All About The Tea: Twitter Ι Instagram Ι YouTube Ι Facebook Ι Send Us Tips
Amanda Byerly focuses on Reality TV recaps for All About The Tea. Amanda is a 30-year-old wife, mother and self-proclaimed Bravo TV junkie. When she's not watching Bravo, she's writing about it, reading about it, or listening to podcasts about it. "I get by with a little help from Bravo TV."