RECAP: Dorinda Medley Turned On Tinsley Mortimer After John Scammed Scott On 'RHONY' Reunion!
Well, it's here! The social distancing reunion of the Real Housewives of New York City that we've all been waiting for. Will Dorinda Medley apologize for her drunken anger? Will Luann de Lesseps pull a microphone from her ass and serenade Andy Cohen? Will Sonja Morgan go commando or wear adult diapers? So many questions! Let's jump right in.
Ramona Singer shows up wearing a plastic, see-through mask that one of her sixty besties designed. They take her temp before she heads in to the studio. Tinsley Mortimer shows up in a black and silver princess dress, and in an unexpected twist, Dorinda is sporting a black and silver dress as well. I'm beginning to suspect that is the color theme of the night. However, Leah McSweeney shakes things up by wearing a transparent dress, probably to antagonize Ramona, and I approve! And Sonja sports a mask with silver fringe. Because nothing screams safety like metallic fringe. Lu looks fab in a slinky black gown.
The women sit more than six feet apart. Sonja has a new hair do and a face lift. She looks amazing. She was going for an Ellen Barkin look. And she achieved it!
Tinsley Mortimer feels disconnected since she left the show in October. But she's glad to wrap up her time with the reunion. Closure, right?
Andy Cohen asks how quarantine affected the ladies. Leah was in Long Island for a few weeks, but spent most of her time in the city. Ramona spent her time with Mario and Avery in Florida. Though they were living as a family, she wasn't tempted to patch things up with her ex, because he doesn't stimulate her in that way. Sonja was trapped in a spa drinking green juice, getting colonics, and basically drying out. Luann has been working on her cabaret and her autobiography.
Leah McSweeney throws Ramona Singer under the bus for not staying in lockdown. Though in fairness, she never mentioned Ramona by name, still, it's obvious she was talking about the Singer Stinger in her Insta video. She now explains that Ramona lacked awareness and empathy about how the people of New York were suffering.
To prove her point, we see lots of Instagram videos of Ramona having a great time in Mario's Florida abode. But Ramona disagrees. She says she was up early every morning, consuming the news, commiserating with those who were suffering with the virus.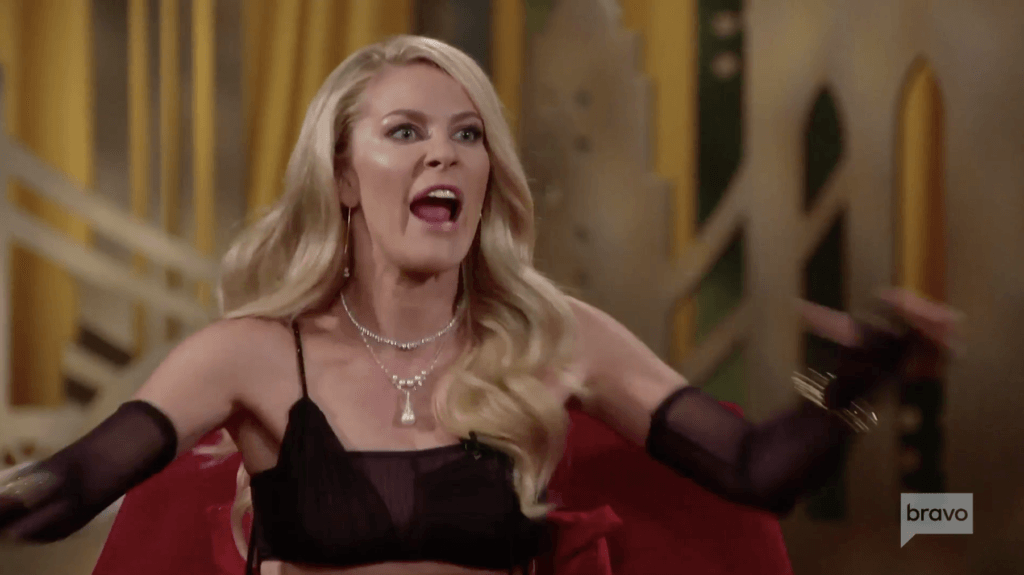 Ramona Singer  insists she donated to charity and exercised with Avery, determined to make each day count. Ramona even donated blood. She found out that she suffered from Covid at the same time she was undergoing treatment for Lyme Disease and a sinus infection. She flitted from Aspen in February to Florida in March where she hunkered down for eight weeks. When the beach and country club opened in May, she was tested so that she could play tennis. She found out she had antibodies, so she must have contracted the virus in February. As she defends herself, she calls Leah a bitch and says Leah was mean and low brow by calling her out.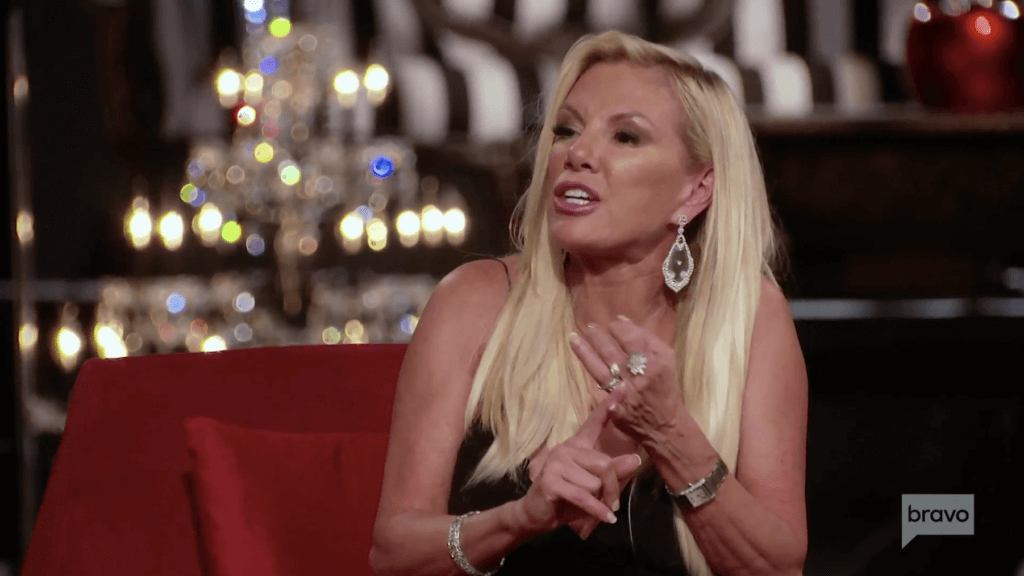 Dorinda Medley is angry that Ramona Singer went to a Trump donor party, even though Ramona insists she maintained social distance, stayed for only an hour, and then left. Dorinda says Ramona should have had more respect for others. Leah chimes in, wondering how many people Ramona might have infected by traipsing all over the country.
Dorinda Medley also claims Ramona was in her home during the day, filming cute vids with Avery. But at night, Ramona would slink off to a speakeasy. By this time, Leah and Dorinda yell and clap at Ramona. She yells and claps back. Literally. Andy shouts for everyone to shut the hell up. Finally, they do.
We see Leah's package first, filled with her tattoos and her unfiltered moments. We see her drunken antics and her mama drama due to her drinking. Andy says he received tons of feedback from his celeb friends who approved of Leah's arrival on the scene.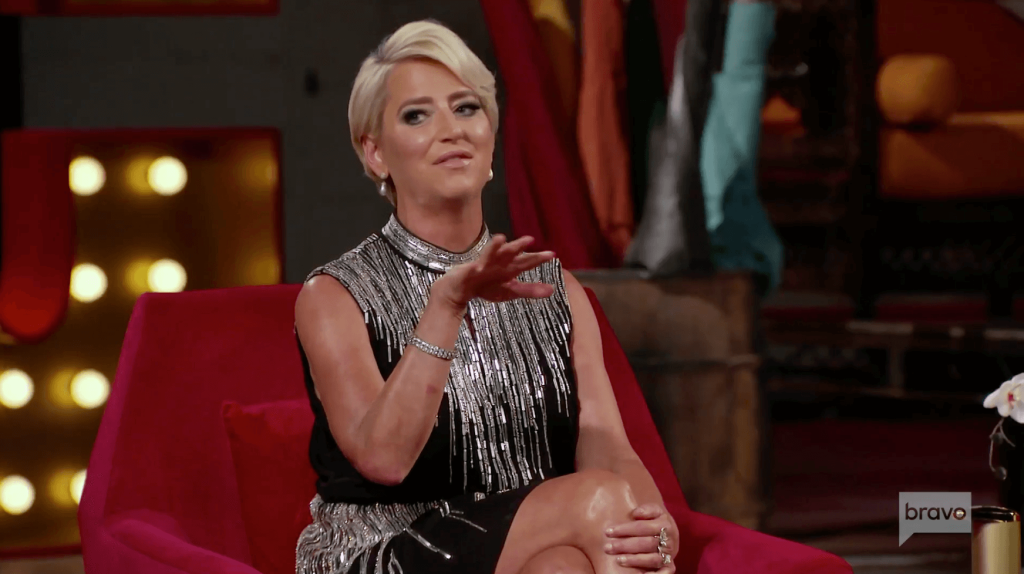 Luann sees Leah as a tough New Yorker, who is also vulnerable. Sonja likes that Leah listens and doesn't judge. Dorinda appreciates that Leah took the cast downtown. Tinsley enjoys watching Leah's enthusiasm for life and how she jumped into the fray while being herself. 
Ramona defended her position on Leah's tattoos. But Leah says she felt bad when Sonja claimed they'd never have sex because Sonja never sleeps with anyone who has tats. And as for those angel wings on her vadge, Leah tripped out when she was seventeen, and in her hallucination, she had purple wings. So naturally, she got them tatted on her hooha.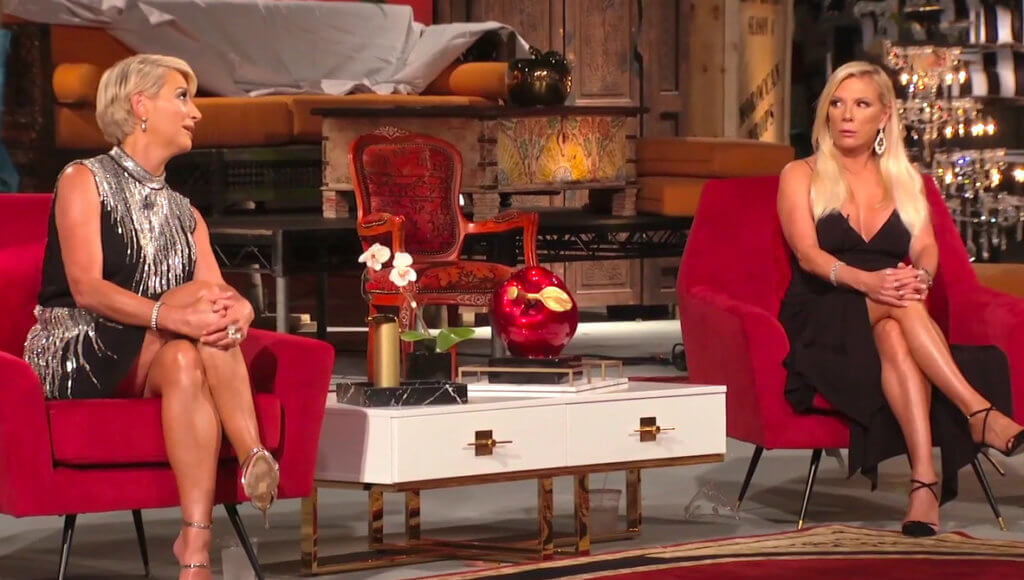 Leah's parents watch the show. Her dad loves it. And he has a crush on Sonja. But her mom is far less enthusiastic. And for a psychologist, Bunny seems to be a little withholding from her girls by not wanting to admit she's proud or that she even likes them.
Leah claims she started drinking before she knew she was going on the show. Now, she's back to her teetotalling ways.
We see a montage of the ladies slamming down the booze and the craziness that ensued. Including Dorinda's anger and Sonja's shoving food in her face and ripping off her clothes in front of the maid in Mexico. We also see Luann taking a drink after getting off parole. And of course, Leah ripping tiki torches out of the ground.
Andy Cohen points out that Lu, Leah, and Sonja have now scaled back on the alcohol. What about Dorinda? She claims she's not out every night like Ramona. Ramona says she drinks water, which is why she's so thin. Then Dorinda says out of the side of her mouth, "You're not that thin." Nice.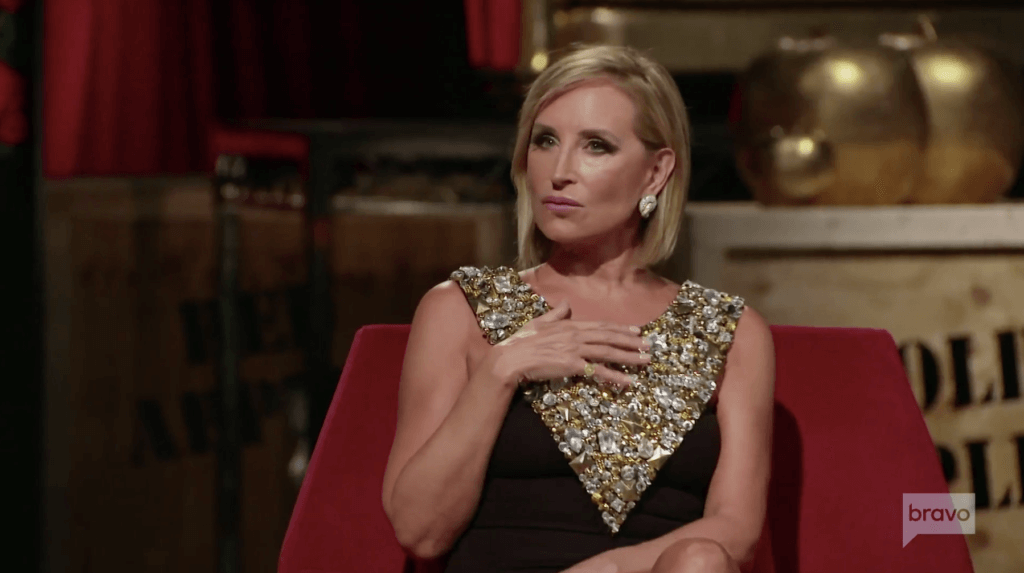 When the ladies went to Newport, Leah got completely shitfaced and ran around the table at dinner. Andy wonders why she didn't seem more ashamed of her behavior the next day. Leah says she's seen footage of every one of these women (except Tinsley) drunk and out of control. So when Ramona tried to shame her for it the next day, Leah resented it. She feels she was held to a different standard.
When Dorinda pipes up and says Ramona shames everyone to deflect from her own bad behavior, Ramona asks how. Dorinda swears that Ramona called Leah a tramp. Ramona denies it and tells Dorinda to "go to church".
Luann says her sip of vodka and tonic at the comedy club was her first taste of booze since she violated probation. Do we believe that? She swears it's true. Right now, she's stopped drinking, but she doesn't believe in labels. She has to watch herself. After Lu saw herself in the Berkshires, yelling at Sonja and spitting food as she raged, she took stock.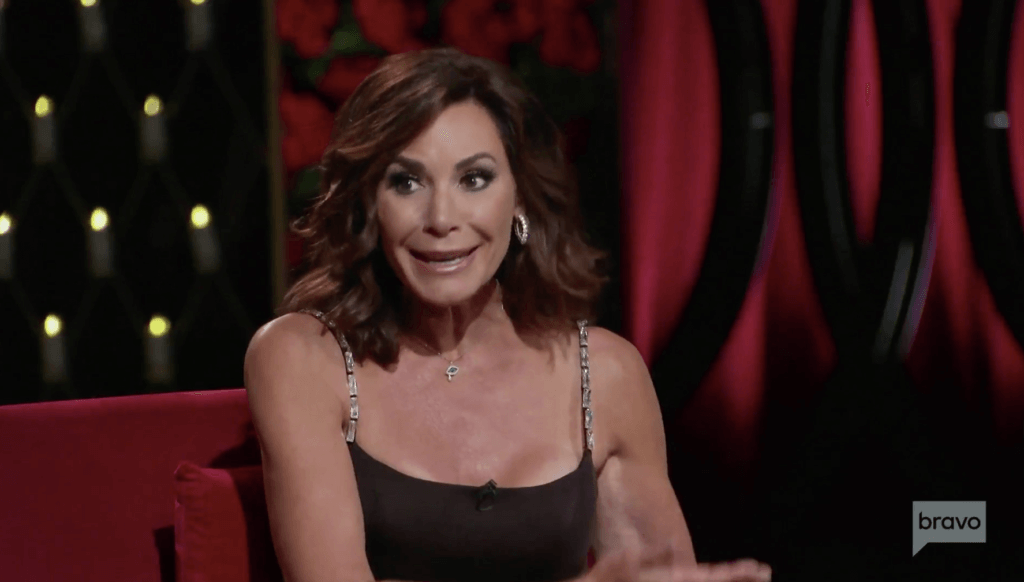 Dorinda seems to be the most defensive when it comes to alcohol. She admits to being sensitive. And she hated that Ramona used it as a weapon against her. Lu agrees that Dorinda doesn't like to be called out for her consumption. Dorinda thanks Lu for her support, but says when those labels come from Ramona's mouth, it feels accusatory.
Andy holds Dorinda's feet to the fire, though. She keeps turning it around by going after Ramona, sniping at her, saying Lu is a real friend. But what about Dorinda and her drinking? Is it out of hand? "I just feel uncomfortable with it. I don't know what else to say." She does question her relationship with booze, and it's become a stress reliever. Sonja and Luann stand up for Dorinda, saying she went through a hard year. 
And as for Sonja's crazy behavior, the ladies thought it was worse than usual. She was wasted at the beginning of the night, not at the end of the night. She still maintains she was drinking alcohol and combining it with her diuretic. That's what made her so crazed. But Dorinda takes the same water pills and hasn't had a problem with them. Still, Sonja says that once she threw the pills away, she was fine.
Next up, we see Tinsley's abbreviated season. We watch as Dorinda confronts her about reuniting with Scott and not sharing it with the other women. Ultimately, Tins got her happy ever after. She tears up as she talks about her engagement to Scott. She's gotten everything she wanted.
Being in lockdown wasn't a hardship for Tinsley. She unleashed her domestic side, and it was a side Scott had never seen. 
Looking back on the season, Leah was Tinsley's best ally. Eventually, Luann and Ramona got onboard. Tinsley thinks that for a while there, the two had fallen under Dorinda's anti-Tinsley spell. Lu says they were skeptical after seeing Tinsley makeup and breakup with Scott so many times. Tinsley says she was embarrassed and ashamed, and that's why she was so protective of her life. She didn't even feel comfortable talking about wanting babies and a real relationship with Scott. Sonja said Tinsley went on and on about not having kids. But Tinsley was just showing her real life and struggles in front of the camera.
Tinsley says Scott never made her choose between him and the show. But when she lived in New York, the distance was too much for their relationship to survive. Dorinda butts in, saying the show is why they met in the first place. And now he hates all the other Housewives? No, that's not what Tinsley said. 
Tinsley Mortimer believes the show can be toxic. She left to secure her future with Scott. Lu and Ramona say they would do the same. In fact, Luann did when she married her Count. She left Italian TV to be a wife and mom.
As Tinsley carries on, Sonja grabs a golden container of hand sanitizer and puts it on her legs to give them a glow. Um, that's not how sanitizer really works, but okay.
We see the struggle Tinsley had with Dorinda. Dorinda threw Scott up to Tinsley all season. And she complained that Tinsley wasn't honest and forthcoming with her personal life. Dorinda made fun of the younger woman and even offered up a turkey baster for Tinsley to get preggers. That was particularly hurtful.
Tinsley took offense at the turkey baster comment, telling Dorinda that was painful to all women who suffer fertility issues. Dorinda asked why Tinsley isn't pregnant already. Finally, Dorinda breaks down and apologizes for making a bad joke. Even Andy said it was mean. Dorinda points out that Luann and Ramona laughed, so it was okay at the time.
Dorinda says a lot of stuff went on behind the scenes. Tinsley admits that she and Dorinda had a huge fight off camera. Scott gave John some money, and Dorinda didn't know about it. Dorinda felt betrayed by John. Tinsley says Dorinda took it out on her. The producers didn't even want Tinsley to stay in the same house at one point, because they worried for her safety at the hands of Dorinda. That money was the cause of Dorinda's turnaround on Tinsley.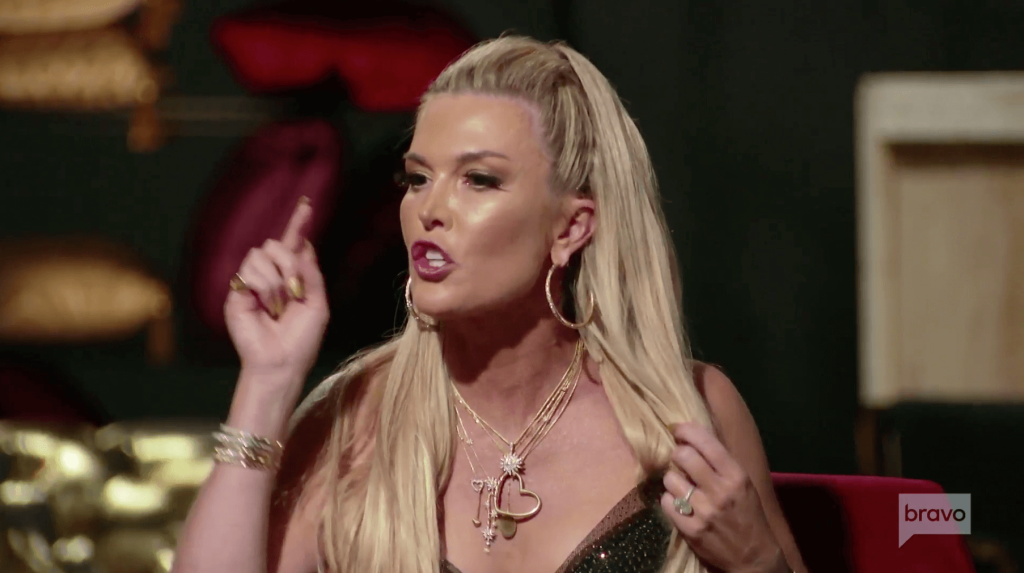 We are shown unseen footage of Dorinda tearing John a new one over the phone. She screams that John doesn't know Scott well, certainly not well enough to borrow money from him. 
Tinsley Mortimer says Dorinda is jealous of her and her engagement. She needs to move on from the hate.
So, that's the first episode of our reunion. The Scott/John money connection finally makes sense. Is that the real reason Dorinda hates Tinsley? And what will next season bring if half the cast is sober? Thoughts?
Stay Connected With All About The Tea: Twitter Ι Instagram Ι YouTube Ι Facebook Ι Send Us Tips
I'm a fiction writer by day and a reality TV addict by night.