Teddi Mellencamp Accuses Denise Richards of Leaking Lesbian Affair To the Press!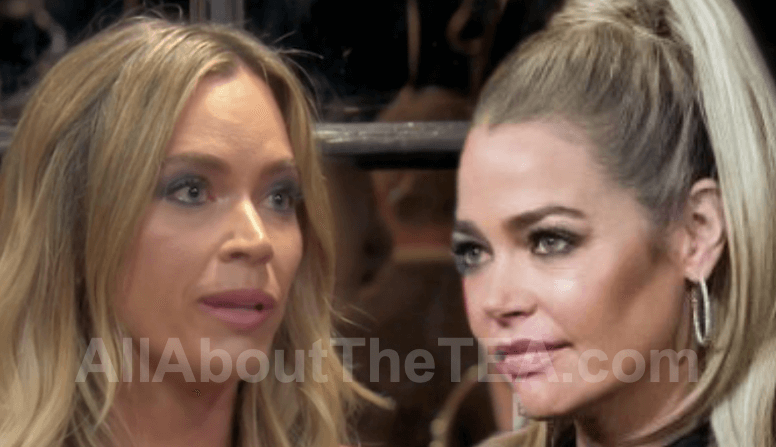 Teddi Mellencamp thinks that Denise Richards cares more about how she's portrayed on The Real Housewives of Beverly Hills, than her relationships within the cast. 
Teddi Mellencamp revealed to ET that the affair allegation between Denise Richards and RHOBH alum, Brandi Glanville, is not the big story of Season 10. 
"I mean, that's juicy and people are interested in it because, it's, you know…" she told the ET. "But there's definitely more that involves all of us, that affects everybody differently. I mean, whatever they're doing on their own time really has nothing to do with me."
Denise Richards stopped filming with the cast after the affair rumor began circulating in the tabloids. 
"I think it's so annoying when too much plays out in the press because that's that person's intention to kind of get the audience to see whatever it is that they wanna see prior to watching the show," Teddi said. "So I think by both parties doing that, it made it harder, because now everybody's going into the show assuming it's one thing, when really it's not."
The show teased the reality star's exit on the premiere episode. The show aired a three minute montage of the upcoming drama, where Denise storms out of a gathering shouting, "Bravo! Bravo! F**king Bravo!" at the cameras. Teddi explained that the upset actually went down before the affair bombshell dropped. 
"A lot of things were going down with Denise Richards," Teddi teased. "That's really the issue, what happened with Brandi, I mean, that's just, like, what they've played out in the press, but that's not what any of us, or myself, had any situation with Denise about." 
"I can't really say too much, but what I can say is, when you sign up to do the show, you show the good, the bad and the ugly," she added. "And if your primary focus of being on the show is what the audience is gonna think about you, and not what us, what each one of your friends is feeling? That always ends up backfiring, because you're trying to control a situation that can't be controlled and the people that are living it with you can feel it."
Part of the preview tease involved Kyle Richards and Lisa Rinna debating the likelihood of Denise showing up for the reunion series. Teddi said that she thinks that Denise will show for the reunion, but stayed tight lipped about where she currently stands with the ladies.
"I think she saw what people like to see in her and then tried to double down on it and then maybe it didn't… maybe it didn't work out so great," Teddi said about Denise's Season 10 game. "Because here's the thing: all of us can be jerks from time to time. All of us can say things that we're gonna regret. … [But] if you're only trying to show one part and you're OK with kind of putting it off on other people, it just doesn't work out."
Teddi Mellencamp said that fans should expect a "stripped down" Season 10.    
"I think that this season is real, the most real I have ever felt on this show," Teddi said. "I think everything's completely stripped down this year."
"I feel like, in the past it would be one person would share something and then everybody else would jump in with their opinions, and so it still kind of stayed surface," she continued. "Now, it's like we're all kind of digging deeper, getting into real, deep-seeded problems or issues, or things that are great in our lives, or I just don't know that it felt that way to me before."
The Real Housewives of Beverly Hills airs on Wednesday nights at 8 pm, ET, on Bravo. 
Stay Connected With All About The Tea: Twitter Ι Instagram Ι YouTube